Shopping for the perfect 40th wedding anniversary gifts? Achieving the milestone of a 40th wedding anniversary is something to be proud of. The Ruby Anniversary is another name for this celebration, and traditional presents included rubies, as the name suggests.
We know that the gem as a gift is a good idea, especially if you want something traditional, but there are lots of great ways you can show your care and love with this anniversary. Whether you and your partner are going to celebrate your 40th wedding anniversary or you need some gift ideas for your loved ones, we've gathered plenty of both ruby-inspired ideas and fun ideas that they'll love.
In addition, we also provide a bit of information about the 40th anniversary and tips to make this milestone extra memorable and special. Scroll down to discover what is interesting.
*** See more: The most chosen wedding anniversary gifts in 2023
---
Ways to Celebrate Your 40th Anniversary
Spending 40 years together is a wonderful reason to mark. The 40th wedding anniversary is a special day. If you and your companion are about to celebrate your 40th wedding anniversary, check out these fantastic ideas to make your day more special:
Planning a ruby ​​red event
Set up a romantic dinner for two
Celebrate with the two symbol flowers: nasturtium and the gladiola
Renew the vows
Play the newlywed game
Surprise with a late honeymoon
Remake your first day
Take them out to dance
Host a then and now photoshoot
Give a ruby anniversary gift
Give it back to a charity because you both like it
Spend time with friends and family
Let's learn something new together
Recreate a memorable photo of the two of you
Let's bake a cake together
---
What is the traditional 40th year anniversary gift?
As mentioned before, "ruby" is the traditional 40th wedding anniversary gift. This brilliant red stone has a lot of symbolism: it denotes romance, dedication, and passion, all attributes that make it deserving of such a significant milestone. It's also thought to be linked to health and knowledge, all qualities that will undoubtedly have played a role during the past four decades.
---
40th Wedding Anniversary Gifts For Him And Her
GiftOMG has compiled our own collection of Ruby Wedding Gift ideas to make the hunt for the perfect 40th-anniversary present easier when you're looking for the perfect gift for your partner.
---
40th Wedding Anniversary Gifts for Her That She Will Adore
40 years together may not yet be half a century but it is a long time worth celebrating, and should be commemorated with something special, like a meaningful gift. If you're looking for a perfect 40th year anniversary gift for her, this guide below can help.
---
1. Personalized Thank You For All The Roargasms Mug Dinosaur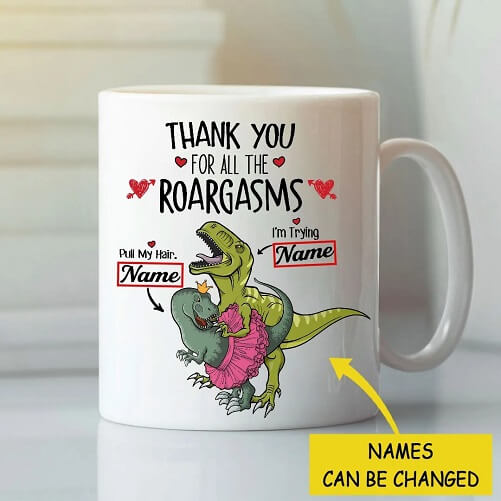 When your wife uses this coffee mug, it will make her feel great and love you even more! The gorgeous mug depicts two T-rex dinosaurs in a loving embrace. All of these mugs are custom-made to order and proudly printed to the highest industry standards. We are sure it'll be a lot of fun when you shop for this amusing personalized Mug, then personalize it with her name! Such an awesome 40 year wedding anniversary gift!
---
2. Love Is Supporting Each Other In Old Age Personalized Mug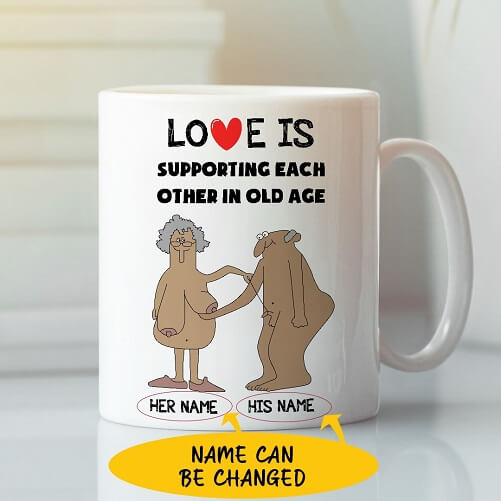 This is one of the best 40th wedding anniversary gifts! The lovely mug with an elderly couple "supporting" one other's "things" and the sarcastic phrase "Love Is Supporting Each Other In Old Age" will make your partner adore this amusing design! This mug is the greatest choice if you're seeking a unique 40 year wedding anniversary gift for your loved ones. This is a terrific way to personalize a gift for someone.
---
3. To My Husband I Wish I Could Turn Back The Clock Mug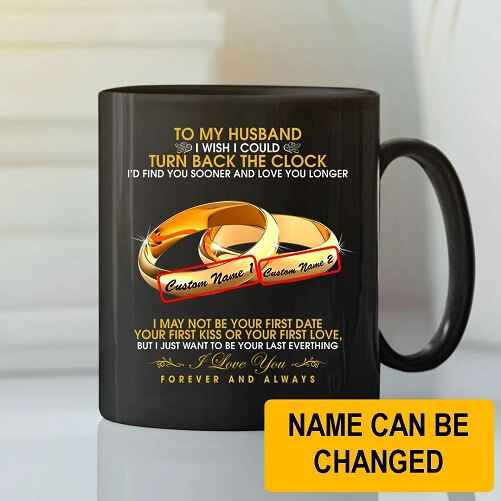 This mug will be the ideal choice for a couple seeking to convey their deep love to their spouse since it not only portrays a lovely pair of horses but also has a meaningful quote. If you want to show your husband your love, purchase this mug and send it as a surprise gift. He'll be delighted with the magnificent mug with the hilarious comments from the Friends series!
---
4. Couples Coffee Mug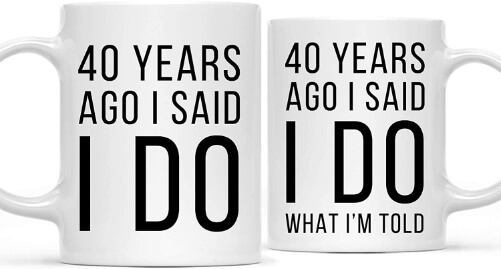 This is the perfect ruby anniversary gift for your hubby! The paper, materials, and inks used by Andaz Press are of the finest quality. 2 Andaz Press coffee cups are FDA-approved, manufactured of ceramic, and UV-protected. Hand washing is advised to keep your cup looking great. The mugs are high-quality and have the message printed on both sides.
---
5. Stemless Wine Glass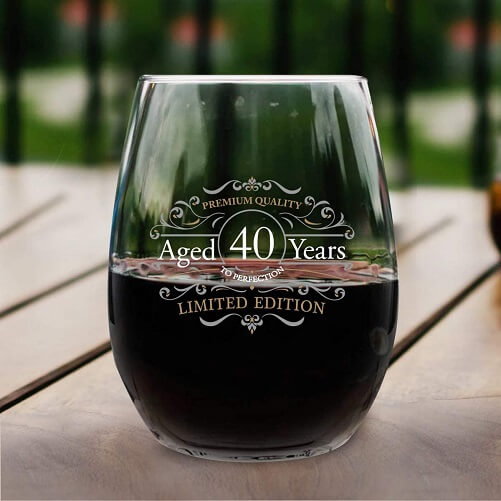 The Vintage Edition collection includes this gorgeous wine glass. It's a lovely way to commemorate a special occasion. The traditional stemless wine glass has a deep bowl and a firm base, allowing red, white, and rose wines to shine. These stemless wine glasses are dishwasher safe and made with excellent, food-grade safe glass in the United States. They're ideal for parties, gatherings, and everyday usage. These glasses are cheap and practical, and deserve one of the best 40th wedding anniversary gifts.
---
6. Anniversary Cups Set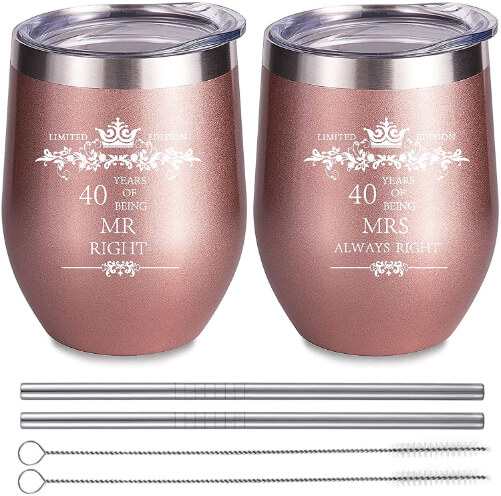 Uniquely designed tumblers make fantastic 40th-anniversary gifts for couples. It's rust-proof, sweat-proof, machine washable, and indestructible, and it's light and doesn't contain any lead. The tumbler is small and light, making it simple to transport and stow in your backpack. The stainless steel straw is great for wine, juice, iced coffee, tea, or simple water. It's also large enough to enjoy thick liquids like smoothies and milkshakes. They're really chic and a real investment and one of the best 40th anniversary gift ideas.
---
7. Wallet Cards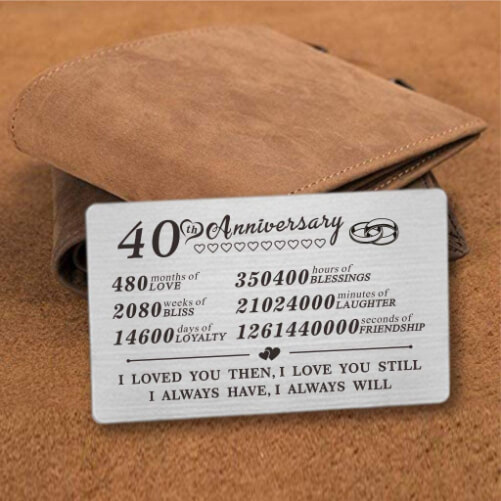 This is one of the adorable 40th wedding anniversary gifts that is made of stainless steel, has a permanent laser engraved design, will not tarnish or change color, is difficult to bend, and may be kept for a lifetime. Sturdy and lightweight, convenient to insert in any wallet, approximately credit card size 3.38″x2.13″x0.03″. It is perfect for giving as a timeless romantic anniversary gift.
---
8. His and Hers Gifts Ice Cream Spoon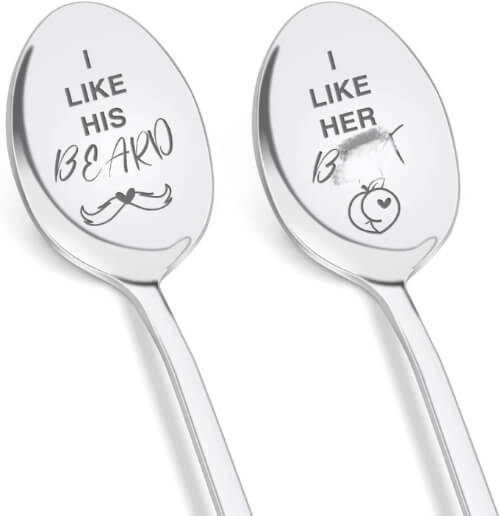 For lovers, this is a one-of-a-kind present idea. It is a lover's proof of love as well as a remembrance present. He will not be able to resist this wonderful décor and will be deeply moved by such a gift. It will certainly capture their hearts. The slender and long handle is easier to manage than the short spoon.
---
9. Wedding Anniversary Push Pin World Map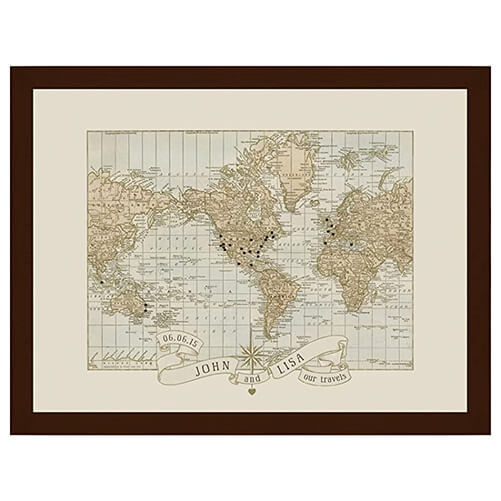 This souvenir map, which allows you to trace your travels across the world by pinning your favorite spots, is the ideal wedding anniversary gift for your husband who enjoys traveling. Pin maps are custom-made by Wendy Gold, a California collage artist, and come in three sizes with 100 push pins. Let's make a memorable and exciting gift that they'll treasure for a long time!
---
10. I Still Do Gift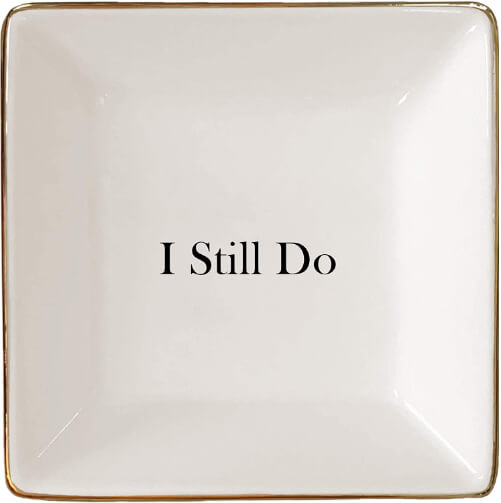 What better way to express that you'd do it all again? "I Still Do" says everything, whether it's your first or 40th wedding anniversary. Your partner is one-of-a-kind, therefore your present should reflect that. Give them a gift that looks like a card but will last all year to contain their keys and treasured items. A unique gift idea and an exquisite ring holder.
---
11. Ruby Anniversary Light Beige Frame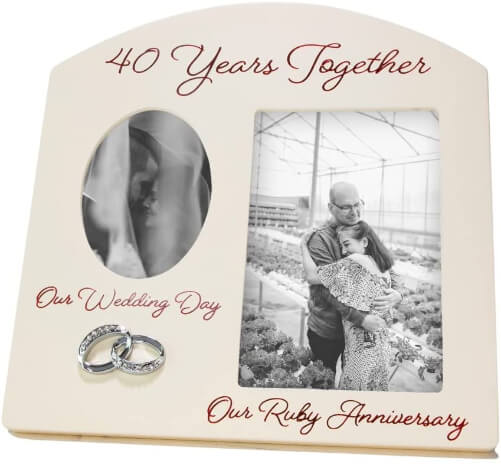 For a very special pair celebrating their 40th ruby wedding anniversary, this is a beautiful keepsake and unique gift. Happy Homewares' 40th wedding anniversary double frame takes a modern spin on an existing popular design now and then design. Two photographs can be held in the photo frame. One was taken on the wedding day, while the other was taken 40 years afterward.
---
12. 40th Anniversary Wedding Ornament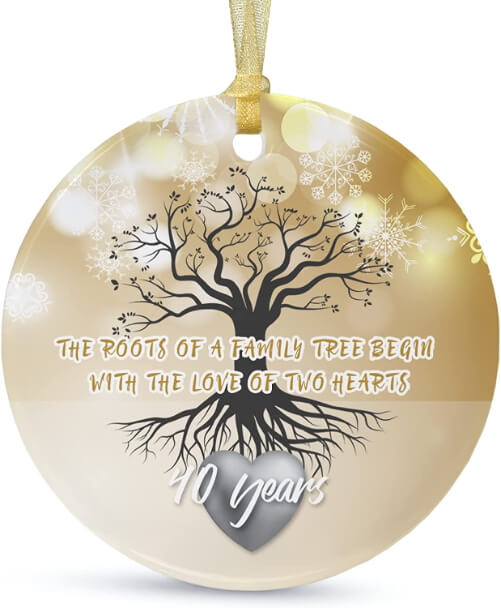 You'll need a memento to commemorate your unforgettable 40th wedding anniversary, and this present for the 40th wedding anniversary is the right method to do it, bless you! The colorful design printed on both sides is very high resolution and delicate, and the pattern is permanently fused, so the 40th wedding anniversary gifts will last a long time and preserve their original beauty and vibrancy!
---
13. Lovers path-crossing signs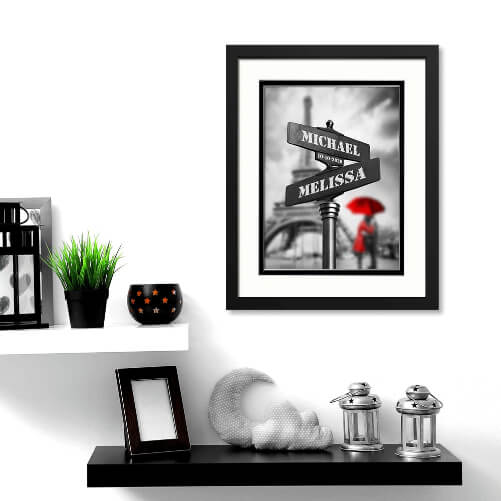 Personalized street sign artwork represents a life-changing moment for you and your partner, making it a unique gift. All you have to do now is select the size you want, enter your information, add it to your cart, and check out. It is professionally stretched on a wooden frame, with high-quality print on premium canvas. You just have to follow the directions to hang your artwork with Sawtooth installed.
---
40th Wedding Anniversary Gifts for Him That He Will Cherish
Want to give your husband a thoughtful gift? Take a look at our favorite list and pick the best one you need.
---
14. Personalized I Met You I Liked You I Love You I'm Keeping You Mug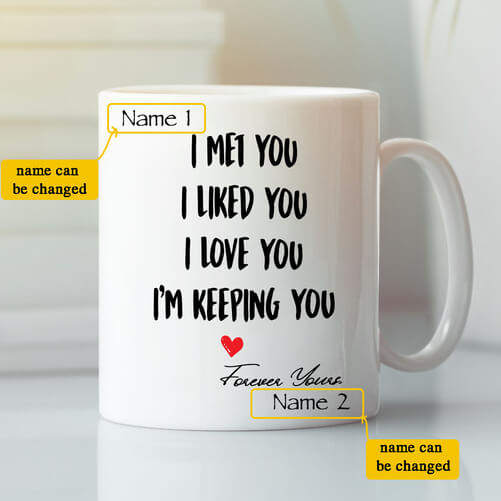 If you're looking for mugs as 40th wedding anniversary gifts for him, this is a product you shouldn't pass up. This is the ideal gift for him if he has a good sense of humor. If he is always eager to meet a new day, and he wants to make his life more colorful and full of humorous things, then this mug is the greatest choice!
---
15. Personalized I Have Found The One Whom My Soul Loves Mug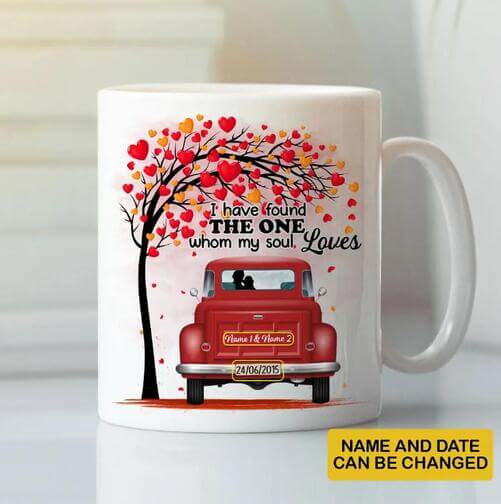 This unexpected gift can help you express your undying love for your significant other! We are confident that your sweetheart will be pleased with this cup. This mug, which features the saying "I Have Found The One Whom My Soul Loves," is the perfect gift for a couple who is falling in love. This mug will provide him with a relaxing time thanks to its great quality and inexpensive price!
---
16. Vintage 3-Speed Bluetooth Portable Suitcase Record Player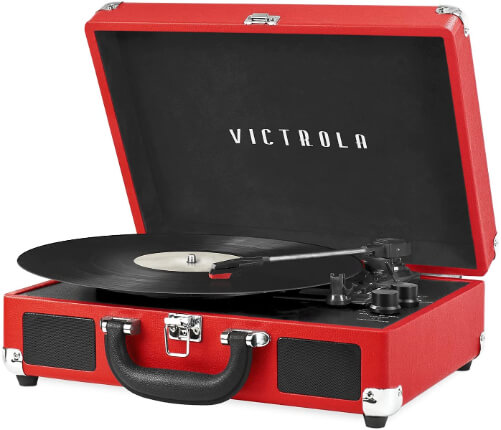 For your 40th wedding anniversary gifts for your husband, surprise your partner with a ruby-colored turntable. They'll enjoy listening to their favorite vintage tunes and enjoying a journey down memory lane. Victrola's blend of classic and contemporary styles gives you the greatest flexibility to listen to music wherever and whenever you want. This is a fantastic option for vinyl collectors. You can utilize the stereo RCA outputs to connect external speakers.
---
17. Wood Phone Docking Station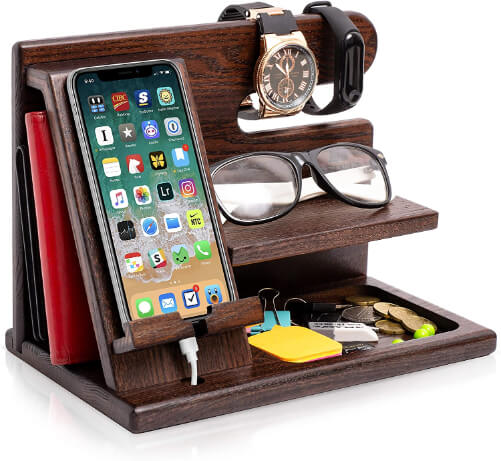 With such a well-organized docking station, he'll never lose anything again. This polished ash wood station has plenty of drawers and a space for his phone charger. iPads, cellphones, wallets, watches, keys, and fitness trackers all have a home. Ideal for a nightstand! This stand is constructed of SOLID ASH-TREE and protected with a non-toxic finish. The dealers use only the highest quality solid wood to construct these stands.
---
18. Espresso and Cappuccino Maker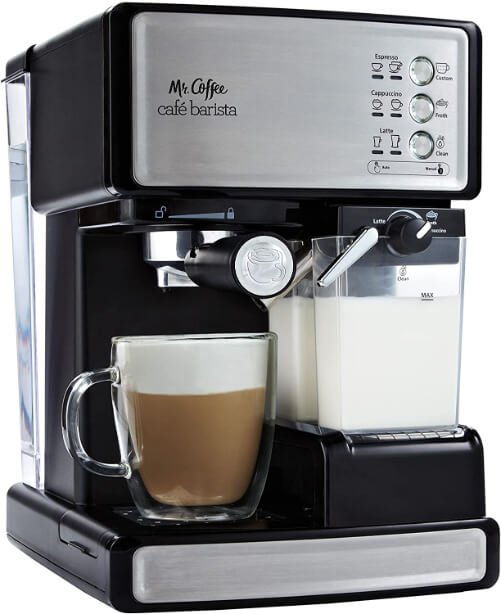 Make him a special cup of coffee in the morning with this 40 year wedding anniversary gift. Depending on his mood, this coffee machine may brew espresso, cappuccino, or latte. It even comes with a recipe book, so you can try out new drinks like an espresso martini or a raspberry cappuccino. Cleaning the frothing tube after each use is recommended because this can cause frothing variations.
---
19. Smart Digital Picture Frame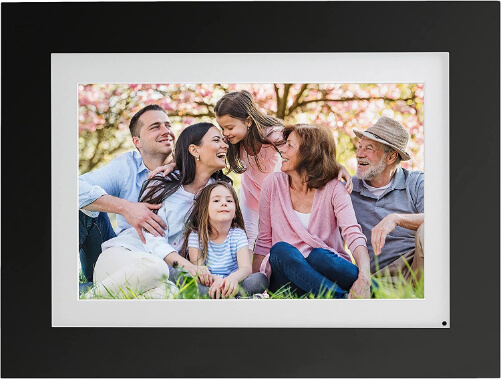 If you've taken a lot of images over the years, and if you want to save them all in one place, this digital frame is a fantastic choice. It has a storage capacity of over 5,000 photos. Also, if your family wishes to share images with you, it delivers photos and video clips from phones to frames in seconds using the free PhotoShare Frame App, Facebook, or Google Photos. This is really a wonderful choice on the list of 40th wedding anniversary gifts.
---
20. Bisque Porcelain Figurine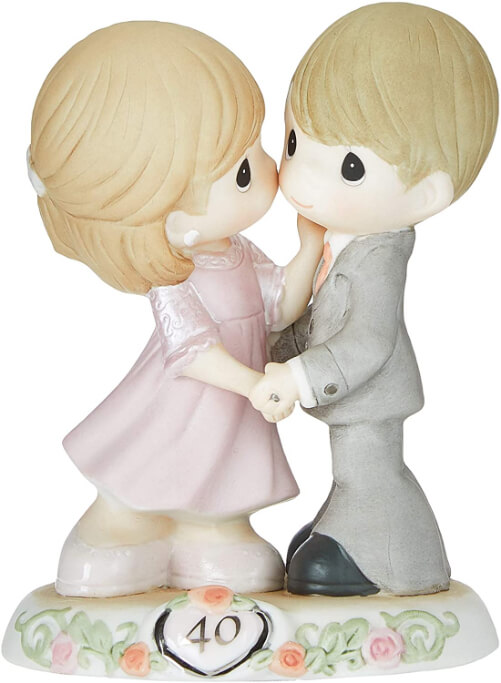 Give this 40 year anniversary gift to a spouse who is celebrating their 40th wedding anniversary. To mark their forty years of marriage, this loving couple does a special dance, cheek-to-cheek. This lovely couple shares a special dance to commemorate their forty years of marriage. For years, you'll be able to give this to your mate on significant occasions. Allow this gift to assist you in expressing your love!
---
21. 40th Keychain Set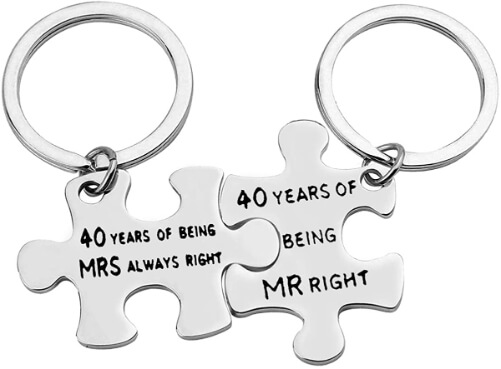 The unique way to commemorate that once-in-a-lifetime event! This is a wonderful present for a couple celebrating their 40th wedding anniversary. The keychain is packaged and shipped in elegant velvet pouches, ready to be given as a gift. It's the ideal present for anyone celebrating their anniversary, regardless of how long they've been together. It's composed of nickel-free stainless steel that's hypoallergenic and won't rust, change color, or tarnish.
---
22. Luna Bean Keepsake Hands Casting Kit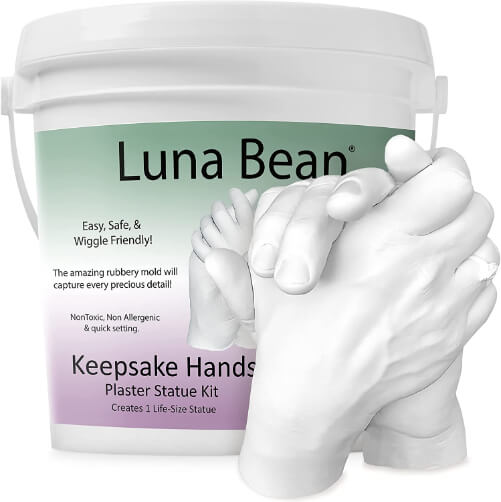 This kit is a quick activity that results in a final product that will last for years. Powder, stone, sandpaper, and easy-to-follow instructions are included in the hands casting kit. The eight-inch-wide bucket fits both hands comfortably, and after roughly three minutes, a mold of your interlaced hands appears. It has a longer working time than other craft brands, makes a stronger cast, delivers more detail, and has bolder color-changing capabilities.
---
23. Swarovski Crystals Cufflinks and Studs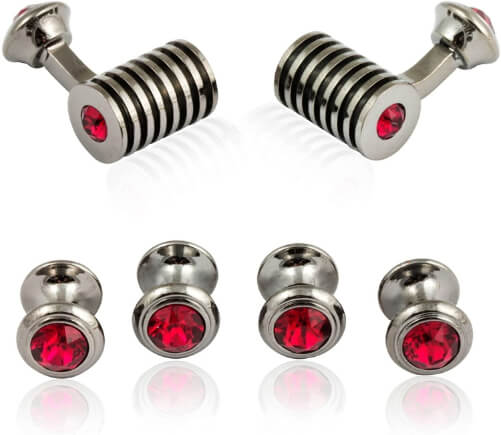 These Cuff-Daddy cufflinks are a classy alternative for those who appear to have everything. In this attractive combination of cufflinks and studs, Swarovski crystals were used as embellishments. The studs are made up of a single Ruby Red crystal that is encased in polished Gunmetal Ruby Red mounting to increase its translucency. These cufflinks are simple and elegant, with a gunmetal finish and ruby red Swarovski crystals.
---
24. 3D Crystal Photo Heart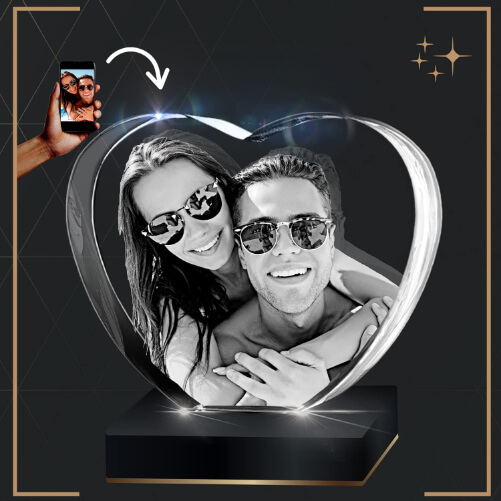 What could be a more thoughtful best 40th anniversary gift than a 3D crystal photo of your favorite moments with your loved ones? Surprise your hubby with a beautiful memory elegantly carved in a 3D crystal. Preserve all of your special memories with your loved ones by turning them into 3D images in the glass. This photo frame will preserve all of your wonderful memories and relive the happiest moments of your life.
---
25. 40th Wedding Anniversary Decorations Gifts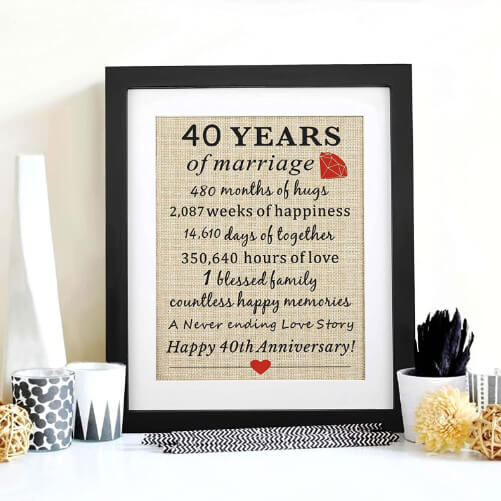 This is one of the perfect 40th wedding anniversary gifts husband to convey your love and send your warmest greetings. Give him a surprise with a one-of-a-kind anniversary present, such as this ideal 40th-anniversary gift for the husband. Each burlap print is 8 x 10 inches in size. The frame is included in the package. The frame is 11 x 13 inches in size.
---
26. Anniversary Brass Sundial Compass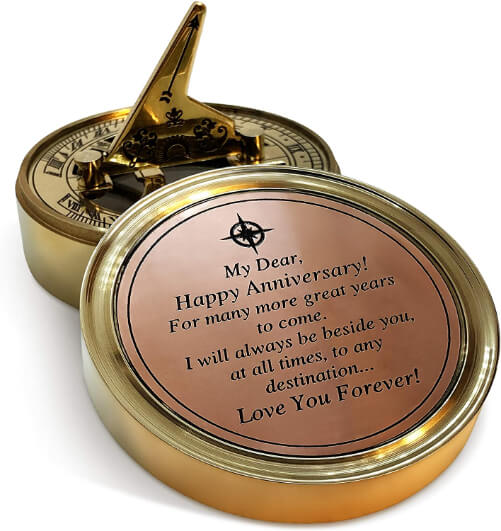 You've just discovered it! This year, surprise him with this one-of-a-kind, amazing gift that will last a lifetime. Because your Love One is so dear to you, he deserves something extra on your joyful anniversary day. As a 40th Anniversary present, it's appropriate for any year. These are great romantic gift ideas for him that may be utilized outdoors/hiking or as decor in the living room.
---
27. Wedding Anniversary Pocket Watch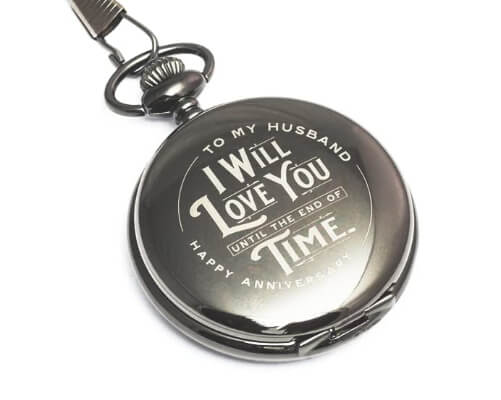 This is one of the best 40th anniversary gift ideas! Don't settle for a mediocre tie or a hastily chosen gift card. This incredibly attractive, classy, and functional pocket watch will elevate your gift-giving game! When not in use, it makes a great display piece for a bookshelf or a desk. So why not surprise him with this one-of-a-kind, sleek, and fashionable personalized watch?
---
28. Ultra-Soft Micro Fleece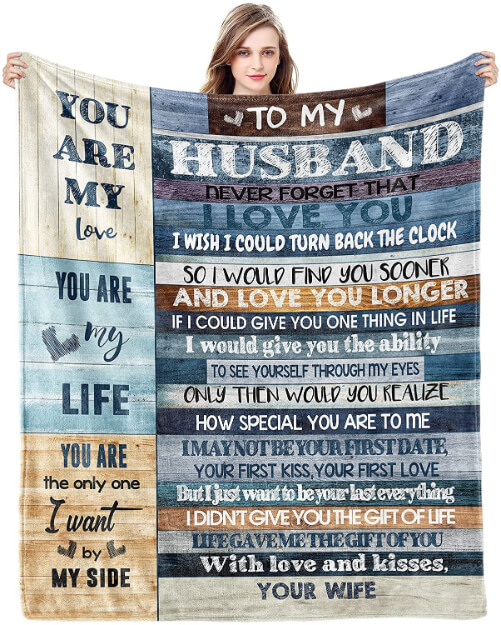 Don't settle for a dull or generic present, give him something that indicates you love and care about him. Imagine your husband opening the package and realizing this is the perfect present for him! This love blanket for him would make a wonderful present for your hubby. These ultra-soft micro fleece blankets are machine and hand washable, quick to dry, simple to care for, long-lasting, and bleach-free.
---
29. Personalized Cutting Board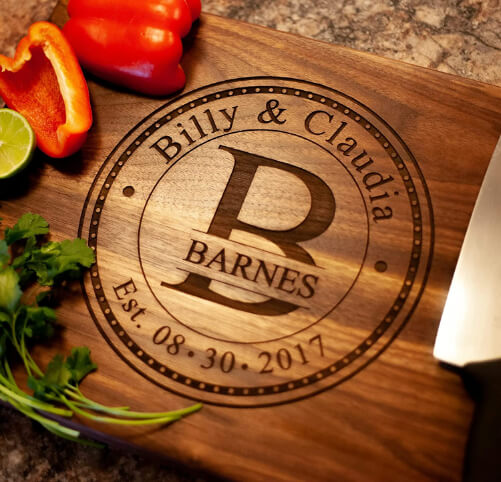 This 40th anniversary gift is made of Walnut or Maple wood that's been treated with a food-safe oil to protect and toughen the board. One side of the board is utilized in the kitchen to slice and dice your specialties, while the other side serves as a reminder of the important things in life!
---
30. Teslyar Wood Phone Docking Station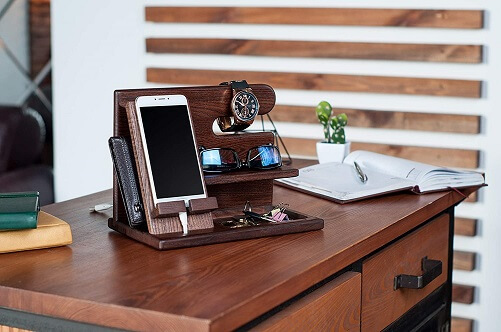 Never lose anything again with such an organized docking station. This ash wood station is polished and sturdy, has many compartments and a hole for you to plug in to charge your phone. Smartphones, Ipads, watches, keys, wallets — you name it, you can find all in one place.
---
31. AirPods (3rd Generation)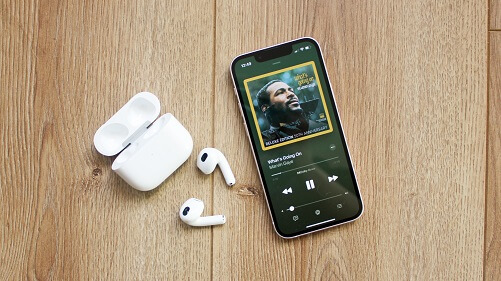 When it comes to the best ruby anniversary gift, an airpot is never wrong. What guy doesn't like electronics? So on his special day, give him this gift and make them happy. He will be delighted when he finally replaces his wax-stained old ones.
---
32. Wine Bottle Bags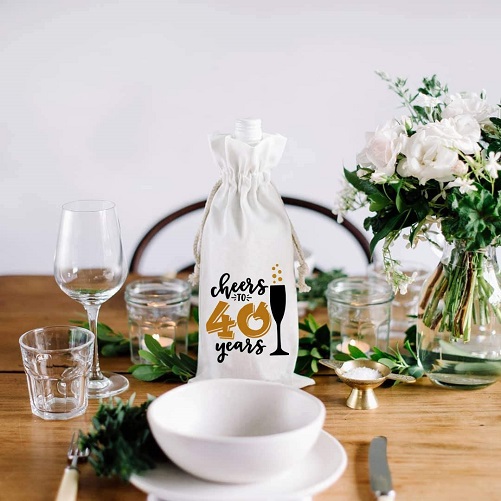 Wine bottle bags are a perfect gift for a 40th wedding anniversary, especially if the couple enjoys wine. Some wine bottle bags can even be personalized with the couple's names and wedding date, making them an extra-special and sentimental gift. You could consider pairing the wine bottle bag with a bottle of their favorite wine or a new wine they've been wanting to try. This gift is practical, thoughtful, and celebratory, making it a great choice for a 40th wedding anniversary.
---
33. Personalized Canvas Pillow – 40th Wedding Anniversary Gifts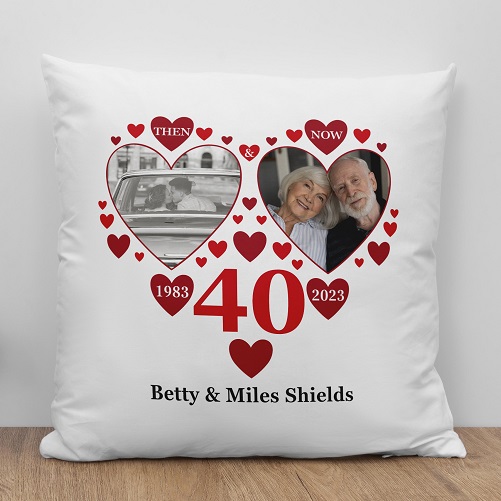 If you're looking for a unique and sentimental gift for a 40th wedding anniversary, consider a personalized canvas pillow. You can choose to have the pillow customized with the couple's names, wedding date, and any other meaningful details or messages. The canvas material gives the pillow a rustic and timeless look, and it's a lovely addition to any home decor.
Conclusion
Whether you're shopping for your other half to commemorate your 40th wedding anniversary or looking for a unique gift idea for a couple you know, we've compiled a list of our best 40th wedding anniversary gifts for all couples to shop right now, with something for every budget. While the ruby is a terrific place to start, especially if you're looking for a piece of investment jewelry, there are many ways to interpret the ruby motif for a 40th-anniversary gift.