This year Mother's Day is going to be far more exciting with the list of 28 Mother's Day gifts for sister.
The nicest part of being an aunt or uncle is getting to spend time with your nieces and nephews, especially if your sister is a parent. Whether you and your sister are fortunate enough to raise children close to one another or you rely on FaceTime for check-ins and will be spending Mother's Day electronically this year, give her one of these unique Mother's Day presents for sisters to let her know how much she means to you.
A meaningful gift for someone special will show your affection for that person. Check out the Mother's Day gifts for sister from giftOMG to pick out the ideal gift that all sisters desire, from new moms to longtime ones.
28 Mother's Day Gifts For Sister Who Deserves It All
Mother's Day isn't not only celebrating the person who you call Mom. It's also great chance to show the love of all the women in your life, including your sister. Check out the list of Mother's Day gifts for sister and pick the best one for your need.
---
1. Jewelry Ring Holder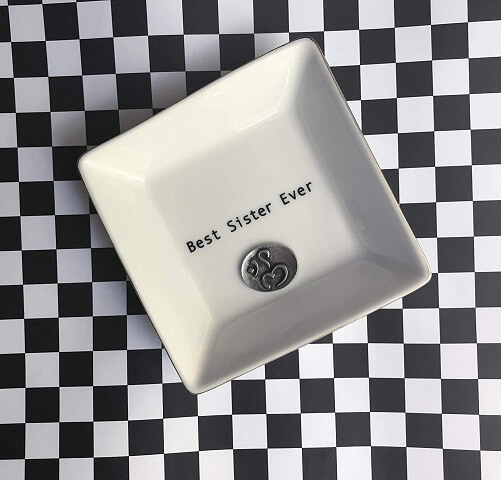 As sisters become older, their experiences become more varied and rich. As a token of your affection, send her a card; however, make sure it's something she can retain as a memento, like a trinket tray. This trinket dish made of porcelain is the ideal memento. When your sister picks up her rings, keys, and other belongings, she may remain orderly and remember you.
---
2. Leather Writing Journal Notebook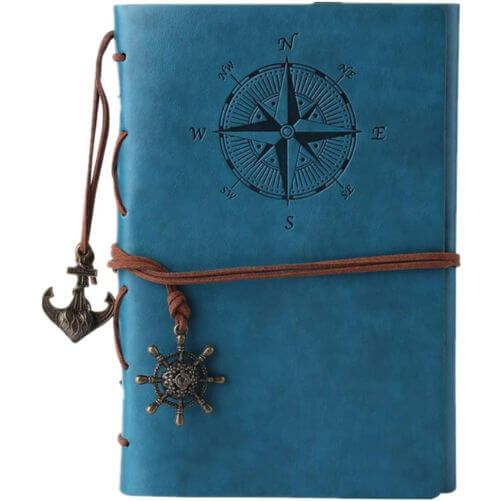 Working mothers seldom ever have time to themselves to reflect. Encourage your sister to write down her thoughts in this charming journal; it will cheer her up. PU leather that is incredibly durable makes it appropriate for usage outside or when traveling. Craft paper inserts might assist her in starting off with consistency in both her writing and artwork, making it simpler for her to read later. The cover and the book have saved her memory for all eternity.
---
3. Blank Cookbook Recipe Binder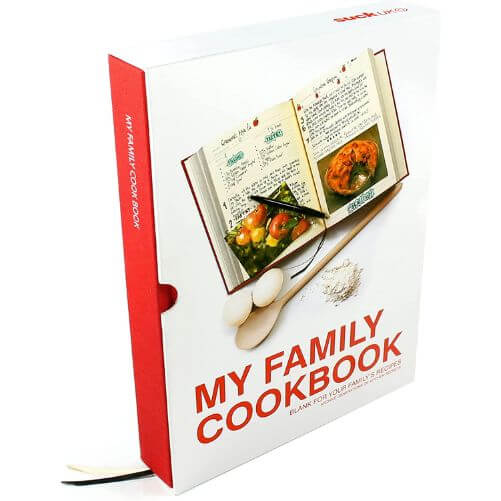 Give your favorite cook at home the family cookbook with up to 80 recipes. There are places for images and remarks, so she may change them to reflect the history of her family. This is the greatest gift that can be given to future generations.
---
4. Bubble Mate Foot Spa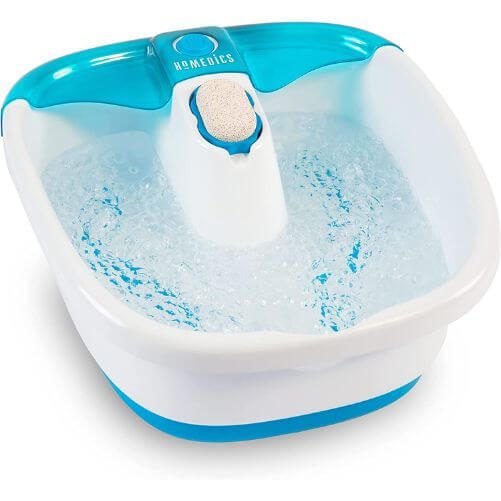 Your sister has more to accomplish every day because she is a mommy. After a hard day, a foot massager will aid her in relaxing. Splashing and spillage are reduced thanks to the splash barrier built into the foot spa. This ensures a mess-free experience while moving your foot spa without having to worry about spilling the water.
---
5. White Noise Sound Machine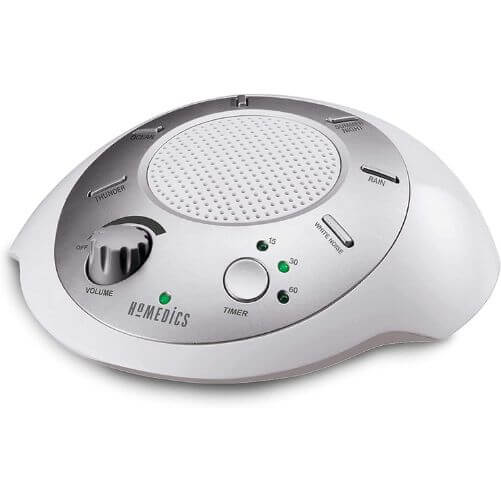 After giving birth, the body will have little change, it may be more difficult for the mother to sleep and concentrate. Get your sister a white noise machine to help her focus on work and fall asleep easier. This compact machine can be placed anywhere suitable for multiple uses. This white noise sound machine is a must have present in the Mother's Day gifts for sister list this year.
---
6. Expandable Wire Bangle Bracelet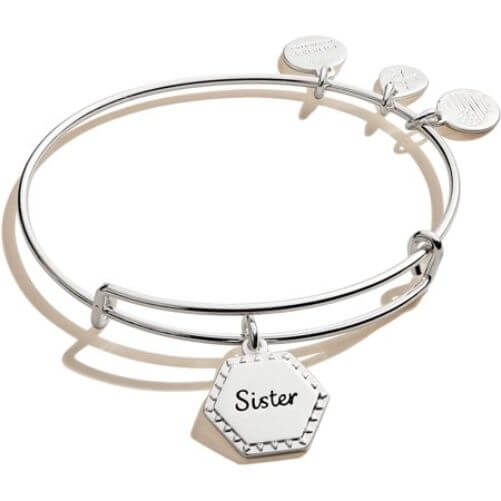 This stunning adjustable bangle serves as a treasured reminder all the time. It says "Sister" on the front and "Woven together by unbreakable bonds" in the script on the reverse. You may express to her how much you respect her as your sister and will always remember her by giving her this bracelet.
---
7. Herbal Tea Sampler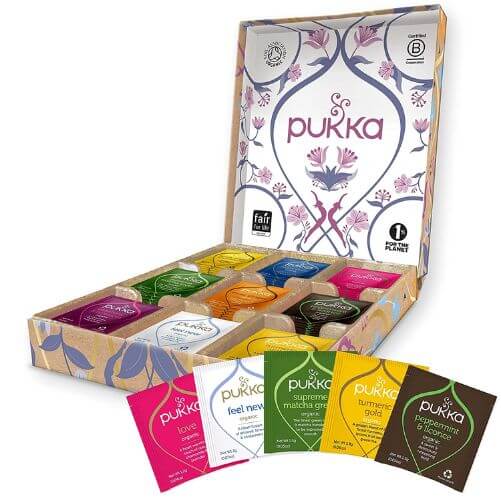 After a hard day of taking care of children, mothers can unwind with a cup of herbal tea before going to bed. The best quality ingredients were expertly combined to create nine various herbal teas, including energizing mixes to keep you feeling strong and calming blends to help you go to sleep easily.
---
8. "Amazing Sister" Stoneware Engraved Coffee Mug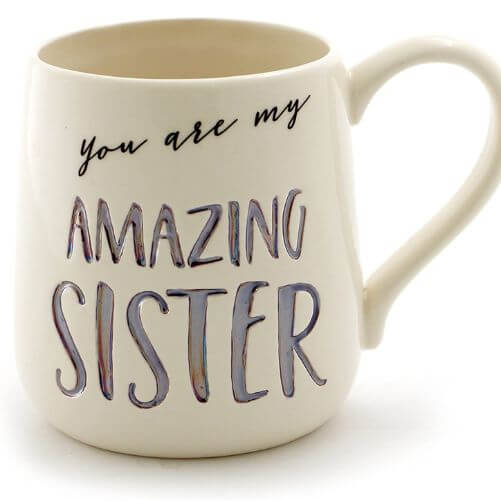 Sisters are not only family members but also best friends. A mug with 'Soul sister' and 'Thank you for being my friend' engraved on your behalf will say the most loving words to your sister on a special Mother's Day.
---
9. Shower Steamers Aromatherapy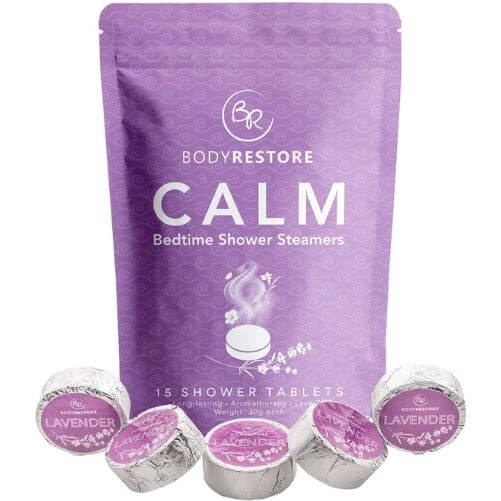 The exhaustion after a hard day will go after a soothing soak in the tub. The soothing lavender smell, which is combined with essential oils imported from the UK, will help your sister sleep well. With a full set of 15, she may treat herself to a relaxing spa day in the comfort of her own home.
---
10. Women's Mama Bear Slipper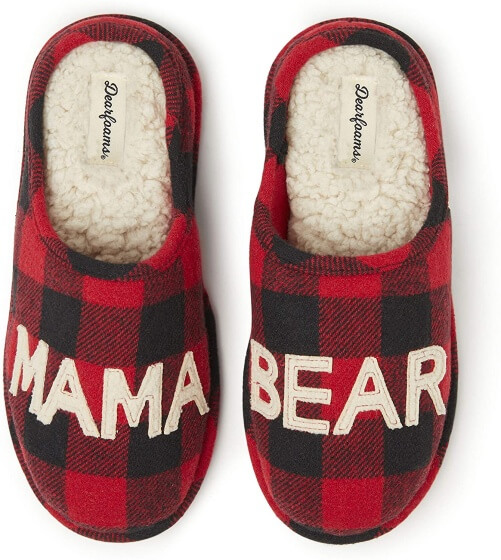 These adorable, plush, and fluffy slippers will put a grin on your face. If you want to give your deserving feet a little additional comfort, these daily slippers are ideal. Additionally, it comes in a variety of colors to suit any mother bear in your life.
---
11. Body & Earth Spa Basket Gifts for Women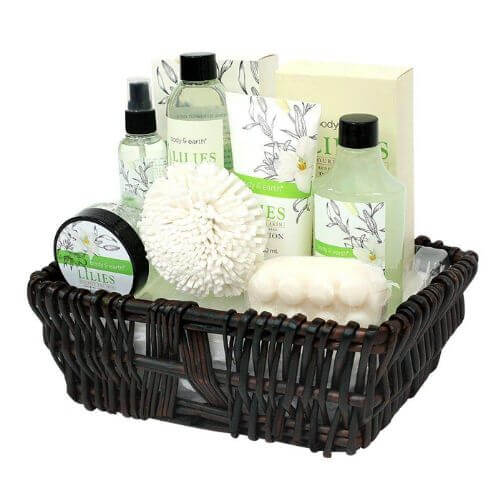 After giving birth, stretch marks on a mother's body cause her to feel self-conscious about her appearance. To assist your sister to regain her beauty after becoming a mother, give her a basket of skin care products. Sunflower seed oil and vitamin E are added to the mixture as natural ingredients to calm and moisturize tough skin. This bath bundle comprises exquisite lily essential oils that provide the most opulent spa experience and have calming effects on the body and spirit.
---
12. Ferrero Rocher Collection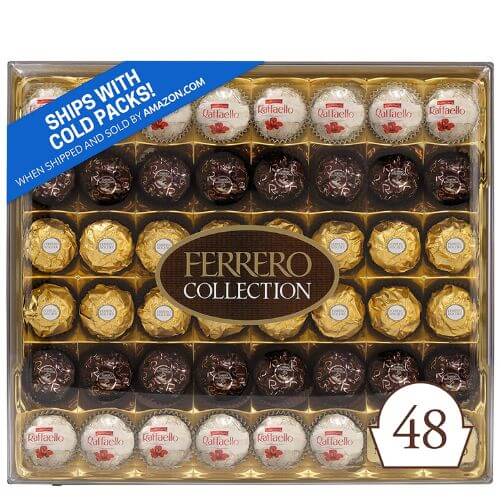 The simplest gift is also the sweetest gift. A box of chocolates will help your sister start a sweet new day. Chocolate will lighten the mood and reduce stress when becoming a mother. This is one of the sweetest Mother's Day gifts for sister ever.
---
13. Silicone Cooking Utensil Set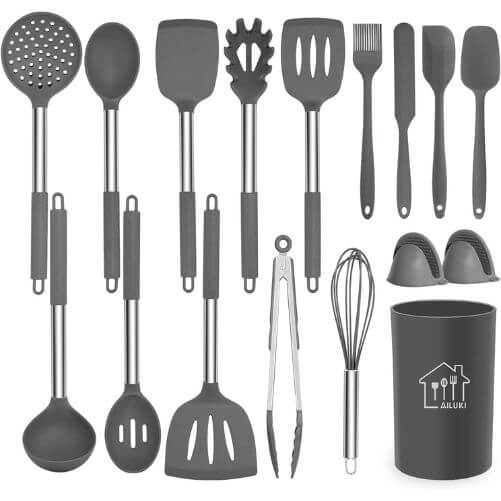 Preparing meals for the family is always a great job. Although we may not like to cook at first, when we become mothers, it is a joy to see our children eating well. Give your sister a 17-piece cooking kit as a Mother's Day gift to prepare her family's daily meals. This will be the most practical gift.
---
14. Lip Gloss Set by Revlon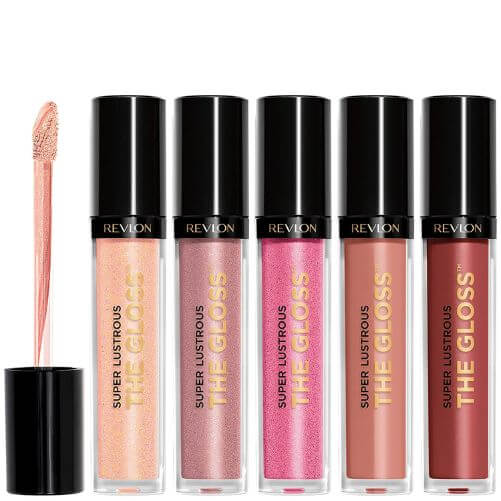 Mothers are often so busy taking care of their children that they forget to take care of themselves. Giving a set of lipsticks will help busy mothers become fresher and more beautiful. With just a little lipstick, any woman will become gorgeous.
---
15. 0-Piece Baking Pan Set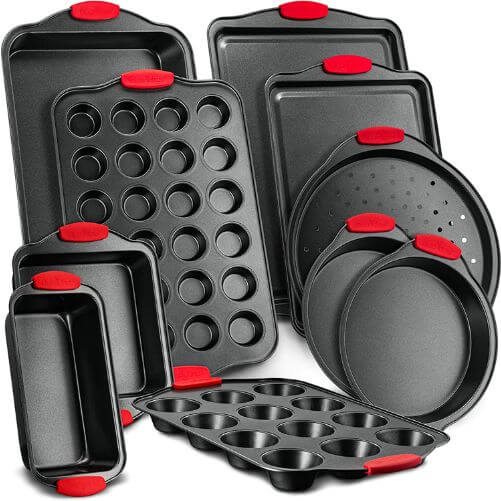 Nothing is more enjoyable than making celebration cookies with the family. For baking a cake, bread, or muffins, the 10-Piece Baking Pan Collection offers a full assortment of high-quality cookware. Over the holiday season, you may make a variety of delicious cakes with this baking pan set. A big cookie sheet, a loaf pan, two circular pans, a square pan, a baking pan, a pizza pan, and muffin tins with 12 and 24 cups are all included.
---
16. Portable Cassette Players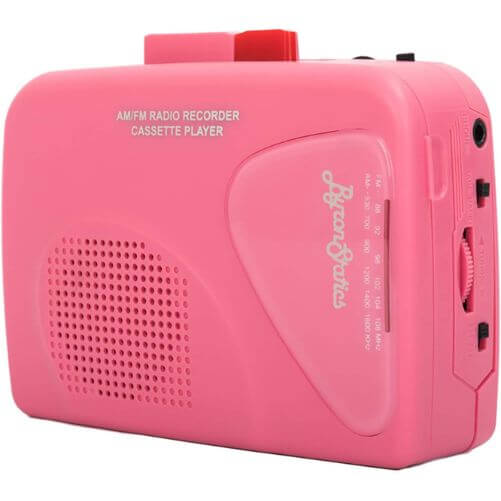 Your sister loves to update the news every morning, but now she is busy taking care of the children and does not have time to read the newspaper. Then a radio will help her know the news as well as listen to the radio songs while working. This compact radio will accompany her wherever she goes and makes her happier.
---
17. Polaroid Now I-Type Instant Camera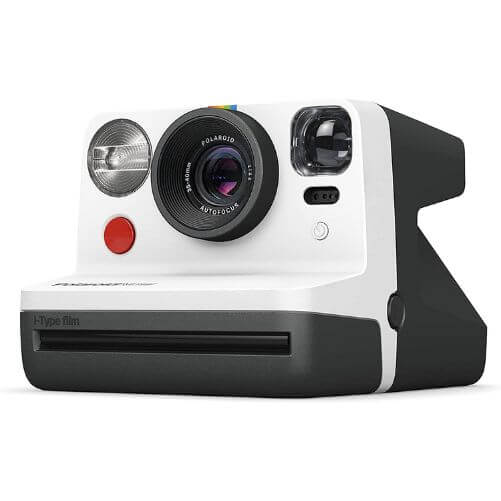 Taking pictures is the best way to capture memories. Give your sister the freedom to use this quick small camera to get the finest possible photo. We're convinced she'll like being her family's personal photographer, even if she's camera shy. This old camera takes pictures straight away, making it a great present for those who like to photograph.
---
18. Bamboo Cheese Board and Knife Set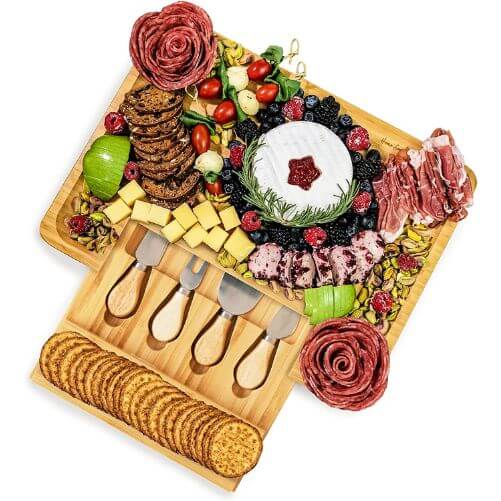 If your sister decides to become the family's unofficial hostess with the mostess, this cheese board will become one of her best Mother's Day gifts for sister. It starts out as a wheel, but it can easily be changed into a triangle and stored to save space. It is extremely small and constructed of bamboo. Don't forget to add her initials as a great, thoughtful finishing touch.
---
19. Hydroponic Indoor Garden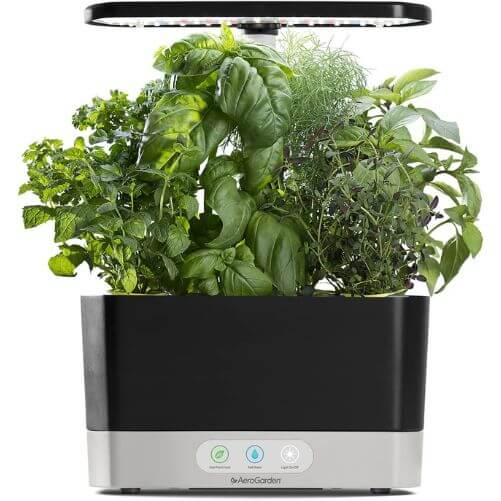 Isn't a machine that helps grow an indoor herb garden? This machine will help plant-loving mothers grow their indoor herb garden without much care. The machine will notify you when to water, when to fertilize and at the right temperature, all you have to do is enjoy the small garden with 6 herbs including genovese basil, curly parsley, dill, thyme, thai basil, and mint.
---
20. Sculpted Hand-Painted Figure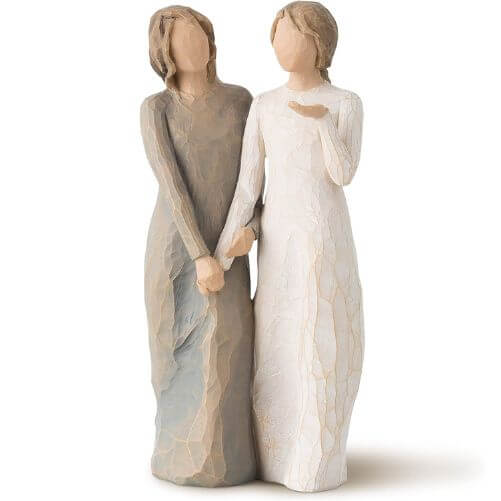 Two women are seen standing next to one another in this 8.5″ hand-painted resin figurine, intertwining their arms and hands as if they were sisters. The white clothing worn by one of the women contrasts with the blue or gray worn by the other. Giving your sister this gift will unquestionably convey your concern to her.
---
21. Infinity Heart Jewelry Collection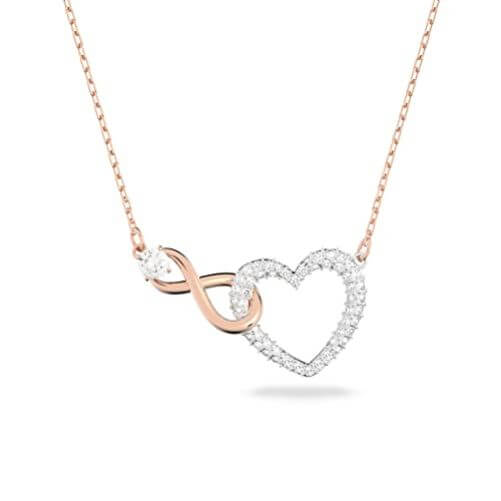 This mixed metal plated necklace combines a classic necklace design with the precision and quality of sparkling Swarovski crystals to provide a bit of glamor to any occasion. Like your love for your cherished sister, the brilliance of Swarovski jewelry will never fade.
---
22. New Mom Gifts for Women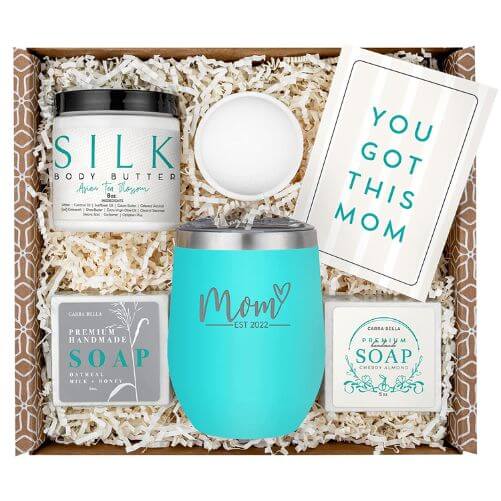 Every expectant or new mother could use a bit more tenderness and affection. This gift basket will help her unwind and sleep after a long day or night. The ideal present, prepared for appreciation. If you have a sister who just gave birth, you can't miss this gift for this year's Mother's Day.
---
23. Original Jade Roller & Gua Sha Facial Tools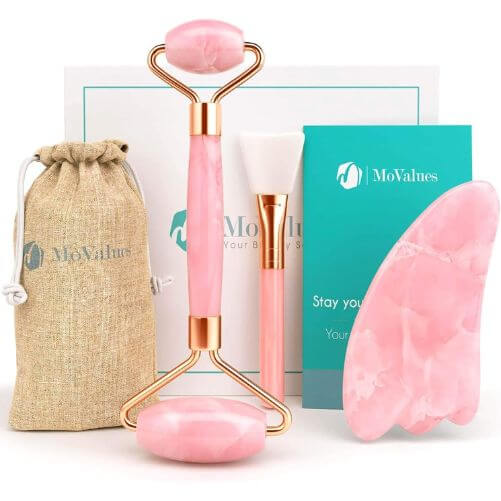 Mothers who love squishy will love this gift. This face roller set will help busy moms take care of their beauty. With only a few face rollers, facial muscles will become firmer after a period of use. Being a woman must be beautiful, help your sister become more beautiful with this face roller set.
---
24. Family Jammies Matching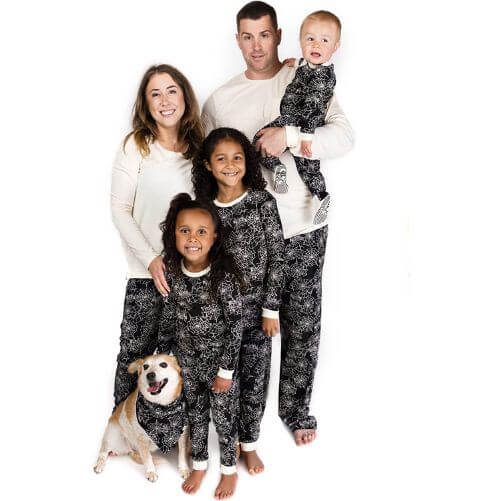 These Mother's Day gifts for sister can also be gifts for your sister's family. Why don't you give your sister's family a set of matching pajamas this year? What's more fun than when the whole family wears the same clothes and enjoys the holiday night together?
---
25. Oversized Microfiber & Sherpa Wearable Blanket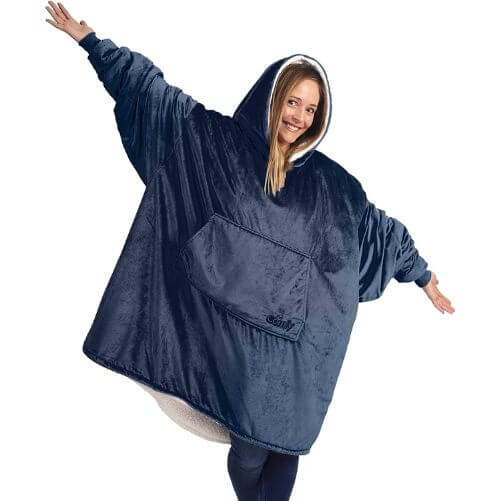 This is for the sister who values comfort above everything else. With the first wearable blanket developed, you can keep warm and comfortable wherever you are, including when watching TV, playing video games, working on your laptop, camping, going to sporting events or concerts, and more.
---
26. Scented Candle – Mother's Day gifts for sister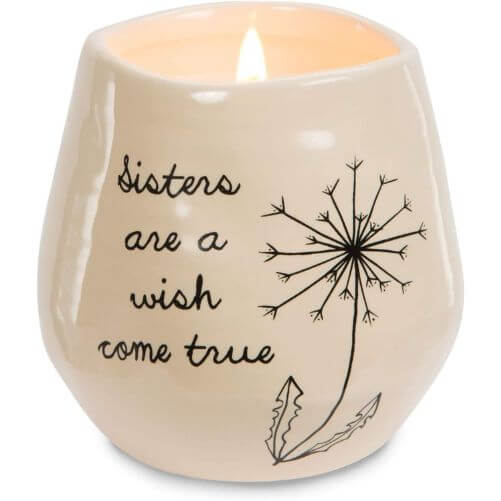 Scented candles will bring a feeling of relaxation after a busy working day. Moreover, the saying "Sisters are a wish come true" is printed on the candle glass as a word of love that you send to your sister on Mother's Day this year.
---
29. Recordable Plush 15″ Talking Teddy Bear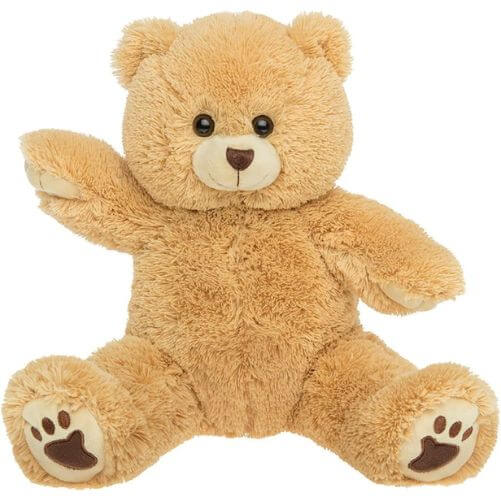 A Teddy bear is not just a toy for children. Now you can record the words of love you want to send to your sister into a teddy bear. Imagine your sister's happy face when she hears the words of love on mother's day in the cutest way.
---
30. Crystal Accented Bangle Watch and Bracelet Set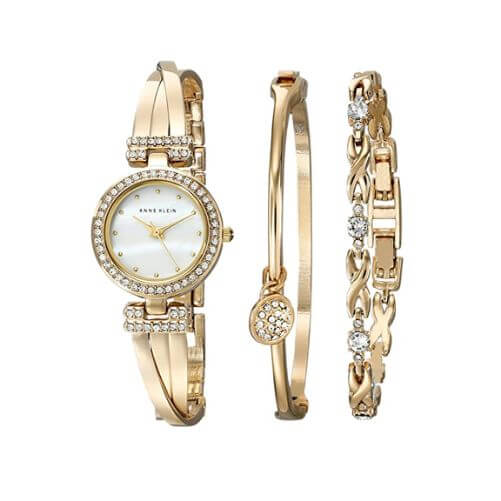 As a woman, everyone loves jewelry. One of the easiest options is to give a set of watches and bracelets to your beloved sister. Designed by designer Anne Klein, this bracelet and watch set features a luxurious look combined with a noble gold color that will make your sister stand out wherever she goes.
Conclusion
Gift giving is a way to show your love for your sister. Mother's Day this year may be more special than previous years when your sister became a mother. The suitable Mother's Day gifts for sister not only show the bond between the two sisters but also make Mother's Day this year happier.