William Shakespeare, the iconic playwright, and poet, is a literary legend whose works have transcended time and continue to captivate audiences across the globe. If you have a special literature lover in your life or are one yourself, what better way to celebrate this literary giant than with thoughtful and charming Shakespeare gifts? In this article, we, giftOMG, explore a curated selection of Shakespeare-inspired gifts that are sure to delight any Shakespeare enthusiast.
Whether you want to immerse yourself in the enchanting world of the Globe Theater or adorn your surroundings with the wisdom of Shakespearean quotes, you're sure to find a suitable gift here.
30 Thoughtful Shakespeare Gifts For Fans of the Bard
Join us as we unravel a treasure trove of Shakespeare gifts, each carefully selected to celebrate the genius of William Shakespeare and the profound impact he continues to have on our lives. Embrace the charm of the Elizabethan era and the eloquence of his language as we discover gifts that honor the playwright's legacy and bring joy to the hearts of those who cherish the timeless allure of Shakespeare.
1. Hamlet Glass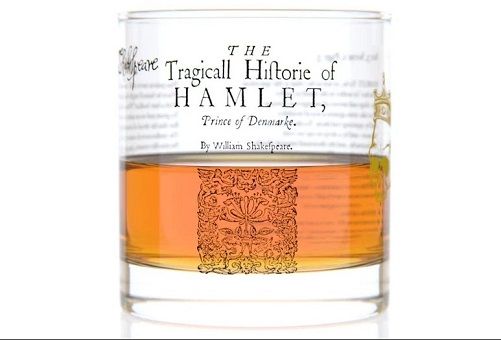 Raise a toast to the literary brilliance of William Shakespeare with the exquisite Hamlet Glass, a captivating Shakespearean gift designed to delight literature aficionados. Inspired by one of the Bard's most renowned tragedies, "Hamlet," this beautifully crafted glass captures the essence of the play's profound themes and iconic characters.
Whether used as a cherished drinking vessel or displayed as an elegant showpiece, the Hamlet Glass serves as a constant reminder of Shakespeare's timeless contribution to the world of drama and poetry, making it a cherished keepsake for those who treasure the beauty and depth of his works.
---
2. Shakespeare Magnetic Bookmark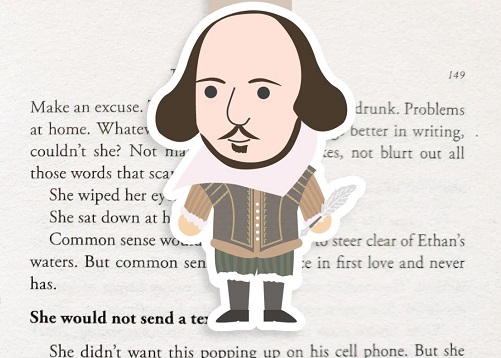 These charming bookmarks homage to the iconic playwright while adding a touch of enchantment to your reading experience. Crafted with artistic flair, the magnetic bookmarks feature a delightful illustration of Shakespeare and securely clasp onto the pages of your favorite books. With every use, these magnetic bookmarks evoke the spirit of the Bard's timeless tales, making them delightful choice for Shakespeare gifts.
---
3. Shakespurr Enamel Pin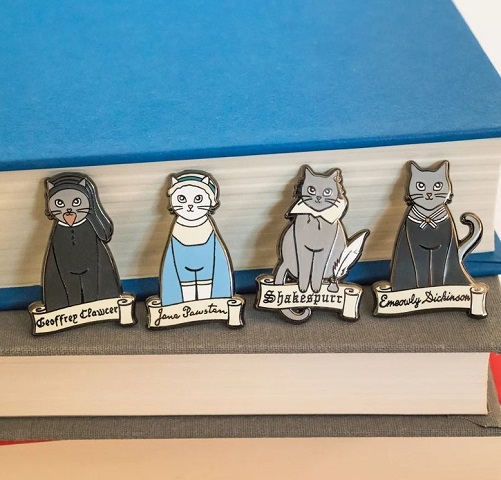 This charming enamel pin features a playful depiction of Shakespeare as an endearing cat, combining literary wit with feline charm. Pin it to your lapel, bag, or hat to showcase your love for literature and whimsical flair. With its clever design and high-quality craftsmanship, the Shakespurr Enamel Pin is an ideal accessory for any bookworm and a delightful addition to any Shakespearean memorabilia collection.
---
4. Witches Brew Candle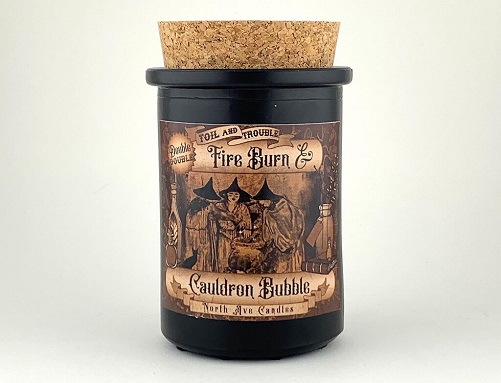 Embrace the mystical ambiance of Shakespeare's dark and enchanting tales with the Witches Brew Candle, a bewitching addition to the world of Shakespeare gifts. Inspired by the intriguing witches from "Macbeth," this candle casts a mesmerizing spell with its captivating fragrance and hauntingly beautiful design. Light up this soy-based candle and let its mystical aroma transport you to the eerie moors where the three witches conspire. 
---
5. William Shakespeare Custom Minifigure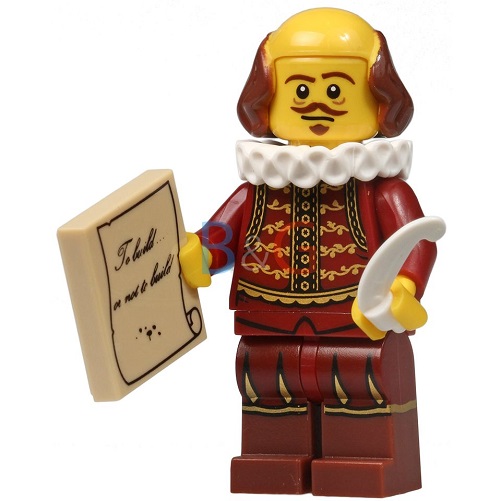 Unleash your creativity and immerse yourself in the world of Shakespeare with the William Shakespeare Custom Minifigure. This one-of-a-kind gift combines the joy of LEGO with the genius of Shakespeare, making it an exceptional present for both young and old. Whether you're an avid LEGO builder or a devoted literature lover, this custom minifigure will spark your imagination and transport you to the captivating world of the Globe Theatre, where Shakespeare's masterpieces come to life.
---
6. William Shakespeare Mug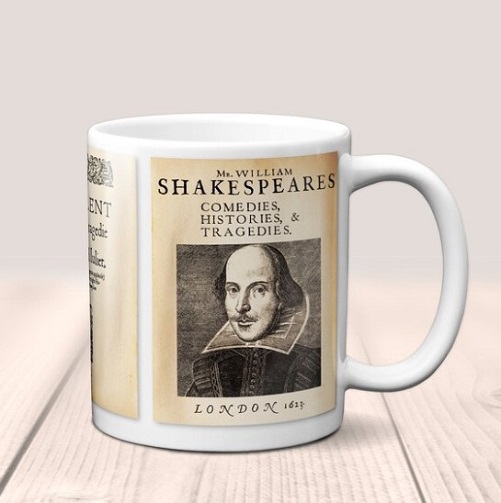 Wrap yourself in the warmth of Shakespearean wit with the Shakespeare mug. Crafted with high-quality materials, this mug is both microwave and dishwasher-safe, adding convenience to its artistic appeal. Adorned with iconic Shakespeare quotes and elegant designs inspired by Shakespeare's plays and sonnets, this mug is a delightful blend of practicality and literary charm. Now, sip in literary brilliance with the William Shakespeare Mug, a must-have gift for Shakespeare gifts.
---
7. Shakespeare Upcycled Paper Bead Chunky Bracelet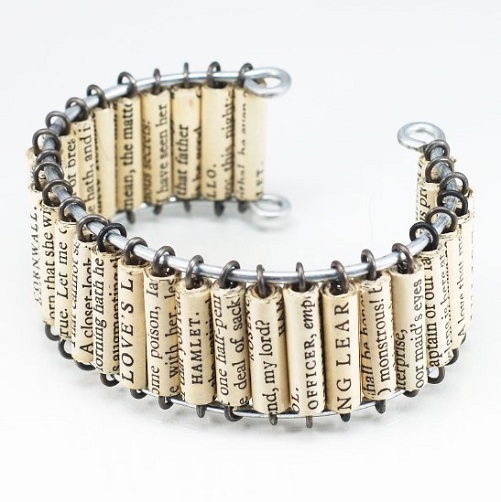 One of the gifts for Shakespeare lovers, this artisanal piece showcases the creative fusion of Shakespearean passion and environmental consciousness. Each paper bead is meticulously handcrafted from recycled materials, featuring quotes and imagery from Shakespeare's works, making every bracelet a one-of-a-kind masterpiece. Adorn your wrist with this chunky and vibrant accessory, celebrating not only the timeless charm of Shakespeare but also your commitment to a greener planet.
---
8. Shakespeare Novelty Socks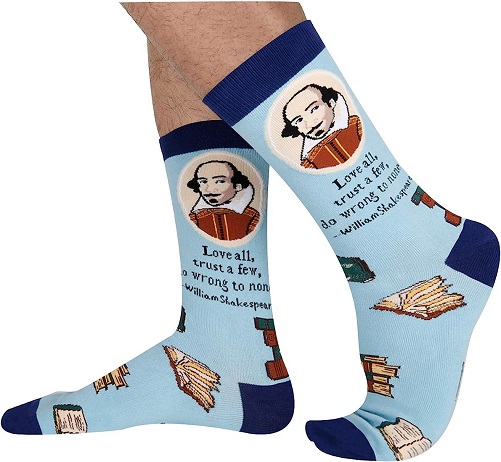 Step into the world of Shakespearean wit and charm with the Shakespeare socks, a playful and delightful addition to any Shakespeare gifts collection. These whimsical socks feature iconic quotes, characters, and symbols from Shakespeare's works, adding a touch of literary magic to your everyday style. Treat yourself or surprise a Shakespeare lover with this fun gift and let your feet embark on a literary journey with every step you take.
---
9. A Lady Macbeth Bath Set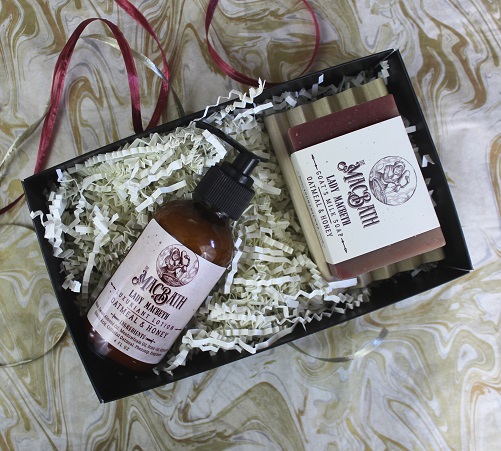 Embrace the drama and opulence of Shakespearean tragedy with the Lady Macbeth Bath Set, a gift that brings a touch of sophistication to your self-care routine. Whether you're a devoted fan of the Bard or simply appreciate indulgent bath experiences, this set is the ideal blend of elegance and literary inspiration. Let the stress of the day wash away as you immerse yourself in a bath fit for royalty, all while celebrating the timeless allure of Shakespeare's literary masterpieces.
---
10. Shakespeare Pencil Set – 7 Engraved Pencils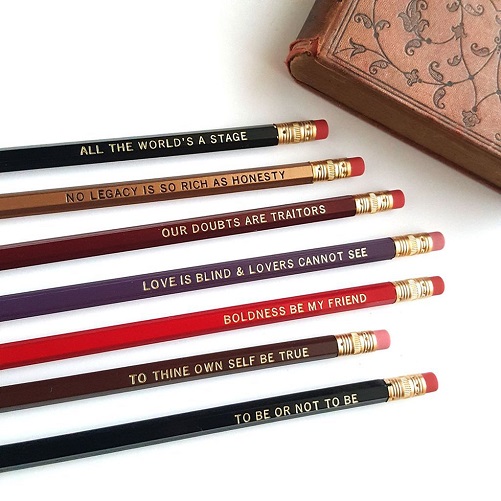 Unlock the power of words with the Shakespeare Pencil Set, a captivating gift that combines the timeless wisdom of the Bard with the practicality of finely crafted pencils. This set of Shakespeare pen features seven premium-quality pencils, each engraved with a distinct Shakespearean quote, offering literary inspiration with every stroke. Gift this set to any aspiring writer, literature lover, or admirer of the arts, and let the beauty of Shakespearean language inspire their creative journey.
---
11. Shakespearean Lip Balm Set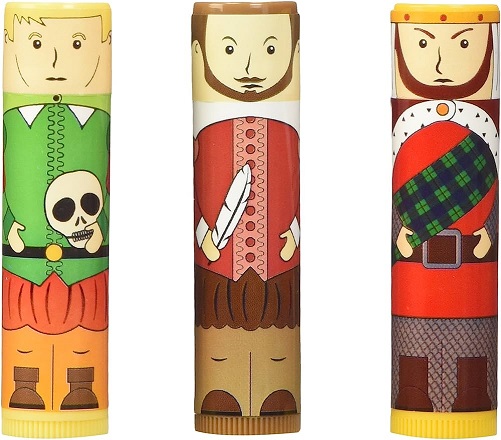 Nourish your lips with the enchanting Shakespearean Lip Balm Set, a delightful and literary-inspired option for Shakespeare gifts. This set includes a collection of lip balms, each infused with a unique fragrance and adorned with Shakespearean quotes and imagery. From the romantic allure of "Romeo and Juliet" to the witty banter of "Much Ado About Nothing," these lip balms capture the essence of Shakespeare's iconic works, leaving your lips moisturized and your senses delighted. 
---
12. Funko POP! Movies: Romeo and Juliet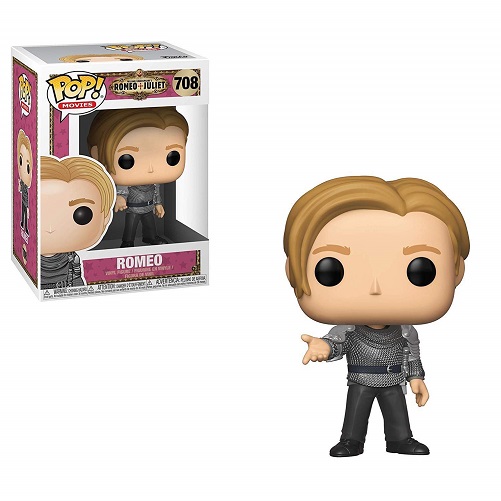 Celebrate the enduring legacy of Shakespearean literature with the Funko POP! Movies: Romeo and Juliet figurines – a gift that blends contemporary pop culture with the timeless magic of Shakespeare's words. These figurines capture the essence of the tragic romance between the star-crossed lovers, Romeo and Juliet, making them a beloved treasure for fans of the play or anyone who appreciates beautifully crafted pop culture collectibles.
---
13. Shakespearean Insults Poster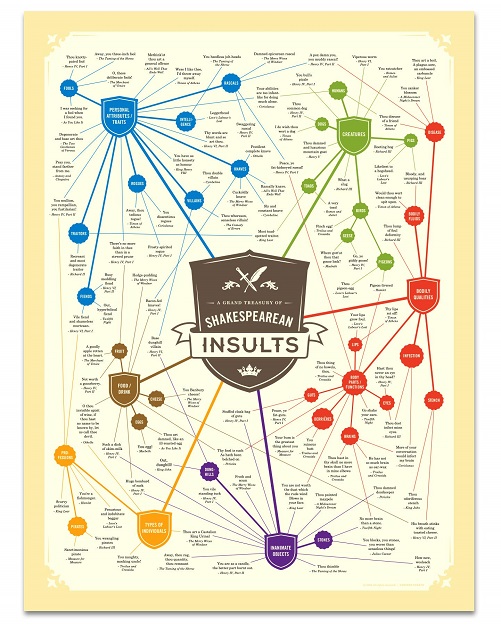 Invite the spirit of Elizabethan banter into your space with the Shakespearean poster – a playful and educational choice for Shakespeare insults gifts of all ages. Not only does this poster showcase the ingenuity of Shakespeare's insults, but it also serves as a conversation starter, igniting discussions about the brilliance of his language and the enduring charm of his plays. Hang it on your wall, in your office, or classroom, and let the hilariously creative insults spark laughter and admiration for Shakespeare's wordplay.
---
14. A Merry Feast Bread Warming Stone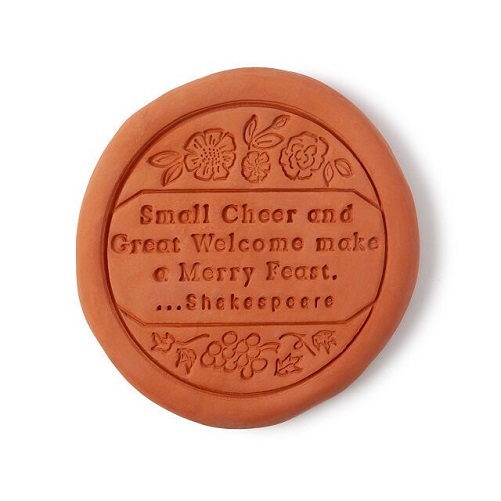 Celebrate the art of gastronomy and Shakespearean merriment with the Merry Feast Bread Warming Stone – a gift that combines practicality with the enduring charm of the Bard's works. Not only does it serve as a functional kitchen tool, but it also adds a touch of literary elegance to your dining experience. Treat yourself or surprise a fellow Shakespeare lover with this delightful bread-warming stone, and create a dining ambiance that pays homage to the merry feasts of the Elizabethan era. 
---
15. William Shakespeare Cookie Cutter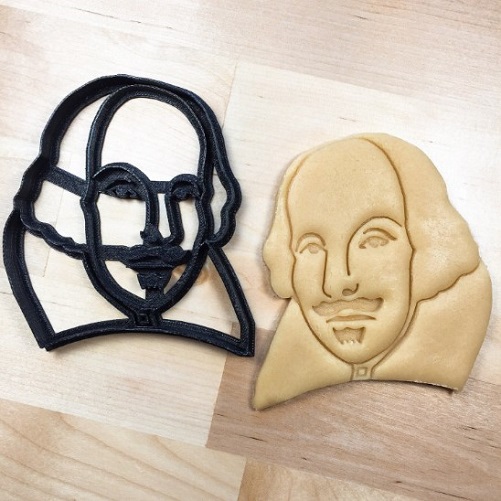 Delight in the sweetest homage to the Bard with the Shakespeare Cookie Cutter, a charming and playful addition to any Shakespeare gifts collection. This cookie cutter is expertly crafted in the likeness of the iconic playwright, allowing you to create delicious and whimsical treats that celebrate Shakespeare's enduring legacy. Bake cookies that bear the likeness of the Bard himself or showcase famous quotes and symbols from his works – the possibilities are as vast as Shakespeare's literary repertoire. 
---
16. Shakespeare Literary Can't Even Shirt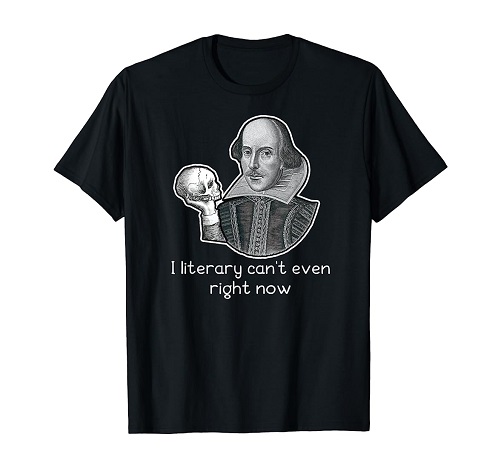 Celebrate the merging of classic literature and contemporary humor with the Shakespeare Literary Can't Even Shirt – a gift that embodies your love for Shakespeare and your penchant for wit. Wear it to book clubs, literary events, or casual outings, and let the world know that even Shakespeare would be impressed by your level of enthusiasm for all things literary.
---
17. To Thine Own Self Be True Bracelet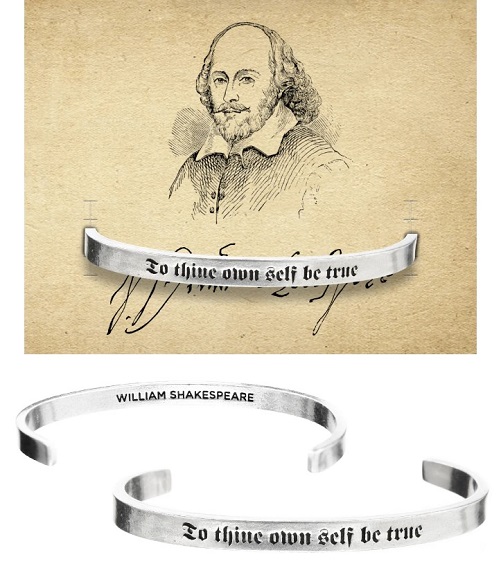 Embrace the wisdom of Shakespeare with the "To Thine Own Self Be True" Bracelet, a meaningful and inspirational Shakespeare present that carries a profound message from the Bard's iconic play "Hamlet." This elegant and delicate bracelet serves as a constant reminder to stay true to oneself, a sentiment that resonates through the ages. Crafted with care and adorned with a quote from "Hamlet," this bracelet is a beautiful accessory that exudes both style and substance.
---
18. Shakespeare Quote Journal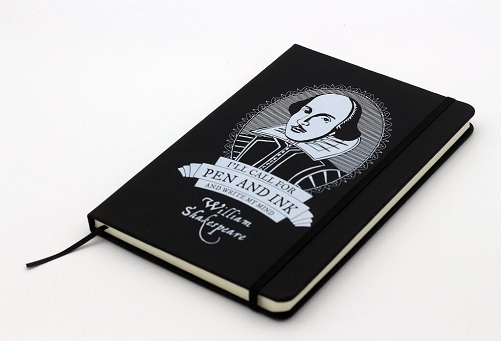 Elevate your writing experience with the Shakespeare Quote Journal – a gift that combines the beauty of classic literature with the art of journaling. This journal features a collection of Shakespeare's most memorable quotes, providing a canvas for your own musings and reflections. Each turn of the page brings you closer to the timeless wisdom and poetic mastery of William Shakespeare, making this journal a treasured possession for any literature enthusiast. Looking for Shakespeare gifts, consider this one.
---
19. Shakespeare Stone Coasters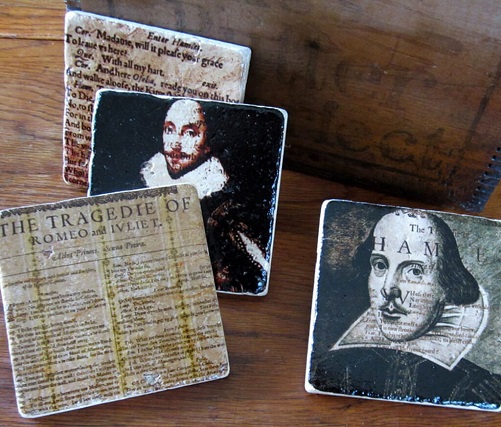 Add a touch of literary elegance to your home with the Shakespeare Stone Coasters, a sophisticated and functional gift for Shakespeare gifts. Each coaster features iconic quotes and symbols from Shakespeare's plays and sonnets, beautifully engraved on natural stone, creating a set of coasters that is both practical and aesthetically pleasing.
Whether you're hosting a gathering or simply enjoying a quiet evening, these coasters protect your surfaces while bringing the spirit of Shakespeare into your space.
---
20. Out of Print William Shakespeare Tote Bag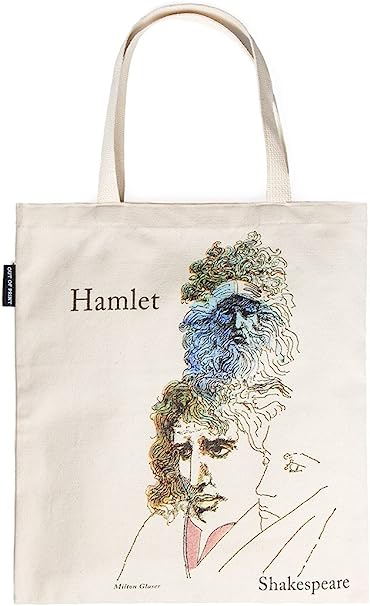 This tote bag features a classic and timeless design, showcasing Shakespeare's portrait or iconic quotes from his plays. Made from durable and eco-friendly materials, this tote bag not only adds a touch of literary flair to your outfit but also promotes sustainable fashion. Whether you're strolling through the bookstore, heading to the library, or simply running errands, the Shakespeare Tote Bag is a functional and fashionable accessory that celebrates the enduring legacy of one of history's greatest playwrights.
---
21. William Shakespeare's Bard of Soap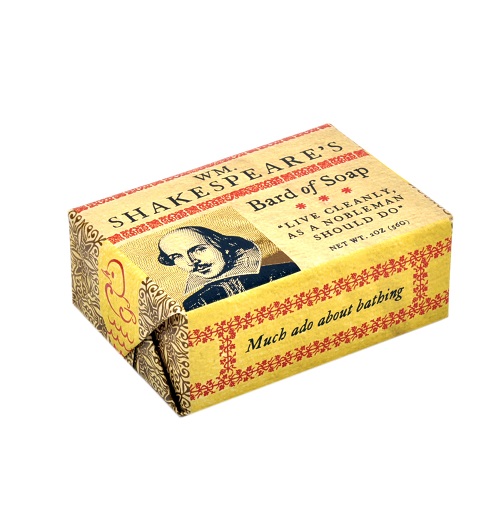 This artisanal soap is lovingly crafted with natural ingredients and infused with fragrances that evoke the charm of Shakespeare's world. From the romantic scents of blooming gardens to the refreshing notes of the Elizabethan countryside, each Bard of Soap offers a sensory journey through the pages of Shakespeare's plays and sonnets.
Treat yourself or surprise a fellow literature lover with these enchanting Shakespeare gifts, and let the magic of Shakespeare's words infuse your bathing experience with elegance and poetic beauty.
---
22. Philosophers Guild Shakespeare Magnetic Personality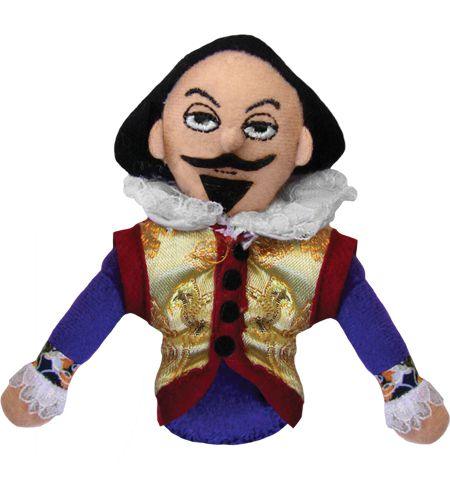 Celebrate the playful side of Shakespeare's genius with The Philosophers Shakespeare Magnetic – a gift that lets you reimagine the Bard in a whole new light. Have fun mixing and matching the magnetic accessories to create amusing scenes or use it as an educational tool to explore Shakespeare's works in a lighthearted way. From crafting hilarious scenarios to sparking conversations about the Bard's literary legacy, this magnetic is the perfect gift for those who appreciate both the brilliance and fun in Shakespeare's timeless works.
---
23. Munchkin Shakespeare Deluxe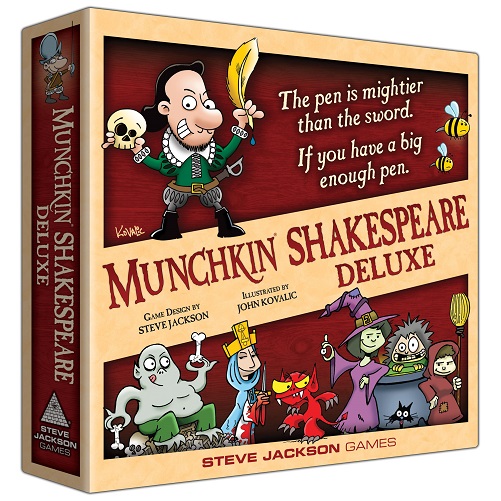 This deluxe edition of the popular Munchkin game is adorned with iconic Shakespearean illustrations and features characters from the Bard's plays as hilarious and quirky cards. Embark on a thrilling journey through the world of Shakespeare, where you can "stab your buddy" as Hamlet, "find the Lost Folio" as Othello, and navigate the treacherous twists and turns of Elizabethan drama. It would be one of the perfect ideas for Shakespeare gifts. 
---
24. The Play's the Thing Board Game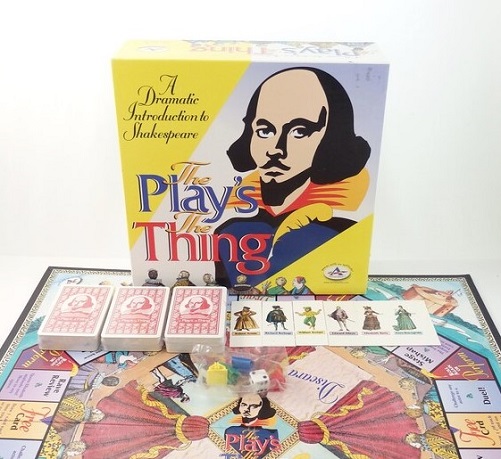 In this creative and strategy-driven game, players take on the roles of theater managers in Elizabethan England, competing to stage the most successful productions of Shakespeare's plays. From casting the right actors to managing resources and dealing with unexpected events, this game offers a thrilling blend of theater management and Shakespearean drama. Perfect for game nights and gatherings with friends and family.
---
25. ​​Shakespearean Insults Shot Glass Set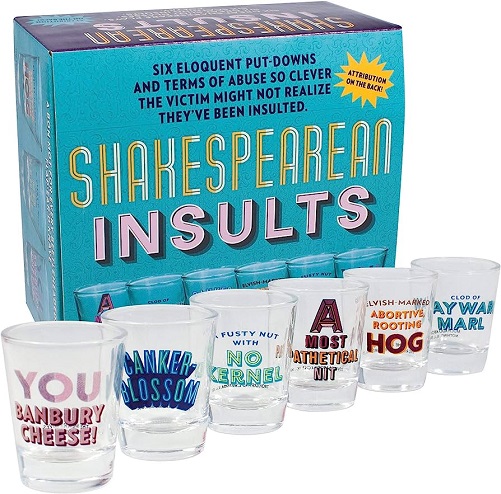 Toast to the art of creative insults with the Shakespearean Insults Shot Glass Set, a hilarious and spirited addition to any Shakespeare gifts collection. This set includes shot glasses engraved with some of the Bard's most memorable and biting insults, adding a playful twist to your drinking experience. Whether you're hosting a themed party, a Shakespearean trivia night, or simply having a good time with friends, these shot glasses are sure to spark laughter and lively banter. 
---
26. A Shakespeare Magnetic Poetry Kit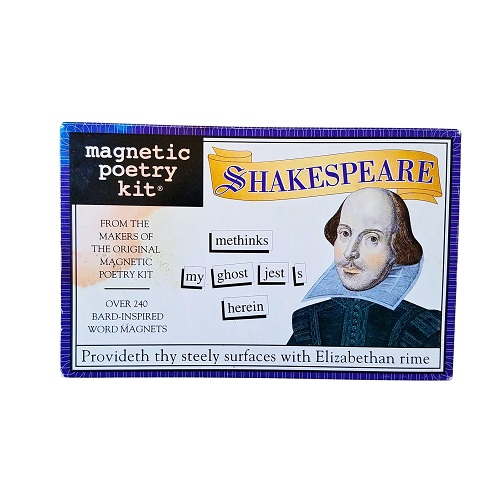 One of the fun Shakespeare gifts, this magnetic kit includes a plethora of words and phrases inspired by Shakespeare's works, enabling you to compose your own sonnets, soliloquies, and playful wordplay on any magnetic surface. Let the language of Shakespeare inspire your creativity and bring the magic of his poetry into your home with the Shakespeare Magnetic Poetry Kit – a perfect gift for any literature lover and a delightful addition to any Shakespeare gifts collection.
---
27. Ides of March Pencil Holder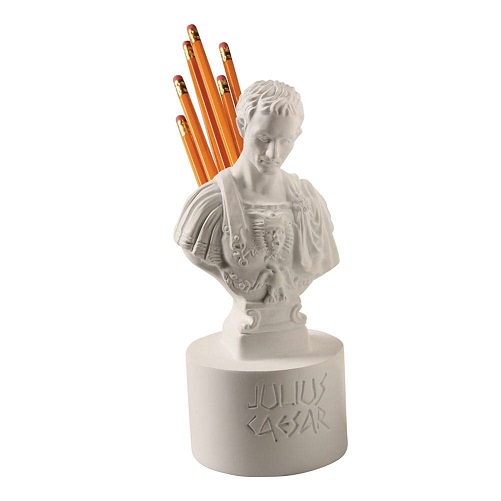 Etch the Ides of March into your workspace with the Ides of March Pencil Holder, a striking and thematic gift that commemorates one of Shakespeare's most dramatic moments.
This pencil holder features a design inspired by ancient Roman architecture and motifs, paying homage to the ominous day in Julius Caesar's life. Whether used as a stylish desk accessory or a decorative piece, this pencil holder serves as a reminder of the power of Shakespeare's words and the enduring impact of his plays.
---
28. A Shakespeare Pillow Book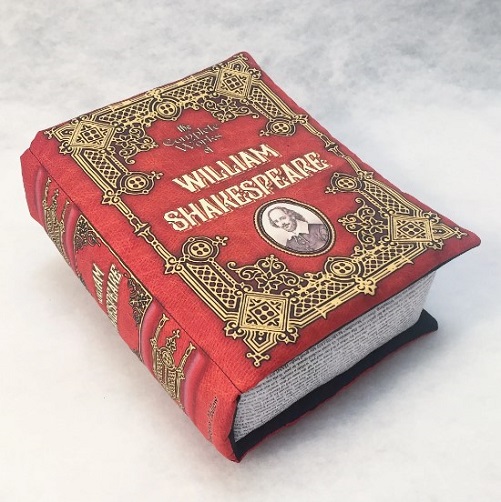 Discover comfort and literary elegance with the Shakespeare Pillow Book, a delightful and unique gift that blends the love of reading with cozy relaxation. This pillow book features selected excerpts from Shakespeare's plays and sonnets, artfully printed on soft and luxurious fabric. Give this Shakespeare present to your loved ones and make them happy.
---
29. A Romeo and Juliet Book Purse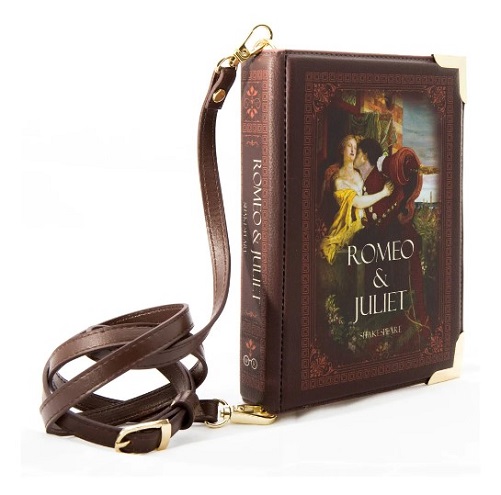 Another thoughtful item for Shakespeare gifts, this unique purse is designed to resemble a classic book cover, complete with a charming illustration of Romeo and Juliet and the play's title. Its spacious interior provides ample room for your essentials, while the detachable shoulder strap offers versatility and comfort. With the Romeo and Juliet Book Purse, you can showcase your passion for Shakespeare and his timeless works while adding a touch of literary flair to your outfit.
---
30. Shakespeare Bust Statue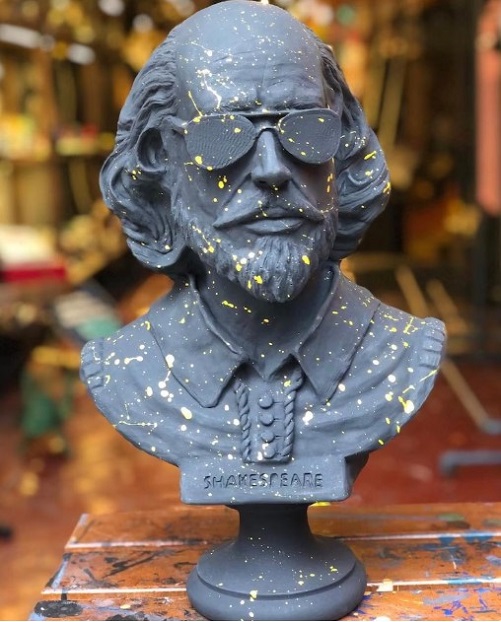 This beautifully sculpted bust captures the likeness of the Bard, featuring intricate details that showcase his signature ruffled collar and contemplative expression. Place it on your bookshelf, desk, or mantle, and let this statue become a centerpiece that honors Shakespeare's enduring legacy and his profound impact on the world of drama and poetry. Consider this one if you're looking for gifts for Shakespeare lovers. 
Wrapping Up
In short, Shakespeare gifts are an excellent way to celebrate the enduring legacy of the Bard and bring joy to literature lovers everywhere. Whether it's through a beautiful collection of his works, a creatively inspired item, or an immersive experience, these gifts are bound to delight and inspire those who appreciate the timeless charm of William Shakespeare's literary genius.