Mugs are one of the most safety-zone gifts for most occasions, including Mother's Day. However, the creativity to turn this safety-zone gift into an interesting and heartfelt item is endless. If you are wondering which mug to gift for the upcoming special day, take a glance at our 30 recommendations for Mother's Day mug ideas.
Great Mother's Day mug ideas To Impress Your Mom
Moms may be right beside you or live far from you. In case she is not by your side, don't forget to find unique long-distance Mothers Day gifts for her. Wherever she is, the most important woman in your life deserves the most wonderful things from her beloved children. And if you think that a beautiful mug may make her happy, don't hesitate to take one of the following Mother's Day mug ideas into consideration!
Have a look at the details of 30+ amazing Mother's Day mug ideas below to come up with the best gift to cherish your mother on her special day!
1. Temperature-Controlling Mug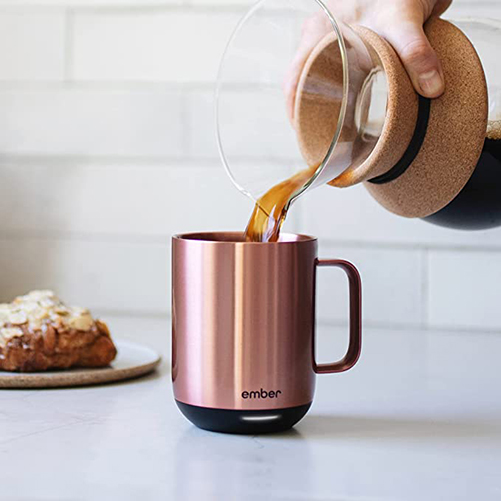 Our first spot on the list of Mother's Day mug ideas you can refer to is a smart mug with a temperature controlling feature. For choosing temperature controlling mug, you should focus on how well it can perform with temperature. The next standards will be capacity and appearance. Most temperature-controlling mugs would have a capacity from 10 oz to 14 oz, and they vary in colors.
---
2. "Best Mom Ever" Marble Pink Ceramic Mug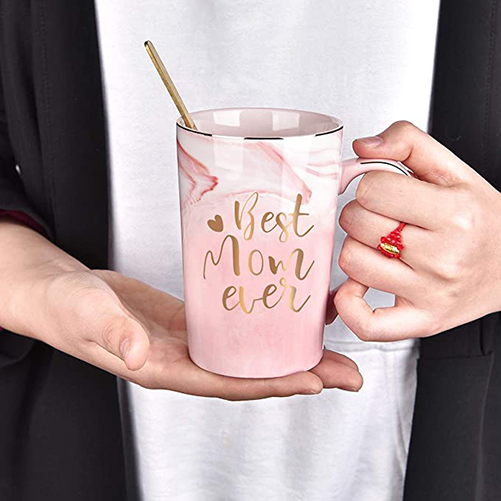 Standing in the second position is a classic Best Mom Ever mug. However, with this mug type, going for an extra version than just a normal ceramic mug with a printed quote Best Mom Ever may be worth the effort. You can choose the Best Mom Ever mug that comes with a cover and a spoon. It surely would make one of the nicest Mother's Day coffee mug ideas.
---
3. At Least You Don't Have Ugly Children Mug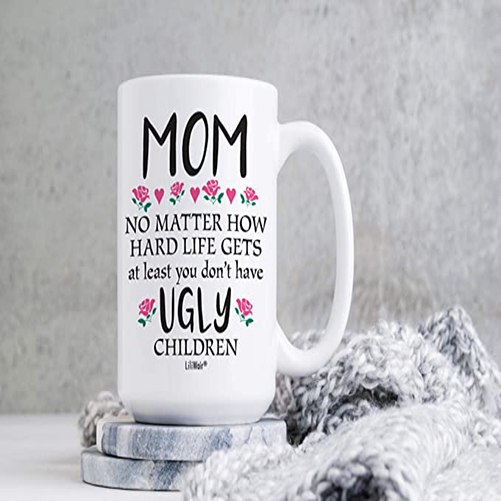 The third suggestion for coffee mug mother's day gift ideas will be sarcastic and funny enough if you are aiming at something bolder to give your mom this Sunday. The mug is like a small encourager but in a fun way for your mom – No matter how hard life gets, at least you don't have ugly children!
---
4. You Are An Awesome Mother Mug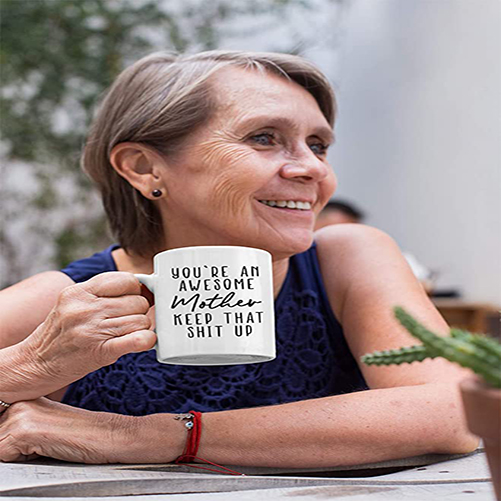 Another candidate for Mug ideas for Mother's Day you can take as reference is the "You are an awesome mom – Keep that thing up!" mug. The mug is an adorable compliment for mothers, who have been doing a great job. As you send a mug to your mom, it can go with a few other items to make a delightful gift box.
---
5. "My Favorite Child Give Me This Mug"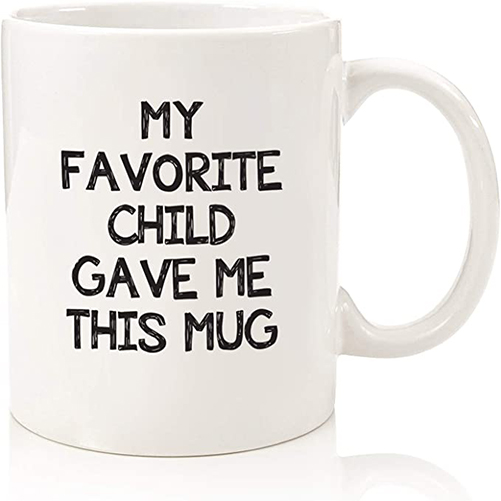 The fifth mug on our list of ideas for Mother's Day mug would definitely not let you down. This is quite a funny mug to give. Mugs are still in the safety-zone gift section, in general, which means this cup is not exactly an exception. But it is undoubted that the "My favorite child give me this mug" mug would put a smile on your mother's face.
---
6. Personalized "To My Wonderful Mom" Mug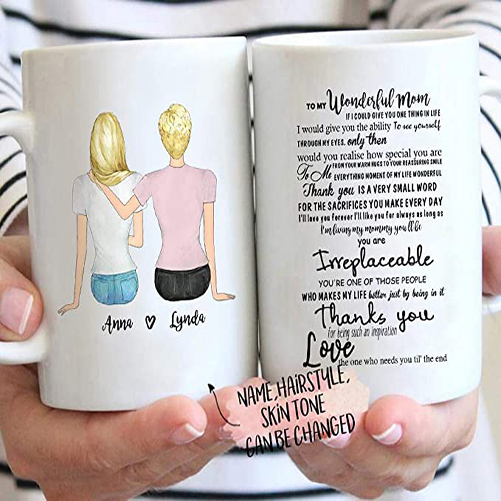 It is best to have personalized gifts on every occasion for the receivers because they are obviously more heart-touching than any other present. The case is not exceptional for this mug. Especially, the "To my wonderful mom" mug would be perfect for sons or daughters who are abroad and looking for Mothers Day mug ideas. You can also freely choose which words to print on the mug.
---
7. Nutrition Facts Mug For Mom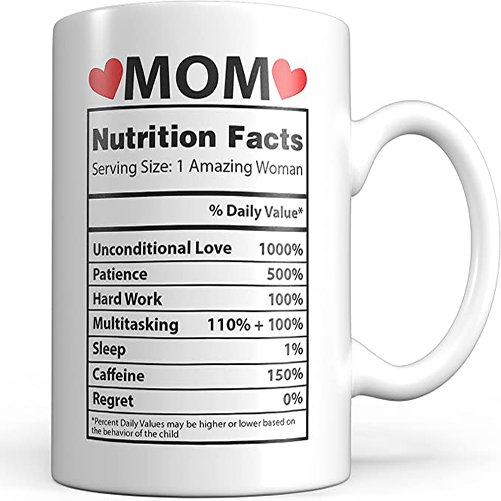 This has been one of our favorite Mother's Day mug ideas because of its creativity. It is inspired by the nutrition table you may have seen a lot in food products, but rarely in a mug for mom. However, for this type of mug, there could hardly be any personalization.
---
8. Mom, Thanks For Squeezing Me Out Mug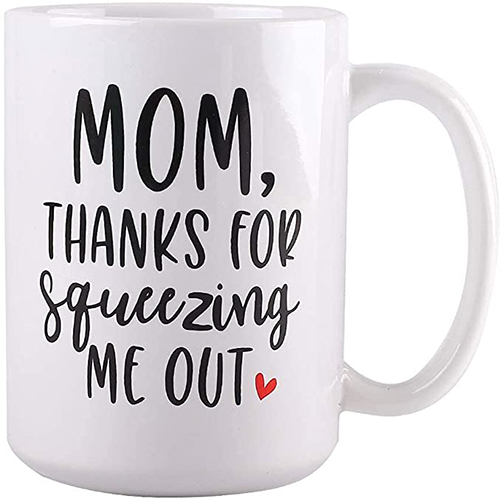 One of our highly recommended funny Mothers Day mugs is the "Mom, thanks for squeezing me out" mug. A shortcoming of most printed mugs is that they are not available for personalization. This heavily depends on the makers you choose. However, some funny mugs need no personalization because they have already been enough.
---
9. Other Mom Vs You Mug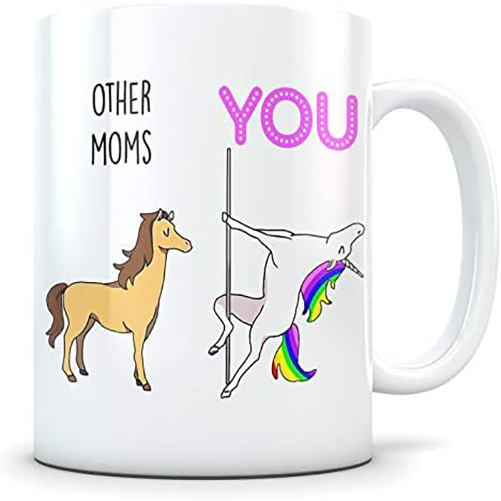 If you are looking for more Mother's Day mug ideas that are funny and fabulous, the ninth suggestion is for you. So many people have fallen in love with the illustration of unicorns on items, including mugs. The Other mom Vs you mug would be a fabulous one with horses and unicorn animation printed.
---
10. Great Job Mom, I Turned Out Awesome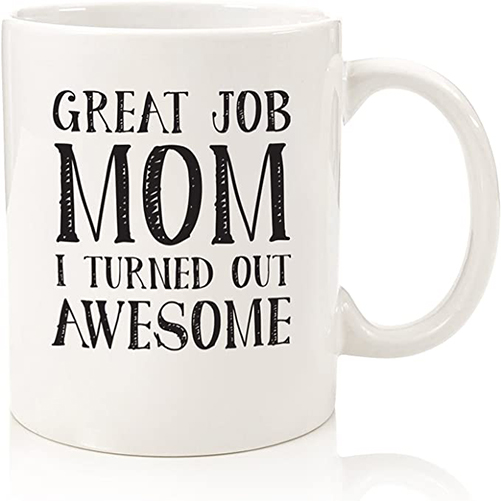 It is one more cheer-up note for Mother's Day printed on a mug. Mugs with this quote would be delivering a message of your mom has done an excellent job raising her kids, and Mother's Day or any other day is to give her the cherish she deserves.
---
11. To My Mom Tumbler

Our twelfth suggestion for this following mom mug ideas is among the most humorous mugs. Wordplay has been applied to the mug with the term mamasaurus. Also, the Don't mess with mamasaurus is more of a tumbler. What to mind most for the mug is that it only has one color, which is rose gold. However, the capacity is pretty ideal with 12 oz.
---
13. This Lady Is One Awesome Mom Mug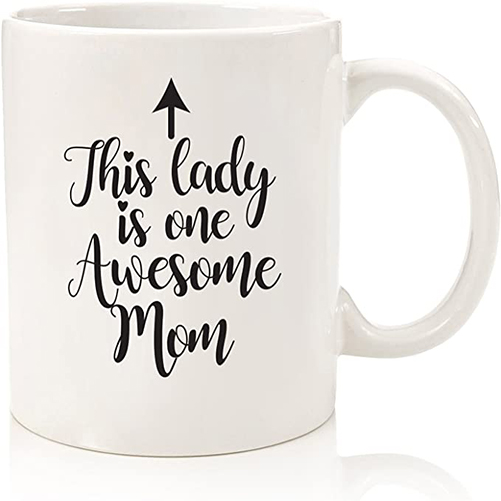 The list of Mother's Day mug ideas goes on with "This lady is one awesome mom" mug. The quote printed on the mug is a reminder for all moms out there who have struggling with motherhood. And if you are going to express your appreciation through mugs, the thirteenth suggested mug idea can do the job well.
---
14. A Different Best Mom Ever Mug Version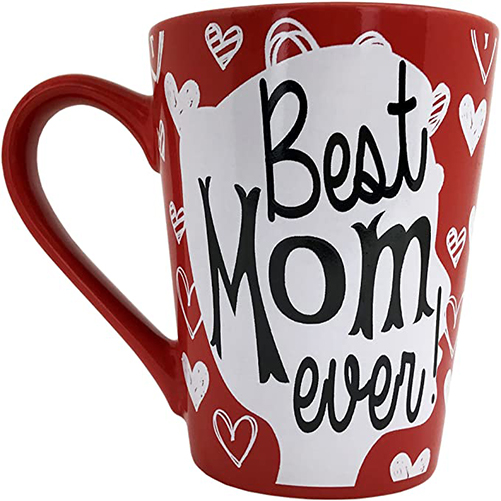 Here is another version of the Best mom ever mug. Nonetheless, it would be more compatible for moms who love the color red with little white hearts. It is going to work well for every mom because of its familiar and loving vibes. The best thing about the mug is probably the color alternation as customers' demands.
---
15. You Are Truly A Great Mom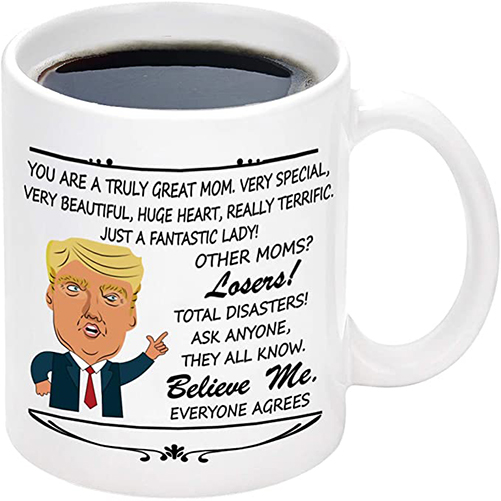 Moms who are Trump supporters would fall in love immediately with the You are a truly a great mom mug. It is undoubted that this mug has made one of the most interesting Mother's Day mug ideas. What else can put a smile on your mom's face if he is not Donald Trump, who she supports, compliment her a truly great mom?
---
16. M.O.T.H.E.R Mug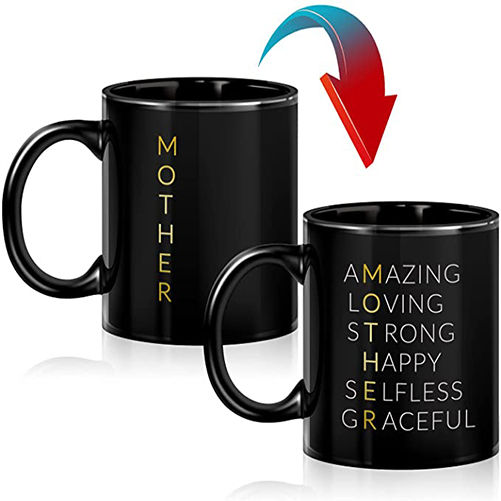 In contrary with the funny mugs above, the MOTHER mug is such a heartfelt present to give on Mother's Day. MOTHER is actually a short version of aMazing, lOving, sTrong, Happy, sElfless, and gRaceful. These are among the words that many have associated to their beloved mothers.
---
17. Mommy Needs More Coffee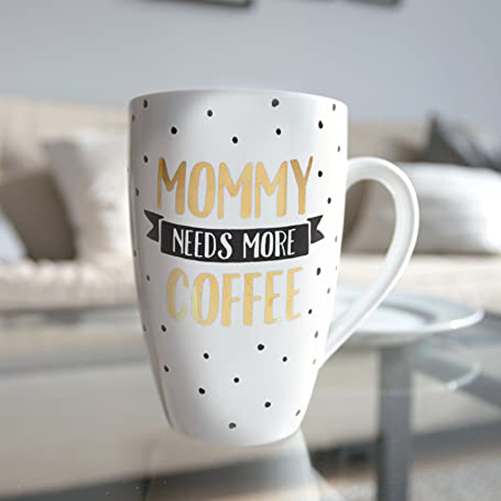 It is true that moms do need a lot of coffee, which they cannot be blamed for because they have been working so hard as an individual and as a mom. For this mug option, you can have several choices while ordering the mug, and there is a mug for Father's Day is available.
---
18. Mom (Noun) Mug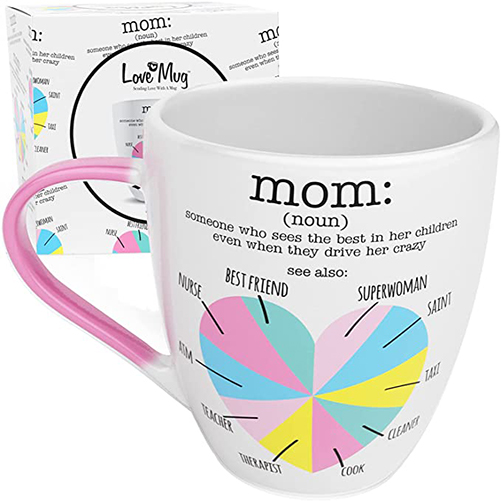 Our mothers are superheroes and the most tolerant women on the planet Earth. They are our chef, nurse, teacher, therapist, saint, and even taxi driver. Moms can always sees the best in you even when you are at your worst. That's why the Mom (noun) mug with a big heart of different love forms is the best for our mothers. Add it on your collection of Mother's Day mugs ideas if you feel it's meaningful.
---
19. Mom Juice And Mom Fuel Mug Set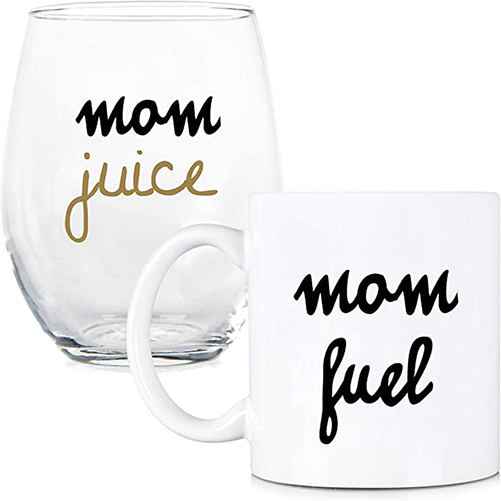 Should you think one mug is not enough for your mother for the upcoming occasion, perhaps a set of Mom Juice and Mom Fuel mug set would satisfy you. This set has made a pretty creative and define gift set for mom. She can now have wine, tea, and coffee with these two glass and mug.
---
20. Dear Mom Mug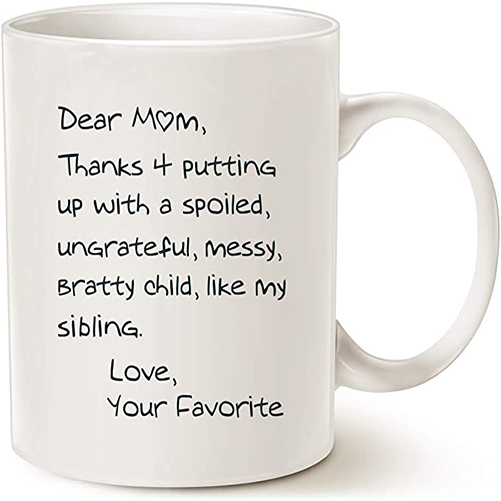 It seems like an emotional letter at first, but it is the last thing you should expect for this funny Mother's Day mug. These are definitely not among the most touching words. However, they can one among the most humorous gifts you can send to your mom on this Sunday.
---
21. Mama Bear Mug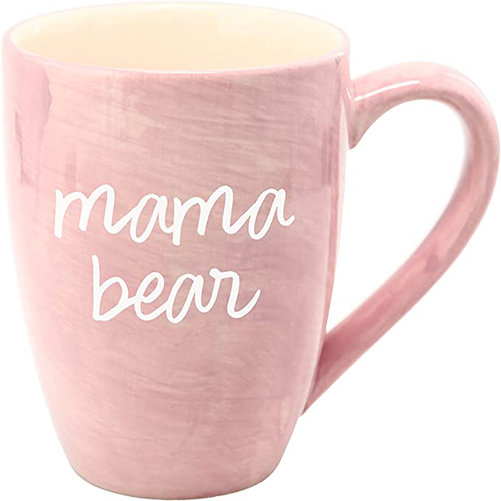 The Mama bear mug is probably listed as one of the most femine Mother's Day coffee mug ideas for the color pink with featured marble surface. It is simple, but elegant, and we see no reason why the Mama bear mug should not be in your list of Mother's Day mug ideas.
---
22. You Are A Really, Really Great Mom Mug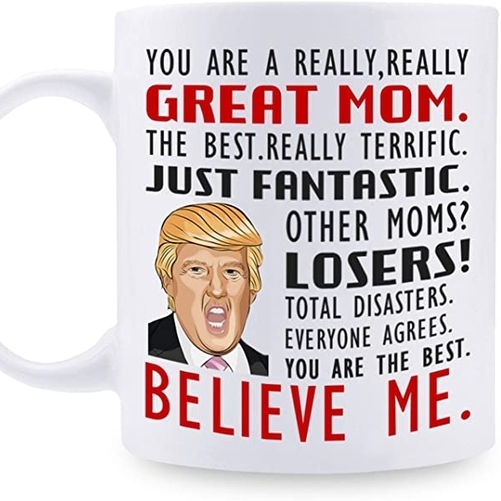 Here comes another Trump's compliment for your awesome mom. The mugs are not the most femine like the option above, but it looks totally realistic with daily-life strong words, supporting your mom and reassure her that she is a great mom. How can your mom not fall in love with this gift?
---
23. Flower Attached Mug With Spoon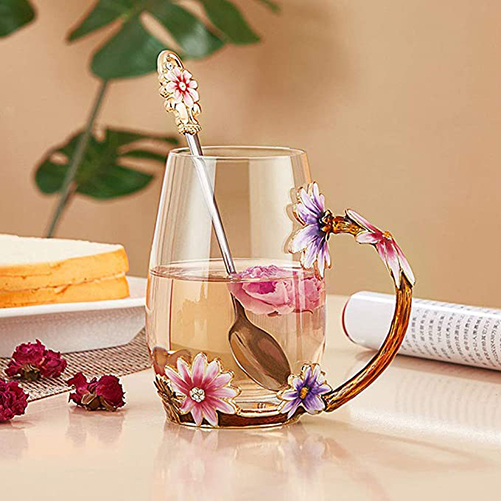 Does your mom love her morning tea? If your answer is yes, you should absolutely take the mug into your shopping cart and get it as a Mother's day present. This flower attached mug with steel spoon is excellently compatible for your mom's tea time in the morning with its refreshing vibe.
---
24. I'm A Proud Mom Mug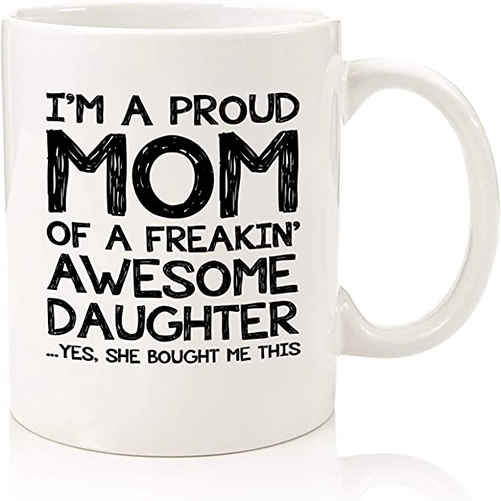 There are more coffee mug Mother's Day gift ideas in this list for you to select, and the I'm a proud mom is also on the list. It is one more simple but funny enough to make your mom's day when receiving it from her favorite daughter or son.
---
25. Mom, Thanks For Sharing Your ADN Mug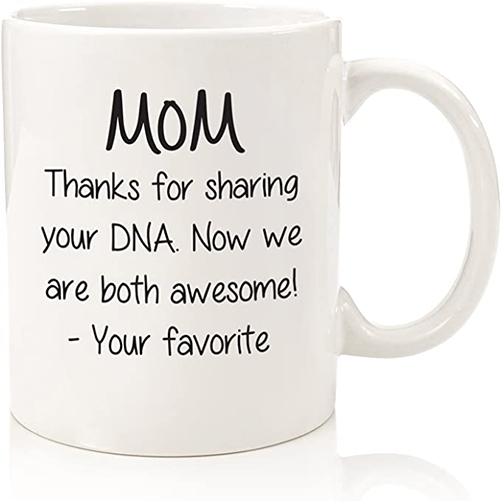 Next in line, we have the Mom, thanks for sharing your ADN mug. It is another choice if you are looking for something that can make your mom laugh. It is also a indirect way to compliment that your mom has a great beauty and personality, if you are too shy to say it in person.
---
26. My Mom Forever Never Apart Mug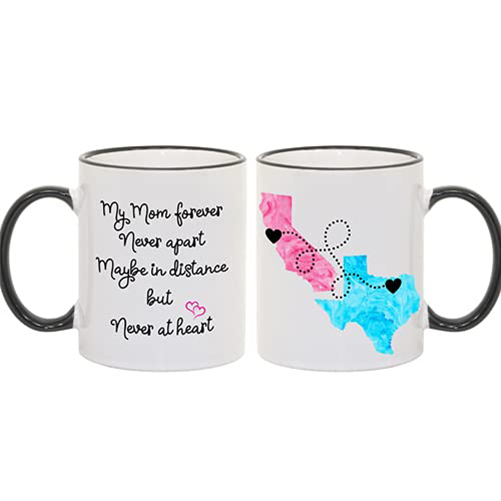 This would be a perfect present on Mother's Day of daughters and sons who are distant from their moms. Mugs of this type are no doubt the most heartfelt mug ideas for mother's day. Event when you and your mom are not together, just remember, your heart and her heart are still close to one another.
---
27. Mom With Names Crafted Mug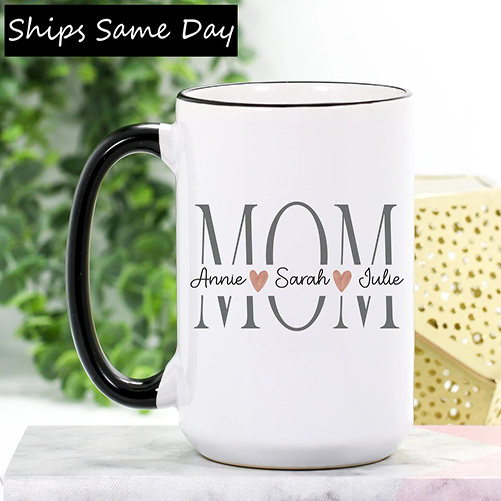 Should you and your sisters and brothers want to buy a shared gift for your mom, this can be a suitable mug option as it will have all of your names on it. It is a short message of love you have for your mother.
---
28. I'm So Glad I Tumbled Out Of Yours Mug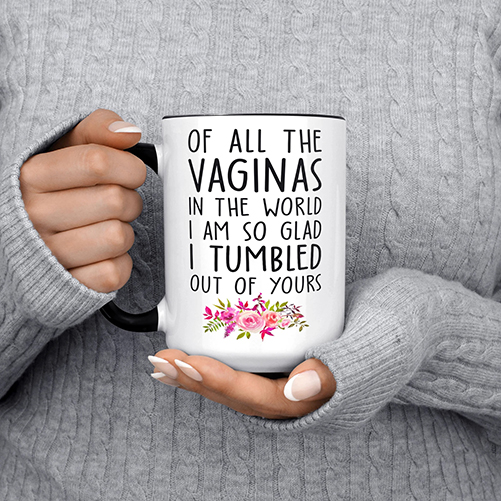 To be honest, the twenty-eighth recommendation would fit more for adults. It can have strong language, even though it is realistic. The mug still have that touching vibe of appreciation, and we think it is going to make one of the boldest Mother's Day coffee mug ideas.
---
29. Thanks For Not Swallowing Me Mug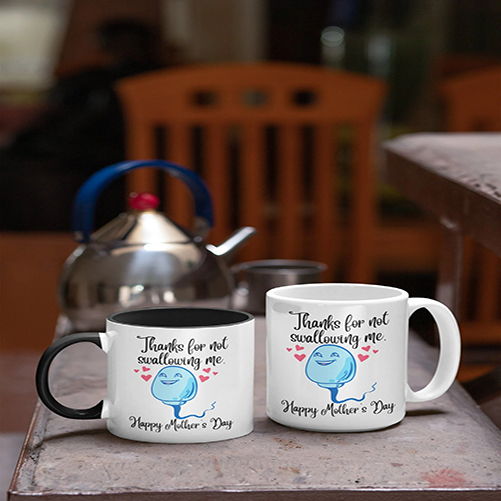 Then we have more options for child alert gifts. There you have one funny and sarcastic mug idea for Mother's Day to take a reference. It is humorous enough to make your mom burst out into laughing, we believe. This mug is definitely going to make one of the best-sellers for mug sections.
---
30. Happy Mother's Day Human Servant Mug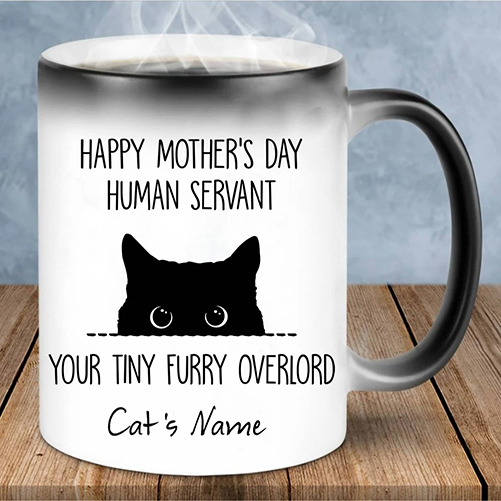 The last recommendation on our list of Mother's Day mug ideasis the Happy Mother's Day human servant mug. This mug is not compulsorily given to mothers with kids as it can be gifted for cat moms and make their day become more delightful. Any pet moms is worth a small cherish on the Mother's Day as well.
---
31. Dog Mom Mug with Stylish Gift Box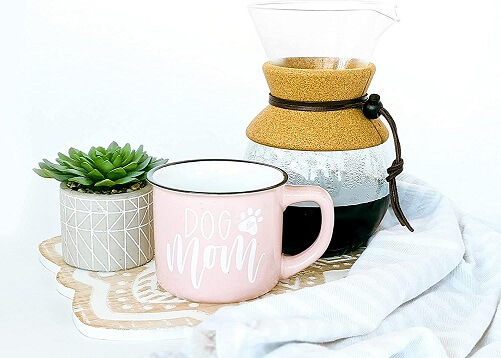 These cute mom mugs are carefully designed using handwriting to brighten up mother's day and are the perfect gift for any occasion for mom. Make it a perfect gift for your dog mom on her special day. It would be a big hit on your list of Mother's Day mug ideas and your mom can cherise for years to come.
---
32. Tired as a Mother Novelty Gifts for Mom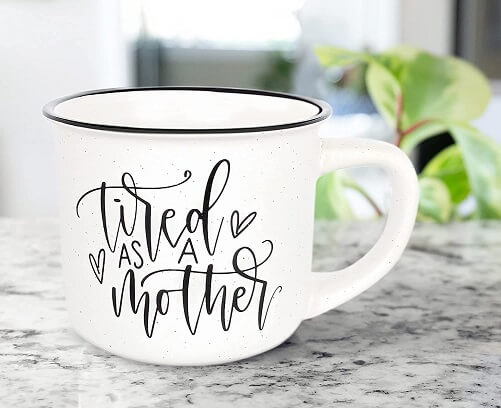 This mug holds over 15 ounces, making it the perfect size for enjoying hot drinks. Whether you love coffee, tea or hot cocoa with marshmallows, this mother-themed mug is the perfect unique gift for mom. Gift her on Mother's Day or any special day. It's cheap and cute, worthy of one of the coolest Mother's Day mug ideas.
---
33. Dog Mom Coffee Mug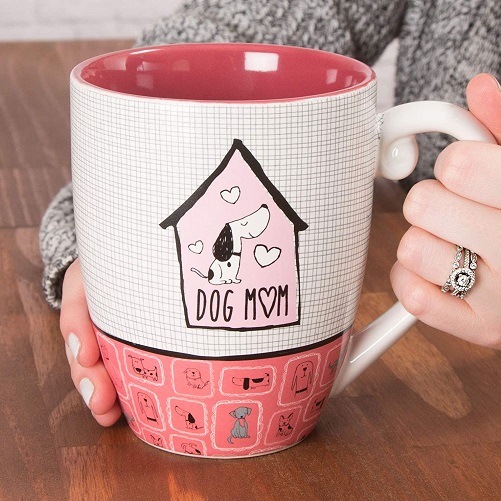 If you mom will love dogs, this mug is sure to be the perfect gift. The cute mug with the text "Dog Mom" and cat icon are both printed into the front will be certaintly loved. 20oz mug, made from stoneware, packaged in a simple box, perfect present for a birthday or any occasion.
Check out some related articles:
Final Thoughts
Choosing mugs is filled with joy, especially that mug is going to make your mom smile. For the next Mother's Day, if you tend to gift your mom with mugs, keep in mind her favorite colors and consider carefully what that mug is going to function. Is it going to be a mug for morning tea or daily coffee? Remember those notes because they would be helpful to you during your selection process. Hopefully, with the list of Mother's Day mug ideas above, you can get more ideas!