Even with great advances in science and technology, many aspects of the universe remain a great mystery to us. Perhaps this is why so many people continue to look up at the starry sky at night and dream of conquering distant galaxies. Regardless of age, gender or race, we are all fascinated by the beauty of the clear night sky. Therefore, space gifts will always stimulate the imagination and satisfy the most demanding people.
If you're shopping for a friend or family member who is particularly fascinated with the wonders of space, browse some of the best gifts for space lovers here. Each of the space lover gifts from giftOMG is guaranteed to impress your space enthusiast and turn their home into the space station of their dreams – you might even find something for yourself on the way. Check out the best space gifts below to start your intergalactic journey.
*** Reference: You can see more gifts under different themes here
Best Space Gifts For Space Lovers In Your Life
If you have a space enthusiast in your life, there are a ton of great gifts for space lovers that will quench their thirst for knowledge and exploration. Whether you're looking to find a gift for the holidays or birthday festivities, an out-of-this-world gift is sure to be a hit.
1. Mars landing shirt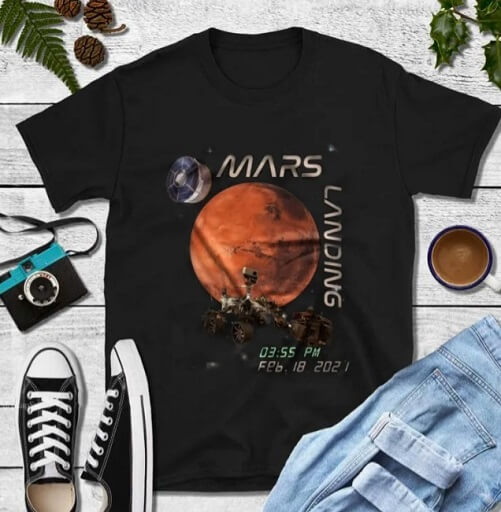 This proud shirt should be for the red planet enthusiasts. It was created to celebrate the successful Mars landing of the Perseverance Rover on February 18, 2021. The shirt is a detailed image of the spacecraft Perseverance Rover probe and the exact date and time for the historic landing.
---
2. Black hole shirt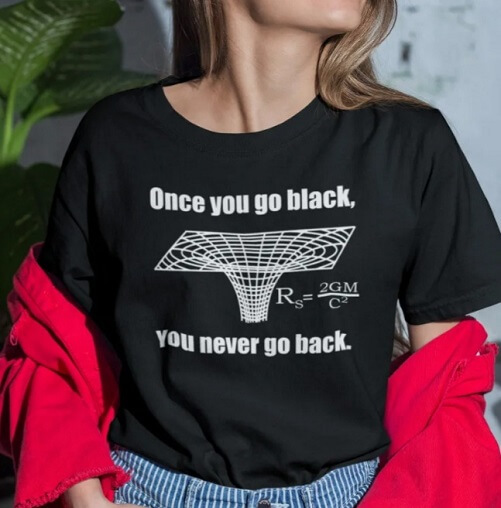 This shirt illustrates the structure of a deep black hole in the universe. You probably already know that black holes will attract anything that comes close to them. Similar to a black hole, this shirt will draw people's attention to its wearer. What are you waiting for, bring this eye-catching shirt to those who are obsessed with the universe?
---
3. I'm A Huge Fan Of Space Shirt Both Outer And Personal shirt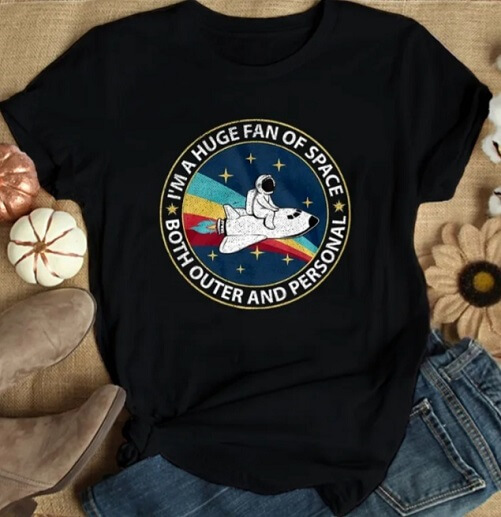 This vibrant shirt is perfect for those who have a desire to conquer space. It features an image of an astronaut riding a rocket into space and an impressive quote "I'm A Huge Fan Of Space Shirt Both Outer And Personal". Now, space lovers can prove how big their love for the universe is.
---
4. In Space, Nobody Can Hear You In Space Shirt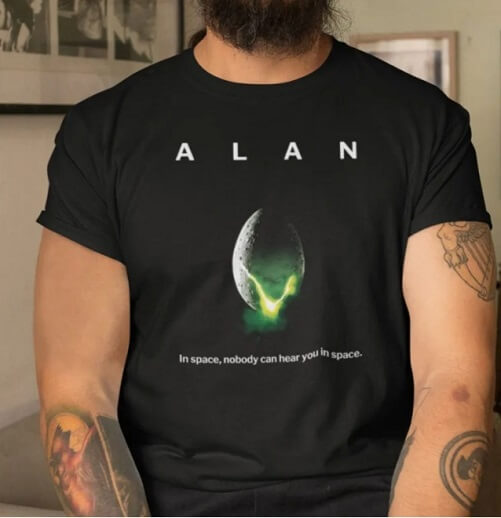 Our shirt features an alien egg (it looks like a chicken egg) and the saying "In space, no one can hear you in space" which is completely inspired by Ridley Scott's famous movie Aliens. If someone you know is a fan of this movie, then this stunning shirt would be a right choice for them.
---
5. Get In Loser Shirt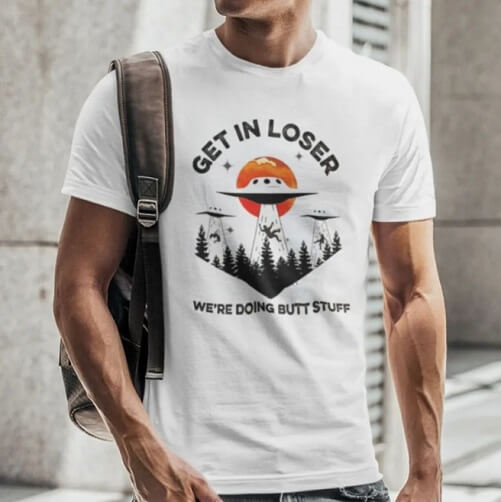 Are any of your friends or family members attracted to unidentified flying objects? This special shirt will be for them. It has an impressive design of UFOs abducting in the jungle and the words "Get In Loser We're doing Butt Stuff".
---
6. Pluto Never Forget 1930-2006 shirt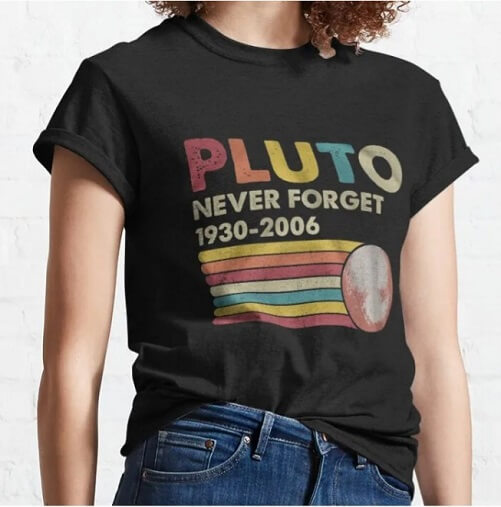 For all those who are passionately interested in Pluto, this stunning shirt is sure to never be forgotten.It commemorates the fact that this exciting planet was discovered in 1930 and demoted to a "dwarf planet" in 2006. A great gift for a student, a science teacher or anyone who loves astronomy.
---
7. Gskyer telescope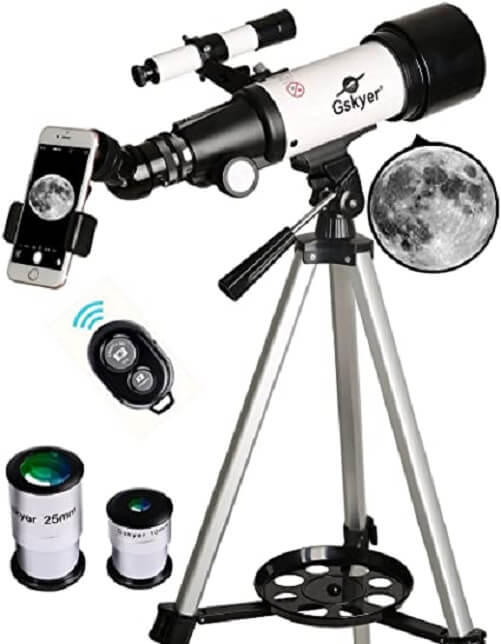 This 70 x 400 mm refracting telescope is the perfect gift for viewing distant planets. It features all-glass optical elements that provide a clear, sharp view of our outside world. It's very quick and easy to install – even for a novice. This will be great equipment for a space station located on Earth.(LOL)
---
8. Astronaut pen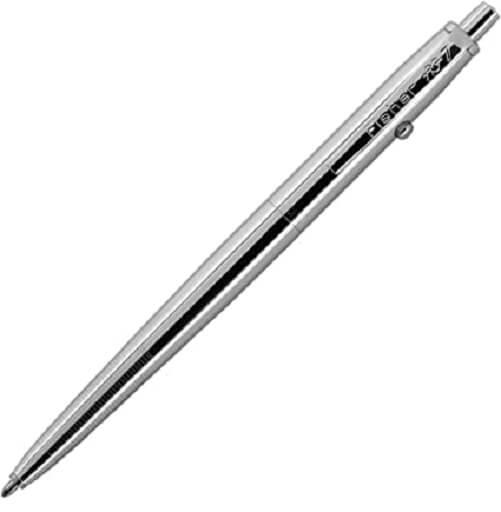 This Astronaut pen is one of the ideal gifts for space lovers for an office worker. It writes at any angle, even in zero gravity and extreme temperatures (from -30F to 250F). Each pen is precisely assembled, hand-tested. It's the most versatile pen ever made.
---
9. Cosmos kitchen knife set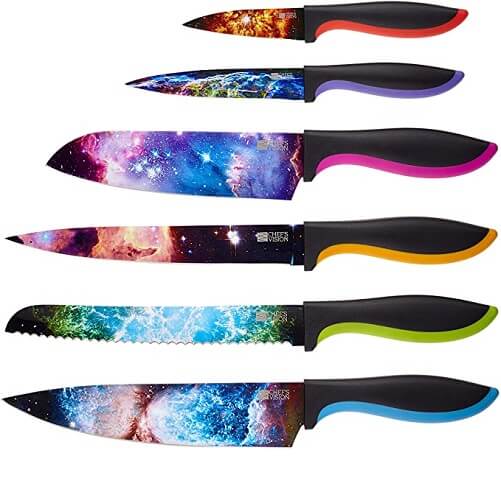 First, you'll be amazed at the fanciful beauty of this kitchen knife set, with each colorful blade displaying a stunning image of the universe. But measuring is not the best thing. They are more than the most gorgeous knives you will ever see because they have an ergonomic design and are made of premium materials.
---
10. Astronaut gloves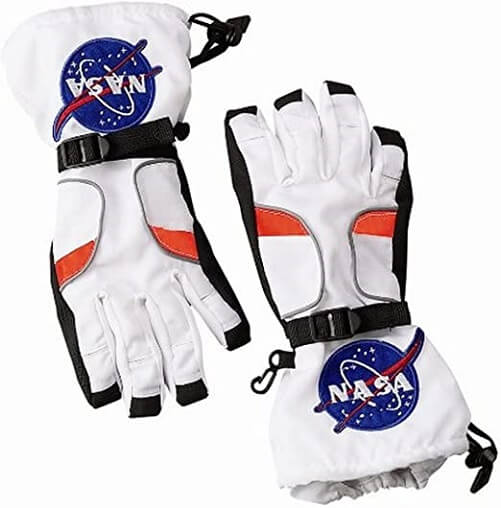 If your kids are ready to be space explorers, these astronaut gloves are the jumping-off point. These space gloves feature official NASA patches, textured palms, and elastic cuffs inside. Put them on and start exploring the vast universe right away.
---
11. Nebula lamp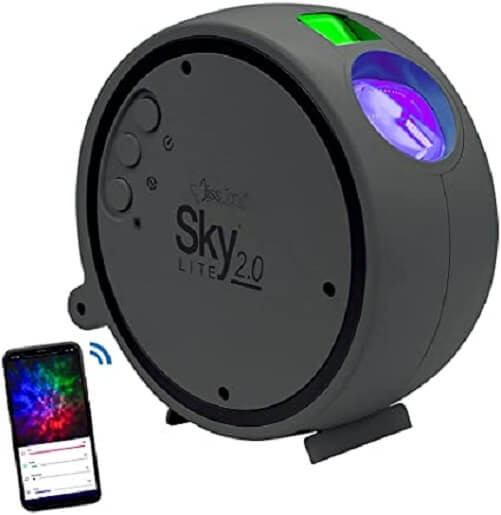 Now you can bring the whole galaxy into your home! This lamp deserves to be one of the best gifts for space lovers. This nebula light instantly lets you cycle through different lighting effects and is dimmable. It's a unique way to light up parties, freshen up a workspace, or light up a romantic dinner for the both of you! It also acts as a pretty sweet night light.
---
12. LEGO Ideas NASA Apollo Saturn V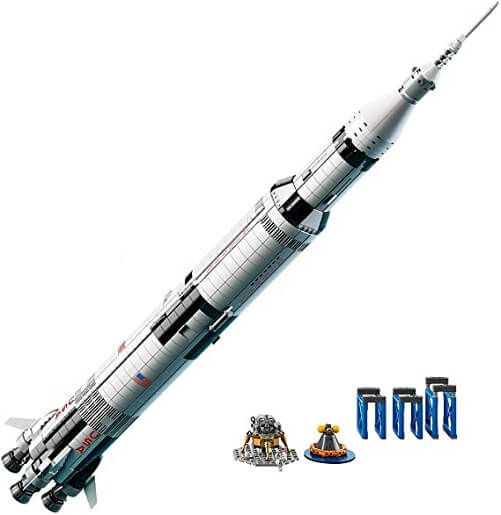 This is a LEGO replica of the rocket ship that sent humans to the moon in the '60s and '70s. NASA's Apollo Saturn V 3-foot-tall model rocket comes equipped with astronaut figures that let you role-play on many of the missions that Saturn V completed when it landed on the lunar surface. The Saturn V rocket set includes 3 detachable rocket stages, below which are the ejection system, command and service modules.
---
13. LEGO Ideas International Space Station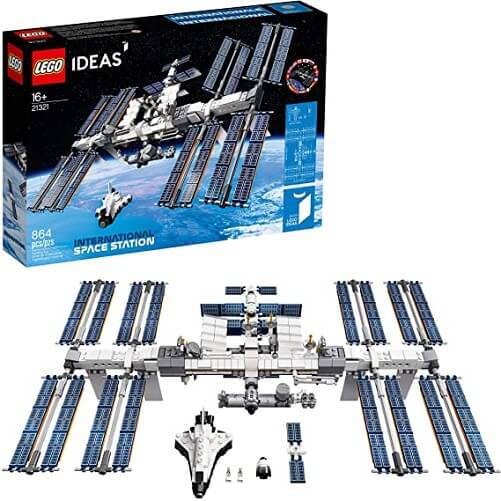 The next LEGO set that will make young astronauts fall in love is this International Space Station (ISS). It features swivel joints with adjustable solar panels, a flexible Canadarm2, two astronaut figurines, a small NASA space shuttle and three mini-cargo spacecraft. Plus, a stand and a 148-page booklet of fascinating facts.
---
13. Astronaut smartphone holder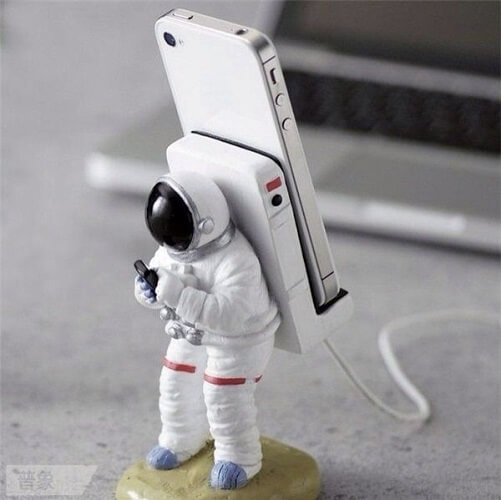 Astronauts are used to carrying heavy loads and this figurine is happy to ease the burden on your shoulders by lending you his backpack. It's just roomy enough to prop your phone up and has space for you to insert the charging cord.
---
14. Astronomy binocular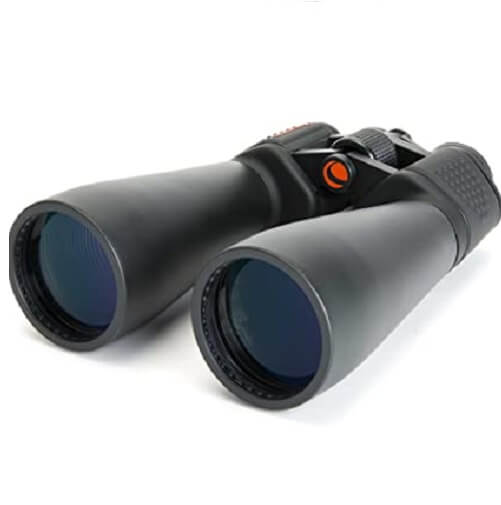 The recipient can post a blurry photo of the moon that they have taken with their phone or can see the moon in its glory with their real eyes through these gifts for space lovers. They are ideal for stargazing in low light and feature a 70mm objective for easier focusing at night.
---
15. Moon ice mold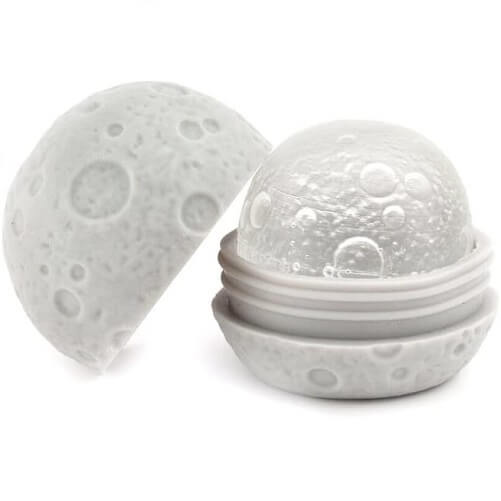 Forget the whiskey rock, what space lovers really need in their drinks are ice balls made to look like the moon. They melt more slowly than normal ice because of their larger surface area. Let's make a space drink with the tiny moon.
---
16. Heat-changing constellation mug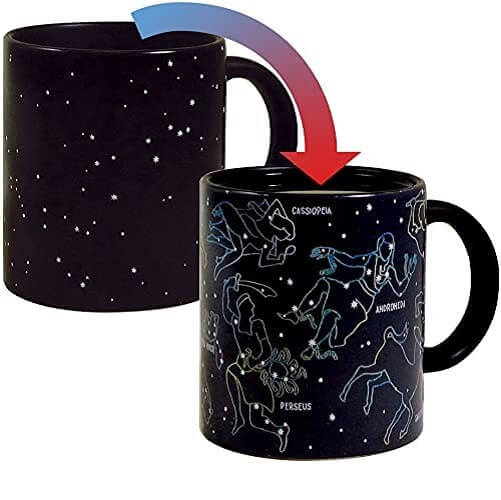 A hot mug of coffee will dispel the cold winter but guess what the space lover gets? It was a wonderful view of the night sky. The mug of this brilliant heat-activated constellation only needs a push from a cup of hot water to glow like the night sky.
---
17. Rocket decanter set – Cool space related gifts for him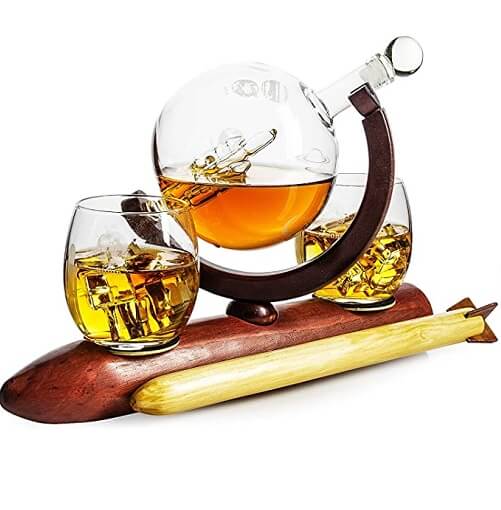 One of the perfect gifts for space lovers, this decanter fully showcases the recipient's love of astronomy! The wine decanter has a wooden base carved to look like a rocket ship. And on top of the rocket is a glass ball with an eye-catching rocket inside.
---
18. Moon lamp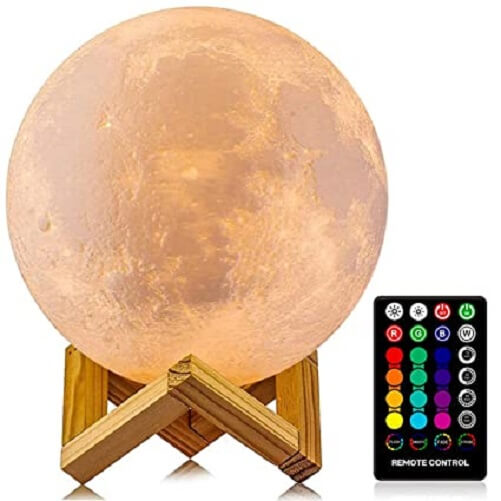 Boring plain lamps are not suitable for space lovers. One of the great gifts for space lovers must be like this, the moon lamp will bring a soft light to adorn the bedroom, terrace or living room. Moonlight with a built-in rechargeable battery can be charged on a computer or power bank, etc. Because no strings are hanging around, you can hold the moon lamp in your hand.
---
19. Vintage space exploration wall art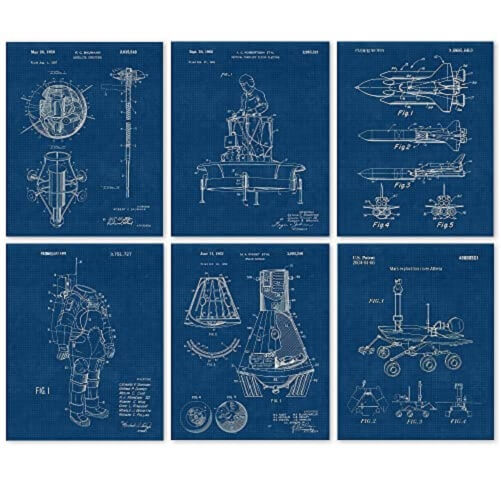 It may be hard for them to get their dream job at NASA, but now, you can help them turn their living room, office, or anywhere else they want into a space agency. This set of six 8×10 blueprints reimagines the original space race patents with simplified illustrations that will brighten up the room much more.
---
20. 'Galaxy Girls: 50 Amazing Stories of Women in Space' book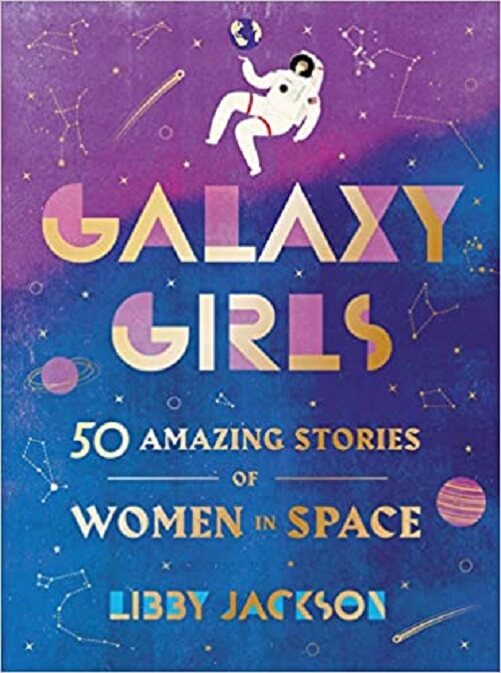 This book is meant to inspire girls to reach for the stars, literally. 'Galaxy Girls: 50 Amazing Stories of Women in Space' is about stories that are rarely told. This book celebrates the women who have contributed to the conquest of space. Don't miss this one if you have no ideas of gifts for space lovers.
---
21. Solar system bracelet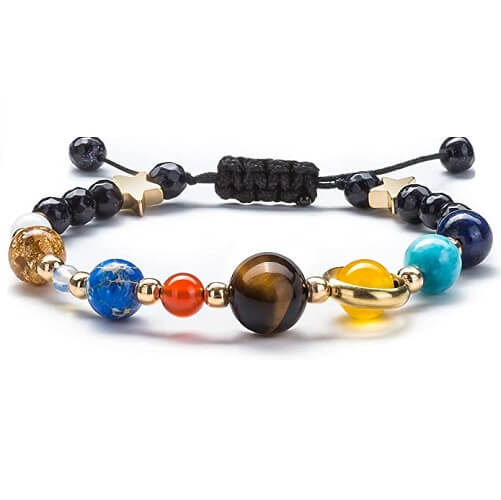 If your woman loves jewelry and all things celestial, then the bracelets will make beautiful gifts for space lovers. It is made of beads and crystals to represent the solar system, and uses wax twine as the base and is adjustable.
---
22. NASA backpack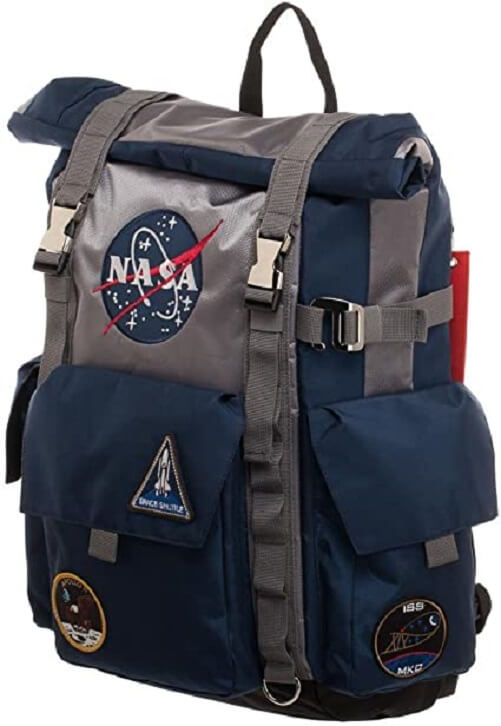 From the tough journey into space to the even tougher ride on public transport, this backpack can withstand any extreme conditions you throw at it. It possesses blue and gray tones that make us think of deep space, all the lines are reminiscent of the fashion style of early space flights. Any aspiring astronaut would be proud to receive such a space gift.
---
23. Meteorite pendant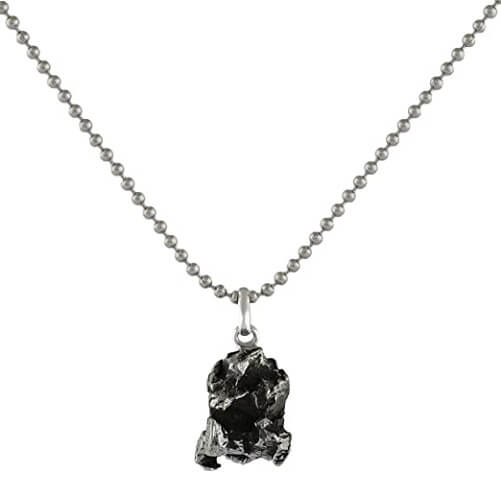 The meteorite pendant was collected from Campo del Cielo in Argentina, this neat little gift contains meteorite fragments from more than five thousand years ago. If that's not enough, the pendant also features an adjustable silver chain and comes with a beautiful carrying case, perfect for gifting.
---
24. Enamel space pin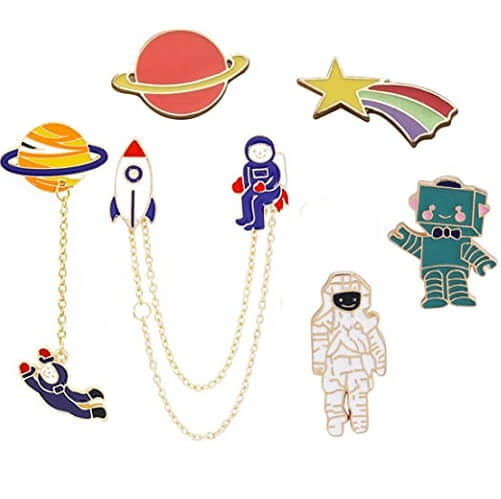 Now, you can add a little color to your space enthusiast's outfit and excite them with this enamel space six-legged pack. You can also split them up to use in goodie bags at a space-themed birthday party. You can rest assured that they will keep their vibrant look for a long time. It will be a great option if you're wondering about gifts for space lovers.
---
25. Solar system necklace – Beautiful space gifts for her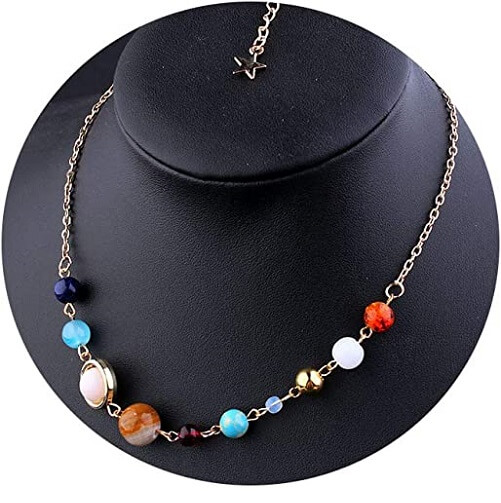 When you give this solar system's gemstone planetary necklace to someone, you consider that person to be the center of your universe. This is why this necklace makes a great gift for loved ones – especially space lovers.
*** See More: 30+ Crystal Gifts for Her on A Special Day
---
26. 50 Things to see in the sky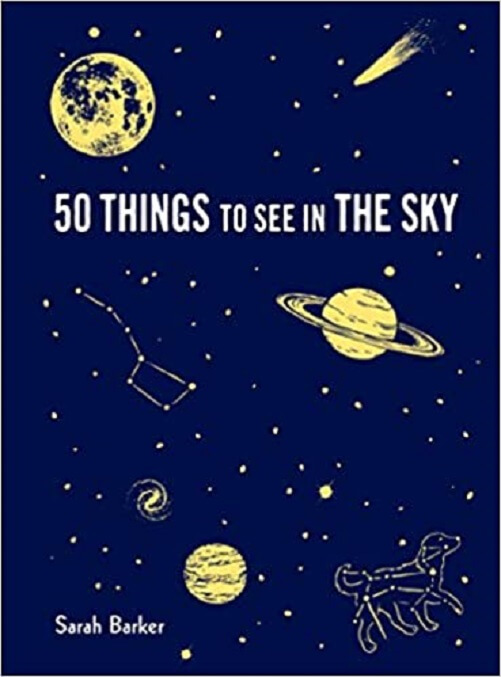 The book is a collection of 50 events occurring outside the mystical universe such as lunar holos or lunar crates. It will explain the phenomenon in detail, with expert advice from astrophysicist Sarah Barker and stylish illustrations by Maria Nilsson. With its glow-in-the-dark cover, "50 Things to see in the sky" is a great gift for anyone eager to learn about what lies within our celestial sphere.
---
27. Space stickers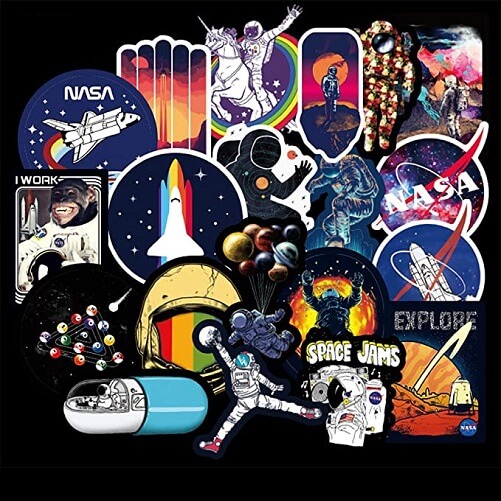 These 100 high-quality vinyl stickers are the ultimate gift idea for a space lover who loves to DIY – they can stick them on a water bottle, laptop, or skateboard. The sticker collection, including the NASA logo, is specially designed for space enthusiasts and they will never find two stickers alike.
---
28. Planet lollipops
If you're searching for sweet gifts for space lovers, this set of lollipops will make a stunning treat. They are made with sugar, isomalt and corn syrup, each of the ten candies is designed to resemble a planet, with flavors like guava and green apples.
---
29. Space ties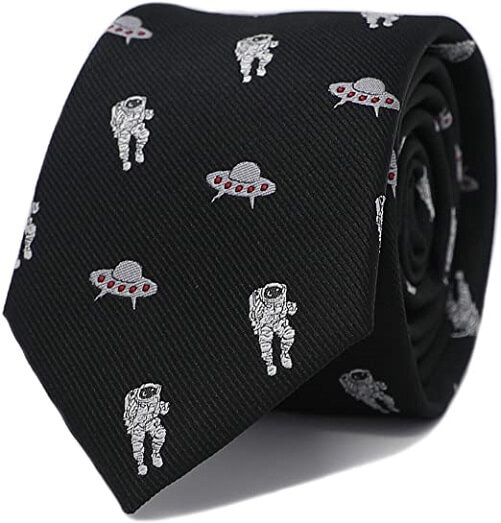 This tie is designed to match office or classroom attire, or a job interview at NASA. The delicate criss-cross with embroidered astronaut and UFO motifs makes it a must-have accessory for space buffs. The tie is packaged in a nice gift box, no trouble finding additional gift wrapping.
---
30. NASA Smartwatch Band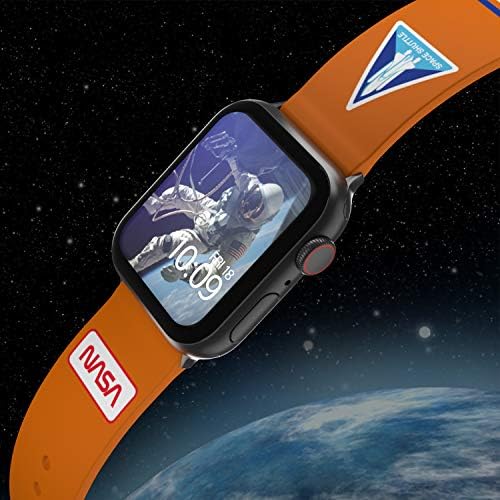 Are you searching for the perfect gifts for space lovers in your life? Look no further than the extraordinary NASA Smartwatch Band, a unique and thoughtful accessory tailored for those who dream of exploring the cosmos. It is a stunning tribute to the wonders of the universe. Inspired by NASA's emblematic logo and the beauty of celestial bodies, this band showcases intricate space-themed patterns and colors that capture the essence of space exploration.
---
31. Space World Dome Tent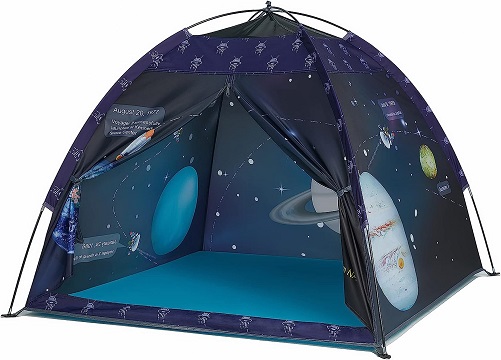 Attention, space lovers! Prepare to embark on an intergalactic adventure with the incredible Space World Dome Tent, the ultimate gift that will transport you to the cosmos from the comfort of your own backyard. This one-of-a-kind dome tent is designed to ignite the imaginations of space enthusiasts of all ages, making it a perfect gift for those who dream of exploring the stars. Your kids and their friends will have loads of fun exploring the galaxy in this dome tent.
---
32. Galaxy In A Crystal Ball – Romantic Astronomy Gifts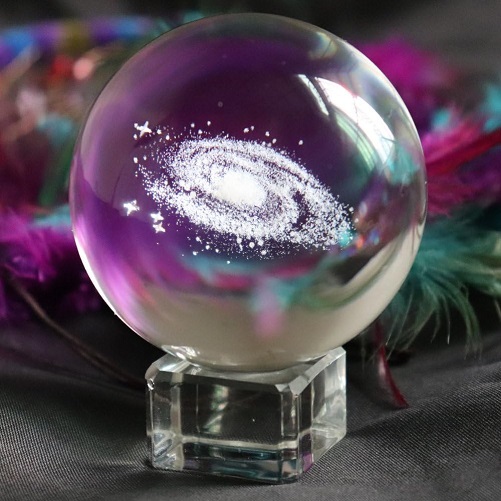 Are you searching for a gift that will transport space enthusiasts to the vast wonders of the cosmos? Look no further than the mesmerizing "Galaxy In A Crystal Ball." With this extraordinary gift, space lovers can explore the captivating beauty of distant galaxies, nebulae, and star clusters right from the comfort of their home. The crystal ball acts as a miniature universe, encapsulating the awe-inspiring celestial splendor that lies beyond our atmosphere.
---
33. Neil Armstrong Space Suit Hoodie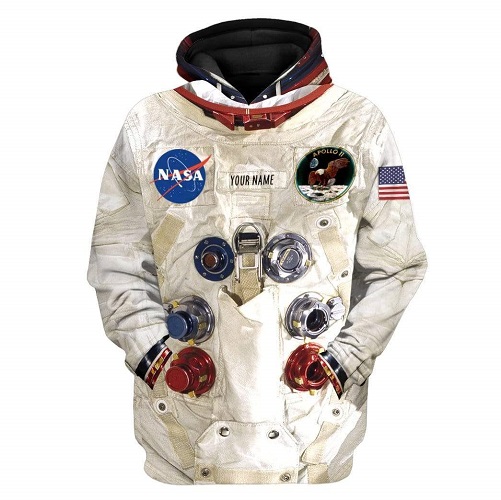 Step into the shoes of a true space pioneer with the iconic "Neil Armstrong Space Suit Hoodie." This exceptional hoodie pays homage to the legendary astronaut who took humanity's first steps on the moon, making it one of the best the gifts for astronomy lovers and history buffs alike. Combining style, comfort, and historical significance, this hoodie is sure to be a cherished addition to any space lover's wardrobe.
Final words
Do you have someone who always considers himself/herself an astronaut? Well, while they may not be able to step out into space, you can give them the next best thing – space-themed gifts. This guide of gifts for space lovers brings together the coolest items, from space-themed shirts to fanci full moon lamps, there's something for everyone. Now get ready to take off!