For many of us, Lord of the Rings is already a famous book series and fantasy movie. There is a lot of inspiration, such as its characters, props, settings, etc. that manufacturers take as an idea to produce gifts for LOTR fans.
Anyone with a loved one who is a true ring fan will have difficulty finding a meaningful and unique gift. Luckily, there is a list of Lord Of The Rings Gifts mentioned in the article below for you. Whether it is a birthday, holiday, or other special occasion, I'm sure you will find out a perfect item for them.
25+ Cool Lord of the Rings Gifts For Every Occasion
You'll be able to show off your fandom when you give these Lord Of The Rings Gifts as a token of appreciation for the movie trilogy.
1. Monopoly Board Game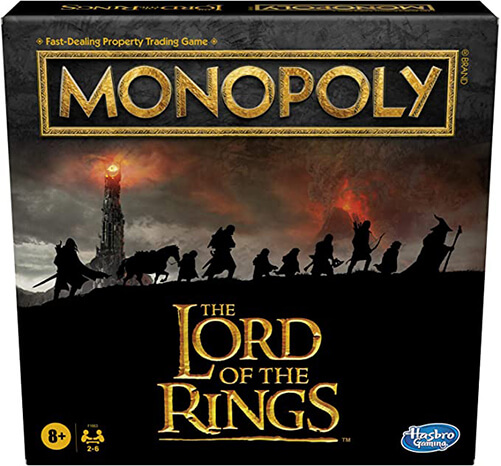 This role-playing board game is the perfect one as a gift for teens or any family that is LOTR fans. The game comes with a variety of characters like Gandalf, Sam, Aragorn, Legolas, Gimli, Pippin, Merry, etc. With this gift, the family or a group of friends will certainly have a fun night.
---
2. Morphing Mugs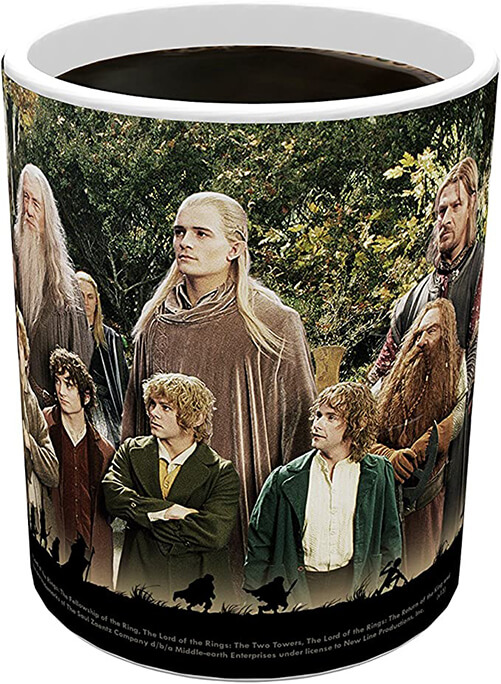 This mug is inspired by a story of nine companions who left the safety of Rivendell and start their journey. It features a size of 11 oz, which is perfect for those who are living alone. The appearance of this mug looks normal, however, when poured with hot liquid, it will change from black to vivid colors amazingly.
---
3. Chess Set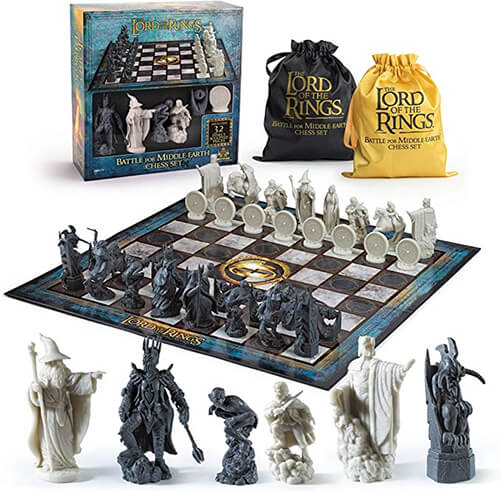 Worrying when can't come up with Lord Of The Rings Gifts when it is close to your loved one's birthday? Rest assured! We bring you this chess set including 32 sculpted pieces and a detailed, gorgeous board. The set delivers an epic battle of good and evil that will almost satisfy anyone who is a LOTR fan.
---
4. Top Trumps Lord of The Rings Quiz Game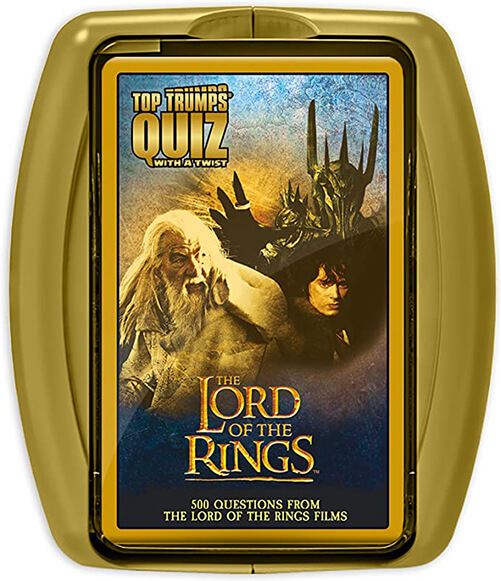 The game is based on the Hobbit theme, which comes with sufficient characters in the movie. 500 interesting question is included in this one challenging your memory and knowledge of Middle Earth. Thanks to plastic material, the card game is so easy-to-carry that you can take it anywhere.
---
5. Lord of The Rings Saruman Collectible Duck Figurine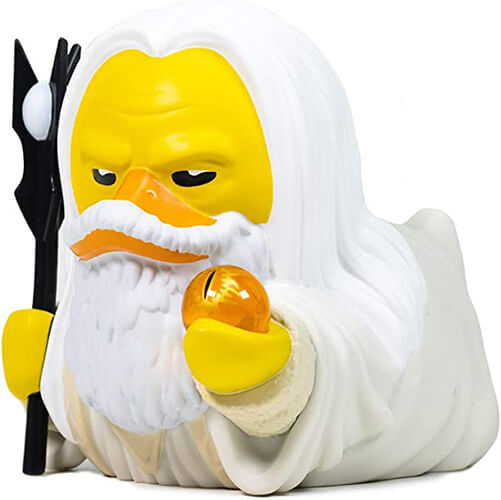 One of the most unique Lord Of The Rings Gifts on this list may be this figurine. Inspired by the characters of the movie, the manufacturer turns them into duck-stylish. Without a doubt, the duck figurine will delight true ring fans and is a perfect item added to their Lord of the Rings collection.
---
6. Lord of The Rings Middle Earth Map Lightweight Scarf
Featuring a map of Middle Earth, this scarf is a funny, interesting item for many purposes like a gift, cosplay, or costuming. Its size is suited for both kids and adults, so you don't need to worry about whether or not it fits your loved one. However, it is important to keep in mind that only wash the scarf by hand, and never use your washing machine.
---
7. Aquarius Lord of The Rings Jigsaw Puzzle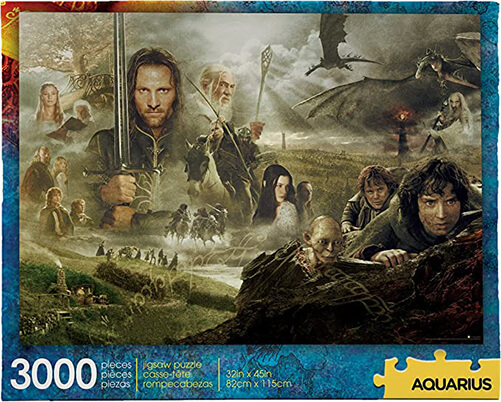 The puzzle comes with high-quality, antiglare paper, which ensures long-term use and makes it a nice one for you to show off with everyone. Describe the epic Lord of the Rings, it will surprise anyone who is a fan of the movie. Also, this puzzle includes up to 3000 pieces, so it will be a challenging game and make your birthdays, game nights, holidays, etc couldn't be funnier.
---
8. Legolas Action Figure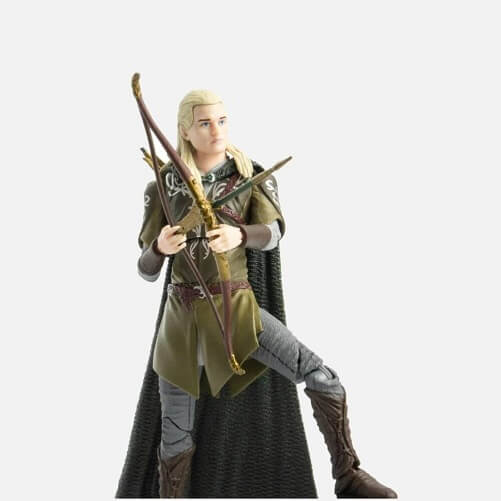 Have a friend who is a LOTR fan and has difficulty finding a gift for their birthday? Now, you can pick up this figure, which sculpts the elf Legolas in most detail. The figure can be placed on a desk or used as an exhibit anywhere depending on your preference. I'm sure your friends will happy with this item, and they will remember you every time looking at this one.
---
9. Hobbit House Cave Aquarium Decoration
Made from high-quality resin with no toxic leak and color peeling, this one is a perfect match decoration for your fish tank. The item features lush green plants surrounding a house in the middle. It also has four small caves that are a perfect hideaway for fish to come in and out. Thanks to the flat bottom, the aquarium decoration can be easily put in the tank and no movement in the future.
---
10. Paladone Balrog vs Gandalf Light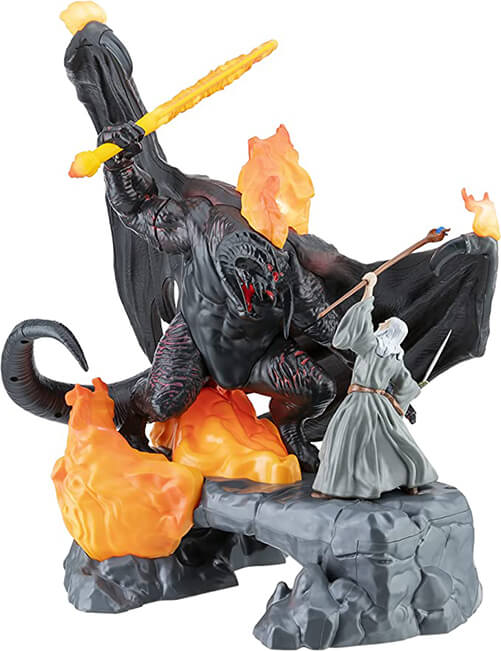 Everyone who is a fan of LOTR will recognize this iconic moment. The light features the moment when The Lord of the Rings with Gandalf attacks the Balrog to save their fellowship. It also has a fire burning around and a USB cable that make the light more brilliant and amazing. You can take advantage of it as a lamp in the bedroom or use it as an ornament in the living room, kitchen, or wherever you want.
---
11. Orcrist Sword Of Thorin Oakenshield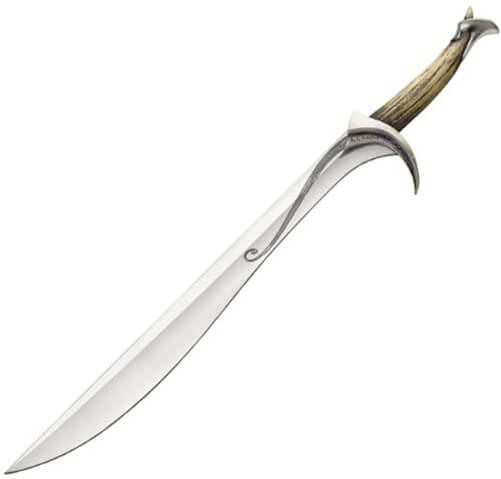 This is a sword of Thorin Oakenshield who is a well-known character in the LOTR movie and is loved by many people around the world. The item is made of Acrylic resin at the handle part, and the display of it is original from stainless steel. It can be placed on the wall holder as a beautiful ornament of your home.
---
12. Milton Bradley Trivial Pursuit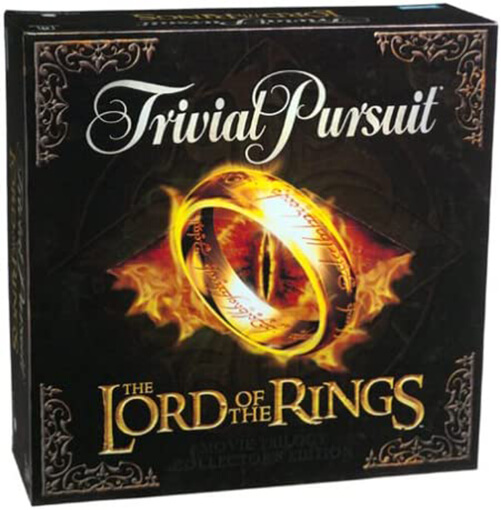 Make your birthdays, holidays, or picnics more fun than ever by playing together with this board game. The game describes the map of Middle Earth in detail with over 1800 questions that will be a challenge for diehard LOTR fans. Now, it's time to click the Buy button and enjoy great moments with your family.
---
13. The Lord of Rings Music Box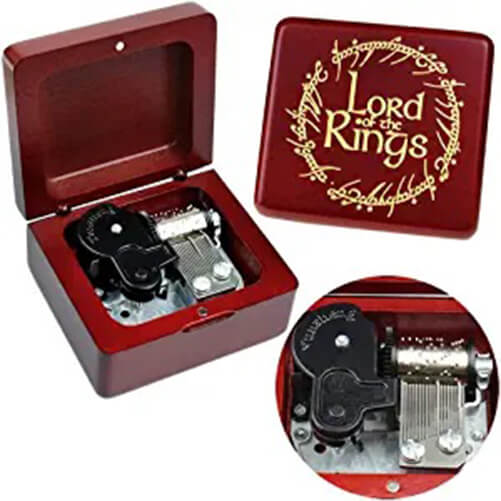 This beautiful music box is a perfect gift for your lover, friends, relatives, or kids. The box comes with a clear, sweet sound and a mini size, which will help you relax whenever you like. Under the hood, this box doesn't have a battery, all you need to do to activate this music box is to turn the key on the surface of it for 3-4 circles, then release it.
---
14. AQUARIUS Lord of the Rings Playing Cards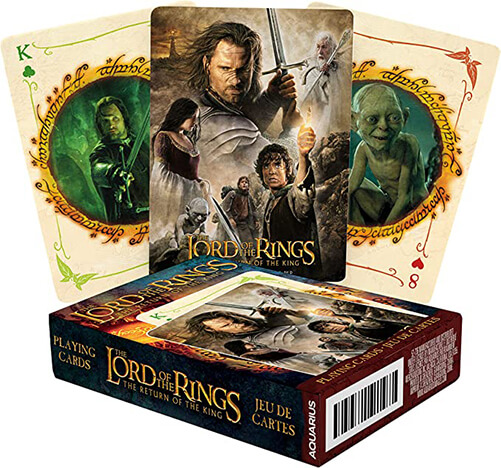 The Lord of the Rings playing cards has 54 cards with each one having a distinct design. You will find it an ultimately perfect gift for LOTR fans as it features the images of the last chapter of the movie vividly. Like many other board games, this one is suited for playing on holidays or birthdays with family and friends.
---
15. Lord of the Rings What About Second Coffee Mug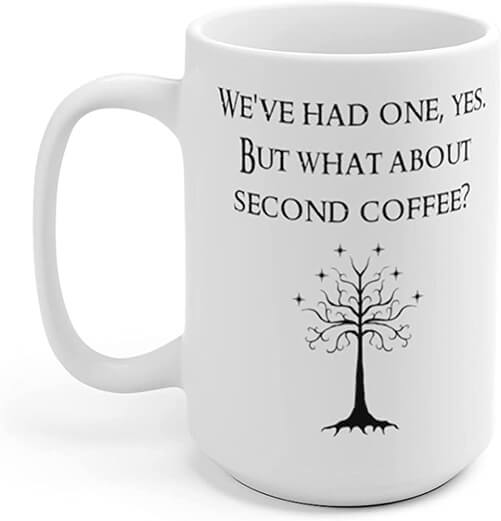 The mug is a perfect gift for those who both like drinking coffee and are a fan of the LOTR series. You can give it to your loved one on many occasions, such as birthdays, weddings, retirements, or housewarmings. Every morning when your recipients drink coffee, the mug will certainly remind them of you.
---
16. Fisher-Price Little People Collector Lord of the Rings Figure Set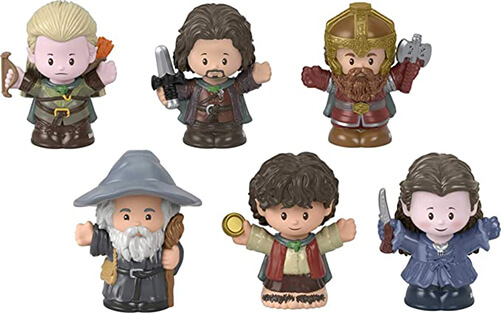 The set includes six famous characters from the Lord of the Rings movie: Frodo Baggins, Gandalf the Grey, Aragorn, Lady Arwen, Gimli, and Legolas. Having a height of under 3 inches, this present is a toddler-friendly figure. Not only that, you can have it as a gift for any fan of the LOTR movie of all ages.
---
17. BendyFigs Lord of The Rings Gollum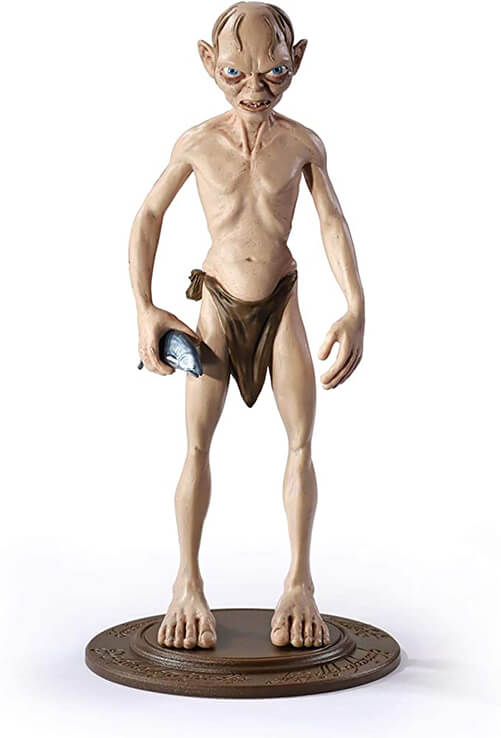 This figure is beneficial as it can be used for two purposes: play and display. You can pose the item into many different positions as you like without damaging it. When having the figure on hand, you will be amazing as its appearance looks so real that can be an interesting ornament in your home.
---
18. Cooking for Halflings & Monsters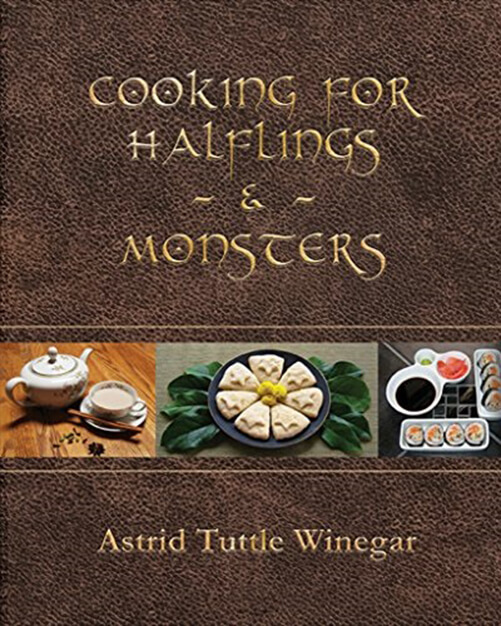 Filled with many fantasy recipes, this book is a gift-worthy item for those who both like cooking and the LOTR movie. The book has eight chapters that have all the recipes ranging from basic to complicated. With this book on hand, I'm sure you will want to stay at home all day to cooking, baking, and reading the LOTR books while enjoying a fantasy meal.
---
19. Middle Earth Woven Tapestry Throw Blanket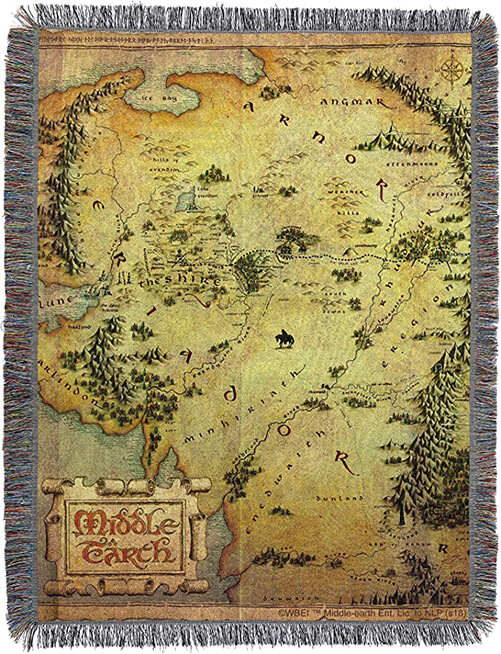 The blanket describes a map of Middle Earth with detail of colorful fringe edges. This one comes with a comfortable feeling that is perfect to have as a sofa cover, towel, or carpet. Luckily, the blanket is made from 100 percent of polyester which will ensure the ability of washing by machine and can be cleaned with a little mild detergent.
---
20. The Lord Of The Rings Sketchbook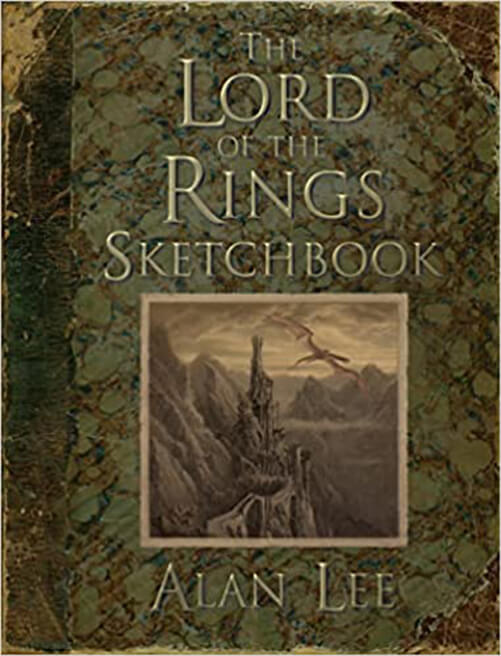 This is a sketchbook of Alan Lee author, who used to be an Oscar-winning conceptual designer. The book includes 150 inllustrations that feature both the image of Lord of the Rings and the progress of making this film from idea to finished work. For those who is an entry-level of illustration, this book is a perfect present.
---
21. LEGO LOTR 9474 The Battle of Helm's Deep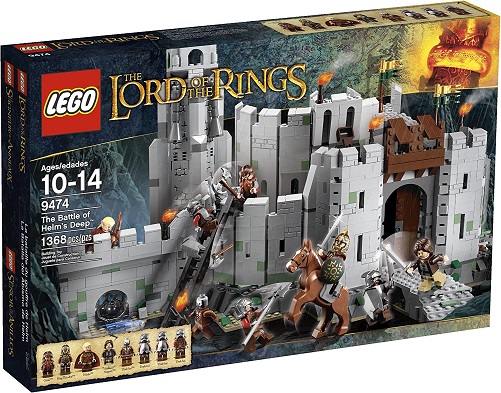 The lego model is perfect to use as a gift for kids. This comes with many different weapons, a castle with horn, horses, bomb, and other necessary things for a battle. I'm sure your children will be happy when receving the gift. Plus, playingwith lego also enhance their brilliant and deliver a lot of fun.
---
22. Rubie's Costume Co Leaf Clasp Costume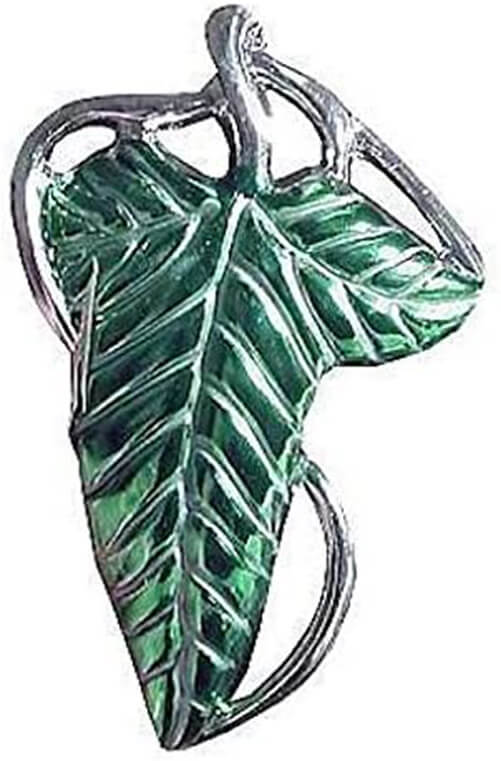 Anyone who is a fan of the LOTR movie will probably seek an item to dress up their clothes. So it's so mean of you to choose this leaf clasp costume as a gift for them. The item can be attached on the collar, or belt, or used as a keychain. Be sure to clean it by only hand washing as is made from 100% fibers and easily be damaged.
---
23. Map Of Middle Earth The Lord Of The Rings Fabric Canvas Cloth Poster Print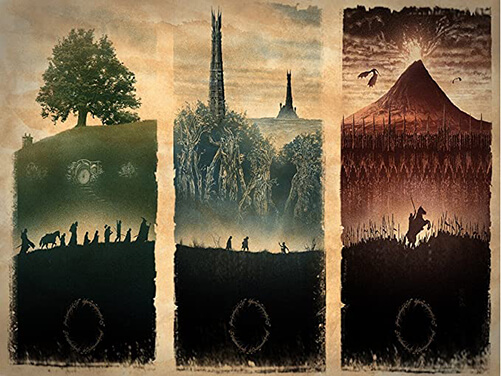 Thanks to high-quality polyester canvas, this cloth poster can be used as a wall decoration for long-term of using. This item with vivid colors will make you as if is in a real Middle Earth. Christmas and New Years are the two perfect occasions that you should give this gift to your loved one.
---
24. Middle-Earth: Shadow of War Video Game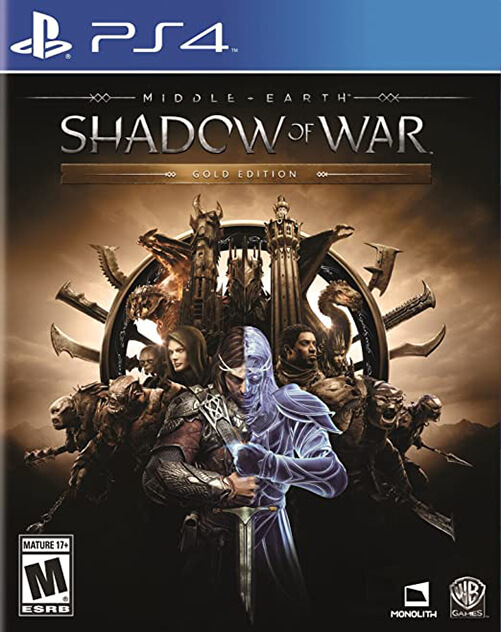 With this video game, you can play a role in the world of Lore of the Rings movie and fight against many types of enemies. This game includes two nemesis expansions: Slaughter Tribe and Outlaw Tribe, and two-story expansions, The Blade of Galadriel and The Desolation of Mordor. Certainly, this one will make you immersive and can't come out.
---
25. Trevco Men's The Lord of The Rings Rohan Banner T-Shirt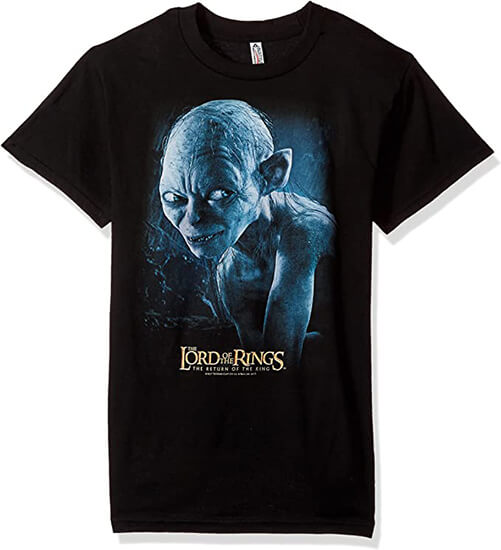 The T-shirt has a real graphic of LOTR on the high-quality fabric. Both men and women are suited to this one, and the T-shirt can be worn every day. Many different colors and patterns as it is for you to choose freely. You can use this item as a gift for birthdays, holidays, or simply award yourself!
---
26. Tree of Gondor LOTR Decal Vinyl Sticker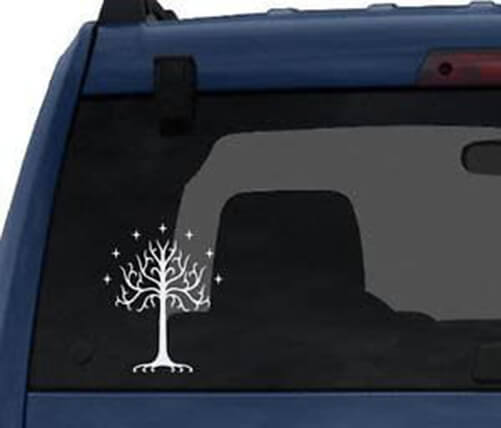 Original from the highest quality Oracal 651 Vinyl, which make this sticker can be used indoors and outdoor for up to 5 years. The instruction of applying it makes no effort, so you can do it yourselt without worrying about the risk of damaging the sticker. Attaching it to your laptop, luggage, balo, or whatever you want to give everyone a glimpse of LOTR fans.
---
With this list of Lord of the Rings Gifts, giftOMG hope to give you a good option when choosing a present for your LOTR fan. Apart from financial ability, you must also consider your loved one's interests, such as who is their favorite character, or what is the moment in the movie that they like the most. Hope you come to a decision after reading this article!