Are you looking for the best crystal gifts for her? Anniversaries are significant milestones in one's life, and a couple's fifteen years together is a big achievement. The secret to making your wedding anniversary particularly special is to surprise your sweetheart with something both beautiful and meaningful.
However, choosing a gift that reflects the significance and meaning of your anniversary can be a difficult task. How would you convey your commitment to your love for your lover without opting for something cliched or outdated? You need to take advantage of this occasion by getting something magnificent! Crystal, a popular decorative item, allows you to give your sweetheart a trendy, contemporary gift that can be loved as a keepsake while also being worn and displayed on a daily basis. A long-lasting material that represents your love's lightness, clarity, and durability. It reflects the husband and wife's pure and shining love.
The gifts that are made from crystal can be too expensive, and if you haven't planned ahead or prepared for your crystal anniversary, certain goods may be impossible to come by. However, being restricted by a budget isn't necessarily a disadvantage, as there are still a plethora of gift options to consider. To solve this problem, we also have a lovely collection of crystal gifts for her that are both attractive and affordable.
*** Gifts related to anniversaries that you can't miss: DETAILS HERE
34 Important Anniversary Crystal Gifts For Her
Make her day more special with these crystal gifts for her. She will sure be to love your gift, I guarantee!
1. Citizen Women's Classic Silhouette Crystal Stainless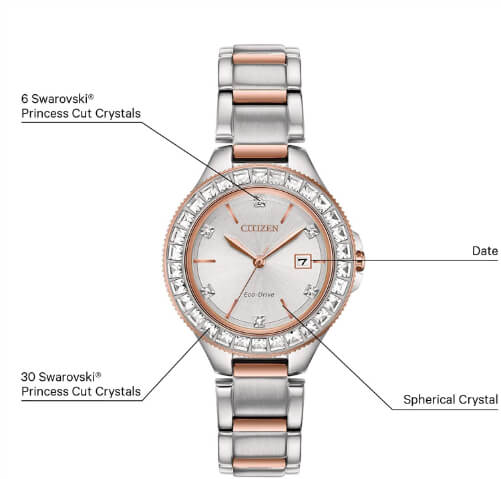 While crystal is the traditional 15th-anniversary gift, a watch is a modern alternative that symbolizes the length of your relationship. The CITIZEN Silhouette Crystal has a unique appeal because of its beautiful princess-cut gems. With a silver dial, this watch is made of two-tone pink gold stainless steel. Every movement of her wrist will glitter with brilliant-cut gems, and it will keep her on track throughout the day.
---
2. Pearl Picture Frame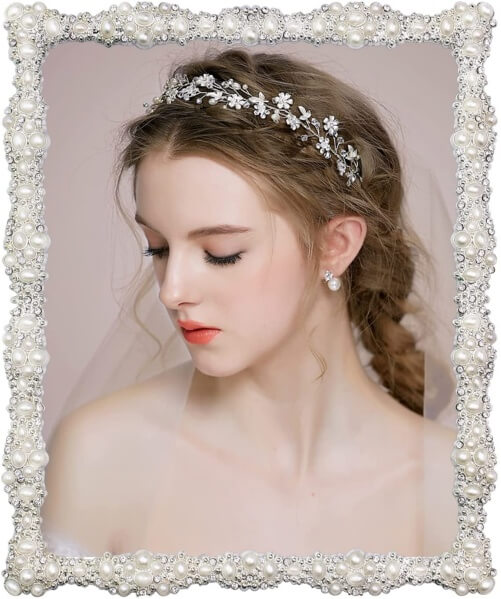 We recommend placing a favorite photo of you two inside a crystal picture frame as a meaningful crystal anniversary gift. The silver metal frame is embellished with white pearls and crystals to provide elegance and beauty to your images. The black velvet backrest is ideal for displaying your picture. Besides, the high-definition glass front panel will showcase all of your memorable experiences.
---
3. Crystal Zodiac book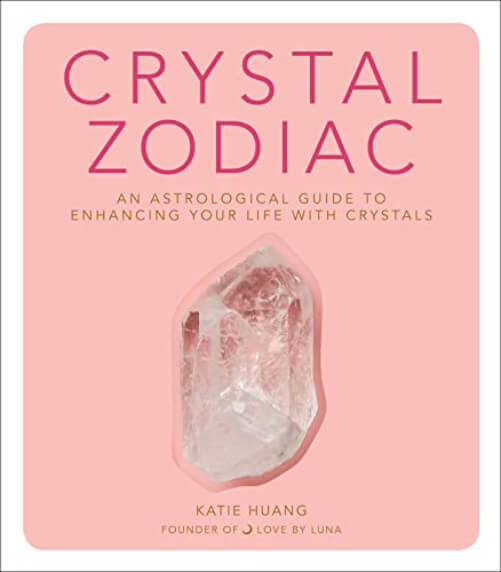 Crystal Zodiac deconstructs the easy-to-apply applications of crystal healing and astrology to prioritize personal awareness in the day-to-day for anyone new. It also goes over important planetary placements in their birth charts and how they affect various aspects of their lives.
Your wife will become more aware of communication styles and love languages as a result of this. Your relationship will improve as a result of this knowledge. Consider this one if you're looking for crystal gifts for her.
---
4. JIC Gem Dyed Blue Agate Bookends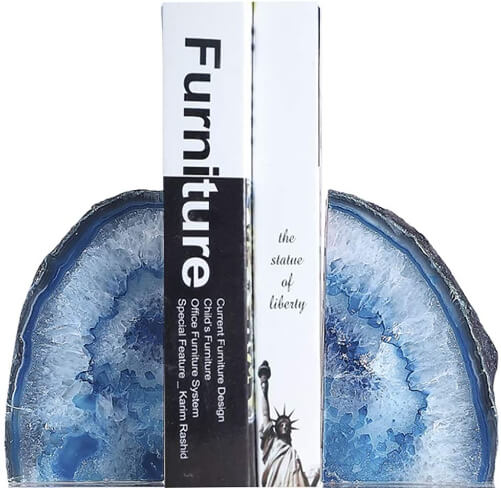 Is your wife such a bookworm that she can't keep her shelves orderly since there are so many books on them? This set of crystal bookends makes it simple and attractive to stay organized. The crystal is weighty and feels high-quality and that is just what you need to keep those books in place. Each blue agate bookend is made from agate geodes and each pattern and form is unique. It will be one of the best crystal gifts for wife you don't wanna miss!
---
5. Minnie Mouse Crystal Birthstone Stud Earrings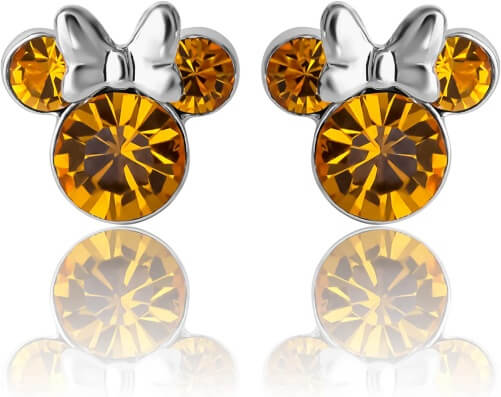 The lovely November birthstone crystal earrings come packaged in an authentic Disney gift box, making them the ideal gift for your loved one. 
This pair of Minnie Mouse-inspired earrings are finished off with a distinctive bow and gorgeous November birthstone crystals. Enchanting studs with glittering birth month crystals provide a playful yet classy appeal. Besides, they are expertly made with an appealing silver plated finish and Topaz crystals.
---
6. YWHL Fifteen 15 Year Marriage Gifts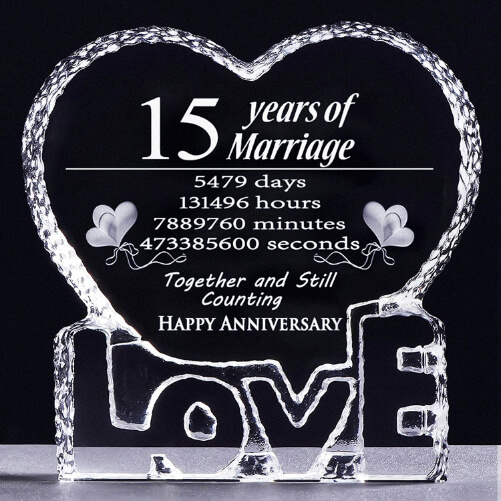 Give her a surprise with a one-of-a-kind anniversary present! The crystal sculpture in the shape of a heart is ideal for anniversary gifts for her. A laser engraving machine cut the lettering into the crystal, and it will never rub out. Allow your sweetheart to receive your wishes. You can express your affection for her and send her warm, best wishes with the love shape present. It is really perfect for crystal gift ideas this year.
---
7. Swarovski Women's Tennis Bracelet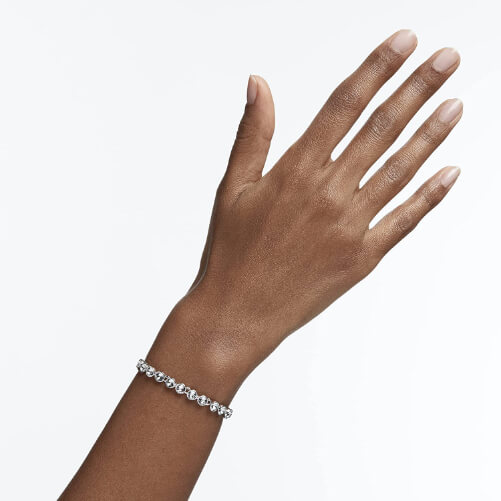 The best crystal gift ideas for her are here! The Swarovski deluxe tennis bracelet blends the accuracy and quality of magnificent crystals with a timeless design and gold-tone plated finish to provide a bit of glitz to any outfit. The gold-plated chain is adorned with white crystals throughout, and the simple yet secure clasp allows for worry-free wear; an extender is available to alter the length. This piece's elegance and simplicity make it a stylish accent to any outfit.
---
8. H&D Crystal Ring Holder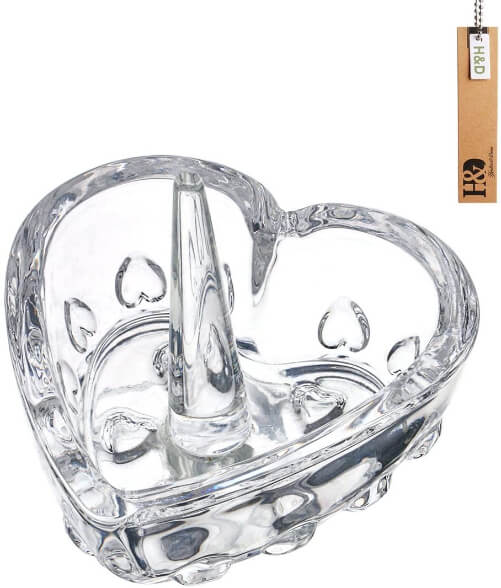 This opulent ring holder is one of the perfect crystal wedding anniversary gifts. This stunning piece adds a classy, contemporary touch to your wife's everyday routine. The Crystal Ring Holder is a stylish way to keep jewelry safe. The simple simplicity of this ring holder makes it a wonderful addition to any woman's vanity. It's hand-carved and has a basic but lovely pattern.
---
9. 15th Anniversary Keepsake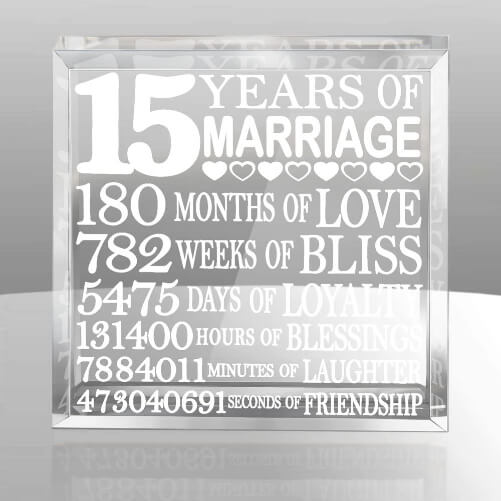 It's the ideal way to commemorate your fifteenth wedding anniversary or simply show someone how much you care about the anniversary. Throughout the year, this gorgeous shimmering translucent lucite memento and paperweight will serve as a reminder of your blessings.
This item comes in a glossy gift box with a fabric bag and is ready to give as a gift. All paperweights and mementos are handcrafted in the California factory.
---
10. CDE Love Heart Pendant Necklaces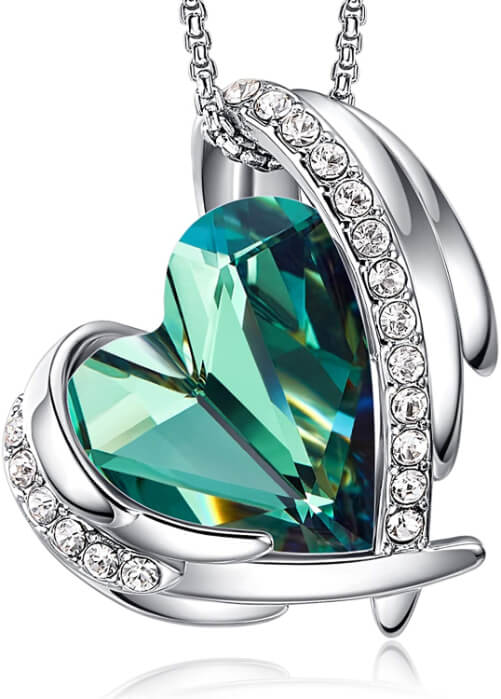 What better way to show her how much you care than with her own special necklace? With a modest token of appreciation, put a smile on her face on this anniversary.
Let's show your love with these lovely women's necklaces as your go-to resource for unique and unforgettable crystal gifts for her! This red heart pendant crystal heart jewelry for women's birthstones features a long-lasting layer of protection that prevents scratches and corrosion.
---
11. Silver Plated Flower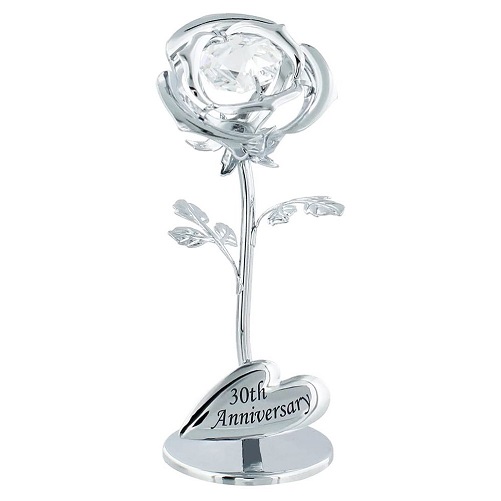 This flower is exactly what you're looking for! True love is symbolized by a rose that never fades. This Silver Plated Flower is a truly unique and considerate present for your wife. This ornament is presented nicely in a gift box. Whether you want to express your love, thank her, or apologize, these roses will always be the ideal gift for her.
---
12. Adorn Crystal Ring Holder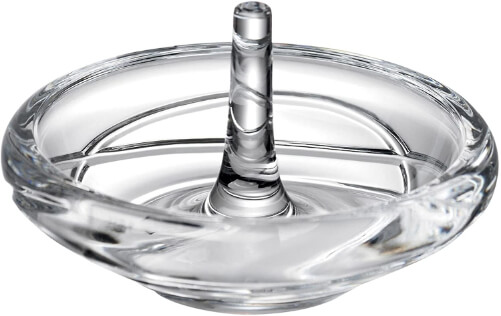 This ring holder, which is etched with the lovely Adorn ribbon design, will take pride of place in the bedroom and would be remarkable if put in a window where the light streams through. This Ring Holder is a stylish way to keep rings safe. Besides, it has an elliptic ribbon design that intersects as it flows through the crystal body. It's very appealing and makes a great present.
---
13. ArtPix 3D Crystal Photo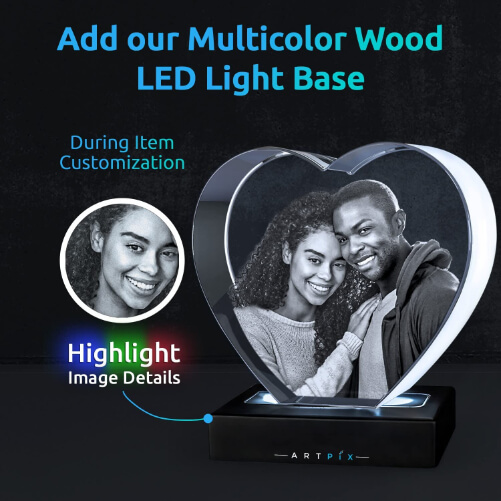 These personalized 3D photo crystals are ideal for anniversaries or any other special event. All of the 3D crystal products are created in Illinois, USA. K9 Crystal is used in the creation of all of these personalized items. Your engraving will shine out in any room because of this pristine, gleaming material. Furthermore, it is long-lasting and makes the best-personalized crystal gifts for wives.
---
14. 15 Year Anniversary Metal Date Night Dice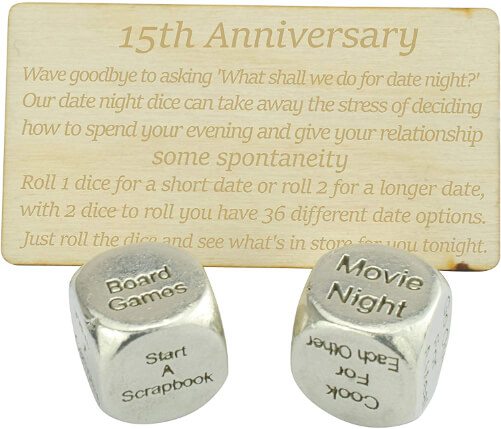 Have you ever been stumped for a date night activity? These beautiful metal date night dice will liven up your evening. Roll for amazing ideas, and with two dice, you can obtain a combination of 36 distinct date night options. It'll be one of the wonderful crystal wedding anniversary gifts for your lady! Dice Set is completely handcrafted by expert artisans. They can be used in any dice-based game.
---
15. Red Rose Figurine Ornament Spring Bouquet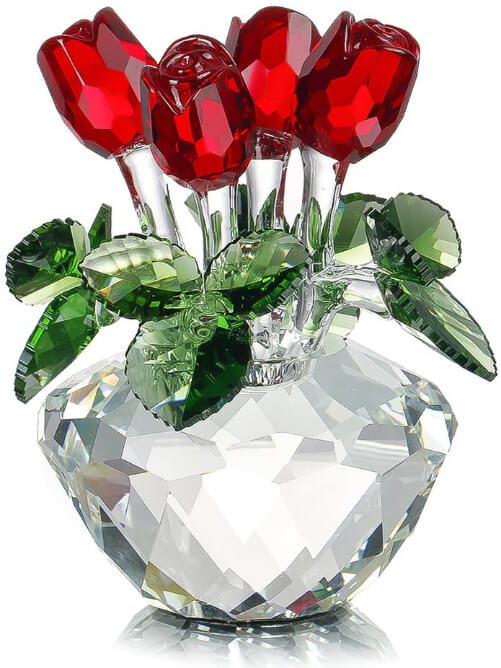 This is one of the excellent crystal gifts for her for wedding anniversaries. It's the ideal present for any occasion. The red rose is delicate, so if yours is broken, please contact the vendor right; a refund or resend can be guaranteed at any time. This is a beautiful and one-of-a-kind gift. Crystal glass love rose paperweight with deeper color and finer details come in a lovely gift box.
---
16. 3D Crystal Photo Cube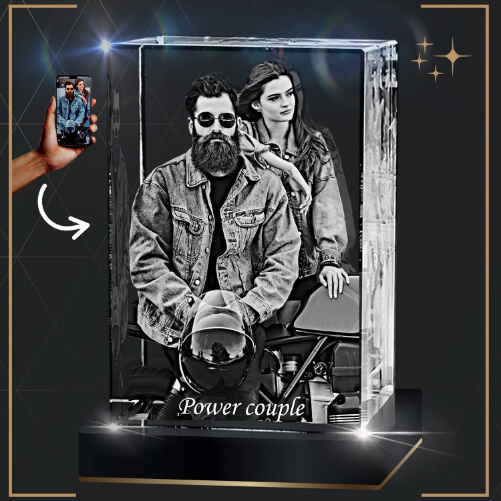 What could be a more thoughtful gift than a 3D crystal photo of your favorite moments with your loved ones? Surprise your lady with a beautiful remembrance elegantly carved in a 3D crystal. Preserve all of your special memories with your loved ones by turning them into 3D images in the glass. This photo frame will preserve all of her wonderful memories, giving her a reason to smile every day.
---
17. Leafael Infinity Love Heart Pendant Necklace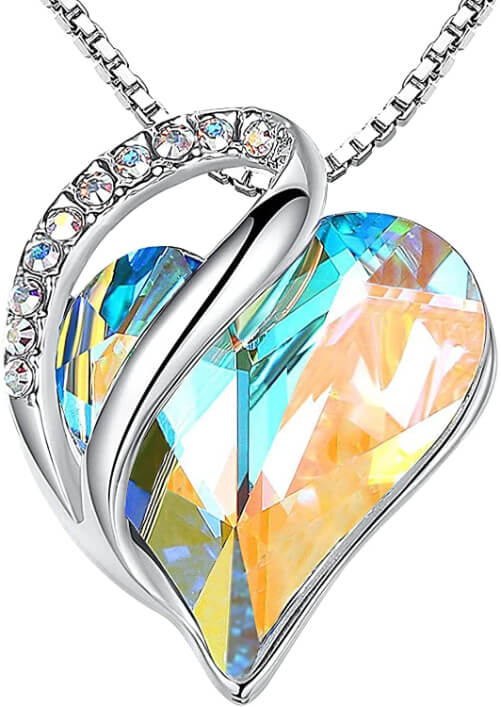 These delicate silver-tone necklaces are the best crystal gifts for her that are compliant with European REACH regulations. They are free of lead, nickel, and allergies. A rare Austrian crystal is featured in this Boston-designed necklace for women. It is a lavish expression of love, embellished with a love heart stone. With this one-of-a-kind crystal heart pendant, you may honor your inner goddess.
---
18. Women's Sparkling Dance Round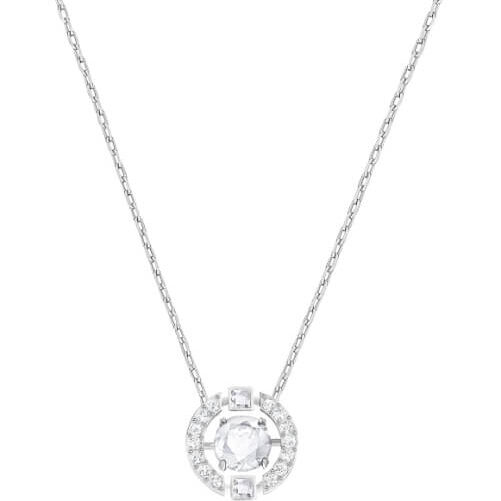 This rhodium-plated necklace blends the accuracy and quality of Swarovski crystals with a classic necklace design to add a bit of glitz to any outfit. A small eye-catching circle-cut clear crystal pendant is coupled with a matching crystal pavé and delicate rhodium plated chain in the Sparkling Dance necklace.
This necklace is a simple piece that suits any appearance on every occasion, whether as an everyday addition or a distinctive.
---
19. SWAROVSKI Infinity Crystal Jewelry Collections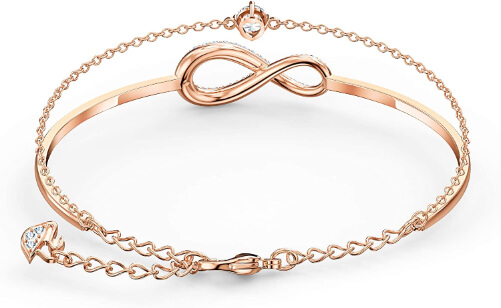 The elegance of this bracelet is enhanced by the precision and quality of glittering Swarovski crystals, as well as fascinating features such as the curved rose-gold tone plated infinity sign. This bangle bracelet has a beautiful infinity design with a dainty circular crystal accent ring, making it one of the timeless and fashionable crystal gifts for her. This bangle bracelet goes with many kinds of collection.
---
20. Forever Flowers 3D Crystal Ball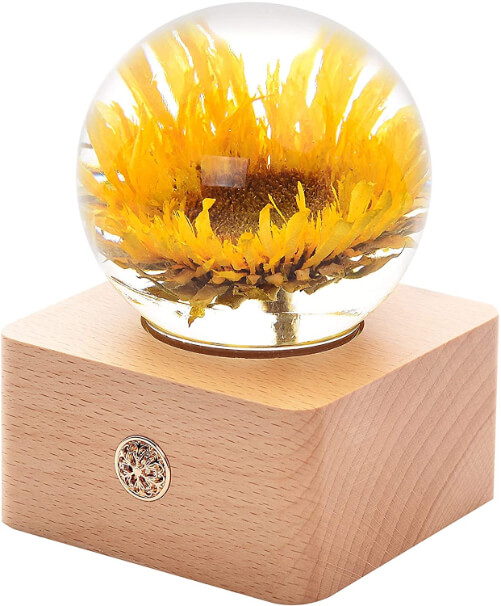 This is the perfect present for Valentine's Day, Anniversaries, or other special occasions. Miss Li Garden Forever Flower is constructed of natural flowers that have been processed numerous times to keep the color, form, and feel of fresh-cut flowers.
The flowers are then enclosed in polyresin, which has been polished five times to make the items perfectly clear and dazzling. Miss Li Garden Forever Flower has a 5-year lifespan.
---
21. "A Little Romance" Sterling Silver Bracelets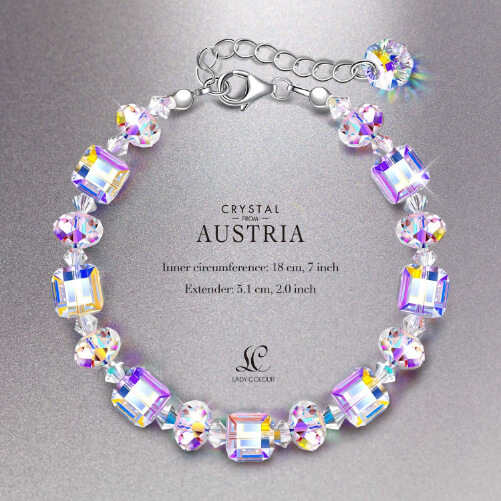 Jewelry is never wrong when it comes to crystal gifts for her. Give her a romantic surprise since everyday life needs a little romance. The Aurora Borealis Crystals from Austria, with their unique beauty and unusual brilliance, make this stylish and spectacular bracelet stand out. Slowly rotate the crystals under various lights to reveal an incredibly brilliant universe. LADY COLOUR jewelry has passed the SGS test and is suitable for people with sensitive skin.
---
22. Purple Rose Flower in Glass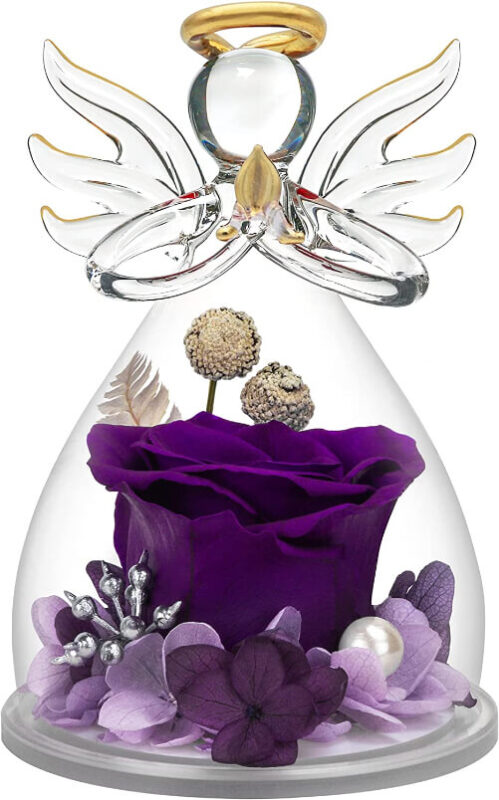 Angel Figurines with Real Purple Rose is a charming present that everyone dear to the sender will treasure. This women's presents include a delicate and lovely purple rose housed in a glass angel. Purple preserved rose, actual purple hydrangea petals, real silver millet fruit, and so on, all fit perfectly inside the glass angel, making it a lovely way to make someone feel special on special days.
---
23. Engraved Wooden Gift Set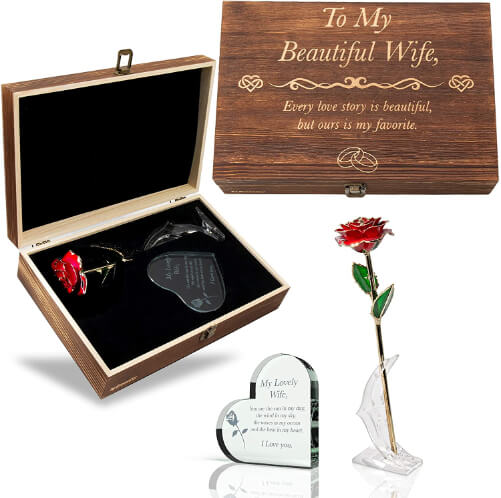 These Wedding Anniversary Gift Sets are fantastic and stylish crystal gifts for her. This is the ideal approach to demonstrate your love for your lady. This red rose dipped in 24K gold will be adored by your lady. This rose also comes with a leisure stand, allowing it to be displayed for all to see! When your wife receives this Crystal Heart from you, she will be overjoyed.
---
24. Crystal Stemless Wine Glasses Set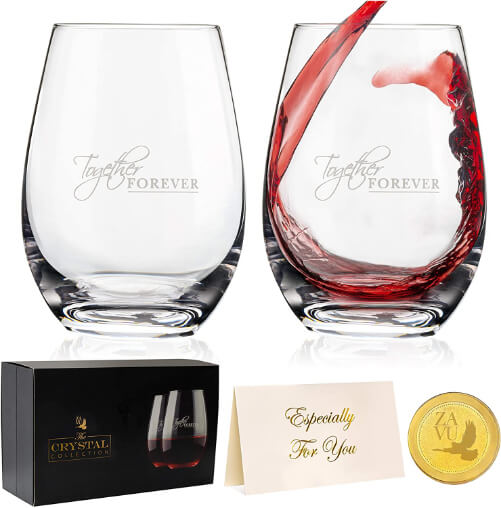 Imagine your loved one or special friends opening the gift box, reading your personalized inscription on a one-of-a-kind gold coin, and then discovering the superior quality Crystal Wine Glasses imprinted with the words "Together Forever." This set's components have all been carefully chosen. Besides, the rim and edge are relatively thin, but they are durable and add to the drinking experience.
*** See also: Wedding anniversary gift for husband that he will definitely feel happy
---
25. Double Heart Figurine Ornament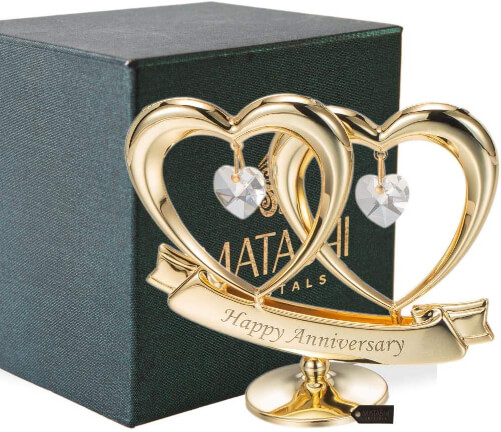 The ideal present to commemorate the time you've spent together! Two delicate hearts with dangling jewels suspended inside hang over a banner that reads "Happy Anniversary." You may be confident of the best quality materials because it's made of 24K gold and studded with finely cut Matashi crystals.
Besides, they're just the right size for any interior design theme or collection! She can brighten up your desk with this gift.
---
26. Chakra Healing Crystals Stones Tree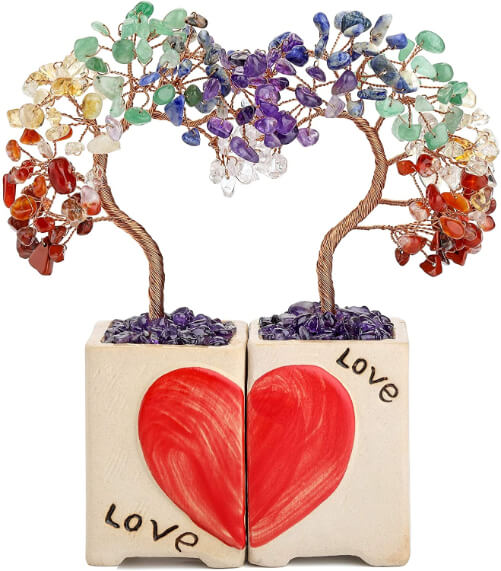 One of the best crystal gifts for her anniversary! This present can help couples heal spiritually as well as function as a bonding confirmation of their connection. It has the ability to cure both souls and strengthen love. The Natural Handmade Gemstone Copper Wire Tree is a symbol of love and good fortune. It is thought to promote job luck and is a wonderful feng shui figurine for those in managerial positions.
---
27. Anniversary Heart Decor Gift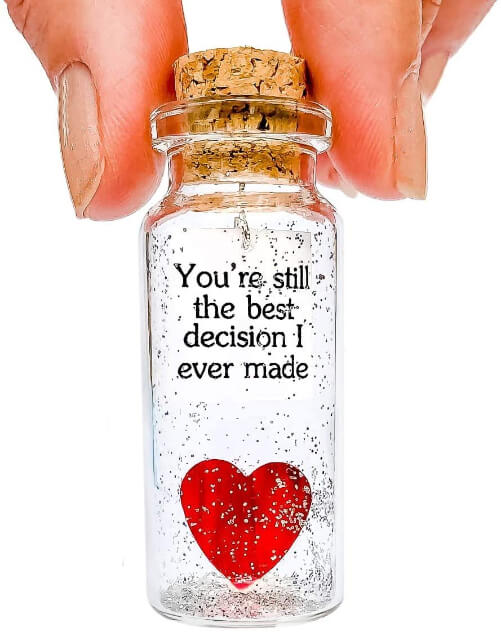 How do we express our feelings to our special someone? What's the best way to say we're in love? Choose this one-of-a-kind glass jar with a dangling heart. We think it's a great approach to not only say "I love you more as time goes on," but also to demonstrate it with this gorgeous handmade present. The moon on the imaginative glass bottle makes it one of the ideal crystal gifts for her!
---
28. Crystal Keychain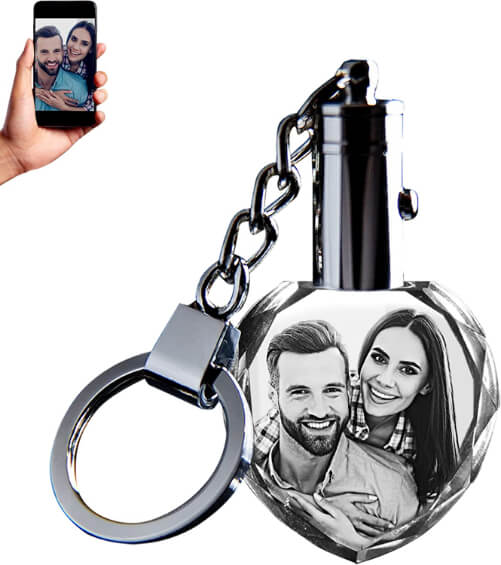 What could be a greater holiday present than an illuminated crystal keychain with photos of your loved ones? Surprise your wife with a unique remembrance laser-etched in beautiful crystal. Cherish all of your moments with your loved ones and capture them in a glass image.
This keychain will keep all of your wonderful memories alive, giving you a reason to grin every day and reminisce about the good old days. Give it
---
29. Gemini Crystals Gift Set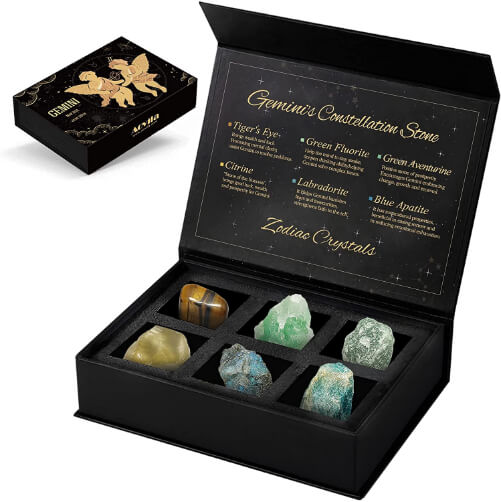 It's a lovely gift for your wife, with its gorgeous gift box wrapping and distinctive lighting-up her zodiac sign icon box design. Each zodiac has its own gemstones that are thought to bring great energy to the individual in order to eliminate negativity and have good vibrations in order to better our lives. Each crystal's name and benefits are included on the box so you may learn more about it. This is one of the best crystal gift for her that she will appreciate.
---
30. Seven Chakra Crystal Tree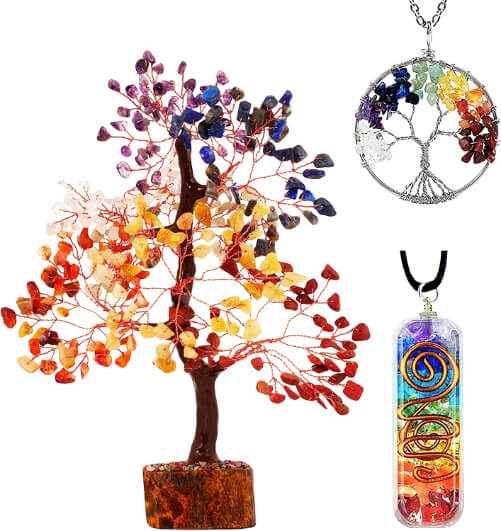 A seven-chakra gemstone tree can create a location where energy can freely flow while also attracting pleasant things. This is a lovely handcrafted tree with all of the Seven Chakra Gemstones, a hardwood base, and a copper wire trunk with an M seal. This tree is around 10-12 inches tall. The presence of this tree can provide a healing and protective circle of Light to the surrounding area.
---
31. Crystal Infusion Water Bottle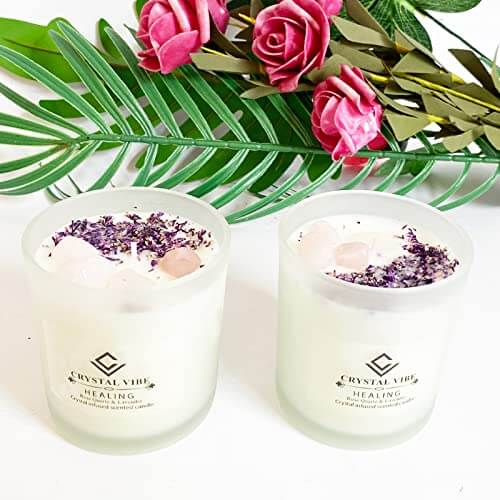 Searching for unique crystal gifts for her, look no further! Hydrate her soul and body with this wonderful water bottle. First, infuse it with flavor using a fine mesh strainer to keep the tea leaves from losing what you sip. Next, put the essence and energy of your choice with the crystal basket at the bottom.
---
32. Crystal Vibe Healing Crystal Candle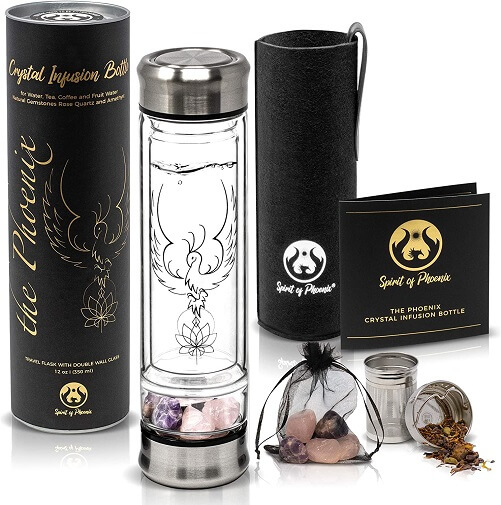 This is a practical item that you can buy for yourself or even crystal gifts for women to celebrate your 15 years of marriage. Mesmerize your senses with the wonderful aroma that emanates from this candle when it is lit. You will be in for an afternoon (or several, burn time is more than 24 hours) with the intention of aromatherapy. Each candle is studded with crystals and glittering spots.
---
33. Celestial Suncatcher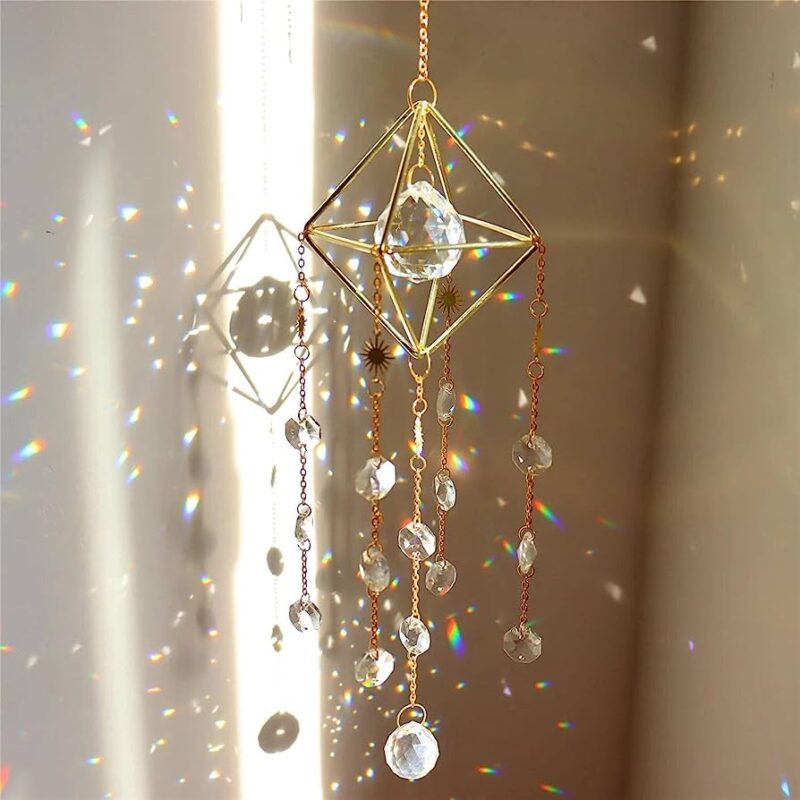 Crafted with exquisite precision, this suncatcher features an intricately designed crystal pendant that refracts sunlight, scattering a dazzling array of colors throughout the room. Its celestial-inspired motif adds a touch of enchantment, reflecting her inner light and guiding her on a path of positivity and inspiration.
Hanging it near a window or in a sunlit area creates a captivating display of shimmering rainbows, infusing any space with a sense of magic and serenity. As she gazes upon its radiant brilliance, she'll be reminded of the beauty that surrounds her, making this Celestial Suncatcher a cherished gift that reflects her unique radiance and brings joy to her every day.
---
34. Crystal Infusion Water Bottle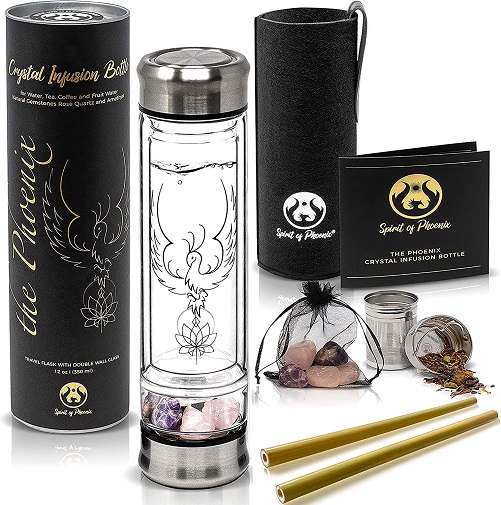 One of the best crystal gifts for anniversary, this stylish bottle features a removable crystal chamber where she can place her favorite crystals, allowing their energy to infuse into the water as she drinks. The crystals not only add a touch of elegance to the bottle but also provide their unique properties, promoting well-being and balance.
With each sip, she'll experience a refreshing and revitalizing taste, along with the positive vibrations of the crystals. This bottle is not just a functional accessory, but a symbol of self-care and mindfulness, encouraging her to stay hydrated while nourishing her mind, body, and soul.
You May Love: 25+ Anniversary Gifts Your Mom And Dad
Conclusion
Above is our recommendation of what giftOMG consider the best crystal gifts for her. When shopping, one of the most critical considerations is whether or not the receiver will actually use and appreciate the gift. While it's nice to surprise someone with a gift, there's no shame in asking your partner if there's something they've been admiring. Your wife will notice your attention and thoughtfulness to detail. Also, you can look for something that reminds you of a special memory.