Shopping for unique baseball gifts for boys? You've come to the right place!
Playing sports helps teenagers develop physical and mental health. Baseball is one of the oldest and most popular sports in America and Europe. Being in a growing age, playing baseball brings tremendous growth for boys.
With the benefits that baseball brings, this sport is proving more and more attractive when it has attracted a large number of active teenagers who love to practice sports. Let's create conditions that will allow your baseball-crazed youngster to pursue his passion for baseball. You should give your tenacious little baseball player something fresh to root for. When you give them a baseball-themed present, they'll be happy all day.
You may select from a variety of personalized goods to help them pursue their baseball dreams. In addition, you can also give away items that show their teamwork. Here are some baseball-themed presents that will delight baseball fans for years to come. GiftOMG will provide a selection of baseball gifts for boys that keep them interested.
30+ Baseball Gifts For Boys That Will Make Them Surprise
Below are some great baseball gifts for boys that are perfect for birthday or any occasion. Whether he is seasoning player or just love sport, you're sure to be find the perfect present on this list!
1. We Are Good Cubs Shirt Chicago Cubs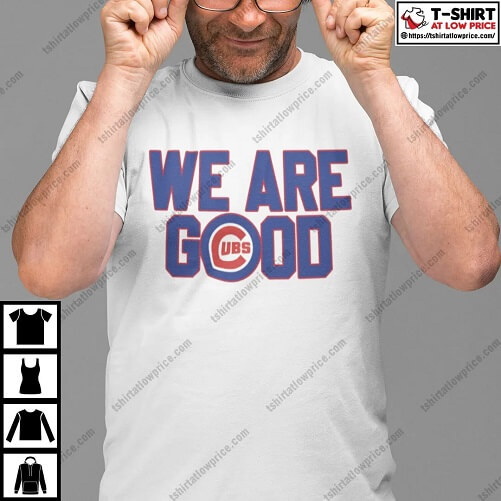 The first option in the list of baseball gifts for boys we want to recommend is t-shirt. The version's Chicago Cubs emblem is included on the orange and blue "We Are Good" shirt, as well as the bear logo. A professional baseball team, the Chicago Cubs are based in Chicago. This team has won many victories and won tournaments.
The shirt is also a proud jersey and strong cheer for the legendary baseball team! This is the shirt that boys with a passion for baseball always dream of owning.
---
2. I Don't Have A College Degree I Hit Baseballs Philadelphia Phillies Shirt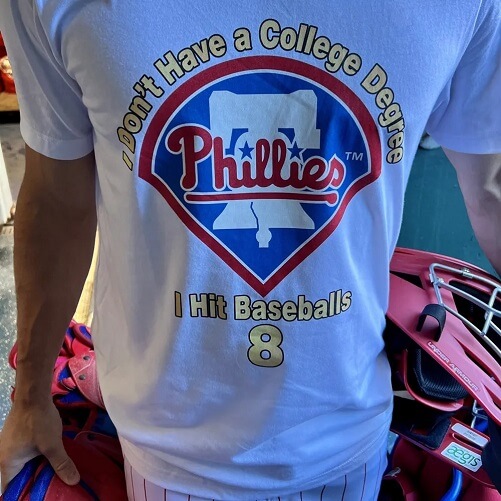 This t-shirt has a saying that has resonated in the sports world. It was said by Nick Castellanos at the press conference on Opening Day. The original sentence is 'I Don't Have A College Degree. I Hit Baseballs'. It doesn't matter who you are, just follow your passion.
Your son will be very happy with this gift. This is the motivation for him to pursue his passion for baseball. This shirt will become more special on the list of baseball gifts for teenage guys.
---
3. The Baseball Elf Shirt Xmas Gift Family Group Elf Christmas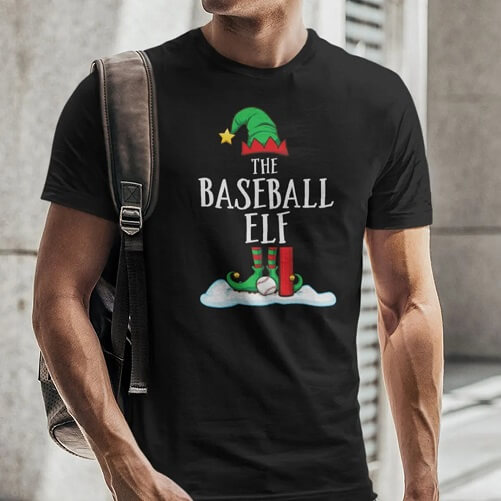 This is the perfect Christmas gift for anyone who loves Elf and baseball. It has a unique design that combines Christmas and baseball. This shirt with a youthful, dynamic design is made of 100% cotton. It's decorated with elf hats, cute socks and shoes, and a baseball with the quote "The Baseball Elf". Giving it to the boy as a show of love, caring and passionate support for him.
---
4. Christmas Sport Shirt Christmas Baseball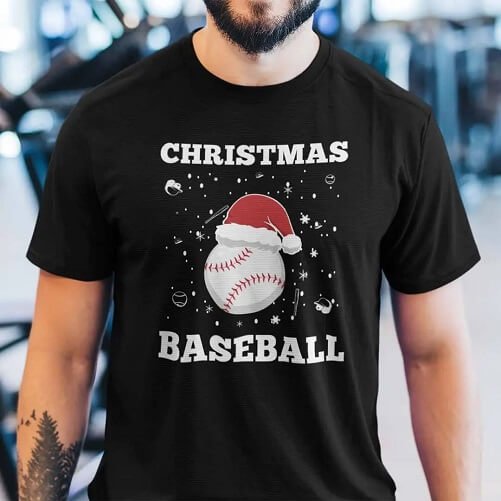 This is definitely both a meaningful Christmas gift and a mark of baseball passion. If you are looking for a beautiful shirt for the upcoming Christmas to give to the boy who is also a baseball fan, this is the perfect gift.
With a Santa hat, a baseball with the quote "Christmas Baseball" printed on a 100% cotton shirt background, creating an attraction for the shirt. Surely the boy will love this shirt.
---
5. Custom Personalized Mini Baseball Bat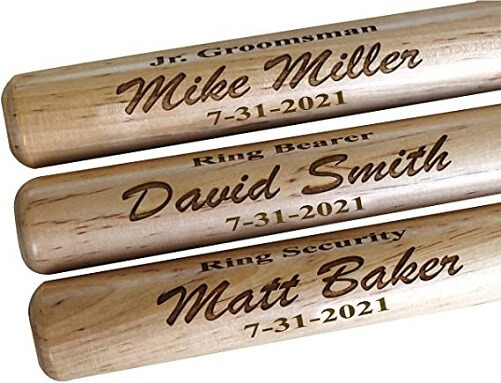 Baseball Bat is a specialized tool used to practice and compete in baseball. This racket can be engraved with a name that makes a difference. These personalized racquets would make a perfect gift for any baseball fan.
This mini baseball bat is made of solid wood and perfect for the future baseball star. Imagine how happy he will be if you give him a racquet he likes.
---
6. Under Armour Unisex-Child Leadoff Low Rm Jr. Baseball Shoe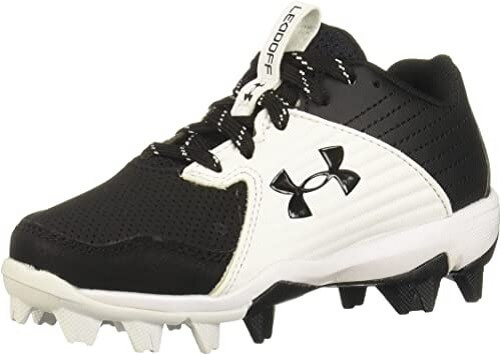 One of the best baseball gifts for boys, these shoes help boys flexibly run on the field, firmly grip the ground and limit falls. The lightweight upper features perforations in the toe box for ventilation. The top of the shoe has a smooth coating to help the boys reduce pain when hitting the ballpark. These shoes are extremely comfortable because of the cushioning in the heel. The shoes give him optimal traction without any pressure under his feet. This is a gift that young baseball players want to own.
---
7. SUPERNIUDB 3D Baseball Gloves Visual Night Light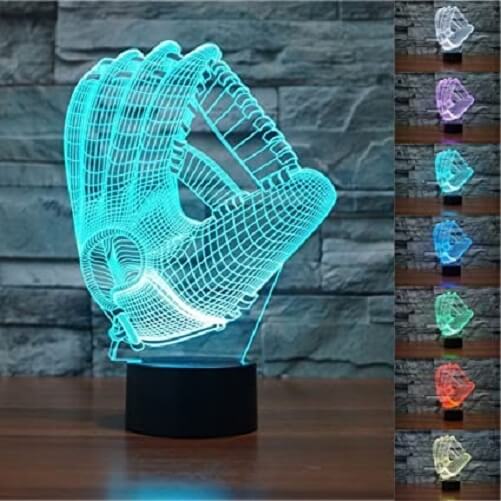 List of baseball gifts for boys should have this 3D led light. Any baseball fan kid would love to have this 3D led light in his or her bedroom! Because every time the boy sees it, it will make his love of baseball fervent. It helps the kids ignite their passion and live with baseball.
This light features a baseball glove logo. The lights are the perfect gift for kids who are passionate about baseball.
---
8. Nike Unisex-Child Kawa Slide (Gs/Ps) Sandal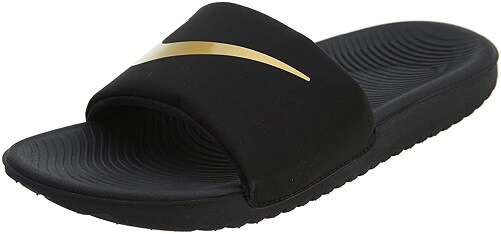 Next suggestion in the collection of baseball gifts for boys is this sandal. Baseball boys love these flip-flops to take to the ballparks before they slip on. These shoes are extremely comfortable. It can easily slip into their ball bag while playing or practicing.
These Nike kids' sandals feature solarsoft foam midsoles. This design provides a soft feeling under boys' feet when wearing. These sandals have pretty high reviews on Amazon. I'm sure the kids will love these sandals because of its convenience.
---
9. Franklin Sports MLB Batting Gloves – Digitek Camo Baseball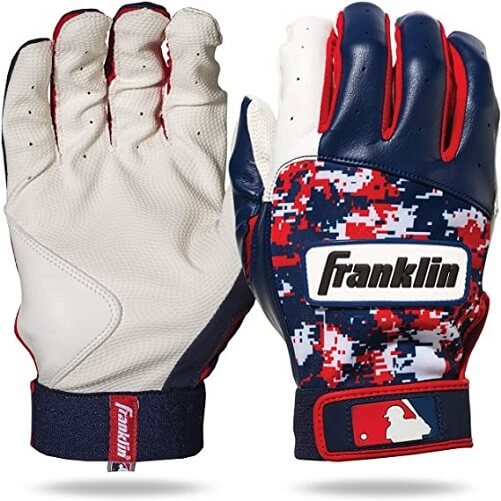 These Franklin Sports Digitek youth camo polishing gloves make a great gift. This baseball glove features a premium genuine leather heel pad to cushion hands while hitting the ball. The seam is strong, can be used for a long time. Gloves made of microfiber help the boys hold the club more firmly when playing. This colorful fitting glove helps boys show off their game personality. This is a truly meaningful sport gift. 
---
10. RAWLINGS Youth Baseball Sunglasses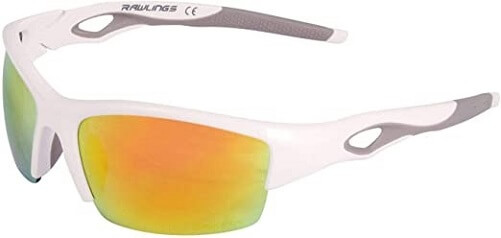 This pair of mirrored plastic frame glasses helps the boy to avoid the glare of the sun while playing baseball. The glass is made mainly of polycarbonate for impact resistance.
In addition, your son will be protected in the sun outdoors because these glasses block 100% of UVA, UVB rays. The hydrophobic coating prevents dirt, oil and water. The boy will love this gift as it makes him more stylish and stand out from the crowd.
---
11. Official League Recreational Use Practice Baseballs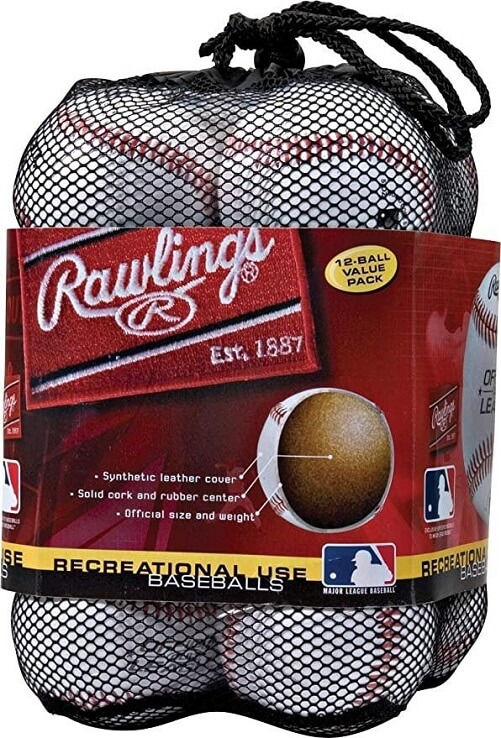 Baseball is also a very necessary and indispensable baseball stuff for boys when practicing or competing in this subject. The baseball is made of rubber coated with various fibers and has a leather exterior. The baseball case is designed to be very sturdy, with 2 tightly sewn cowhide bands. The shape of the baseball is spherical, white in color. These are the ideal balls for boys to practice and play baseball.
---
12. Custom Blank Baseball Jersey Button Down Shirts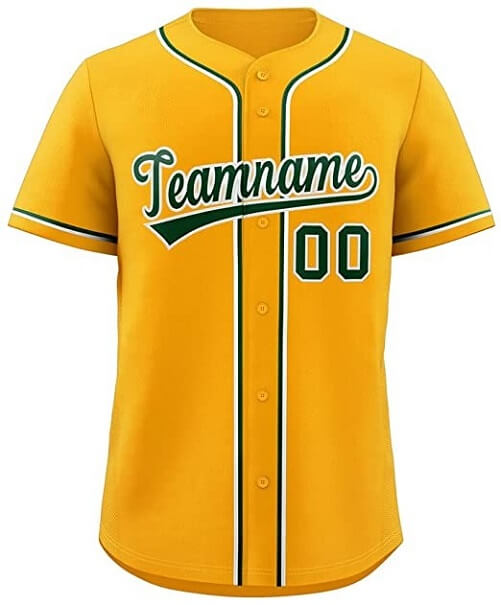 This is the shirt that creates a highlight for the baseball team. The boys will feel more confident when wearing outstanding team uniforms. You just need to enter all the information, and the shop owner will complete the rest.
The 100% polyester jersey is the perfect choice for baby gifts and a must-have collection for baseball fans. Looking for great baseball gifts for boy, this one is the best choice.
---
13. Rawlings | T-Ball Batting Helmets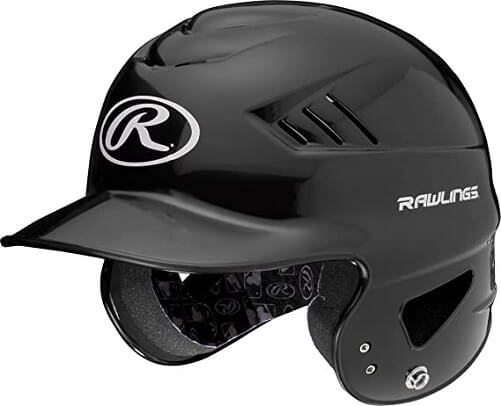 This is an indispensable baseball tool in baseball matches. Wearing a helmet helps prevent unfortunate injuries that can happen to the hitter.
This Polishing Helmet features the CoolFlo Design for ball player protection. It contains 15 individual vents to keep you cool and dry and a ponytail for a comfortable fit. You should give him this gift as you want to protect him. Then he will love it! Don't miss this idea if you're on the hunt of cool baseball gifts for boys.
---
14. Under Armour Boys' Baseball Belt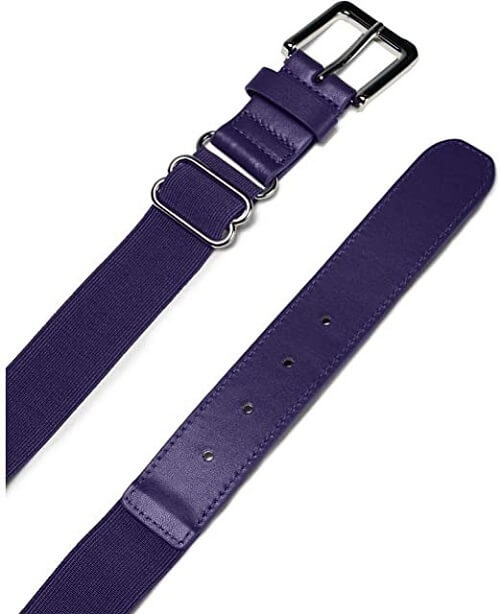 Baseball belts are one of the most important accessories. It helps the boys comfortably run, jump and move during the match without worrying about the outfit issue. This is an item worth considering in your list of baseball gifts boys.
This belt is made of 84% Polyester, 16% Elastane, creating a soft, not too tight feeling when worn. It also has elastic properties. Boys do not have to worry about the size because the size can be customized.
---
15. Wall Vinyl Decal Home Decor Art Sticker Baseball Catcher Player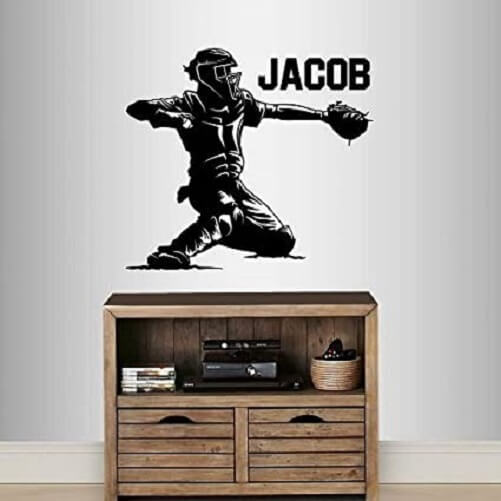 The decal with the image of a baseball player will definitely be a surprise gift for the boy. This is a pretty unique room decor idea. For a boy who loves baseball, this is really suitable.
This decal uses high quality materials and is manufactured in the USA. This is an exclusive design only available at Amazon In-Style Decals. This product has received good reviews from many customers.
---
16. Basketball Gifts I Unique Home Decor LED lamp Night Light Personalized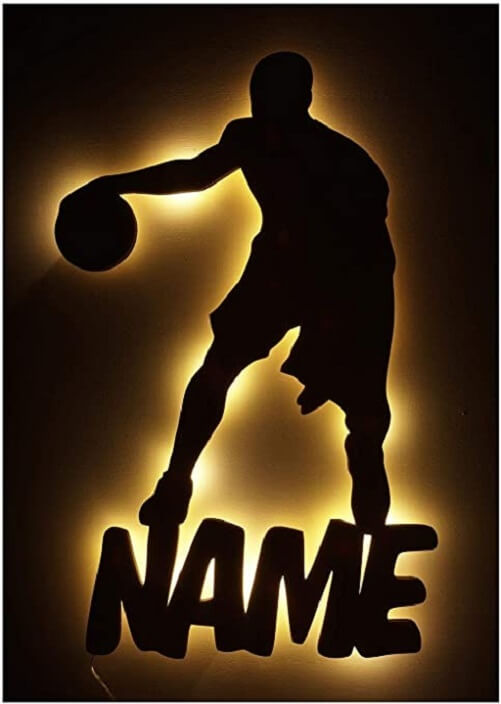 This basketball wall light is custom made, comes in different colors and can be engraved with any name up to 10 characters long. Let's surprise your basketball-loving boy or fan with these unique baseball gifts. The light of the lamp brings warmth to the boy's room. The boy will have a feeling of enjoyment like living with a passion for baseball. In particular, this product is made completely natural without chemicals, so it is extremely safe for boys.
---
17. SKLZ Portable Batting Swing Trainer for Baseball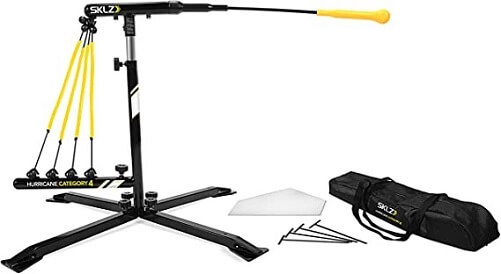 This product will replace a trainer. The boys can join him to practice baseball every day. It is designed to improve playability by developing consistent contact and faster hitting speed.
The boy can use it to practice a stationary tee or as a moving court simulator. The product is designed in 4 capacities that can be removed and then help young players practice at different intensities. This will be a luxurious gift full of surprises.
See more sports gifts: HERE
---
18. Baseball Batting Cage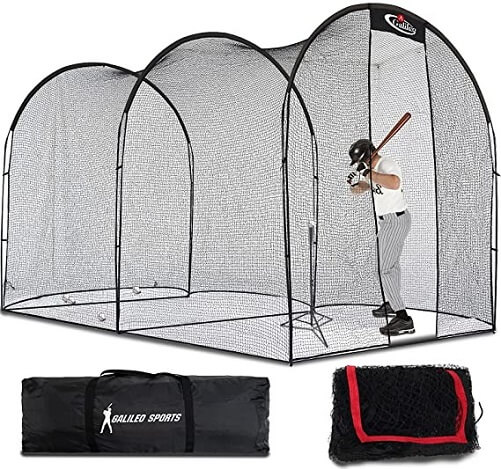 This buffing cage is intended for use by boys over 4 years of age. It is quite large in size to create a comfortable space for the boys to practice. This is a very special gift idea. Instead of going to a ballpark, you can practice comfortably at home.
High quality polishing cage with 16mm high strength steel tubes makes Galileo polishing cage very safe. This design is easy to set up and remove so it is very convenient. The polishing cage is really a perfect choice of list of baseball gifts for boys.
---
19. Baseball  Practice Hitting & Pitching Net Similar to Bow Frame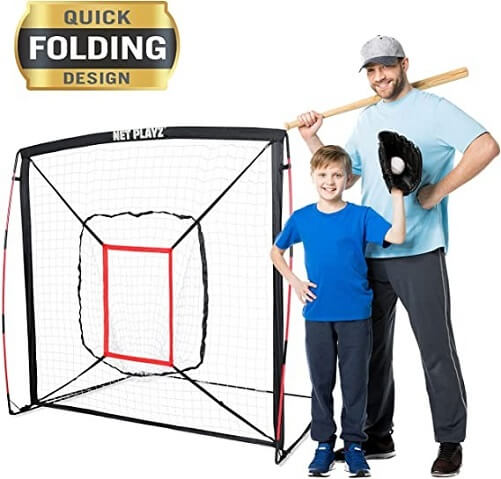 This net frame optimally supports the boy's baseball skills such as hitting the ball, throwing the ball, punching the ball, catching the ball. It is rated as a compact product, easy to install and disassemble. You can take it anywhere to practice if you have free space. The durable fiberglass frame combines with metal stakes to anchor the net, making the net extremely strong. The boy will be excited for this gift.
---
20. F5 Sports pitchLogic Ball and Mobile app Help Baseball Players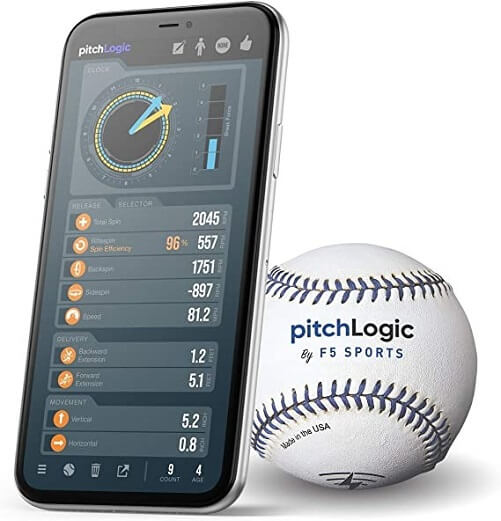 This is cutting-edge technology that will improve the boy's baseball experience. PitchLogic gives a variety of non-calibrated calibration information, making it easy for the youngster to utilize as he improves his abilities.
The pitchLogic ball is used in conjunction with the pitchLogic app. PitchLogic plus and professional capabilities are available as in-app purchases. This will be a fantastic AI application as a present for the boy.
---
21. Signature gifts Personalized Baseball History Book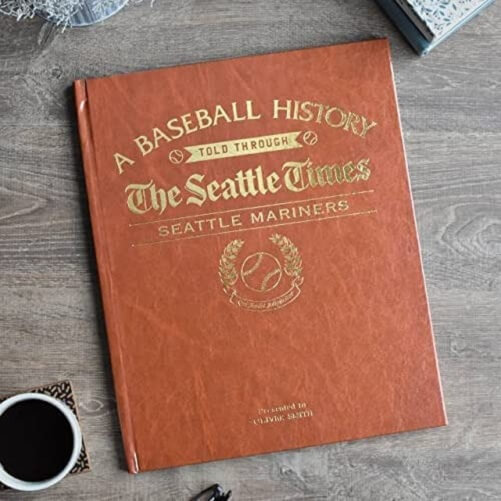 Still wondering the best baseball gifts for boys, consider this book. If the boy is a fan of any sport in Seattle or a fan of Mariners Baseball, this is the item to have. This book records all that belongs to the Mariners.
You have more information about the boy to create his own ownership. A truly one-of-a-kind item that they will treasure.
The book is pre-packaged in a gift box for protection. This timeless gift is passed on for future generations to enjoy!
---
22. Drawstring Backpack Baseball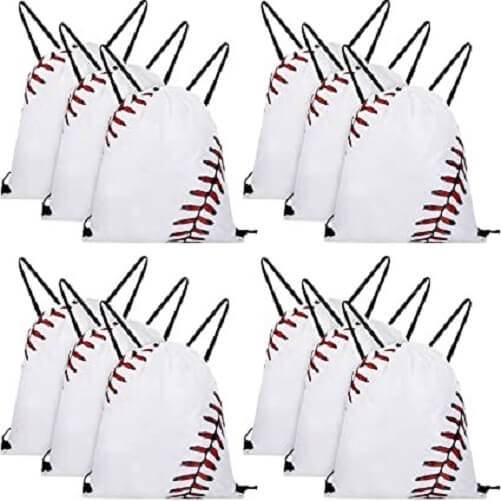 The baseball drawstring bag is a boy's must-have item. 12 drawstring backpacks baseball in one pack can meet the needs of daily use and replacement. This gift is really convenient. Polyester fiber material, very strong and quality, can be reused many times. The simple and generous design combined with the baseball feature looks very sophisticated. Surely the boy loves it because it helps him stand out from the crowd. So, add this one to your list youth baseball gift ideas right now!
---
23. 24 Pieces Baseball Silicone Rubber Bracelets Boy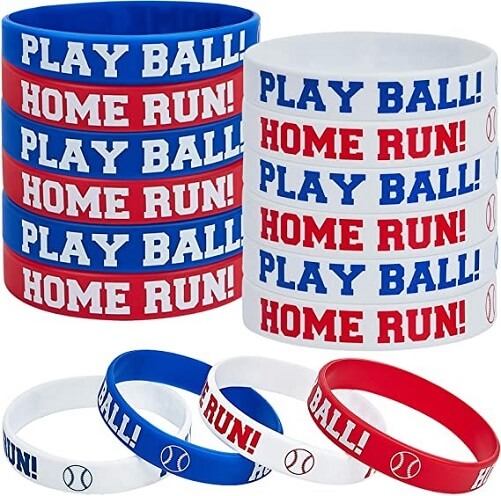 Simple design baseball rubber bracelet, available in 4 different colors. On the necklace are printed the words "Home Run" and "Play Ball", used to motivate boys to play baseball. It is made of silicone material, giving him a soft, comfortable feel. This ring is very durable. This is a great gift for the boy or the baseball team to create lasting memories and bond with the team spirit.
---
24. Pieces Baseball Temporary Baseball Sport Themed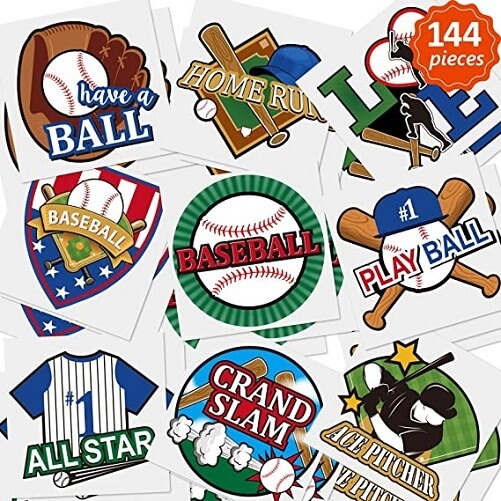 144 baseball temporary tattoos with 9 designs designed with baseball elements. It is very interesting and cute, bringing a lot of fun to everyone, especially for baseball fans. Surely the Boy would love to stick these temporary tattoos as to cheer on his favorite football team or live with his passion for baseball. Baseball tattoos are easy to make and remove, so they are popular with many people. This idea would be a big hit to your list of baseball gifts for boys. 
---
25. O2COOL Mist 'N Sip Misting Water Bottle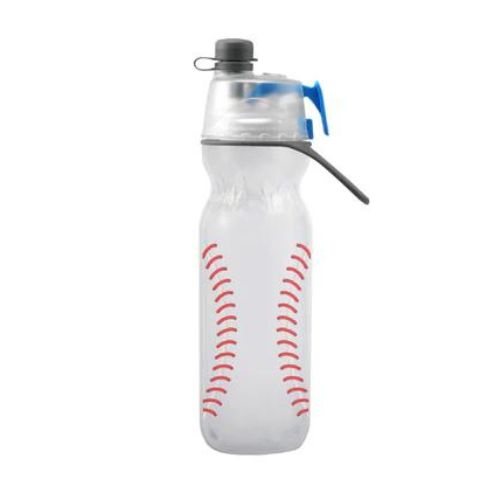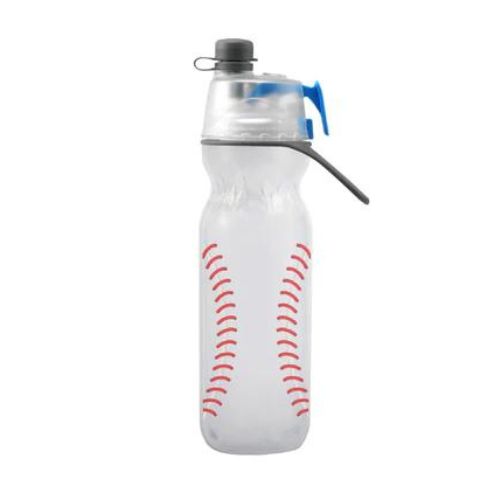 Giving a water bottle is never wrong when it comes to the baseball gift ideas for boy. The specially designed Mist 'N Sip bottle includes a unique 2-in-1 function. This vase is suitable for outdoor activities. The design is based on the "baseball" idea which is quite eye-catching. Are you wondering which baseball gift to choose for your boy? Then this is a great choice.
---
26. A Game of Extremes: 25 Exceptional Baseball Stories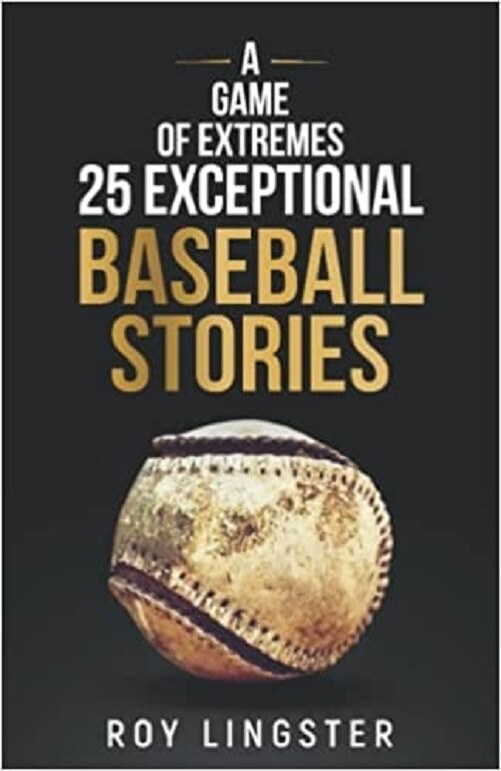 Baseball stories are surely to make him happy and they deserve thoughtful baseball gifts for boys. This is a best seller book worth reading. It can also make a very valuable gift for boys who love baseball. Famous players like Babe Ruth, Lou Gehrig and Ty Cobb are shown the less obvious aspects of baseball. This book helped develop the boy's love of baseball and the characters in the sport. This book of 25 amazing short stories is about triumph and adversity, chaos and humor. It is indeed well worth a read.    
---
27. The Ultimate Chicago Cubs Trivia Book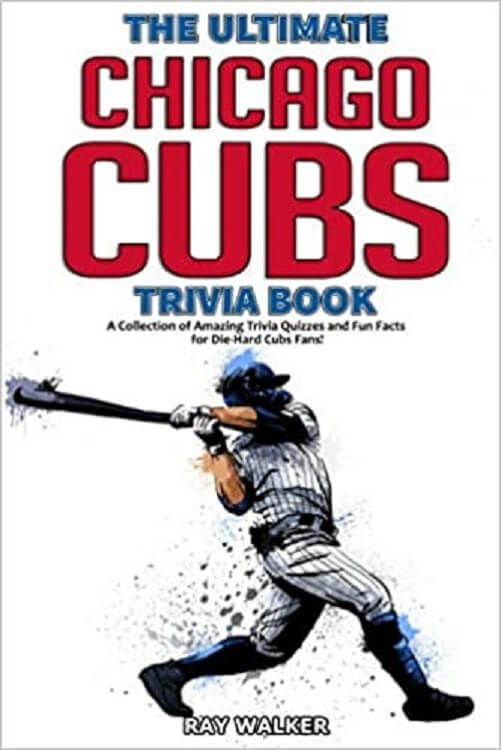 The Ultimate Chicago Cubs Trivia Book is a great gift for anyone who loves baseball, sports trivia, and the Cubbies. The boy who is a baseball lover will not be able to miss it.
Book rights help you see new sides, have a new perspective on baseball. Whether the boy is a lifelong Cubs fan or simply loves baseball, The Ultimate Chicago Cubs Trivia Book is a great event.
---
28. Custom Personalized Baseball Pillow Covers Decorative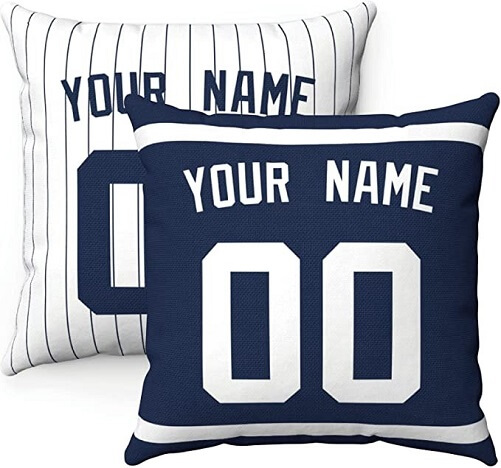 Live every moment with a passion for baseball, this gift is also worth considering in the list of baseball gifts for boys. The pillow is designed with a full range of colors for you to choose from. In addition, you can optionally print letters and numbers on the surface of the pillow.
Pillowcases come in many styles to decorate your home, bedroom, living room, living room, dorm or boys' room. This is also a special gift that the boy who loves baseball wants.
---
29. 2 Pack Custom 16oz City Baseball Vacuum Insulation Double Wall Travel Mugs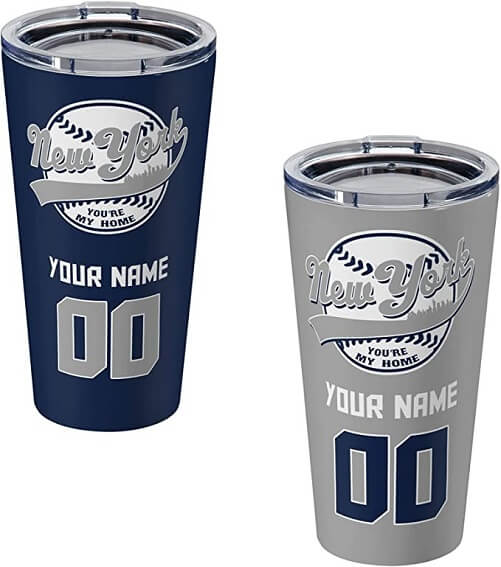 This cup promises to become one of cool baseball gifts for boys that the boy especially loves because of its convenience and beauty. It is designed in full color and printed with names and numbers on request. You can give the boy one of his own.
It is made of 304 stainless steel, the lid is transparent plastic, so it retains heat very well. The boy can easily carry it every time he plays football. Indeed, this is an exquisite gift for baseball fans.
---
30. Baseball Socks 3 Pairs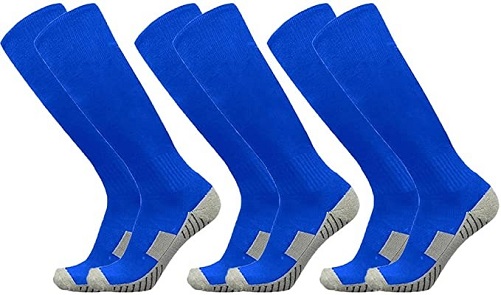 These socks are specially designed for baseball players. His feet will stay cool and dry during play thanks to the Moisture Wicking fibers. The arch support structure helps compress the ankle improving blood flow, reducing swelling, increasing performance.
These socks are perfect for the beginner or advanced soccer player. These soccer socks are the perfect match with the baseball outfit!
*** Related Post You May Concern: Funny 17th Birthday Caption Ideas
---
31. Baseball Helmet Desk Caddy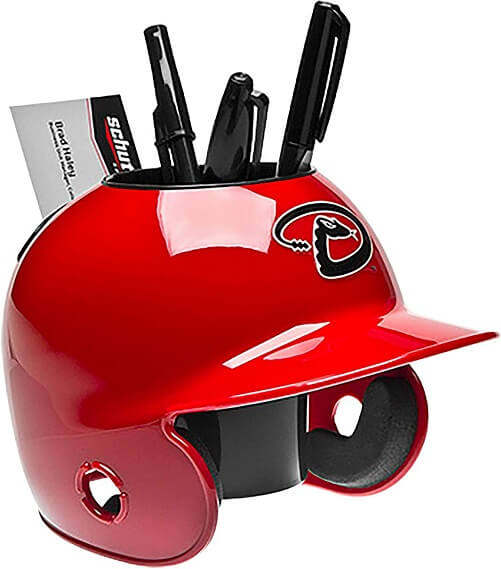 This helmet desk caddy is a fun present for any baseball fan. Its available in just about every MLB team. Your boy will love using it to keep his desk organized. This cool and unique baseball gift will be loved by kids as well as older men. He can place it at his desk no matter where it is.
---
Conclusion
Boys who are in a growing age with a passion for baseball are something to support. Adults should show their support by giving them these special gifts. This is like a motivation to help him reach out with his passion. So, GiftOMG has suggested you a list of baseball gifts for boys. Hope you will choose a gift for your little boy.