You've found the perfect gift for the recipient and now you need some great birthday gift wrap ideas. Well, you've come to the right place! 
Birthdays are the perfect moment to pull out all the stops. Not only can you buy a great gift but you can wrap it up in a colorful and funny way.
Even so, coming up with unique gift wrapping ideas is not easy. Unless you live on Pinterest 24/7, you'll probably need a bit of information. Lucky for you, we've got you covered. Skip the package this time and try one of the cute birthday gift wrap ideas — complete with instructions and how to shop for each. Prepare to wow everyone with these beauts.
30+ Creative Birthday Gift Wrap Ideas For Any Occasion
Birthdays are a great time to pull all the stops. Not only can you purchase a wonderful gift, but you can also wrap it in a hilarious and colorful way. These birthday gift wrap ideas are easy to make. Grab your scissors and tape and start wrapping!
#1. Finger-print animals
Use a sheet of plain paper to wrap your birthday present, then decorate with finger-prints in the shape of animals (ladybirds, dinosaurs, bears…), flowers etc. With this gift wrapping is very suitable for children who love animals. So quickly and easy to do a unique gift wrapping idea for kids' presents!
Discover some more gifts for animal lovers:
---
#2. Recycled Paper
First, order some kraft paper to wrap your gifts. We love this paper because it's a neutral background — plus, it's made from 100% recycled paper. Grab a sprig of greenery or botanical from your local flower shop or grocery store, and then secure it to your wrapped gift for a simple, yet thoughtful, touch. This creative gift wrapping idea is so beautiful, they just might want to leave it wrapped for a minute longer.
---
#3. Pompoms
You went through the work of picking out an ideal gift, now make sure your wrapping stands out at the party! Fluff up the top of your handmade gift box with a huge pop of color and texture. Ditto the pompoms, just as easy as the wow-factor.
---
#4. Linoleum Hand Stamped Gift Wrap
This clever wrapping idea is a lot of fun to make, at least for anyone who likes carving and playing with ink pads. Created from linoleum stamps and cheap carving tools, these stamps will last forever so you can make your own signature designs for your birthday gift wrap ideas. I think you could also go the traditional route I learned in preschool and make some stamps with carved potatoes and carrots for a similar effect.
---
#5. Travel Suitcase Gift Wrap
I found the perfect DIY gift wrapping for someone who is going on a trip, a DIY tiny suitcase! I used a matchbox and plain paper, the tutorial was very simple to follow. These funny birthday gift wrapping ideas are excellent for small items, such as tickets, jewelry, or money. They look great as great dollhouse accessories as well. This DIY suitcase will not disappoint anyone on your gift list, young or old.
---
#6. Layering Wrapping Paper
You can create a really beautiful effect by layering your own wrapping papers. I like to use a plain base layer and a decorative overlay. A versatile and simple unique gift wrapping idea is to use brown paper as a base layer. It is inexpensive and readily available. You can then add a strip of pretty patterned paper and a ribbon, and layer different types of paper over the brown paper.
---
#7. Place Gifts in Jars
Glass jars are reusable and versatile, making them birthday gift wrapping ideas for her in and of themselves. Place your gift in a glass jar (with the lid included) and easily decorate it with ribbons, gift tags, and more to personalize it. Your recipient can then reuse all the jar to hold bulk goods, fresh-cut flowers, or even drinking something like water.
---
#8. Newspaper wrapping paper
You can make your gift really stand out with fashionable improvised gift wrap papers. If you are wrapping a birthday present, you could use the newspaper from their birthday. Or just find a fun page with an interesting article and picture that you think they would like. Comic strips from the weekend paper makeup for colorful and unique birthday gift wrap ideas.
---
#9. Ripcord Quick-Open Wrapping
Psychologists tell us that part of the "purpose" of gift wrapping is to lengthen the suspense of finding out what the gift is. But what if we turn that all on its head or wrap a beautiful gift so that it can unwrap in record time? Enter the "rip-cord" method and start gift wrapping!
---
#10. Cube Box Template
Making gift boxes couldn't be more feasible with this cute cube box template. It's a good size for small gifts like candy, a small soap and some jewelry. Even though it's a plain design, you can dress it up with some stickers or brads or ribbons to make it look more sparkly and special.
With these gift packages are very suitable for wrapping gifts for Valentine's Day, wedding anniversary or lover's birthday.
---
#11. Polka Dot Gift Wrap
I love DIY gift wrap and I have never found one easier than this polka dot plain paper wrapping idea. I had plenty of brown paper that I use for just about everything and simply followed the tutorial using a pencil eraser that can be dipped in craft paint. It makes a great project for children, using the nontoxic paint of course.
---
#12. Old Maps
Dig out your old road maps and atlases and totally put them to good use by wrapping gifts in them. Not only will this help you save money on the wrapping paper, but it will also give you a reason to clean out your attic or downsize a bit. And unless your recipient tears them when they open their gift, they can reuse the maps a second time to wrap perfect presents next year. If you're still looking for birthday gift packing ideas for husband, this one is the best choice.
---
#13. Photo Gift Wrap
Ever seen birthday gift wrap ideas with photo paper and thought it was either way too expensive to do or too daunting a technical task for you to accomplish? Check out this clear step by step method for getting beautiful big custom photo printed wrapping paper.
---
#14. Origami Paper Pyramid Gift Boxes
Love free printables? I am a big fan of making clever 3-dimensional things out of paper, but I had never seen some of the fabulous box designs on that blog. This one is for a pyramid gift box, which you can make in any color or pattern in which you can easily find heavyweight paper, and in any size that you like.
---
#15. Kraft Paper
Something about butcher paper is very reminiscent of elementary school. While it's excellent for decorating dioramas and making paper with snowflakes, kraft paper has a wide variety of purposes. It's extremely versatile in paper crafting, so having some on hand is definitely a must if you're competent crafty.
---
#16. Burlap Gift Wrap
Burlap is a strong, woven material made from the natural fibers. It's pretty rough and scratchy, so it isn't ideal for clothing, but it's so great for a wide variety of crafts. It's a natural brown color that adds more than a nice rustic and natural look to any project you want.
---
#17. Gift Wrapping With Fabric
Looking for a festive and paper-free way to wrap your gifts? Find a swathe of fabric from your local craft store or dig up the crafting leftovers to repurpose. Tuck your gift inside the fabric and keep it in place with twine and double-sided tape. This creative gift wrapping idea will look and feel different than others in this stack.
---
#18. Paper Poinsettia Gift Wrap
It will be one of the best surprise gift wrapping ideas you can consider. These cardstock poinsettias make a gorgeous gift topper idea, and also look pretty all on their own. Bring them to life by cutting this cardstock by hand, then secure with a button and finish with some fringed ribbon. 
---
#19. Rainbow Yarn Wrappings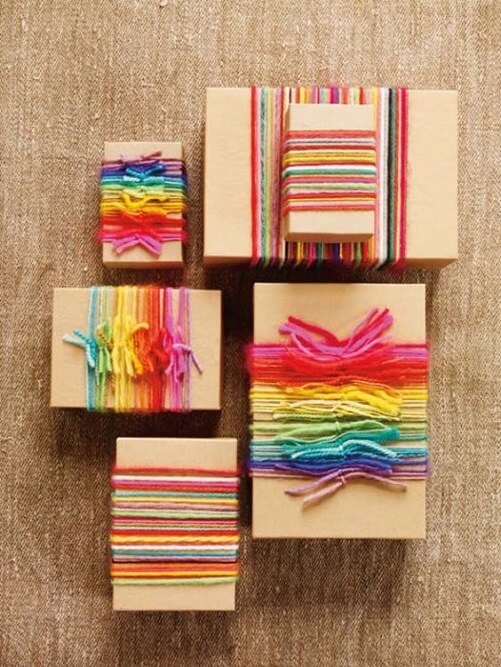 If I am going to take the time to wrap a birthday gift box, I kind of prefer people to know I did it (sad, but true) so these handcrafted yarn bows do the trick for me so fine. I think I'll save this on my last minute gift wrapping ideas list, as it is virtually flawless and requires no shopping, at least not for the knitting or crochet crowd.
---
#20. Tartan Gift Wrap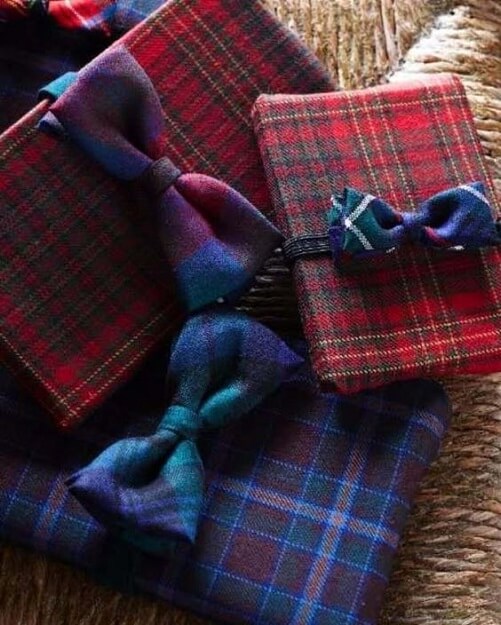 Leftover fabric scraps and gifts to wrap? This DIY gift wrapping idea uses leftover tartan fabric, but you can use all things you have, really. Vintage bow ties purchased online or maybe even cheap thrift store bow ties can be used as lovely accents like these. For that matter, you can fashion some of your own gift from more leftover fabric and all that free time you must have in your own hands.
---
*** See More: 30+ Beautiful Wedding Gift Wrapping Ideas You Must Try
Conclusion
A meaningful gift must be expressed in both the outer form. We hope you enjoyed this list of birthday gift wrap ideas that we recommend. You can create your own unique, one-of-a-kind products for your loved ones and friends. Do not hesitate to show your talent, you will surely discover many new things about your gift.
Let us know in the comments if you have any more ideas we should add to your list!