The holidays are a time when you want to make your gifts stand out. Unique gift wrapping ideas from giftOMG can help you do this.
Unique gift wrapping ideas are an excellent way to make your presents seem even more thoughtful. The right kind of wrapping can make your present look as if it came from a fancy boutique or department store, rather than from the local grocery store or drugstore. This is especially true if you have the recipient's name on the package, which makes it look even more unique and personal.
Tips For Making Your Gifts Unique
DIY presents will always touch anyone's heart. Here are some tips for making your gifts stand out:
Choose a nice color that matches the item inside the box. If there's a particular theme or color scheme going on at home during Christmas, try to incorporate that into your box too!
Make sure the paper is thick enough so that it doesn't tear easily when opening the present, but thin enough so that it doesn't add too much weight or bulkiness to your present! It should be sturdy enough to hold up under pressure (like if someone tries to rip open their gift), but not so thick that it takes up too much room in their bag or suitcase when traveling! Also, try not to use glittery paper unless you're sending your present to a child. Most adults don't like the mess of glitter or sparkles if they have to travel with it.
If you're making a gift box out of cardboard, you should use some tape to make sure it stays closed and that it won't fall apart when the person opens it.
Creative Gift Wrapping Ideas for Any Special Occasion
You want to make your present stand out for it's uniqueness and creativity, not its boring mundane appearance. Here are the top favorite unique gift wrapping ideas:
1. Use a vintage map – Surprise gift wrapping ideas for everyone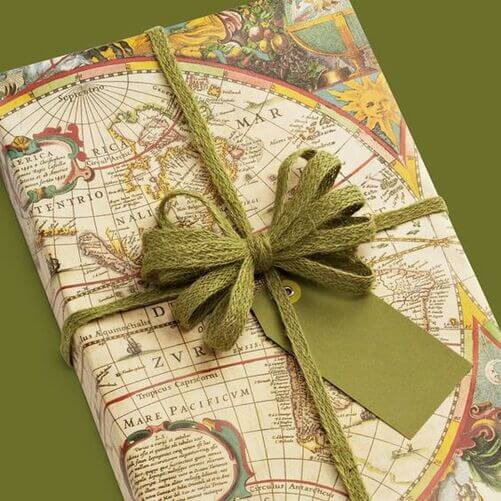 Maps are a great way to add some personality to a present, especially if you give it as a gift to someone who travels a lot. You can find old maps at antique shops or online. If you want something more modern, plenty of online sites offer digital maps you can print out and use on wrapping paper.
---
2. Make a gift bag out of wrapping paper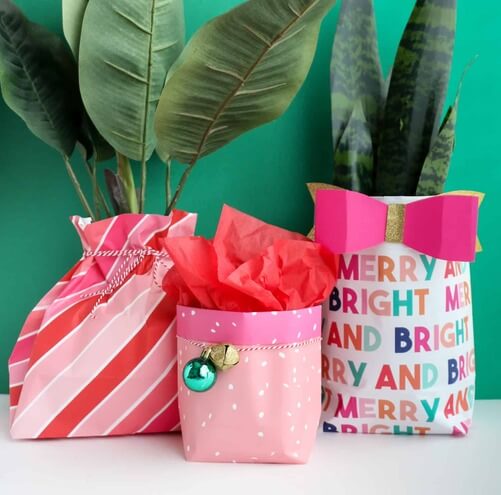 If you have a lot of wrapping paper lying around, you can use it to make unique gift bags. All you need is some glue and scissors. Cut out a square from the center of the wrapping paper and glue around the edges to form a bag. Add any embellishments that you wish, such as ribbon or stickers.
---
3. Try a plaid pattern – Unique gift wrapping ideas for birthday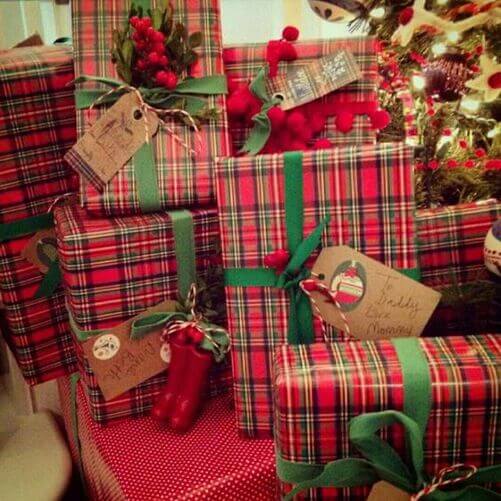 If you're looking for unique gift wrapping ideas, try a plaid pattern. It's an oldie but a goodie! Try wrapping your gifts with a standard roll of wrapping paper and then cutting them into smaller pieces or strips. If you want the gift to stand out, even more, try using the same colors for both sides of the paper. This will create a very simple yet effective plaid pattern.
---
4. Use some metallic ribbon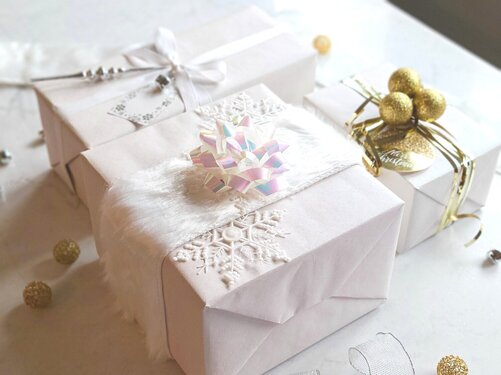 One way to make your unique gift wrapping ideas is by using a metallic ribbon. This is a fun thing to do when you're making your own wrapping paper or tissue paper gift bows. Use the same color of ribbon as the paper or tissue paper you're using, or use two different colors together if you want it more colorful than plain white tissue paper.
---
5. Try some twine and pom-poms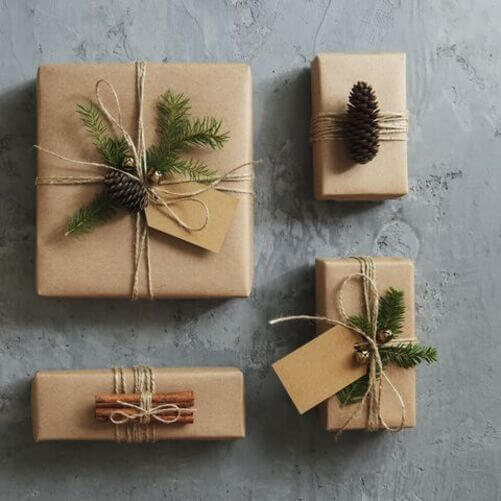 Twine is an affordable alternative to ribbon that can be used in almost any type of wrapping. It's also a great way to add a rustic element to your gift wrap. Pom-poms are another fun way to dress up your gift box or bag. You can easily make them yourself with fabric scraps, but if you don't have time, most craft stores sell them in a variety of colors and sizes. Try using both together for added contrast!
---
6. Add some rustic shine with copper pipe and leather accents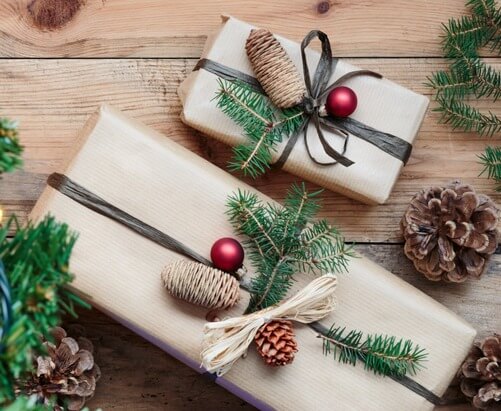 This DIY is so easy to do and it looks so pretty! You will need some copper pipe, a hammer, and a screwdriver. Cut the pipe into different lengths depending on the size of your gift. Then attach two pieces of leather together by drilling holes through both and putting screws in through one side and out the other. Attach a hanger to the back of it and use some string or wire to hang your gift from it.
---
7. Make a collage out of magazine pages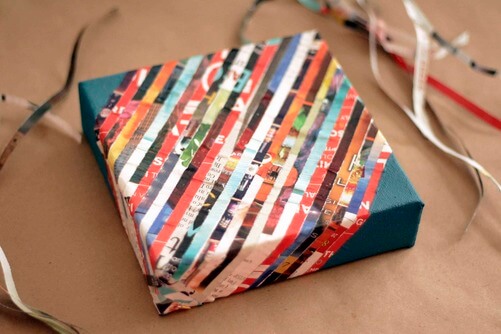 This is an excellent option if you want to have unique gift wrapping ideas or add a little extra flair to your gift wrap but don't have any artistic talent. Simply cut out pictures and words from magazines and arrange them on the box or present them like puzzle pieces. You can also use this idea to customize gift tags by adding pictures or words that relate to your recipient or the occasion.
---
8. Use foil, kraft paper and natural elements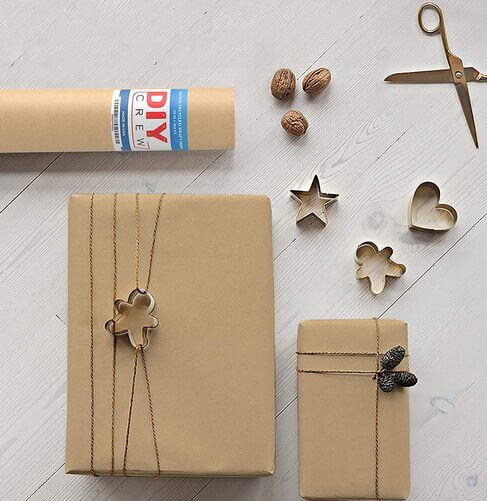 Foil and kraft paper are both easy to find at any craft store. They come in a variety of colors and patterns, which means you can match them to the theme of the gift. If you are eco-friendly, instead of using store-bought wrapping paper, you can use natural elements like leaves, petals or pine cones for a unique look.
---
9. Try a punch of color with neon ribbon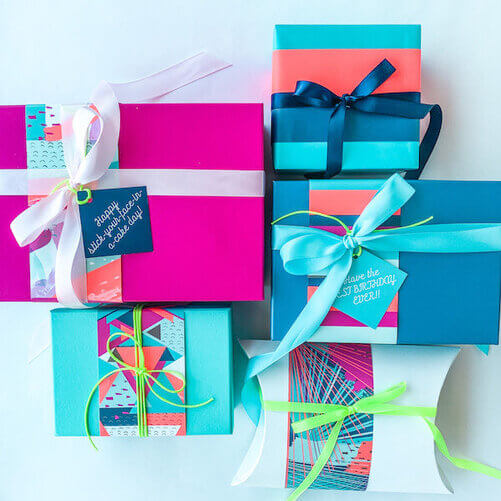 Try a punch of color with neon ribbon. Neon ribbon is perfect for adding a pop of color to any gift box or bag. It's also great for tying around the handles of a basket or other container that's already been wrapped up in paper and ribbons. You can use neon ribbon in any pattern. Be sure to choose neon ribbon that's thick enough so it won't tear easily when you're tying bows or knots with it!
---
10. Use chalkboard paint as a gift tag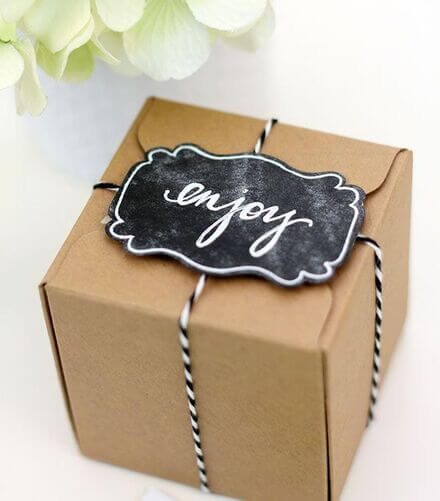 This is an awesome way to personalize any gift or even something as simple as a mug or cup! All you need is chalkboard paint and a stencil. You can also use this idea for a DIY wedding sign or even as a place setting at your reception! That's why we've put together this list of unique gift wrapping ideas to help you find inspiration for your next gift.
---
11. Use custom monograms to label gifts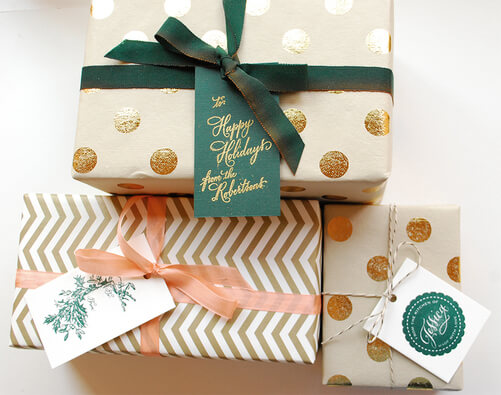 If you're looking for an inexpensive yet personal way to wrap your present, consider using a monogrammed gift tag. The tags can be purchased at most major retailers and can be customized with your initials or name. They come in an assortment of colors so you can choose one that matches your wrapping paper.
---
12. Paint Chip Wall Art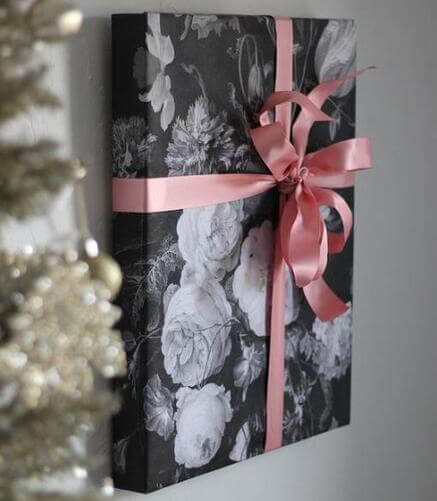 This is another unique way to use paint chips! The possibilities are endless – you could paint them on wood or cardboard and attach them with ribbon; glue them onto canvas or fabric for wall art, or even create a collage using different colors and sizes of paint chips! This would make an awesome gift for anyone who loves home decorating!
---
13. Use a photo or a poster as gift wrap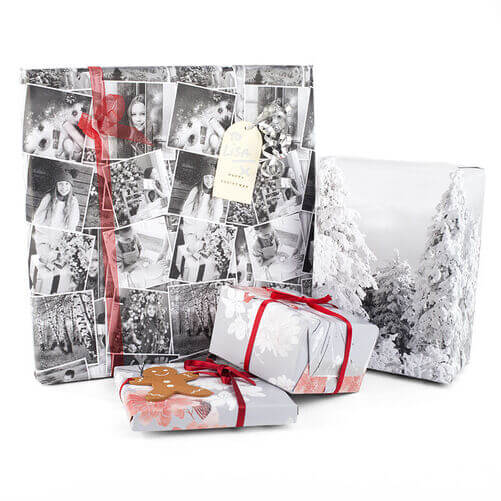 If you have a photo of you and your friend or family member, you can use that as gift wrap. Just print it out on matte photo paper and cut out the shape of the gift box or bag. This works especially well for smaller gifts like jewelry or other small items. You could also use a large poster or map as gift wrap if you're giving a bigger item like a book or DVD/Blu-ray set.
---
14. Peppermint Candy Canes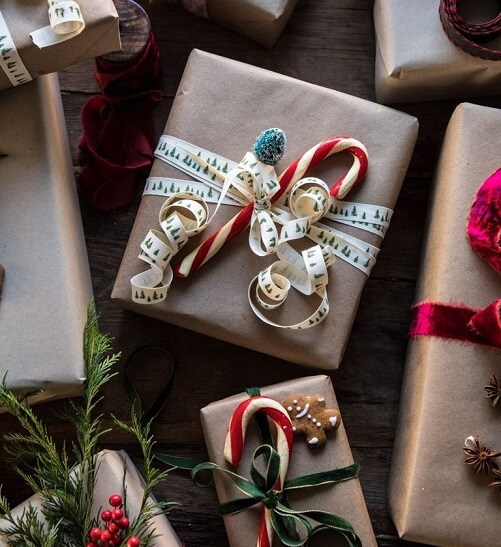 If you want to make your gifts really sweet, cover them with some candy. You can use different items depending on the occasion (like a candy cane for the holidays or the person's favorite present for their birthday). Looking for the best gift wrapping ideas for him, this idea is the best choice.
Get the tutorial here
---
15. Stick-On Vinyl Letters and Numbers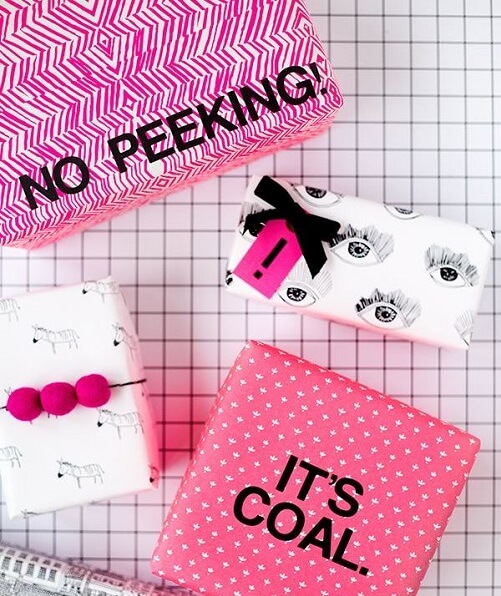 When think the original gift wrapping ideas, we want to share this idea. It's really cute and easy to make. Use any wrapper you like, then add fun sayings with sticky letters. Write down a your favorite quote, phrase or even just the name of the authorized person for a personal touch.
Get the tutorial here.
---
16. Reindeer-Stamped Paper Bags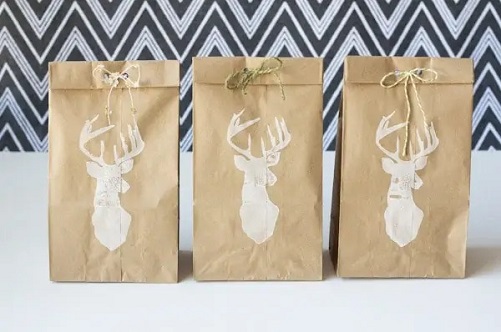 Reindeer-stamped paper bags can be a creative and unique way to wrap gifts during the holiday season or for any occasion. They add a personal touch and can be a fun DIY project and will be one of the best gift wrapping ideas.
Reindeer-stamped paper bags offer a charming and rustic look for gift wrapping. They are especially well-suited for small to medium-sized gifts, and they can be customized further with additional embellishments like ribbons, bows, or gift tags. Enjoy getting creative with your gift wrapping ideas!
---
17. Washi Tape and Photos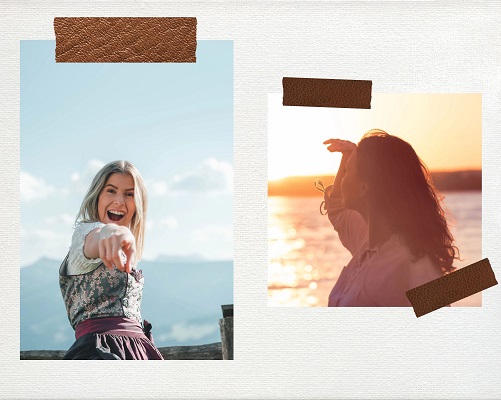 Using washi tape and photos for gift wrapping is a fantastic way to add a personal touch and create unique and memorable presents. On this one, you don't need to sign your name! All it will take to reveal the truth is a picture of you and the gift receiver. The picture can be decoratively attached to your gift with washi tape, and the whole thing will serve as a recall of a special memory you two enjoyed this year.
Special Hints: Add scents to your wrapping
You can add a scent to your gift wrap by using essential oils or potpourri. This is an easy way to make a boring box look interesting and pretty without adding much time or effort. Use different scents on each present so they don't all smell the same!
---
Conclusion
The goal of unique gift wrapping ideas is to make your present look more like something you would buy in a fancy shop than the normal, mundane presents that you get every year. You want to make your present stand out for its uniqueness and creativity, not its boring mundane appearance, so find unique gift wrapping ideas that match the gift you have bought.