When it comes to a holiday in your company or a birthday celebration, you can give these best personalized gifts for coworkers as a present.
The friendship between coworkers is a precious thing in life. Coworkers are the ones helping us to work to our full potential, and guiding us when our work gets rough. Besides, colleagues can become best friends and spouses. This positive relationship not only helps to add a new perspective at work but also improves your mental health in life. Your colleagues' birthday or holiday is coming, you want to find a meaningful gift to thank them for always being there for you. You have spent a lot of time choosing an ideal present but can't come up with any ideas?
How about giving a personalized gift? Here is the list of the 25 best personalized gifts for coworkers. Check this out and find your favorite.
25 Best Personalized Gifts For Coworkers That You Should Refer To
Refer to the list below! We believe you can find out the best personalized gifts for coworkers that can melt their hearts!
1. Personalized Retirement Wind Chime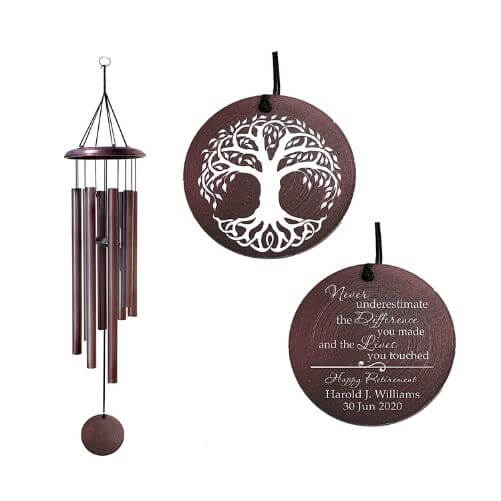 Giving your retirement coworkers a wind chime will make their yard more charming and provide them with beautiful sounds. One side of this wind chime will be engraved with the Tree of Life, as a thank you to the dedication of your colleague friend.
On the other side, you can choose meaningful sayings or engrave the name of the receiver. This inspirational customized gift can melt every heart.
---
2. Personalized Monroe 18 Karat Gold Plated Gift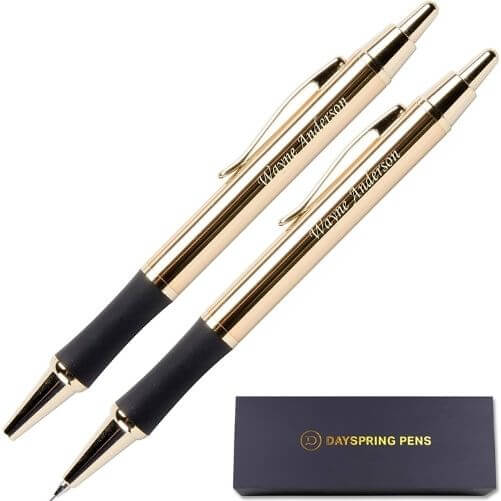 As gifts, pens can symbolize the value you have for your gift recipient's freedom of thought, so a pen is a meaningful gift for coworkers. This is a pen and pencil personalized pen set, decorated in gold color. You can engrave names or meaningful sayings on the pens. The pen and pencil set will come with an elegant box to show respect and the giver's heart.
---
3. Customizable Your Name Bar Necklace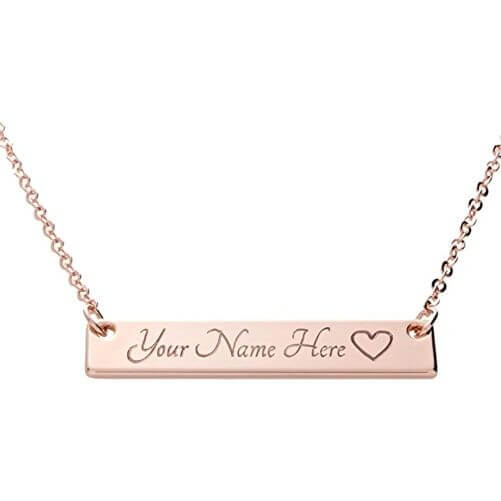 Some gifts mean more than others, and a customized necklace means unique. You can have a necklace made for you, how lovely. With this personalized necklace, con can add names, words, numbers, and more. To be decorated with rose gold color, this necklace is born for women who love tenderness and fashion.
---
4. Custom Bobbleheads Figures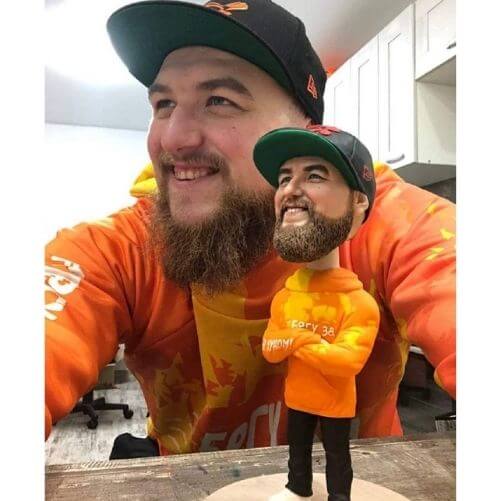 What about giving a figure that looks exactly like your colleague as a gift? you can create a model that looks like your coworker, just submit a picture and choose the designs. This miniature is a great decoration on a coworker's desk. This figure is the best personalized gift for coworkers who love funny and uniqueness.
---
5. Personalized Birthday Coffee Mug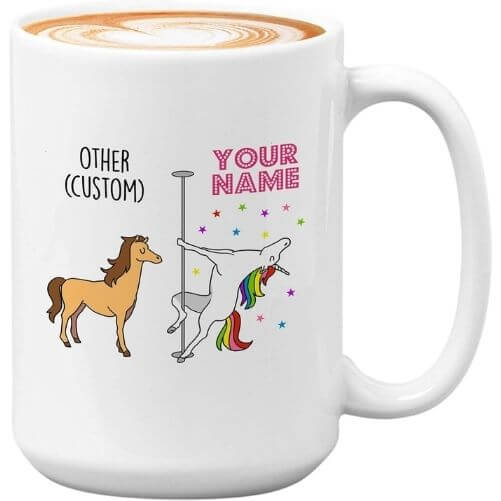 A mug for morning coffee or overtime working is also a great idea. The mug is printed with high-quality technology so the image will last for a long time. Decorated with a fun unicorn design, you can print your name on the trophy to create a funny personalized mug. Besides, you can choose the color of the mug from black or white to best meet your coworkers' favorite.
---
6. Personalized Wood Desk Name Plates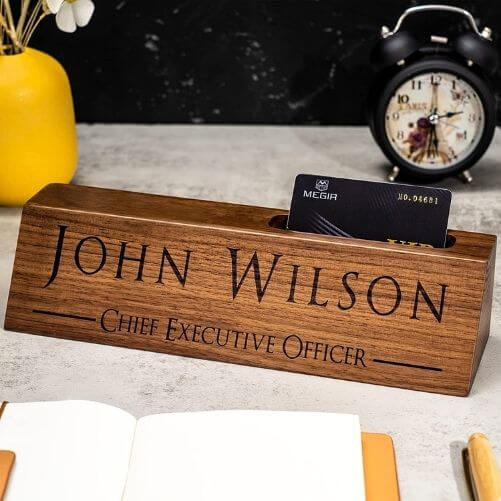 If you have a coworker who just got a promotion, this is the perfect gift for them. This personalized wood desk name plate is made of the size 25.5cmx6cmx7cm, big enough to provide vital information from a distance.
Thus, this desk name plate also has a business card holder, easy for multi-purposes. This elegant personalized wood desk name plate is a highlight to your coworker's desk.
---
7. Film Roll Keychain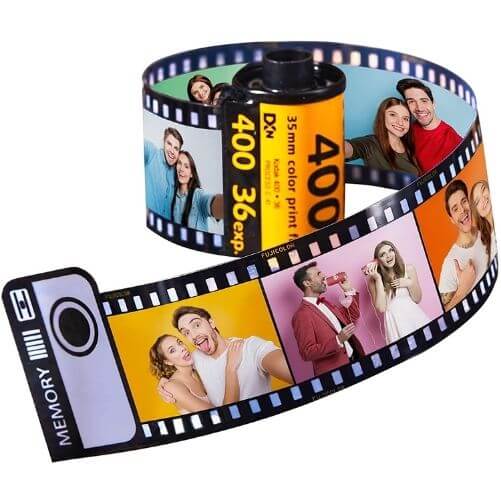 One of the best best personalized gifts for coworkers, a memory keychain is not only unique but also meaningful. Choose several pictures of your coworker, they will be printed with a 6-color HD printer so the photos will be clear. A vintage Kodak keychain roll with personalized, one-of-a-kind camera film will preserve memories.
---
8. Personalized Water Bottle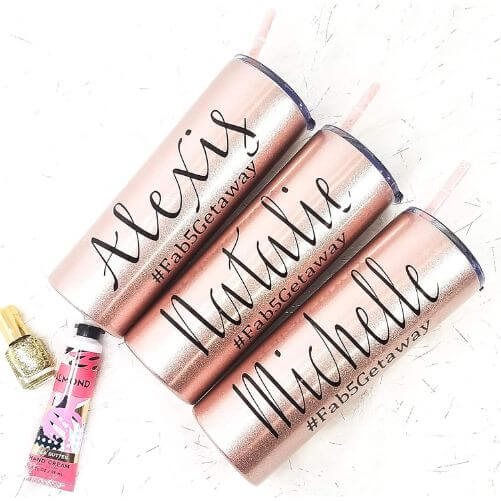 Why don't you give a water bottle with their name engraved on it to your colleague? This pitcher holds up to 20 oz with a spill-proof lid and straw. With a large capacity, this tumbler is suitable for many activities of the day.
In addition, the 304 stainless steel and BPA-free material make the bottle safe for health. Thus, you have a variety of colors to choose from to best meet your colleague's favorite.
---
9. Personalized Groomsmen Gift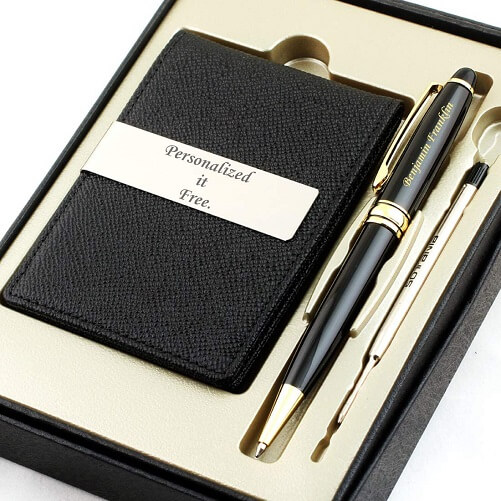 You have a male colleague and you want to give him a gift. You might consider a personalized wallet cum card holder. This personal wallet is made from guinea leather so it will be very durable over time.
In addition, the black color of the wallet creates a gentleman's elegance and strength. You can engrave your name or meaningful words on the wallet. This gift is sure to please your male colleague.
---
10. Custom Retractable Cute Name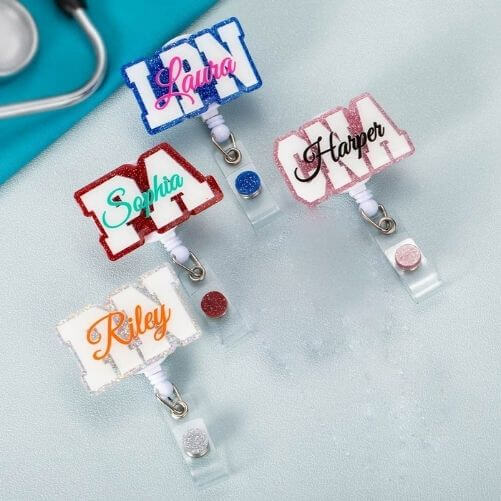 If you have a cute coworker, you can give them a clip with their cute name tag. The nameplate clip is made from transparent plastic and decorated with multicolored glitter such as red, white, and pink… In addition, the name of the recipient will be printed on the top of the metal clip with glitter. This is a special badge reel holder for someone special on any occasion.
---
11. Creative Photo Necklace Personalized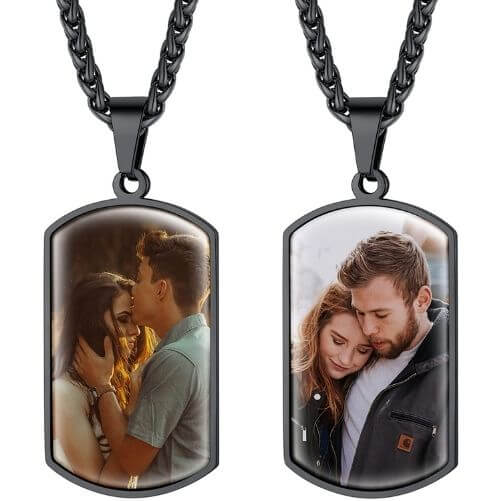 A photo necklace is among the best personalized gifts for coworkers ever. The necklace is made of stainless steel so it will be durable over time.
You just need to choose a photo of the colleague to whom you will give this necklace, the photo will be printed in high quality so that it will not fade over time. The personalized necklace will come in a jewelry box and is ready to be given as a gift.
---
12. Personalized Custom Made Solid Pine Wood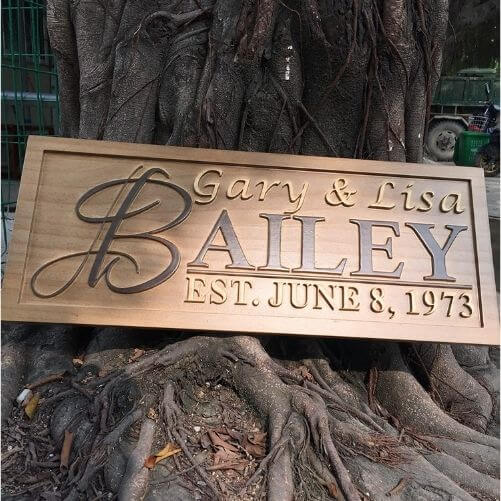 Why don't you give a home sign decor to your beloved colleague? This personalized home is made of natural pine wood, giving it a nostalgic feel. You can customize it by choosing the name of your colleague to engrave on the board or the meaningful sayings that the colleague likes.
This home sign decor is a highlight of the house and it is a perfect gift when your coworker buys a new home.
---
13. Personalized Wrap Ring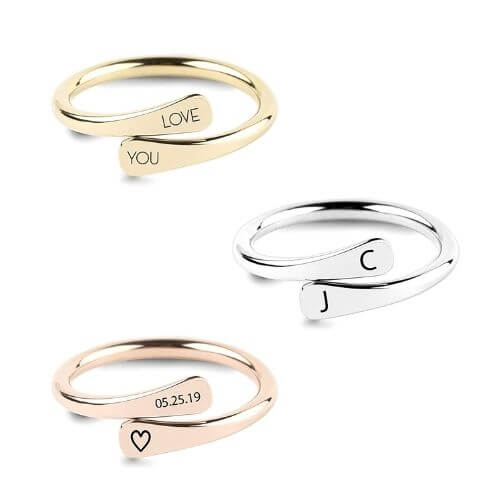 A female colleague would definitely love a ring made just for her. You can give a ring made from stainless steel as a gift to your female coworker on any occasion. The special feature is that you can engrave the receiver's name on it, and choose the gold, silver, or rose gold color to fulfill her favorite.. A beautiful piece of jewelry will make your female colleague happy all day.
---
14. Funny Personalized Lined Note Pad for Women Named Cindy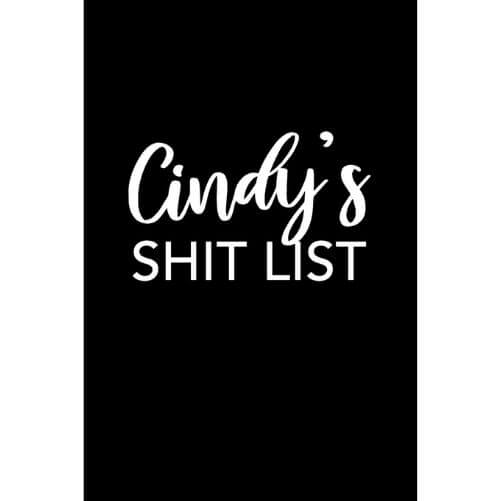 If you have a coworker named Cindy then you can't pass up this gift. The notebook named Cindy would be a great gift for a colleague named Cindy. With black as the main color, the words "Cindy's shit list" in white will be a highlight. This lined notebook will help your colleague Cindy record the great things in life. Don't miss this one on your list of best personalized gifts for coworkers.
---
15. Personalized Custom 3D Photo engraved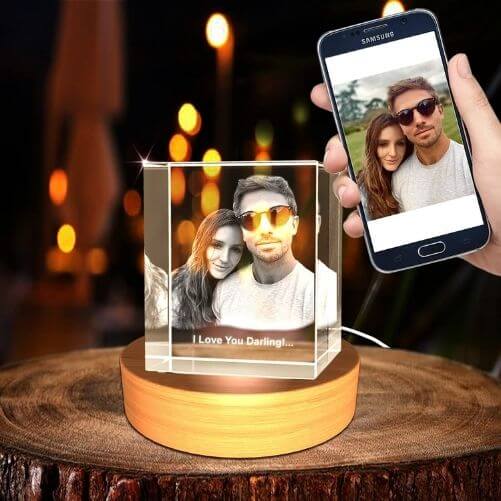 Your colleagues will surely be surprised to receive a personalized crystal with their picture engraved on it. Choose a picture of the coworker you intend to give as a gift, which will be engraved on the crystal.
You can choose the shape of the crystal to be a rectangle or a heart to fit the receiver. This personalized crystal is not only a unique decoration but also a beautiful night light.
---
16. Custom Blanket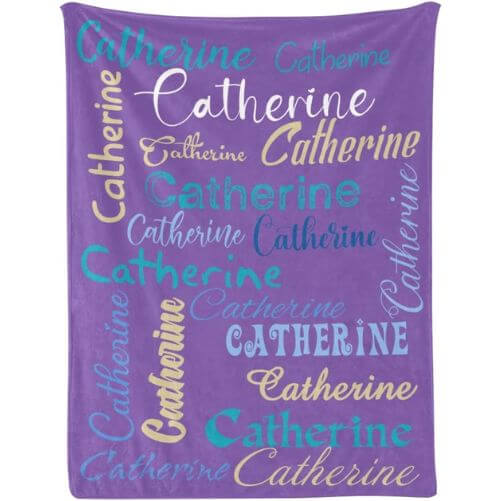 A blanket to keep warm in the winter is such a warm gift. The special thing is that you can print the name of the colleague you will give the gift to on the blanket to create a unique gift. The blanket is made from soft and skin-friendly Flannel Fleece for maximum comfort. There are many colors to choose from to make a warm gift.
---
17. Personalized Name Custom Home Bar Beer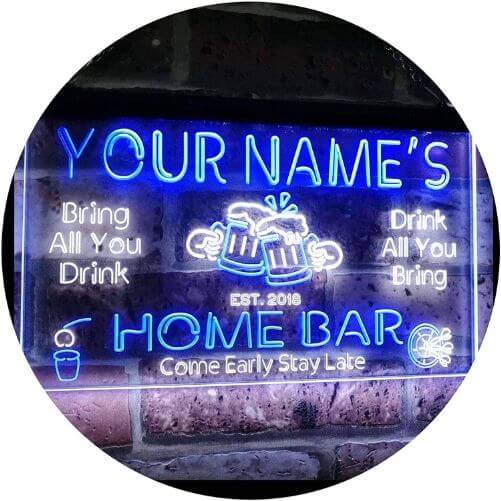 If you have a co-worker who enjoys drinking on the weekends or a coworker who has a mini bar at home, this is the gift made for them. This is a personalized neon home sign designed specifically for each person's taste.
You can add a colleague's name to the board to create a unique board. This neon sign has many colors to choose from, this is one of the best personalized gifts for coworkers who love drinking.
---
18. Customized Pocket Mirrors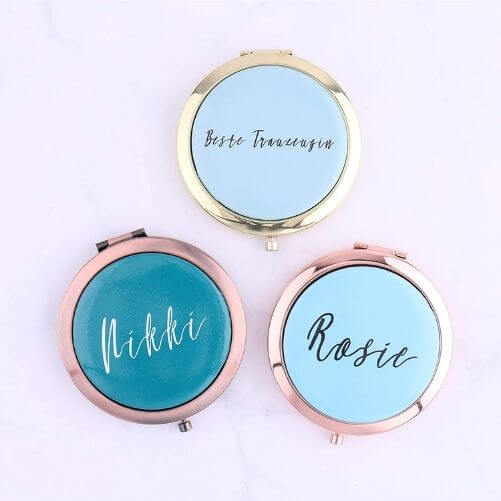 Women always need to be groomed and beautiful in every situation. So you can give your female colleague a pocket mirror. This pocket mirror is not like ordinary mirrors, this is a personalized mirror. You can choose the color she likes and print the name of the colleague you're giving the gift to on the mirror to create her own one.
---
19. Personalized Italian Leather Executive Padfolio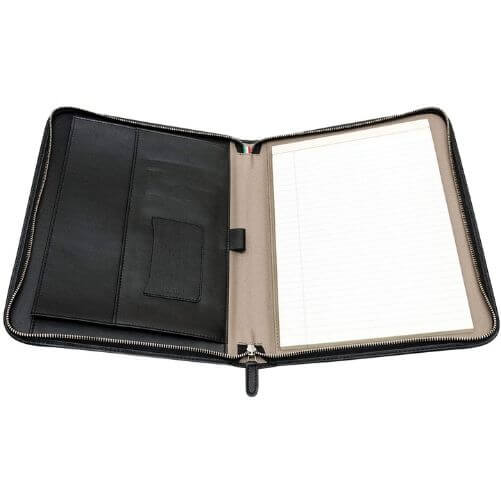 If you want to choose a gift that is both luxurious and convenient, you can consider a padfolio. This is a padfolio made from high-quality Italian genuine leather.
The special thing is that you can choose the size of the padfolio to suit the intended use of the recipient. This padfolio also has slots for credit cards and business cards making for a convenient and elegant gift. This would be a great gift for a teacher or for a boss…
---
20. Custom Color Text Car Rear View Mirror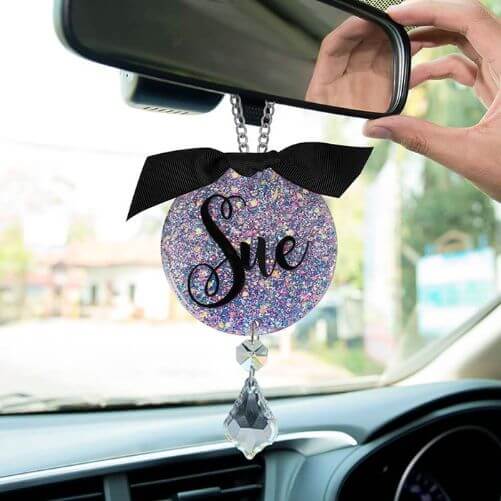 What do you think about a rear view mirror charm for your coworker's car? It's cheap and cute, so consider it if you're looking for best personalized gifts for coworkers. You can choose glitter colors from gold, rose gold, purple to black to match your feminine colleagues. The special thing is that their name will be engraved on the accessory, creating a gift that is both unique and beautiful.
---
21. Mouse Pad Extended Custom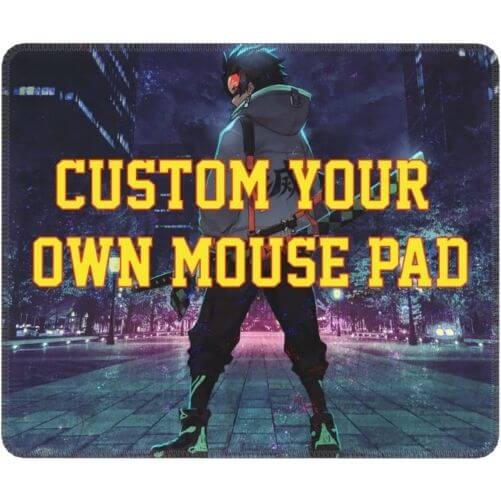 If your colleague is an anime fan, buy this gift for them. This mouse pad can be freely designed according to preferences. Choose an anime character or a beautiful anime landscape that your colleague likes and the photo will be printed in high quality for the clearest image.
---
22. Custom Photo Pillow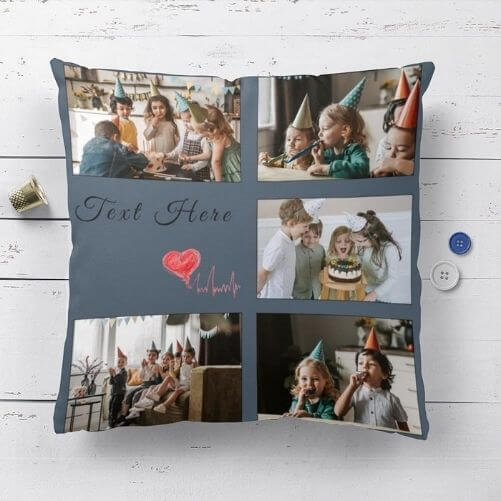 Sitting all day at the office can cause back fatigue, you can give your colleagues a backrest pillow. The special thing is that the pillow will be printed with your colleague's name and image. A personalized photo pillow will provide comfort for all day working.
---
23. Personalized Insulated Stainless Steel Coffee Tumbler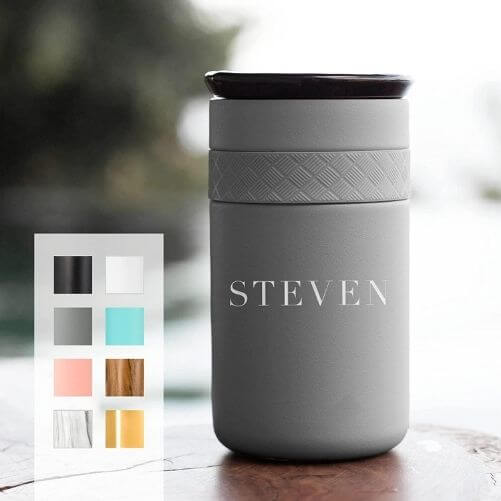 A tumbler is an indispensable item for a long working day. This tumbler is made from 304 stainless steel and BPA free so it will be safe for users' health. You can also print your coworker's name on it to create a unique tumbler.
The tumbler with the ability to keep warm for a long time will be suitable for colleagues who like to sip coffee or tea while working.
---
24. Custom engraved/personalized grilling set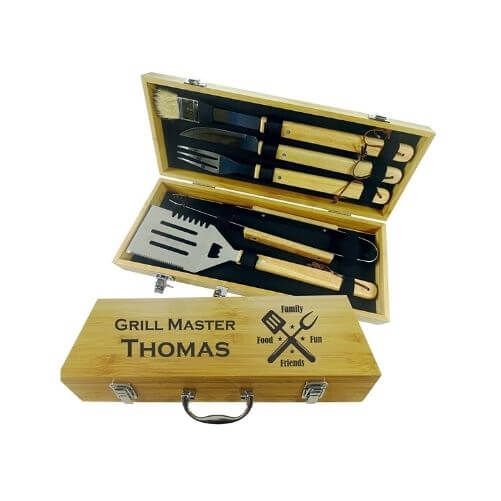 This is a gift you cannot miss if you have a colleague who loves to cook, especially BBQ. This BBQ grilling set has all the tools you need to create a barbecue such as a spatula, BBQ fork, tongs, knife, and basting brush.
The handles of these items are made of bamboo, so they are very environmentally friendly. Plus, you can engrave your name on the box for a unique gift for your loved one.
---
25. Personalized Compass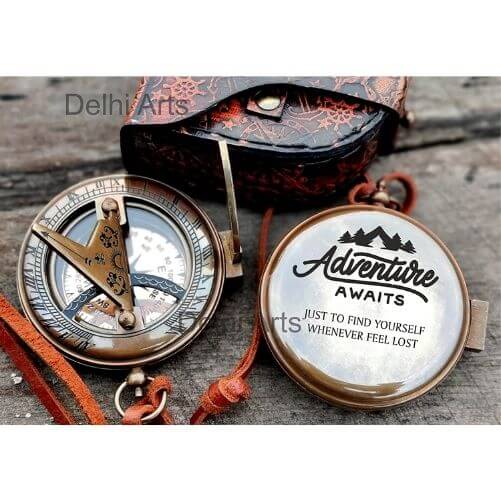 Compass is a necessary item for travel and you can give it as a gift to your travel-loving colleague. More specifically, you can engrave the name of your coworker, or a meaningful sentence behind the compass to make a unique personalized gift. This is not only a gift, but it is also a remembrance container.
26. Engraved Pen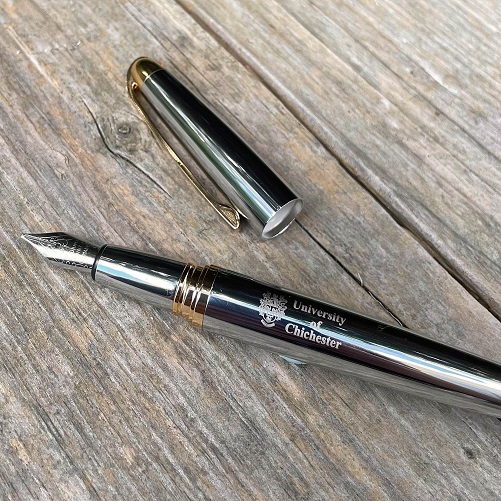 An engraved pen is a classic and elegant personalized gift for coworkers. It not only serves a practical purpose but also adds a touch of sophistication to their workspace. Giving an engraved pen is a sophisticated and personal gift that is sure to make your coworker feel appreciated and valued.
---
27. Customized Phone Case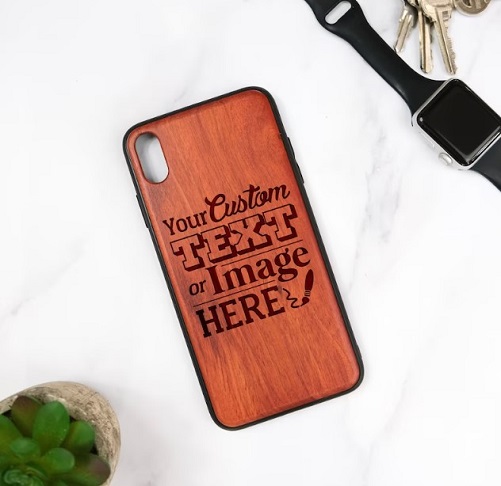 Consider gifting a personalized phone case featuring their favorite color, a photo, or a design that represents their interests. A customized phone case can be a thoughtful and practical personalized gift for your coworkers. It allows them to protect their phone while adding a personal touch to their daily lives. It's practicale and affordable so add this on your list of personalized gifts for coworkers.
To Sum Up
The best personalized gifts for coworkers are not so hard to choose. In short, personalized gifts for coworkers are a wonderful way to show appreciation, thoughtfulness, and recognition for their hard work and dedication. By choosing a gift that is customized to their individual interests, preferences, or even incorporating their name or initials, you can create a truly meaningful and memorable present.
Hope you can find out your most preferred present and create sweet memories with your beloved colleague.