Surviving long-distance relationships are not effortless, as one is usually emotionally and physically unavailable when the other is in need. Thus, several DIY gifts for long distance would help to strengthen the connection you have with one another.
It is quite stressful when you and your significant other have just got a row but the geographical difficulties make it even more challenging to bury the hatchet. However, with our recommended DIY gifts for long distance relationships below, the love birds would find context much easier than ever before.
The reason why the DO-IT-YOURSELF stuff usually catches on is that you have to devote a lot of time and effort to make it, which shows that you genuinely care a lot for them. So going long distances can be a chance to express your love and affinity for your special someone with these amazing upcoming DIY gift ideas for long distances.
25 DIY Gifts For Long Distance To Spoil Your Special Ones
A DIY gift always touches anyone's heart, so check out our DIY gifts for long distance below:
1. The Five-sense Gifts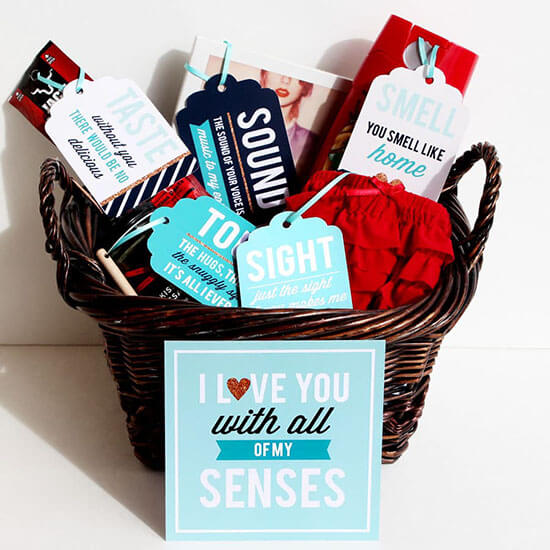 As the name suggests, the whole package would contain 5 gifts, with each provoking the basic senses. Imagine your distant partner starting the day with your alarm clock ringing, having your handmade candies besides the personalized coffee mug you've designed, using the fragrances you've made, and finally unwinding with the back scratcher you've picked. Though living further from each other, one still feels the presence of the other in every sense.
---
2. DIY Long-distance Jar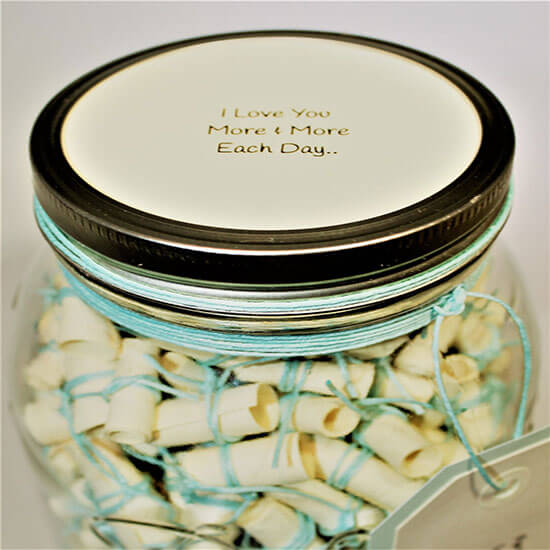 Customize your jar to the way you like and put in it some beautiful words you want your loved one to read first thing in the morning. Also, this jar can be an ornament placed on the bedside table. If possible, you can write as many notes as the days left until you guys get together again.
---
3. Long-distance Pillowcase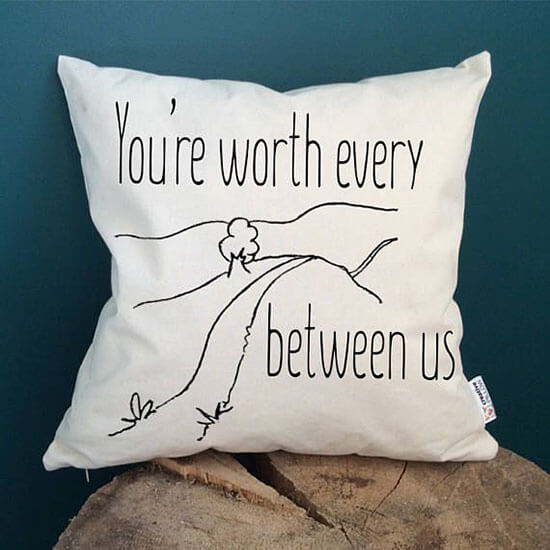 LDR is really gut-wrenching when you can't be with each other when things get tough. But with this handmade pillowcase, now you can imagine cuddling each other. Among our ideas for DIY gifts for long distance, pillowcases may take a huge amount of time and effort to complete, but your distant partner would definitely be moved to tears with the gift.
---
4. Chocolate Countdown Jar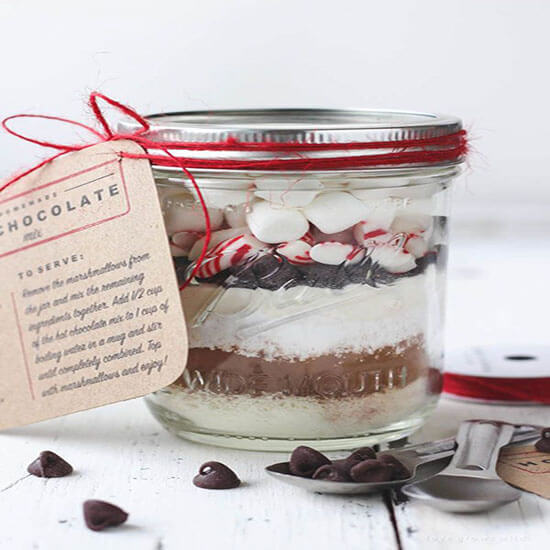 Here is especially ideal for Valentine's day for long-distance couples. Take a piece of chocolate a day until you see each other again. You can also be flexible and creative in whatever you put in the jar. They can be love letters, candies, snacks, or fruits.
---
5. Explosion Gifts Box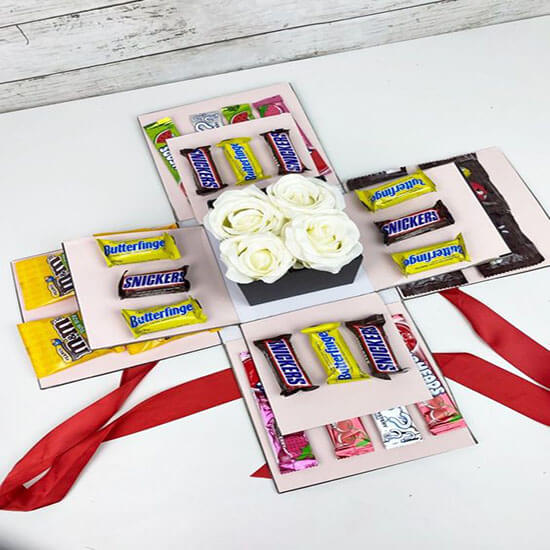 The box contains memories and pictures of the two, and when opened, it spreads out like flowers. Making this requires a decent level of dexterity, but the ingredients are quite easy to find. All you need is some cardstock paper, a glue stick, some stickers if you like, and most importantly photographs of you and your long-distance lover.
---
6. Scrabble Letter Art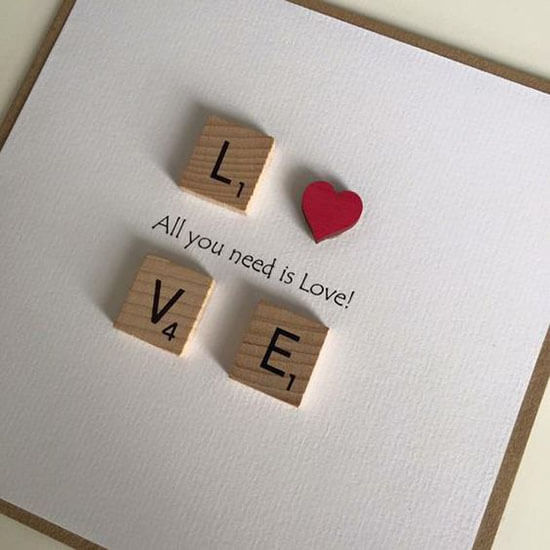 Want something basic and simple, scrabble letters will complete the mission. Send any messages you want in scrabble form and glue them onto a sheet of cardstock paper, at best with a photo frame to protect your art. You can add stickers or pictures on the side if you wish. Let your creativity run wild while making this DIY gift for your loving partner!
---
7. Hand Warmers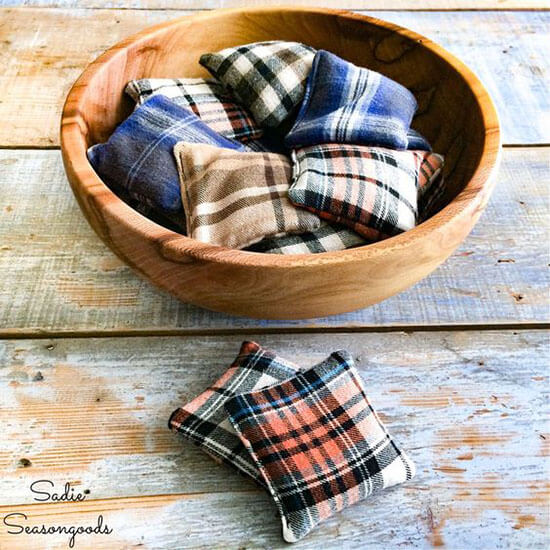 Hand warmers make a thrilling and sentimental idea for DIY gifts for long distance. You can't hold your love's hands when it gets cold and bitter, why not make them a knitted hand warmer? They would feel happy and cozy to know that you always care for them. This gift is also small so the postage fee would be low.
---
8. Lip Scrub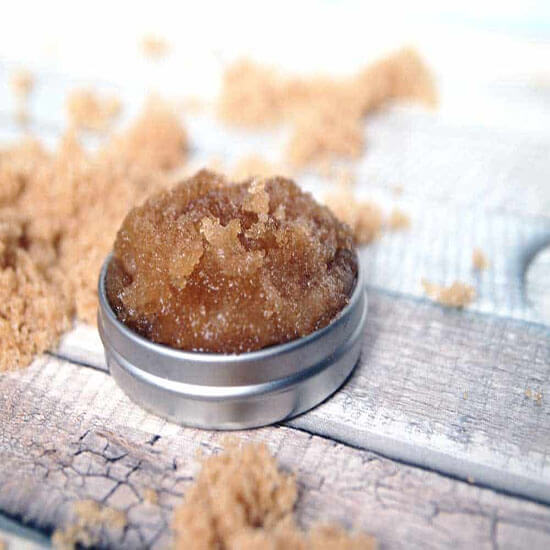 Want something cute, fragrant, and useful for your girlfriend, a small jar of lip scrub would meet your need. The ingredients can't be more simple, with an empty clean container, honey, sugar, and some fragrance oil like lavender if you want. You can also customize the container the way you want.
---
9. Beard Oil (for men)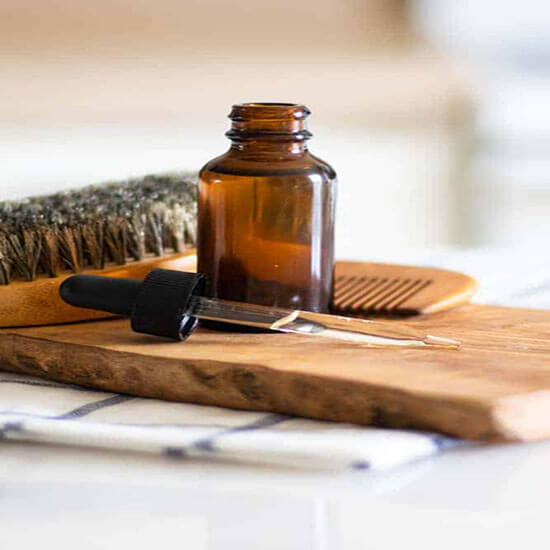 This is also super easy to make and indispensable for most boys and men. All you need is some jojoba and argan oil mixed with some drops of spice aftershave. Your loved ones will certainly love it. Beard oil should certainly go to your list of DIY gifts for long distance boyfriend.
---
10. DIY Soap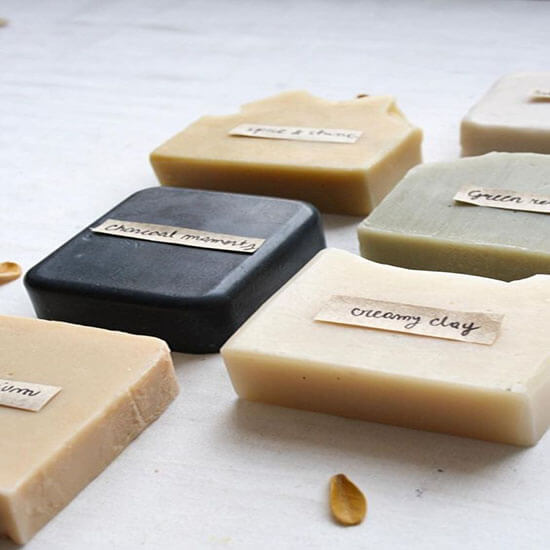 Then what if your long-distance love does not grow a beard, you can alternatively try out some soap recipes. Remember to add the fragrance that is the quintessential one you have, they would really enjoy having their hands smell like you.
---
11. Photos In The Bottle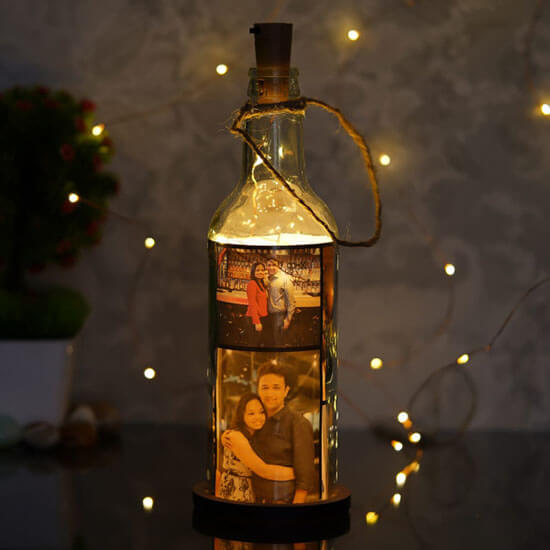 What about having a few photographs but still turning them into a photo gift? You can print the picture in mini size and dangle it inside a small glass bottle. This is absolutely adorable and can be used as an ornament on a bedside table or work desk.
---
12. DIY Sweetbox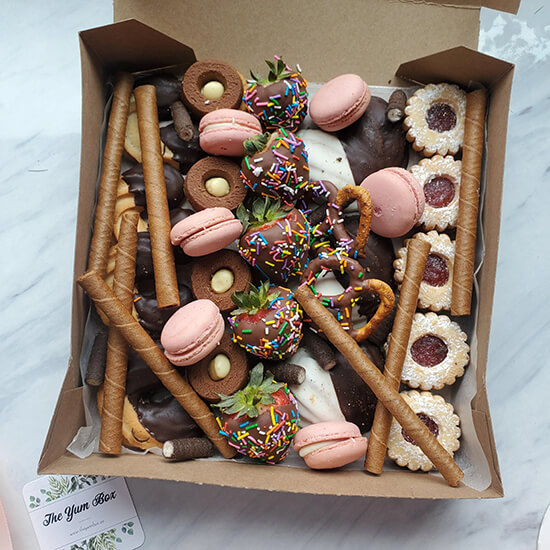 If your significant other has such a sweet tooth, then nothing is more ideal than a box full of sweets and chocolate. Remember to customize the packaging and container at your best because unique features are all pointed to this. Add some stickers and write something you wanna share when your loved one is enjoying the sweets.
---
13. DIY Date Night Flipbook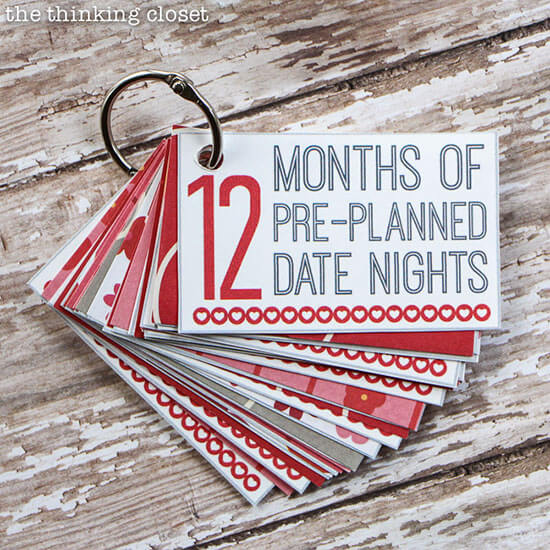 Date night flipbook is our next recommendation for DIY gifts for long distance partners. On each piece of paper, write down things that you wanna do together when getting united and attach them together with a string. Bear in mind: Handwritten notes are much more meaningful than printed ones, as always.
---
14. Wooden Couple Keychains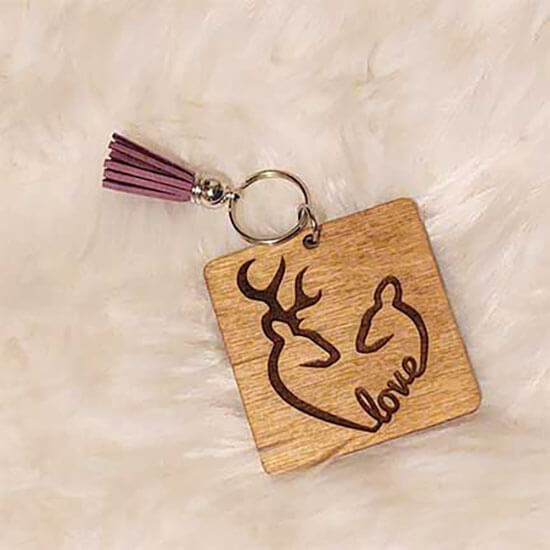 Couple keychains are perfectly ideal when you want a gift that your long-distance partner can always bring with him or her 24/7. Prepare some bars of wood and carve them in your own style, there are also many recommendations on the Internet for you to refer to. Adding your personal prints is advisable. It could be your anniversary day or something to remind your lover of you.
---
15. Scented Candles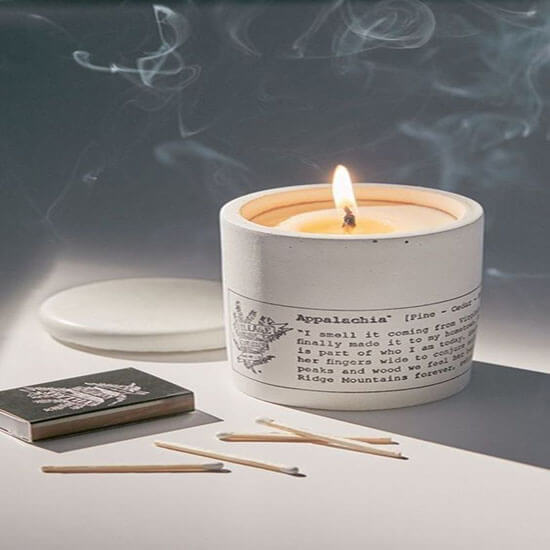 It's true that smell always evokes feelings and emotions. Thus, creating a one-of-a-kind homemade scented candle can make your significant others miss you more when burning it in the bedroom.
DIY gifts for long distance as scented candles are perfect for any relationship type, including the romance-directed one. Besides, don't forget to customize the candle jar. It's not necessarily aesthetically pleasing or artistic, just something showing your signature is enough.
---
16. Personalized Mugs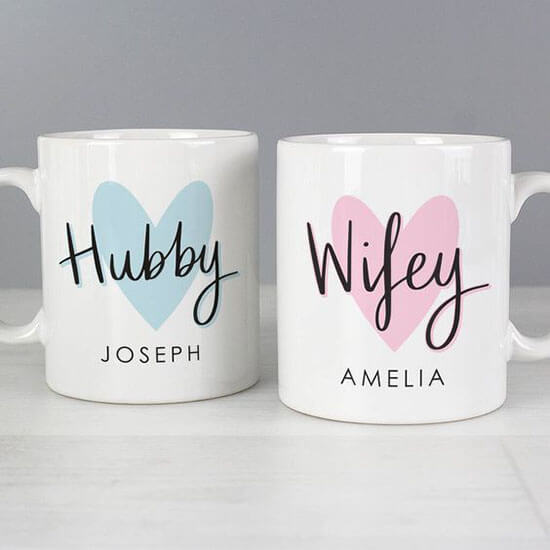 Mugs are invariably the best pick of the bunch when it comes to gift giving. You can customize any plain mug to your liking, as long as it has something of a signature about you, like your fingerprint, basic but inimitable. Don't forget to take some personalized mug ideas straight into your list of DIY gifts for long distance significant half!
---
17. Couple Heart Map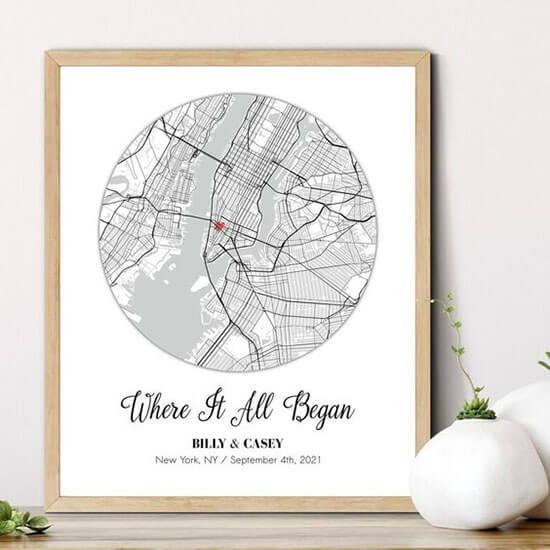 Print the Google map location of where the two of you are living or start the relationship and fold them in the shape of the heart. It's pretty simple but genuinely means that no matter how far we are, we will always be as close as the two halves of the heart. Painting a few destinations you wish to travel together can build up the intimacy of such gifts.
---
18. "Personalized" Fruits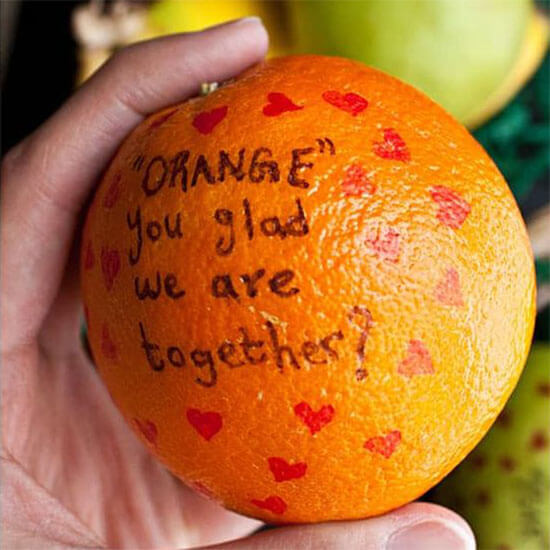 Your loved one is a fruit aficionado and your distance is not too far for the fruit to get overripe, you can try customizing some fruits like bananas, oranges, and other kinds with bright colors. Bear in mind this should merely be a fun gift since the inscribed peel would just end up in the garbage.
---
19. Love Coupons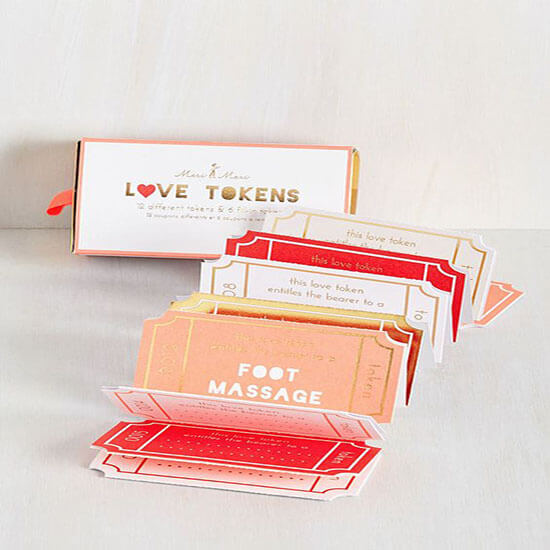 Listing things you can do to your significant other when getting together again in the form of a coupon like this is absolutely lovely. They would be utterly dying to meet you when receiving this handmade gift.
Love coupons as DIY gifts for long distance lovers can also come in various forms, online or offline. Therefore, it is just fine if you are not a handy person. An encoded love coupon with detailed decoding instructions can have so much fun!
---
20. DIY Care Packages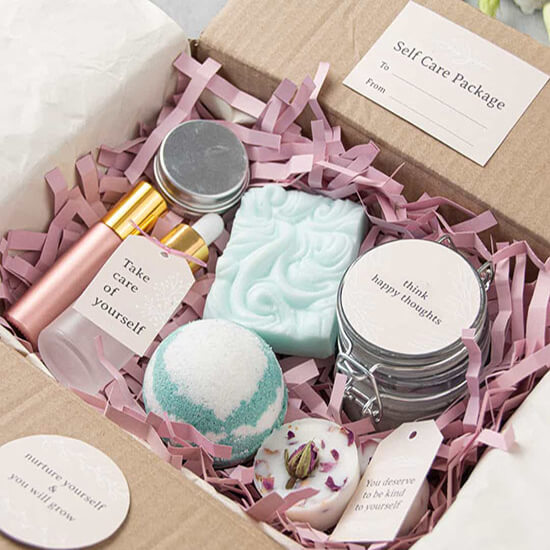 Yearning to take care of your loved ones but living too far afield, it would be ideal to make a care package including health care products ranging from supplements, nuts, and snacks to shower gel and lotion. This idea is pretty simple to make, with some pieces of cardboard and you're free to decorate and customize it to the way you want.
---
21. Couple Phone Case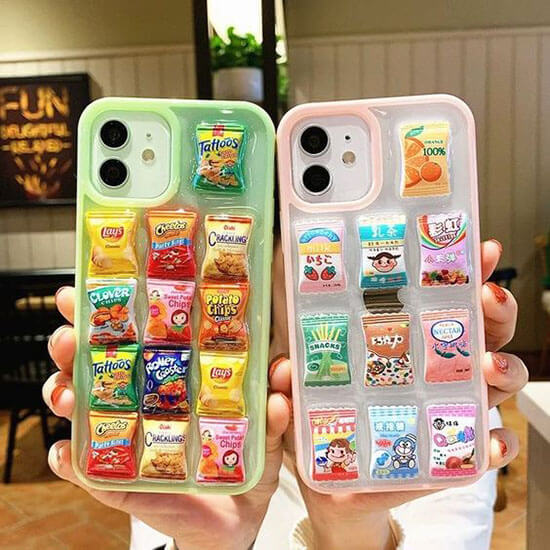 If you want to show the world that your romantic boyfriend/girlfriend is taken when you are not there, it would be cool to diy a phone case that features your territory. DIY phone cases are super easy to make, with some acrylic paint, stickers, or nail polish. This gift also costs precious little money to produce, so it would be perfectly suited for student couples.
---
22. Glass Bottle USB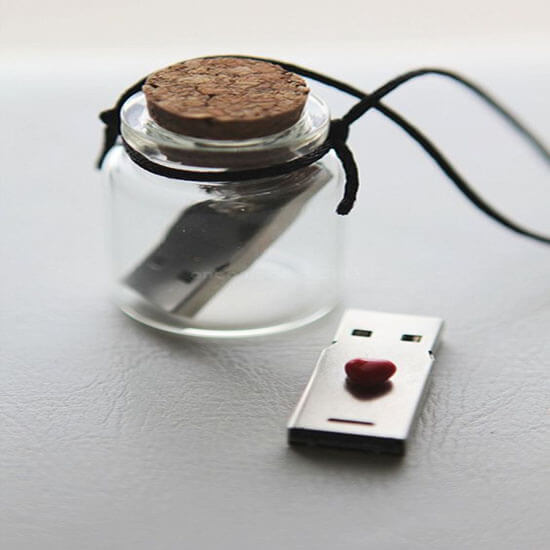 You can have all the memories or mutual hobbies, images, songs, messages, and letters fed into the USB and sent to your long-distance partner. This is absolutely ideal for those who suck at handicrafts and stuff. On top of that, this digital gift would cost significantly lower postage fees.
---
23. DIY Handprint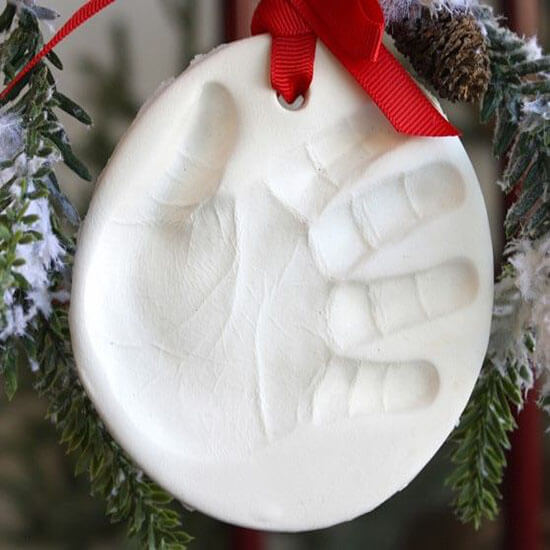 Should you be searching for something easy to make yet unique and meaningful, your handprints will come in really handy as DIY gifts for long distance relationships. All you need is a sheet of cardstock paper, ink, some crayons or markers to write your messages, and a frame to protect your craft.
---
24. DIY Kiss Print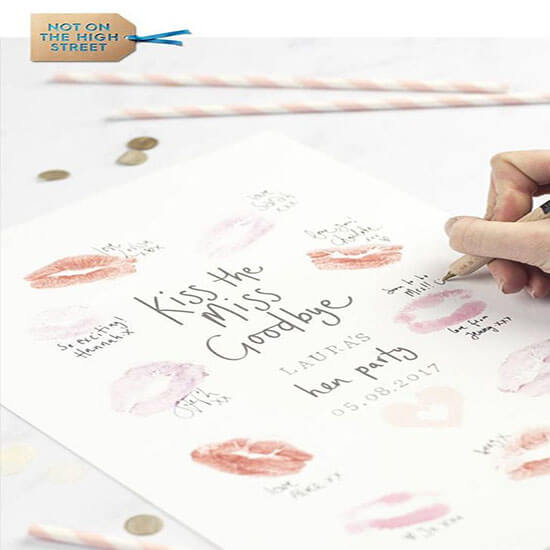 Quite similar to the handprint, you can alternatively send your kisses to your significant others, especially your romantic interests. It's still easy to do and costs almost nothing. Try a number of different lipstick colors and press them on a sheet of paper, there you've got your own works of art to send to your long-distance loved ones.
---
25. DIY "Open-when" Letters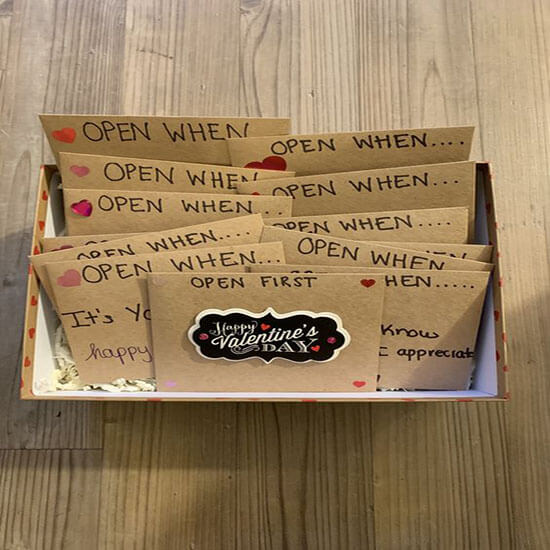 The last item on the DIY gift list would be something classic yet never goes out of style. This is basically a series of different handwritten letters that require your special someone to read on the given situation.
For instance, open this letter when you're sad, open that letter when you're tired, etc. This makes the recipient feel that you are always beside them mentally despite being poles apart.
---
26. DIY Photo Frame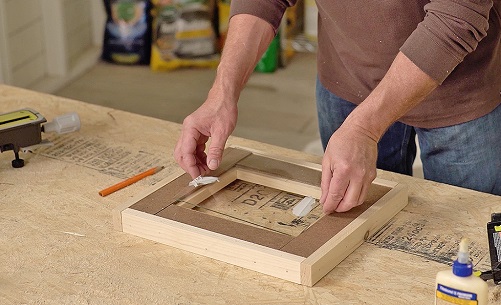 Creating a DIY photo frame is a thoughtful and personalized gift idea for someone who is far away. It allows you to showcase cherished memories and reminds them of your presence even when you can't be there physically. This personalized memento will surely bring a smile to their face and serve as a reminder of your love and connection, no matter the distance.
---
27. USB Message in a Bottle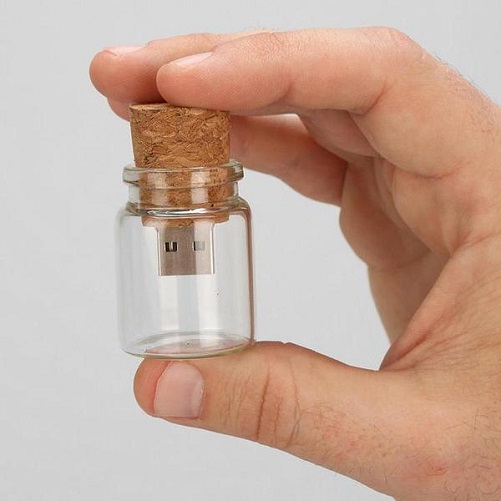 One of the other easy DIY gifts for long distance is this idea "USB Message in a Bottle". Creating a USB message in a bottle is a unique and creative DIY gift idea for someone who is far away. When the recipient receives the USB message in a bottle, they can open it, remove the flash drive, and plug it into a computer or compatible device to access the digital content and read your heartfelt message. It's a unique and personal way to bridge the distance and share your thoughts and memories.
The Bottom Line
So here are all of our suggestions for your significant others when you are physically far away from each other. Lastly, the core value of the gift doesn't lie in the complexity or the price of the gift, but in the love that you put into it. Hopefully, these ideas for DIY gifts for long distance from giftOMG can help reinforce your love connection.