f you are looking for suggestions for the best gifts for pizza lovers, you have come to the right place. Here we've gathered the best gifts for everyone's budget. It can be gifts for people who love eating pizza, like baking pizza or both. Others are pizza-inspired gifts for people who not only see pizza as food but align their interests with delicious slices of pizza.
Pizza is one of everyone's favorite foods. It's one of the few foods you can serve that almost everyone will tolerate. However, this does not mean that pizza aficionados are always easy to please. In contrast, pizza lovers will have their own expectations when receiving a gift. If you know someone who loves pizza, you can be sure that they will love these holiday gifts. We've rounded up 30 great gifts for pizza lovers here, from pizza-print shirts to excellent pizza ovens, there's sure to be something you'll pick for your lover.
Explore: Gift Ideas For All Food Related You Can Check Out
30 Best Gifts For Pizza Lovers That They Love
Pizza is a gourmet by taste on bread. Only a pizza lover will understand its insatiable cravings. What better way to celebrate Christmas, birthday or any special occasion for pizza obsessive than with pizza-themed gifts? Take a look at our favorite gifts for pizza lovers!
1. Countertop pizza oven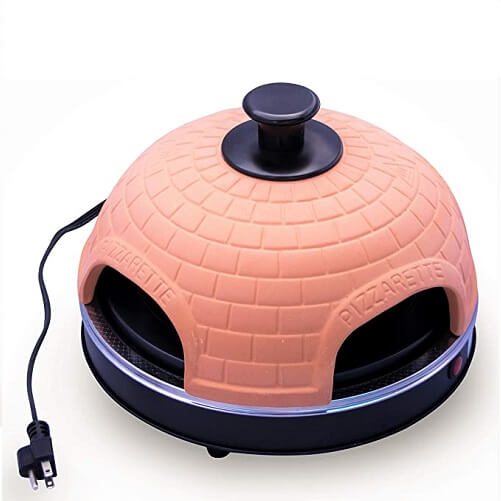 If you're looking for a gift that makes a pizza lover's life easier, this pizza oven is just what you need. They can make their own favorite pizza, with their favorite toppings and all from the comfort of their own home. They won't need to wait for the delivery man anymore.
---
2. Pizza Paddle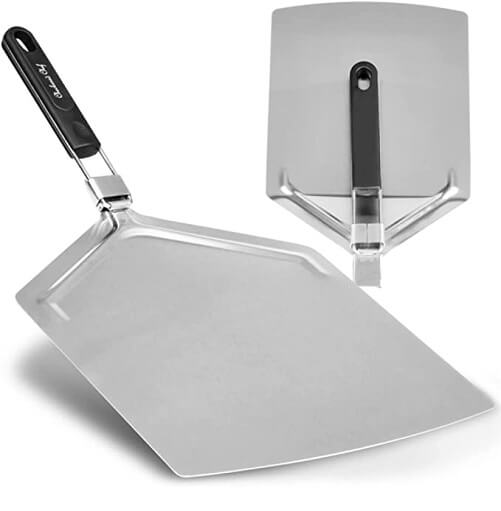 This item is for those who always love making pizza. This pizza paddle with a thin metal peel makes it easy to take the cake out of the oven and place it on a plate. It has a smart design that folds neatly after use and heat-insulated rubber handles, they will never burn their hands like before.
---
3. Cheese grate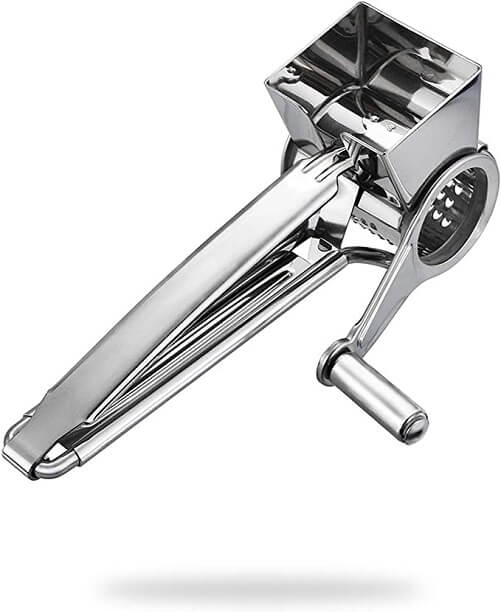 Homemade pizza professionals need the best cheese grinder to grind fresh parmesan. We all know that fresh parmesan will make pizza better. So give a cheese grinder that makes it easy for the pizza lover in your life to grate cheese to sprinkle on their homemade pizza. Consider this one if you're searching for gifts for pizza lovers.
---
4. Stand mixer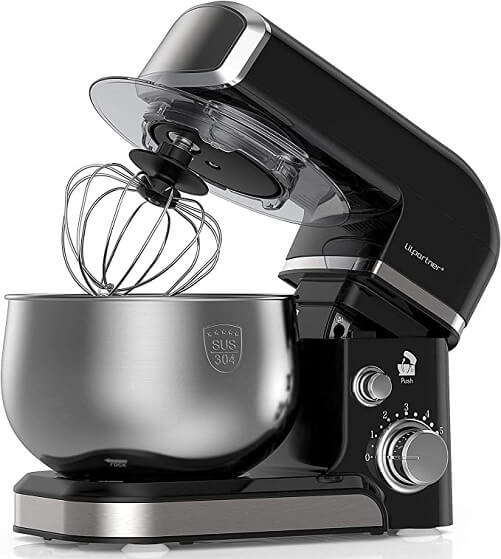 A delicious pizza cannot be complete without a crispy crust. So let's save the pizza maker from having to struggle to mix the dough anymore. It has 6 speeds from low to high, each set can meet all food preparation needs and perfect mixing effect.
---
5. Pizza stone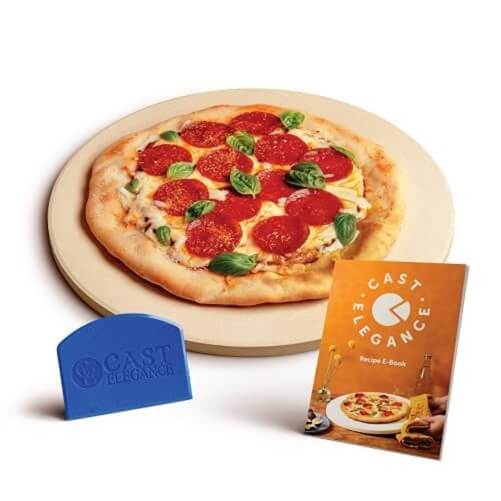 This is one of the useful gifts for pizza lovers that all pizza geniuses wish to receive, it's a pizza stone. Pizza stone helps you make perfect pizzas wherever you are. It is very easy to use, just warm it up in the oven and when hot, take it out. You just add your pizza dough and toppings to it, then pop it in the oven and you've got a perfect pizza.
---
6. Pizza rotating oven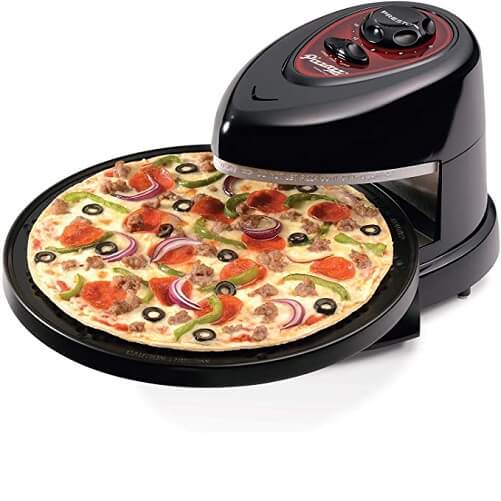 This unique mini pizza oven will bake your pizza perfectly evenly and much faster than standard ovens that need preheating. Your pizza spins around, and it will still be heated from below until fully cooked. It will make sure their pizza will be cooked evenly and crispy.
With this useful machine, it will be very suitable as a gift for mom so that she can make delicious pizzas.
---
7. Mozzarella and ricotta cheese-making kit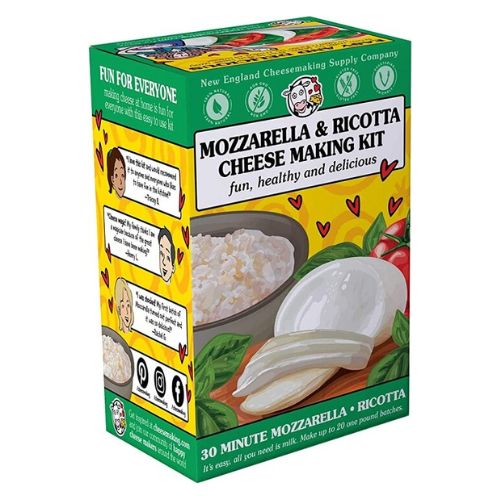 Now, pizza lovers can make their mozzarella and ricotta cheeses in just 30 minutes at home. This cheese-making kit has everything but milk, it contains 3 ounces citric acid, 3 ounces cheese salt, 10 capsules of margarine, 1 yard of muslin butter, a thermometer and a recipe book. This is one of the practical gifts for pizza lovers who are sure to delight the recipient as he/she learns a part of pizza making.
---
8. Olive oil press and herb diffuser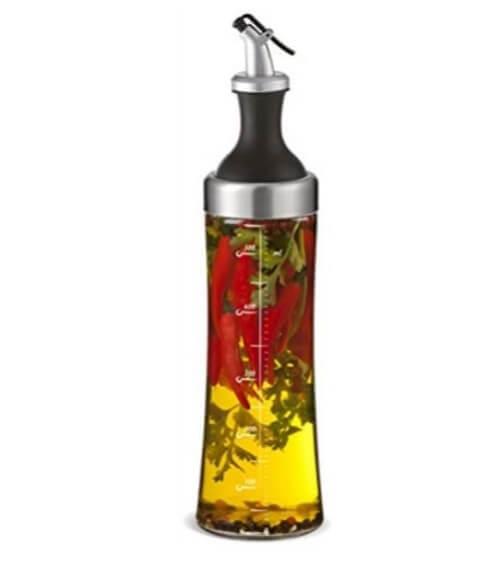 This diffuser allows pizza lovers to make herb-infused olive oil. They can make spicy olive oil to dip their pizza or keep it light with some oregano and thyme blend. Or the pizza lover in your life can experiment and play with flavors to find the best combination for their taste.
---
9. Olive oil set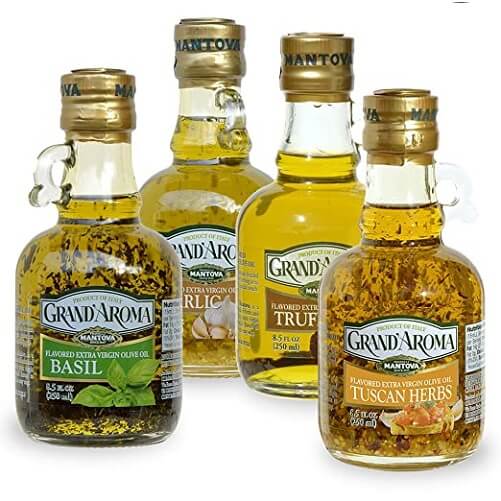 Olive oil is an essential part of the pizza experience, which is why this pack of four flavors from Mantova is a great way to expand the palate of pizza lovers. They can use flavors like garlic, basil, truffle and Tuscan herbs to add rich and velvety flavors to their favorite classic pizza slices.
---
10. Pizza cutter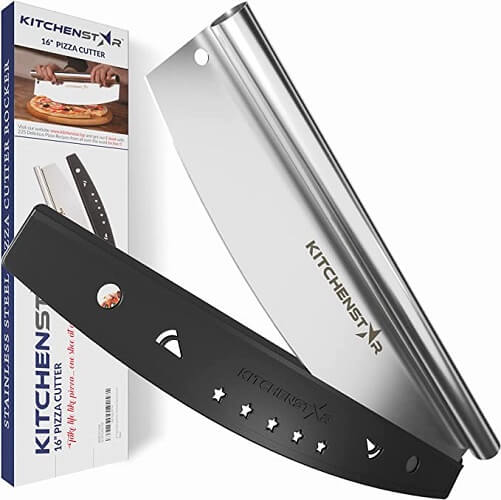 If your pizza lover really wants to feel like a pro when slicing his/her next pizza, give this pizza cutter a chance. This stainless steel blade is 16 inches long so he/she can cut most pizzas in just four cuts. The best part is that it doesn't push his/her top to the side as it does its job.
---
11. Pizza ax cutter – Cool pizza gifts for him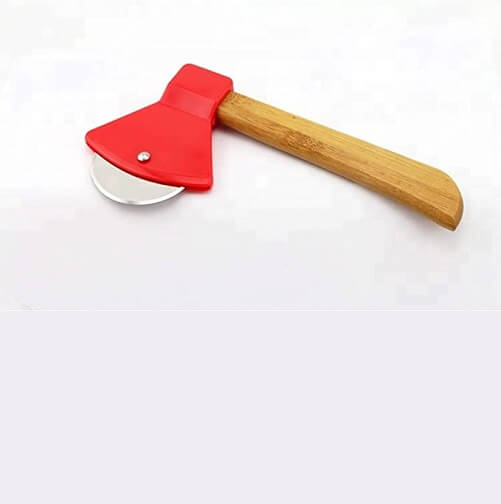 If you don't need a professional pizza cutter, give these gifts for pizza lovers a try. This pizza ax has a sharp enough blade, the appearance is quite creative for pizza enjoyment. Your favorite firefighter or lumberjack will appreciate the wooden piece, which has a long handle that gives you the leverage to create the perfect piece.
---
12. Pizza socks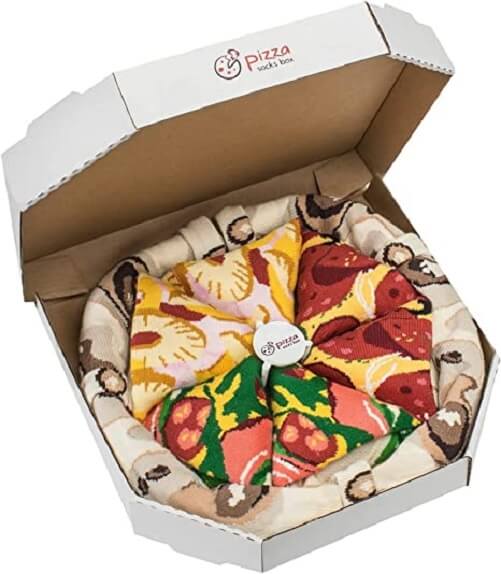 Warm their hearts and their feet with this fun sock gift set. The four accompanying pairs are all decorated with a pizza-style decor and are arranged to look like delicious slices of pizza. A cute pizza delivery-style box adds the finishing touch.
---
13. Pizza slice necklace – Cute pizza gifts for her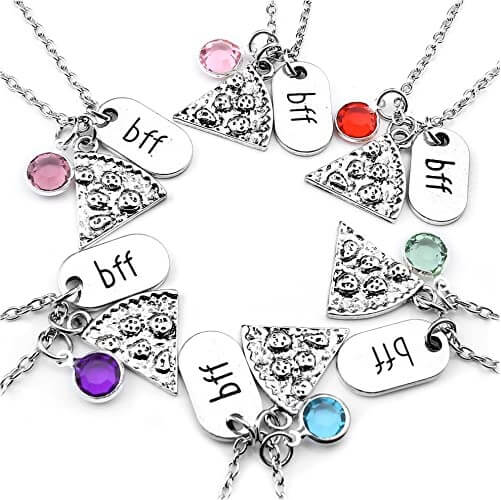 This super pretty necklace is designed with a pizza slice charm, custom birthstone, BFF tag and a custom-length silver chain. The necklace is made of high-quality material and is very durable. This would be a great gift for your pizza-addicted buddies.
---
14. Pizza plate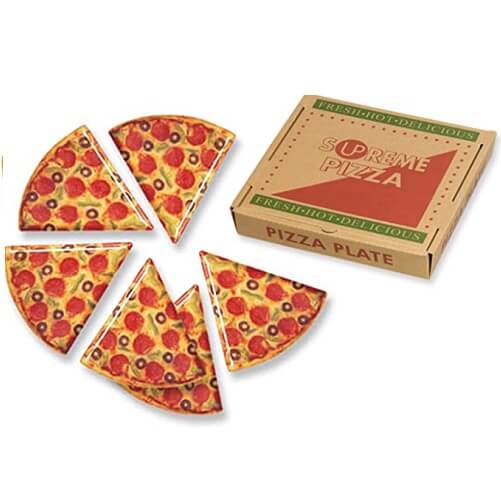 When all you eat is pizza, why not just use a triangular plate? These melamine pizza plates from Supreme Housewares come in a pizza delivery box and are designed to look like pizza before you load them up. The pizza party just got more enjoyable.
---
15. Pizza pouch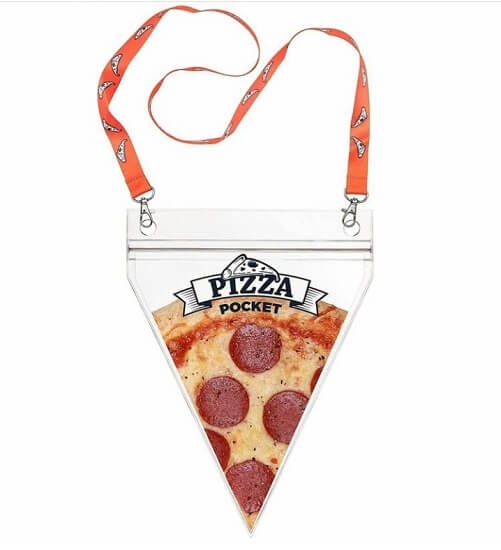 "Never leave a slice of pizza", that's the motto of pizza enthusiasts. The problem is that you don't always have a way to bring it home. Well, that problem has been solved thanks to the pizza pouch. It will hold the slice of pizza around your neck for easy transport. Plus, it's a fun fashion accessory.
---
16. Pizza earrings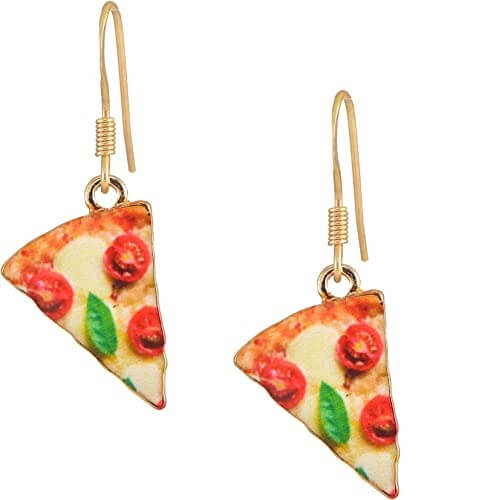 If you're looking for a gift for your pizza-loving woman, we thought you should upgrade her jewelry collection with these pizza-themed earrings? They are not only colorful but also unique and perfect for any event she will be attending.
---
17. Pizza-themed lapel pin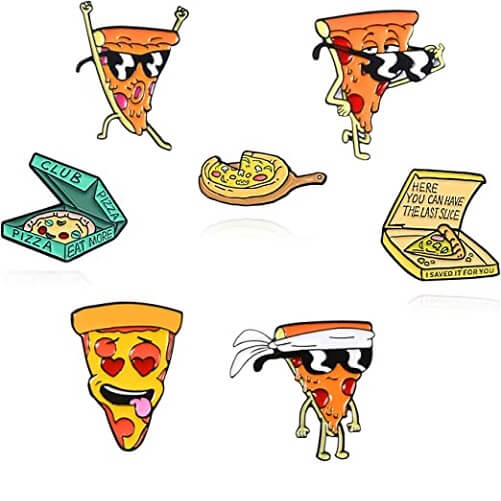 Allow the pizza lover in your life to wear what they love most in the world every day, they can refresh their outfit with this pizza-themed lapel pin. It's chic, colorful, unique and will match any of their outfits and is perfect for both office and casual events. They will definitely get a lot of compliments with this one. Consider this one if you're looking for funny pizza gifts.
---
18. Where to Eat Pizza book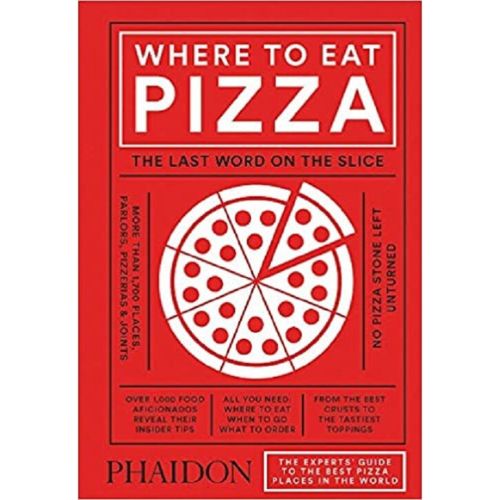 Pizza lovers will surely want to explore all the pizzas around the world. In this book, readers will learn about secret ingredients, special sauces, and the quest for the perfect crust. The guide includes detailed city maps, reviews, key information and honest reviews from experts.
---
19. Pizza slice ornament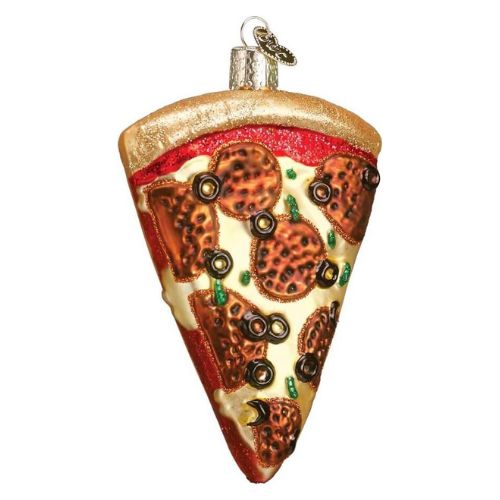 We think you should give it to your friends who are pizza lovers and love to decorate their own Christmas tree. It looks as realistic as a slice of pizza, but just enough sparkle and shine to be a respectable Christmas ornament.
---
20. Gigantic pizza beach blanket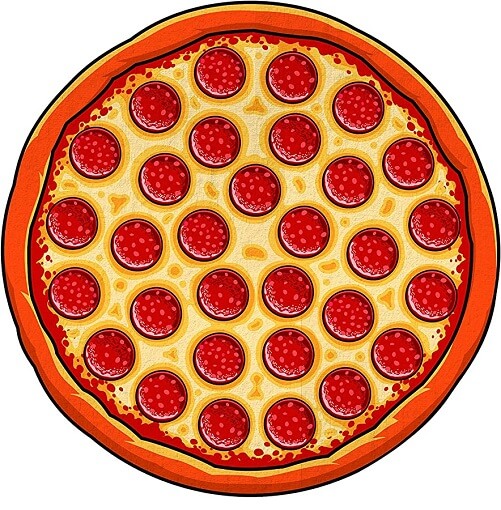 This is a great gift for those who love to eat pizza as well as swim in the sea. As soon as the weather gets warmer, this giant beach blanket is another must-have for pool parties, lazy beach days, and Instagram shots.
---
21. Pizza mouse pad – Useful gadgets for pizza lovers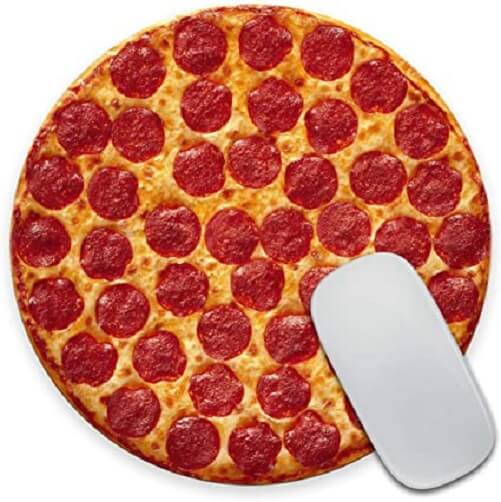 This is a fun gift you can give to your pizza-loving co-worker. We bet everyone in the office will have to look over at this delicious mouse pad as they pass by the recipient's desk. The pepperoni looked like it had just come out of the oven, but was unfortunately inedible.
---
22. Pizza keychain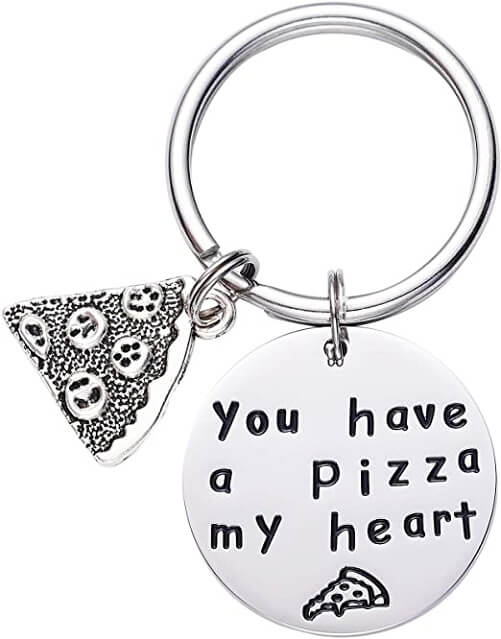 Say "I love you" with pizza by treating your loved one with this adorable clip keychain. Theft is legal when it's the "pizza" in your heart and when your lover sees this adorable pizza keychain, they will surely be overjoyed.
---
23. Pizza tote bag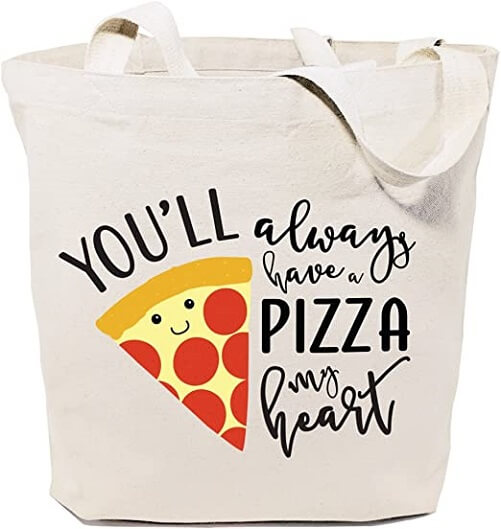 This pretty tote bag has a huge slice of pizza and a pun"You'll always have a PIZZA in my heart. The bag is made from durable 100% cotton and measures 15 x 16 inches. These eco-friendly tote bags are the perfect alternative to plastic and paper bags. After use, you just need to fold it up to be able to store it.
---
24. Pizza tie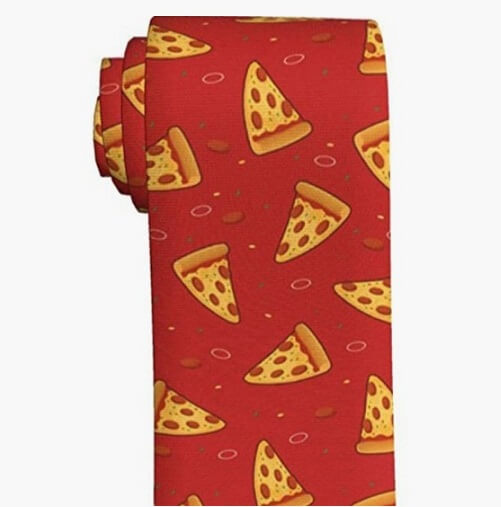 Does the pizza lover in your life wear a tie? Give them a pizza tie for pizza themed gift basket to accentuate their boring outfit and let the world know that they love pizza. Not only is it fun, but it does well with the perfect stitching.
---
25. Pizza gift card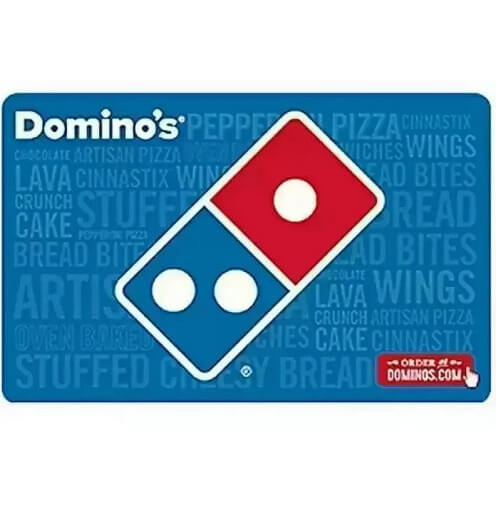 Hey, if none of the other gift options we've mentioned work, you can always give the real gift of pizza. If you know their favorite local chain, that's perfect, otherwise, this gift card from Dominos will do. It even comes in a cute gift box.
---
26. Pi Day Pizza shirt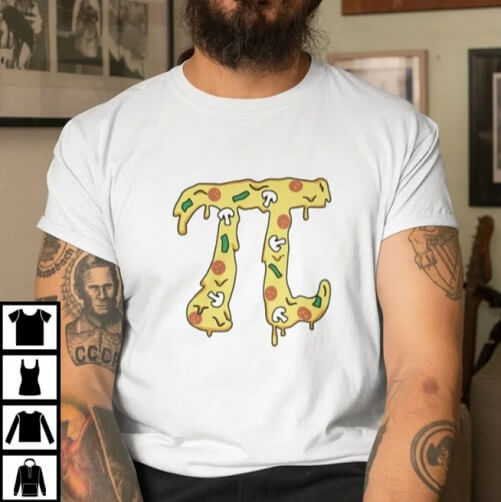 This is one of the stunning gifts for pizza lovers and also the math addict. The shirt features a giant Pi number in the shape of a pizza. There's no reason to turn down such an interesting shirt, right? It has high quality and reasonable price as well as a unique design. We are sure that this Pi Day Pizza shirt will never let you down.
---
27. Gabagool shirt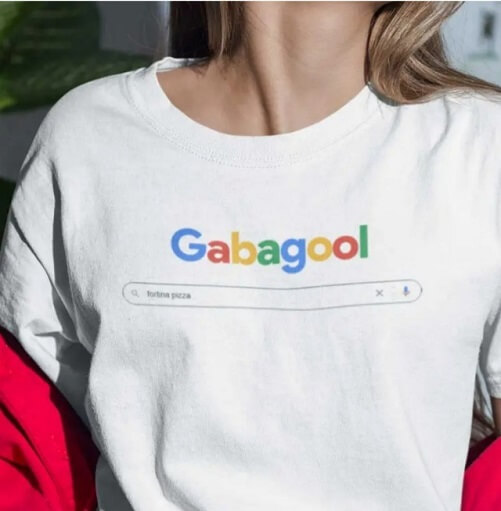 This t-shirt has a simple but very eye-catching pattern. It's a refreshed Google interface with the phrase Gabagool (referring to Italian food) and it's searching for Fortina pizza. What a great shirt for the pizza group! It will inform the world how much they love pizza.
---
28. Surfer Boy Pizza shirt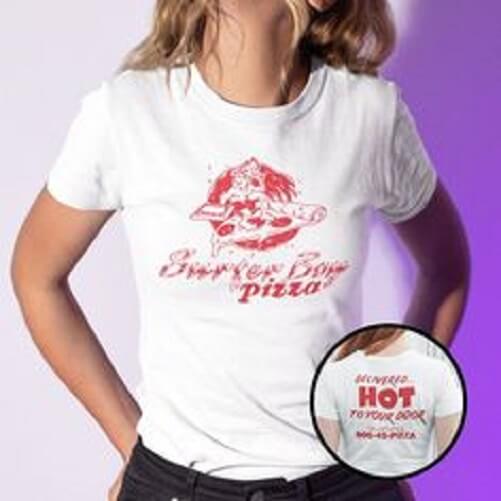 There must be many of our friends who are crazy fans of the Stranger Thing horror series, so those people will also know about Surfer Boy Pizza. If so, what better gift for them than this stunning shirt. One of the factors that make the shirt attractive is the ghostly design with the image of a boy "suffering" next to a pizza, behind the shirt is a hotline "805 45 Pizza".
---
29. I Paused My Game To Be Here shirt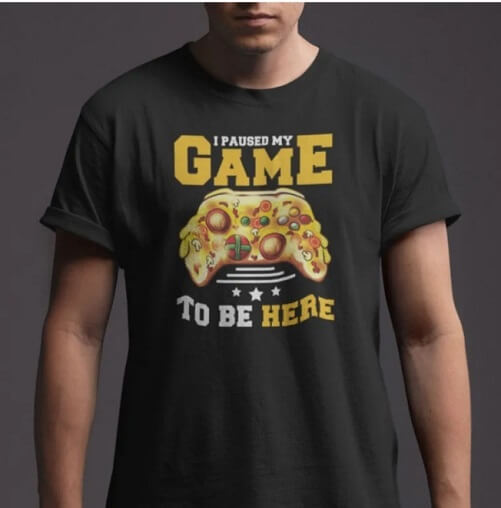 Another option for your list of best gifts for pizza lovers. This shirt is the most accurate thing to give a gamer. You can see the unique design with the game control vector that has the shape of a pizza and the saying "I Paused My Game To Be Here". It is true that while fighting hard, nothing can stop it, except its pizzas that are thick with sauce and topped with cheese.
---
30. I'm Actually In A Very Committed Relationship Pizza shirt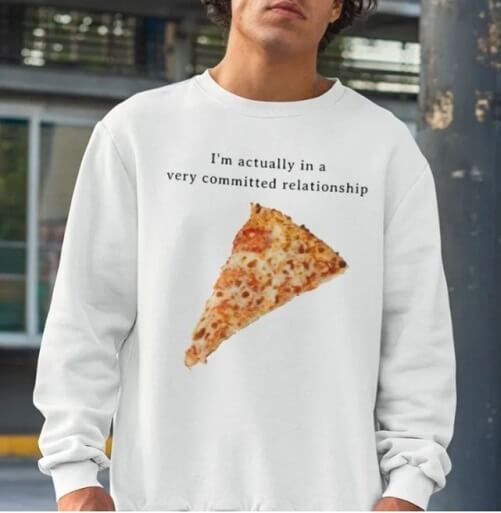 Perhaps not only pizza lovers will love this shirt, but also food fans will love it. It is inscribed "I'm Actually In A Very Committed Relationship" and illustrated with an attractive slice of pizza. That's what the food club announced to the world "Yes, I'm in a serious relationship, I'm on a pizza date". What stronger relationship could there be than sticking to food?
---
31. Pizza-Inspired Artworks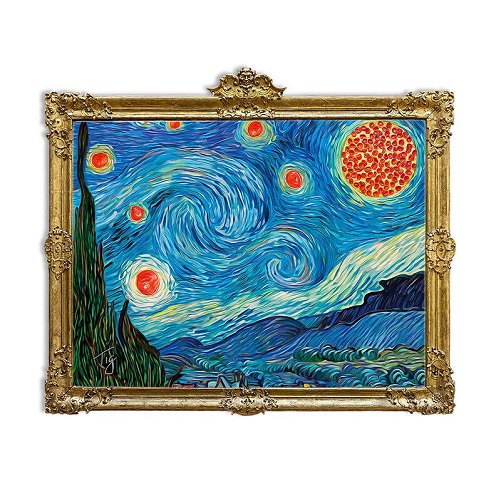 Indulge the senses of pizza aficionados with collection of pizza-inspired artworks, crafted meticulously to celebrate the delectable charm of everyone's favorite dish. These unique and creative pieces make perfect gifts for pizza lovers, adding a touch of culinary artistry to their homes, kitchens, or office spaces. Whether you choose a realistic portrayal, an abstract interpretation, or a combination of both, these gifts will ignite the taste buds and ignite the imagination of pizza lovers, making their love for this iconic dish a centerpiece of artistic appreciation.
---
32. Pizza Cutter and Server Tool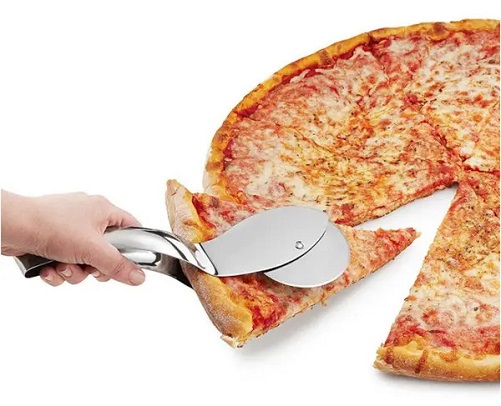 For the pizza enthusiasts who revel in the art of slicing and serving their favorite pies, we present a collection of high-quality pizza cutter and server tools that are both practical and stylish. These thoughtfully designed instruments make exceptional gifts for pizza lovers, enhancing their pizza experience and adding a touch of culinary finesse to their kitchen arsenal. From professional-grade cutters to personalized engravings, these gifts for pizza makers and elevate the pizza experience to new heights.
Final Words
Hopefully, after reading our article carefully, you have found the perfect gift for the pizza lover in your life. Whether it's the creative pizza-print shirts or the brilliant pins, giftOMG are sure the recipient will love one of the best gifts for pizza lovers because you've taken care of their preferences.
Your friends or family also love ice cream? Check out our gift for ice cream lovers and pick the best one!