The 50th anniversary is a stunning milestone for any couple. And it is proof of the couple's love, tolerance, and understanding. That's why it's important to carefully find 50th anniversary gifts for wife for a golden anniversary. After all, living together for 50 years is a long time.
If you're choosing a meaningful gift for your significant other, we're here to help with our guide. Choose one of the gifts from our 50th anniversary gifts list and you're sure to put a smile on that special person's face.
Why call the 50th anniversary a golden anniversary?
The reason dates back to the Middle Ages and the Holy Roman Empire, in which husbands would give their wives a golden wreath on their 50th wedding anniversary.
What is the symbolic flower of the golden celebration?
In addition to the traditional gifts made of gold, to celebrate this occasion, people also give each other two flowers symbolizing the 50th wedding anniversary, which are yellow roses and violets. Both of these flowers, with their complementary colors, look so beautiful together and represent the love that perfectly supports and complements each other.
50th Anniversary Gift for Wife – Here's What She Wants
1. Dinosaur Thank You For All The Roargasms Mug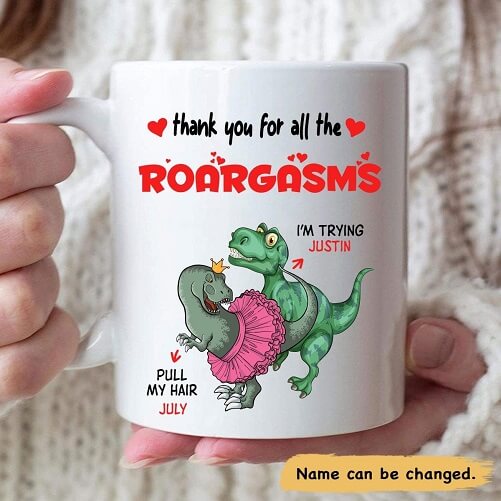 A mug with an illustration of two dinosaurs cuddling with the hilarious text " Thank You For All The Roargasms "is so cute. You should immediately give it to your wife as a heartfelt thank-you to her because she is always there for you and always says nagging words to motivate you. This mug will be a big hit on the list of 50th anniversary gifts for wife.
---
2. Love Is Supporting Each Other In Old Age Personalized Mug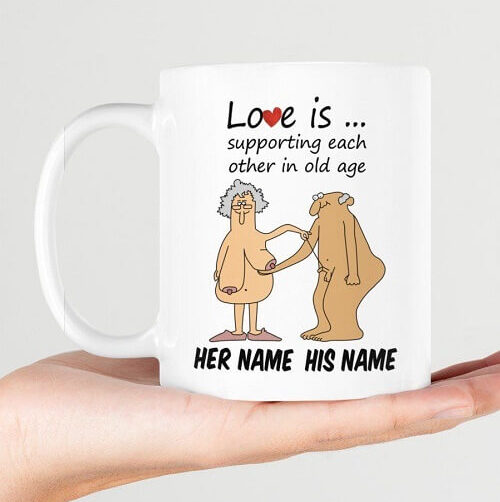 The high-end mug has a sarcastic image of an elderly couple trying to pull back each other's wrinkled, sagging body parts. More funny is the attached caption "Love is supporting each other in old age" which will surely make your soulmate burst into laughter and love this funny design so much! With the hilarious image and quote, this mug is sure to be one of the best 50th anniversary gifts for wife.
---
3. Personalized I Met You I Liked You I Love You I'm Keeping You Mug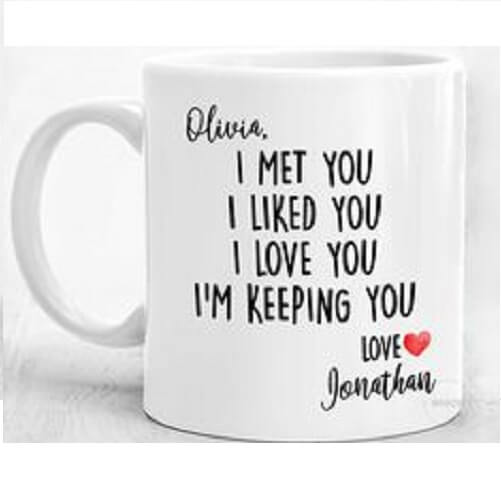 A mug is full of sweet words that you want to say to your wife after she spent half a century accompanying and overcoming difficulties for you. Put some sweets that your wife likes in the mug before giving her as a 50th anniversary gift for wife.
---
4. Personalized I Have Found The One Whom My Soul Loves Mug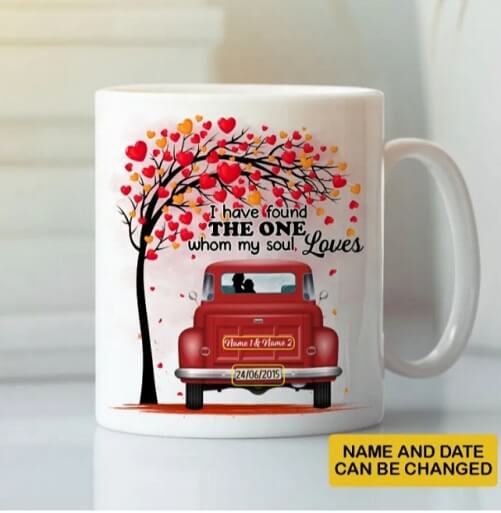 Different from the mischievous gifts we introduced above, this mug depicts a vintage car parked under a romantic tree with a lot of colorful hearts, along with the sweet message "I Have Found The One Whom My Soul Loves". In particular, you can change the name on the mug and the license plate is the day you and your loved one met or your wedding day.
---
5. I'm A Proud Spoiled Wife Of A Freakin Awesome Husband Wife Shirt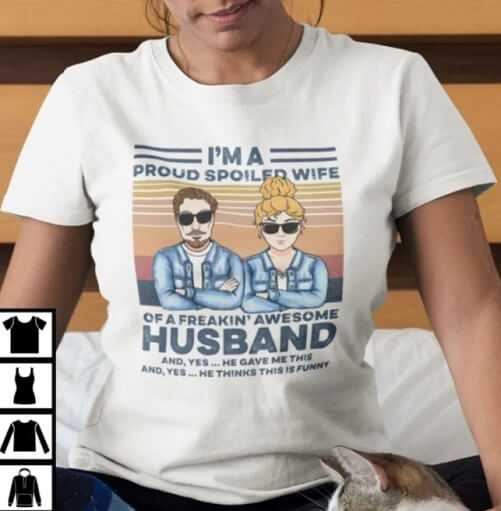 We have a lot of meaningful and funny gifts and the shirt is one of them. It has a classic design and the words "I'm A Proud Spoiled Wife Of A Freakin Awesome Husband, And Yes, He Gave Me This Shirt, And Yes, He Thinks It's Funny". Shop for your wife, who has a sense of humor and makes her happy on special days.
---
6. The personalized milestone map frame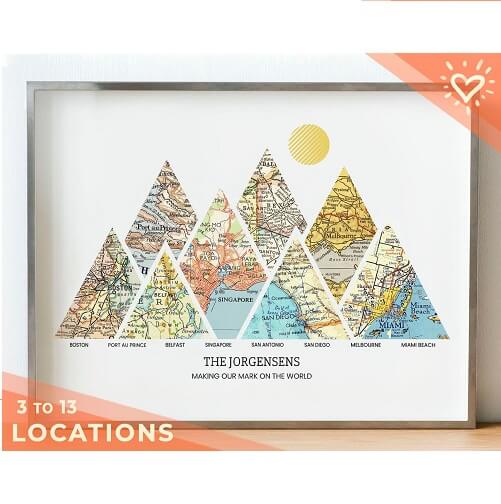 The picture features undulating mountains, and each mountain represents a memorable place. This product is printed on thick matte paper and you can add an optional message. It is created according to the location of the places you choose to commemorate such as the place where you first met, the wedding location, or the place you visited. If you're still looking for great 50th anniversary gifts for wife, don't miss this map frame.
---
7. Wedding anniversary gold glass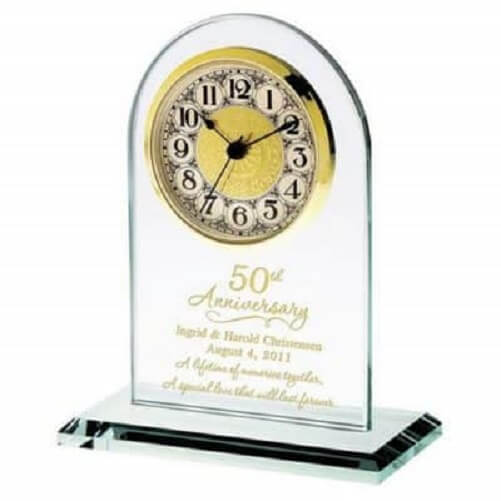 This gorgeous watch that sparkles with gold encased in a layer of glass can be completely personalized with your name, date, and even a sweet message of your choice. It symbolizes the golden anniversary, and it is a memorable keepsake for any couple in love.
---
8. Personalized newspaper anniversary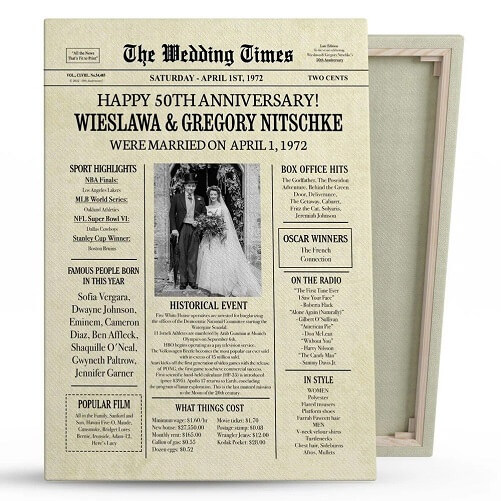 Whether you're searching for a first or 50th wedding anniversary gift, here is all you need. Personalized newspaper anniversary posters printed on photo canvas are a fun way to show love. Customize this paper with your text and photos, as well as memorable events from half a century together. It's a work of art that never goes out of style.
---
9. 50th anniversary gift beach décor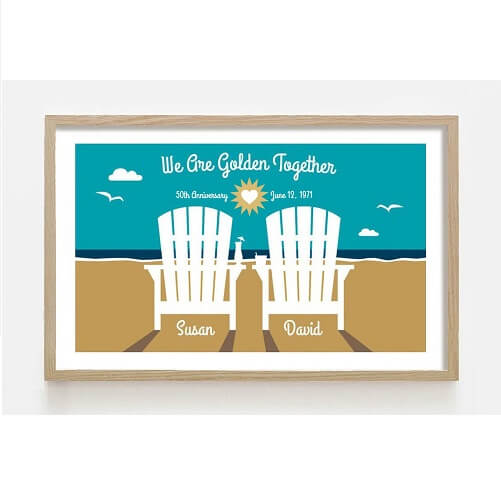 The picture shows a poetic beach with a blue sea, white sand, golden sunshine, and two chairs placed side by side. The words "We Were Golden Together" is a pride and a promise that you and your partner will continue to be together for the rest of your lives.
---
10. 50th anniversary frame gift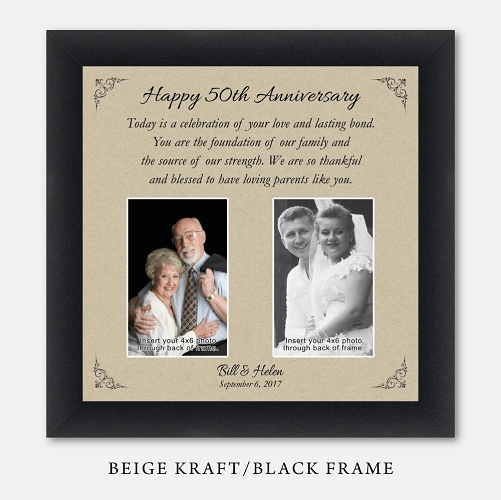 It's still valid after 50 years, so celebrate with this 50th anniversary photo frame, which has the phrase "Celebrating 50 Years of Marriage" embedded in the frame. Each anniversary frame measures 16 x 16 and features two 4 x 6 portraits of the couple. These frames make great 50th anniversary gifts and can be personalized with the couple's name, wedding date, and a personal message or sentiment.
---
11. Love necklace with "I Love You" inscribed in 120 languages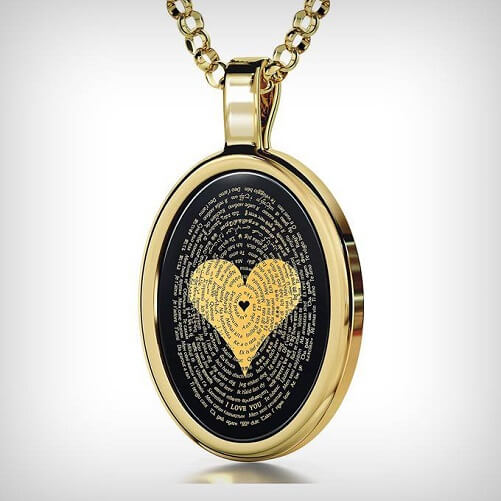 Express your love in so many different ways with this beautiful necklace. The back agate is engraved in small handwriting with the words "I love you" in 120 languages and is set on a gilded silver frame. The necklace is 18 inches long and comes with a small magnifying glass.
---
12. Handwriting bracelet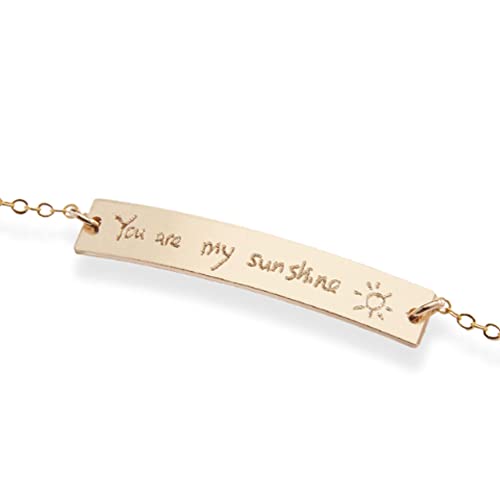 When it comes to the best 50th anniversary gifts for wife, you will never be wrong with a handwriting bracelet. A super meaningful gift to help her always carry with her the sweet words you send her. The bar is in 38mm and 6mm sizes and is polished and sculpted for a shiny look. No matter which country you are from, rest assured to leave your handwriting to us as we can engrave it in any language.
---
13. Dainty gold rose necklace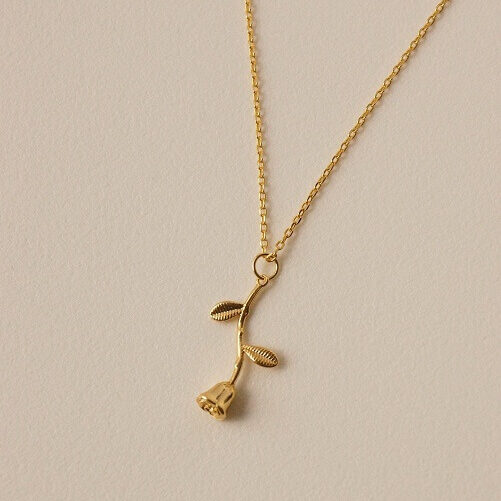 The next piece of jewelry that we love is a graceful necklace. If you're searching for 50th anniversary jewelry for wife, this necklace is a good choice. Its attraction is the beautiful small golden rose branch. It is carved with each petal, just like a real flower has been shrunk, reminiscent of the movie Beauty and the Beast. Moreover, the yellow rose is one of the two symbolic flowers of the 50th anniversary.
---
14. Jewelry travel case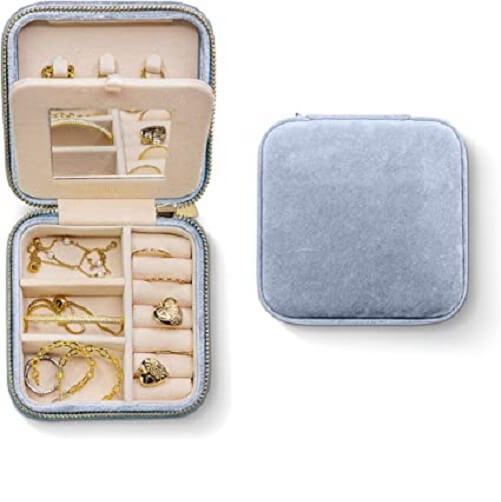 The safe solution for jewelry when traveling is this beautiful tiny box. The box has soft cushions, and enough space to hold rings, earrings, and necklaces. Protect your jewelry from being scratched, tangled or lost during the move. The box has a soft velvet outside and there is a small mirror inside. Add this one to your 50th anniversary gift baskets!
*** See more: An eye-catching crystal jewelry gift you will surely love
---
15. 100 creative dates ideas bucket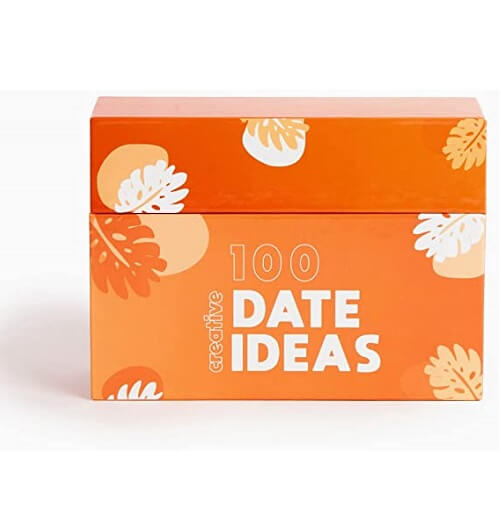 The perfect date idea to spark excitement, cross bucket list items, and perfect for any relationship! The 100-day cards are divided into four categories: outdoor, indoor, free, or food days. Choose from any of the categories, start the challenge and write down your memories on the back of the card! These cards will add a lot of fun to your relationship, help learn more about each other, and take you on strange adventures you never even thought of before.
---
16. Kintsugi Loo Japanese Ceramic Bowl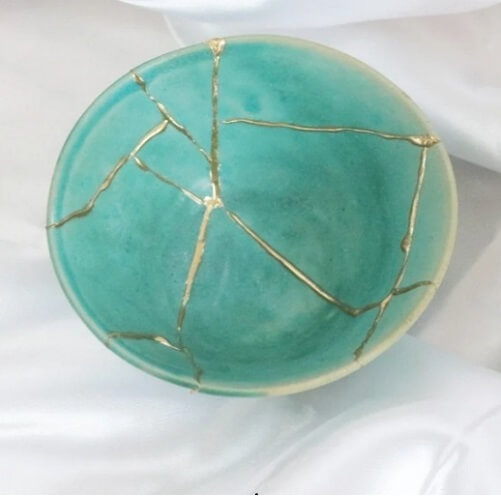 We love this Kintsugi artwork, which is a special Japanese technique of reviving broken porcelain with an esoteric mixture of gold, silver, or platinum powders. The items after pairing will not only be usable but also many times more beautiful than the original item and become a top-notch work of art. It also has the special meaning of appreciating mistakes and imperfections.
---
17. Gold fold portrait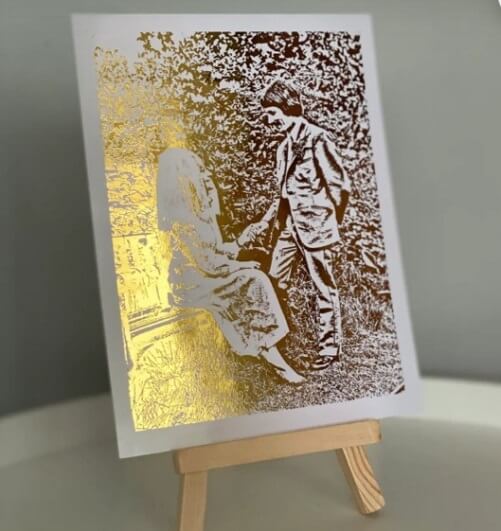 Are you looking for a unique 50th anniversary gift for wife? This custom artwork will be all you need. Pick a favorite photo from your wedding day or another special event from recent years. Our company will create shiny artwork from metal foil.
---
18. Engraved rock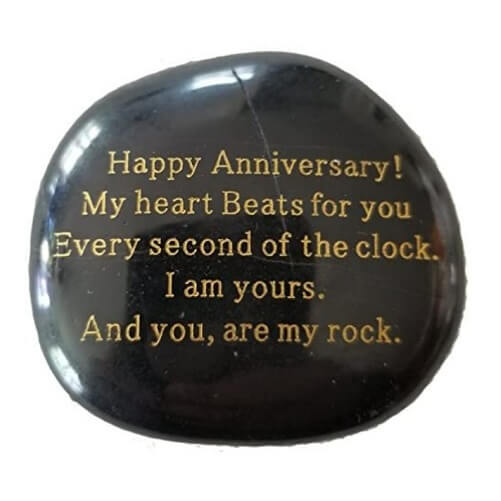 This beautifully engraved stone is one of the greatest gifts for wife 50th anniversary. You should give it to someone who has always been by your side, someone you can always count on, a person you love. This precious stone has been hand-engraved with an eternal golden message that will last as long as your love for your lover.
---
19. Anne Klein Women's bracelet watch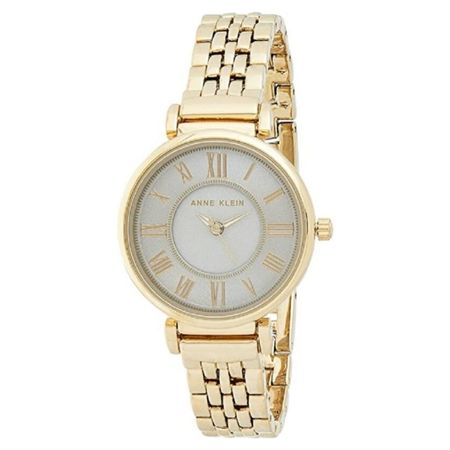 Luxury and trendy are two highlights to talk about the watch from the world-renowned brand Anne Klein.This watch features scratch-resistant crystal glass, a trendy light gray dial, and a gold-plated bracelet. Besides its eye-catching looks, it is also water-resistant up to 30m. Don't miss this watch when seeking for 50th anniversary gifts for wife.
---
20. Cheeses knife set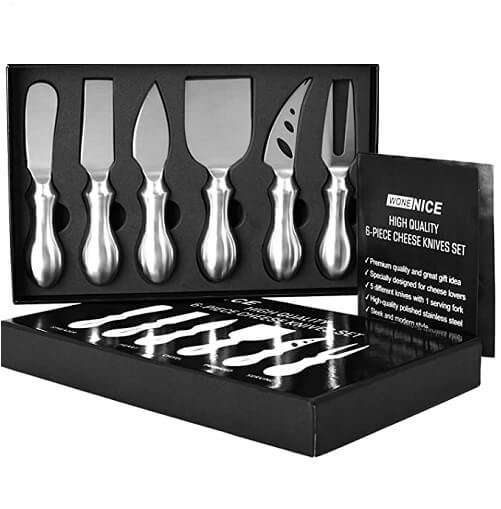 When it comes to 50th anniversary gifts for wife, this knife set is a good option. It comes in a variety of styles, quality, and sharpness for cutting, spreading, and serving cheese. This cheese knife collection includes 4 cheese knives, 1 cheese fork, and 1 cheese spreader, handling all cheeses. It is very comfortable to use and looks great!
---
21. Gold dipped rose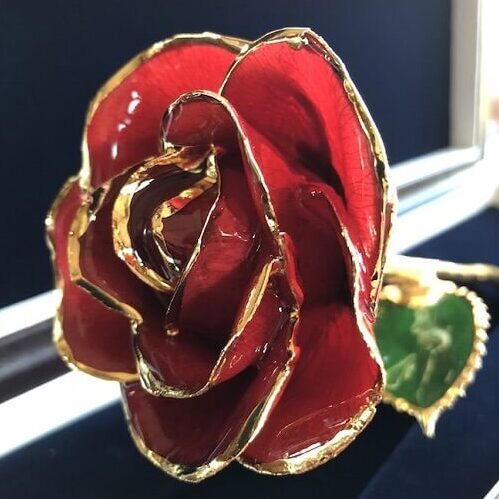 Red roses are a symbol of endless love, but keeping a rose fresh for a long time is extremely difficult. So we wrapped this fresh rose in raisins to keep it looking beautiful forever. The stem is completely dipped with 24K gold, the petals and leaf edges are inlaid with 24K gold, it is very luxurious and bright.
---
22. Bathtub bamboo tray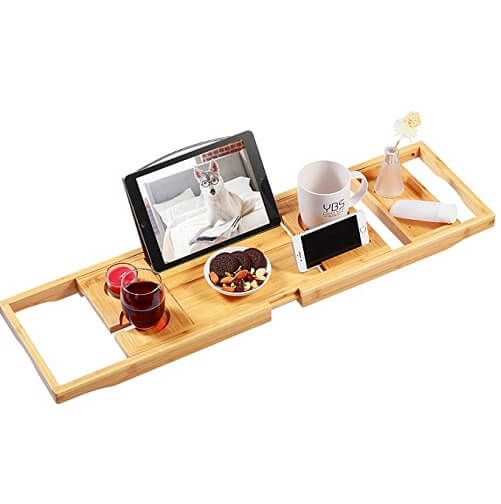 There is nothing more pleasurable than a long soak in a hot tub. Make it even better with this bamboo shower tray. With its smart divider design, it always has space for essentials, with a compartment for books and a compartment for wine glasses. Made from high-quality bamboo, waterproof and sturdy, and comes with an extra soap dish.
---
23. Silk pillowcase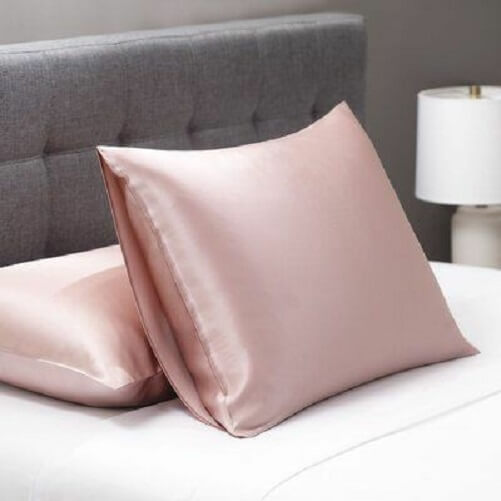 Sleeping on a silk pillowcase brings a lot of health benefits. For example, silk reduces skin friction with pillowcases, limits wrinkles, produces fewer bacteria, and does not cause allergies. This pillowcase is made of premium silk and comes in a variety of sizes and colors. We believe your wife will be very touched when she receives these 50th anniversary gifts for wife.
---
24. 1.000 Foods To Eat Before You Die book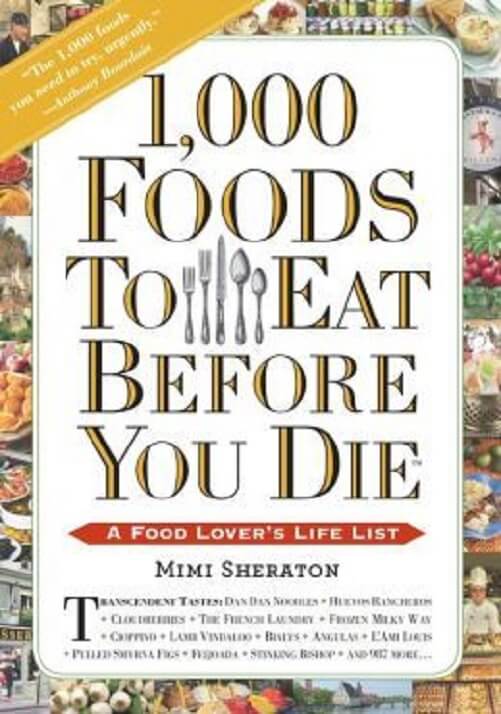 The book delivers as promised in its title, curated from the finest cuisines around the world ― the tastes, ingredients, dishes, and restaurants every reader desires and feels. Whether it's dinner at Chicago's Alinea or the perfect empanada. In more than 1,000 pages and over 550 sharp photos, it celebrates the local appeal of dishes like the rare black truffles from Le Pre got or a Tuscans plate of Fritto Misto. What a great book for you and your wife to discover the world's cuisine.
---
25. Edible gold sheet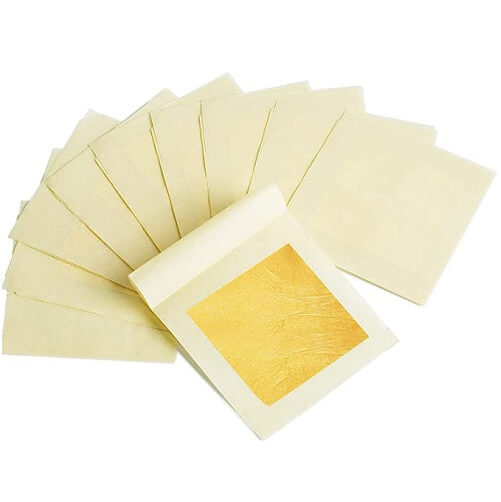 Do you need an unusual 50th anniversary gifts for wife. The ten sheets of paper measure 1.7 x 1.7 inches, and they are made of 24k gold. These leaves can be used for skincare, but they are really fun to decorate foods like chocolate cakes and cupcakes.
---
26. Gusta gourmet gift basket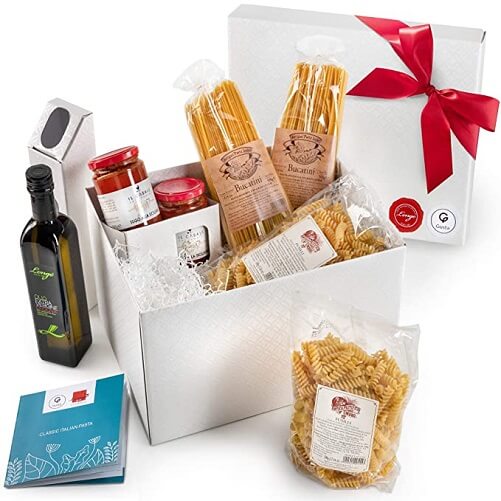 Delicious pasta is the perfect idea for 50th anniversary gifts for wife. And those meals are even better when prepared with quality ingredients. This gift basket contains everything needed for a delicious pasta meal including bucatini and fusilli pasta, extra virgin olive oil, and a Sicilian tomato sauce made in Italy.
---
27. Massage chair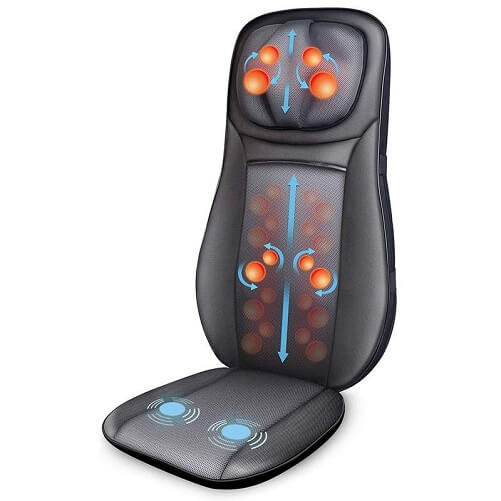 The unique 4-button massage chair helps to deeply massage the tissues in the neck, shoulders, and back, effectively reducing muscle tension and fatigue. The machine uses soft rolling massage mode along the spine to help fight muscle tension and bring a gentle relaxation to the entire back and can adjust the width of the massage buttons to customize fit the body.
---
28. Pashmina wrap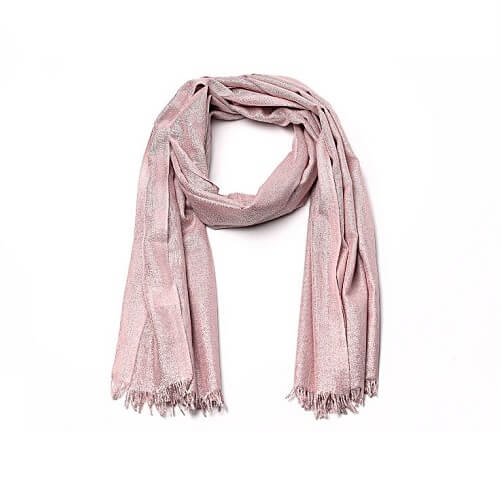 Women's shawl is the ultimate luxury and warmth. It is made of the most luxurious pashmina yarn created from cashmere fabric and the softest acrylic blend to eliminate wool itchiness. You'll never have to worry about itchiness with our plush scarves. Classic style and vibrant colors will retain their beautiful texture and won't fade or fray. Add this one to your list of 50th anniversary gifts for wife!
---
29. Windchime – 50th Anniversary Gifts For Wife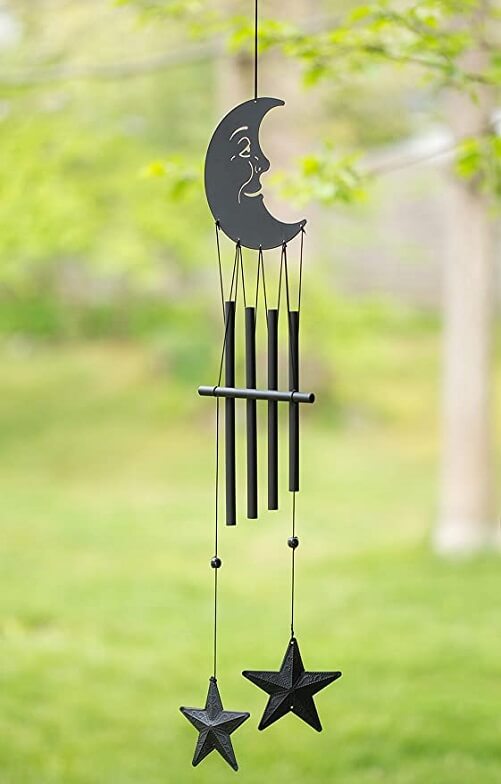 Our wind chimes are made to bring the sound of the garden to your home. With their sleek design and attractive colors, these wind chimes are a great addition to any home, deck, or patio. Soothe your senses with these soothing relaxing tones that will help create a serene atmosphere in your garden.
---
30. Weight blanket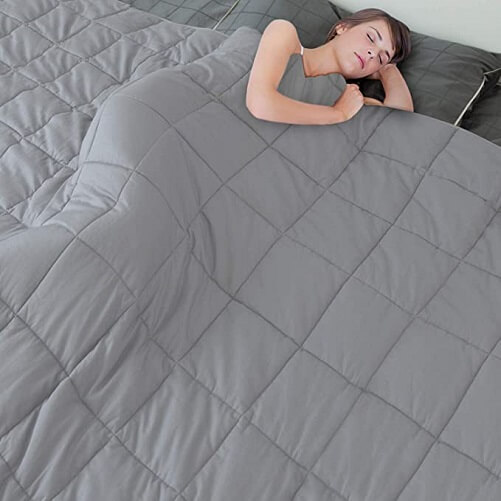 This weighted blanket provides warmth and comfort like a gentle hug – even when you're not there. Research shows that weighted blankets can be beneficial for people with anxiety and insomnia. Our blanket is designed with 7 layers, inside containing microscopic glass beads, with this unique structure for optimal temperature control.
---
31. 50 Years Of Love Keepsake Decoration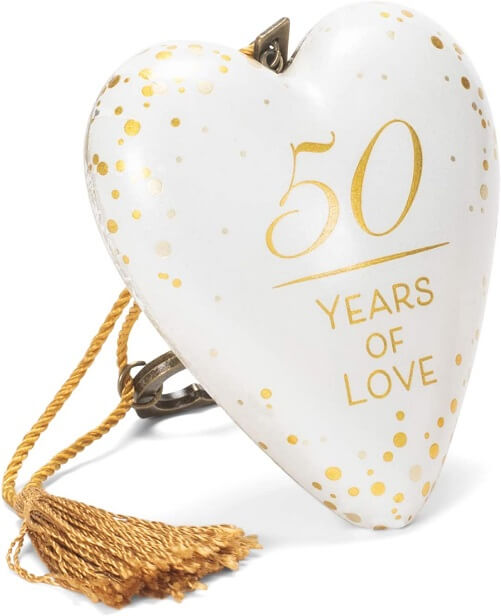 It features a heart-shaped that keepsake symbolizes the bond of friendship and family through meaningful sentiment and vibrant design. Decorate as a small tabletop sign or embellish a box with this pretty ornamental decoration. Don't miss this one if you want to look for unusual 50th anniversary gifts.
---
32. "It All Began" Personalized Pillow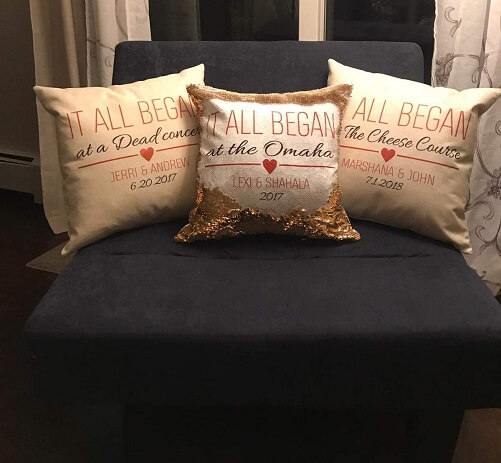 What could be a better anniversary gift than a present that reminds couples of where it all began? This pillow does just that. This sweet pillow is the perfect way to tell your story, right from the start. These cute custom pillows are the perfect way to make your sweetheart happy and decorate your home for the 50th wedding anniversary.
---
33. Geopersonalized Custom Engraved Keychain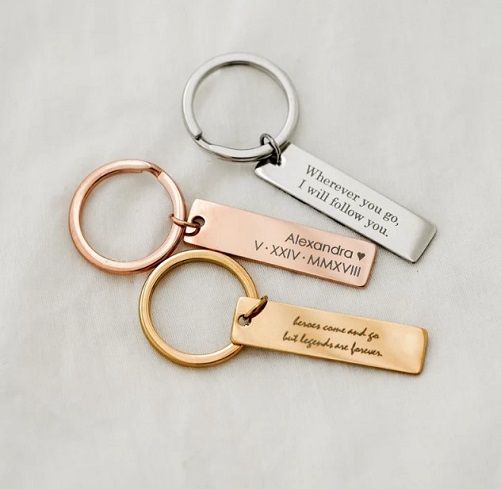 With this slender keychain, your spouse will have a lovely remembrance of you with them all day. Include something special to make it your own, such as a special greeting, the day of your anniversary, or their monogram. It will blend in perfectly with the other keys because it is only 1.5 inches long. Want to look for simple 50th anniversary ideas, this keychain is a good option.
---
34. Plum House Gallery Personalized Grill Set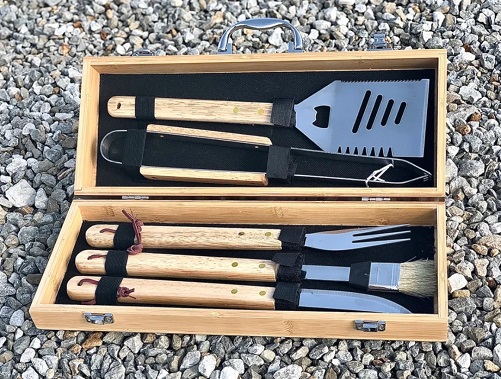 With this slim keychain, your spouse will have a lovely remembrance of you with them all day. Include something special to make it your own, such as a special greeting, the day of your anniversary, or their monogram. It will blend in perfectly with the other keys because it is only 1.5 inches long and really perfect for unique 50th anniversary gifts.
You May Concern: Crystal Gifts for Her To Celebrate Big Day
Conclusion
GiftOMG hope our list of traditional and modern 50th anniversary gifts for wife will help you decide what you want to surprise your better half. No matter what you choose, she will be the happiest. Don't forget to attach a beautiful card and a bouquet of yellow roses and violets to your wonderful wife. Happy golden anniversary.