50 years is half a century. These couples have fulfilled their dream of lasting love! A couple's 50th wedding anniversary is also known as their Golden Anniversary. Any couple who have spent 50 years together deserves a congratulatory message and meaningful 50th wedding anniversary gifts.
If you know a couple that has hit this milestone, or maybe you and your spouse have already achieved it and you're in the mood for shopping, it's time to buy a memorable gift. We definitely encourage you to think about investing extra time and effort into this gift as it is a special milestone for the couple.
If you don't have any idea about this gift, GiftOMG will help you. Whether you need a meaningful and romantic gift for your partner or you want to wish any couple a happy anniversary, we have great suggestions. Keep reading to learn all about the 50th wedding anniversary gifts list to choose the perfect gift.
*** You May Love: 30 Cool 50th Anniversary Gifts For Wife
Unique 50th Wedding Anniversary Gifts To Celebrate Big Day

We know that finding a perfect gift is not an easy task, so we've done this work for you. All you have to do is pick the right gift and make your loved one happy!
1. Personalized Thank You For All The Roargasms Mug Dinosaur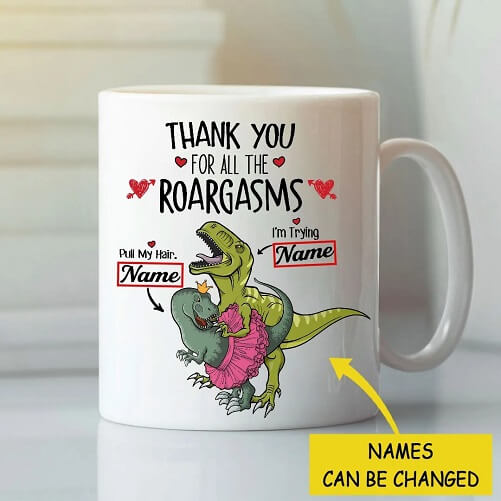 The opening for 50th wedding anniversary gift ideas is a cup with cute pictures. This funny gift is for couples, lovers, Dinosaurs lovers. This mug is made of 100% ceramic and can engrave the couple's name on the body of the mug. The beautiful mug has the image of 2 dinosaurs entwined romantically. The fun design of hearts and the "Thank You For All The Roargasms" quote will make your partner feel great and love you more!
---
2. Love Is Supporting Each Other In Old Age Personalized Mug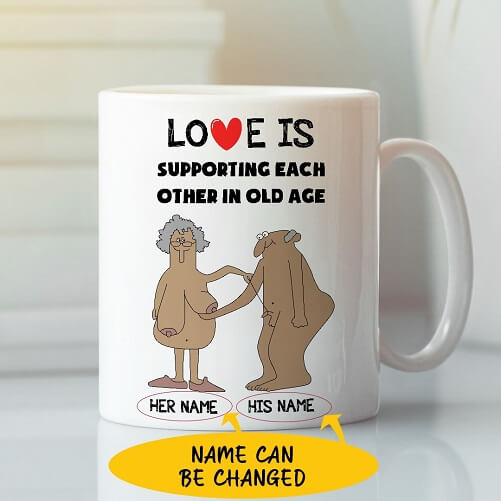 This mug with a bold graphic design will make a delightful gift for an older couple. Surely the recipient of this mug will laugh with delight because of its wit. The beautiful mug with the image of an elderly couple "lifting" each other's "things" is extremely funny. In addition, there is a sarcastic saying "Love each other until old" that will surely make your soulmate laugh. You can use the couple's name printed on this mug to create personalization.
---
3. To My Husband I Wish I Could Turn Back The Clock Mug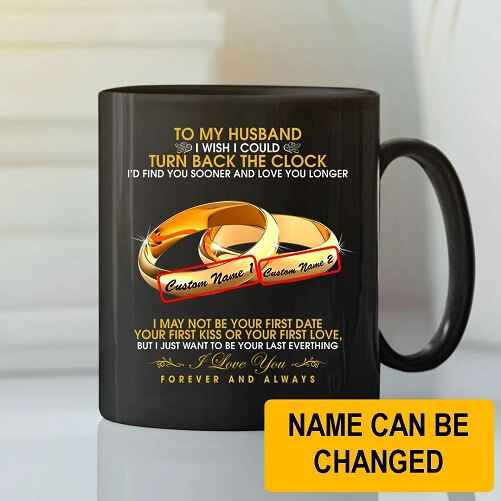 A mug with a simple design and a really meaningful quote. On the body of the mug, there is a loving quote for the husband. Surely your husband will be really touched when he receives this mug on his 50th wedding anniversary. This mug will be a great choice for couples who want to express their great love to their partner! In particular, the name printed on the mug can be changed to be exclusive to you and your lover!
---
4. Personalized I Met You I Liked You I Love You I'm Keeping You Mug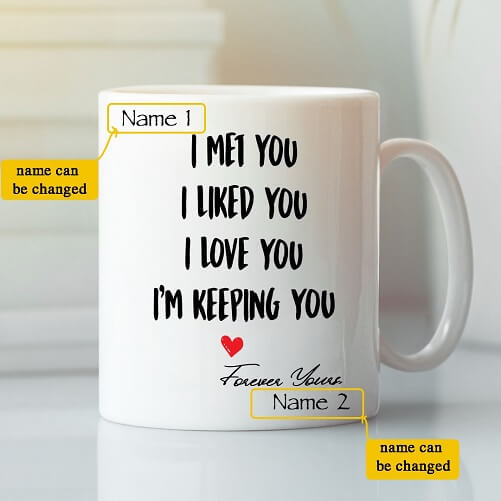 The quote "I Met You, I Liked You, I Love You, I'm Keeping You" expresses your sentiments to your partner. A long process of love is encapsulated in this sentence. This great present will provide happiness to your lover. On the occasion of the 50th wedding anniversary, the impressive and eye-catching design mug will be a perfect present.
---
5. Personalized I Have Found The One Whom My Soul Loves Mug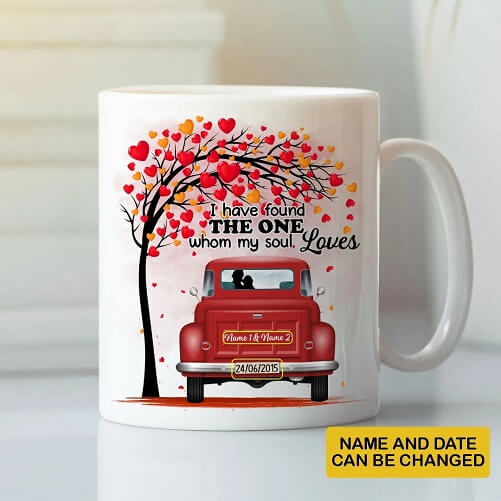 This lovely mug is the next item in this list. Couples who enjoy sweetness and romance will appreciate this mug. You may express your love to your lover thanks to the beautiful scene and heartfelt lines on the mug. This mug's name and number may be edited to make this love affair stand out.
---
6. Porcelain Hanging Ornament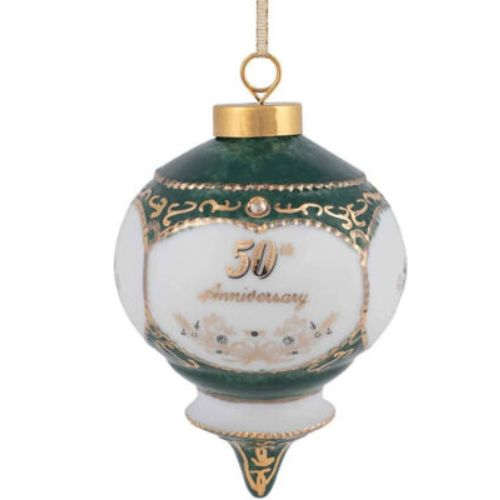 For the 50th wedding anniversary, this Porcelain Hanging Ornament will be a special present. It represents a long-lasting love and a long-standing marriage. The words "50th Anniversary" are written in a vintage design on this present. It has a sumptuous aesthetic and is crafted of high-quality porcelain in a Victorian-shaped form. This lovely present may be hung anywhere in the home.
---
7. Precious Moments, Through The Years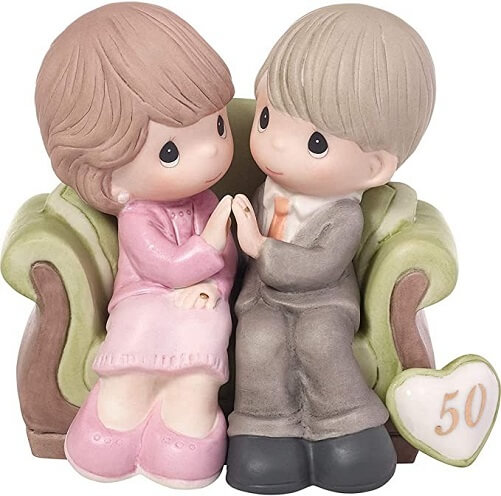 The Bisque Porcelain Figurine is a cute 50th wedding anniversary gift. It depicts a married couple in love. This present is a work of art that is made of bisque porcelain and meticulously hand painted. Giving a golden anniversary to the loving pair is appropriate. Everything is always the same after 50 years of marriage. A lovely tribute to a lasting love.
---
8. Hortense B. Hewitt 50th Anniversary Champagne Toasting Flutes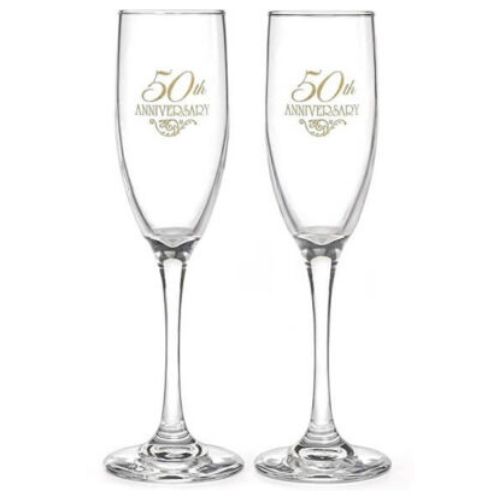 There are plenty of toasting moments during the golden anniversary party. As a result, the unique 50th anniversary gift will be this 50th anniversary glass with a pair of champagne flutes. The words "50th anniversary" are written in gold on the glass's body. The glass's design is ideal for elegant and shining golden anniversary celebrations. Here's a present idea that's worth a shot.
*** Honeymoon gift you can't miss: HERE
---
9. Malden International Designs Wedding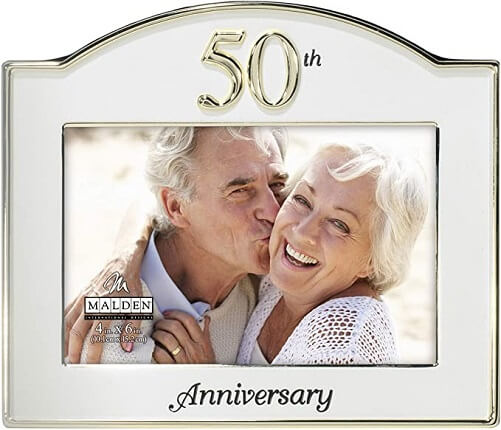 This photo frame is composed of two-tone metal, dimensional Matte Silver finish and Shiny Gold finish metal. Both the raised and embossed text on the frame say "50th Anniversary." Couples may quickly change photographs by turning tabs. You will receive a significant present if you pick the most romantic and cheerful images of the pair and frame them. This photo frame aids in the preservation of the happiest moments from the past half century.
---
10. Marble Coffee Mug With Gold Foil Design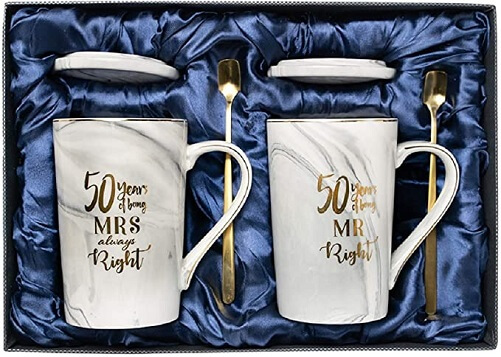 If the couple enjoys coffee, this might be an ideal gift for their 50th wedding anniversary. To keep beverages hot, use the 50th Anniversary mug with lid and golden spoon. Every morning, the couple may have a cup of hot coffee together, and they will cherish this present. The content on the marble coffee cup has demonstrated tolerance, respect, and understanding for one another for 50 years. It would be a big hit on the list of 50th wedding anniversary gifts for wife.
---
11. 50th Anniversary Wood Frame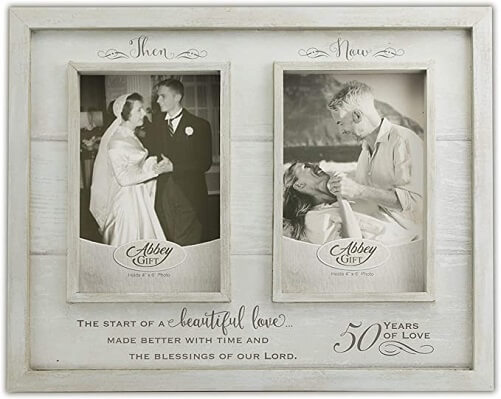 This photo frame is a meaningful gift in the list of 50th wedding anniversary gifts. It consists of high-quality medium-density fiberboard that's been given a rustic wood finish. Each frame writes the quote "The beginning of a wonderful love that has grown stronger with time and the blessings of our Lord" to mark the golden anniversary. A wedding photograph and a photograph of a happy moment can make a really romantic present.
---
12. Happy 50th Golden Wedding Anniversary Quartz Table Clock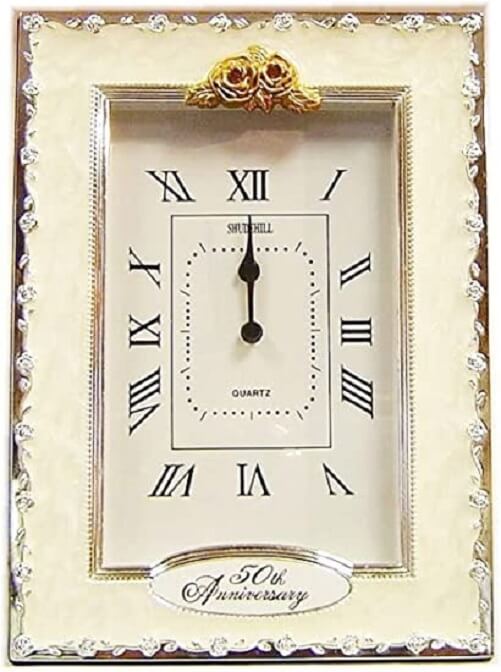 On their golden anniversary, the couple will receive an unexpected gift in the form of a clock. Quartz is used to make this attractive clock. The reverse and the bottom of the clock are velve. This clock for couples to look back on the long time spent together. They will be happier if they recall every minute they spend together, whether happy or unhappy.
---
13. 24K Golden Rose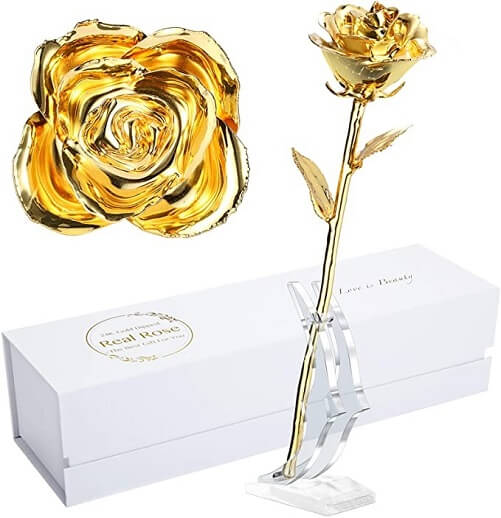 Rose is a beautiful way to express affection. For a golden anniversary, a 24k gold rose is the ideal present. It is created entirely of actual petals, leaves, and thorns inlaid with 24k gold, making it extremely unique and valuable. This 24k rose will survive as long as this couple's love. True love is symbolized by the rose that never fades.
---
14. Urllinz 50th Wedding Anniversary Plate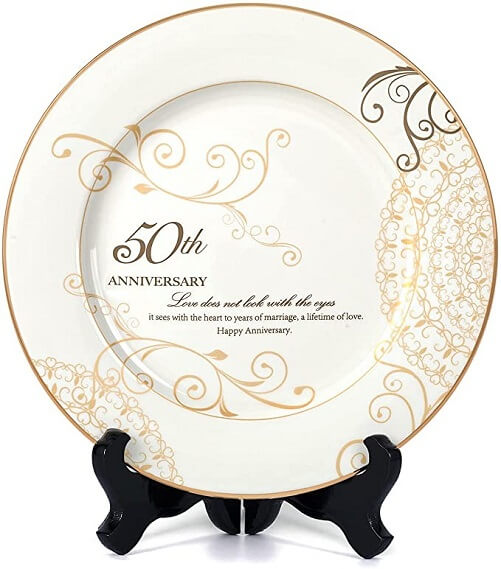 The design of this exquisite plate and stand is classically carved. The yellow leaves add a pop of color to it. The anniversary plate's romantic wording and gorgeous designs with gold leaf have the most valuable and enduring meaning. It refers to the couple's 50th wedding anniversary, often known as their "golden anniversary." This will be a gift that represents a lifetime of love.
---
15. Picture Frame with Black Velvet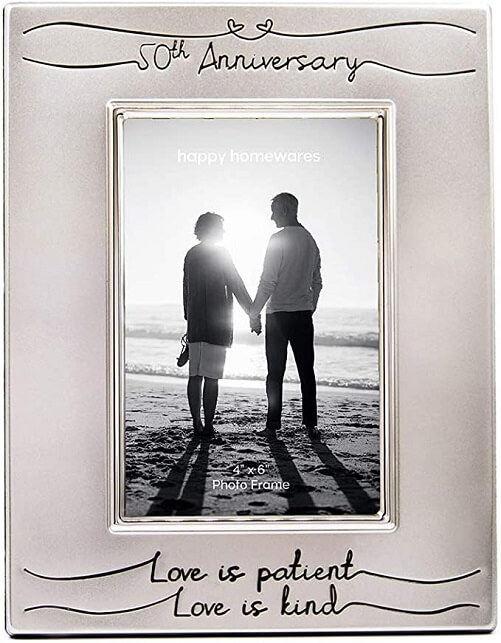 On the Amazon marketplace, it is the most popular item. It is brushed nickel and silver plated with clear glass cover and double hearts design. A lovely black 50th anniversary inscription sits above the photo. The message of love to the couple will be based on the aspect of the term "love is patient, love is kind." This is the gift that should be added to the 50th wedding anniversary gifts list.
---
16. Dicksons 50th Wedding Anniversary Yellow Glass Table Top Sign Plaque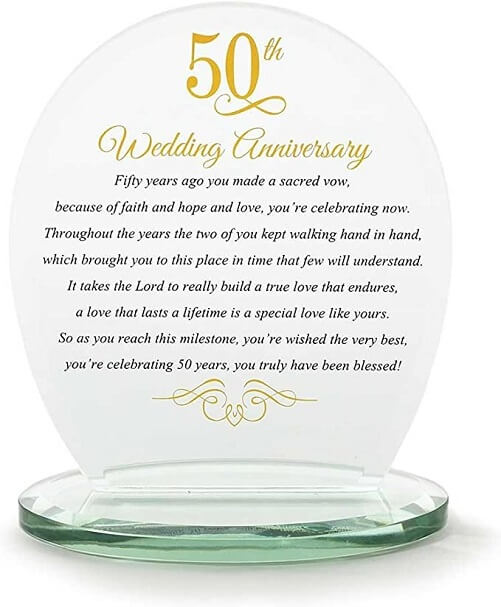 To create a shimmer, the table topper is composed of clear glass elements. It is inscribed with emotive messages. The content illustrates a long-term relationship between two people. This gift is suitable for display on a table or decorative cabinet, where they can see it every day. This will be a present to them to wish them happiness for the rest of their life together.
---
17. Framed 50th Anniversary Burlap Print Gifts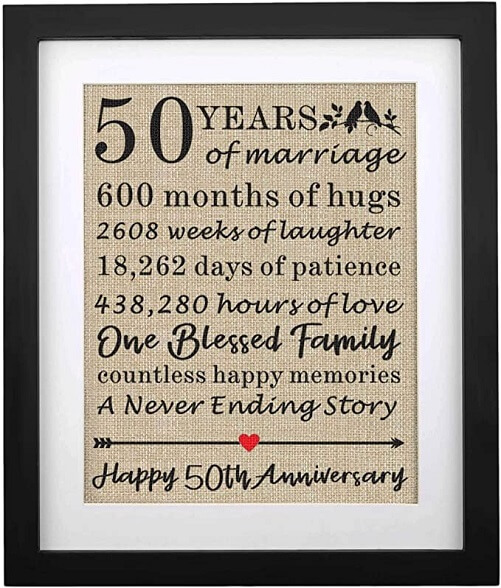 This gift is ideal for a couple celebrating 50 years of marriage. This is a fantastic achievement that merits everyone's congratulations. All burlap prints are created with the best quality ink and 100% all-natural cloth, with a laminated backing to prevent fraying. It should be displayed in the most formal settings so that the couple may view it every day and grow to love each other even more.
---
18. Perfectinsoy 50 Years Happy Anniversary Wine Glass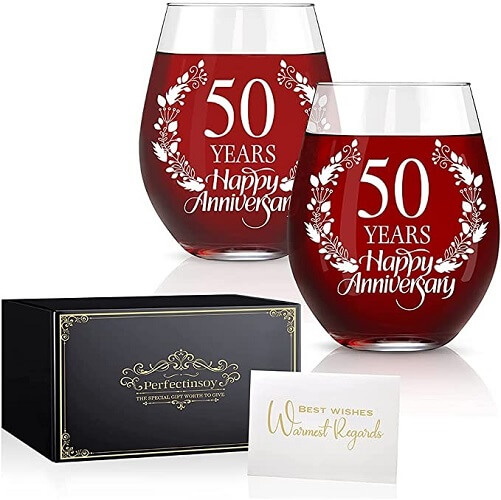 These wine glasses are luxury 50th wedding anniversary gifts that should be on your 50th wedding anniversary gift list. This is an excellent gift for a couple that enjoys wine and cocktails. All of these wine glasses are made of environmentally safe glass that is both durable and resistant to fading. The couple will get these elegantly made glasses in a lovely gift box, along with a "Best wishes" note.
---
19. Golden Anniversary Double Picture Frame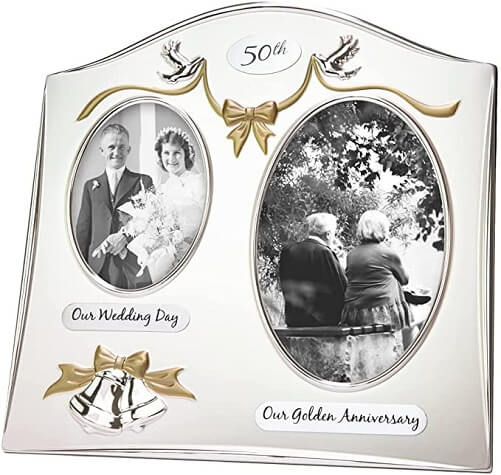 This is an excellent souvenir for a couple that is celebrating their golden wedding anniversary. The neoclassical design is as though commemorating the days spent together. The two-tone gold-plated 50th Anniversary photo frame combines two silver bells with a lovely golden ribbon. Oval picture frames offer photo frames a new twist. In the list of 50th wedding anniversary gifts, this will be a really significant gift.
---
20. Happy 50th Wedding Anniversary Banner Decorations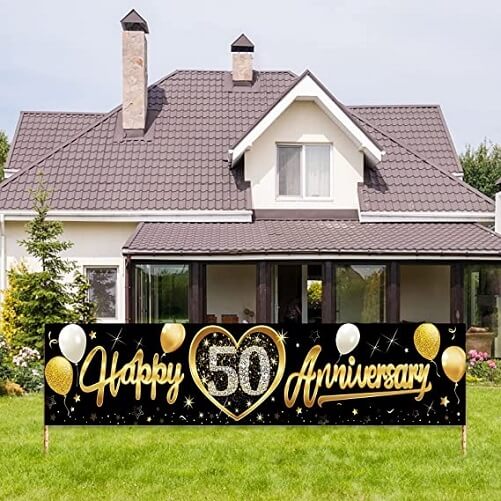 The party's decor is an important aspect. You should decorate it as a surprise for this lovely couple. Let's use this black and gold Happy 50th Anniversary theme banner to draw attention to this event. There are balloons, fireworks, and other 50th anniversary party theme components to create a good party atmosphere. This is an excellent option for you to use to decorate their 50th wedding anniversary party.
---
21. Willow Tree Anniversary, Sculpted Hand-Painted Figure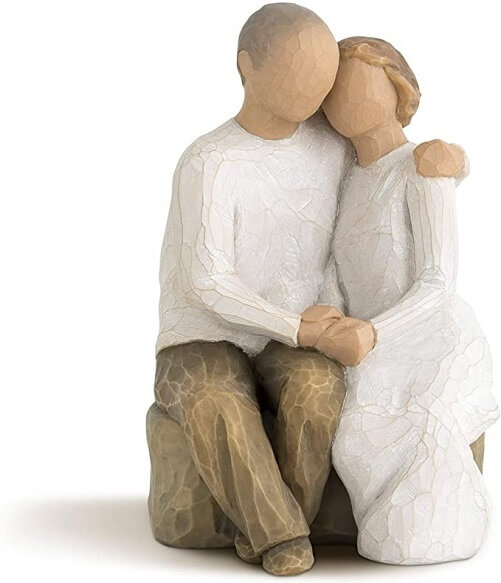 A hand-painted resin figurine of an elderly couple seated next to each other on a bench, holding hands, will be a wonderful present on their 50th wedding anniversary. The statue portrays a woman wearing a cream dress and a guy dressed in a cream shirt and dark pants. On the Enclosure Card, the sentiment "Love ever endures" is inscribed.
---
22. 50th Anniversary Blanket Gifts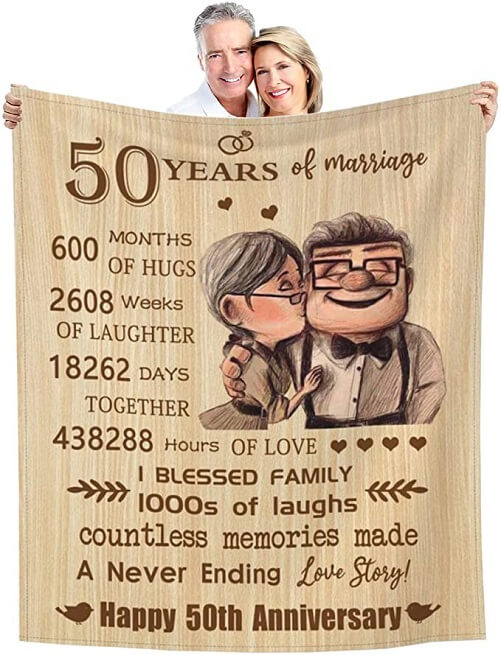 This blanket will be never wrong when it comes to the meaningful 50th wedding anniversary gifts. Polyester material offers a smooth and airy feel to this 50th Anniversary Blanket. This will be a really memorable gift, as shown by the content. In addition, there is a lovely image of an old couple kissing on the blanket. Not only does this blanket provide warmth, but it also shows affection.
---
23. 50th Year Wedding Anniversary Lighted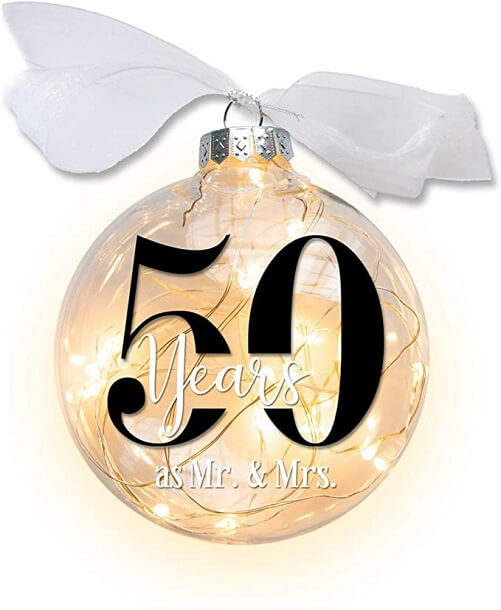 This one-of-a-kind handcrafted gift is ideal for couples celebrating their 50th wedding anniversary. There will be 20 LED firefly lights within a huge lamp with a bow. Because it is composed of shatterproof plastic, it will survive a long time. It can be decorated in the golden couple's own nice room!
---
24. Haysom Interiors Lovely Golden Photo Album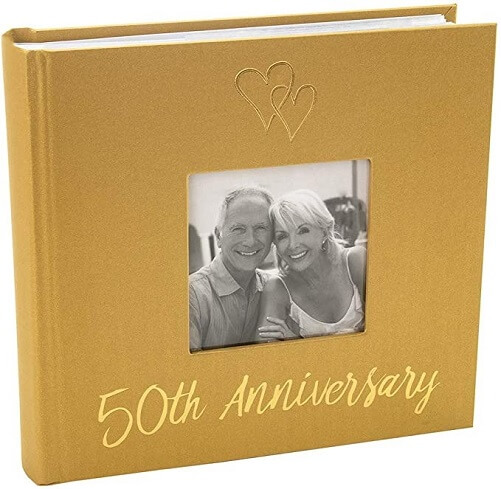 A lovely photo album for a couple will allow them to recapture all of their wonderful memories from the previous 50 years and beyond. The album's cover is metallic gold. The words "50th Anniversary" are written on the front cover, along with two interlocking hearts. They can add images and make notes about joyful past memories. It would be a big hit on the 50th wedding anniversary gifts collection this year.
---
25. Bisque Porcelain Figurine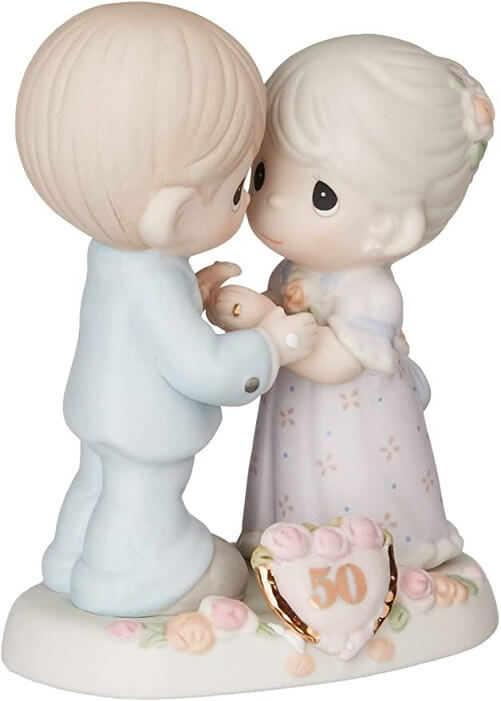 The Bisque Porcelain represents a happy couple who have been married for 50 years. Their hair may have grayed, but their love is as strong as it was when they first met. The figurine is made of porcelain and painstakingly crafted by hand. This gift allows the couple to sense your heartfelt thoughts for them. This is the cutest gift on the list of 50th anniversary gifts.
---
26. The Metal Foundry Golden 50th Sundial 2022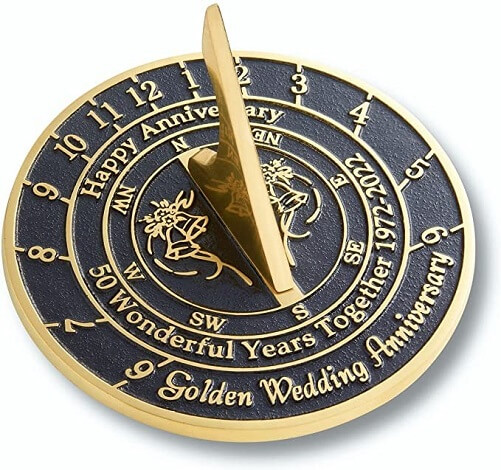 If you are looking for gifts for 50th wedding anniversary, this is the best choice. The sundial is handcrafted and made from high-quality cast British brass and is designed to last a lifetime. The gift can be mounted almost anywhere. "Happy Anniversary", "50 Wonderful Years Together 1971-2022", and "Golden Wedding Anniversary" are the charming messages of this sundial.
---
27. Masks Golden Anniversary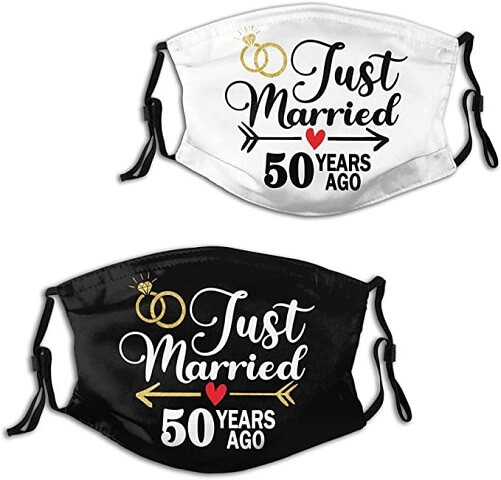 This mask is incredibly trendy, vibrant, and attractive. This will be a one-of-a-kind present for couples celebrating their 50th wedding anniversary. It is constructed of 100% Polyester and is quite pleasant to wear. This is an object that is used to convey affection as well as to safeguard their health. It protects them against dust, pollution, cigarettes, and other contaminants.
---
28. The Grandparent Gift Co. Handmade Glass Cross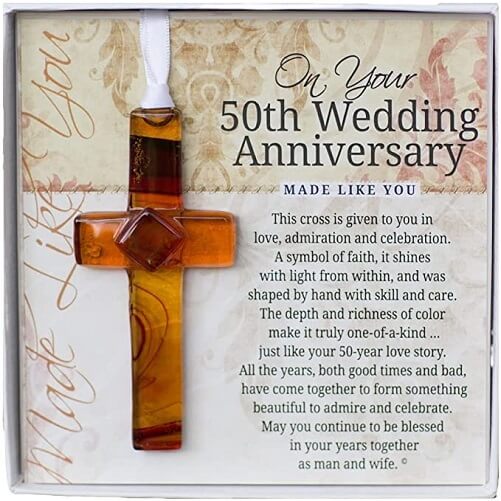 Many Christian couples will appreciate the amber glass cross. This is a handcrafted present for the couple's 50th wedding anniversary. Each 50th wedding anniversary stamp will be one of the unique 50th anniversary gifts due to its handcrafted nature, just like the couple. This present will be cherished by them. On the golden anniversary, it will also serve as a love token. Don't miss this one on the list of 50th wedding anniversary gifts!
---
29. Matashi 24K Gold Plated Happy Anniversary Double Heart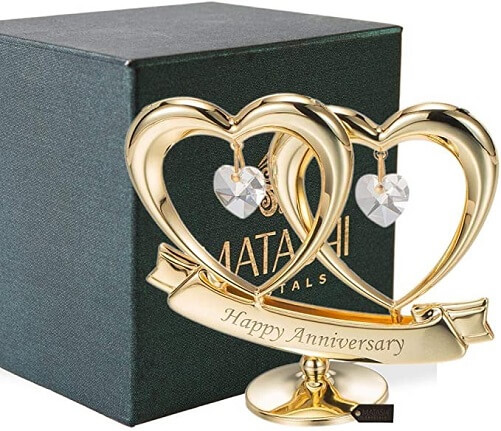 Gifts made of gold are appropriate for golden anniversary celebrations. The 24K gold Double Heart Figurine Ornament is embellished with gorgeous Matashi crystals. This premium present features two lovely hearts with dangling crystals inside hanging over a banner that reads "Happy Anniversary." This is a perfect choice if you're looking for 50th wedding anniversary gift ideas for parents.
---
30. 50 Years as Mr. and Mrs. Ceramic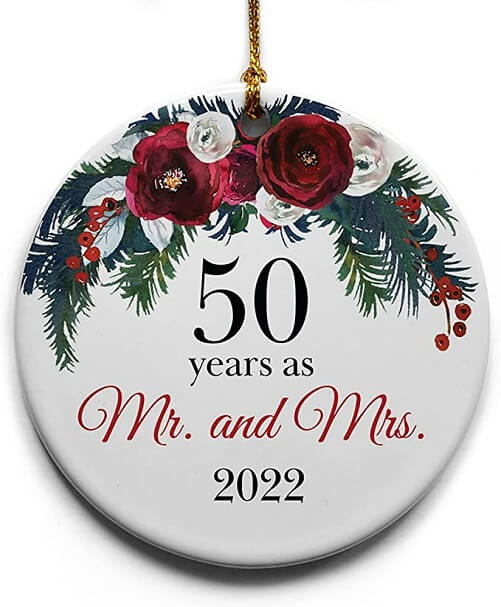 This is the most appropriate gift for a 50th wedding anniversary at Christmas. This one-of-a-kind and unforgettable decorative gift will be cherished for a lifetime. It's composed of high-quality porcelain and comes with a classic gold metallic string. Each ornament is hand-pressed, resulting in a design that is permanently fused to the smooth glaze, ensuring that they remain as pristine and brilliant as the couple's everlasting love.
---
31. Symbolic Studs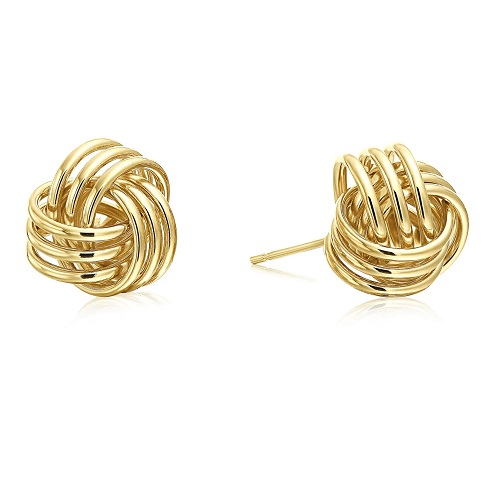 Expand your list of modern 50th wedding anniversary gifts this year. Made of 14 karat yellow gold, they are a symbol of their relationship and the 50-year milestone.
---
32. Tasty Gift Box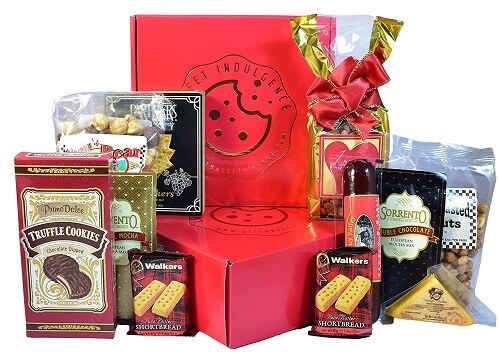 This food box is the ideal gift for couples who love to enjoy the finer things in life. Each includes an award-winning selection of wines, cheeses, nuts, and more, perfect for sharing with visitors (or not!). It is perfect to make 50th wedding anniversary gifts for the wife or husband.
*** You May Love: Give your parents a unique gift on their special anniversary
Conclusion
GiftOMG has created a 50th wedding anniversary gifts list for you. Your gifts will undoubtedly be adored and appreciated. We hope this sharing will support you in selecting a present for the couple on their golden anniversary.