Enjoy printing these free printable Christmas gift tags at home! One simple method to give a gift a homemade feel is to attach one of these gift tags to it. These lovely, cost-effective printable Christmas gift tags will give your presents a straightforward, festive touch.
Why not use these free printable Christmas tags to simplify the laborious chore of wrapping Christmas presents? To save stress on Christmas Eve, you can print them off whenever you want and have them prepared. By utilizing these Christmas gift tags from giftOMG, you'll not only save money but also time by avoiding the need to go to the store and they'll give your gift a more unique, handcrafted feel. 
After all, the true purpose of Christmas should be to save money, time, and show someone you care. We discovered a ton of free printable Christmas gift tags to make things very simple for you, and we are hoping they'll make gift-wrapping this holiday season more enjoyable, affordable, and simple!
How to print your free printable Christmas gift tags?
Making the free gift tags on this page couldn't be simpler! Simply save the US letter-size PDF to your computer, print it out, cut along the outlines, then punch a hole through each tag's circle marking. They are very simple to use!
You can print these free printable Christmas tags on regular printer paper if you'd like, but we strongly advise printing them on sticker/label paper or on card stock and then making your tags with a hole punch and ribbon. They appear fine when printed in black and white, but color printing makes them look lot better.
We advise printing your sheet of gift tags onto premium thick paper, matte picture paper, or cardstock to produce gift tags of the same quality as those sold in stores.
25+ Free printable Christmas gift tags
These free printable Christmas gift tags are perfect for anyone who loves giving gifts or wants to give them out during the holiday season.
1. Chalkboard Christmas Gift Labels and Tags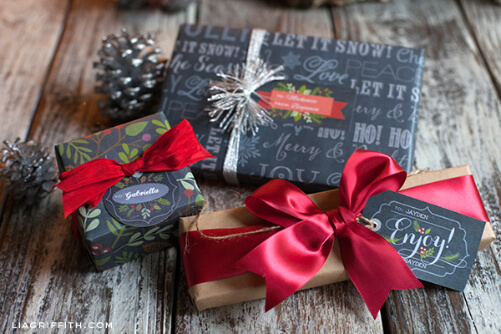 These gorgeous chalkboard-style Christmas gift tags are available in rectangle, circular, and tag shapes. They have different patterns of pine cones, holly, and snowflakes. You'll need to print out the entire set because they are so lovely.
The best feature of these free, printable Christmas gift tags is that you can type in the names before printing them, ensuring that your handwriting is truly perfect.
---
2. Black & White Christmas Gift Tags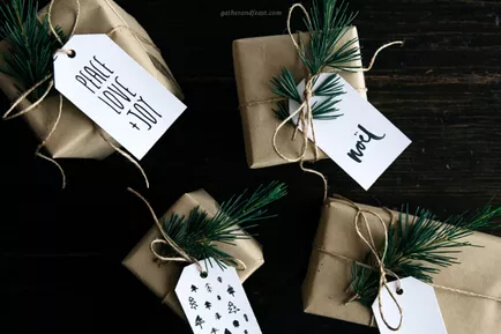 There is no longer a requirement for you to buy an expensive card and wrapping paper. Sometimes all it takes to make that gorgeous-looking gift on a budget is a little creativity and know-how.
Beautiful black and white Christmas gift tags from Gather & Feast would add a sophisticated touch to any of your gifts this season. There are ten distinct tags here, including ones for holiday sayings, and Christmas trees. Click the tutorial and save these free printable Christmas gift tags pdf.
---
3. Woodland Christmas Gift Tags and Labels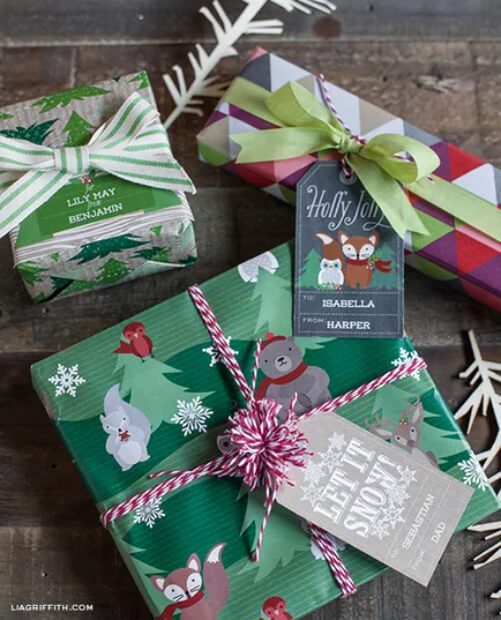 With these cute woodland companions and kraft snowflake gift tags, you can add a little joy to your holiday presents. These will thrill both children and adults.
You can download and use these gorgeous Woodland Christmas gift tags and labels on all of your presents this year for nothing at all thanks to World Label. These conventional tags, as well as circle tags, feature pictures of foxes, owls, bears, squirrels, deer, and other animals.
---
4. Watercolor and Glitter Christmas Labels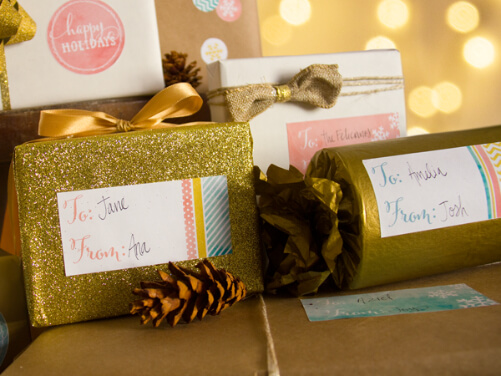 To help you make your present packages appear fantastic here is a great label design. Designs were printed in Full Sheet Label size on Worldlabel standard white matte paper, and the design was then cut off.
You'll adore these festive tags and labels from World Label in the watercolor and glitter style. This year, give your gifts an additional unique touch with circle labels like these or gift tag labels. Happy holidays and have fun!
---
5. Simple Christmas Gift Tags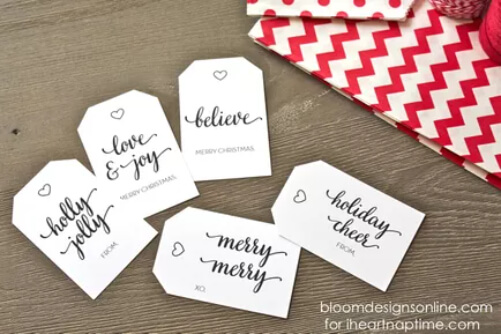 These free printable Christmas gift tags were created by Bloom Designs. They come in black and white and red and white. "Love & Joy," "Believe," "Holly Jolly," "Merry Merry," and "Holiday Cheer" are among the Christmas tags.
You can print on sturdy card stock using any printer. Any color of paper can be used to print these tags. You can punch a hole in the tags, then attach them to your gift.
---
6. Red Vintage Truck Christmas Gift Tags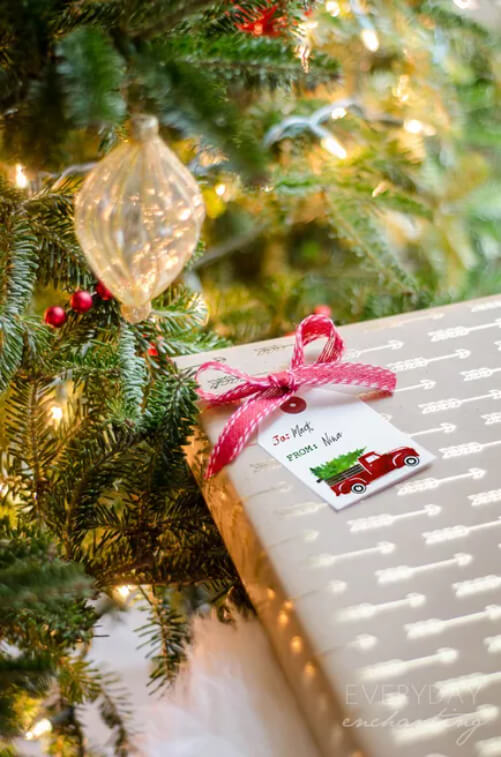 These free, printable Christmas gift tags and labels feature a drawing of the well-known scene of a Christmas tree on a truck and were created by Nina Hendrick. You can easily find the perfect gift tag because these Christmas gift tags are all free to print and may be printed out one per page. Please note that these printables are only intended for private use.
---
7. Merry and Bright Printable Christmas Gift Tags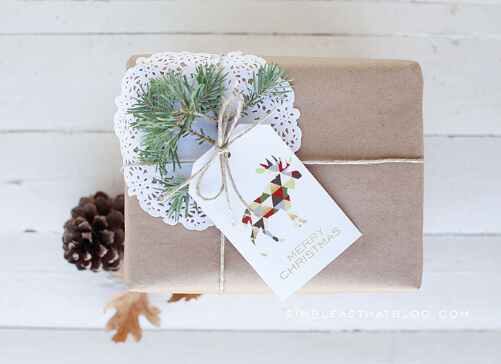 With these free Merry and Bright printable gift tags, you can give your holiday present wrapping a unique touch and a dash of modern flair. The white backdrop of these tags makes them ideal for printing at home and fantastic for adding a quick personalized remark on the back!
These contemporary Christmas gift tags from Simple As That include moose and trees made of geometric shapes in red, green, and gold.
---
8. Pretty Printable Gift Tags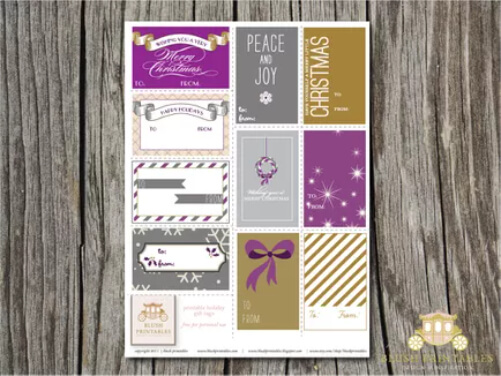 The wonderful Jen of Blush Printables created these gift tags. These gorgeously crafted printable Christmas tags come in gold, gray, and violet hues. You can guarantee that I'll be putting some of these printable Christmas gift tags on my gifts this year since I adore this unusual color combination.
These can be directly printed on sticker paper or card stock, after which you need only cut along the dotted lines and wrap as much as you like.
---
9. Watercolor Holiday Wreath Gift Tags

The Postman's Knock has made some gorgeous watercolor Christmas tags that depict a wreath in the lovely colors of green and red.
You can print off this free gift tag template if you like the idea of this Christmas watercolor wreath but don't have the time to make it. You can print, cut out, and personalize nine 2.5″ holiday wreaths using the pattern.
---
10. Cute Christmas Gift Tags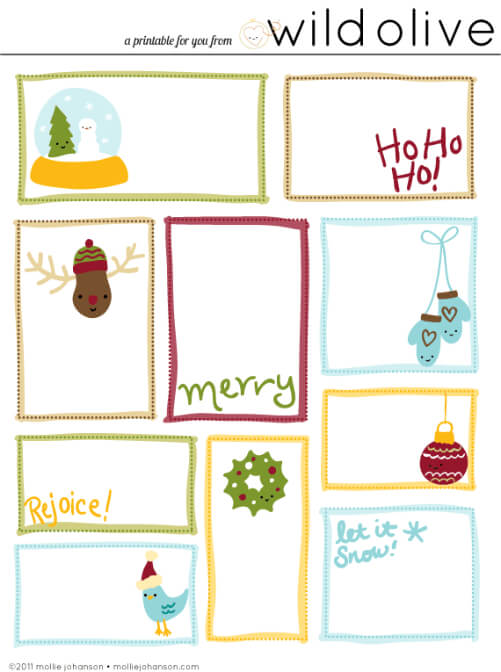 There will be a lot of gift wrapping to do because December will be here so quickly. Or, if you're anything like me, you might have already wrapped the majority of the gifts.
Small graphics on these clean, contemporary Christmas gift tags from Wild Olive give you plenty of space to write. These printable Christmas gift tags have illustrations of mittens, birds, wreaths, and snow globes,…
---
11. Christmas Gift Tags from The Black Apple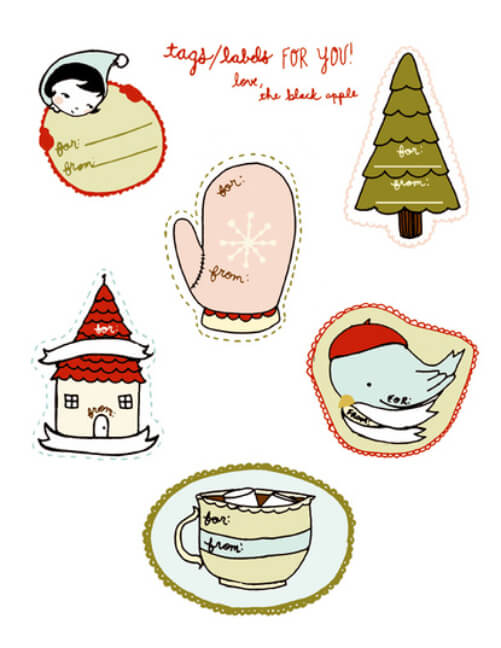 Printable gift tags are incredibly useful and simple to send to you guys via the internet. The Black Apple has another gorgeous collection of free, printable Christmas gift tags.
They are an 8.5″ x 11″ sheet that may be hole-punched, printed on cardstock, and then strung onto your packages or printed on a sticker or label paper and trimmed. These gift tags include illustrations of a bird, mitten, house, Christmas tree, cocoa, and a young girl.
---
12. Wintry Holiday Tags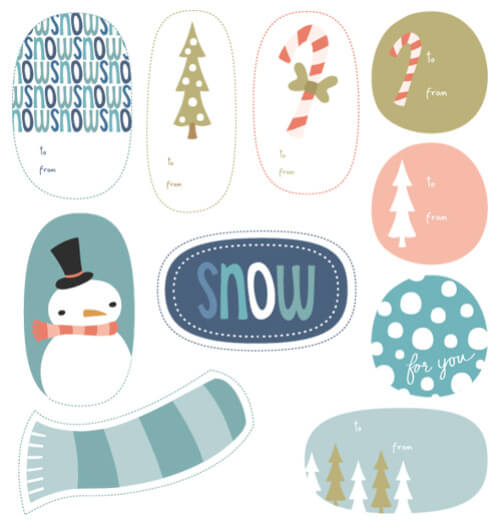 Use this fresh batch of holiday gift tags each year. The majority of the colors used in this set, which comprises ten different tag designs, are icy blues, teal, pink, and red. Print them onto sticker paper for beautiful holiday labels, or print them onto cardstock and punch a hole for twine or thread.
For this file to be downloaded and used, you need Adobe Acrobat Reader. You may get the reader for nothing here.
---
13. Mitten and Stocking Clip-Art Tags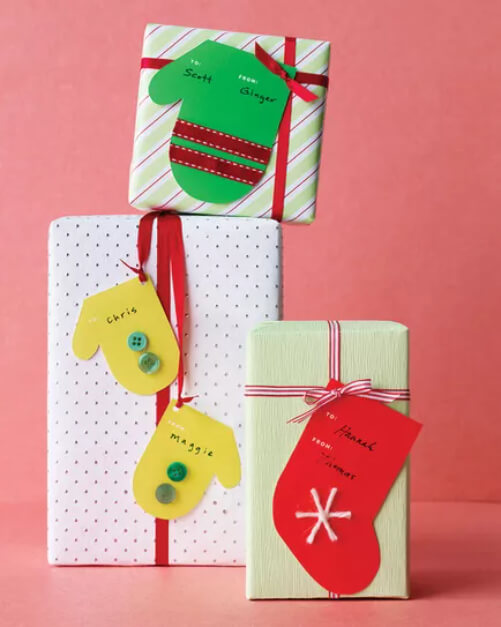 With this collection of free printable Christmas gift tags from Martha Stewart, you'll have mittens and stockings to top your presents right away. The smallest mittens can be personalized by gluing thin ribbon strips to them.
You can also offer your recipients a pair of mittens with glued-on button embellishments, and two hands (one with "to," the other with "from," and so on). Then, sock it to 'em with some lovely stocking additions.
---
14. Red and Teal Holiday Gift Tags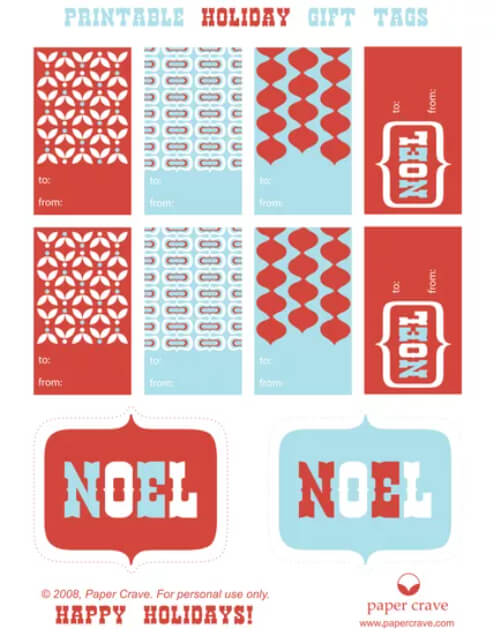 For those of you who still require gift tags for all of your beautiful holiday items, here are numerous printable holiday gift tags. Your gift will certainly stand out with the help of these Paper Crave Christmas gift tags in red and teal. These can also be printed in light and dark blue, fuchsia and lime, and other colors.
Simply print them on cardstock or another type of paper, cut them out, and attach them to your gifts.
---
15. Blue and Red Christmas Gift Tags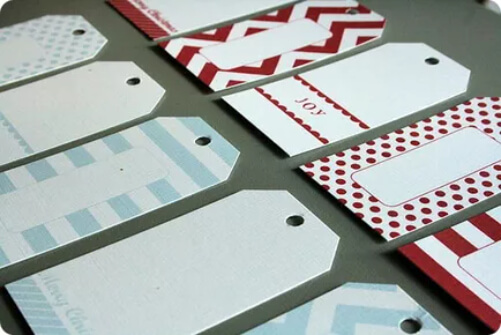 These holiday treats are the ideal finishing touch for your presents. These free Christmas gift tags are also available in the black/taupe/green color scheme in addition to the traditional Christmas red and icy blue. You will receive a sheet of colorful Christmas gift tags for printing with each download. You are welcome to print it as many times as necessary to add flair to your holiday gift presentations.
---
16. Christmas Pal Tags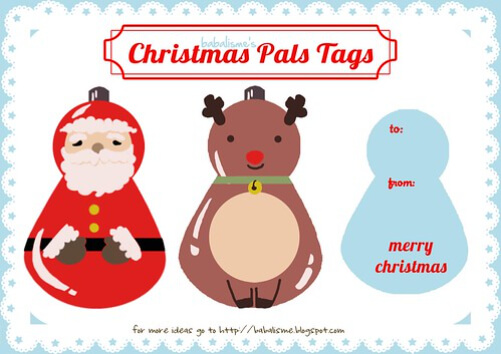 Vintage tin Christmas ornaments served as an inspiration for the tags. These adorable, printable gift tags are totally free! They have a silhouette, Rudolph, and Santa. It would be quite tempting to incorporate a snowman into the design.
These Christmas tags might also be used as place cards, decorations, or garland. When the PDF file is opened, it is simple to customize these tags with the names of the sender and recipient.
---
17. Holiday Gift Cards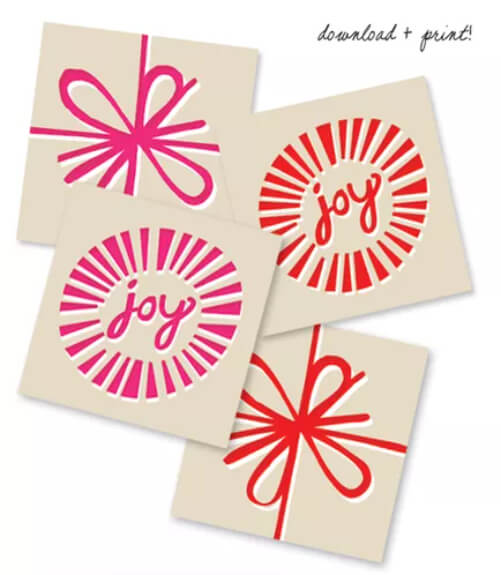 One of the best free printable Christmas gift tags, Susy has created these beautiful Christmas gift cards that only need to be printed, folded, and personalized. So simple! Here, bows and joy are the two designs that can be produced.
They're just for you, not for copying, selling, or profiteering, etc. A brief reminder: once they are all cut and folded, simply poke a little hole in the left corner to tie them on.
---
18. Christmas Wreath Tags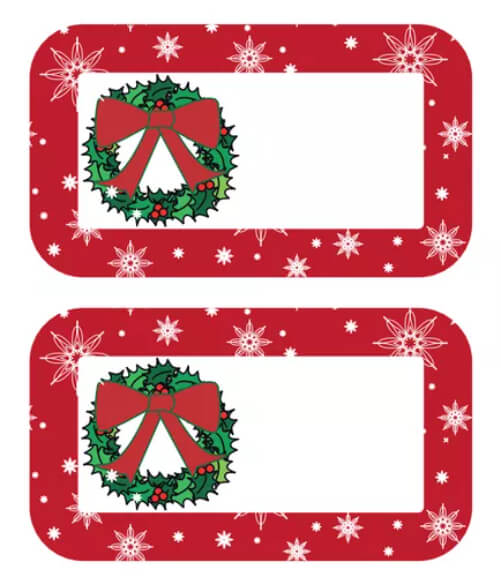 First of all, happy holidays to everyone. Is it really time for Christmas already? These classic Christmas gift tags are downloadable and print four on a sheet. There are matching printable note cards, labels, and envelopes in addition to these free gift tags.
You are welcome to use the PDFs for your individual festive projects similar to completing all the last-minute gifts you need to organize for the big day!
---
19. Silhouette Friendly Gift Tags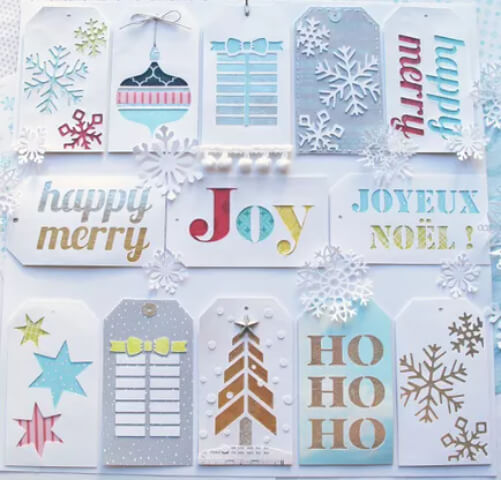 You'll adore this free cut file made by Mel Stampz if you own a Silhouette cutting device. A tree, an ornament, a gift, snowflakes, stars, and more are among the patterns, which come in 8 various variations.
This digital work is provided for free, although it is primarily intended for individual usage or handcrafted goods for sale. Please refrain from using these to create digital sheets, kits, or other goods that will be mass produced.
---
20. Funny Christmas Gift Tags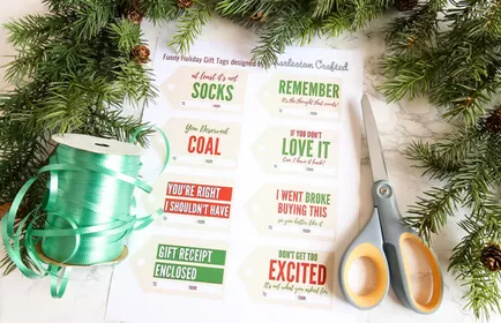 Choosing wrapping paper, bows, and toppers that go together, make the gift stand out, and make the receiver feel special is so much fun. What about some funny gift tags that everyone will be laughing at when they see what's under the tree?
As you fill up these amusing Christmas gift tags and your loved ones open them, you'll both be chuckling.To receive this free printable in your mailbox, you must enter your email.
---
21. Black & White Modern Christmas Gift Tags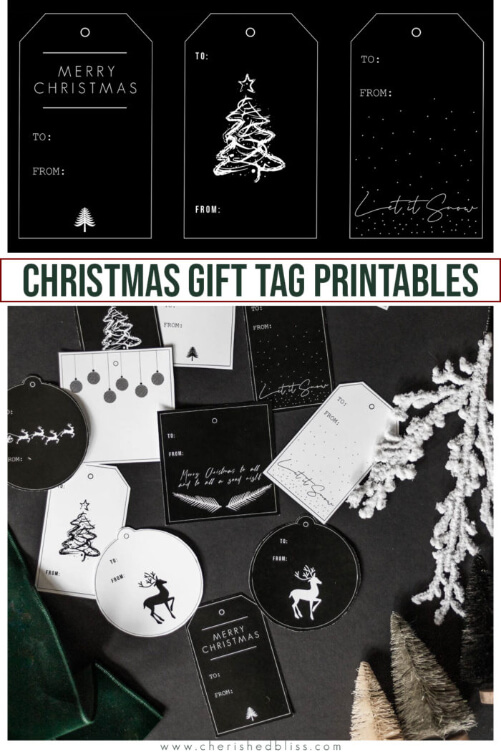 These contemporary black and white Christmas gift tags could be exactly what you need. There are a total of 7 different designs, and you can print them on either a white or black background. You have access to both the black and white versions of these simple free Christmas gift tags. Simply write on the tags with a lovely gel pen if you use black. 
---
22. Woodland Printable Gift Tags – Free printable Christmas gift tags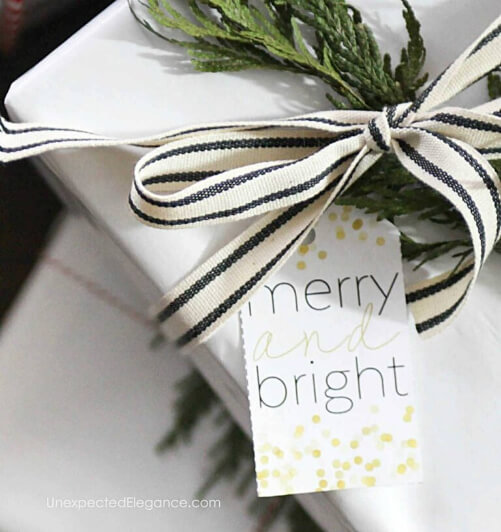 I hope you like these country-inspired Christmas gift tags! A single hole punch, a color printer, a piece of white card stock paper, and some ribbon or string are all you need.
The file comes with a natural kraft background already in place. They are ready for you to add some rustic brightness to all of your special goods and parcels with only a little printing, cutting, and hole-punching.
---
23. CUTE AND MODERN CHRISTMAS TAG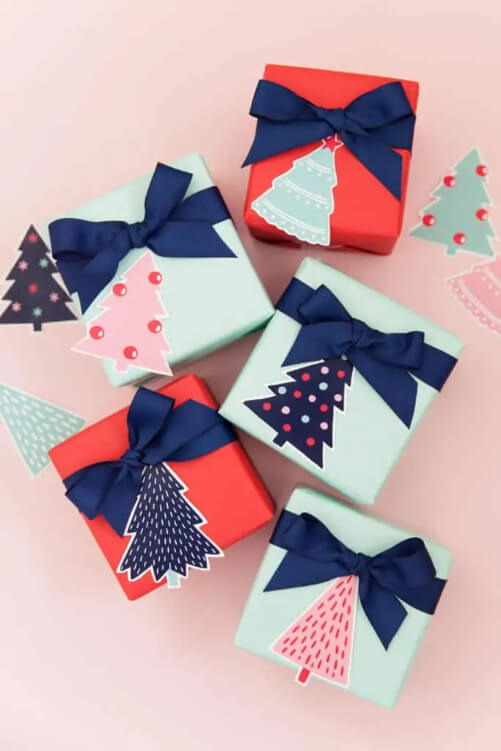 We use a ton of free printable Christmas gift tags around Christmas because each and every gift requires one. So why not design adorable tags? These adorable and original Christmas tree tags are free, which is the greatest part. The Tell Love and Party free printable PDF Christmas tag template is simple to use, and they offer some great advice on how to make them appear really professional.
---
24. Hand-lettered printable Christmas tags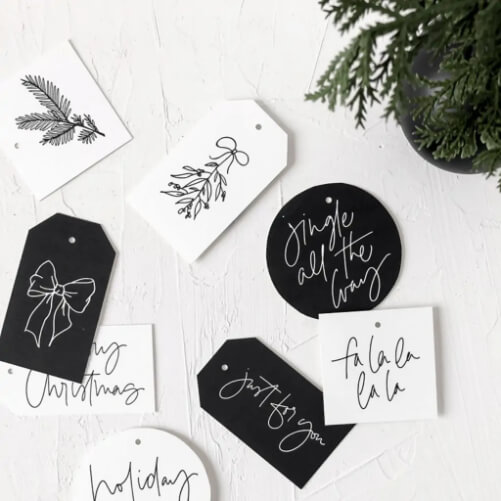 Why pay more for store-bought tags when you can personalize your Christmas presents this year? Free printable Christmas tags with handwriting are the best. With these 8 free printable holiday gift tags in 5 distinct color variations, up your present-wrapping game.
If you have a minimalist style, these are a terrific option because they look elegant and contemporary. Download, print, cut out, and attach the document. It's that simple!
---
25. Classy free Christmas gift tags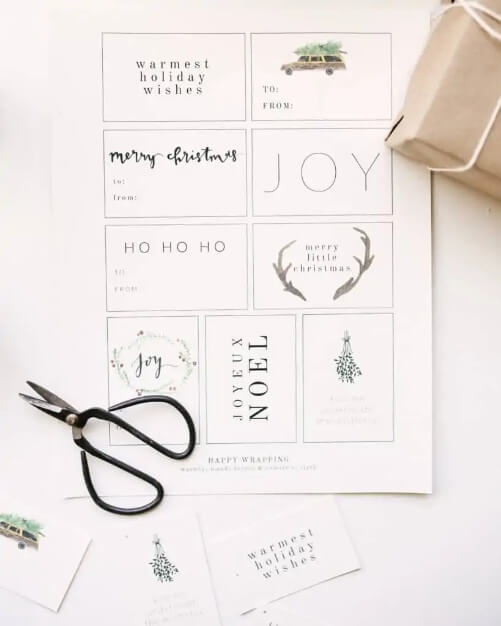 My favorite month of the year is December. These hand-painted patterns are lovely and modern. You can quickly and easily create elegant free Christmas gift tags by printing the pdf and cutting these out. Download the FREE PRINTABLE right now. Merry Christmas and happy wrapping! These tags and labels are the ideal way to add a personal touch because you can add names before printing.
---
26. 1 Big Santa Tag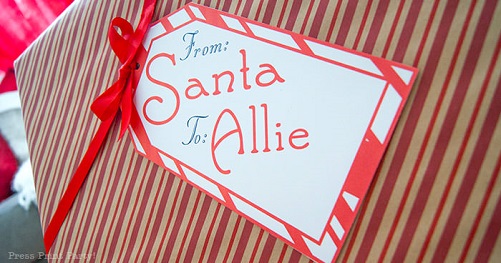 Looking for funny printable christmas gift tags, this one is the best choice. The cute tags are great for anyone! This is mine and I just love the font! Because you can edit the text before printing, it makes creating a gift card just as easy.
---
27. 9 Woodland Christmas Gift Tags & Labels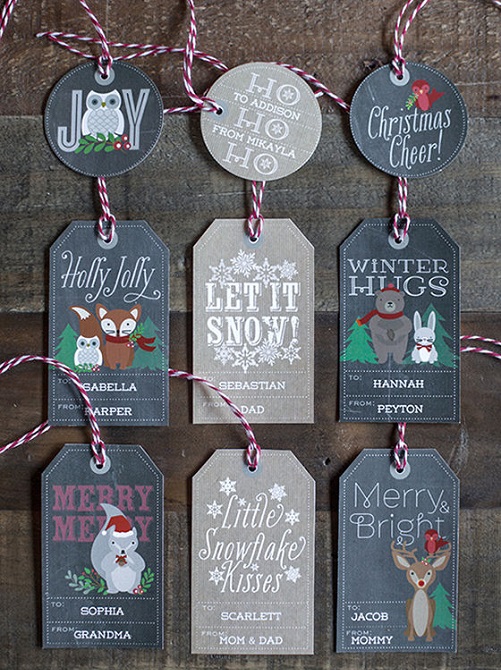 This is a awesome tag for that special someone! On this Christmas, make something thoughtful to your loved ones. Download this free printable gift tags and make it now.
*** You May Concern:
Conclusion
It's always great when Christmas presents appear joyful and cheerful. When they look that amazing for little to no additional cost, it's even better. You can easily upgrade your gifts without spending a fortune or spending a lot of effort by using these free printable Christmas gift tags.
So many choices! All of them are attractive and simple to use. Find the Christmas tag templates that appeal to you and print them.