Hunting for cute Christmas cat puns captions to add social media feed, a card, or a message? giftOMG will help you now!
Cats are tricky animals! One minute they're sweet, the next minute they're riotous. Maybe in a peaceful cuddle, they'll roll over, smack you in the face, and sprint off. They certainly have energy – and many people love it.
Whether napping on the lawn, sitting by the window, or when they're mad, cats are photogenic: This is a fact. You don't need to have advanced photography skills to get a great photo of your fluffiest friend. They handle cuteness; you just point and click and click, click. They are so cute in any situation, making it easy to snap adorable kitten pics. So I'm SURE you need some Christmas cat puns captions.
*** Please refer to: 100+ Cat Puns Jokes That Are Purr-Fectly Funny
Christmas Cat Puns Captions For Every Need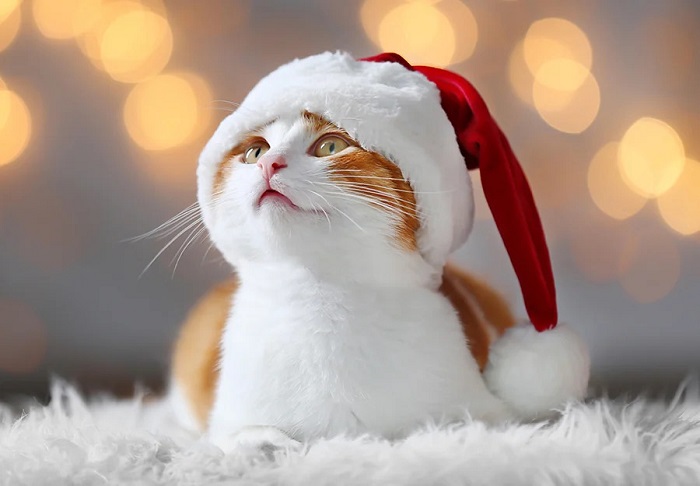 First, take pictures of your sleepy kitten snarling or your crazy cat performing aerial stunts. Who can resist something so cute or funny? After you've captured a great photo, it's time to caption it. Here are the best Christmas cat puns captions to use when showing off your favorite kitty!
Frosty the Snowman: Fur-osty the Snowman
All you need is love and a cat.
Purring myself up by the floofstraps.
Merry Christmas: Meow-ry Christmas
Meow-ry Christmas from me and [insert cat name]!
Not all angels have wings. Sometimes they have whiskers.
Thanks fur the memories.
The road to my heart is paved with paw prints.
Enjoy a pawsh little Christmas with my favorite cat.
All about that pawsitive mental attitude.
Winter wonderland: Whisker Wonderland
Mistletoe: Meow-stle toe.
I cat believe it's Christmas already… meow-ry Christmas, everyone!
Frosty the Snowman: Fur-osty the Snowman.
Love is a four-legged word.
I want to spend all nine lives together.
Christmas Tales: Christmas Tails
Anything is paws-ible with a cat by your side.
I love you meow and furever.
Cats are not our whole lives, but they make our lives whole.
*** You can see more interesting annotations on all areas HERE
Christmas Cat Puns for Instagram Captions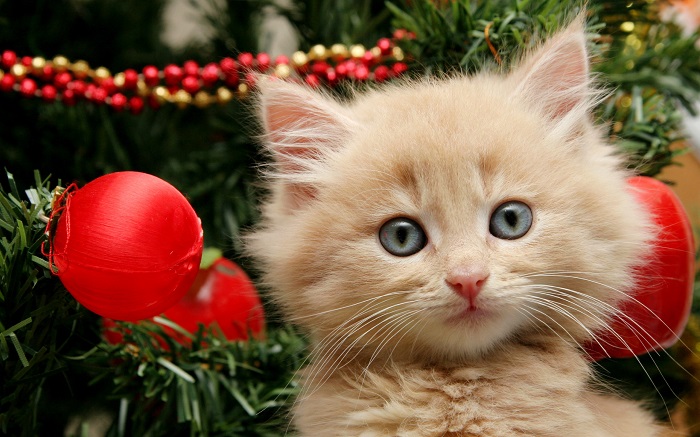 Cat lovers and cat puns go hand in hand like cats and boxes! If you're looking for cat Christmas puns inspiration to post on Instagram, check out our list below. They are not only perfect for posting on Instagram, but you can post on all other platforms.
Hydroxide, Hydroxie, Hydroxie! Merry Christmas!
I love cats. They're kind of…my thing
Meow-ry Christmas from me and [insert cat name]!
We wish you a meow-ry Christmas and a happy new year!
It's the meow-st wonderful time of the y-ear!
If there are no cats in heaven, I don't want to go.
Chestnuts roasting on an open fire… Jack Fur-ost cat-nipping at your nose…
All I want fur Christmas is you……. to stop ruining all my furniture and scratching up my favorite posessions.
I wish I could tell you how much I love Christmas time with this cat right here… but anything I say would simply be SCRATCHING the surface 😉
Hope your Christmas is pawsotively perfect.
I love you more than you love catnip.
Christmas with this one is always a Cat-astrophe… wishing you all the best on this chaotic day!
Don't fur-get to buy more catnip.
You cannot look at a sleeping cat and feel tense.
I cat believe it's Christmas already… meow-ry Christmas, everyone!
Wishing joy, peace, and Catmas cheer!
Always a purr-fect Christmas with this one!
This one's on the naughty list this year, so no purr-esents…
Funny Christmas Cat Puns Captions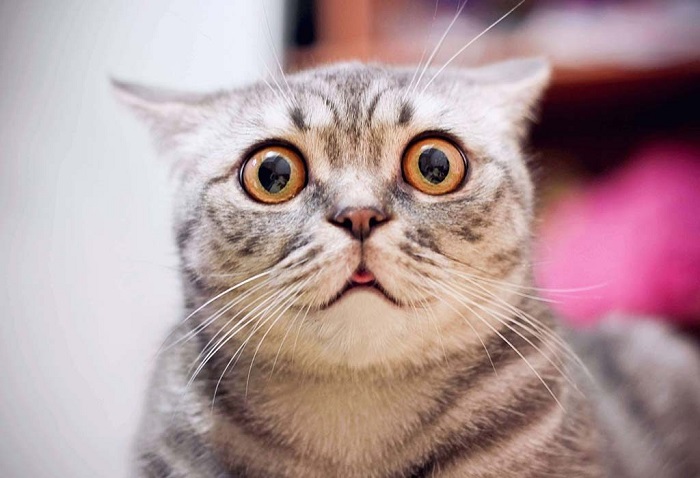 If you want to put your humor into your post, why not try these funny cat puns Christmas? Your followers and furry friend will surely laugh when seeng your post.
Looking good, feline better.
It's beginning to look a lot like Catmas.
Having a Blue Christmas is im-paw-ssible with this kitty on my side! Wishing you all a meow-ry Christmas!
I have a cattitude problem.
You're the cat's meow.
Thanks fur the Christmas memories
Christmas without you would be a Cat-astrophe.
Feline pretty good this Christmas… wishing you all the best day!
It's the purrfect time for a nap.
Why did the cat give everyone gag gifts for Christmas? He was just Kitten around.
The more people I meet, the more I love my cat.
Cat hair, don't care.
Purr-haps we can cuddle later
Yes, I am a crazy cat lady. What's your point?
The cat is in charge, I just pay the rent.
So fur-tunate to have this one by my side on Christmas day… Meow-ry Catmas!!!
Sorry I'm late. My cat was sitting on me.
All visitors must be approved by the cat.
The cats are in charge. I just live here
She came, she purred, she conquered.
Are you kitten me?
Hide your stockings, and say your prayers cause Santa Claws is coming tonight!
Santa Claws is coming to town.
Happiness is falling asleep to the sound of your cat purring
Cat Quotes for Instagram Captions For Your Cat Photos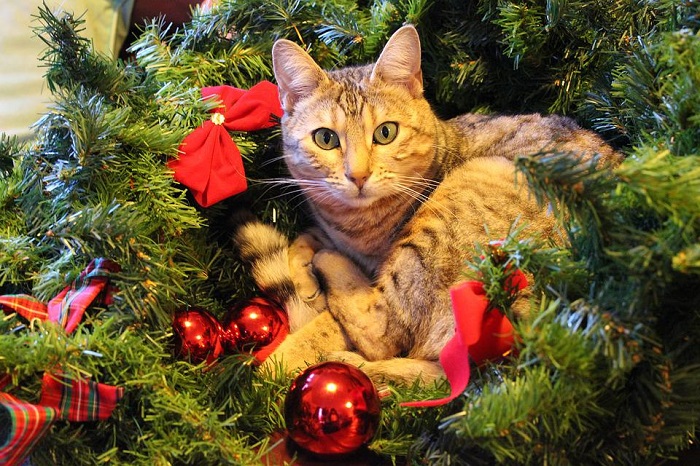 What greater gift than the love of a cat. — Charles Dickens
No meowtain is high enough to keep me away from you.
There are two means of refuge from the miseries of life: music and cats.— Albert Schweitzer
A cat sleeping on my lap is my definition of heaven.
It is impossible to keep a straight face in the presence of one or more kittens.— Cynthia E. Varnado
Deep inside, we're all guided by the same impulses. Cats live by those impulses proudly.
No home is complete without the pitter patter of kitty feet.— Unknown
As every cat owner knows, nobody owns a cat. — Ellen Perry Berkeley
Admiration, endless sleep, and company by their own choice—cats do have everything!
If cats could talk, they wouldn't. — Nan Porter
They say cats picks you. This one always lets me know that I'm its human.
There are few things in life more heartwarming than to be welcomed by a cat. — Tay Hohoff
People who don't like cats were probably mice in an earlier life." — Unknown
No meowtain is high enough to keep me away from you.
*** Love Christmas, love more Christmas puns here:
Conclusion
Meow, meow, meow! Now, cats are ruling the world? That said, you should start spreading the word that you are a loyal cat servant. And be sure to make it snappy, the best way is to share your cat pictures with the world! Here, take this collection of Christmas cat puns captions with you. I'm sure it will help you achieve faster success in your noble quest.