Do you have someone about to turn 16 and want to find sweet 16th birthday caption ideas for them? Or you are the main character of that day. Either way, you've come to the right place. We've compiled a list of the best captions for your 16th birthday.
A birthday is the anniversary of a person's birth. While every birthday is an important milestone, we all know that turning 16 is one of the most special. To remember this day, the best way is to share interesting photos on social media! And when you have a bunch of great photos to show off, you'll need the best captions to go with them.
Scroll down to get one(s) from the list of 16th birthday caption ideas!
Funny 16th Birthday Caption Ideas For Yourself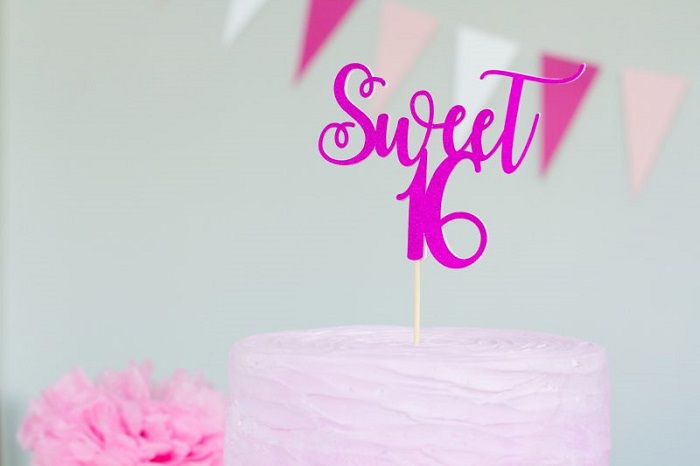 Celebrate this special day with lots of laughs by choosing one of these funny 16th birthday caption ideas for your photos. Your followers and loved ones will love to see you celebrating your birthday with joy!
I am another year older, but I certainly don't feel any wiser!
I may be celebrating another year older, but at least I can still post a picture without a filter!
You've had me as a gift for 16 years! Cheers to many more years, which is my gift to all of you!
Of course, I don't know how to act my age. I've never been this age before!
My mouth would look a lot better if there were birthday cake in it, don't you think?
I'm here to stuff my face with cake and party until the clock hits midnight!
I'm so amazing, the state gave me my own certificate proving my birth!
Making my years count instead of counting the years.
I hope the birthday cake is as sweet as me.
I'm so awesome, when I was born, I was given a certificate.
Well at least I am not as old as I will be next year.
The only things getting LIT today are the candles on my cake!
Another year older, another year wiser? I guess we'll see!
Life is too short to not celebrate every chance you have! Happy Birthday to me.
I've decided you're not old, you're 25 plus shipping and handling.
16th Birthday Captions for Daughter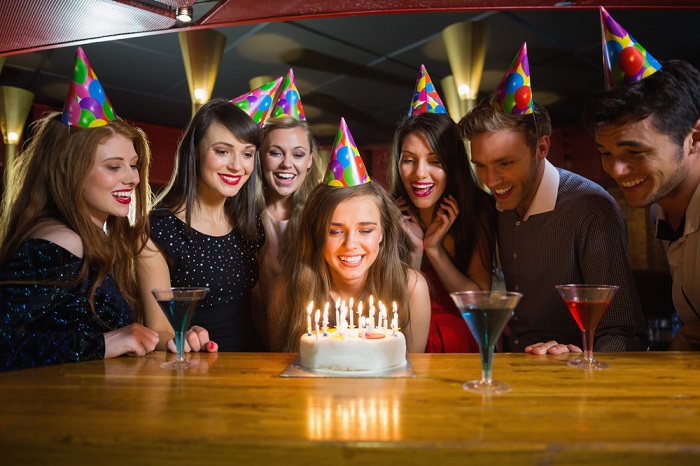 Birthdays are a great time to share with family and friends. So whether you're posting a cute reflection or a family celebration photo, here are some hilarious 16th birthday caption ideas.
On this day, a queen was born.
Enjoy your last year before you're legally an adult! It comes with all of the responsibility and none of the fun!
This day is about you, this time is about you and you should be all about you. Do what is best for you. Happy 16th birthday dearie, I love you.
The most beautiful flower of the world does not belong to an exotic tropical forest or remote grassland… it belongs to family and it is my daughter. Happy 16 birthday.
Say hello to the world's latest 16 year old.
Happy Birthday to a young woman who is wise beyond her years and only grows more beautiful every day. Happy sweet 16!
Woke up a little older… but not wiser.
Just like wine, better with time. #16
Wouldn't have made it to 16 without these beauties. Here's to another lap around the sun!
There's nothing sweeter than a sweet girl like you having her sweet memories created on her sweet sixteenth birthday. Rock it, girl.
16th Birthday Caption Ideas for Son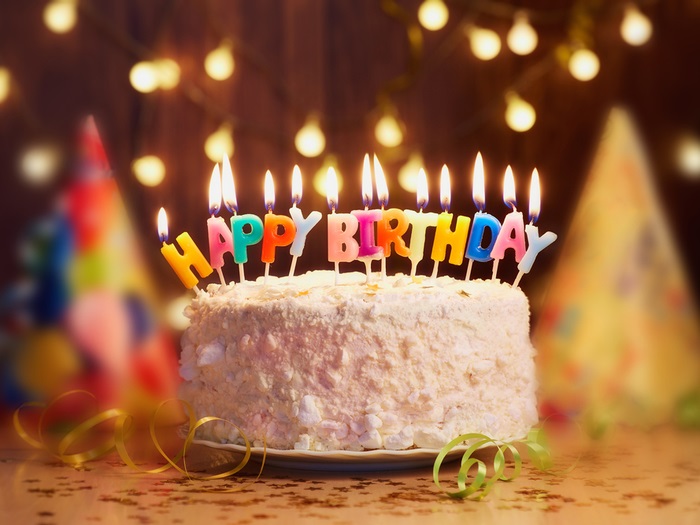 Need some caption for 16th birthday to celebrate this special day with your son? No matter if you want to commemorate that bday party or that special dinner, check out these fun caption ideas for his birthday 16th.
As you enter this new phase in your life, wishing you safety on the roads. Congratulations on reaching the driving age and a happy perfect 16th birthday!
Happy Sweet 16! And no, you're not getting a car.
This is the one time you get to be 16. Come out of that shell and let's get the party started!
Hip-hip-hooray! It's your big day! May your 16th year be your best year yet! I know it will be a tremendous success! Happy Sweet 16th Birthday!
Happy Birthday to someone who puts the "sweet" in Sweet 16.
Every day is ordinary but today is your special day and wishing you on this birthday to make it even more special.
You have grown into being quite a fine young man. I couldn't be more proud of you. May your 16th birthday be memorable and wonderful.
Don't grow up, it's a trap!
Do not count the candles; count the number of days you have lived. Wishing you a very happy birthday.
Everybody has birthdays. You just wear yours better than most!
My wish for you today is simple, have the very best day and make the absolute most of your special day! You only turn 16 once so get out there and enjoy the heck out of it!
16th Birthday Captions for Best Friend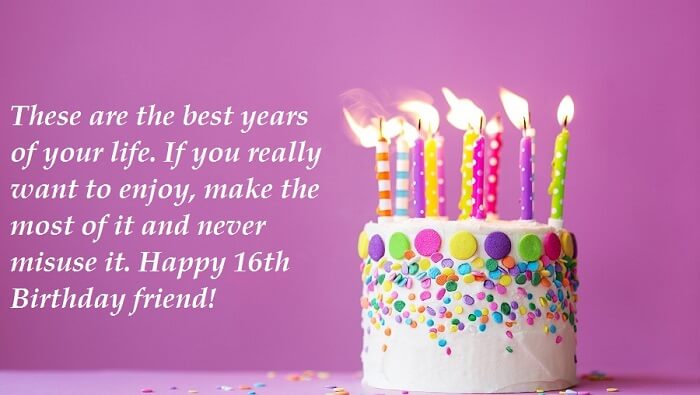 If you want to say something special with your best friend's 16 birthday, these captions for 16th birthday will help:
What ever happened to birthday parties with pinatas and games and ridiculous amounts of sweets and cake? I'm bringing it back, baby!
Everyone keeps calm it's my best friend birthday.
Attention! Attention! It is my boyfriend's birthday.
I am so excited for your birthday that I want to hug you in this picture.
You're growing more beautiful each day. May the years to come bring you more favor on every side.
A simple celebration, a gathering of friends, a joy that never ends.
Cease the day, dear. It's special because a wonderful young lady was birthed 16 years ago. Glad you're in my life.
You've entered age 16 with so much grace and perfection. Bask in the freedom and fun the year brings.
Happy Birthday to the sweetest 16-year old I know! You have grown into such a beautiful young woman, inside and out!
Happy Sweet 16! You've grown up so fast – let's hope you don't drive that way!
Happy birthday to my best friend with whom I have spent my best years. Here are too many more years to come!
From now on, you are now sixteen years exist in this world. May you get all the greatest things in life. Happy sweet 16th birthday!
Happy 16th Birthday Quotes
Looking for the perfect words to celebrate someone's 16th birthday? Browse our collection of heartwarming and inspiring 16th birthday quotes. From sweet and sentimental to fun and playful, find the perfect message to make their day extra special. Discover our list of 16th birthday caption ideas now!
"Wishing you a sweet 16th birthday filled with love, laughter, and endless memories. Enjoy every moment!"
"You only turn 16 once, so make this birthday a special one! Here's to a day full of happiness and joy."
"As you blow out the candles on your 16th birthday cake, may all your wishes come true. Happy birthday!"
"Welcome to your sweet 16! May your day be as sweet as you are and may the year ahead be filled with many blessings."
"Today marks a very special milestone in your life. Happy 16th birthday! May your day be as amazing as you are."
"On your 16th birthday, may you be surrounded by love, happiness, and good times. Have a wonderful day!"
"Happy 16th birthday! May this year bring you new adventures, new friendships, and new opportunities to grow and succeed."
"May your 16th birthday be a day to remember and cherish forever. You deserve all the love and happiness in the world!"
"You're not a kid anymore, but you're not quite an adult either. Enjoy your 16th birthday and all the exciting things that come with being a teenager!"
"Happy 16th birthday to someone who makes the world a better place just by being in it. May your day be as special as you are!"
*** Related Post: 70+ Funny 17th Birthday Caption Ideas To Impress Anyone
Final Words
Guys, these are the curated list of best and funny sweet 16th birthday caption ideas for you. We hope with the suggestions below, you'll find the perfect 16th birthday caption you've been looking for. Share these captions with your friends and followers on social media if you see useful.