Friendsgiving is approaching, and whether you're celebrating with a large gathering or with a small group of your closest friends, there's one thing you'll definitely need: some fun Friendsgiving captions.
Aside from Christmas, Thanksgiving is one of the best holidays of the year — and certainly one of the most Instagram-worthy. This is your chance to be grateful to your loved ones. While Thanksgiving Day is usually about spending time with family, Friendsgiving is about spending time with your best friends. Even if you can't all be at the same table this year, you can celebrate your friendship with some thoughtful and funny Friendsgiving captions.
So, if you're looking for unique and interesting captions, let giftOMG help you. We've done all the brainstorming for you so you can focus on the work that matters most. All that's left for you is: eat, drink, and give thanks.
Funny Friendsgiving Instagram Captions To Shout Out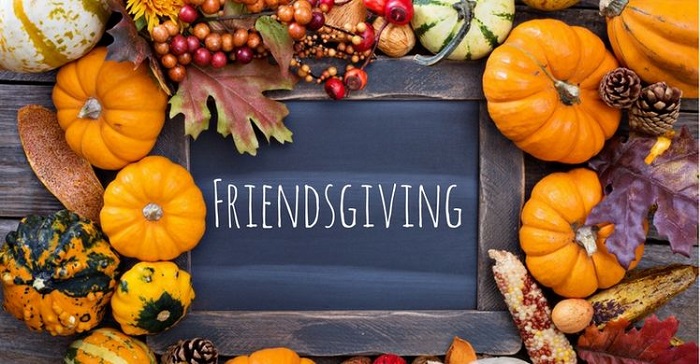 While you're taking a picture with your best friend, use any of these Friendsgiving captions. Celebrate this friendship day with something fun. Your BFF and your loved ones will laugh when seeing your post.
There's nobody else I'd rather eat 10 pounds of potatoes with. Grateful for these amazing friends… happy Friendsgiving!
Tonight on the Friendsgiving agenda: much ado about Stuffing.
I promise I didn't poison my friends.
I can't button my pants, but it was worth it.
Gobble 'til you wobble.
Did you catch us in the background of the Friends reunion?
Getting basted with my faves on Friendsgiving!
We offered the turkey some dinner, but he was already stuffed.
You miss 100 percent of the leftovers you don't take.
Thankful for elastic waistbands.
These are the besties I'll want to take with me to the grav…y. Happy Friendsgiving everyone!
Beauties and the Feast – coming to an Instagram Stories near you this Thanksgiving.
It's remarkable how long we've tolerated each other.
Life is gourd with these friends by my side…
We may not have it all together, but together we have it all.
No kitchens were harmed in the making of this 'gram.
You're looking at the dream cast for the Feast and the Furious: Friendsgiving Drift.
Who let us plan a whole holiday unsupervised?
Thankful for friends who love me for who I Yam. Best Friendsgiving ever!
These goofballs hold the tur-KEY to my heart. Happy Friendsgiving!
*** See also: You can see many interesting annotations on all areas at Gift OMG
Cute Thanksgiving Instagram Captions For Turkey Day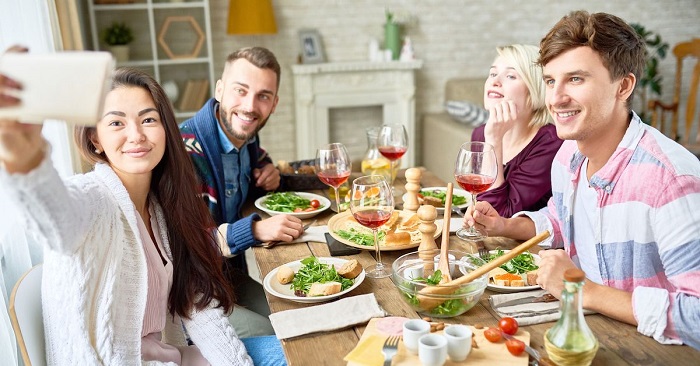 Friends become family when we are in trouble. They will also be with us when we are happy or when we want to share our sadness. To show your appreciation for your BFF this year, check out these awesome Friendsgiving captions.
I can't believe how lucky I got with my Friendsgiving dinner dates tonight. Feeling berry grateful!
While you party with your friends, we'll broadcast a live football match.
It's the small things in life that are important—except when it comes to Thanksgiving food.
Beyond thank-FULL and thankful to have these amazing friends in my life. Friendsgiving has never tasted (or looked) better.
While you party with your friends, we'll broadcast a live football match.
Full stomachs, and even fuller hearts! So grateful for friends who made this the best Friendsgiving yet.
For your friends, pies. Not lies.
Yes, we obviously vetted these outfits beforehand.
You'll always be my gravy
Apple pies, pumpkin pies, and friends come with good vibes.
Friends are the family you choose. So thankful for the amazing company tonight! Happy Friendsgiving, everyone.
Definitely had the best company for Friendsgiving tonight… what do you thank?
Everyone in your crowd will have gained 5 pounds tomorrow.
Friendsgiving isn't a competition, but if it was, we'd win.
Delicious food, love of friends, and hot pumpkin spice latte.
Baste day ever with my besties. Happy Friendsgiving everyone!
Your crew gives you thanks, but you do the giving.
Sorry, can't think of a good caption, I'm too full.
Friendsgiving Quotes To Post On Your Feed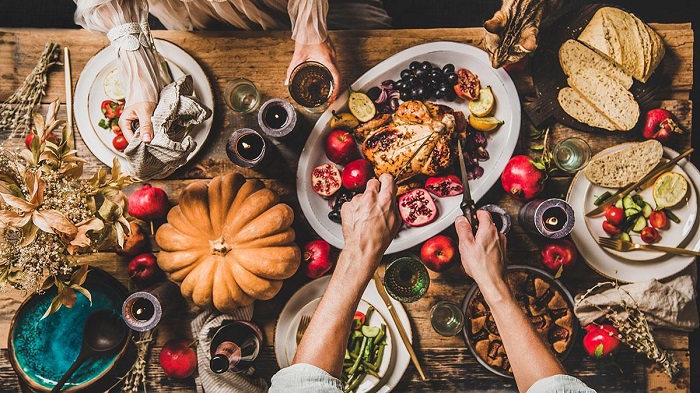 You can use these Friendsgiving quotes spoken or written by famous people. Some are funny, some are witty, and some are emotional. Let's take a look!
"Let us be grateful to the people who make us happy; they are the charming gardeners who make our souls blossom."- Marcel Proust
"True friends are always together in spirit." — LM Montgomery
"It tastes like feet!" — Ross Geller, Friends
"Ultimately the bond of all companionship, whether in marriage or in friendship, is conversation."- Oscar Wilde
"It isn't so much what's on the table that matters, as who on the chairs." — W.S. Gilbert
"A true friend is someone who thinks that you are a good egg even though he knows that you are slightly cracked."- Bernard Meltzer
"A real friend is one who walks in when the rest of the world walks out."- Walter Winchell
"No matter how tired I am, I get dinner at least once a week with my girlfriends. Or have a sleepover. Otherwise, my life is just all work." — Jennifer Lawrence
"Truly great friends are hard to find, difficult to leave, and impossible to forget." – G. Randalf
"In the cookie of life, friends are chocolate chips." – Salman Rushdie
"Life isn't about having a thousand friends. It's about finding the very few right ones you need." — AR Asher
"I guess, what I'm trying to say is, I'm very thankful that all your Thanksgivings sucked." — Chandler Bing, Friends
"I can't cook a Thanksgiving dinner. All I can make is cold cereal and maybe toast." —A Charlie Brown Thanksgiving
"I wasn't supposed to put beef in the trifle!" —Rachel Green, Friends
"It's not too much food. This is what we've been training for our whole lives. This is our destiny, this is our finest hour." —Lorelai Gilmore, Gilmore Girls
"Don't you put words in people's mouths. You put turkey in people's mouths." — Joey Tribbiani, Friends
Turkey Captions That'll Make You Gobble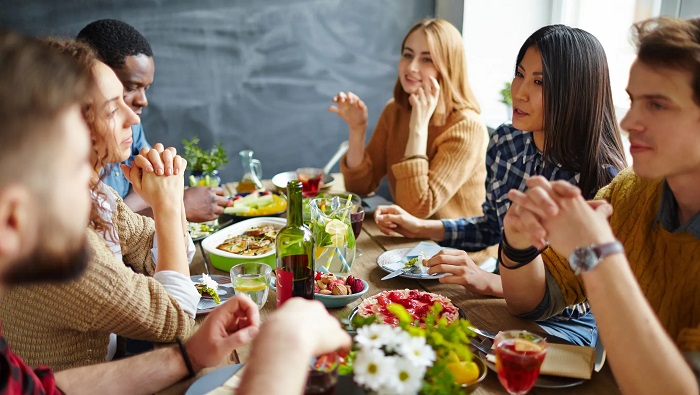 Turkey is a symbol of Thanksgiving food and this holiday will not be perfect without it. So, it's time to add this bird deserves on your list of Friendsgiving captions.
I know they call it Friendsgiving… so which friend's giving me a ride home after I pass out from all this turkey?
Thanksgiving is a great day for everyone—except the turkey.
Mr. Bond, the turkey is not enough.
Conquering leg day today with my partners in crime. Turkey legs count, right?
It's a sin not to have mashed potato with your turkey.
Tur the key to a great friendship.
Thankful to have these silly turkeys in my life! Thank you all for the laughs, the hugs, the endless support and…. the zero judgment of my calorie intake!
We serve turkey big enough for your crew!
Don't put words into your friend's mouth. Put a piece of perfectly roasted turkey.
May this Thanksgiving grant us a fat turkey.
Happiness is really a perfectly roasted turkey.
Never refuse turkey. You'll miss half of your life!
It's almost impossible to celebrate Friendsgiving without a turkey. But beers will do.
Just keep eating. Just keep eating.
All gobble, no squabble.
No kitchens were harmed in the making of this 'gram.
See more:
Final Words
Friendsgiving is an interesting offshoot of the traditional Thanksgiving holiday. And this day wouldn't be complete without best friends. How wonderful it is to be able to celebrate together with dinner around Thanksgiving! Above are many types of Friendsgiving captions and quotes that you can use to celebrate Friendship Day on social networking sites like Instagram. Use them and celebrate a memorable holiday. Happy Friendsgiving day!