Thanksgiving, one of the most important holidays of the year in the United States, Canada, Grenada, Saint Lucia, and Liberia, is the time for family and friends to share a cozy atmosphere together. People celebrate Thanksgiving in different ways. Here at GiftOMG, we know you all love to share happy moments with your family and friends on social media to store memories. Therefore we suggest some Thanksgiving captions so that you can make sure your posts stand out on the newsfeed that is full of pictures of turkey dishes and pumpkin pies. Take some really beautiful pictures and make your own unique posts with the following captions!
Hilarious Thanksgiving Captions About Food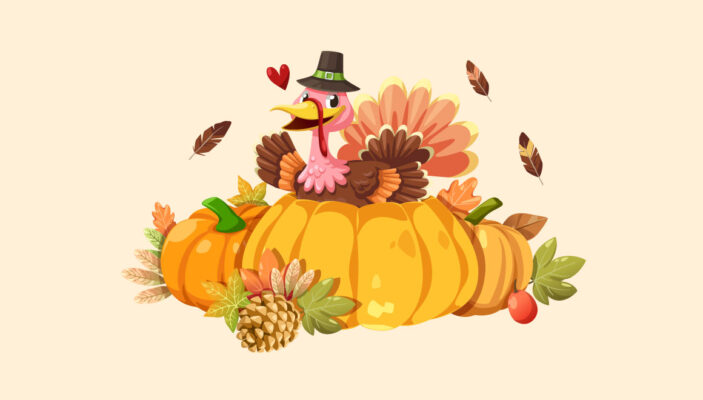 Food seems to be one of the most looking forward things on Thanksgiving Day. Many traditional dishes are indispensable on the table such as turkey, mashed potatoes, green bean casserole, pumpkin pie, etc. And these thanksgiving captions about food surely make conversations at the table more interesting 
Eat, drink and be cranberry.

"Oh Snap," said the wishbone.

The dad jokes are plucking hilarious!

Only have pies for this one.

Squash goals.

Nobody puts gravy in the corner.

I'm carbo-loading…for Black Friday.

Good vibes and apple pies.

Me: "I can't eat another bite!" Also me: "Did you say pie?

I'm plucking stuffed.

Turkey and wine and I'm feeling fine

Thanksgiving: A time to count blessings, not carbs

Feast mode

Fitness? More like fitness whole turkey in my mouth

Leftovers are for quitters

Nobody puts gravy in the corner

Gobble 'til you wobble

It's leg day

Winner, winner, turkey dinner

All you knead is love and pumpkin pie

Let's talk turkey

Keep calm and gobble on

Pies before guys

Let's get cranberry sauced

More rolls? You better believe it

I yam what I yam

You're the apple of my pie
Funny Thanksgiving Captions For Instagram To Make Your Own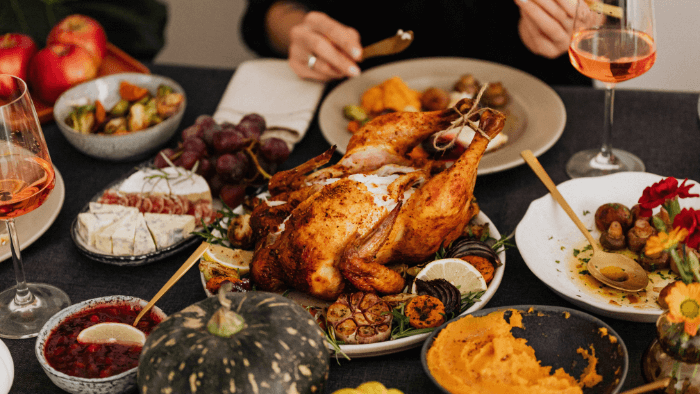 Besides food, funny Thanksgiving captions are equally expected to appear on social posts. Don't worry because the below captions surely make people around you laugh out loud
Eat, drink, and wear stretchy pants.

Because you know I'm all about that baste

Why did the turkey cross the road twice? To prove he wasn't chicken

Hit me, gravy, one more time

Good mashed potato is one of the great luxuries of life

Happy thanksgiving to someone checking their phone in the bathroom to escape their family

My family told me to stop telling Thanksgiving jokes but I said I couldn't quit cold turkey 

Pie is my main food group on thanksgiving

Stuffed like the turkey.

I couldn't eat another bite…is that pie?

Thanksgiving to-do list: Eat, drink, nap, repeat.

You butter be kidding me.

Come for the turkey, stay for the sides.

Parade > football.

Is it time for leftovers yet?

Pies before guys.

Thankful for stretchy pants.

Winner, winner, turkey dinner.

Eat, drink, sleep, repeat.

Stop, drop, and pass the rolls.

Let's give 'em pumpkin to talk about

.
Thanksgiving Captions About Family To Engage Your Followers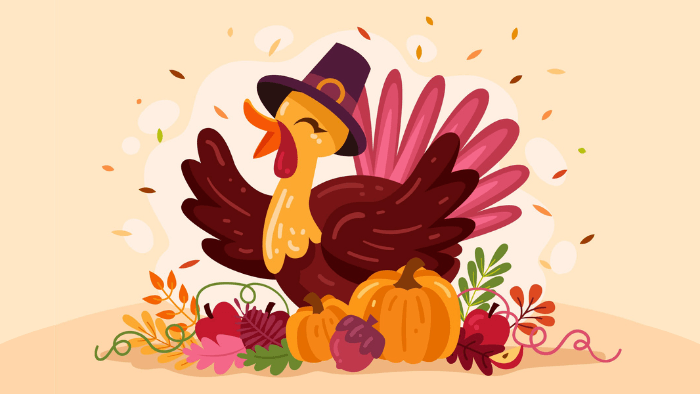 Family plays an important role in every major occasion and you want to send a lot of love to other members. The following Thanksgiving captions will help to enhance the relationship among generations in the family.
When we have each other, we have everything

This group has the tur-key to my heart

I'm thankful to have a family who takes eating as seriously as I do

Family (n.): Life's greatest blessing

Having a butterball with this group

Bless the food before us, the family beside us, the love between us

Always better together

Food tastes better when you eat it with the people you love

You call it chaos. We call it family

Family is the gift that lasts forever

Small moments. Big memories.

Time with family is time well spent.

We may not have it all together, but together we have it all

Family is where life begins and love never ends

The best time is always found when family and friends gather 'round

It's not what we have in our life, but who we have in our life that matters

The love of a family is one of life's greatest blessings

This is our happy place

Where there is family, there is love
          Happy Thanksgiving, from our family to yours
          Family is the best team you could ever have
          "Home is wherever I'm with you." —Edward Sharpe and the Magnetic Zeros
 Thanksgiving Quotes Captions About Gratitude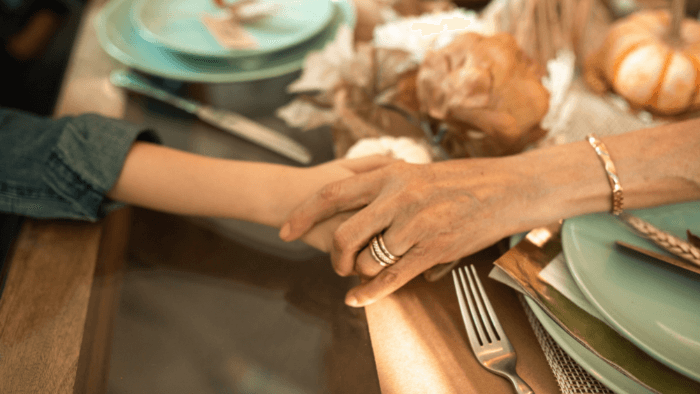 The primary purpose of Thanksgiving is to celebrate the harvest season and thank God for a fulfilled life. Nowadays, Thanksgiving is also an occasion for people to thank their family, friends, teachers, and other people for their help and giving. We have a list of quotes so that you can express your gratitude faithfully
 

"In November, people are good to each other. They carry pies to each other's homes and talk by crackling woodstoves, sipping mellow cider. They travel very far on a special November day just to share a meal with one another and to give thanks for their many blessings."

-Cynthia Rylant

"Gratitude can transform common days into thanksgivings, turn routine jobs into joy, and change ordinary opportunities into blessings." –

William Arthur Ward

"Thanksgiving, man. Not a good day to be my pants." –

Kevin James

"I started out giving thanks for small things, and the more thankful I became, the more my bounty increased." –

Oprah Winfrey

 "I am grateful for what I am and have. My thanksgiving is perpetual." –

Henry David Thoreau

"Good mashed potato is one of the great luxuries in life." –

Lindsey Bareham

"Gratitude is the inward feeling of kindness received. Thankfulness is the natural impulse to express that feeling. Thanksgiving is the following of that impulse." –

Henry Van Dyke

"If a fellow isn't thankful for what he's got, he isn't likely to be thankful for what he's going to get." –

Frank A. Clark

"Gratitude, help us to see what is there instead of what isn't." –

Annette Bridges

"Be thankful for what you have; you'll end up having more. If you concentrate on what you don't have, you will never, ever have enough." –

Oprah Winfrey

 "The turkey. The sweet potatoes. The stuffing. The pumpkin pie. Is there anything else we all can agree so vehemently about?" –

Nora Ephron

"If you want to turn your life around, try thankfulness. It will change your life mightily." –

Gerald Good

"I come from a family where gravy is considered a beverage." –

Erma Bombeck

"Thanksgiving is a time of togetherness and gratitude." –

Nigel Hamilton

"I love Thanksgiving because it's a holiday that is centered around food and family, two things that are of utmost importance to me." –

Marcus Samuelsson
Thanksgiving Captions From "Friends"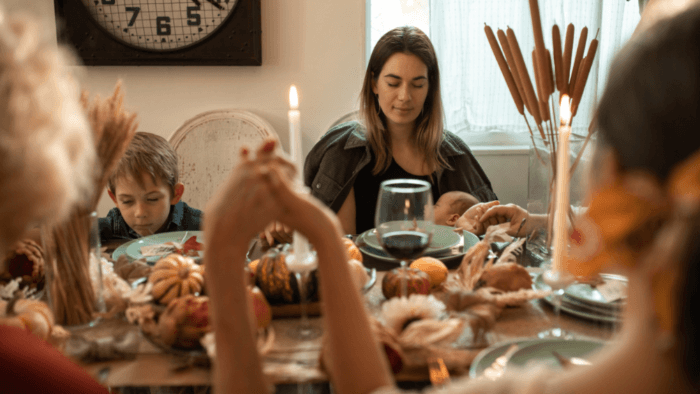 "Friend", an iconic sitcom with classic sayings of all time, is associated with many Americans in the 1990s and 2000s. Send these quotes to your beloved and warm the old memories together

"Set another place for thanksgiving. My entire family thinks I have VD" -Joey

"That turkey has to feed twenty people at my parents' house and they're not going to eat it off your head" -Monica

"It's Thanksgiving and we should not want to be together, together" -Rachel

"You can't have Thanksgiving without turkey. That's like Fourth of July without apple pie or Friday with no two pizzas" -Joey

"It wouldn't be Thanksgiving without a little emotional scarring" -Tim

"What's not to like? Custard, good. Jam, goof. Meat, good" -Joey

"Okay guys, I have exactly 28 minutes before I have to baste again" -Monica

"What is with everyone today? It's thanksgiving, not truth day!" -Ross

"They've ruined cranberry day!" -Chandler

"Look at her holding those yams. Those are our two worst enemies, Ross –Rachel Green and complex carbohydrates" -Will

"I guess what I'm trying to say is I'm very thankful that all your thanksgiving sucked" -Tim
Autumn Captions To Get Your Grid In Season
Looking for the perfect words to describe your autumn photos? Check out our list of "Autumn Captions" for some inspiration! These short phrases and sentences capture the essence of the fall season, from the beauty of changing leaves to the cozy feeling of sweater weather. Use them to enhance your social media posts and engage with your audience during this colorful and charming time of year.
"Falling for the colors of autumn"
"Autumn, the season of change"
"Sweater weather is here"
"Leaves are falling, and so am I for this season"
"Autumn skies and pumpkin pies"
"Every leaf speaks bliss to me, fluttering from the autumn tree"
"Autumn breeze and everything please"
"The world is a canvas, and autumn is the paintbrush"
"Autumn shows us how beautiful it is to let things go"
"Autumn is a second spring when every leaf is a flower".
Final words
Above are the selected Thanksgiving captions and quotes, especially for friends and family. We, gift OMG hope you have chosen the suitable captions for this Thanksgiving. May your Thanksgiving be full of well-constructed trifles and no accidental toe beheadings!
Source: Collection