Looking for funny Christmas dog pics with sayings that will make you cry laughing? Then you're in the right place! We've put together a complete list of the best Christmas dog puns captions for pet lovers.
The holiday season is around the corner, and it's great when we're with our loved ones. But it's even better when you get to celebrate Christmas with your furry four-legged friend. Of course, you'll snap lots of adorable photos with your pup – dressed up in their festive and surrounded by loads of gifts. So here are some hilarious Christmas dog puns captions that are perfect for your holiday post.
Christmas Dog Puns Captions For Social Media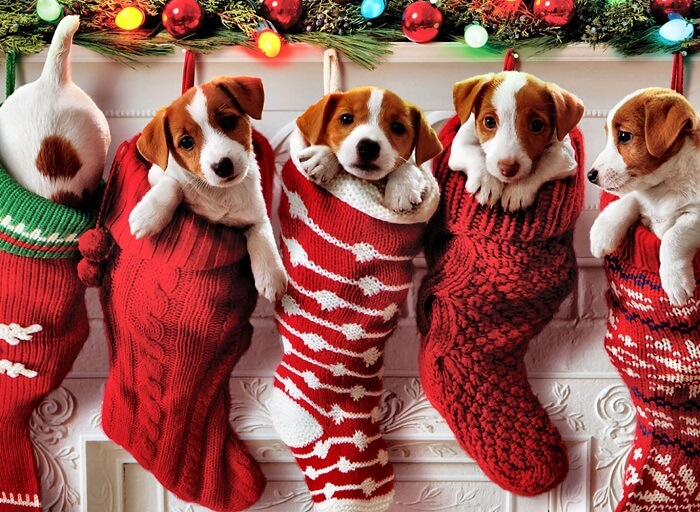 Finding the perfect dog pun can be a daunting task. You need to opt for good fashion holiday captions for a mischievous pub. To help you, we've curated the ultimate list of the best Christmas dog puns captions for boys and girls.
Santa Paws is coming to town!
Happy Paw-lidays from the [insert name] family!
May your Christmas be furry and bright
I'm dreaming of a woof Christmas…
Merry Christmutts
No Santa, I didn't eat all of your cookies
After such a Ruff year, we wish you a won-dog-ful Christmas!
So much puppy love this Christmas… hope you all have a great holiday season!
We woof you a merry Christmas
Having a pretty Paw-sh Christmas this year
Unleashing all kinds of joy this season!
Oh, Christmas tree or Christmas tree! How tasty are your branches…
Wishing you all a collar-ful Christmas!
Such a Merry Christmas with my right Hound man.
Deck the halls with frisbees and ball-ies…
We've all been going through a rough Pooch lately, but thankful for furry friends and happy holiday vibes.
Thankful Fur all that I have this Christmas. Hope you have a wonderful Christmas too!
Chestnuts roasting by an open fire, Puppy nipping at your nose…
Paw-sitively the best Christmas ever.
Have yourself a furry little Christmas
Santa Paws is giving Santa Claus a run for his money! (use with a photo of your puppy on Santa's lap!)
So you're telling me I'm NOT supposed to lift my leg on this tree?
Funny Dog Christmas Captions for Any Photo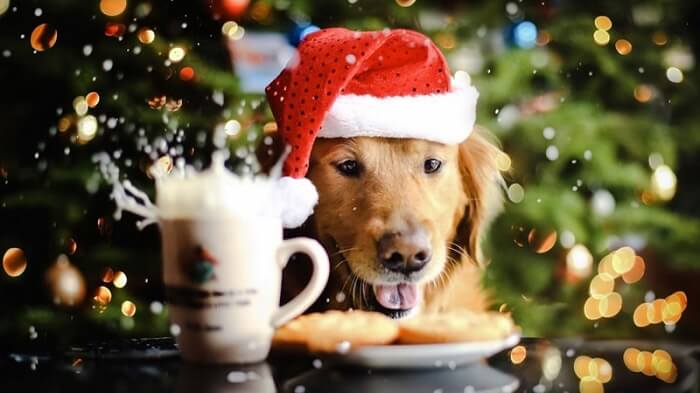 If you have an adorable dog this year, even better if they wear a sweater or festive outfit, then you certainly need the perfect fun caption to match. Here are some cute dog-themed Christmas Instagram captions that are sure to wow everyone.
Happy Paw-lidays!
Pawsitively chilly, merry, and bright.
I pawmise I didn't unwrap the presents. But I may have "terriered" them up a little.
Looking quite Fetching this Christmas!
Ho. Ho. Ho. Merry Woofmas!
I left cookies out for Santa, but then I got hungry…
Barking all the way to the North Pole!
Christmas dog love ❤️ is fur real.
Have yourself a furry little Christmas
Bone appetit from us and [insert dog name]!
Spending Christmas with the most festive little dude in town.
May you have a very Hairy Christmas and a Yappy New Year
Thick coat made for snow playin' and warm hugging.
There'll be potty bells jingling and tin-tin-tinkling too.
May you have a very Hairy Christmas and a Yappy New Year
Puppy's furrst Christmas.
Santa Paws is giving Santa Claus a run for his money! (use with a photo of your puppy on Santa's lap!)
Oh Christmas treat! Oh Christmas treat!
We woof you a hairy Christmas.
Jack Frost nipping at your nose? May there be a new puppy nipping at your toes.
Living with a winter wonderlab. (the perfect caption for a photo of your dog playing in the snow)
"Merry Christmas, ya filthy animal." — Home Alone 2: Lost in New York.
*** See also: 70+ Great Christmas cat quizzes
Breed Specific Christmas Dog Puns Captions & Wordplay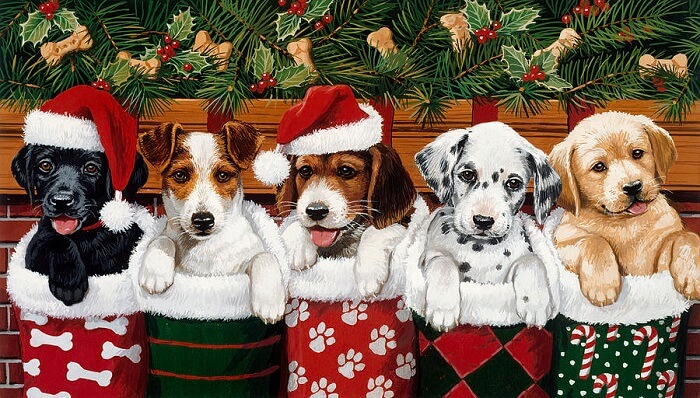 As we all know, most people love dogs and treat them like family members. Even if you upload some photos with them, you need to have the best captions. Below is a list of some breed-specific captions that you can use to make your posts engaging.
Pug: Sending you Pugs and kisses this holiday season.
Collie: Happy Collie-days!
Bulldog: From bulldog to bauble-dog.
Corgi: Merry Corgmas!
Dalmation: Dalm-yay-tion, Jingle Dal the way
Terrier: You know what they say, the more the Terrier.
Daschund: Dachshund through the snow, on a one-horse open sleigh.
Golden Retriever: Golden retriever…. of gifts
Schnauzer: Let it Schnau, let it schnau, let it schnau!
Husky: Have yourself a husky little Christmas…
Jindo: Jindo bell rock
Pekingese: This Christmas, remember… no Peking-ese your gifts!
Labrador: Fa-la-la-la-Labrador.
Beagle: I'll Beagle for Christmas.
Chihuahua: Cheer-huahua
Malamute: Mala-mulled wine
Shih Tzu: We wi-shih Tzu a Merry Christmas, we wi-shih tzu a Merry Christmas!
Maltese: Deck the halls with boughs of Maltese!
Mastiff: Wishing you a wonderful Christmas with a Mastiff tree and feast!
Poodle: My holiday was a Poo'vd
Shiba Inu: We wi-Shiba you a Merry Christmas and a Happy Inu Year.
Cute Christmas Captions for Dogs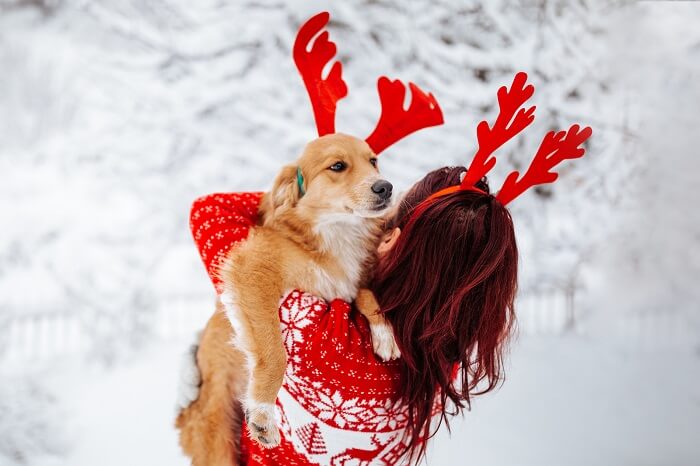 Your dog is no doubt an important part of your life. So this holiday season, show the world how adorable your pup is by pairing their photos with super cute Christmas dog puns captions.
Santa Paws stopped here!
It's a wonderfur life.
I'm paw-sitive, my dog behaves cutest on Christmas
Happy Holla-days from Santa Paws
This little [girl or boy] is the only present I need on Christmas morning.
On every Christmas eve, Santa's Jingling and my Dog barking can be heard
Thanks, fur the Christmas memories my cutie.
When I needed a hand, I found your paw. My four-legged little friend is the greatest blessing of all.
The best way to spread Christmas cheer, is barking loud for all to hear!
O Come All Ye Fur-ry…
Merry Christmas, from me and my pup.
Bark! The herald angels sing.
Let's decorate the dog just like the Christmas tree.
Pawsitively the most festive puppy I ever did see.
Hopefully, my dog's gifts are also pawesome as mine
It's the time for elfie with my pup, opening gifts together.
Merry Christmas to all, and to all a good night. (to accompany a photo of your precious pup snoozing)
An occasion to take a picture with your dog finally came, Happy Holidays.
Who is this Sandy Paws, and when will he be here with my treats?
My cute dog is the best present which even the Santa can't give me.
Pugs and kisses
Sealed with a pooch smooch
Having a cuddly Christmas.
Wrapping Up
After going through these awesome Christmas dog puns captions, giftOMG hopes you'll find the best ones. Now, what are you waiting for? Just copy and use them in your post. Remember to share them with your family and friends and give a review about them. Merry Christmas!
Go to our caption ideas collection for other ages!