What do you think about a beer bouquet DIY tutorial? It'll be more interesting than you think. Ideas for unique gifts for him are really scarce. So, are there any creations for men? Certainly yes. A bouquet of beer will be loved by the guys.
It's said that most males prefer beer to flowers. As a result, making a floral bouquet out of beer is a unique idea. So, if you want to surprise your partner on Valentine's Day, why not substitute the flowers in a standard bouquet with a couple of bottles or cans of beer?
If your boyfriend likes beer, a handcrafted beer bouquet will be a pleasant surprise. You can express your feelings to him with this unexpected present. GiftOMG will teach you how to make a stunning beer bouquet in 25 different ways.
Great Beer Bouquet DIY Tutorial To Impress Your Special Man
Here, we've compiled a list of the most attractive beer bouquet DIY tutorial that you can try to celebrate your important man on special occasions. Let's get started!
1. DIY Alcohol & Candy Bouquet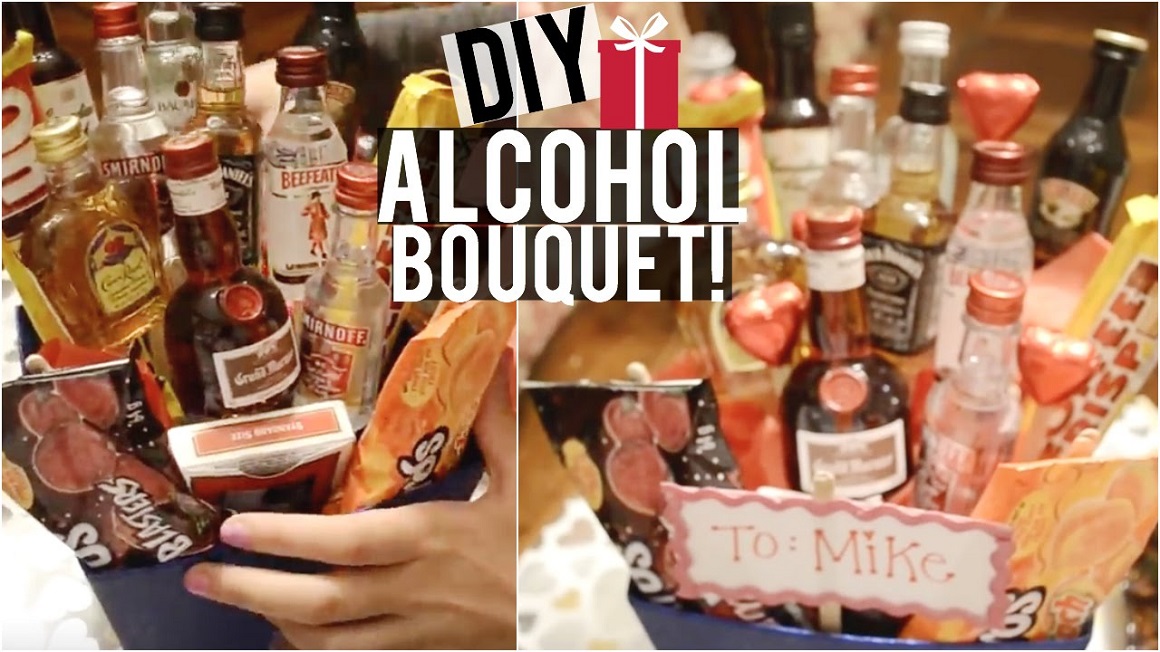 This beer bouquet DIY tutorial is simple and awesome. In addition to the beer in this gift, you may also include his favorite snacks. By following this technique, you may create a genuinely unique present. You may make a truly diverse and meaningful beer bouquet according to Allie Sevdalis' directions.
2. DIY Alcohol Bouquet
This will be a wonderful decision for you to make if you want to create a lavish and substantial wine box. You can use beer instead of alcohol if it is unavailable. And that would also be fantastic. You may make him a beer bouquet DIY with this step-by-step video instruction. He will undoubtedly be amazed by your creativity.
3. 7 Cans Tiger Beer Bouquet
This video is for you if you're having trouble finding the beer bouquet DIY tutorial. The instructional video will walk you through every step of creating a stunning bouquet out of seven tiger beer cans. You may create a lovely small flower arrangement for him out of wrapping paper and beer cans. For those who are just starting to wrap, this will be a straightforward and practical method to begin wrapping beer bouquets.
4. DIY Beer Gift Idea
If you want to make a flower out of beer bottles for him but don't know how to maintain it or strengthen it, then follow the instructions in this video. To stabilize the bottle, they utilized old construction paper. They also noted that it is strong enough to provide the bottles with more height and stability. He will be overjoyed to get this bouquet of beers made with such basic components.
5. Set of beer bottles bouquet DIY
This video will demonstrate how to use a set of four beer bottles to create a do-it-yourself flower arrangement. This video instruction is really straightforward and simple to follow. Beer bottles, fake flowers, ribbons, and wrapping paper are all that is required. It's really easy. If he appreciates beer, he will love these bouquet of beer cans.
6. "Rose" beers bouquet
This beer bouquet DIY tutorial is beautiful and easy to make. With simple beer bottles, paper roses, and wrapping paper, you can create your own beer bouquet. You may create a fantastic present if you only gather the necessary materials and follow the directions. How to accomplish it is explained in great depth in the post. You can easily follow along with the pictures as well. You may give your beloved man this DIY bouquet of beer.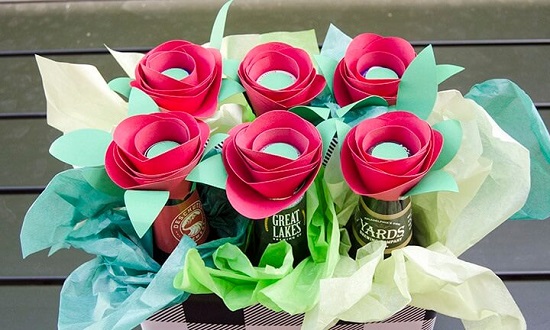 7. DIY Beer Bouquet for Dad
You may give your father this special handcrafted beer bouquet. The YouTuber provides very explicit instructions on how to make a sure bouquet. The components for the bouquet are also quite straightforward and convenient to purchase. This present will be finished rather quickly due to its simplicity. You may make this present more special by making it yourself.
8. DIY Liquor Bouquet
You may use this video guide to create a beer bouquet if you want to offer something to a guy who enjoys drinking beer, wine, or any other alcoholic beverage. You have the flexibility to adjust the components to his preferences. The humorous video gives viewers clear directions. After viewing this video, creating a handmade beer bouquet will be simpler for you.
9. DIY Candy & Beer Bouquet
The lucky recipient of this present will feel very interested. You might make it and give it to your father, brother, or sweetheart. Simple components were created by YouTuber Genie Liz. She recorded each of these components and included them in the video description. All you have to do is gather your materials and follow her instructions.
10. Beer And Snacks Gift Bouquet
One of the great beer bouquet ideas, this is a bouquet with a combination of beer and snacks. The gift will be even more fascinating thanks to these components. With the beer bouquet DIY tutorial, you can create a unique flower wrap for your loved ones. You can make a gorgeous bouquet of beer and snacks on your own by following the thorough directions in the slightly over one-minute-long video.
11. Last Minute Beer Bouquet For Him
You may follow the instructions on the Seapanda Crafts YouTube channel to create a lovely bouquet for him. She made a fairly adorable bouquet out of a six beer pack and a coffee filter. This gift is considered one of the perfect gifts for him. You should watch this video if you're not sure how to begin.
12. Men's Bouquet
This will be a terrific idea if you want to present your partner with a flower made with beer and food. Because it contains both food and beer, they may utilize this bouquet at gatherings. In this video lesson, you'll learn how to create a bouquet with beer and other appetizers to make it more macho. He will like the really romantic elements, like the edible sausage hearts.
13. Epic Bouquet of Beer
This article should be used as a guide if you want to make your own bouquet of beer flowers for your partner. It will provide an extremely thorough implementation procedure. The instructions in the essay are very clear and concise. You can make a sweet bouquet for the man you love by following a few easy steps.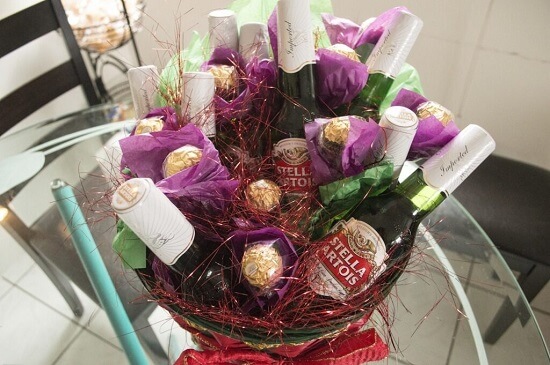 14. Easy Beer Bouquet DIY Tutorial
You want to give him a very simple beer bouquet, but you're not sure how to make it. You'll find detailed instructions in this video. Only simple materials like liquor in a can, sticks, scotch tape, glue guns, glue sticks, ribbon, and wrappers are required. You may express your affection for your sweetheart by giving them this present. He will undoubtedly be thrilled to get it.
15. Liquor Bouquet with Chocolate 
You want to give him a  practical and romantic gift. Don't worry; this video will take you through the whole process of making this adorable present. To make a really beautiful flower, you'll combine liquor and chocolate. You may swap it out for whatever beverage he likes, such as canned beer. Surely he will appreciate this beer and chocolate bouquet.
16. Simple Beer Bouquet
This bouquet includes a mix of beer bottles and snacks. You may readily get these supplies anywhere. This skill demands creativity and attention to detail. You will have a really nice beer bouquet if you are diligent and carefully follow the beer bouquet DIY tutorial. This will be a surprise gift for him.
17. Alcohol Bouquet
You may learn how to make a bouquet with alcoholic beverages in this video. According to his interests, you can freely select bottles of wine or bottles of beer. These alcoholic beverage bottles are embellished with flower spikes that form a lovely bouquet. You'll finish it and give it to your beloved. It makes you more perfect in his eyes. 
Valentine Beer Bouquet Tutorial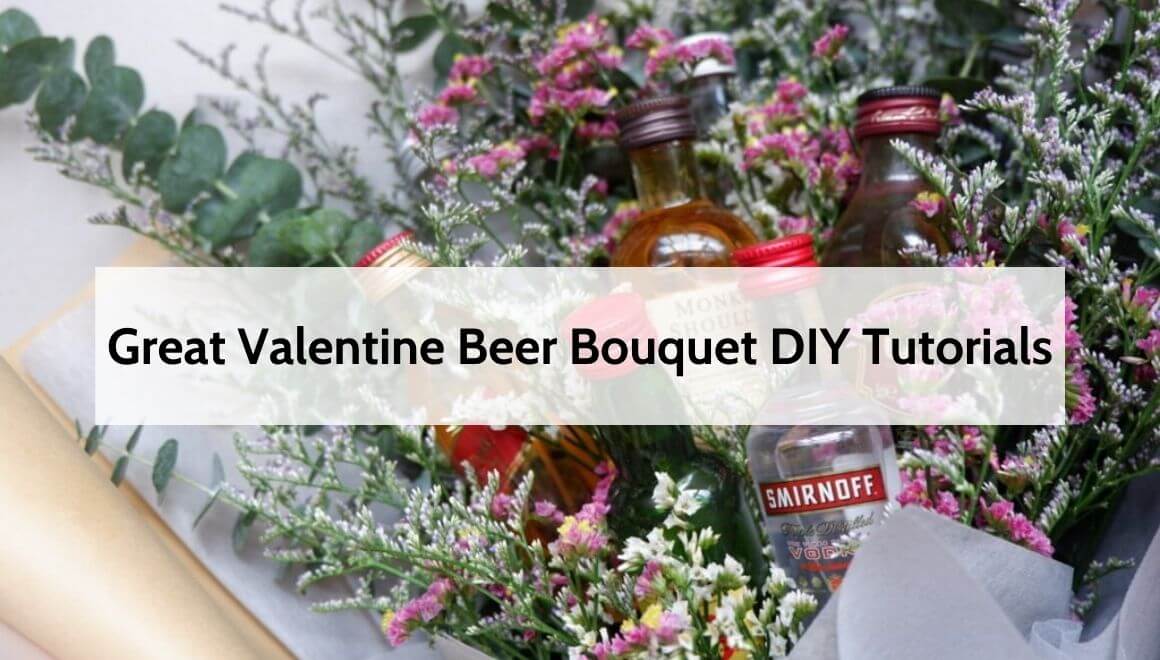 18. A Valentine's Day DIY Beer Bouquet
You should give him a really special Valentine's Day present. This homemade beer bouquet is really easy to make and enjoyable. Construction paper, scissors, tape, a six-pack of beer, and a marker are required to make it. Then, all you have to do is strictly follow the directions. You can easily follow all of the instructions in this guide because it's written in great detail. This small present will make a far bigger impression on him than real flowers. 
19. A Valentine's Day Idea Gift For Him – DIY Beer Tutorial
Want to find easy alcohol bouquet DIY? This idea is a good choice. This tutorial will teach you how to make a really unique and artistic beer flower. The details on the gift are quite eye-catching and embellished. You can simply follow the implementation process because it is well-detailed. The instructor gives a very clear explanation of every detail required to create this gift. He will undoubtedly think this present is quite adorable.
20. Valentine Beer Bouquet 
He'll find this red beer bouquet to be an exciting idea. The instructor sets up the beer cans with dexterity. They created a highly eye-catching bouquet by wrapping it in wrapping paper. Give him this one on Valentine's Day or any other special occasion when you want to express your love to him. He will feel happy all day.
21. Beer Bouquet Tutorial – How To Make A Beer Bouquet At Home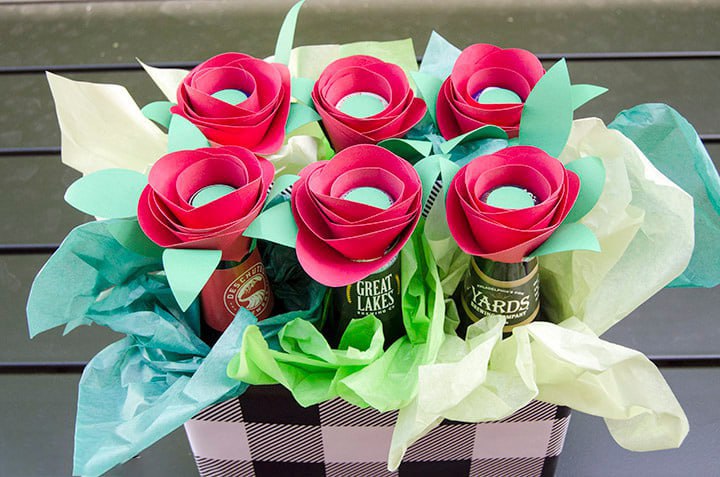 If you want to find a cute and small gift for your men, this guide below show you how to make DIY a beer bouquet step by step. You can make own a spcial present just by using beer bottles, paper roses and wrapping paper. This interesting gift will be perfect ideas for your husband, Dad or all those who love beer.
You may be interseted:
Conclusion
A beer bouquet is mentioned as a specially designed gift. Beer cans that have been adorned together are used in beer bouquets. This bouquet is made in a brand-new, distinctive design. You may leave an unforgettable and surprising message for the receiver. There are many different ways to wrap beer bouquets. You can use the beer bouquet DIY tutorial list to make it.
See more other ideas guide at our gift types and DIY gift categories.