If your bride and groom are fans of Harry Potter, check out this list of 30+ Harry Potter wedding gifts to amaze them on their special day.
Harry Potter is the most well-known novel of all time, it has fans in every country of the world. People who love the wizarding world would be so cheerful if you give them presents related to Harry Potter. What is more meaningful when you give something related to Harry Potter as a gift to a Potterhead on their special day? Choosing a gift for your relative can be confusing, especially a Harry Potter theme present when you don't know anything about the novel. For that, finding the best Harry Potter gifts for adults is hard, and looking for impressive wedding gifts for Harry Potter fans is much tougher.
*** Don't miss the gifts from my own stories: HERE
30+ Magical Harry Potter Wedding Gifts For Potterhead
Don't worry if you haven't come up with any ideas. It's lucky for you because we have a list of 30 Harry Potter wedding gifts for you to consider. Check out the list below and choose your most ideal gift.
and 18 more…
1. Harry Potter Stemless Wine Glasses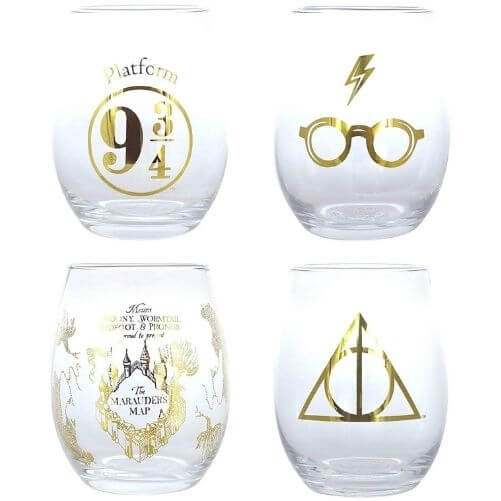 A set of 4 stemless wine glasses in a classic design is a perfect gift for a Potterhead wedding couple. These glasses are decorated with a gold design to bring a royal experience. In addition, to be signed with details in the Harry Potter novels like Platform 9 3/4, the Deathly Hallows, the Marauder's Map, and Harry's Glasses and Scar, this set of 4 wine glasses will cheer any wizarding world's fans up.
---
2. Personalized Engraved Cutting Board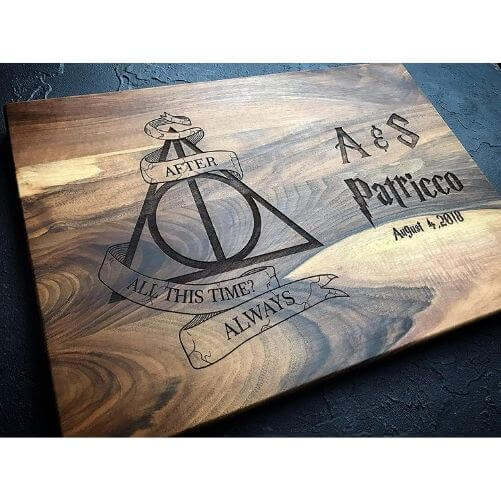 To be made with premium oak and walnut wood, this cutting board can last for a period of time. This board will be engraved with the detail given, so you can design a Harry Potter cutting board for your bride and groom. This personalized board is a meaningful and unique decoration for the wedding couple's new home. Such an awesome Harry Potter wedding gift!
---
3. Bride & Groom Shadowbox Frame Wall Art Gift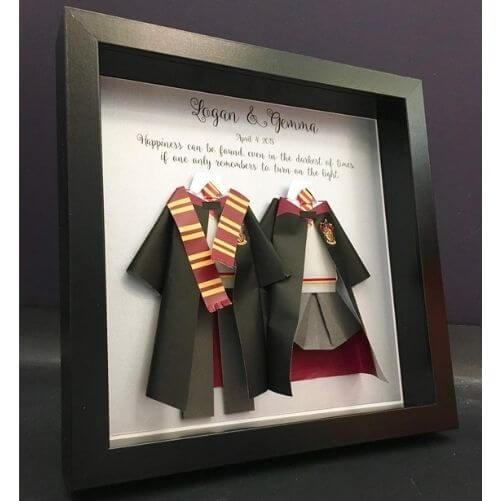 This is a unique anniversary or Harry Potter couple gifts. This Harry Potter wedding shadow bow is inspired by the origami art of Japan. This frame features a lovely wedding couple as Harry and Hermione, and you can choose the color of the frame in black or white. You can request houses in Harry Potter, which your bride and groom like most.
---
4. Wooden Spoons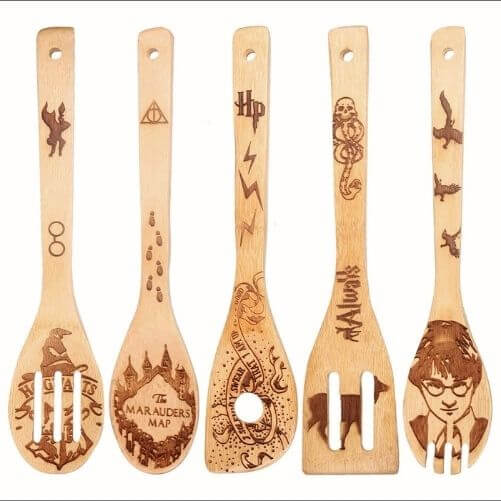 What about wooden spoons for your bride's new kitchen? These spoons are made with eco-friendly bamboo, so they won't scratch pans and affect health. One outstanding feature about these spoons is they are engraved with Harry Potter designs. This unique feature is a highlight in the new kitchen. These wooden spoons are a special Harry Potter wedding gift for a bride who loves this famous novel.
---
5. Harry Potter Hogwarts Color Changing Glass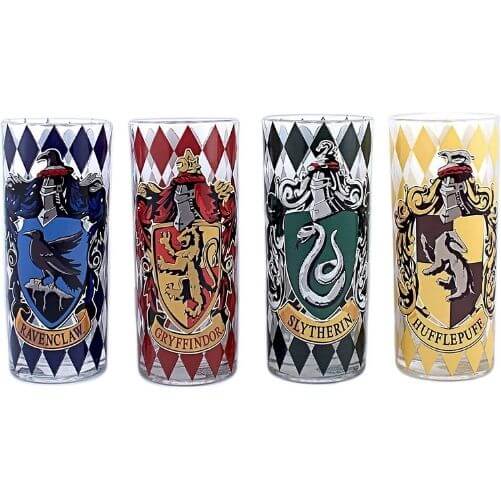 If your bride and groom are attracted to the wizarding world, this changing color glass is an ideal present for them. This glass can be used as a decoration or as a drinking glass as well. The Harry Potter Hogwart glass will get darker when the temperature is low, and the color will change to black and white when the glass is warmer. To be painted with Harry Potter detail, this changing color glass makes you feel like you're living in the wizarding world.
---
6. Harry Potter Wizard Chess Set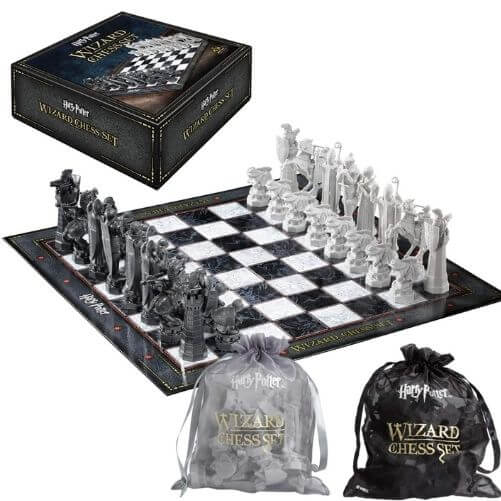 What if your wedding couple likes both playing chess and Harry Potter? You can give them a Harry Potter chess set on their wedding day. The Wizard chess is made of plastic and the chess board is made from heavy-duty coated cardboard sized 18.5 x 18.5 inches. This Harry Potter Wizard chess set is used to decorate and play as well.
---
7. Harry Potter Deathly Hallows Drinking Glasses Gift Set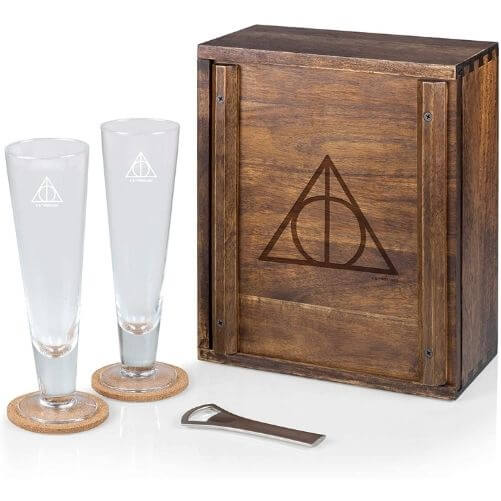 A Deathly Hallows drinking glasses set for a chill night is a great idea. This gift set includes two glasses engraved with the Deathly Hallow detail. These two will be placed in an acacia wood box with a sliding door. The color of the wood along with the high-quality material will bring up an authentic experience. This Harry Potter wedding gift is suitable for couples who love date night drinking at home.
---
8. Harry Potter Tumbler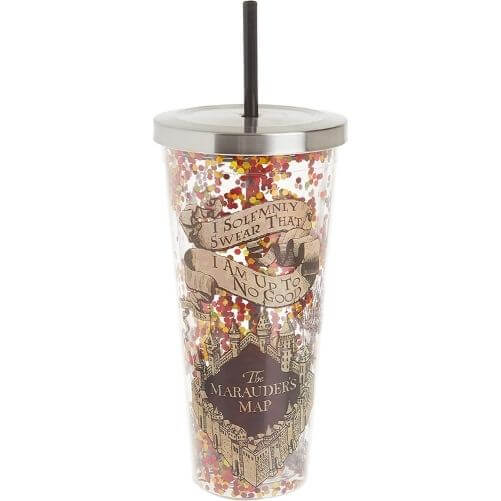 A Harry Potter cup for busy mornings is so thoughtful. The acrylic tumblers have double-wall insulation. Whether it's a steaming cup of coffee or a cool iced tea, your beverage will always be served at the right temperature. Thus, the tumbler is decorated with Harry Potter designs and glitter makes the cup even more impressive. This tumbler is the best present ever to all Potterhead.
---
9. Large Gift Bag with Tissue Paper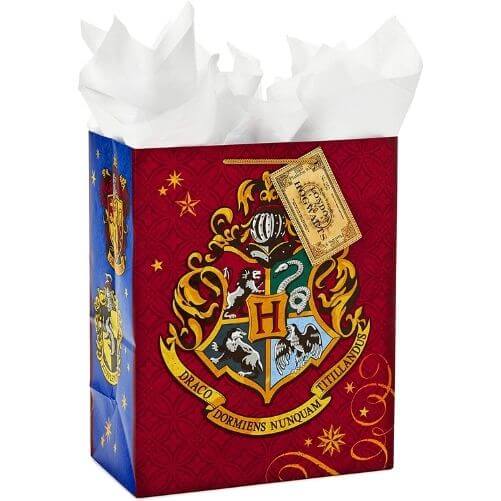 In case you have your gift for the wedding couple, you can choose a Harry Potter gift bag to cover your gift. This gift bag is printed with the four houses in Hogwarts: Hufflepuff, Ravenclaw, Slytherin, and Gryffindor on its sides. Besides, the size of the bag is 10. 4″ x 13″ x 5. 75″, big enough to carry any kind of present. Use this Harry Potter gift bag to set your gift to the muggle bride and groom.
---
10. Harry Potter Gold Snitch Pewter Key Ring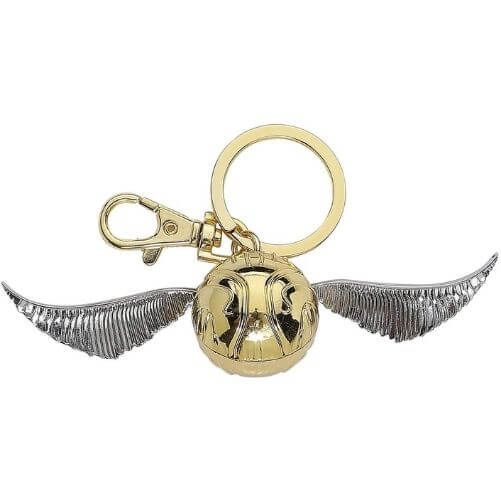 Quidditch is the traditional sport of Hogwarts. What is more amazing than having a gold snitch keyring? You can give this gold snitch as a gift to your wedding couple on their big day to surprise them. This gold sitch is made with high technology so it will remain the same visual as the original in film. Winning quidditch is every wizard's dream, make your wizard bride and groom's dream come true.
---
11. Hufflepuff House Crest Ceramic Mug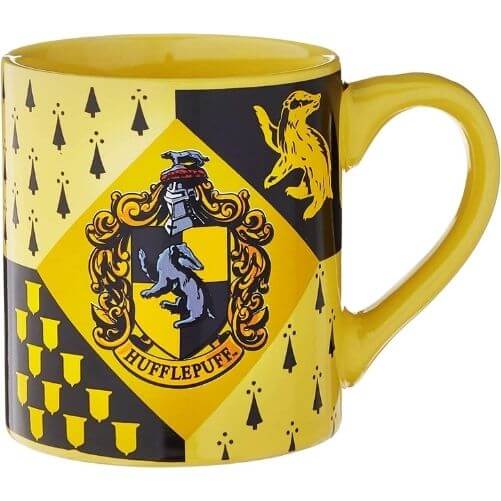 Hufflepuff students are known for being hardworking, friendly, loyal, honest, and objective. If your bride and groom relatives have these characteristics, this Hufflepuff mug can be missed. This mug is BPA and toxin-free so it will fit for daily purposes and be safe for health. This Hufflepuff mug will bring up the feeling that you're living in the wizarding world. Such a cool Harry Potter couple gift!
*** See also: Gifts For Draco Malfoy Lovers That Fans Will Love
---
12. Harry Potter Sorting Hat Ceramic Trinket Tray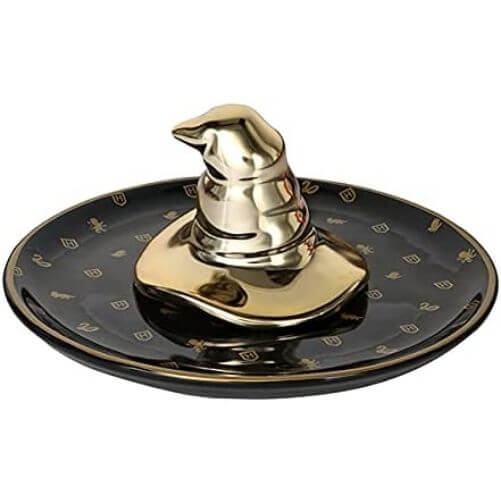 Do you remember the sly sorting hat in Harry Potter? Now you can have this hat as a Harry Potter wedding gift to a Potterhead wedding couple. The Harry Potter sorting hat is made 3D on a trinket tray, this design is a highlight if you use it for decor. Thus, this tray can be used to place bracelets, earrings, watches, keys, and other little things.
---
13. Harry Potter Cufflinks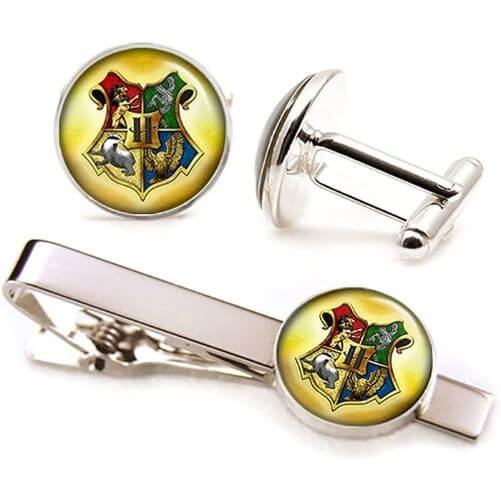 When you are in love with Harry Potter then you want to show that love all the time. It is a great idea to give the Harry Potter cufflinks as a gift to the Potterhead groom. Through the glass, the cufflinks and tie clips look pricey. The image is magnified and given an outstanding gloss by the glass, which greatly improves the appearance of the tie clip and cufflinks. Your groom's relatives can express their love for Harry Potter everywhere.
---
14. Harry Potter Triwizard Cup Battery Operated Mood Light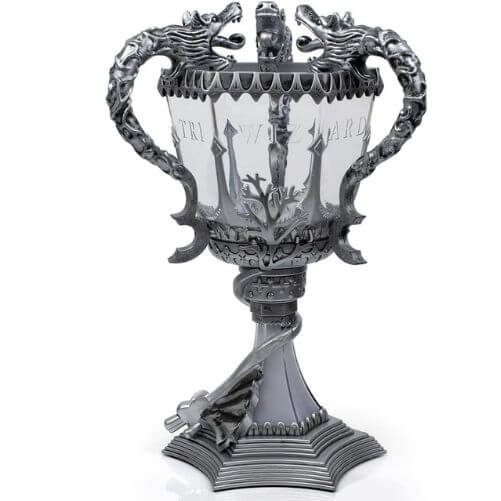 What do you think about a trophy that can glow in the night? This Harry Potter Triwizard cup is the best wedding present ever for bride and groom fans. The Triwizard cup emits a dim light creating a mysterious space like in the wizarding world. Powered by 3 AA batteries, this trophy lamp can be placed anywhere without worrying about the electric source.
---
15. The Unofficial Harry Potter Cookbook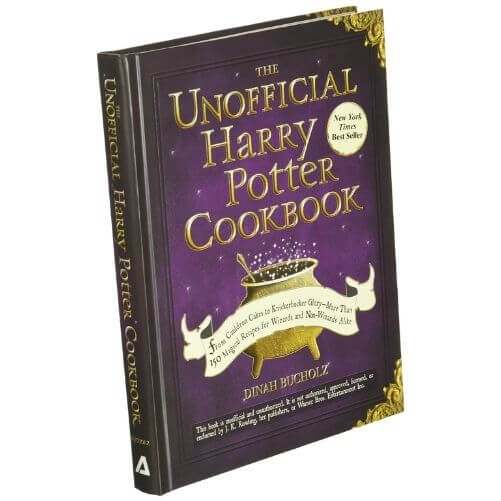 If your bride and groom love the food in Harry Potter but don't know how to cook it, you can't miss this gift. This is a cooking book that shows you how to make a delicious dish in Harry Potter. This Harry Potter cookbook is a special gift for cooking-loving couples; they can make Treacle Tart – Harry's favorite dessert, Molly's Meat Pies – Mrs. Weasley's classic dish, or even Pumpkin Pasties – a staple on the Hogwarts Express cart.
---
16. Douglas Wizard Snowy Owl Plush Stuffed Animal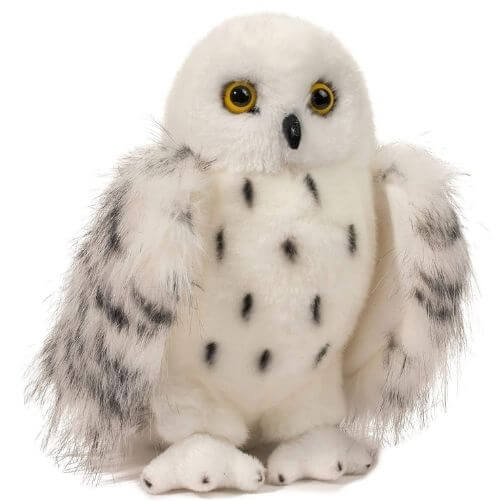 If your wedding couple is a fan of the Harry Potter series, you probably know owls are very special creatures in the wizarding world. Wizard the Snowy Owl has a charming and accurate design. Made with high-quality plush material, this owl stuffed animal can receive many hugs and cuddles. Thus, this snowy owl can be placed on a shelf as a highlight decoration for the bride and groom's new home.
---
17. Northwest Woven Tapestry Throw Blanket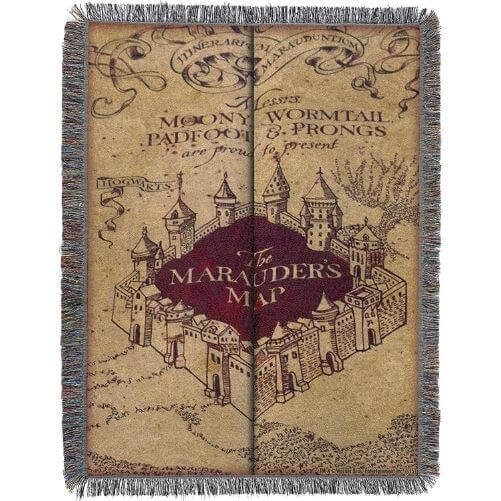 The Marauder's map is one of the most preferred items in the Harry Potter series. What if Potterhead can have this magic map, but in the form of a blanket? The Blanket is made of polyester in the size of 48″W x 60″L. Bride and groom fans can use this Marauder's map blanket on the sofa or car, and many more. This is a lovely wedding gift for Harry Potter fans.
---
18. Harry Potter Cauldron Soup Mug with Spoon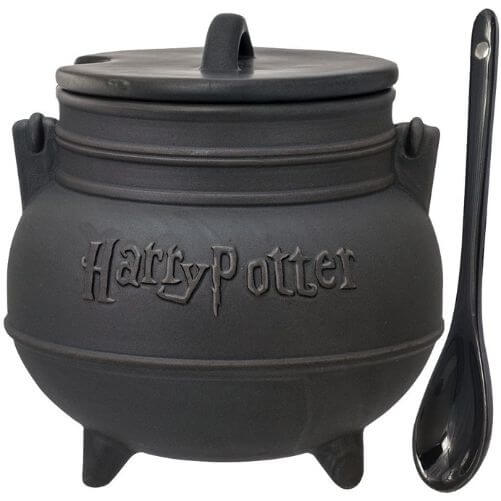 When it comes to witches, we often think of a cauldron soup on a flickering furnace. If you are attending a wedding with a bride and groom who like the wizarding world, give this to them as a Harry Potter wedding gift to satisfy their passion. Made of ceramic, this mug will provide an authentic experience like you are using a real wizard's cauldron soup.
---
19. Harry Potter Golden Snitch Light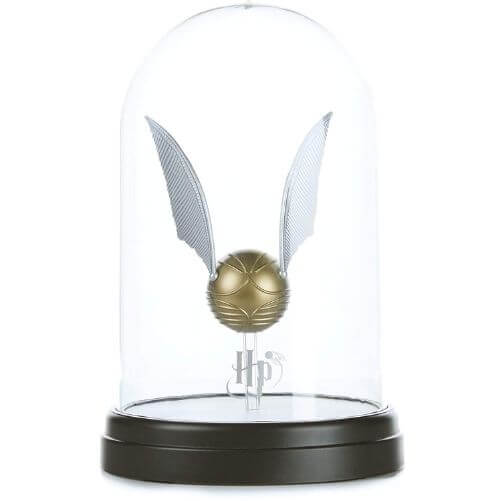 Quidditch is the traditional sport of Hogwarts. Potterhead will get excited when having a golden snitch light. You can give this light as a gift to your wedding couple on their big day to surprise them. This plastic bell jar light is made with high technology, it will emit a dim light and can be used as a bedroom light or a decoration light. Winning quidditch is every wizard's dream, make your wizard bride and groom's dream come true.
---
20. The Noble Collection Harry Potter Magical Creatures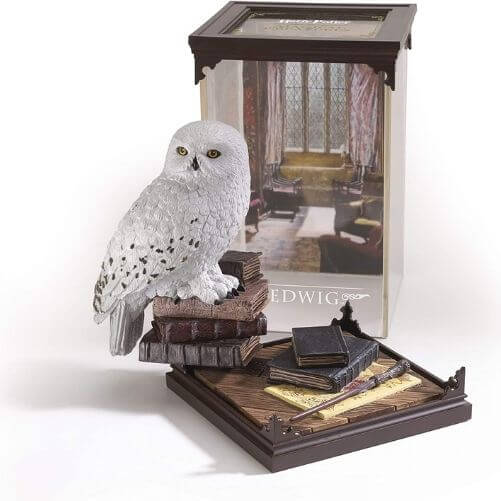 It's also a good idea to give a Hedwig owl model as a gift on the Harry Potter fan's wedding day. The Hedwig model is 7″ tall and made of resin, it will be housed in a perspex case to produce a vintage feeling. This model could be a great gift for the wedding day of a couple who are fans of Hedwig in the Harry Potter series.
---
21. Harry Potter Hogwarts House Crests 4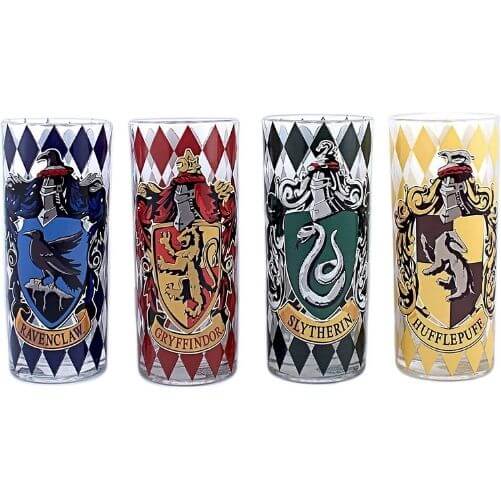 Hogwarts has four houses: Gryffindor, Slytherin, Ravenclaw, and Hufflepuff. You can now have a set of 4 glasses printed with the four houses' flag in Hogwarts. These glasses are BPA-free so they could meet the bride and groom's daily needs, and it's completely safe for their health. This four glasses set will help the Harry Potter fan wedding couple experience the magic of the wonderful Wizarding World of Harry Potter at their home.
---
22. Hogwarts Harry Potter Wind Chime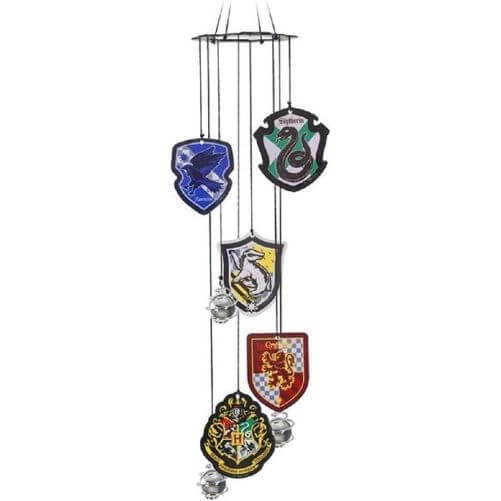 Giving your bridal couple a wind chime as a wedding present will make their yard more charming and provide them with beautiful sounds. This metal wind chime is decorated with Harry Potter's figure so it is suitable to hang indoors or outside of Harry's fan home. Consider this one on your list of Harry Potter themed wedding gifts.
---
23. Harry Potter Pensieve Memory Set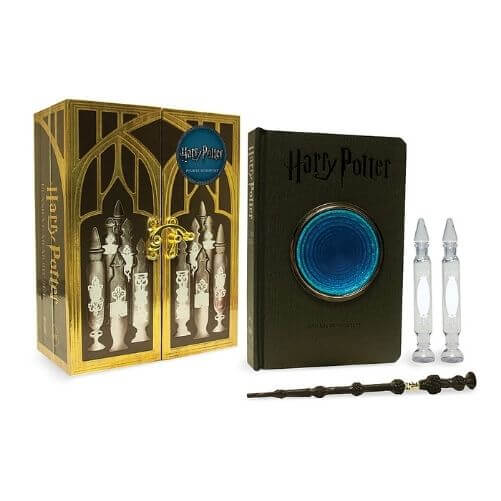 A wedding is a special day and if you want your married couple to store the memories of their big day, you can give them a Harry Potter Pensieve memory set as a wedding gift. This memory set will include two vials with removable lids to capture the bride and groom's tears and store their memory. The Pensieve memory set also has a Dumbledore's wand pen, and all the items will be hold in a keepsake box.
---
24. Harry Potter Gryffindor Journal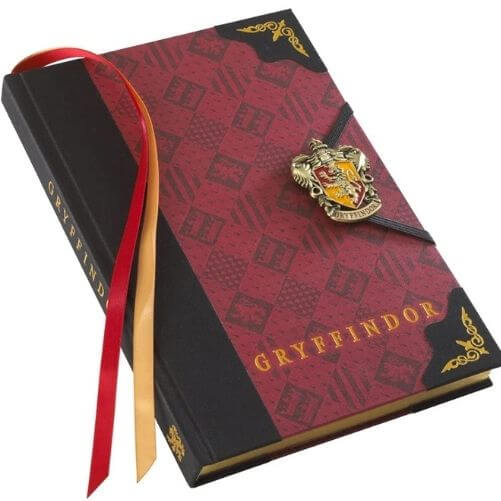 This Gryffindor journal is a meaningful Harry Potter wedding gift for the bride and groom to write their journey after marriage. There are approximately 240 pages in this lined journal for memories to be stored. Thus, you can choose from the four houses of Hogwarts which best meet your wedding couple's favorite.
*** See also: Gryffindor Gifts For Harry Potter Fans
---
25. The Elder Wand in Ollivander's Box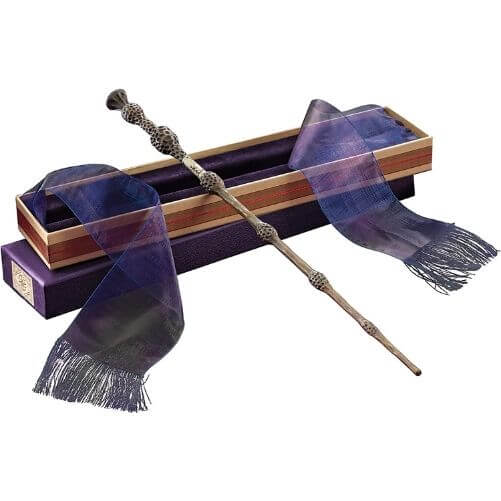 The Elder Wand is the most powerful in Harry Potter's wizarding world. Give this Elder Wand as a wedding gift to fulfill the bride and groom wizarding dream. It is made of plastic, but this powerful wand remains the original visual like in the movies. This Elder Wand will come with a collector box for storing and decorating purposes.
---
26. Gaming Trivial Pursuit – Wedding Gift Harry Potter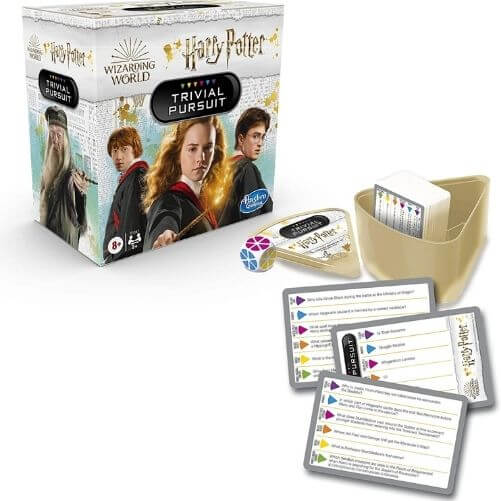 Have you ever heard about Harry Potter's trivial pursuit? This game will test the knowledge of players about the Harry Potter series. There are 600 questions about six subjects in the series The Dark Arts, Hogwarts, Magical Spells and Potions, Magical Objects, Magical People, Animals, and Magical Creatures. This gaming trivial pursuit will be a fun wedding gift for the bride and groom.
---
27. Doormat Wizards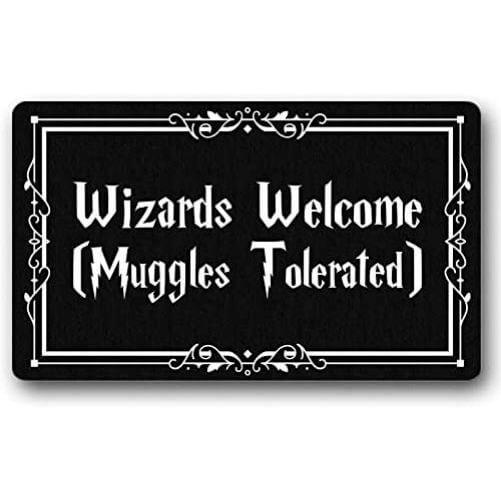 What is more lovely than a doormat wizard for a wizard home! This entry sign as a Harry Potter wedding gift is made durable and heat-resistant, so it can last for a long time and can be machine washed. Thus, to be printed with a high-quality and fashionable design, the doormat reads "Welcome wizards (Muggle tolerated)". This unique doormat is the best fit for any new marriage wizard couple. 
---
28. After All This Time Champagne Flutes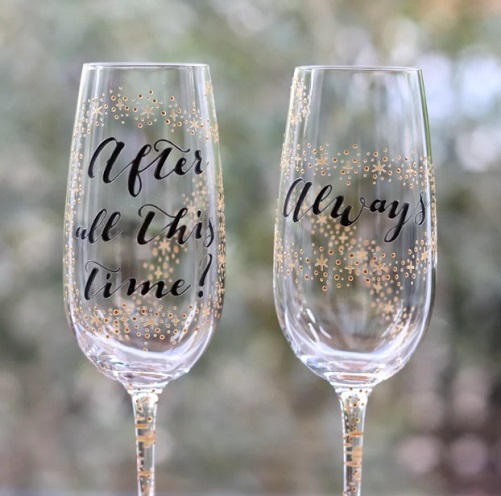 With this lovely wedding present, you may celebrate the couple's marriage and wish them the best for the future. An enduring line from the Harry Potter books and films appears on the champagne flute set: "After all this time?" "Always." You can personalize the gift by adding the couple's names or the wedding date. Cute and meaningful, why pick it on your wishlist of Harry Potter gifts for couples this year.
---
29. Pressman Harry Potter Triwizard Maze Game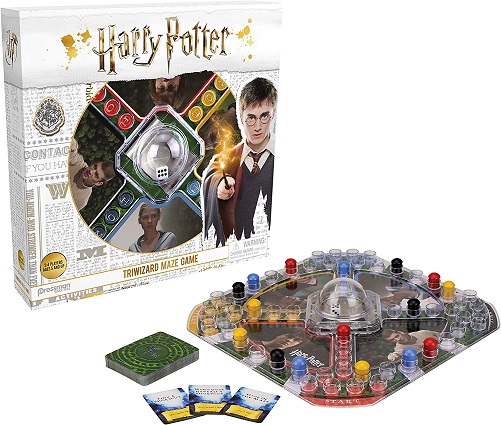 Don't know what to get Harry Potter couples gifts? We've got you covered! Consider this Harry Potter Triwizard Maze Game. Perfect for the Harry Potter super fans. When you race through the Triwizard hedge maze to win the Triwizard Cup, it has fast-paced Pop 'N' Race gameplay. Take cautious because drawing a card from an action space might either help or damage your chances.
---
30. Harry Potter Cauldron Soup Mug With Spoon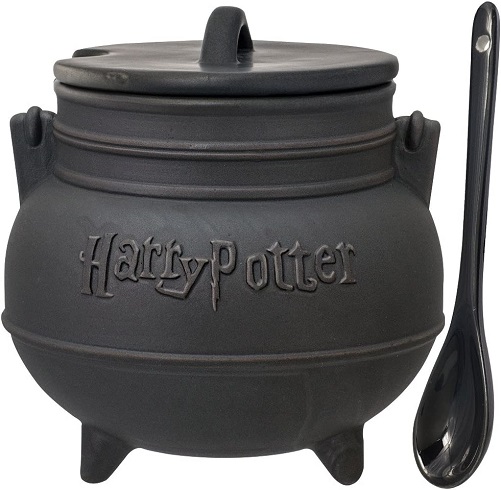 The mug is perfect for Harry Potter fans and collectors, as well as those who enjoy quirky and playful kitchenware. It can be used to serve soups, stews, or any hot beverages such as coffee, tea, or hot chocolate. The lid helps keep the contents warm and also doubles as a coaster for the spoon.
31. Harry Potter Couples Pillowcases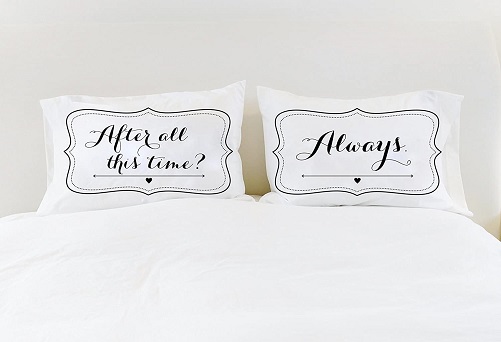 These pillowcases are a great way to add a touch of Harry Potter magic to any couple's bedroom. They are soft and comfortable, and the design is both stylish and subtle. They make for a great wedding gift or anniversary present for any Harry Potter-loving couple. They are Harry Potter wedding gift ideas that any Harry Potter fan would appreciate. They are a great way to celebrate the love between two people while also paying homage to the beloved Harry Potter franchise.
---
32. Pottery Barn Teen Harry Potter Hedwig Pendant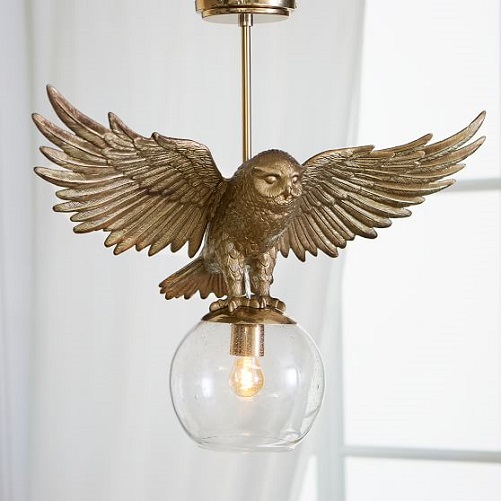 Introducing the Pottery Barn Teen Harry Potter Hedwig Pendant, a magical and enchanting accessory that makes for a perfect Harry Potter-themed wedding gift. This intricately designed pendant captures the essence of the beloved snowy owl, Hedwig, who played a significant role in the magical world of Harry Potter.
Crafted with exquisite attention to detail, this pendant showcases Hedwig in flight, with her wings gracefully outstretched. It embodies the spirit of Harry Potter, making it a meaningful and delightful gift for any Harry Potter-loving couple embarking on their own magical journey of love and togetherness.
---
33. Anthropologie Wise Owl Bookends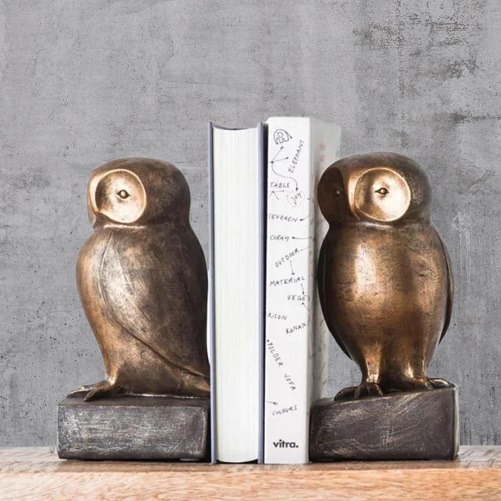 One of a great option for Harry Potter wedding gifts, Anthropologie Wise Owl Bookends is a thoughtful gesture that encapsulates the importance of knowledge, imagination, and the love for literature. It serves as a symbol of the couple's shared interests and their journey into a world filled with adventure, just like the beloved characters of Harry Potter.
Whether displayed in a home library, living room, or study, these bookends make a charming addition to any space. They are not only a delightful gift for Harry Potter fans but also a timeless piece of decor that can be cherished for years to come, reminding the couple of their special day and the magic of their love story.
Final Thoughts
A beautiful wedding is more meaningful when the wizard world bride and groom fans receive a Harry Potter wedding gift that meets their favorite. The list provides all the most preferred gifts of wizard-lover couples. Hope you can pick one special gift for them and enjoy your wizarding wedding!