Bridesmaids are an essential part of your wedding journey. They've supported you from your engagement to your vibrant bachelorette party. They will stand by your side and take care of you on your big day. It's great to be able to thank your wonderful bridesmaids with a special gift.
After all, you don't just want gag gifts for your bridesmaids, right? You need funny bridesmaid gifts to thank them for what they have given you. Besides, a funny gift will reduce stress when preparing for the wedding.
To save you time searching, we've rounded up 34 funny bridesmaid gifts below. From the team bride tee T-shirt and capsule lipstick set to the personalized tote bag, this gift guide will make any member of your "I do" crew appreciate it.
*** See more: 36 Bridal Shower Gifts Daughter For The Bride To Be
34 Funny Bridesmaid Gifts for the Bride's Maid
She'll love these unique and funny bridesmaid gifts. They're perfect for the bride or groom on their big day.
1. Capsule Lipstick Set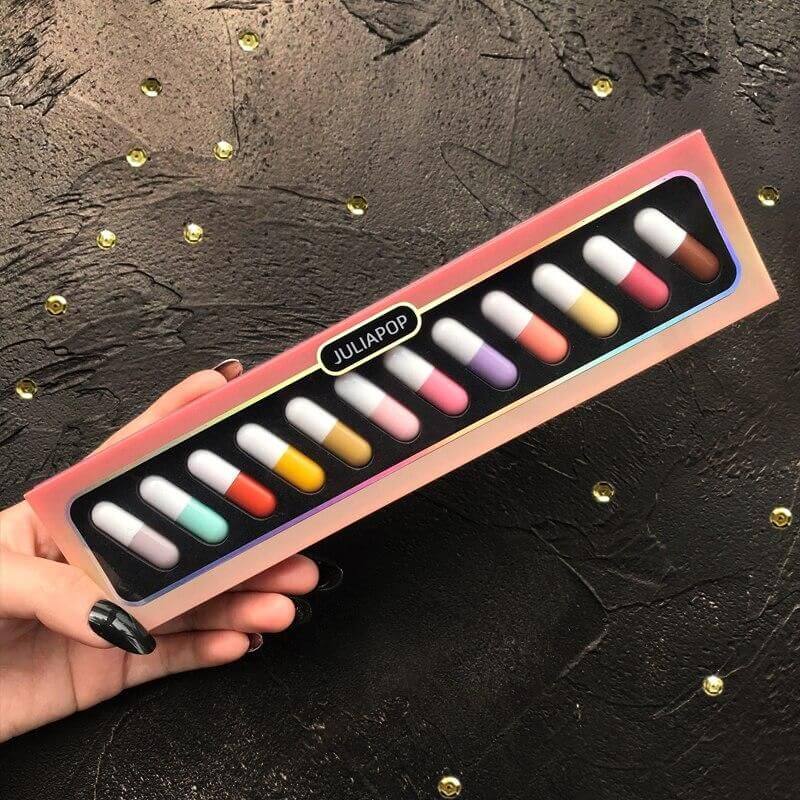 Give this lipstick set to your bridesmaid group before the wedding day. The cute look of these lipsticks will make her fall in love. Its lipstick is silky smooth, delicate, and elegant, suitable for all seasons of makeup. There are 12 colors in one set.
---
2. "No ugly crying" handkerchief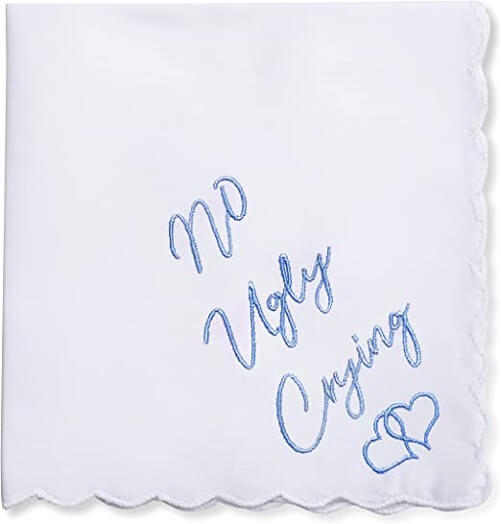 There's something about a wedding that brings everyone to tears. Unfortunately, those tears don't always make for good photos. As one of the funny bridesmaid gifts for your bride tribe, remind them not to get teary-eyed during the big ceremony.
---
3. Funny Cosmetic Bag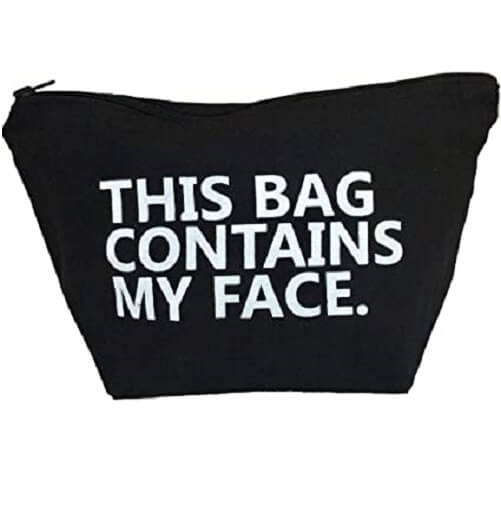 Looking for a practical gift for your bridesmaids but don't want it to be boring? This makeup bag is a perfect choice. It can carry all the essentials for the wedding day, but it can also be used many times in the future.
---
4. Funny slim can cooler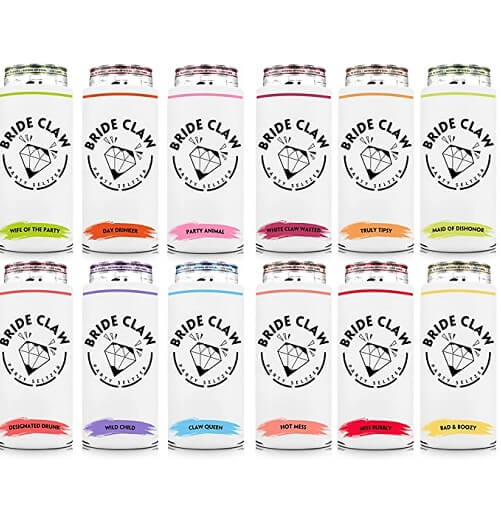 Why wait until the cold drink serves when you and your bridesmaids can use this cooler? Not only can these coolers keep any drink perfectly chilled, but they're also guaranteed to put a smile on your bridesmaid's face. The 12-pack will keep your drink warm or cool, it also keeps your hands dry. Add this one on your list of funny bridesmaid boxes.
---
5. Funny sunglasses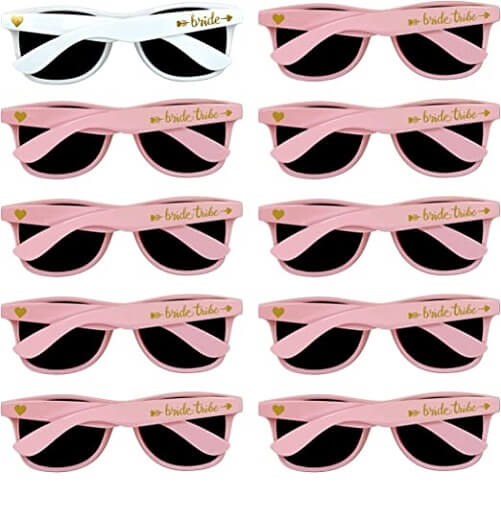 When you choose to have an outdoor wedding, protect your eyes with these fun sunglasses. They are suitable for an outdoor wedding. And they are perfect for a party pool. Plus, getting your girls to wear glasses makes for a great photo opportunity. Whether you're looking for funny bridemaid gifts or bride gag gifts, these sunglasses are the best choice.
---
6. Bridal party pin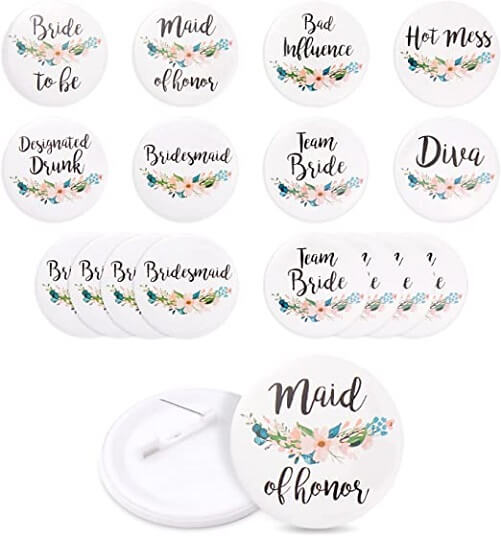 One of the best bridesmaid proposal ideas, this bridal party pin is perfect. Every bridal party pin is made of tin. Believe it will be a beautiful memento after the event. Each lapel pin has a simple opening clasp that makes it easy to use on dresses, bags, t-shirts, or sweaters. With this collection of 16 lapel pins, it's time to show off your tribal pride.
---
7. Funny candle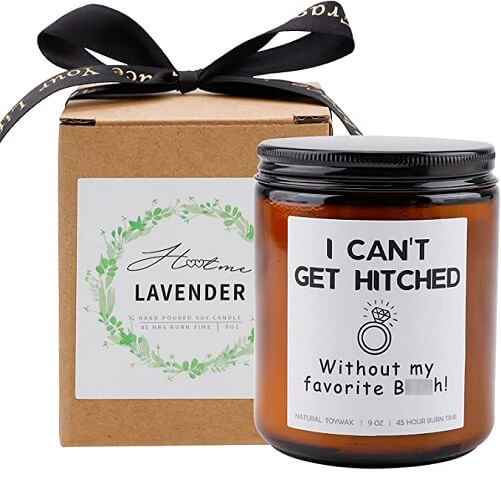 There are countless ways to ask someone to be a part of your wedding. This candle is a perfect proposition. It's not only fun, but it's also really useful. The candle has a strong lavender scent that is effective in purifying the body.
---
8. Funny Bridal Party Sashes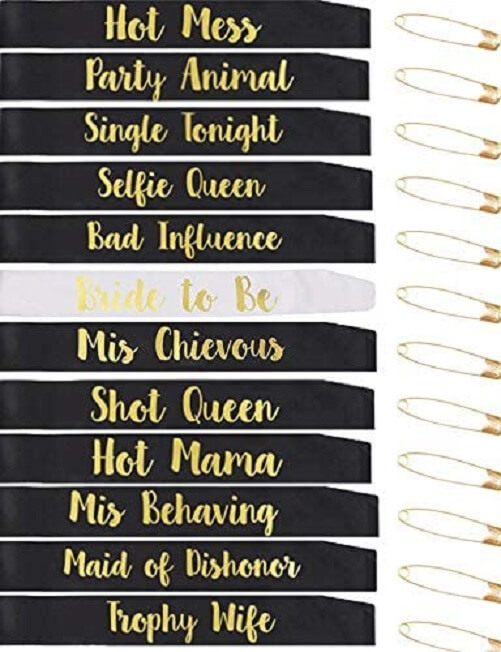 Want to have an epic bachelorette party with your girls? We guarantee this is exactly what you are looking for. These sashes are well made and perfectly sized to fit most shapes and sizes. There are various fun titles like a hot mess, selfie queen, and many more that will ensure a memorable night of laughs.
---
9. Funny bath bombs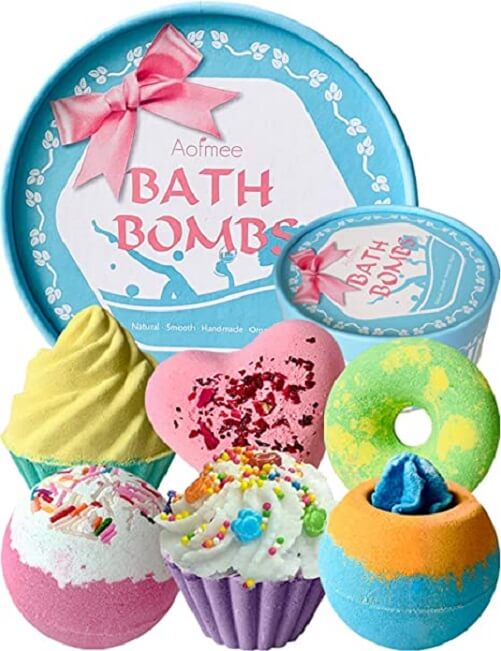 These homemade bath bombs are the next funny maid of honor gifts that we want to recommend. are made with unique essential oils. They moisturize and deeply nourish the skin, leaving you radiant all day long. They are perfect to use the day before the big wedding day. Food-shaped bath bombs that will excite your bridesmaids.
---
10. "I do crew" slippery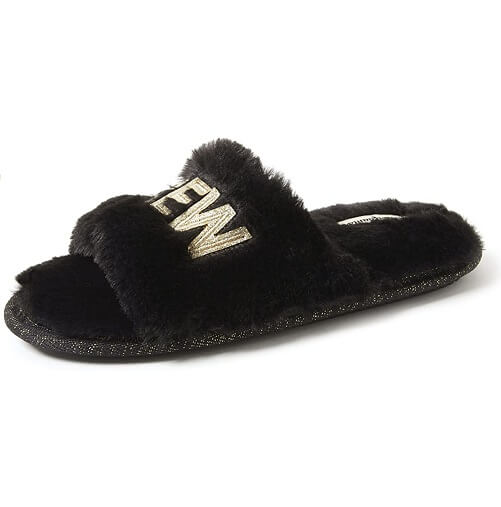 Add some fun to your wedding party with these cute faux leather sandals. They are recognized as very cute, cozy, and comfortable. Each slipper is equipped with a multi-density cushioning sole and coated with active foam to create a cloud-like feel on your feet. These sandals are the perfect choice for you and your team to snap memorable Instagram photos.
---
11. Bridesmaid tumble set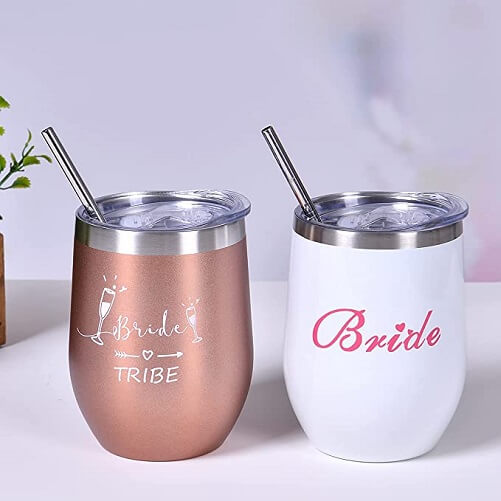 If you're looking for funny bridesmaid gifts, you've come to the right place. We have 6 convenient tumbles for your bride tribe. Each tumble comes with an eco-friendly rubber lid, a stainless steel straw, and a straw cleaner. The surface of the rubber cap has a small hole for you to insert the straw into.
---
12. Mermaid pool floats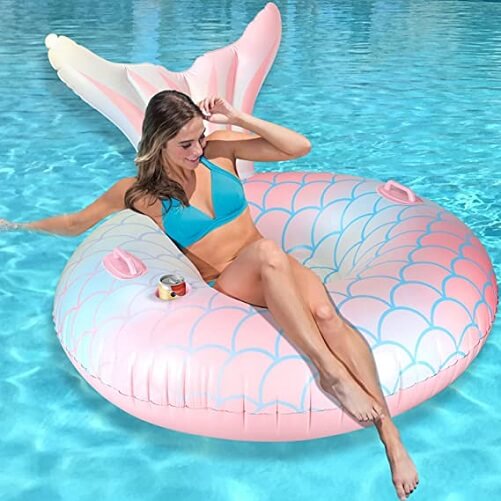 How about a party pool with the girls? Truly a great idea! For the best party ever, we think you should get this funny mermaid pool float for your team. This pool float comes with a cup holder. It is conveniently located for easy access. Perfect for sipping a drink while hanging out with the water.
---
13. Wine stoppers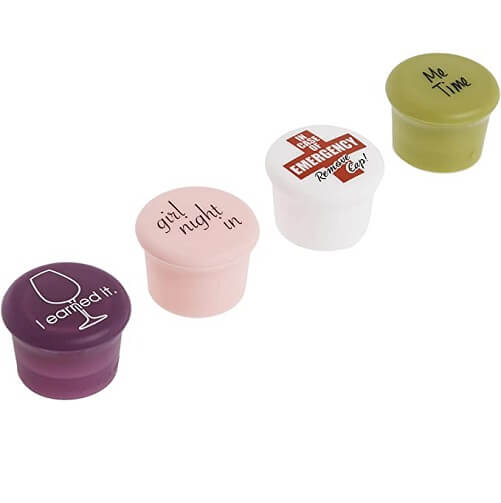 Your wedding day will be very busy, which means half-finished bottles of wine. Give your bridesmaids a way to keep their bottles fresh. With these fun wine stoppers, they'll save the wine for later. They can then bring in extra wine at the end of the night. Still wnderring funny bridesmaid proposal, cosider this one.
---
14. Bride tribe metallic tattoos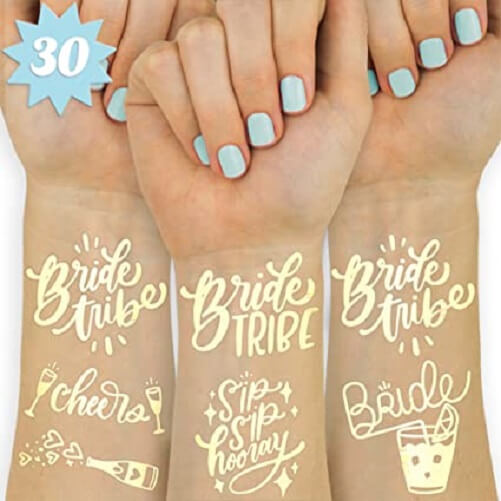 Add a little sparkle to your grand party. These metallic gold tattoos will be the highlight for your bridesmaid team. You are completely assured of their grip. An Amazon customer reviewed:"They stay behind for a long time after all our mischief, but are easy to clean up when needed."
---
15. Clear bubble umbrella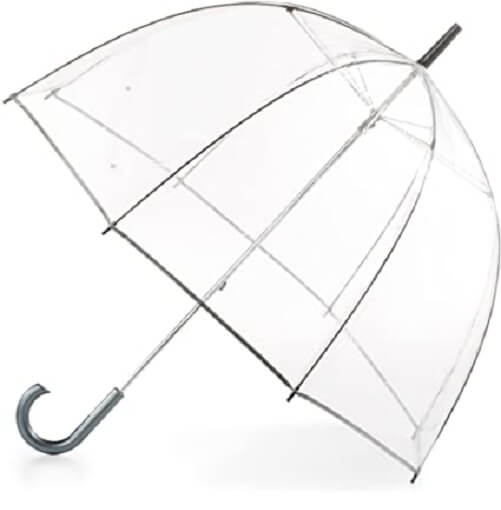 An outdoor wedding will sometimes get wet. But don't stress, rain is a good omen. You should give these beautiful clear umbrellas to your bridesmaids and guests. We bet you'll be surprised when it becomes a chic accessory on your wedding day. It will make wedding photos more poetic than ever.
---
16. Personalized tote bag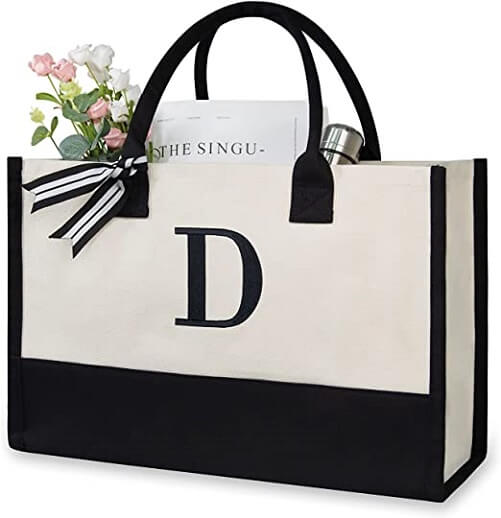 One of the cool ideas we shared from a newlywed couple: They custom embroidered each bag with each bridesmaid's initials. Next, fill them up with snacks, hangover kits, and other random goodies. They chose the large size so people can use them for travel, and beach trips or carry all their extras from hotel to location.
---
17. Charming clutch bag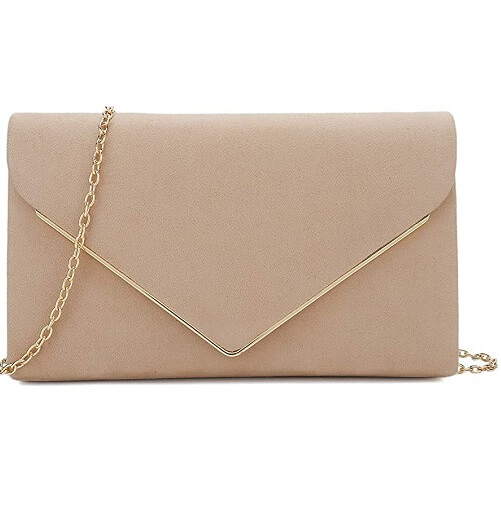 The classic clutch bag is an elegant accessory for that special person at your wedding reception. The polished metal trim on the lid adds to the modern charm. Choose a color that matches your wedding theme. Surely this is a gift they can use both during and after your wedding day.
---
18. Chapstick holder keychain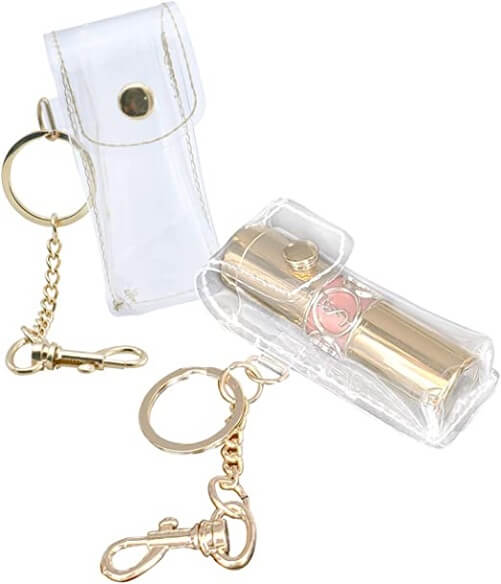 Get ready to pamper your bridesmaids with this nifty keychain. As you can see in the picture, it has a small pouch that fits lipstick. You can carry it with you or hang it on your bag, so you can grab your favorite lip balm or lipstick anytime, and anywhere.
---
19. Compact mirror with LED light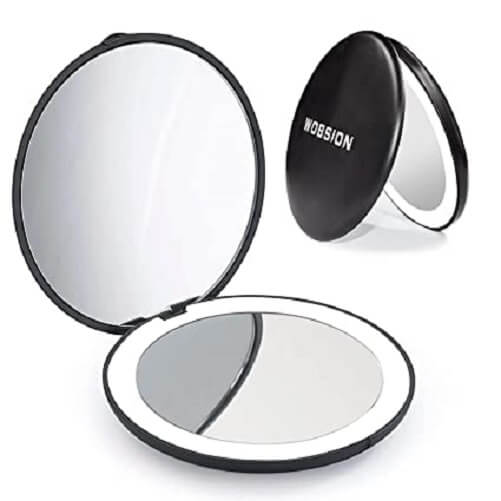 Our girls will need to check their makeup regularly on the big day. Therefore, they really want a compact mirror that fits in a clutch bag. In particular, this mirror is also equipped with an LED light. It is extremely useful for makeup.
---
20. Blanket sweatshirt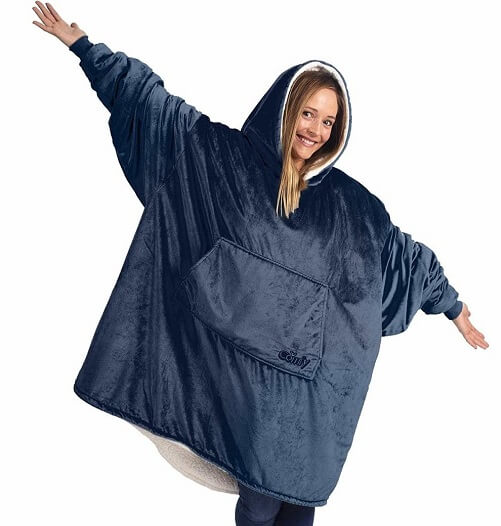 She needs something to wear as she watches all her favorite shows. Please meet that request with this blanket sweatshirt. It has a hood to keep her warm, comes down to her knees, and has a large pocket in the front for her to keep her favorite snacks.
---
21. Sandalwood fan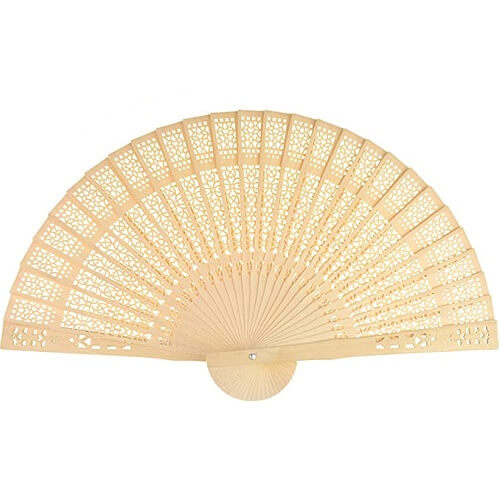 Simple, elegant, and perfect for summer outdoor weddings. These sandalwood fans will be beautiful accessories for bridesmaids. A lot of our customers have appreciated it in their wedding photos. More than just gifts for the bridesmaids, we think you should prepare large quantities for the guests.
---
22. Dried flower crown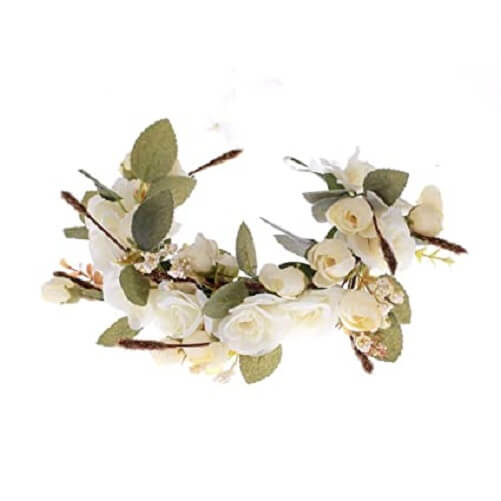 Dried flower crowns can be kept as a keepsake after the wedding. They are beautiful and easy to wear (with bendable straps and double satin ribbons to tie together). Packaged in a ziplock plastic bag to preserve it from damage or dirtying when not in use.
---
23. Pillbox hat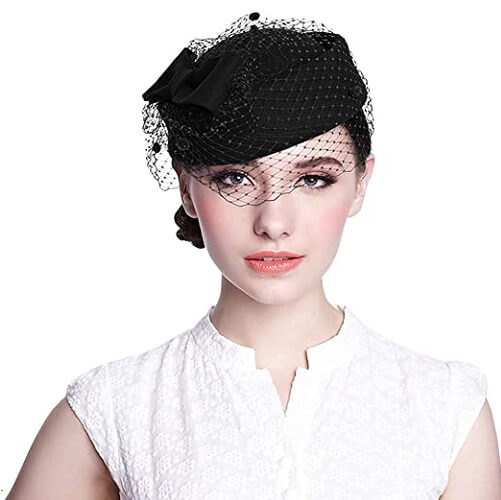 If you want to have a wedding in the style of the 50s, we recommend this gift for you. A luxurious pillbox hat with a small bow attached. It is covered with an extra layer of mesh to create a mystical feeling. You and your bridesmaids will become superstars.
---
24. Bracelet flask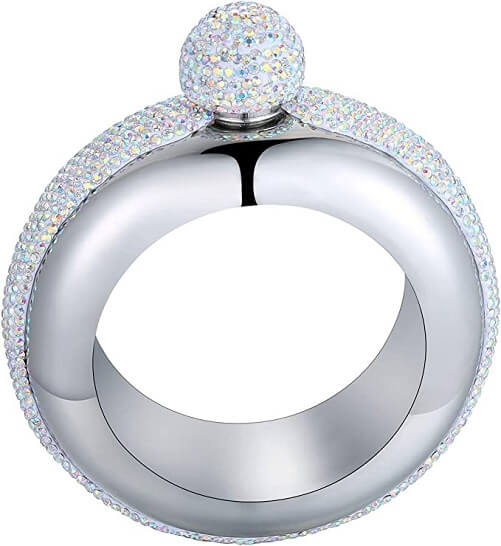 Who would have thought this was a flask? But it was. The bracelet flask resembles a giant sparkling diamond ring. Its attractive appearance is like a piece of jewelry. However, this flask can hold 3.5 once of the wine. Pour their favorite wine in here and give it to your bridesmaids.
---
25. "I can't say I do without you" necklace set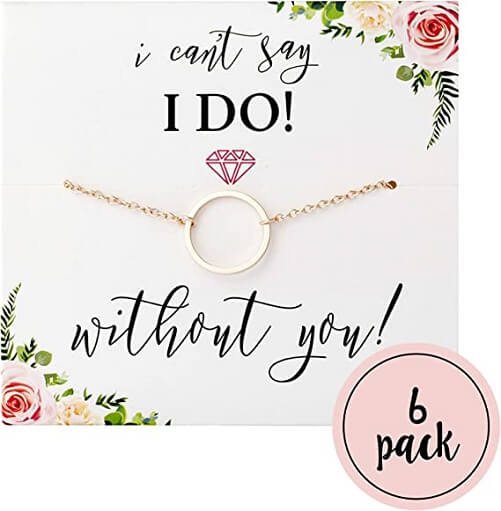 Show appreciation to your bridesmaid, maid of honor, or flower girl without breaking your budget. The "I can't say I do without you" necklace set is one of the funny bridesmaid gifts for your bride tribe. It's cute and perfect for a bridesmaid proposal box.
---
26. Zodiac necklace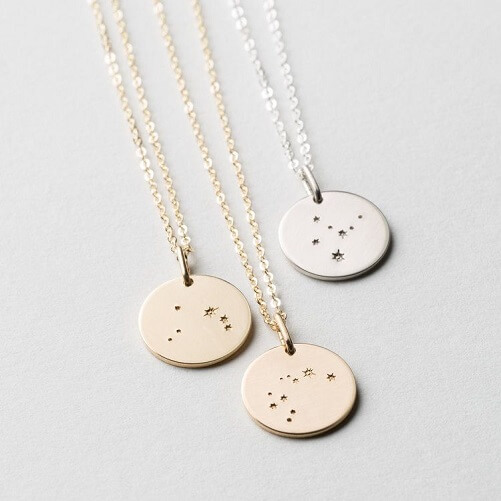 You can't pick stars for your bridesmaids, but you can give them this zodiac necklace. Each comes with a handcrafted gold pendant customized with their sun sign. We will pack all the products individually into cute little boxes. It is a very nice gift.
---
27. Jewelry barefoot sandals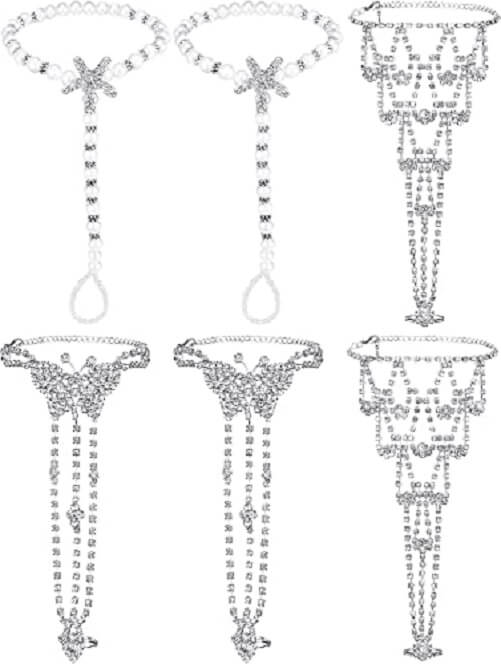 These jewelry barefoot sandals go from mid-calf to the top of the foot. However, there is nothing at the bottom. They are absolutely the highlight with their attractive butterfly design. They are a great gift for the girl in your life. Perfect for the pool lounger or to wear to a beach party.
---
28. Team bride tee T-shirt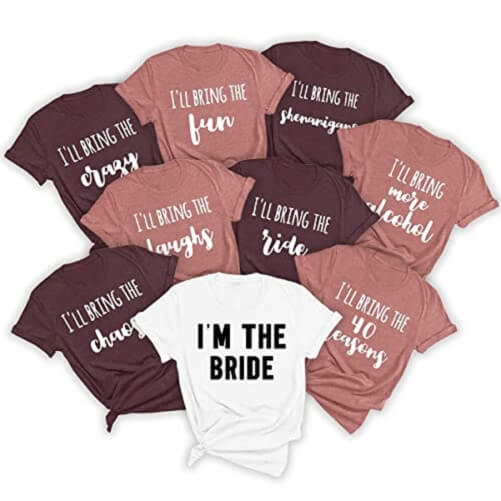 These funny lettering tops are funny bridesmaid gifts. It's great to wear this shirt together on a bachelorette night or travel. Each shirt will have a different description according to the recipient's personality. Guess who will wear the "I'll bring more alcohol" shirt.
---
29. Funny pajama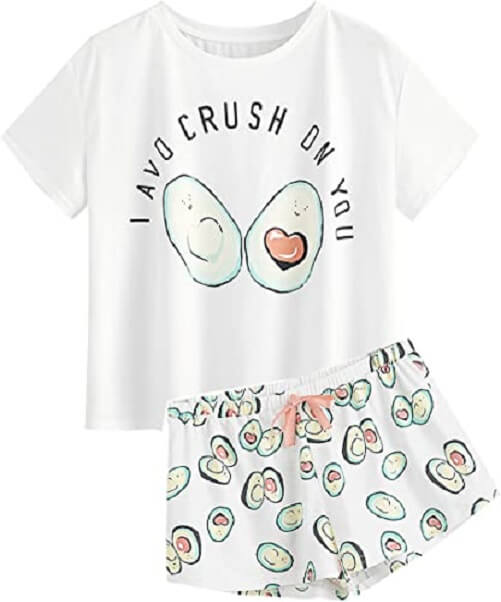 If you've been a bridesmaid before, you know it's a long day to get ready. For that, we recommend gifting these comfortable pajamas. So they can relax before the big moment. They are not bridal-theme, so they are not only great for that day but also for the future.
---
30. Floral robe satin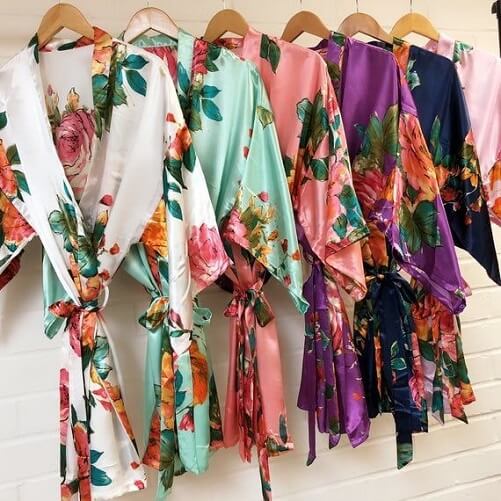 The best photos we've seen at the wedding are of the bride with her team. It's great when the girls are synchronized with each other in floral robes. It looks cute to match the floral robe and slippers when the champagne cork pops out. Your bride tribe will have moments of life.
---
31. Old Fashioned Carry-On Cocktail Kit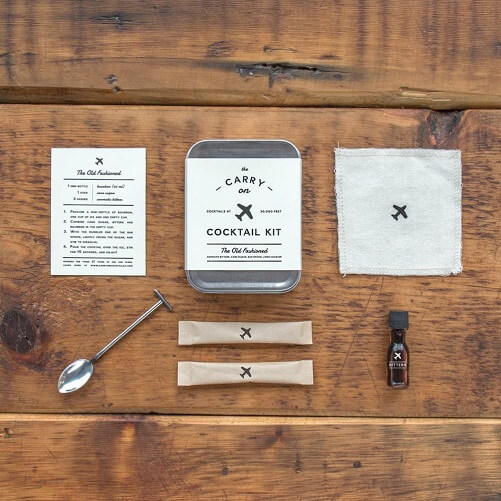 What shoud you give the bridesmaids who have to travel to a destination wedding? A cocktail kit, of course! It's an unexpected yet useful present and is sure to put a smile on her faces. It's also a awesome way to start off the big weekend. Give this kit as maid of honor gifts and they will appreciate. One of the best funny bridesmaid gifts you shouldn't miss!
---
32. Team Bride Sunglasses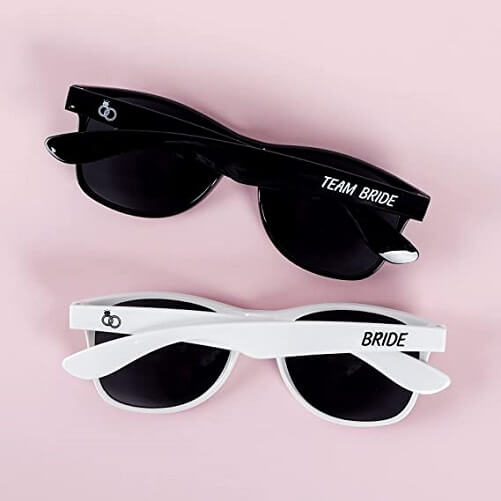 Your bridesmaid attended the outdoor wedding party? Protect her eyes with these fun sunglasses! They are not only suitable for an outdoor wedding, but also the ideal present if you and your girls love to spend time outside by the pool. Plus, getting your girls to wear glasses makes for a great pictures opportunity.
---
33. Custom Bridesmaid Wine Glass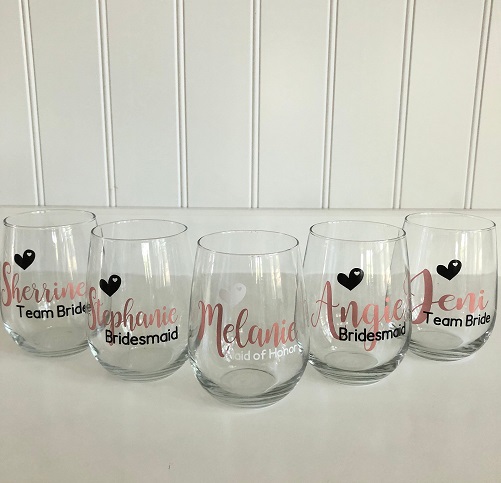 Designed with a delightful touch of humor, these wine glasses are sure to make your bridesmaids chuckle and create memorable moments during your wedding festivities. Each glass can be customized to reflect the unique personality of each bridesmaid, making it a truly special and personal gift.
Our Custom Bridesmaid Wine Glass features a high-quality glass construction that ensures durability and elegance. The design showcases funny phrases, clever puns, or amusing illustrations related to weddings and bridesmaids. Imagine the smiles and laughter as your bridesmaids raise their glasses, adorned with inside jokes and witty references that only they will understand.
---
34. Help Me I am Poor Canvas Tote Bag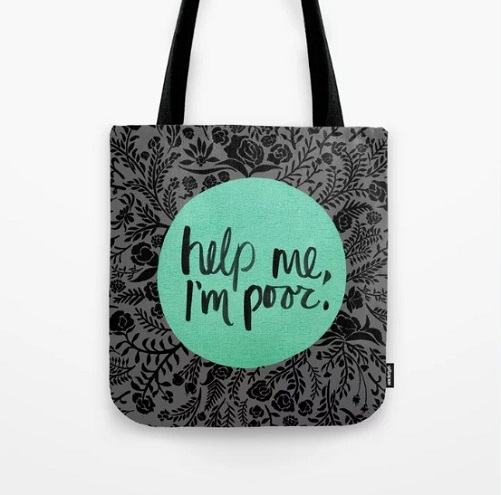 Introducing our "Help Me I am Poor" Canvas Tote Bag, one of perfect funny bridesmaid gifts that will bring laughter and a touch of humor to your wedding party.
This tote bag is a playful and lighthearted way to show appreciation to your bridesmaids while adding a fun twist to their accessories. With its witty slogan, it's sure to bring smiles and laughter as your bridesmaids proudly carry it during wedding preparations or use it as an everyday tote.
Final words
Usually, brides will give a small gift of appreciation at the rehearsal dinner or before the wedding. While they certainly don't have to be fancy or expensive, bridesmaid gifts are a great way to show your appreciation. Checking out the list above, giftOMG hope you've found some funny bridesmaid gifts.