Here are our top picks for 10 different Mason Jar Christmas Gifts. They range from delectable homemade dishes to fragrant candles that will brighten the space.
There are so many great traditions around Christmas. Making holiday cookies, hanging the naughty Elf on the Shelf, and even viewing holiday movies are all part of the season's festivities. Then there is the seasonal pastime of making Christmas crafts out of Mason jars, which is growing in popularity with each passing year. After all, regardless of whether you are a frequent canner, there is a good possibility that you have a few of these useful glass canisters hidden throughout your house.
There is something for everyone because I have gathered home spa supplies, candles, snack mixes, and DIY decor. There are a lot of ideas and not enough time to make them all, so get to work!
10 Fun and Simple Mason Jar Christmas Gifts
From delicious homemade recipes to cute decorations that will brighten up a room, these ideas of mason jar Christmas gifts will inspire you to be a crafty little house ELF this year. Now and customize the perfect gift. Scroll down to explore further.
1. Mason Jar Ornament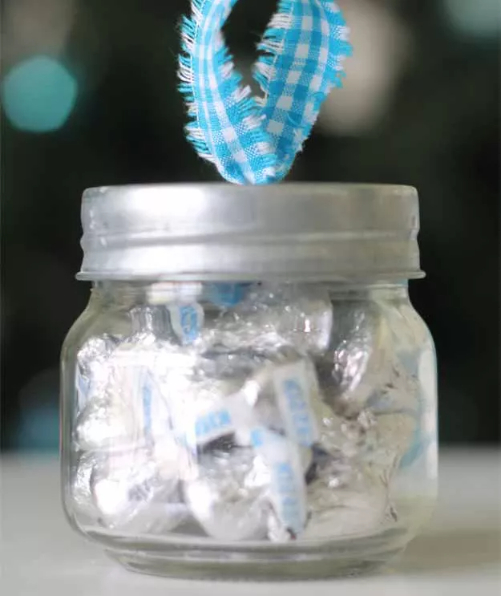 One of those concepts that seem almost too simple to be true and makes you question why you didn't think of it sooner is a mason jar ornament.
This jar includes:
Small glass jars with metal lid
1-inch wide ribbon or fabric strips
Drill with 3/8 inch bit
Small piece of scrap wood
Scissors
Items to fill jars
Take the glass jar first.
The jar's lid should be taken off and positioned upside down on the piece of scrap wood. Holding the lid securely in place, drill a hole in the center of it using a 3/8 inch bit on your drill.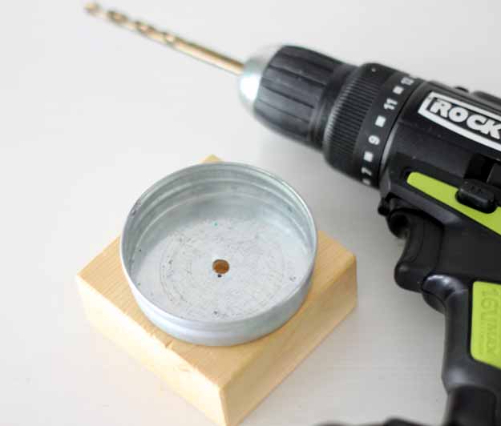 Then you will require a ribbon or fabric strip. I used a piece of fabric that was 1 inch broad and 10 inches long.
To make a point in the middle of the ribbon or fabric, fold it in half lengthwise, then over the top of the center.
In order to construct the loop, pull the ribbon through the hole with the point while leaving the ends of the ribbon on the bottom of the lid.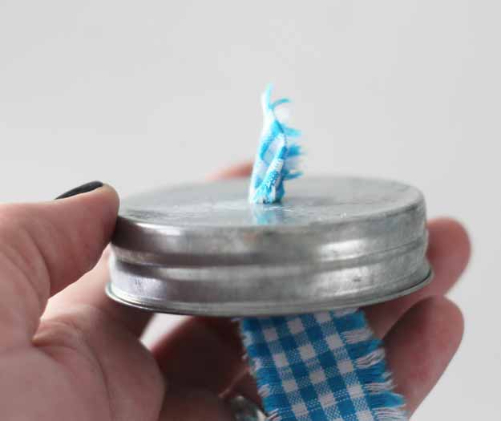 Make a knot in the ribbon or cloth, then use scissors to snip away any extra.
Replace the lid after your jar is full before giving it as a present to friends. When filled with nail polish, lip balm, etc., this mason jar ornament makes a terrific teen present. You could also put in little cars, jelly beans, or anything else that would fit in the jar.
2. Golden Pampering Mason Jar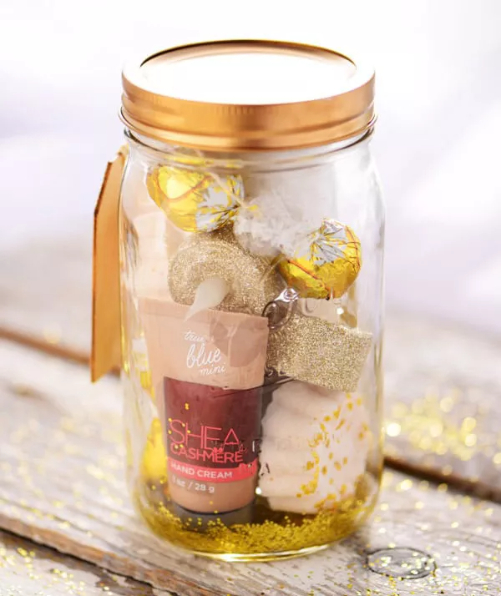 There are golden spa supplies in a Golden Pampering Mason Jar Gift. Recipes for dazzling bath bombs, gold dust foot soak, and shimmering brown sugar scrub are included in the article. There are so many occasions where this gift in a jar is ideal!
This jar includes:
Two Glittering Bath Bombs in a Glitter Kerr Quart Mason Jar
Foot Soak with Gold Dust
2 Gold Glitter Tea Light LED Candles
Revlon nail clippers in gold
Revlon tweezers in gold
Size 1 oz. of True Blue Shea Cashmere
Three Lindt white chocolate truffles
This set encourages pleasant relaxation with its foot soak, sugar scrub, chocolates, and other items. Spray-paint the lid of the Kerr quart-size mason jar with metallic gold spray paint to prepare it. Then, use Mod Podge to coat the inside of the jar's bottom and sides up to a half-inch, and then sprinkle with gold glitter.
Place everything into the mason jar gradually. To make everything fit, a little rearrangement may be necessary. The two tiny Mason jars were put on top of one another. The jar is prepared to be given as a gift after the Golden Pampering label has been tied onto it.
You might want to keep this Golden Pampering Mason Jar for yourself because it is so much fun!
3. Chocolate Mint Mason Jar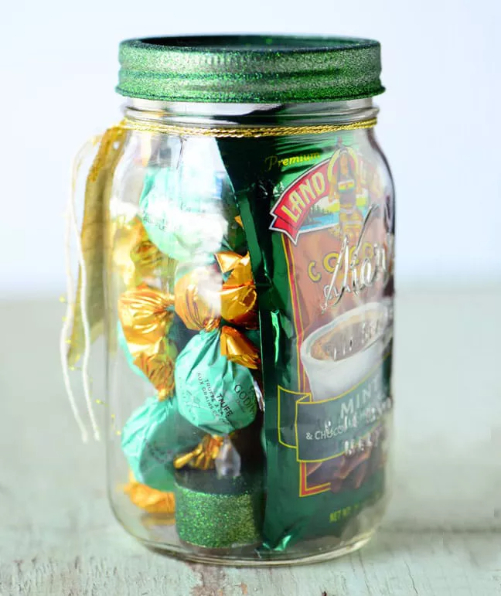 Make a cute themed jar by filling it with goodies and goods that are inspired by chocolate and mint.
For the people in your life who enjoy chocolate and mint, give them this present in a jar. You can offer it to the significant women in your life, such as your pals, sisters, mothers, and teachers.
This jar includes:
Green Glitter Candle
Mint Chocolate Lip Balm
I made hot chocolate using these individual Land-O-Lakes hot cocoa mix envelopes.
Green Striped Paper Straws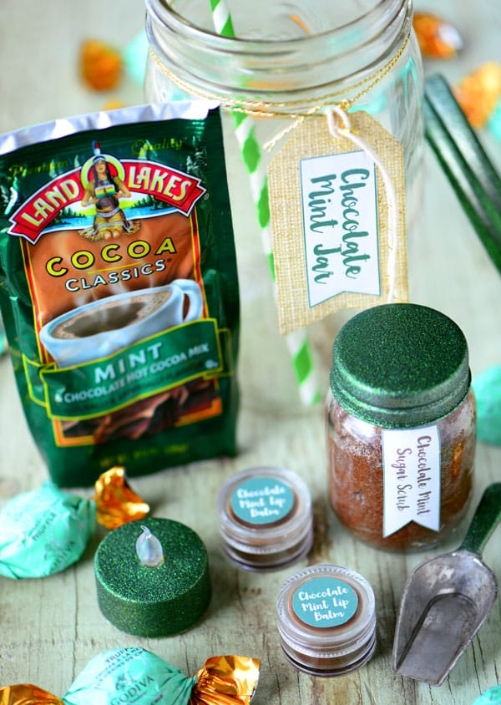 Start by applying green spray paint to a mason jar's lid.
I used Krylon Lucky Green Glitter Blast spray paint to decorate the small mason jar lids before adding Chocolate Mint Sugar Scrub. A little metal candy scoop with a spray-painted handle was also added.
To fill the jar, collect as many enjoyable, adorable, practical, and delectable chocolate mint objects as you can.
To make the mason jar gifts look prettier, I try to stick to a color theme while purchasing the things. As you can see, the predominant colors in this jar are brown and green. Other mint chocolate truffles and candies were available, but their packaging wasn't green. As though assembling a puzzle, fit everything into the mason jar.
So that you can see everything within the jar when you turn it around, turn the labels so they face the outside of the container. Add the green dazzling lid last, and then tie the gold string label to the lid. This Chocolate Mint Mason Jar is packed with indulgent sweets and luxurious spa supplies. A DIY present idea that works for any occasion is a gift in a jar!
4. Cookie Cutter Set Mason Jar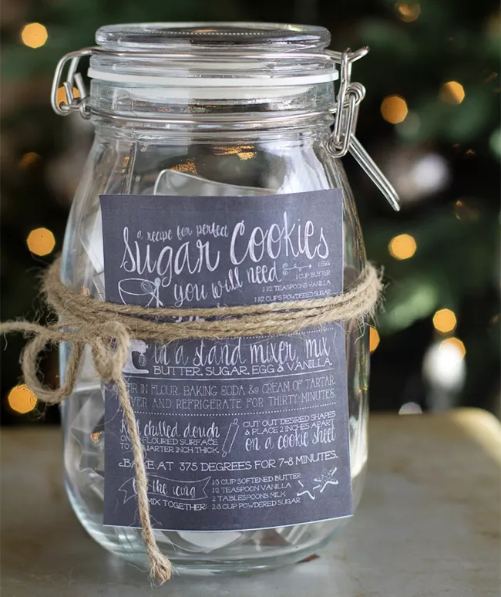 This is one of the best Mason Jar Christmas Gifts! This lovely Christmas Cookie Cutter Present is guaranteed to be appreciated by everyone on your gift list who enjoys baking.
This jar includes:
A mason jar in glass or plastic
Cutter for cookies (plastic or metal, and as many as you like)
Template for a recipe tag.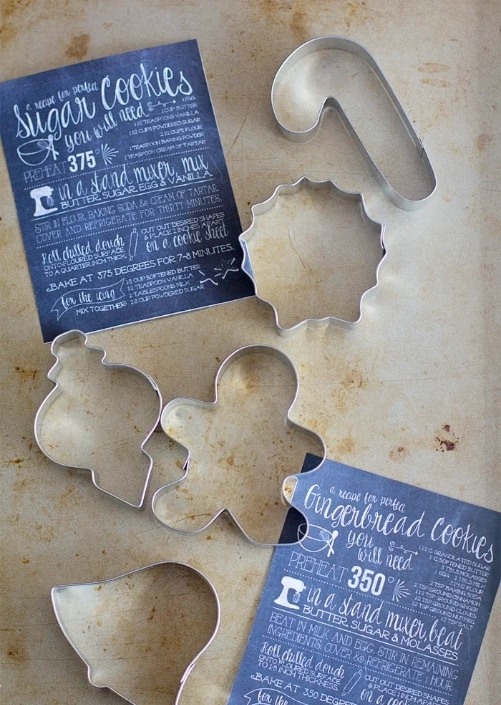 Put the cookie cutters in the jar or bag.
Use ribbon or string to fasten the recipe card that may be downloaded to the jar. Don't forget to add a lovely gift tag and your signature!
The cost of the cookie cutters might range from a few dollars to $15, depending on where you buy them and how many you want to use. This would make a sweet present for close friends, neighbors, or even coworkers!
5. Gumball Mason Jar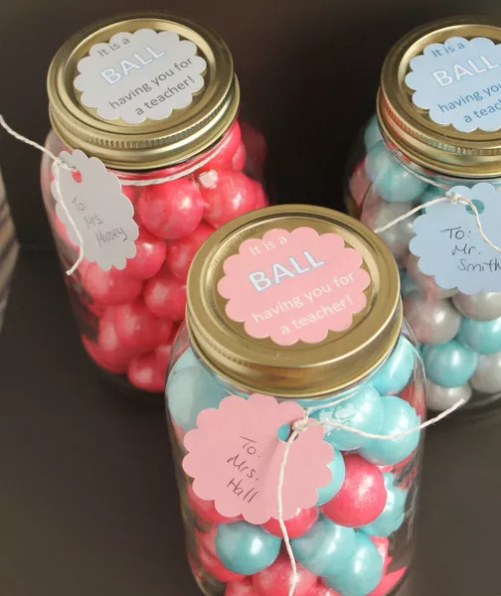 Give these gumball mason jar teacher gifts as a fun gift to your child's teacher this year. Simply take a mason jar, stuff it with gumballs of any color, then tie on the (no cost) teacher appreciation tags that are included in this post. Let's start making those goodies now! This is a really simple and inexpensive method to let instructors know you value them.
This jar includes:
Ball Smooth Jar
Celebration Gumballs (two packages per jar)
EK Tools Circle Paper Punch
Permanent Dot Runner
Darice Hemp Cord
Printable teacher appreciation labels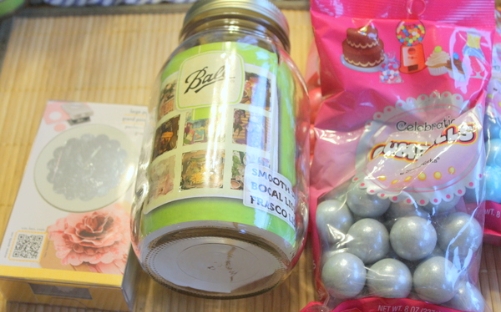 Put gumballs in your container. Either fill the jar entirely with one color or layer various hues. Using glue dots, secure the "BALL" tag to the jar's lid. Ink your teacher's name on the tag, punch a hole in it, and then secure it with some twine.
These presents for teachers' appreciation can be made quickly. Create one for each instructor your child has ever had. Both male and female teachers will love these.
This gumball mason jar teacher gift idea will let you give your teacher a present they will cherish.
6. Simmering Pot Mason Jar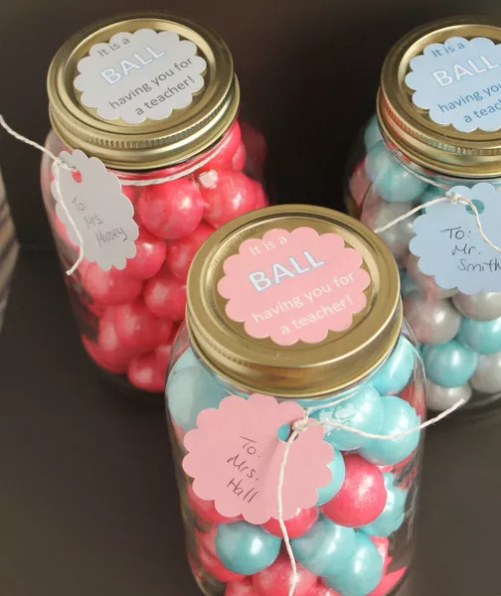 Give this gift to the individual who lives for fall to give them the aroma of the season. They'll be content till pumpkin spice season returns thanks to this four-ingredient mixture. Use a simmer pot to easily add natural fragrance to your home. When packed in a mason jar, this autumn simmer pot is a simple homemade present and incorporates all your favorite fall scents.
This jar includes:
orange slices
cinnamon sticks
whole cloves
apple peels
Pour the mixture into a saucepan, then cook it slowly on the stove all day to use your simmer pot. Keep an eye on it and add additional water as necessary.
Use whatever proportions you have on hand to combine the items in a mason jar; I promise your house will still smell amazing! One finely sliced orange, one apple's peel, one cinnamon stick, and one tablespoon of whole cloves were the ingredients I used.
It will stay in the refrigerator for up to 3 weeks if the Mason jar is completely filled with water. To present it as a gift, I added a small bow.
7. Glitter Mason Jar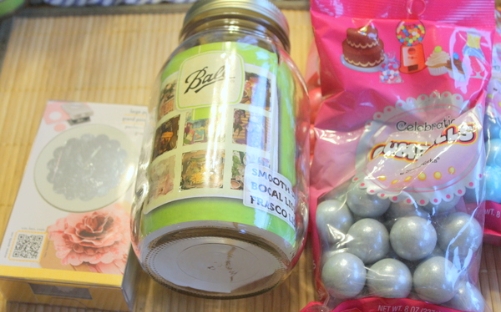 These sparkling Mason Jar Christmas Gifts will spread holiday cheer. The red and green glitter stripes are easy to make and look festive right away.
This jar includes:
Mason jars
Mod Podge
Metallic Paint
Glitter
Blue Painter's Tape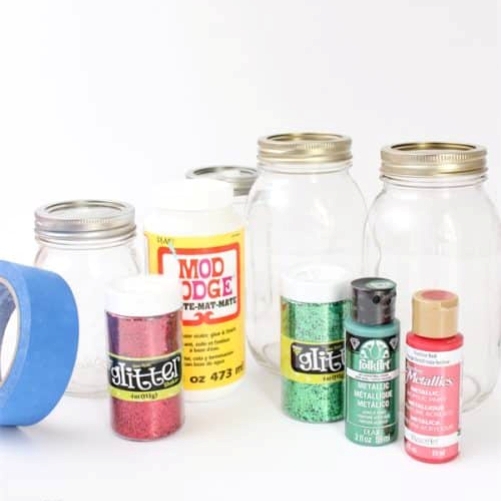 Tape off your jars first. There should be two sections. You should paint one piece, and then add Mod Podge and glitter to the other. It will take up less room on the jars and provide you more options for the stripes' and colors' widths.
The area of the Mason jar that you want painted should be painted. You will need to paint several coats because most metallic paints are somewhat sheer.
Apply a coat of Mod Podge to the area of your jars that will be covered in glitter. Sprinkle glitter all over. Make sure the entire area is covered. If you like, you can lightly pat the glitter into place, although it's not strictly necessary. While the Mod Podge is still wet, carefully remove every piece of painter's tape you used.
Give everything some time to dry and set. The glitter element of the jars maintains a clean, shiny appearance by utilizing Mod Podge as the basis for the glitter.
8. Circus Animal-Topped Mason Jar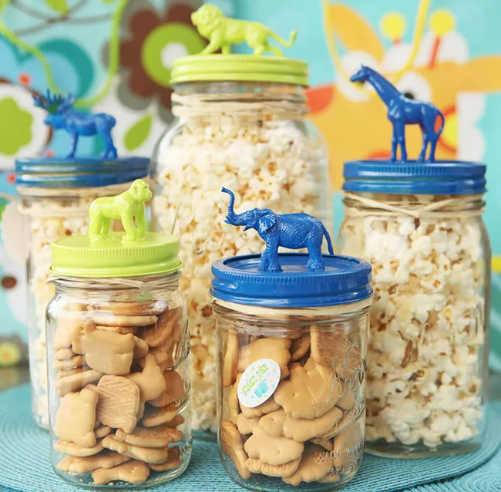 These easy-to-make circus animal-topped jars can be given to an animal-loving friend as a themed snack or used to embrace the three-ring circus that is your extended family. You are invited to a party with a circus theme.
This jar includes:
Mason jars with snap lids and rings,
Hot glue gun and glue sticks
Plastic animals
Small scissors or box cutter
Spray Paint for metal and plastic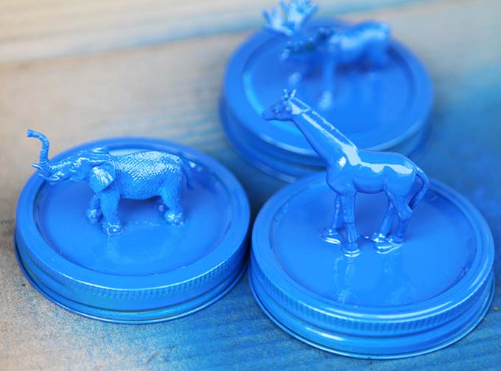 You will need to glue the snap lids and rings together if you're using them. Apply glue to the ring's top interior, then press the snap cover into place. You can open the lid whichever you want. The way they were placed together, in my opinion, looked finest. Utilizing one-piece plastic lids made for mason jars is an additional choice.
Attach a plastic animal's feet with glue to the lid's middle. The creatures should be 2′′ – 2.5′′ length for this project to look its best. Smaller ones are lost, while larger ones dwarf the lid. Cut the adhesive strings off once the glue has dried, then tidy up the edges.
Cover the lid and the animal with spray paint designed to adhere to a variety of surfaces.
Before adding another coat of paint, let the first one dry completely. 2 – 3 coats may be necessary for complete coverage.
For a "Grand Spectacular" party favor, stuff jars with snacks or toys and cover them with lids.
9. Chili in a Jar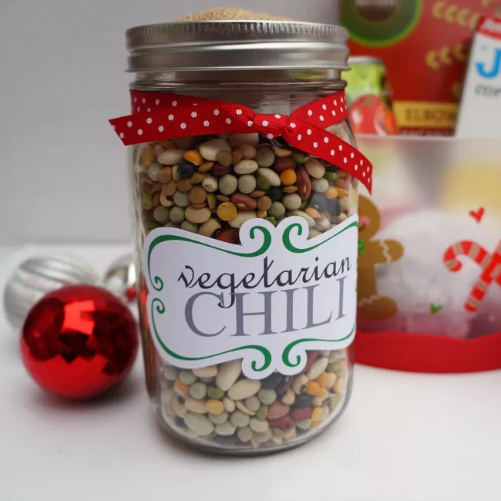 My favorite aspects of Christmas are the people I spend time with, the food I eat, the traditions we follow, and the memories we create. Putting together thoughtful presents for the people I care about is one of my favorite pastimes. Find out how to make a chili jar gift for the holidays.
To finish the meal, I added a can of stewed tomatoes, a box of macaroni, and a box of cornbread mix to a cute Christmas container along with a jar of chili ingredients.
I began by filling a 1 quart glass jar with a 16 ounce bag of soup beans before putting the container together. You can use any kind of bean, but in this case I went with a nice selection.
I next cut a 12 by 12 piece of parchment paper and filled it with all of my spices.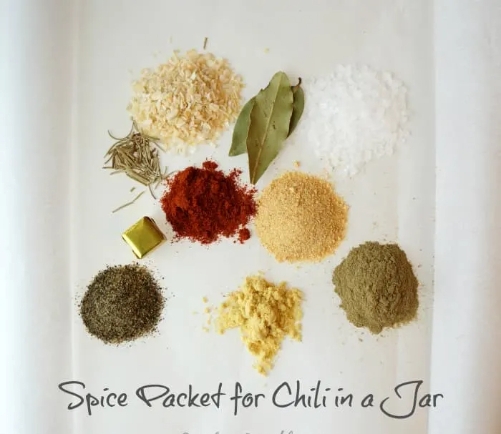 After writing everything, including the bullion cube, on the paper, I folded it into an envelope, tied a string around it, and placed it on top of the beans in the jar.
I used printable sticker paper to make the jar's label. You can handwrite a label for the jar or make your own sticker.
I put everything in a sweet jar made for Christmas cookies, like this one. Once the gift is consumed, this can be used as a cookie jar or as a decoration.
I created a straightforward card with a few decorations on the front and chili recipe instructions inside.
10. Minibar in a Jar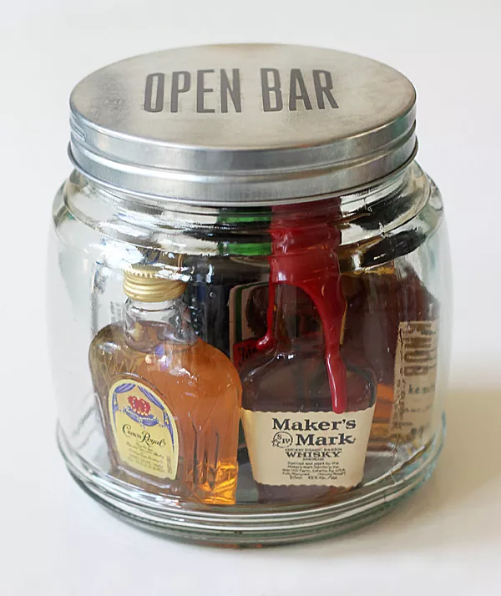 Making gifts in jars usually comes together really quickly, which is its best feature. This concept for a minibar in a jar surely fits the bill; in only a few minutes, you can make a present for someone who likes a drink now and then.
Give a sip (or more) of your friend's favorite alcoholic beverage when the weather becomes chilly. This open bar mason jar concept will make you the most well-liked gift-giver at any event.
This jar includes:
A large jar with a lid (big enough to hold several small bottles)
5-7 small bottles of alcohol
Adhesive Vinyl
Transfer Tape
Silhouette Machine + tools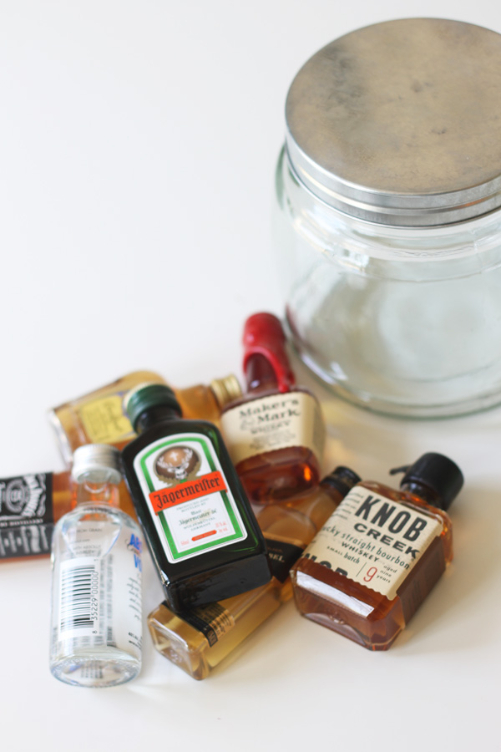 Start with your jar and your alcohol bottles (you can get them at any big box retailer).
Make a vinyl cutout of your image by clicking on the free image above to view it in a new window and save it to your computer. After saving, follow this tutorial to cut the vinyl graphic.)
Use a smoothing tool to apply the vinyl on the jar's lid, working your way out from the center of the graphic. Peel off the transfer tape once everything is in place, and you're done!
Related Posts:
Conclusion
The adaptable, vintage-style glass containers are ideal for storing a sentimental item, a delectable treat, or a gift for a loved one this holiday season. You can turn your own jar into a fun, cheery personalized holiday gift. These Mason Jar Christmas Gifts from giftOMG will motivate you to be a clever little elf this year and create the ideal present.