Thanksgiving is a special occasion where we spend time with family, loved ones, friends and do meaningful things for each other after a long time working and trying. On this day, choosing gifts to take out to eat is extremely important. So which gift is the most suitable? Take a look at 25 unique DIY thanksgiving gifts below and find the most meaningful gift ideas!
In the United States, Thanksgiving falls on the fourth Thursday of November with the meaning to celebrate crops and give thanks to God for a peaceful and prosperous life. In order to experience a meaningful holiday, besides the words of love, health and peace thank you wishes to your loved ones, homemade gifts will win the hearts of the recipients.
DIY Thanksgiving Gifts – Edible
Don't worry if you are stuck on finding impressive DIY Thanksgiving Gifts for those you love. We are here to help. Just take the following ideas into consideration!
1. Savory Spiced Pecans
Pecan nut is known as the longevity nut because of its health benefits. And it's also the featured food on thanksgiving day. Instead of buying them at the store, go to the kitchen and make these delicious salty pecans and give them as a gift to your loved ones.
2. Mashed Potatoes & Gravy
Mashed potatoes are an indispensable dish of every family during thanksgiving. The mashed potatoes are deliciously buttery, soft and melt in the mouth. It is the perfect choice to serve with other high-class restaurant standard dishes that can be prepared at home very simply. Try making them and giving them away, the recipient will be surprised.
3. Lentil Brown Rice Dry Soup
Soup is the quintessential autumn dish. Ingredient soup recipes often include brightly colored ingredients like lentils, spices, sun-dried tomatoes, noodles, and beans. This is an idea that is both delicious and easy to make.
4. Pumpkin pie
Who doesn't love lovely pumpkins when it comes to Thanksgiving? And pumpkin pie is a traditional dessert for Turkey Day. Thanksgiving takes place at the time of the change of seasons, so the pumpkin pie makes people feel that autumn is still present amidst the approaching winter cold. The mild spicy flavor of cinnamon, cloves, nutmeg, and ginger blends with the layer of butternut squash, creating a special attraction for this cake.
5. Ginger cookies
This is also one of the most popular Thanksgiving cakes. Gingerbread cookies come in many different shapes, typically human, laurel, reindeer, and house. If you want to show your loved ones how adorable they are, these DIY thanksgiving gifts are sure to bring a smile to the faces of your friends and family.
6. Cranberry Sauce
The blend of blueberries, sugar, lemon zest, and water seems to have created a bit of indulgent sweetness for thanksgiving. To make it tastier, you can also add pecans, raisins, orange peels, blueberries, grapes, cinnamon, or all nuts.
DIY Thanksgiving Gifts For Decoration
7. Handmade Cloth Napkins
Finding a gift is actually quite difficult, when it seems that anyone can buy themselves the necessary item. Hand-made gifts to give to loved ones will bring the best meaning that no other gift can compare. Every detail can adorn a meaningful thanksgiving, and that includes napkins.
8. Napkin Rings
Give your holiday table a rustic flair with these fabric napkin rings. These simple napkin rings are perfect for brightening up a dining table space. You'll need bracelets, fabric, some ribbon, hot glue, tape, scissors, and some nature-inspired decorations – including greenery, pine cones, or small felt leaves. Give these sweet and easy DIY thanksgiving gifts to your loved one.
9. Memory Jars
Make a memory jar to fill up the good things that happen to you, so that at the end of the year you can remember all the happy things. You can also make a similar bottle to give to your loved ones, they will be very happy!
10. Fabric Pumpkin Centerpiece
You can reuse these adorable pumpkins year after year. Very saving, isn't it? You can use cotton or rags to make it – a good craft for Halloween or Thanksgiving decorations. Give these funny pumpkins as a gift to your loved ones or friends.
11. Thanksgiving Printables
Every loved one is an important part of your life. On special occasions, prepare this gift for friends and family.
12. Pumpkin Canvas Painting
Are you a little artistically gifted and want a lovely Thanksgiving gift? Why not draw this unique pumpkin? It makes for a special DIY thanksgiving gift that is completely unique and thoughtful!
13. Thanksgiving Candle Centerpiece
Food makes the party taste better while flowers and candles make the atmosphere fresh and cozy. A little green of the leaves, a little red of the candle, adding a few textures around, that's enough to create a lovely Thanksgiving Candle Centerpiece. This diy Thanksgiving gift is sure to be a sweet accent on the recipient's dinner or tea table.
14. Mini Pumpkin Centerpiece
The Mini Pumpkin Centerpiece is easy to make. It is not only a fun decoration, it can also be a great gift for your loved ones. We guess you've seen the larger versions. Inspired by the big ones, make these pretty little things with your own hands. They are inexpensive and unique decorations! Let us share how simple it is in the video below!
15. Felt Pie-Slice Garland
This Felt Pie-Slice Garland is a festive dining room decor. It can also be scattered across the tabletop as part of a Thanksgiving centerpiece. It's really easy to do, let's do it!
16. Pine Cone Wreath
Pine Cone Wreath is not a unique gift. Don't worry if you are not a handy person. The video tutorial below will help you create the ultimate DIY thanksgiving gift.
17. Paper Leaves Wreath
Here's another beautiful wreath suggestion for you. The Paper Leaves Wreath has the characteristic of being kept for a long time, showing the heart of the giver. Whether it is ugly or beautiful, the person you love will still be "fallen in love" by your thoughtfulness and cuteness.
18. DIY Wheat Cloches
The meaning of gifts does not lie in the material value or money, but in the heart and mind of the giver who wants to convey through it. When they receive a gift, do they feel happy, or feel more pressured and responsible? Surely the recipient will be very happy to receive this DIY thanksgiving gift.
DIY Thanksgiving Gifts – Drinkable
19. Black Cherry Mocktail
Besides decorative gifts, giving practical drinks is a great idea. You can prepare your own at home or surprise the giver by going to their kitchen and making a refreshing Black Cherry Mocktail. Well, that's interesting!
20. Pumpkin Spice Smoothie
A delicious and fancy drink that will completely captivate many people. The Pumpkin Spice Smoothie would make a great addition to a cozy dinner, especially when the weather is a bit chilly around Thanksgiving.
>> See the recipe here!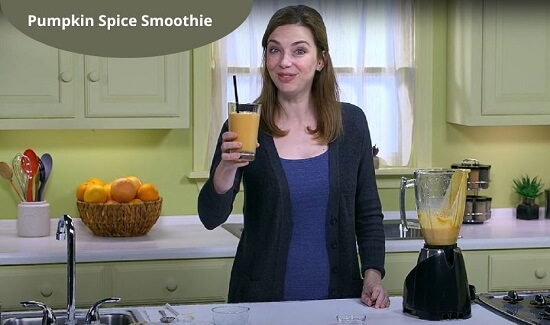 21. Pumpkin Spice White Russian Cocktail
This delicious Pumpkin Spice White cocktail is perfect for a night out! It is a combination of whipped vodka, coffee liqueur and pumpkin spice liqueur. This colorful drink is on the Thanksgiving table to help the party balance nutrition, reduce boredom, and taste delicious.
22. Hot Buttered Cider Mix
An evening full of surprises with a handmade gift for a loved one or friend on Thanksgiving. Try making this "super delicious-super easy" drink right away! Taking a sip, that sweet and sour taste gently spreads on the tip of the tongue, making the recipient even more passionate.
23. Cranberry Apple Sangria
This is the perfect sangria to celebrate Thanksgiving! A blend of cranberry juice, apple cider, orange liqueur, honey and carbonated water and a few more spices – the perfect Cranberry Apple Sangria!
24. Chai Tea Recipe with Bourbon
Spiked Chai is the perfect drink for a warm winter! Chai Tea has a very simple recipe but is full of flavor. This chai tea recipe is simple, delicious, and full of flavor. It's exactly what you need for those Christmas or Thanksgiving parties or any chilly evening. We made it with bourbon, but it can also be made without alcohol.
25. Cinnamon Maple Whiskey Sour
Combine all ingredients in a shaker. Pour ice into the glass. And enjoy! Diy Thanksgiving drinkable gift for loved ones.
Conclusion
There isn't a person on earth who doesn't love the holidays because it's a time of celebration, warmth, and a relaxed, joyful spirit. Don't miss Thanksgiving this year, express gratitude in your own ways, and show your loved ones how grateful you are for their love and support, after all, Thanksgiving is the day you give gifts and thanks!
Hopefully, through this article, you will have more ideas for DIY thanksgiving gifts. Give the best to relatives, family, and friends, and enjoy this special holiday to the fullest!