What do you give someone who feels sick? Sending the sick care package ideas is a good idea.
When a loved one falls ill, it may be a hard task to find the right way to express your support and care. While "get well soon" cards and flowers are always appreciated, why not go the extra mile and create a thoughtful sick care package? Care packages are a tangible way to show your love and concern, bringing comfort and warmth to those feeling under the weather.
In this post, we, giftOMG will dive into a variety of creative sick care package ideas to help you bring a smile to your friend or family member's face during their recovery.
30 Sick Care Package Ideas For A Sick Or Injured Loved One
Discover a wealth of creative sick care package ideas to brighten someone's day. From comforting foods to personalized entertainment and pampering essentials, find inspiration for showing your love and support during their recovery journey.
1. Get Well Care Package Includes Blanket, Wellness Tea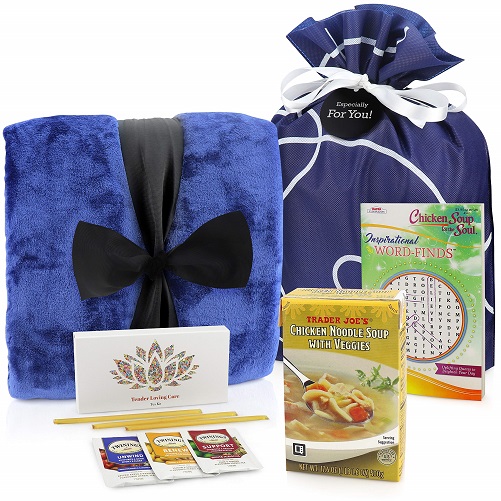 When a friend or family member is under the weather, a get well care package can be a ray of sunshine in their day. Consider including a soft and comforting blanket to keep them warm during those chilly recovery days, along with a selection of wellness teas to soothe their body and spirit. These thoughtful additions to your sick care package are sure to convey your warm wishes for their speedy recovery, providing both physical and emotional comfort.
---
2. Recovery Gift Box Includes Honey And Tea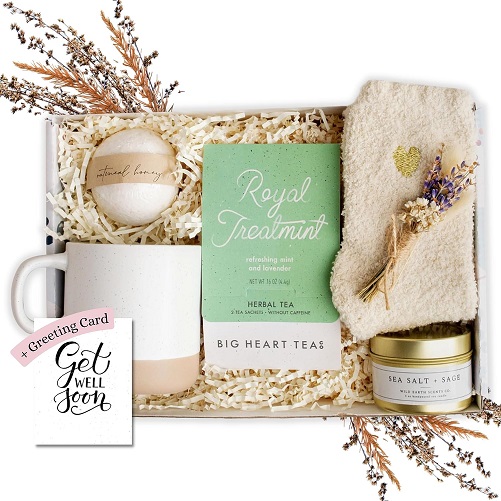 With this package, you can help someone who needs care and comfort. The recipient will get high-quality organic tea bags and natural honey for a soothing experience. This can serve as a thoughtful gift for someone feeling under the weather or even as a professional gift.
Additionally, there's a stir stick and essential oil included to boost both the body and mind while enjoying the drink. To complement the beverage, consider adding some cozy snacks. This package also makes a great gift for college students.
---
3. Smart Wi-Fi Humidifier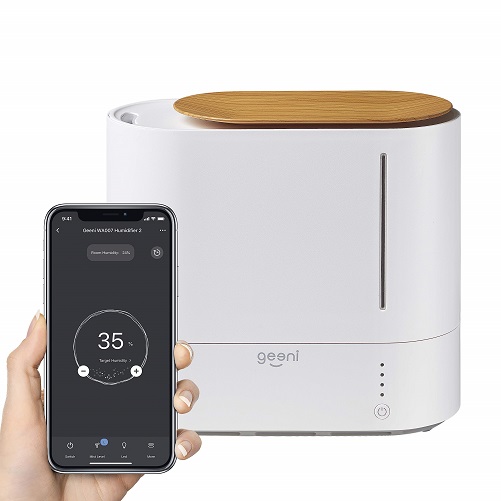 Incorporating a smart Wi-Fi humidifier into your sick care package ideas is a modern and thoughtful touch that can greatly enhance the healing experience. This innovative device not only helps maintain optimal humidity levels for better respiratory comfort but can also be controlled remotely through a smartphone app, making it incredibly convenient for the recipient.
Adding such a practical and tech-savvy item to your care package demonstrates your commitment to their well-being and offers a touch of modern comfort during their recovery.
---
4. Healthy Vegan Snacks Care Package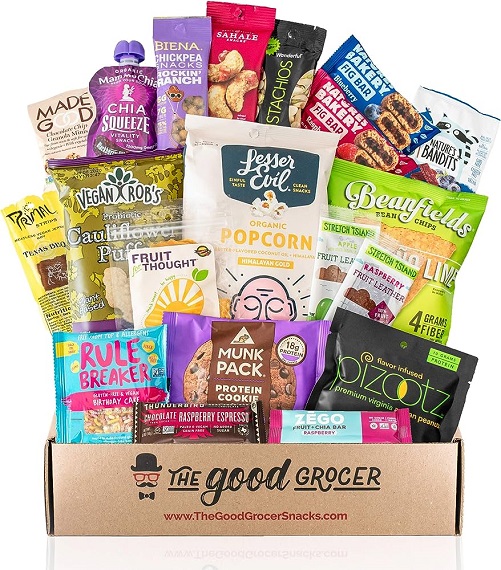 Bring some cheer to a friend or family member who's unwell with this wholesome choice. It's one of the top vegan care package suggestions, featuring a variety of 20 delicious snacks and treats they can savor during their recovery.
Since all the snacks are plant-based, it's a nourishing package perfect for someone on the mend. The packaging also includes a heartfelt message that's sure to brighten their day.
---
5. Tea Forte Organic Assorted Variety Tea Sampler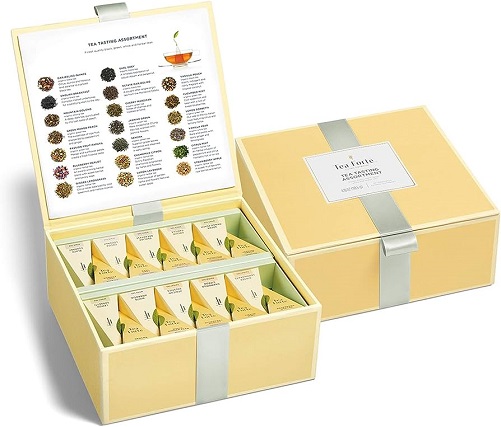 If you're not sure what to give someone sick care package ideas, consider this extensive tea assortment from Tea Forte, especially if they enjoy tea. This lovely tea gift set includes high-quality organic gourmet tea blends, each packed in pyramid tea bag infusers.
Inside, you'll discover a wide variety of premium organic gourmet teas, such as oolong, black, and green teas. What's great is that these tea bags come in an elegant embossed pattern gift box. You can also consider sending a bouquet of fresh flowers to further brighten up the person's day.
---
6. 5-Piece Energy Healing Combo Care Pack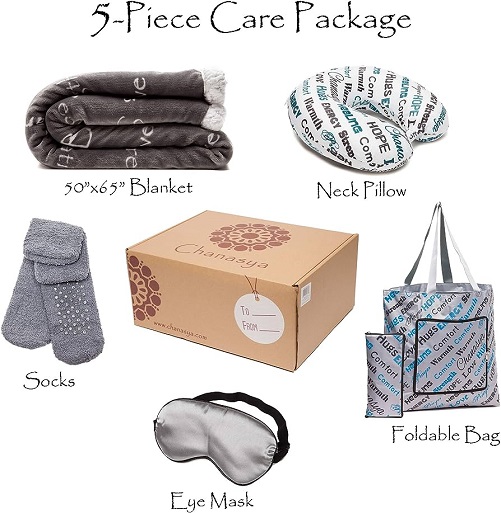 A 5-piece energy healing combo care pack is a thoughtful option when considering flu care package ideas or cold care package ideas. This specially curated care package is designed to uplift the spirits and promote overall well-being during recovery.
It typically includes items such as healing crystals, essential oils, calming teas, meditation guides, and soothing affirmations. These elements work together to create a holistic approach to healing, addressing not only the physical but also the mental and emotional aspects of recovery.
---
7. Nourishing Burt's Bees Classics Gift Set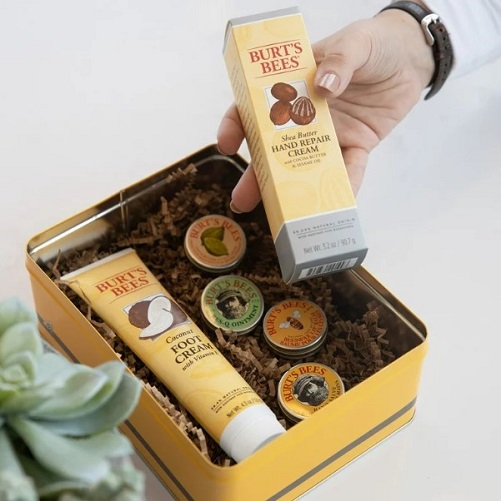 Taking care of oneself can make a sick person feel better. That's why gifting them this set from Burt's Bees is a wonderful idea. When someone is unwell, they might feel tired and not at their best.
This set includes skincare products for lips, hands, feet, and overall skin nourishment. It will help them regain their healthy appearance. It's indeed a thoughtful sick care package for girlfriend.
---
8. 5 Piece Perfect Care Package Box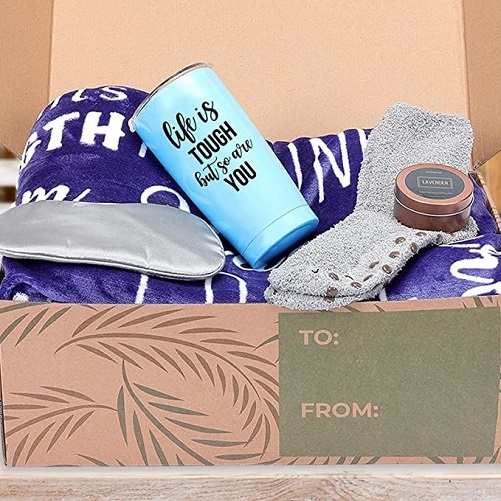 If you are wondering what to put in sick care package ideas for boyfriend, then you can consider giving this great package which already has the key essentials needed to let him feel supported.
The package contains a blanket, an insulated tumbler, a scented candle, and other items to make your unwell boyfriend feel more comfortable and at ease. It also includes uplifting messages to offer motivation. Utilize all the contents to create a soothing and calming atmosphere that aids in the healing process.
---
9. One Tough Cookie Gift Box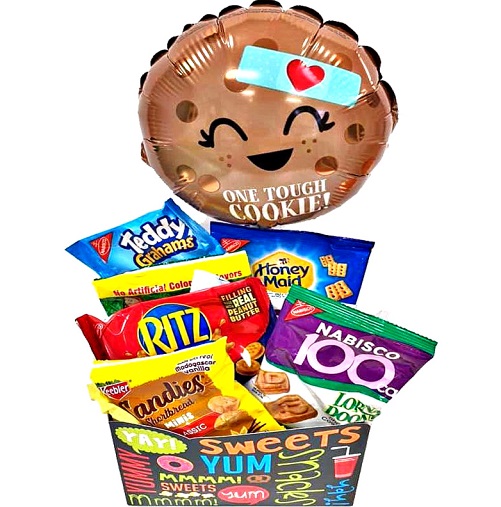 The "One Tough Cookie" gift box is a delightful and playful twist on the traditional sick care package ideas. It is perfect for cheering up someone who's facing health challenges. Packed with an assortment of gourmet cookies and a warm, it sends a message of resilience and support.
Furthermore, the adorable balloon with its uplifting message will surely bring a smile to your hospitalized boyfriend or girlfriend. Plus, there's a thoughtful gift message to offer words of solace to the unwell person.
---
10. A Touch of Sunshine Get Well Care Package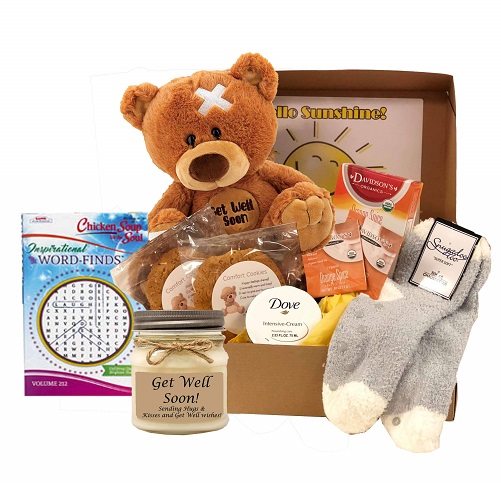 This package, as its name implies, aims to add some cheer to a dreary day for someone who's unwell. It's both cute and inclusive, designed to make the recovery process more manageable.
It's one of the top care packages for families with children in the hospital, featuring a deck of cards and a stress-relief ball to ease tension. It also includes a teddy bear for comfort and to convey your affection. To make it even better, there are some tasty snacks for them to savor.
---
11. A yoga mat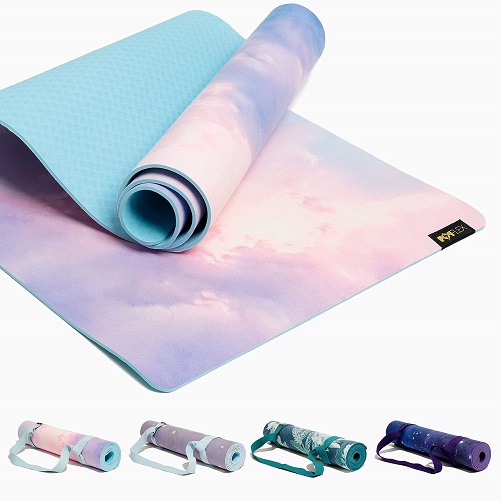 Including a yoga mat in your sick care package ideas is a thoughtful and health-conscious choice. While a yoga mat may not be the first item that comes to mind for someone feeling under the weather, it can actually be a wonderful addition to their recovery toolkit. By gifting a yoga mat, you're not only encouraging physical wellness but also providing a means for mental and emotional well-being during their healing process.
---
12. Hair accessories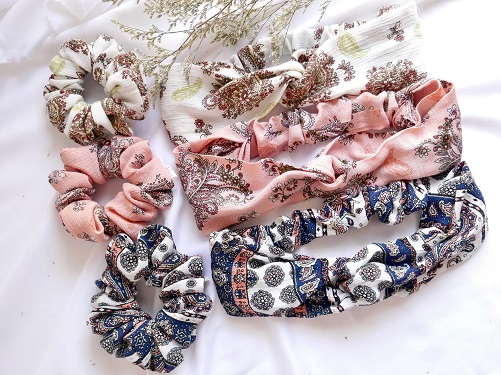 Including a selection of hair accessories in your sick care package ideas is a thoughtful way to bring a touch of comfort and self-care to someone who may be feeling under the weather. These accessories, such as soft hair ties, headbands, or hair clips, offer both practicality and a sense of normalcy during an illness. They allow the recipient to easily manage their hair, even on days when they might not have the energy for an elaborate grooming routine.
---
13. Monthly Pill Organizer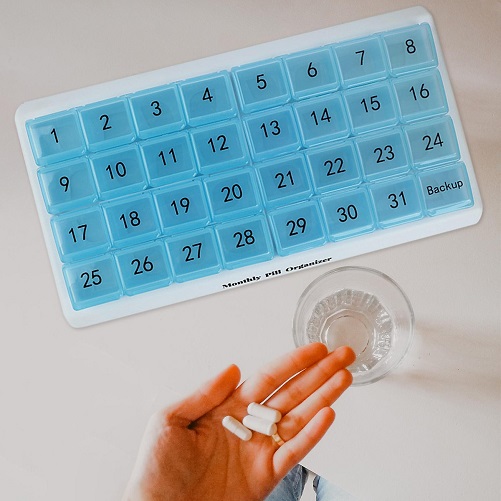 Including a monthly pill organizer in your sick care package ideas is a practical and considerate choice. When someone is unwell, managing medications can be a crucial part of their daily routine. A pill organizer helps them stay organized and ensures they take the right medications at the right times, reducing stress and making the healing process smoother.
---
14. Flu Cold Care Package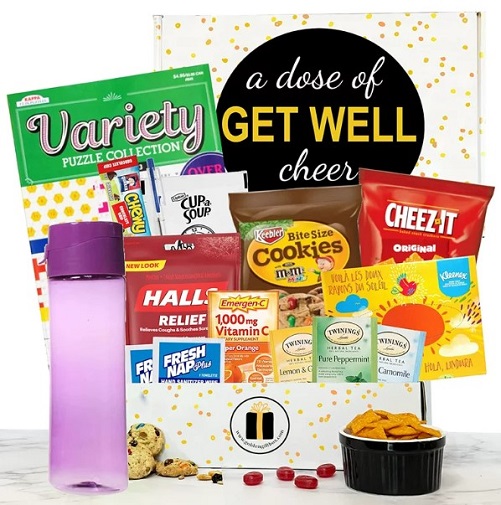 If your family member or friend is dealing with the flu, a cold, or allergies, demonstrate your care with this sick kit. It contains a variety of helpful items, such as cough drops, an energy bar, crackers, and some sweet treats for those with a sweet tooth. There's also a puzzle book to pass the time and more!
It's the perfect gift to add to your cold care package ideas. Consider adding a gift card separately to make the gesture complete!
---
15. Outstanding Organic Mixed Fruit Box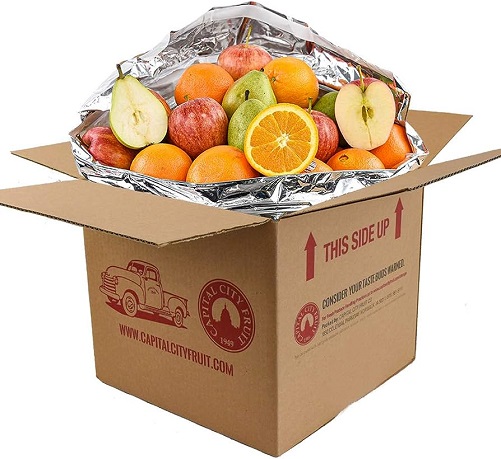 An "Outstanding Organic Mixed Fruit Box" is a brilliant choice when brainstorming care package for sick friend in hospital. Packed with a vibrant assortment of organic fruits, this care package combines nutrition and delight.
The freshness and natural sweetness of the fruits can provide much-needed vitamins and energy to someone on the mend. Organic choices ensure purity and quality, making it a health-conscious option for your loved one's recovery.
---
16. Deluxe Snacks Variety Pack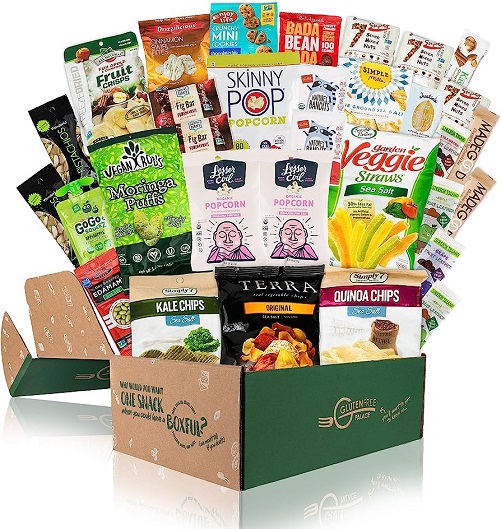 This thoughtfully curated care package is filled with a diverse assortment of delicious snacks, providing comfort and a touch of indulgence to those who may not be feeling their best. From savory to sweet, the variety pack ensures that there's something to satisfy every craving. It's the perfect way to lift spirits and add a bit of joy to someone's day during their recovery.
---
17. 7 Pieces Sympathy Gift Baskets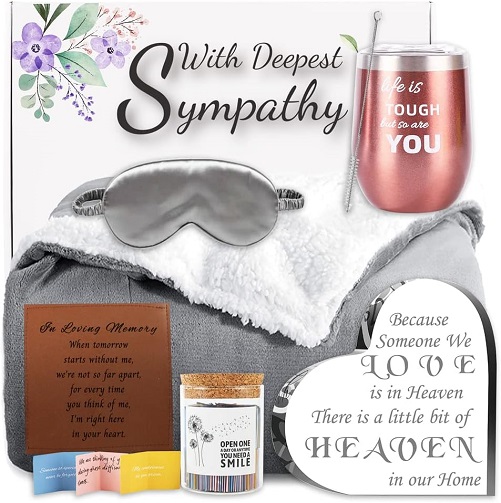 Filled with carefully chosen items like soothing teas, aromatic candles, cozy blankets, and heartfelt cards, these baskets offer both physical and emotional support. The number seven symbolizes completeness and fullness, making this care package a comprehensive expression of care and empathy. It's a heartfelt way to show your support and let your loved one know that you're thinking of them during their challenging time.
---
18. Immunity Tea For Colds and Sore Throat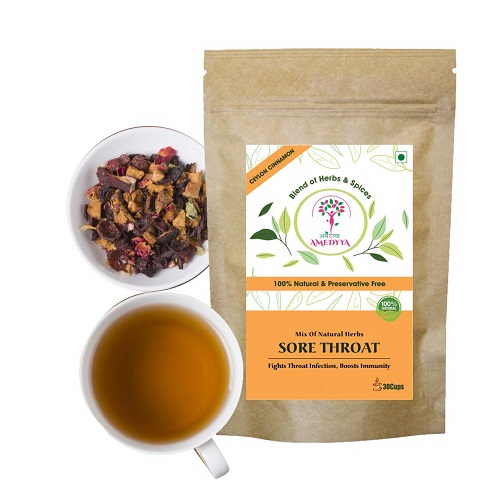 Including "Immunity Tea for Colds and Sore Throat" in your flu care package ideas is a thoughtful and health-conscious choice. During an illness, soothing, immune-boosting beverages like this tea can provide much-needed relief and support. Packed with immune-boosting herbs and comforting flavors, this tea is a warm and nurturing addition to a care package.
---
19. Childrens Activity Gift Basket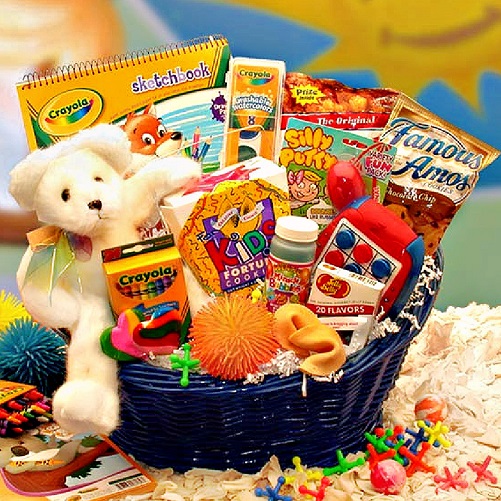 A "Children's Activity Gift Basket" is a thoughtful and engaging option among sick care package ideas, especially when you want to brighten a young one's day during illness.
Filled with a variety of age-appropriate activities like coloring books, puzzles, stickers, and small toys, this basket provides hours of entertainment and distraction. It's a perfect way to chase away boredom and bring smiles to a child's face while they recover.
---
20. Nut and Dried Fruit Gift Basket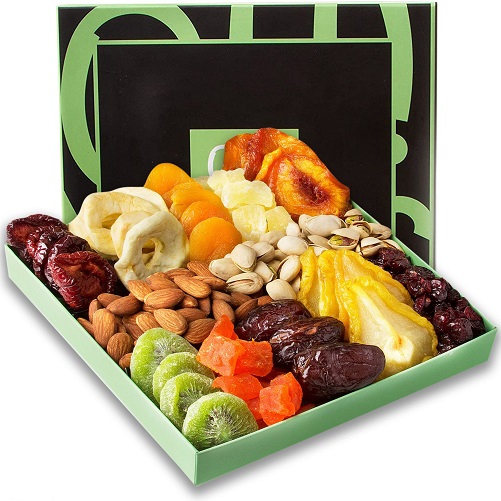 Packed with an assortment of wholesome nuts and dried fruits, this care package offers a blend of natural energy and delicious flavors. These snacks are not only satisfying but also provide essential nutrients, making them an excellent choice for someone in need of nourishment during their recovery.
---
21. Lush Twilight Gift Set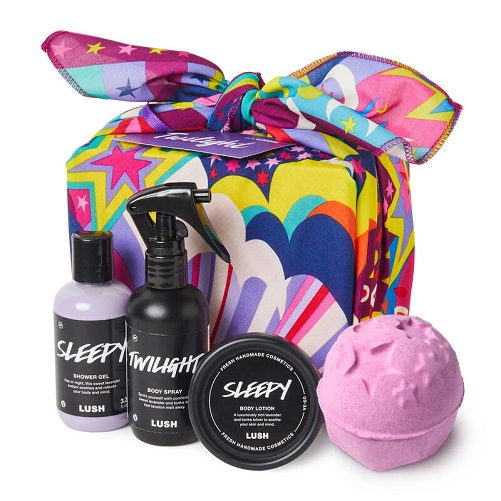 Lush is renowned for its high-quality bath and body products, and this gift set is designed to provide a soothing and calming experience. With products like bath bombs, shower gels, and body lotions in the dreamy Twilight scent, it offers relaxation and a touch of pampering during recovery. The calming aroma and skin-nourishing ingredients can help uplift spirits and provide a sense of well-being.
---
22. Axelrod 4PCS Orthopedic Bed Wedge Pillow Set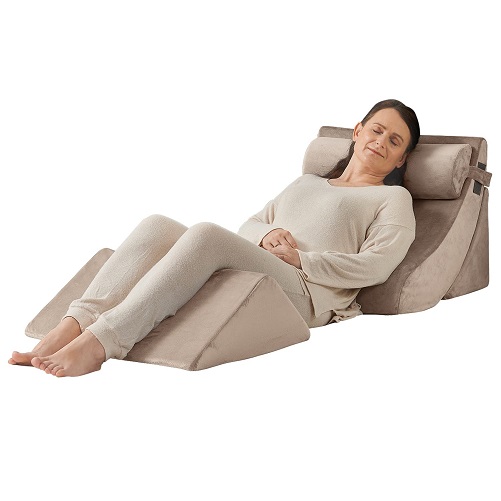 The "Axelrod 4PCS Orthopedic Bed Wedge Pillow Set" is a thoughtful and practical choice among care package ideas for sick friend with cancer. When someone is unwell, getting a good night's sleep and maintaining comfortable positioning can be crucial for their recovery.
This orthopedic pillow set includes four versatile wedges that can be used to elevate different parts of the body, promoting better circulation, reducing discomfort, and aiding in breathing.
---
23. Reusable Hot and Cold Therapy Gel Wrap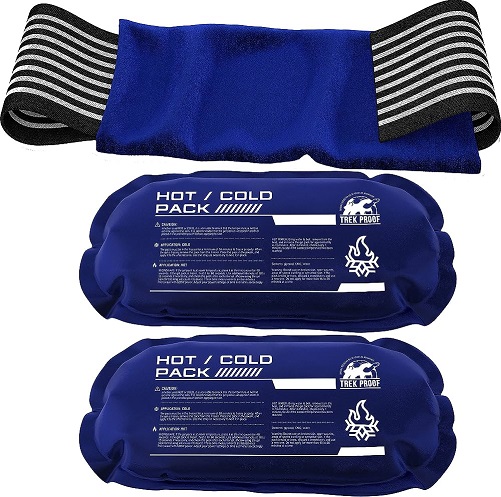 This gel wrap offers the flexibility of providing both hot and cold therapy, making it a valuable addition for someone who may be dealing with various ailments or injuries. Whether it's soothing sore muscles, reducing swelling, or simply offering a comforting warmth during recovery, this multipurpose therapy wrap demonstrates your care and commitment to their comfort.
---
24. Spoonful of Comfort Get Well Soon Gift Package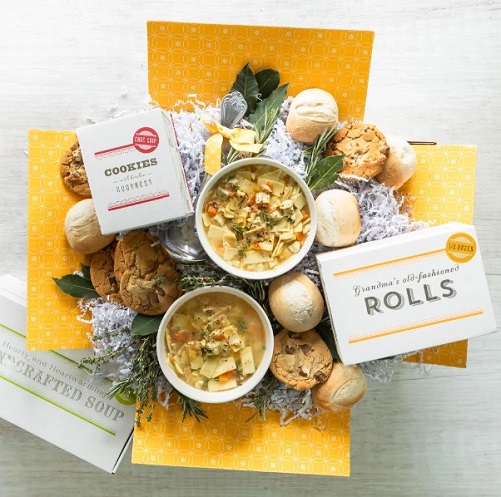 This package typically includes comforting items like homemade soup, freshly baked rolls, and gourmet cookies, providing both sustenance and a taste of home. Along with the delicious food, a personalized message and a cozy blanket are often included to lift spirits and offer comfort during recovery. It offers not only physical nourishment but also a sense of warmth and care to someone who may be feeling under the weather.
---
25. Auto Foot Bath Spa Massager with Heat and Bubbles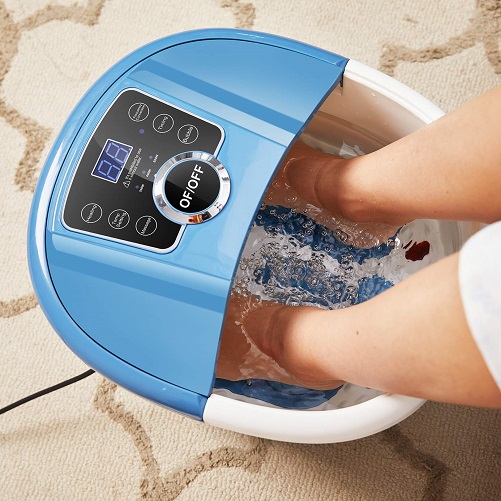 Including an "Auto Foot Bath Spa Massager with Heat and Bubbles" in your sick care package ideas is a thoughtful and indulgent choice. When someone is under the weather, they often need relaxation and comfort, and this spa-like device can provide just that. With its heat and bubble massage functions, it can help alleviate muscle tension, reduce stress, and promote better circulation in the feet, which can be especially soothing during an illness.
---
26. Hawaiian Coffee and Tea Gift Set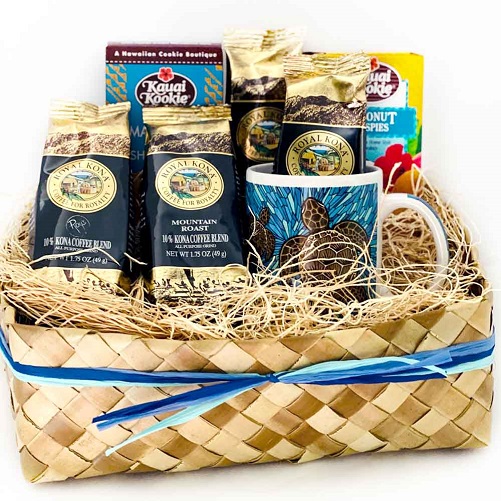 This gift set combines the rich flavors of Hawaiian coffee and the soothing qualities of tropical teas, offering a taste of paradise to someone feeling under the weather. Hawaiian coffee is known for its unique and bold flavors, while tropical teas can provide comfort and warmth during recovery. It's a comforting and flavorful way to show your support and brighten their day during their healing journey.
---
27. Handmade Spa Bath Gift Set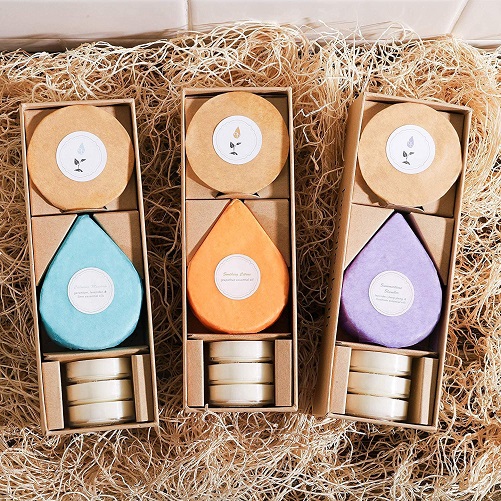 This bath kit is quite generous, and it's like getting several sets in one. The bigger set includes three smaller sets, and each of them has a facial sponge for deep cleansing, soothing soy candles infused with essential oils for a calming bath experience, and a bath bomb to refresh the skin.
All of these come along with a playlist for a weekly bath session. It's a thoughtful gift for a beloved friend that guarantees a wonderfully relaxing bath time. It's a fantastic idea for an at-home care package, ensuring they can enjoy a soothing spa-like bath session.
---
28. 16 Combo Pack A Collagen Essence Korean Face Mask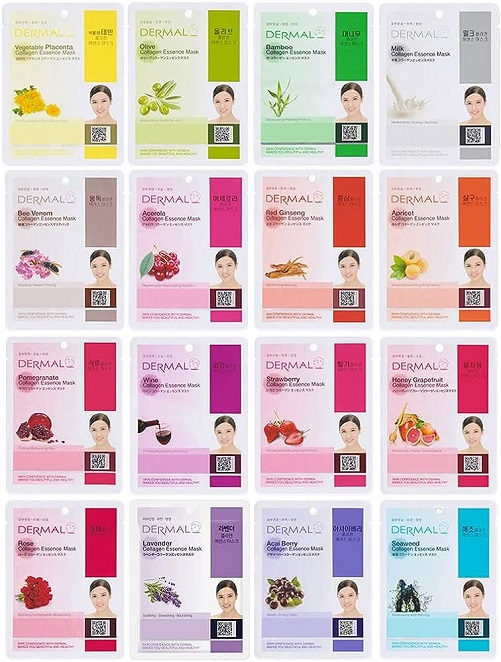 Add this set to your sick care package for girlfriend is a thoughtful and rejuvenating choice. When she is unwell, self-care can often take a backseat, and this comprehensive set of Korean face masks offers a spa-like experience in the comfort of their own home. These masks are infused with collagen essence, known for its skin-revitalizing properties, providing a much-needed boost of hydration and nourishment to the skin.
---
29. Post-Surgery or Illness Care Package with Box Sign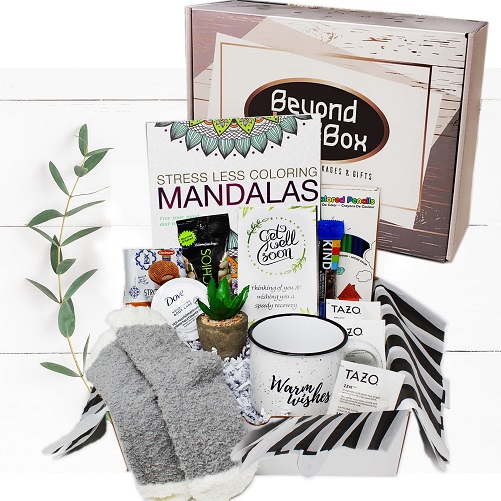 This care package with box sign is a comforting gesture among sick care package ideas. It is designed to offer support and encouragement to someone who has undergone surgery or is recovering from illness.
It typically includes practical items like cozy blankets, pain relief aids, and hygiene essentials to ease the recovery process. Additionally, the included box sign carries uplifting messages, serving as a daily reminder of your care and well wishes.
---
30. Complete Luxurious Spa Gift Basket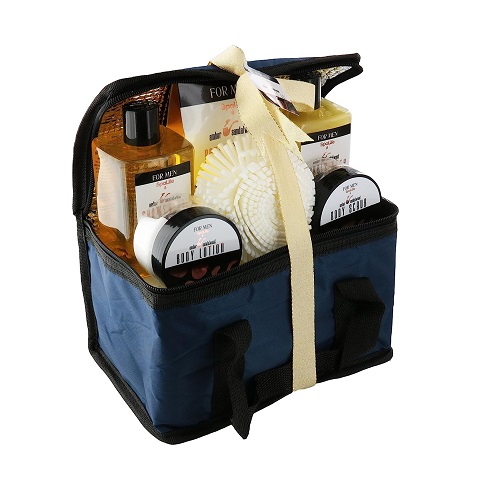 After getting better from an illness or injury and while resting at home, it's wonderful to take some time to treat oneself to help speed up the recovery process.
This full spa gift basket allows the receiver to have a soothing spa-like experience, complete with all the essential items needed for a care package after surgery. Enjoy a calming bath to relieve stress and get ready to return to regular daily routines after recovery.
Final Thoughts
Sending sick care package ideas is a heartwarming way to show your love and support to someone in need. Regardless if it's a friend, family member, or coworker, these heartfelt and creative ideas can help brighten their day and make their recovery journey a little easier. Remember, it's the care and effort you put into the package that truly counts, and your gesture of kindness will be appreciated more than you know.