A DIY gift for boyfriend indicates that he is a special person. Handmade presents take lots of effort to come up with an idea, much time to do and nothing expresses love more than time.
Love is one of the most important emotions of humans. When you are in love, you always want to make your boyfriend happy by doing romantic actions, making him a special meal, or simply giving him a gift. But if it is close to your anniversary and you can't think of any gifts, you spend hours wandering in a souvenir store, carefully considering every gift in the store to pick out an ideal present. Or you want to do something different than before but you don't know-how. Why don't you try to make him one, the unique present that covers all your love?
Luckily, we are having a list of 25 DIY gifts for boyfriend for you to consider. Check out these easy-to-make DIY gifts for your boyfriend and see what interests you!
25+ Heartfelt DIY Gifts For Boyfriend Will Actually Appreciate
Whether you're seeking a date night gift, something sentimental to remember your dating memories, or a funny handmade present, you'll fall in love with our 25 DIY gift for boyfriend!
1. The "ABC of us" book
This seems regular but is considered a love potion. This "ABC of us" book is a book noted down your and his memories alphabetically, each word stands for a thing he likes or your relationship memories. For example, "E is for England, where we first met", "A is for apple pie, your love dessert", "B is for Bruno Mars, our favorite singer". It would be one of the best DIY birthday gifts to add your wishlist.
---
2. Date Jar
This jar can make you and your boyfriend's date night more interesting. This idea is a jar filled with options for the date night, it will save time when you both go on a date. To do this, you first need to repair a jar, it can be a glass jar or a ceramic one. Then, get the tongue depressor and paint it any color you like. The more tongue depressor you have, the variety of choices for the date night. When the paint is dried, write whatever you want to do with your boyfriend for a date night. It could be fishing, bowling, or simply a movie night.
---
3. A movie kit
Almost all of us love movies. Watching movies is every couple's favorite date night activity. But, what makes movies more interesting? It is your favorite snack. You can make a snack box for your boyfriend by wrapping a box and decorate it with any details, then put all his favorite snacks inside. This easy-to-make box can melt every heart, so add this idea to your list of DIY gifts for boyfriend.
---
4. "Open when" Letter
This DIY gift is perfect for long-distance relationships. All you need is some envelopes and markers. Write your words of encouragement for certain situations. Write a letter for him when he is blue, gray, or stressed. These handwritten letters will show how much you love and support him.
---
5. Custom Keychain
This custom keychain is both eco-friendly and loveable. You can make this key chain by using an old plastic container. Use a clear recycled plastic, choose a design related to your boyfriend, then scratch it on the clear plastic and cut it out. Be careful when making this custom chain because the idea is to use high heat to shrink the plastic down.
---
6. Adventure Book
Have you ever watched the movie Up of Pixar and were so amazed by the adventure book of Carl and Ellie? You now can make your adventure book to store every journey of you and your boyfriend. Use a carton box, ruler, scissors, makers, and decoration items to make an adventure book. This is such a lovely idea on the list of cute DIY gifts for boyfriend anniversary.
---
7. Customized Mug
This is an amazing DIY gift for boyfriends who love coffee and tea. You can customize a mug for his morning coffee. You can use a plastic mug, or a ceramic one, and then design it with his favorite icons. Drinking using the mug customized by his loved girl can make him taste the love.
---
8. "52 Reasons Why I Love You" Cards
These 52 reasons why you love him are like 52 love letters you give him. Prepare a deck of cards, paper, makers, and glue to make this gift. Write down reasons why you are so in love with him, glue them on the cards, and cut what remains. This gift will be a huge surprise when he thinks it is just simple cards but it turns out to be a romantic gift.
---
9. Magic photo frame
It is impossible not to mention photo frames as great DIY gifts for boyfriend. Your boyfriend will consider you a magician if you give him this gift. This magic photo frame creates an illusion of vision when it shows different pictures depending on the angle you are viewing from. Simply choose two photos of you guys, and with little DIY magic then a work of art is done.
---
10. Light Up Heart Box
This gift is a romantic factor for both of you on date night. Basically use carton paper to make a cube, then make some heart-shaped hole punch and put a candle inside. When you light up the candle, it will leave a heart shadow on the wall and make your date night more romantic.
---
11. DIY Video Game Shadow Box
If your boyfriend is addicted to video games, why don't you make a video game shadow box for him? This video game box is easy-to-make, simply use carton paper, watercolors or paints, and some decoration detail. The making process may take much time but the cuteness finished game box is worth doing. This video game shadow box can be a highlight decoration.
---
12. The "5 senses" gift idea
This is the unique gift idea ever. Prepare five different boxes for each sense, then choose a gift related to the five senses. For example, you can choose a sunglass for the sight box, and headphones for the hearing box. Choose things that he likes and surprise him with these DIY gifts for boyfriend.
---
13. Homemade Love Letter Cookies
The way to a man's heart is through his stomach. If you have a cookie-lover boyfriend, you can't miss this gift. Or you can show your cooking talent by making some love letter cookies as DIY gifts for boyfriend. This gift is not only edible but also shows how much you love him.
---
14. Handmade Bracelet
How about making a bracelet? Other DIY gifts for boyfriend are bracelets. You can make paracord bracelets for your boyfriend with the Instruction below. This bracelet-making process includes bold colors cord suitable for men, bracelet buckles, and glue. Now you can make a beautiful accessory for your beloved person, it's like you are always by his side.
---
15. Explosion box
This love box is made of cardboard and you can paint it with any color that you like. When the box is closed, it looks like nothing but a mysterious box, but when you open it, all sides of the box will fall layer by layer and reveal the photos you stick on each side. This is an ideal gift for a love journey flashback.
---
16. DIY Paper Wall Trophy – Best DIY Gifts For Boyfriend Long Distance
The perfect wall decoration for your boyfriend's room. This is a deer's head shape inspired by the origami art of Japan. The kit includes 36 pre-cut paper and scored parts. You can cover a bulb with this deer trophy to make a wall decoration light. With the size of 54 x 32 x 44 (cm), this can become a highlight for the room.
---
17. Sentimental Relationship Surprise Box
If he loves romantic gestures and sweet presents, this is one of the ideal diy christmas gifts for boyfriend. This pop-up box has room for tons of photos of him or the two of you. Also, cute cards with thoughtful notes on them, and more surprises will make him happy.
---
17. DIY Paper Advent Calendar Gift Box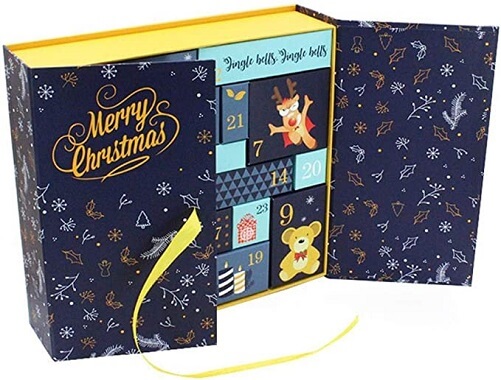 It looks like a calendar box but it's also a secret gift box. The box is made with thick paper in the size of 12.01*12.99*3.55inch. Inside, there are smaller boxes equal to the day in the month you like. You can put some little gifts in these boxes like candies and give it to your beloved person. It would be one of the best DIY gifts for boyfriend that your partner will fall in love with.
---
18. Photo Canvas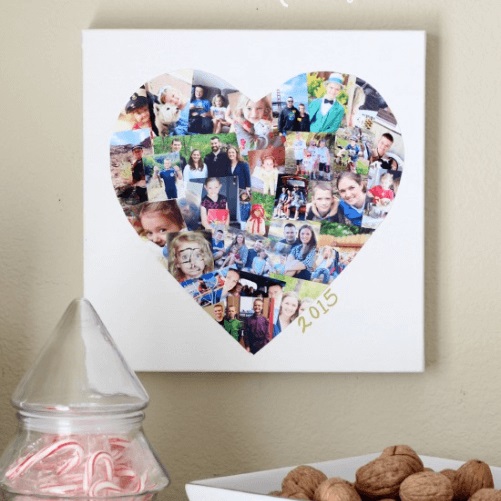 This photo canvas is a great way to highlight all the events in a year for you and him. First, cut a heart of the paper, and then print out event pictures of you and him. Glue all the pictures you have printed on the heart paper, and take a photo frame to put it in. This throwback memory gift fits in every occasion.
---
19. Heart Map Art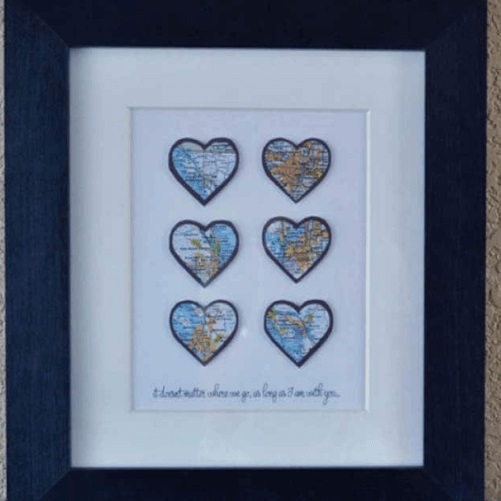 The perfect gift for the anniversary is here! The number of years you guys have been together will be the number of the heart. Simply prepare a photo frame, you can design a heart on the computer or you can draw one. Place the heart in the photo frame and give it to your boyfriend as a gift to remind him how long you two have been together. It's easy and meaningful and diverse to be one of the best DIY gifts for boyfriend.
---
20. Valentine Candy Wreath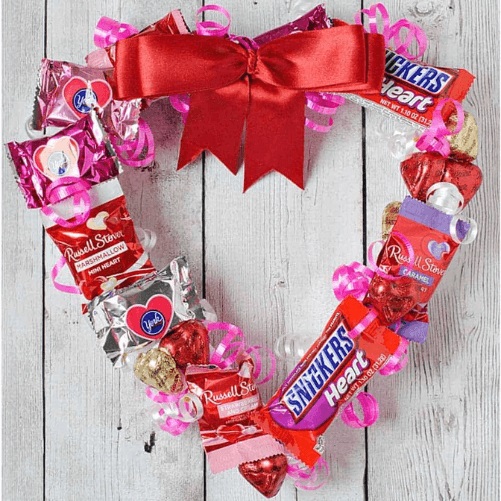 If you have a candy lover boyfriend you can miss this gift. This is a gift that is happy to see and sweet to taste. Buy all kinds of candies he likes most, and glue them on the heart wreath. You can decorate it with some ribbon to make it more attractive. Hang the gift on your boyfriend's room door and see how surprised he is.
---
21. Kiss Print Wall Art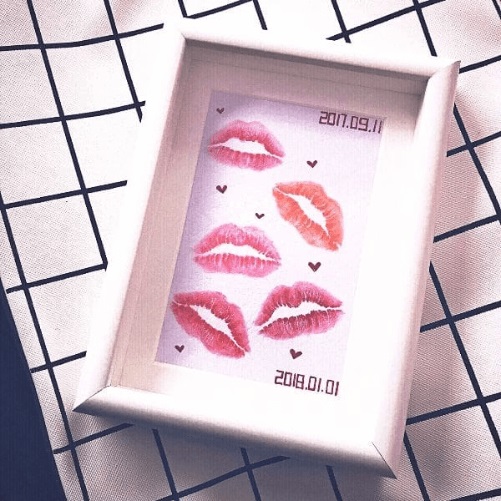 Nothing is sweeter than a kiss of a girlfriend. This is an easy-to-make gift, all you need is a photo frame, some of your different color lipsticks, and paper. Use a different lipstick color when you print your lip on a blank paper, and then cut the shape of your lip out. Glue them on another piece of paper and now you have the sweetest ever gift.
---
22. Embroidered Handkerchief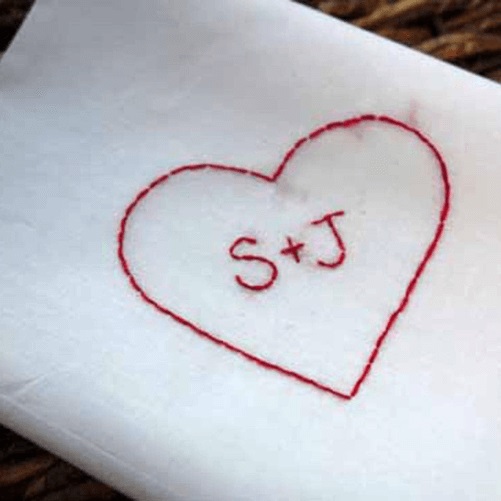 Using a manufacturer-made handkerchief is so boring. Why don't you make an embroidered handkerchief for him? Buy a no-detailed handkerchief, sketch it with any design you like. Then use red thread to embroider over your design. Red is the color of love but you can choose any thread color you like. This handmade handkerchief is so special that it can make a teardrop.
---
23. Pop-up Photo Box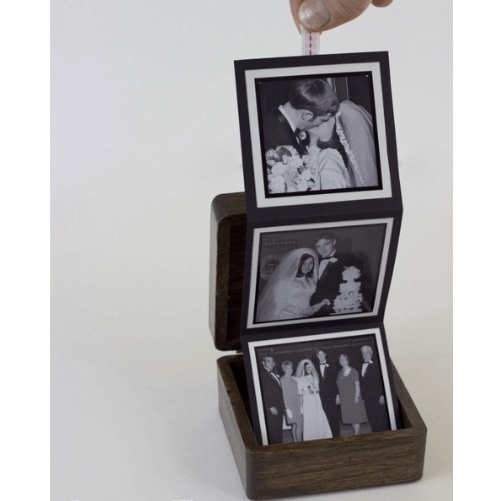 This is a perfect DIY gift idea boyfriend who love surprises. Prepare a wood box, choose a couple of you guys' photos, and print them so they fit in the box. The more photos you have, the more surprised he will be.
---
24. Heart Candy Jar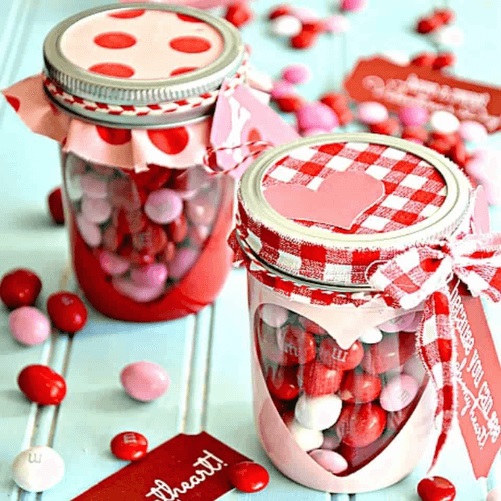 The candy jar will excite a sweet tooth boyfriend. The making process is so easy to follow. Use a clean empty jar, cut paper in the shape of a heart, and put it in the jar. Fill up the jar with a candy brand he likes most. You can also tie decoration ribbon around the jar to make it more lovely.
---
25. Conical Candlesticks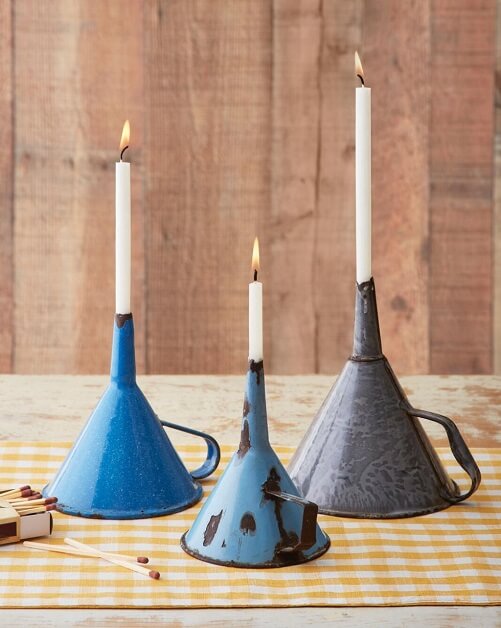 Still wondering DIY gifts for boyfriend birthday, why not onsider this one? This rustic centipiece made from chippy vintage enamelware funnels upside down is perfect for your boyfriend's meal. To make it, you only need to insert 1/2 inch wide nozzles into the holes of the funnel; Cut as needed to fit.
---
26. Crochet Pacman and Ghosts
.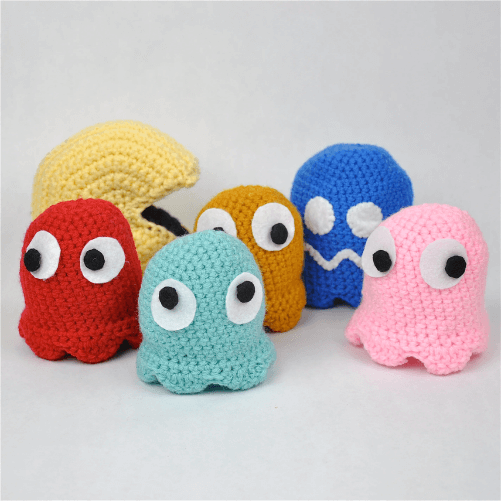 This idea would be one of the best funny DIY gifts for boyfriend. Pacman is a legendary game that everyone loves. You can make a Pacman out of wool as a gift for your boyfriend. All you need to do is prepare his favorite color yarn, crochet needle, a glue gun, and a little ingenuity then you can create this special gift.
---
27. Memory Jar – Best Personalized Gifts For Boyfriend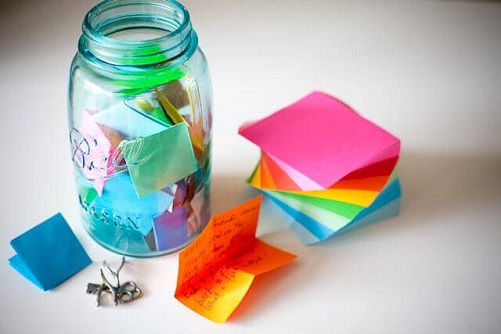 A memory jar is a wonderful DIY gift idea for your boyfriend. It allows you to create a collection of cherished memories that you've shared together. Start by decorating the jar. You can tie a ribbon around the lid, paint the jar, or attach stickers or labels to personalize it. Write down each memory on a separate piece of paper or notecard. Be as detailed as possible to evoke the feelings and emotions associated with that memory. This DIY gift is a heartfelt way to celebrate your bond and create a keepsake that you both can cherish for years to come.
---
28. Customized Photo Book – Meaningful Handmade Gift For Boyfriend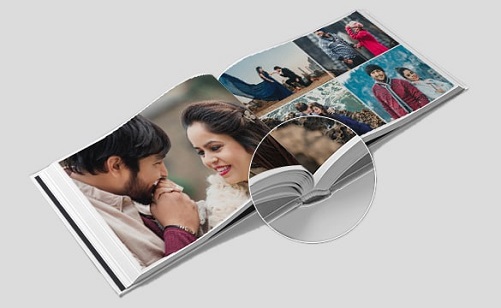 Creating a customized photo book is a fantastic DIY gift idea for your boyfriend. It allows you to compile your favorite pictures and memories together in a beautiful and personalized way.
Print out your selected photos or collect physical copies that you already have. Make sure they are in the desired size to fit the album or scrapbook.
Arrange the photos in the order you want them to appear in the photo book. You can group them chronologically or by theme, depending on your chosen concept.
Begin decorating the pages. Use decorative paper, stickers, washi tape, or other embellishments to enhance the visual appeal of each page. You can also write captions or add small notes next to the photos to provide context or share memories associated with them.
Related Article:
A handmade gift is so meaningful, it tells your boyfriend how important he is to you. giftOMG hope you can find the best one from the list of DIY gifts for boyfriend and make it with all of your heart.