Are you looking for 30th birthday gifts? A 30th birthday is a significant milestone in adulthood. They are now officially mature and responsible adults with life-altering decisions. Things they've never been passionate about before will suddenly become their favorite things in this life-changing decade full of new hobbies, lifestyle choices, and interests, leaving you in a tricky place when it comes to choosing a birthday present.
If you're stuck on present ideas, aim for something practical and comfy, but don't forget to keep it cute and tailored to the recipient's personality. Allow your relationship with them to guide you when selecting a 30th birthday present. If your relationship isn't romantic, don't buy anything with romantic overtones. If she's your daughter, you have a unique understanding of her that no one else has. This allows you a lot of flexibility in terms of what you put in her present box, and there's a strong chance she'll like whatever you choose to give her.
The start of a new decade is cause for celebration, especially in these hard times. Give them a gift to encourage them to appreciate and welcome this new life stage, whether they are planning a wild night out with everyone they know or a peaceful night in with their closest friends. These creative 30th birthday gift ideas will make them look forward to becoming full-fledged adults. Here's to the start of another exciting chapter in their lives!
*** See also: 85+ Happy 30th Birthday Caption Ideas To Celebrate A New Decade
Suggestions for 30th birthday gifts for all genders
List of some typical 30th birthday gifts that you can refer to:
1. Katie Doodle Rose Gold 30th Birthday Decorations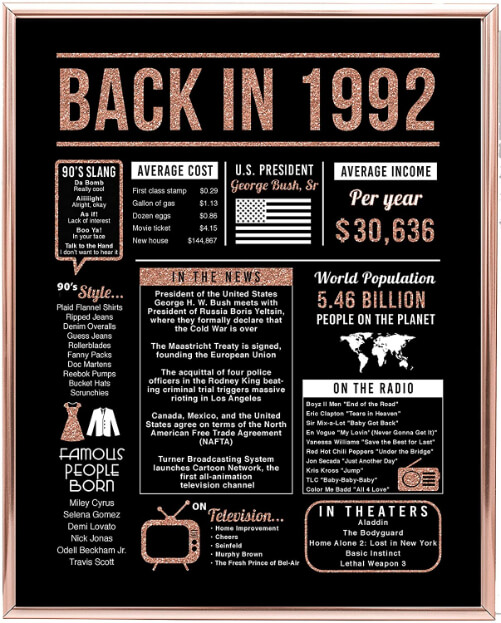 This sign is the ideal party centerpiece, decoration, or present that she will treasure for a lifetime!
Give her the best rose gold 30th birthday decorations with this art poster produced specifically by Katie Doodle. This sign is a terrific way to start a conversation! Reminiscing about prominent events, films, music, and information will be enjoyable.
---
2. PartyHooman 30th Birthday Decorations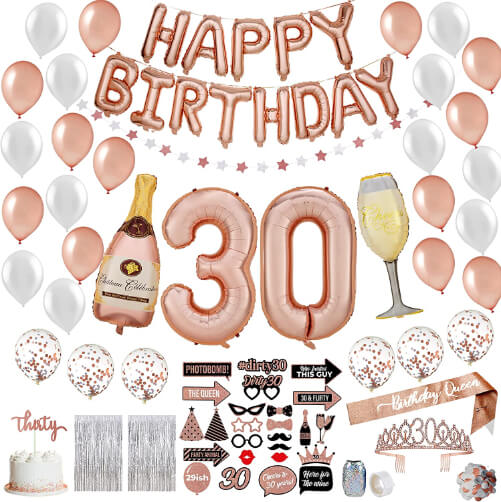 With 67 pieces of magnificent 30th-themed decorations, you'll be able to throw an unforgettable celebration that everyone will remember for years!
In a beautiful "Birthday Queen" sash, take fabulous prop-filled shots in front of shining foil backdrops and feel like birthday royalty. From playful confetti balloons to a gigantic "HAPPY BIRTHDAY" banner, there are lovely rose gold and silver decorations everywhere.
---
3. 30th Birthday Sash and Tiara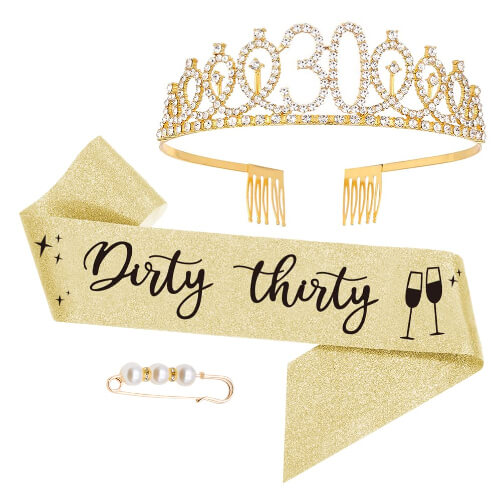 This crown and sash combo is a terrific present idea for women, whether it's for friends or relatives. High-quality alloy and rhinestones are used to create this piece. This set is suitable for the majority of women and girls. The women or girls at the birthday celebration will stand out in a gold-style birthday sash with gold "Dirty Thirty" inscriptions.
---
4. 1990 30th Birthday Gift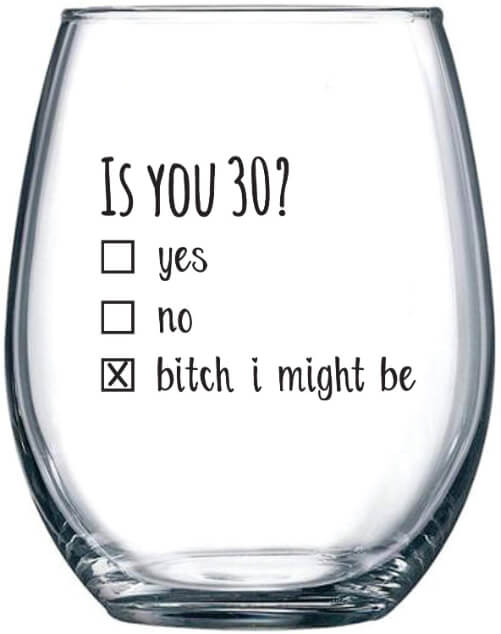 Are you 30 years old? This 15-ounce stemless wine glass is flexible and beautiful, with exceptional clarity for exhibiting a variety of liquids! These personalized milestone wine glasses are ideal for a 30th birthday celebration.
Because they are permanently engraved, they can be used for many years and will not fade or scratch off. Its shape not only creates a sleek silhouette, but it also fits comfortably in your hand.
---
5. Crisky 30th Birthday Cocktail Napkins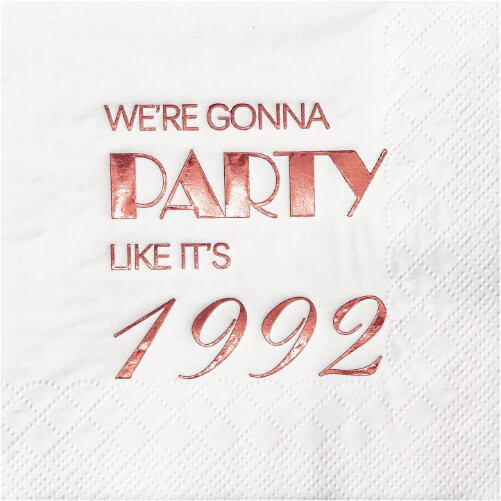 Perfect for parties, celebrations, cocktail evenings, candy tables, or buffets, these charming patterned napkins will make a splash with your party dinnerware. Besides, the design is a real rose gold foil that gleams in the sunshine. It's also soft and absorbent. Each sheet is three-plied to prevent easy tearing when in use.
---
6. Thirty Birthday Napkins Plates Cups Set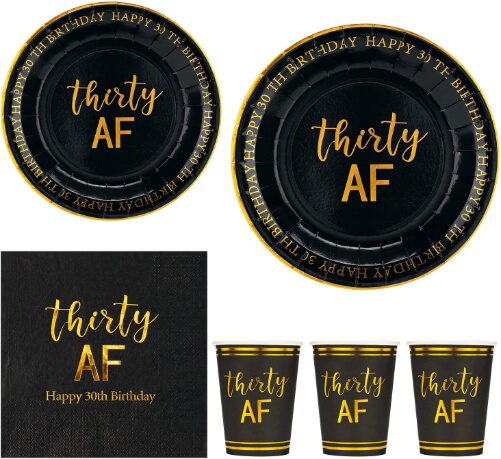 This party dinnerware set includes 24 dinner paper plates, 24 paper dessert plates, 24 paper cups, and 24 luncheon napkins. They are made of real gold foil and glow in the light. This set is perfect for parties, celebrations, cocktail evenings, luncheons, or buffets. These charming printed napkin plates are guaranteed to enhance your party dinnerware.
---
7. Happy Prank Toilet Paper
This is the gift that makes a huge hit when you're looking for some distinctive and eye-catching gifts for someone's 30th birthday present or decor. This amusing gift may be wrapped around a car or hung in the house as a banner and will impress and delight all of your guests. It's not only a great 30th birthday present, but it's also a great 30th birthday decoration and party favor.
---
8. Holy Shit You're Old Banner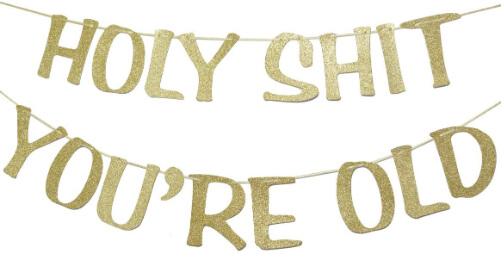 This banner is a great complement to any amusing birthday celebration! It is made of cardstock paper of excellent quality. Besides, this pre-strung birthday banner will save you time and hassle by eliminating the need for DIY. Let's make your loved one surprised by hanging them on the wall, over the window, through the entryway, above the table, through the corridor, and on the tree, among other places.
---
9. 1992 Cupcake Toppers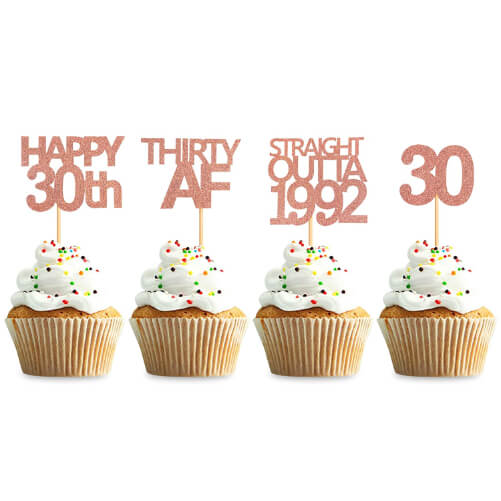 Are you looking for the best 30th birthday gifts? These black glitter cupcake toppers will bring a touch of glam to your dessert table. Perfect for a birthday or anniversary celebration! The pattern stands out and draws attention, providing a beautiful environment for your one-of-a-kind event. Your loved one will adore it because it's made of high-quality low-shed glitter cards and food-grade sticks.
---
10. BBTO 30th Birthday Candles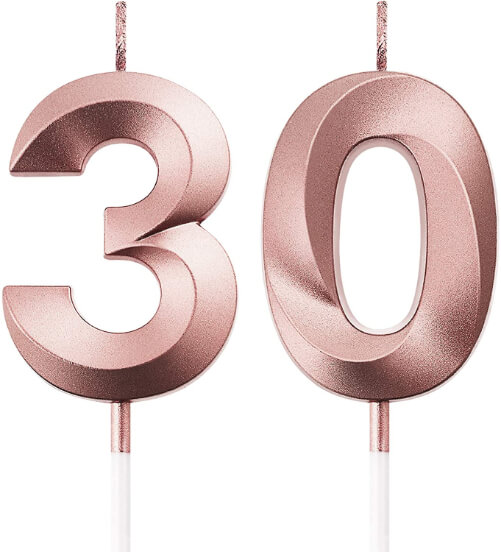 Happy birthday cake candles are meaningful and attractive decorations to celebrate your birthday. You can also use them as a nice cake topper decoration to embellish your cake and cupcakes, and they give off a bright glow to create a romantic atmosphere and add a touch of elegance. These candles are constructed of high-quality wax that is odorless and non-toxic, making them safe to use.
---
11. Happy 30th Birthday Door Banner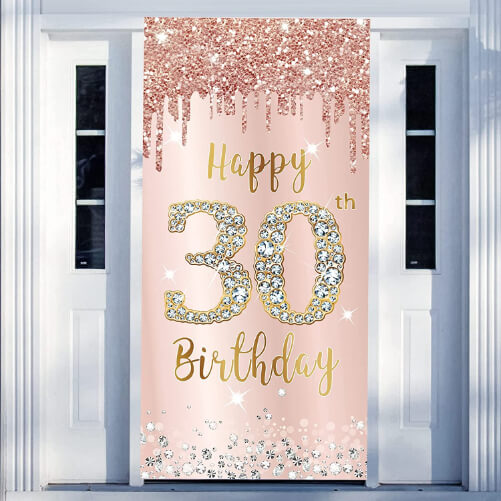 This is a door banner decoration made especially for a birthday party for a 30-year-old woman. It features a flash of light and a stunning pink rose gold number "30" adorned with gleaming diamond accents. Besides, the stars and the big "Happy 30th Birthday" wording emphasize the 30th birthday theme while also adding a beautiful decoration to a birthday celebration. You can hang it on doors, ceilings, walls, windows, branches, and other surfaces. It makes a terrific home or outdoor decoration, as well as excellent photography props and background.
---
12. 30th Birthday Gifts for Women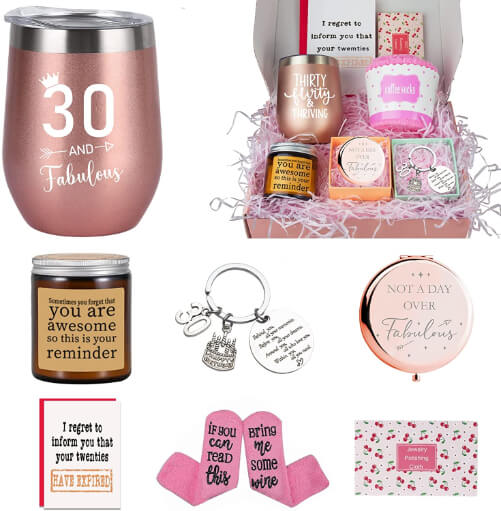 Celebrate the 30th birthday with a wine tumbler, cotton socks, durable premium aroma candles, a rose gold mirror for daily make-up, and a lovely keychain to remember thirty fantastic years. Imagine their delight and amazement when they see this wine tumbler. These 30th Birthday Gift Boxes are elegantly made and decorated and are all made to be ready to give as gifts!
---
13. Classy Vintage Table Decor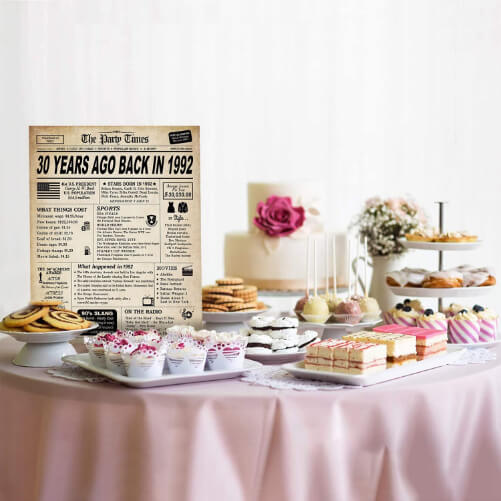 This Classy Vintage "Back In 1992" Print can bring eye-catching designs and discussion starters to any decor, making it the best 30th birthday decoration. This gift can inspire conversation and recall fond memories by telling a story about the receiver. You can stick this sign to the door, on the wall, or you can use the print as a Photo Booth Prop.
---
14. Cheers to 30 Years Banner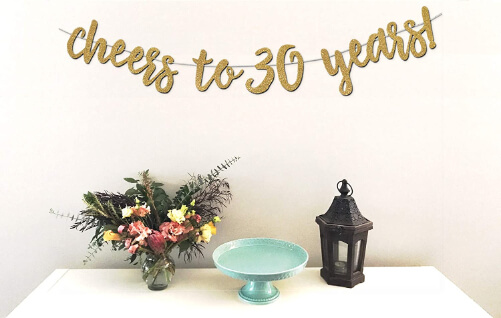 The perfect accessory to add a touch of sophistication to the day is this beautifully crafted 30th birthday, or you can call it an anniversary banner! The banner is composed of sturdy, durable cardstock paper that will not curl or droop throughout the event.
Besides, the typography has been meticulously designed with a simple, clean, yet professional and attractive design that provides a warm touch to any event!
---
15. Sign Poster – 30th Birthday Gifts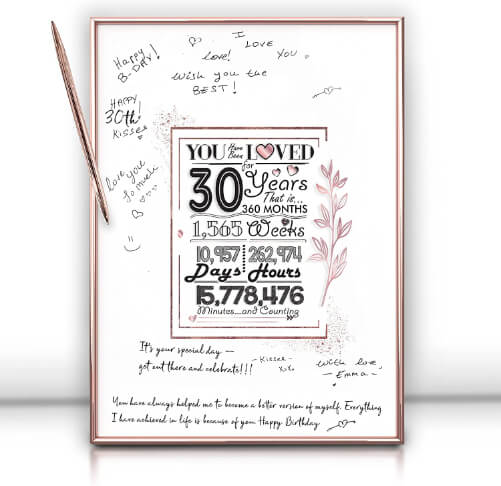 For your 30th birthday, you'll need a sophisticated guest sign-in book. This opulent party sign-in poster is an attractive alternative to traditional anniversary celebration guest books.
The motivational message "Today's Moments Are Tomorrow's Memories" printed in calligraphy will astound guests. With its smooth surface and brilliant full-color printing on high-density art paper, everyone will adore signing the Double Shoot guestbook birthday sign poster.
---
16. Made in 1992 Banner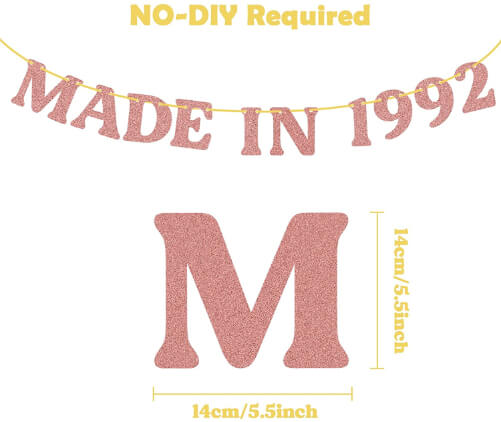 This gift will be a huge hit at your loved one's birthday party and will have a lasting impact on both her and her guests. The glitzy and opulent 30th birthday banner is ideal as a backdrop on the wall. Besides, they're composed of glitter paper and don't fade or have an off-putting odor. This exquisite 30th-anniversary banner is durable enough to be used on several occasions.
---
17. 1992 Vintage Coffee Tumbler Cup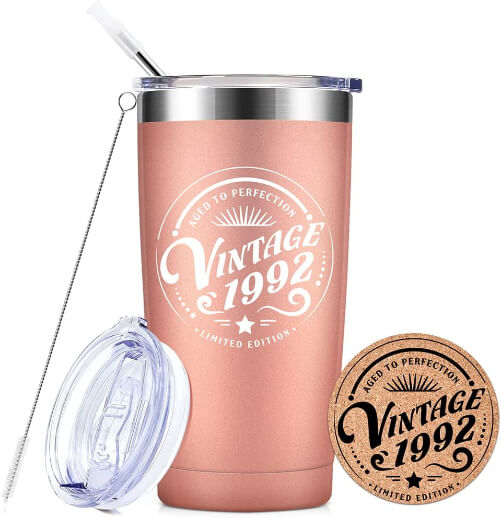 This is the present that fits right in and is a big hit when you're looking for something to give to someone who has everything. This milestone wine tumbler is ideal for 30th birthday gifts. This cup is made of excellent food-grade stainless steel, is BPA-free, and is safe to use without the risk of pollutants. In addition, it features a double-wall design to keep your drinks hot or cold.
---
18. Thirty Birthday Party Beverage Can Cooler Sleeves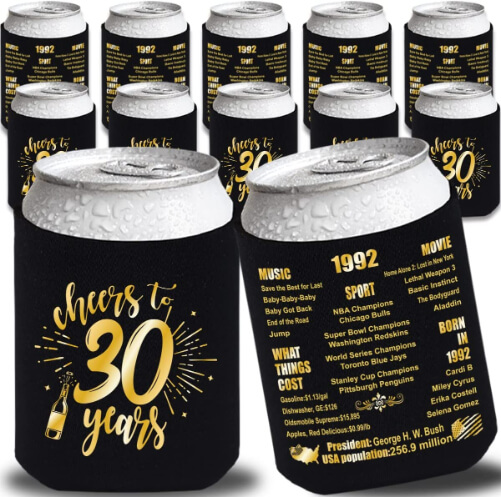 The Beverage Can Cooler Sleeves is really one of the clever 30th birthday gifts. They are made specifically for men and women turning 30. The receiver can use these gifts to keep the beverage cool and stylish till the end of the party. The number "30" is printed on the front, signifying that you have arrived at your ideal age. On the back, popular music, movies, and sports headlines from the time are printed, providing you with a unique remembrance.
---
19. Photo Banner for 30th Birthday Decorations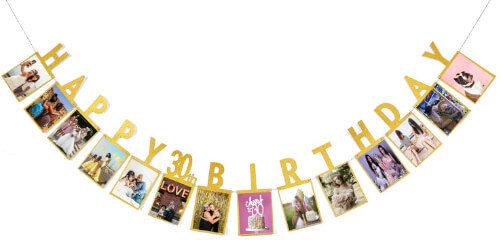 Is your loved one stumped as to how to dress up outdated photographs? This photo banner, which is customized with his old photos, is ideal. With a 30 Years of Awesome party, you can help your loved one celebrate everything that he has accomplished and all that the future holds. This photo banner can be used to adorn his 30th birthday celebration!
---
20. 1992 Whiskey Glass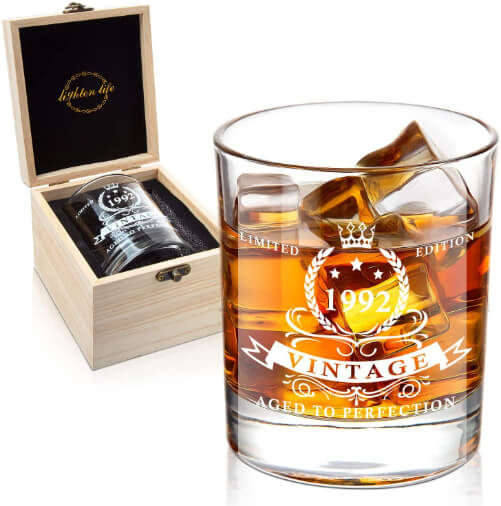 Another choice for 30th birthday gifts for male, this whiskey glass comes in a luxury wooden gift box, making it presentable and valuable. The recipient of your gift will be astonished and delighted. The words are printed on the glass surface to make it easier to wipe off. Besides, they will be treasured for a long time and used in daily life for many years, and it is preferable to wash them by hand to keep them sparkling.
---
21. Birthday Beer Gifts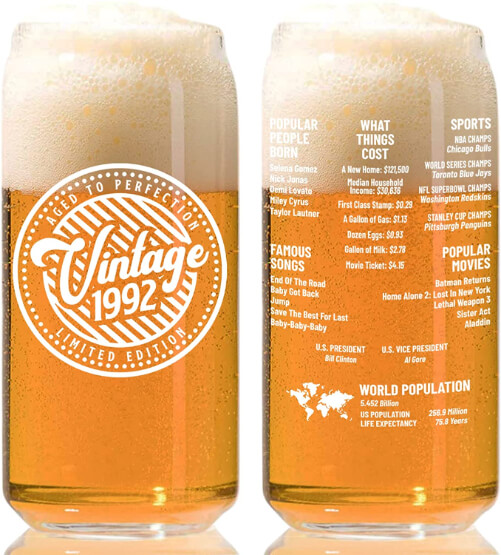 We understand that buying and sending his 30th birthday gifts might be stressful. These Vintage 1992 Gift Glasses are made to hold both hot and cold beverages. This will be his favorite glass to celebrate his 30th Birthday with, with a sturdy base that fits nicely in his palm and a fine rim edge that rests sweetly on his lips!
---
22. Engraved Wallet Insert Card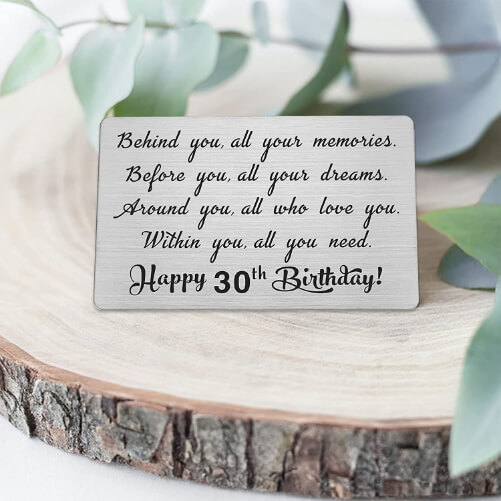 This is one of the best Happy birthday greeting metal cards for milestone birthdays for her or him, such as a friend, sister, brother, or cousin. This adorable birthday souvenir is made of stainless steel and laser-etched, so it won't tarnish or change color, and it'll last a lifetime. Besides, it fits perfectly in a wallet and is sturdy and lightweight.
---
23. HOMANGA 30th Birthday Pop Up Card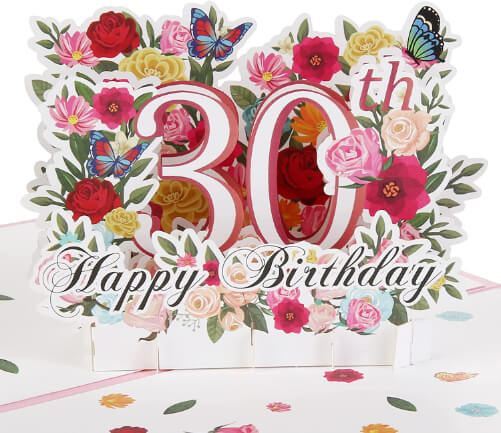 This 30th birthday pop-up card will make a wonderful present for a woman. This card folds flat can be popped up and depicts a flower and butterfly. On their special day, the recipient will be pleasantly surprised by these lovely birthday pieces. This 30th birthday card was designed specifically for sending birthday greetings and features an exquisite, adorable, and complex embellishment design.
---
24. Wine Tumbler – 30th birthday gifts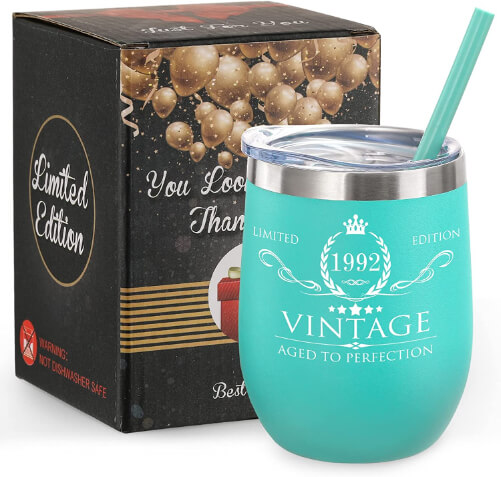 Let's make an out-of-the-ordinary birthday present! This is the present that fits right in and is a big hit when you're looking for something to give to someone who has everything. This milestone wine tumbler is ideal for cheap 30th birthday gifts. Besides, this tumbler uses super ceramic ink that can be used in daily life for many years without fading or losing its classic pattern design splendor.
---
25. Rolled Ice Cream Maker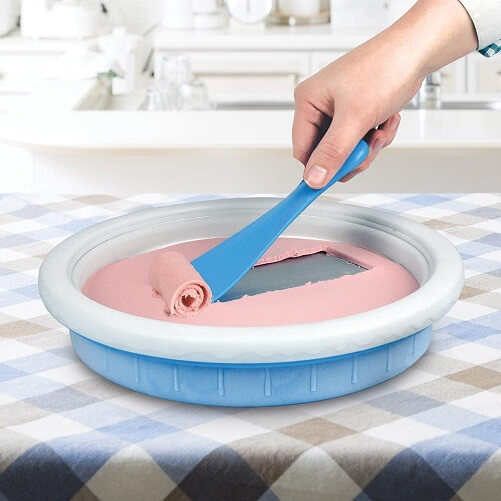 Your woman's next night will be the most memorable because of all the delicious treats you'll make with this ice cream roll maker. It's part science and it's all fun to use. It's also super easy and comes with a recipe book to help you create your own mixes.
---
26. 30th Birthday Shirt May The 30th Be With You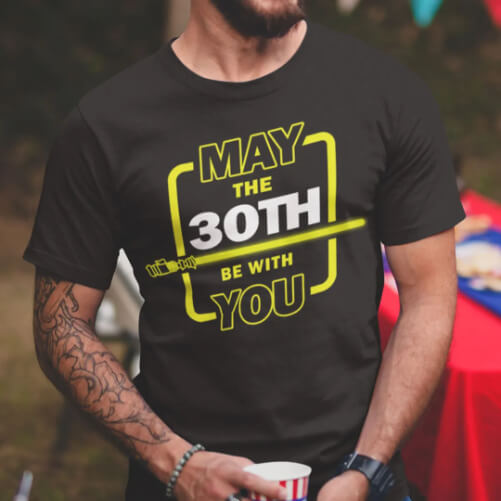 The quote on the 30th birthday T-shirt shows off your witty side while also sending your best wishes to your loved ones! On a casual basis, such as a birthday, buy it for yourself or a loved one. It's made of 100% cotton and proudly printed in the United States with direct-to-garment printing and eco-friendly inks, making it a stylish and comfortable shirt to wear! T-shirts are cheap and practical so you can pick them as 30th birthday gifts for couples.
---
27. 30th Birthday Shirt The Men The Myth The Legend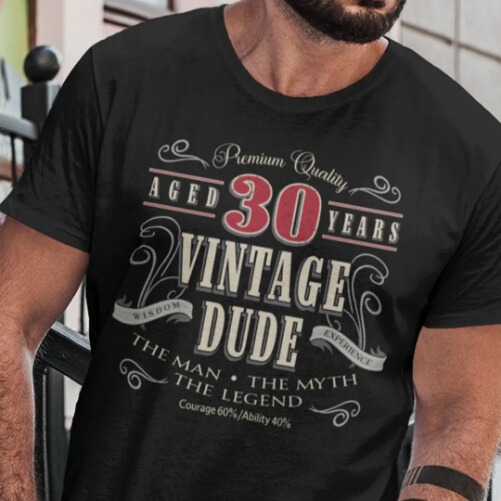 A beautiful gift for 30th birthday shirt with a delicate pattern would be the best way to express your gratitude and wish them a good birthday. "The Man, the Myth, the Legend" will be the perfect birthday gift for him on his 30th birthday. In addition, all colors and sizes are available.
---
28. 30th Birthday Shirt Limited Edition Aged To Perfection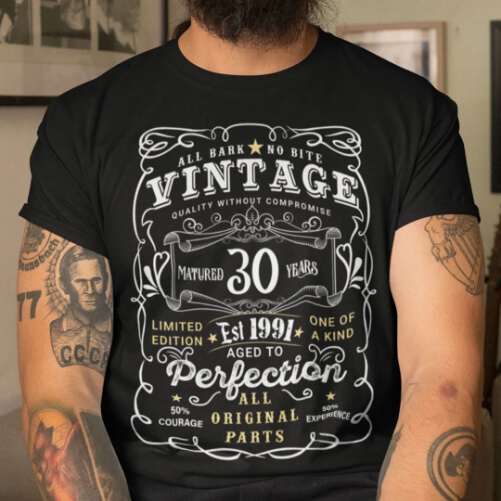 If you're looking for a unique shirt to give your sister, girlfriend, or cherished girl on her 30th birthday, this shirt is a great option! This design is sure to make the person you love appear like a queen, and make them happy. We are confident that the quality of this shirt will not disappoint you!
---
29. Stepping Into My 30th Birthday Like A Boss Shirt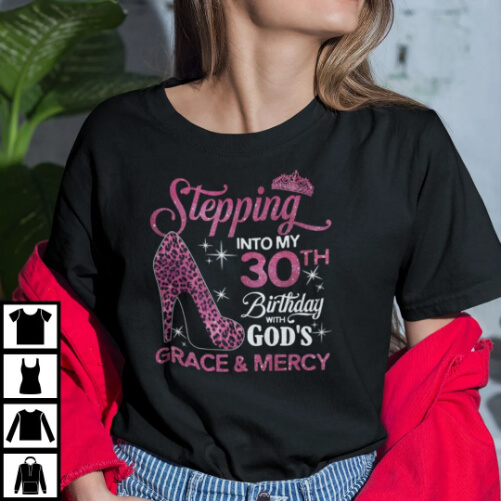 The ideal present for a mother, sister, girlfriend, or a lady in her thirties! The shirt contains a crown and a high-heeled shoe, as well as the phrase "Stepping into my 30th birthday like a boss," making it a one-of-a-kind gift for your lady.
The shirt is ideal as a gift for your woman's 30th birthday. It will undoubtedly make her feel valued and treasured. Besides, it will be wrapped with care and shipped to you quickly anywhere in the world.
---
30. This Queen Makes 30 Years Old Look Fabulous Shirt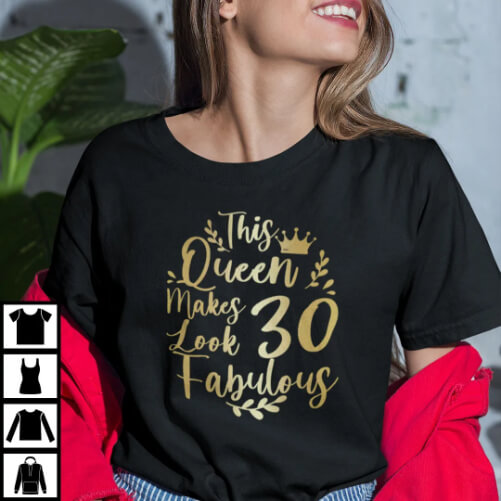 This shirt would make a wonderful gift for a special woman in your life who is approaching her 30th birthday! This design, we believe, will make your loved ones stand out and seem more stunning than ever! Don't be hesitant to get this item for your mother or sister to make her happy during a 30th birthday party or on a regular day!
---
31. Stepping Into My 30th Birthday Like A Boss Shirt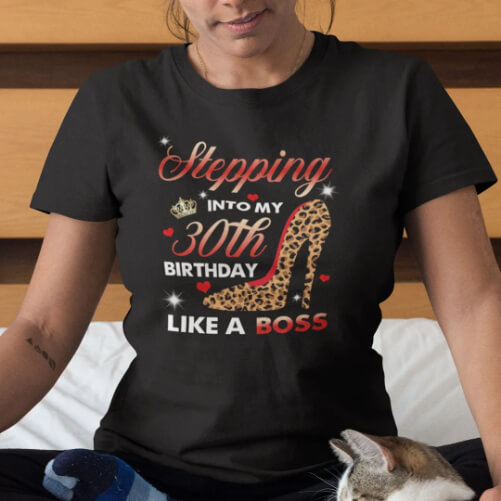 If you're looking for 30th birthday gift ideas for her, you've come to the right place. The shirt is ideal as a gift for your woman's 30th birthday. It will undoubtedly make her feel valued and treasured. We are convinced that wearing this design with the correct amount of stretch, as well as feeling soft and comfy, will make her stand out and express her personality.
---
32. Spa Gift Box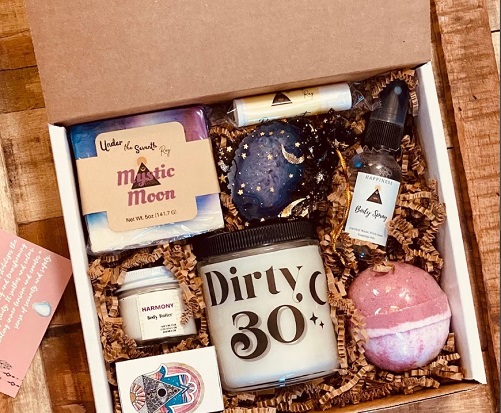 If you're looking for a luxurious and pampering gift for someone celebrating their 30th birthday, a Spa Gift Box is an excellent choice. This thoughtful and relaxing gift allows the recipient to indulge in a spa-like experience from the comfort of their own home.
The Spa Gift Box provides the recipient with an opportunity to unwind, relax, and rejuvenate after a busy day. It's a perfect gift to help them celebrate their 30th birthday in a luxurious and self-indulgent way. The assortment of spa items allows them to create a tranquil spa experience at home and take a break from their daily routines.
---
33. Crystal Air Plant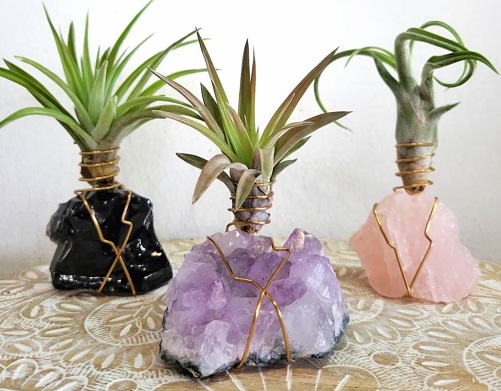 The Crystal Air Plant gift offers a blend of natural beauty, positive energy, and low-maintenance care. Air plants require minimal watering and can thrive in a variety of environments, making them an ideal choice for busy individuals. The crystal adds an element of spiritual and aesthetic appeal, making it a visually stunning and meaningful gift.
*** You May Concern: Cool 25th Wedding Anniversary Gifts For Your Husband
Conclusion
It's a big deal to turn 30 since it's a watershed moment in everyone's life. Our collection of 30th birthday gifts has something for just about everyone turning 30 this year. You need to consider the birthday person when shopping for a present. What activities do they enjoy? What are their preferences? Is there something they've always wanted to accomplish but haven't had the opportunity to? Finding the answers to these questions can assist you in selecting the ideal present.