On a daughter's birthday, parents often prepare her with lovely and meaningful birthday gifts. Birthday gifts for daughter do not stop at the joy of the girls but also the happiness of the parents when they have hand-picked the gift she likes.
Girls will always feel joyful and happy every time they receive gifts, especially by loved ones on these special days. And to choose the suitable gift for your daughter, you have to choose gifts that are both right for you and can convey your feelings. A daughter will feel all the love that her parents have for her.
At each age, there will be different gifts for girls. Parents need to be delicate to choose the right gift for their daughters, especially the most practical one for their children to use. If parents are wondering what birthday gift to give their daughter on her upcoming birthday, read this article. GiftOMG will suggest to you the top 30 amazing birthday gifts for daughter.
*** See also: 30 Best Bride Shower Gifts For Daughters
30 Birthday Gifts For Daughter To Surprise Her
Want to search for the best birthday gifts for daughter? Take a look at our suggestions below:
1. Picture Frame and "My Daughter" Poem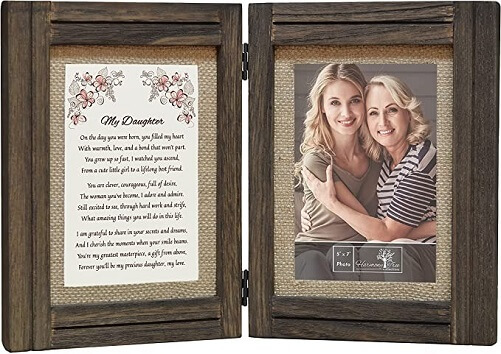 This gift includes a heartfelt poem on the left side and picture perfect frames on the right. This image is a personalized photo of a daughter or parent and daughter. With just one photo filled with memories to fit, this is the perfect gift on birthday gifts for daughter list.
This photo frame is made of real paulownia wood combined with high quality cardstock and cardstock. This is an elegant keepsake for your daughter that can be displayed and treasured forever.
---
2. Fleece Blanket to My Daughter Letter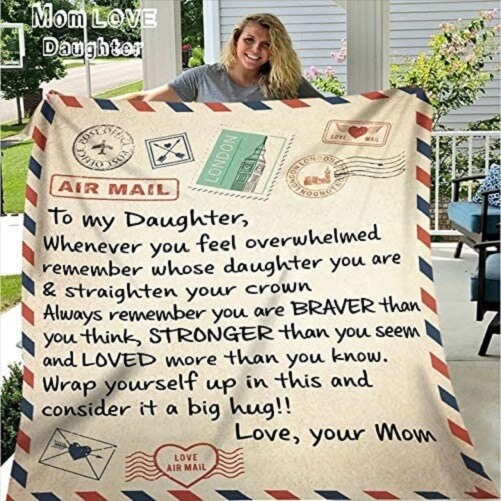 This super soft flannel blanket is a birthday present for daughter. It is designed to be a personalized gift that shows thoughtful care for daughters from mom and dad. This blanket not only brings warmth but also brings smiles, and feelings of love. The blanket is constructed of a superior polyester fabric that is incredibly soft and has a hypoallergenic cotton pattern. Even after washing, it retains its brilliant color.
---
3. Sterling Silver Cute Bird Heart Cardinal Necklace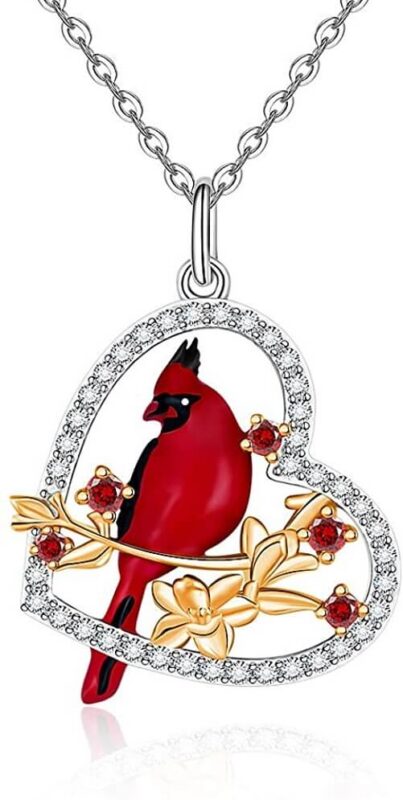 If you are looking for birthday gifts for daughters, this is a good idea. On the necklace there is a cute cardinal bird perched on a golden leaf and turned away to look into the distance.
The elegant and sparkling necklace set with a heart pendant with a bright cardinal will be a great gift for your lovely daughters on their birthday.
---
4. Personalized Acrylic Night Lamp with Base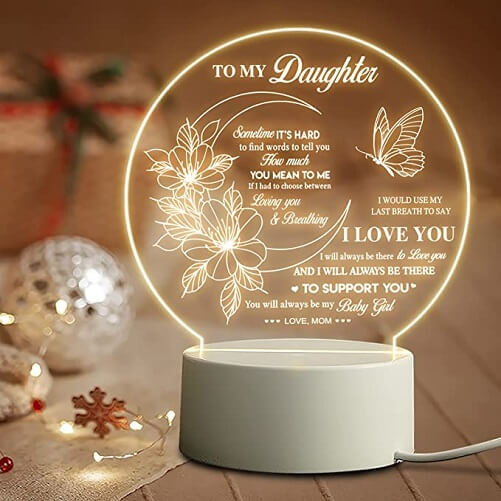 Are you looking for the best gift for daughter birthday? This gift will bring back wonderful memories. This acrylic night light engraved with these words shows your daughter how much you love her. It is not only a cute night light, but also a gift filled with love and nostalgia. Show how much you love her with this wonderful gift. She will definitely love it.
---
5. Sunflower Wooden Engraved Colorful Music Box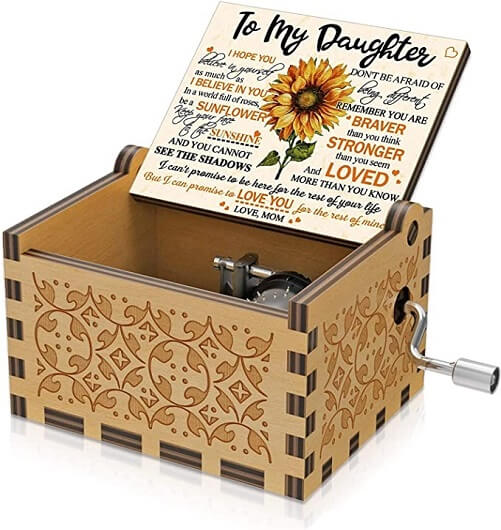 One of the best birthday gifts for daughter from mom, this cute music box has a classic design. It is made of wood. The surface of the box is delicately hand-carved. This is one of the meaningful gifts for daughter. The music box's theme is "You are my Sunny." The interior of the music box is etched with phrases conveying a mother's love for her children, which is symbolized by the inscription.
---
6. Engraved Moon Lamp Night Light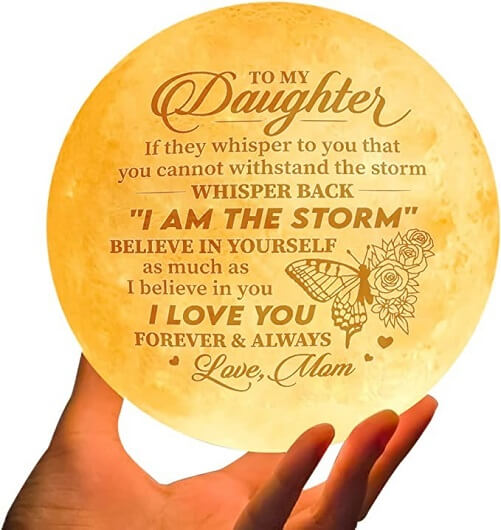 The spherical lamp is very pretty and eye-catching. It is made using advanced 3D printing manufacturing technology, to create a texture very similar to the real moon. The inscription also emphasizes its beauty and conveys the love of parents to their daughter.
It is made from PVC with ABS so it will be very durable and hard to break. This will improve the impact resistance and fire point to prevent it from collapsing after long time lighting.
---
7. GFTYIO Lavender Scented Candles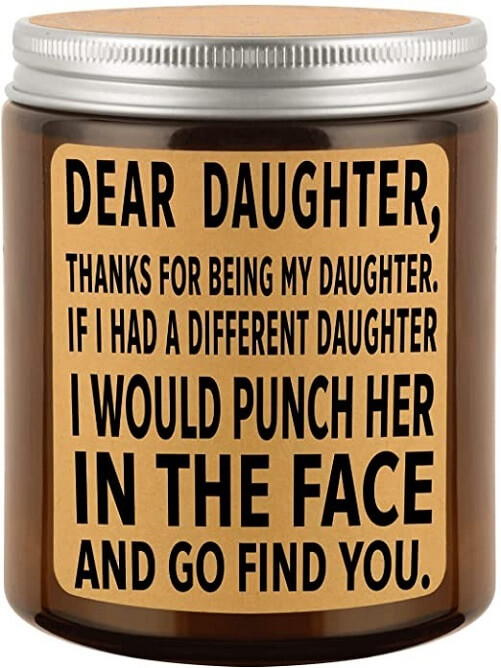 For a girl, candles are the perfect gift for her birthday gift. Candles express your love, you will forever and always love her. The naughty quote on this candle box makes a great birthday gift. This gift should be added to the birthday gifts for daughter list.
This candle is not only about the scent of lavender, but also about love. Surely your daughter will love this gift, especially the scent it brings.
---
8. Amazon.com Gift Card in a Birthday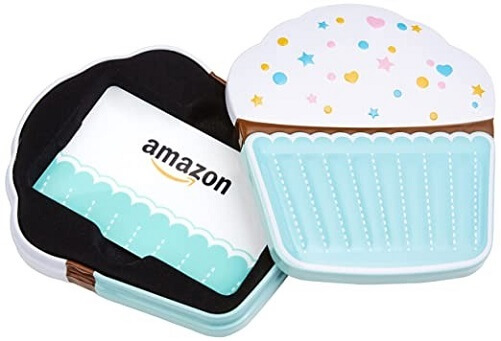 Gift cards are popular gifts, loved by a lot of girls. This gift card comes inside a cute cupcake special gift box. It has no fees and no expiration date. It has no fees and no time limit. Your daughter will use it to redeem millions of items storewide at Amazon.com. It's convenient and smart. This is definitely a gift your daughter will love because she can shop freely.
---
9. Flickering Led Candle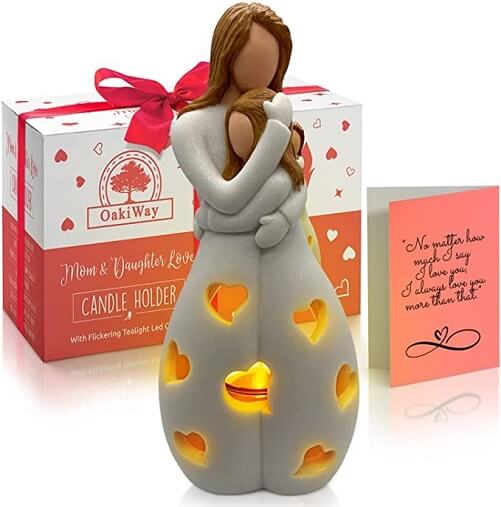 If you want to show your love for your daughter on her birthday, this will be one of the best unique gift for daughter. The candle holder has a mother holding her child as if showing protection and love. This unique candle holder figurine is a wonderful gift that speaks of love and connection. It shows love in a way that no words can express. This beautiful candle holder comes with an LED candle (battery included) that flashes like a real candle and produces a relaxing soft light.
---
10. Meaningful Charms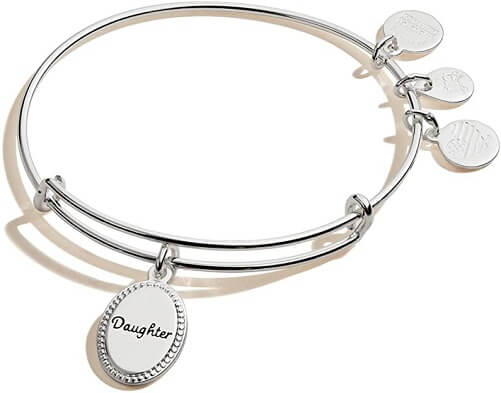 Giving jewelry on a daughter's birthday is also a good idea for daughter birthday gifts. Show your love to her with this bracelet. The necklace means that mom will always love her. This pretty bracelet is adjustable. On the face was the words "Daughter" on the front and "Most Precious Gift" in writing on the back. This will be a gift every little girl will love.
---
11. Cotton Linen Square Throw Pillow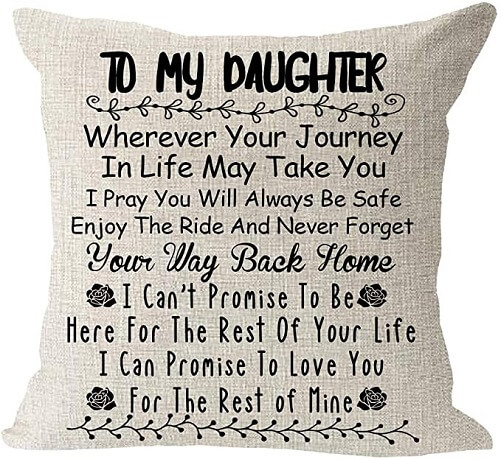 This is made by Cotton Line, very eco-friendly. This is definitely a gift filled with affection and special meaning. This is the best gift for your daughter to let her know that she is always right in your heart. This soft pillow will help her have a good night's sleep. On the pillow were printed loving words like good wishes for her.
---
12. Luxe Crown Necklace Gift Set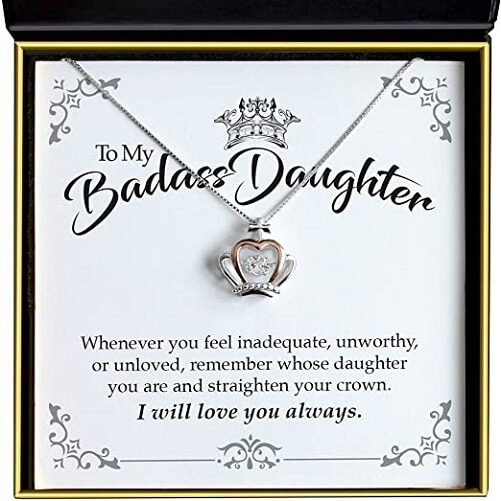 The crown for your princess is the message sent in this gift. Bring a smile to your daughter's birthday with this surprise gift.
This pendant necklace includes a tag that reads "To my evil daughter." Along with this witty quote, the box contains a father's eternal love for his daughter. She will forever be the princess of the family.This necklace is one of the special gifts on the list of birthday gifts for daughter.
---
13. Jewelry Gifts for Teens Girls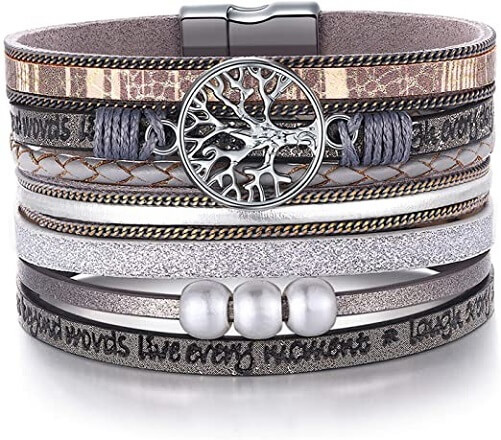 Thick bohemian bracelets are criss-crossed and layered. It gives you a unique, elegant beauty. Wearing it will make you stand out and get compliments on it. Your daughter deserves this for her beautiful birthday. The layer bracelets are very trendy and pretty. This is a unique gift for her. Sincere words printed on the leather case are full of love and meaning. You will find it easy to express your love.
---
14. Sculpted Hand-Painted Figure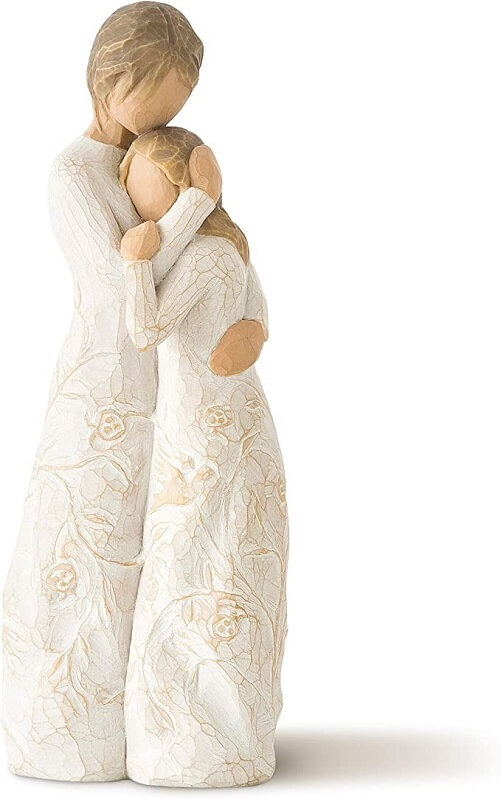 Love is a part of creating the value of a gift. "Besides or together, always close to me" is written on the attached card as a message that a mother is always with her beloved daughter. The hand-drawn Sculpted Hand-Painted Figure depicts a mother holding her daughter in her arms. Both wear cream-colored dresses carved with intertwined leaves and vines. This gift represents the connection, but the freedom, that exists in the best of relationships, whether near or far.
---
15. Jewelry Gifts For My Beautiful Daugther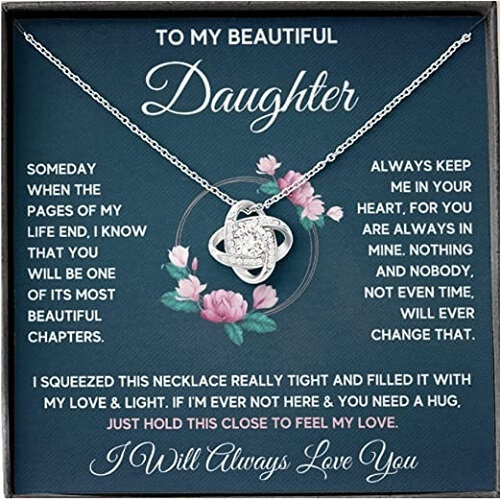 Jewelry symbolizes the unbreakable bond between two souls. This necklace and fill it with motherly love and light. It is a gift that will always be with your daughter. If mom is not here, just look at the necklace to feel her love.
It is made of 14k White Gold on stainless steel. This jewelry comes with a premium quality gift with a special message. It's not a small item but a big surprise for your beautiful daughter!
---
16. To My Daughter Leather Journal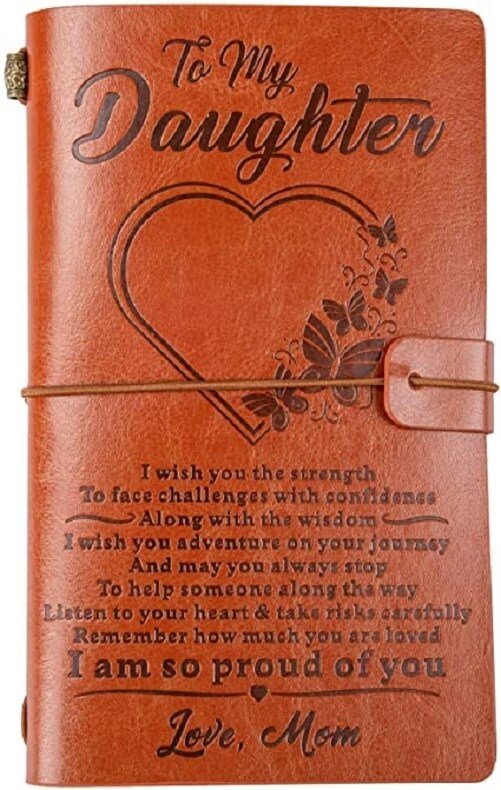 The engraved words on this leather-bound notebook make it a great birthday gift for your daughter. This is a meaningful gift that should be added to the list of birthday gifts for my daughter.
The notebook is made of soft PU Leather Cover, refillable acid-free paper. This leather diary is suitable for keeping a memorable diary in your life. Your daughter can save beautiful memories here.
---
17. Makeup Cosmetic Bag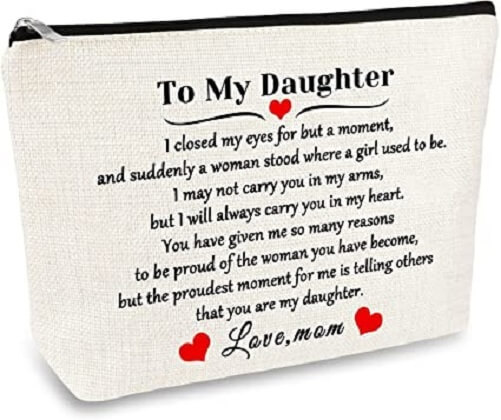 Cosmetic bag is a must-have item for any girl. If you are looking for a birthday gift for her. Then this is a very reasonable gift. This daughter's cosmetic bag has warm words, expressing the love a mother sends to her daughter.
The bag is double-sided printed, with a high-quality coating. This makeup bag is big enough to hold her daily makeup. It is very convenient, suitable for use when going out, traveling, and relaxing without taking up too much space.
---
18. My Daughter Throw Blanket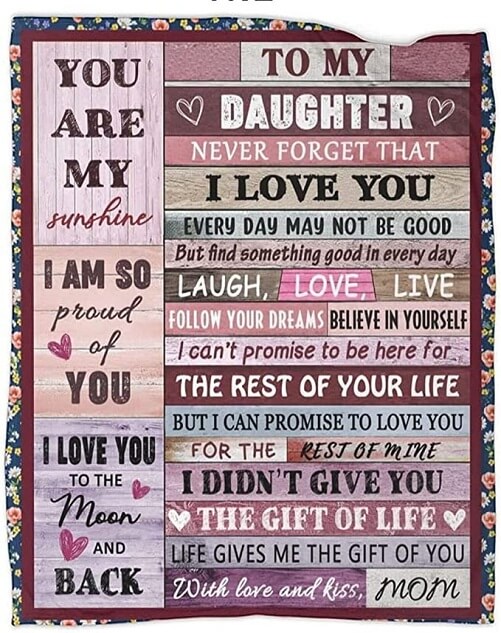 This soft plush blanket is specially designed with love, making your little girl feel warm and loved. This warm blanket is like your own warmth for your daughter. It's made of lightweight anti-clumping flannel, very soft and comfortable. Not only can it be used in winter, but also very suitable for an air-conditioned room in summer.
---
19. Variety Pack of 6 Shower Bombs with Essential Oils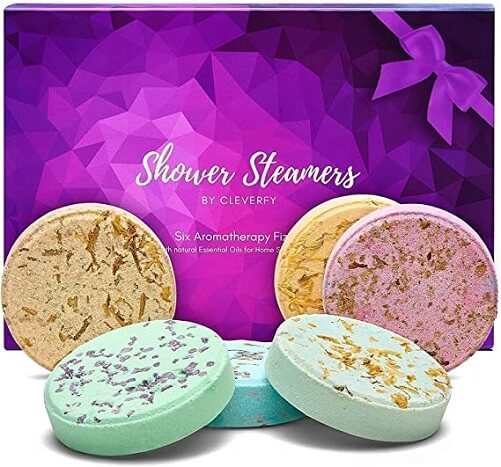 This great present will allow your girl to truly rest. Pure essential oils and a perfume that is as close to nature as possible can help her relax. Bath bombs for women are a great idea. Her attractiveness is enhanced by the powerful fragrance. Cleverfy Shower Gel Steamer has a natural scent that she will like. She gets a complete soak with the Cleverfy shower gel steamer, which is non-slip, suitable for septic systems, and non-toxic.
---
20. Sterling Silver Daughter Necklace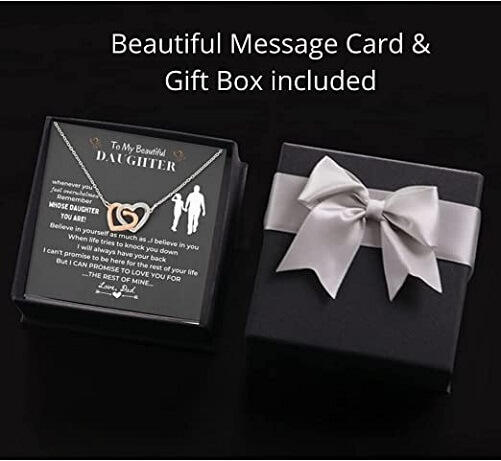 If you are a father who is wondering what to give unusual birthday gifts for daughter, here is a small suggestion for you. For any birthday gift for girls, necklaces are the best choices.
It is made of Sterling Silver, a rose gold-plated one-heart pendant. On the gift box, there is an image of a father holding his daughter's hand for a walk with very emotional words.
---
21. Inspirational Bracelet Love Gift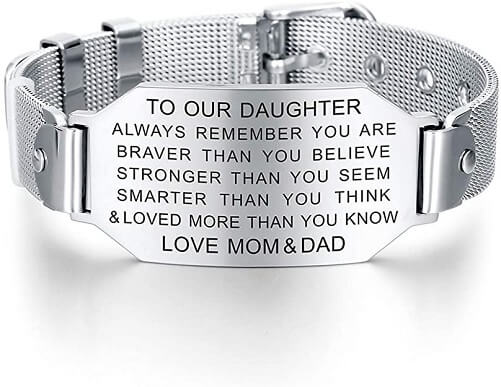 This bracelet is a gift that parents want to send to their daughter. Each dynamic bracelet can be adjusted, and will fit most wrist sizes. It helps her create a unique style.
The laser engraved bracelet is made from shiny stainless steel, hypoallergenic, lead free and tarnish resistant. The words on it are like a message to encourage her in life.
---
22. Love and Encouragement to Carry with You on Your Journey Through Life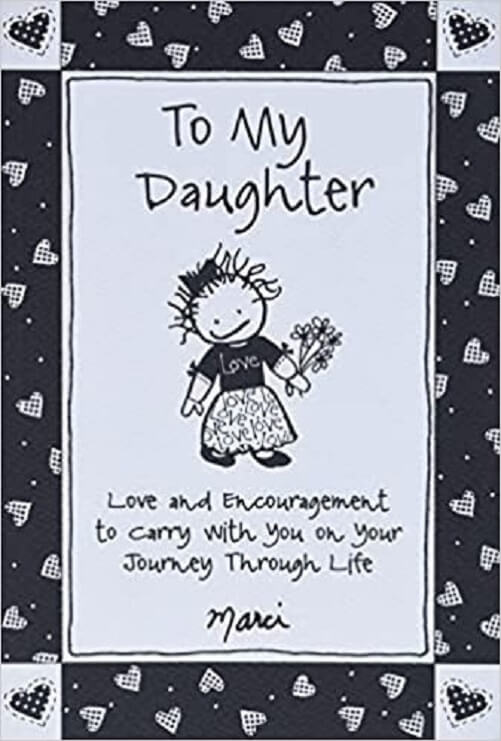 Gifting books on a birthday is a good idea for girls who love to read. The content of the book is about the pure joy of parents having a daughter. It will touch the hearts of parents and daughters everywhere. Warm expressions of love and gratitude are added to this book.
The cover is made of high-quality textured paper with sparkling embellishments and a French lid, and features striking black and white illustrations throughout.
---
23. Lily 10pc Spa Kit Gift Set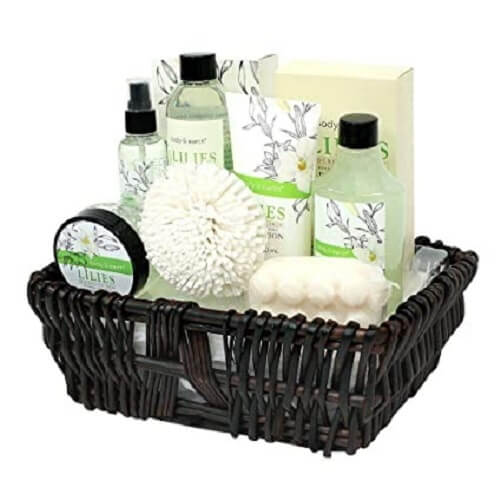 Luxury home spa set includes: shower gel, bubble bath, bath salts, alcohol soak, body scrub, body spray, body lotion and wicker basket. It comes packed with premium and beautiful packaging making it the perfect product for online birthday gifts for daughter.
Products with natural ingredients help moisturize and soften dry skin. Lily essential oil can help calm the mind, promote overall well-being, and provide a great spa experience.
---
24. Professional All in One Makeup Kit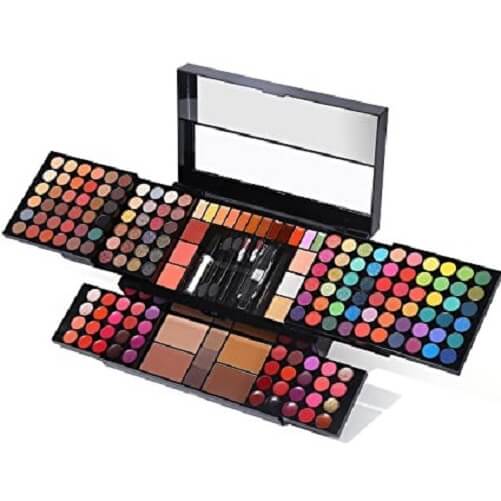 This makeup set includes all the necessary makeup tools for the girl. Its sleek design and sliding compartments make it the perfect space-optimizing cosmetic makeup set. High quality ingredients with lustrous color make her makeup more beautiful. All colors are rich, highly pigmented, and blend easily. It will help her stay radiant and fresh all day or night.
---
25. KINDPAW Father Daughter Necklace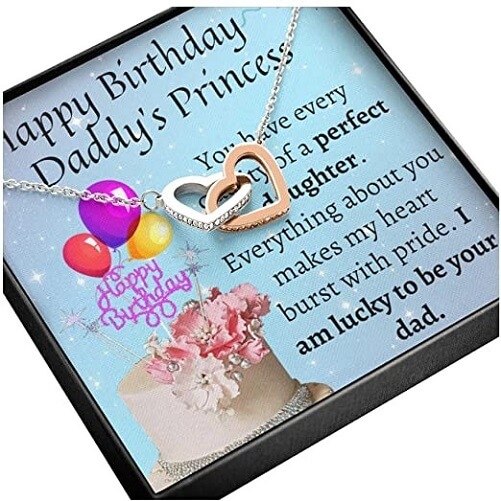 This interlocking heart necklace symbolizes the love between father and daughter that never ends. These two hearts are made of Cubic Zirconia.
This gift comes with a happy birthday card. The content of the card contains the feelings of pride and happiness when you are the father of your daughter. This is a really unexpected gift for her.
---
26. Wireless Mobile Photo Mini Printer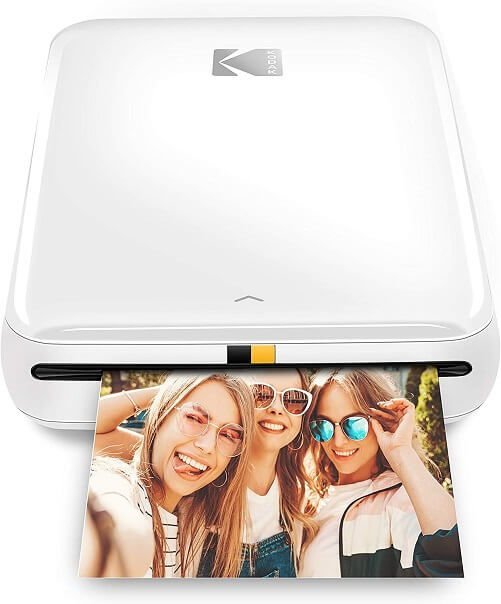 From teen girls to teenage moms, every daughter will appreciate this tiny device that lets her wirelessly print her favorite photos on the go. Skip computer connections, messy wires, and cumbersome equipment. This compact printer weighs less than a pound, sets up quickly, and delivers stunning prints that you can peel and stick anywhere. It is a ideal choice for your list of birthday gifts for daughter.
---
27. Wellness Shower Bombs 6-Pack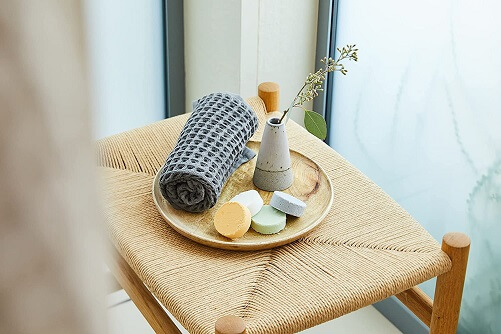 Transform her shower into a wet-spa experience with these bombs, making as birthday gifts for daughter. Simply place in the back of your shower, lightly wet the shower bomb, and let it effervesce, releasing our signature formulated scents. These shower bombs are made with a proprietary blend of essential oils designed to open her airways. They will help her relax body, and transform her mood.
---
28. Daughter Of A Queen Mother Daughter Mugs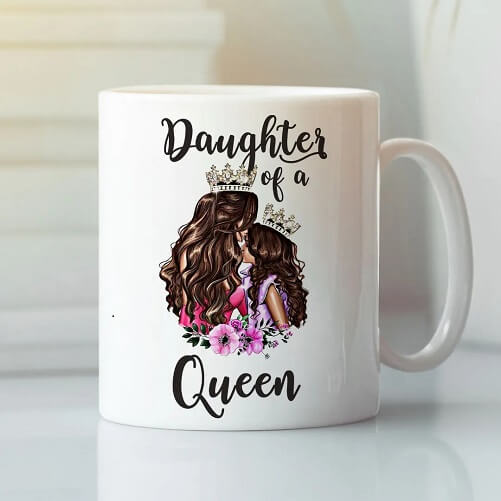 The best gift for a daughter on her birthday is this beautiful mug. The beautiful mug features a beautiful floral decoration and a picture of a mother kissing her daughter's forehead. This image represents your love for your baby daughter. As well as the saying Daughter Of A Queen, you will make your daughter feel like she is the queen in your heart. She will feel amazing and love this gift.
---
29. Don't Make Me Act Like My Daddy Shirt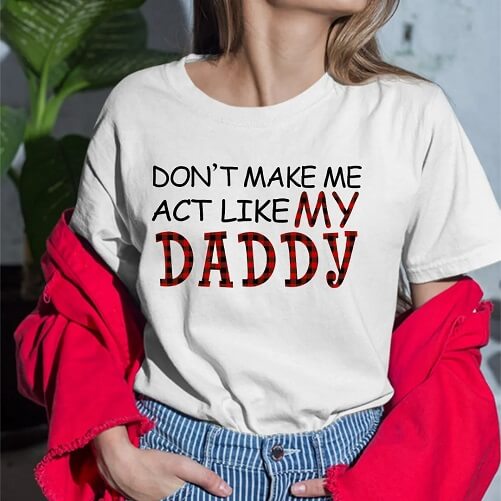 This might be a very unique present for your daughter. If your daughter is funny, stubborn, naughty and loves her Dad very much, this is the right shirt. The shirt has the funny quote "Don't Make Me Act Like My Daddy" so you can buy it for your daughter on her birthday to tease her dad. The material is made of 100% cotton, printed in the USA for a stylish and comfortable shirt!
---
30. My Dad Meant The World To Me And Still Does T Shirt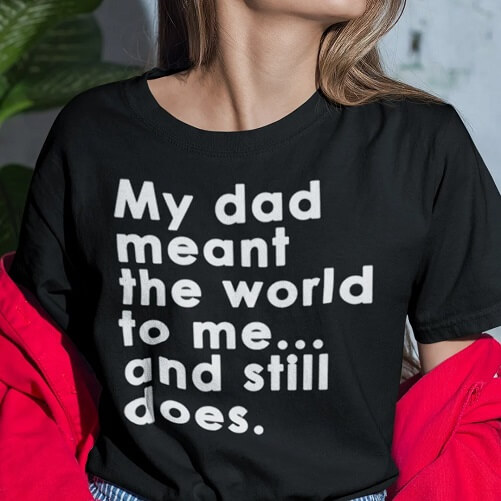 The wonderful shirt with the wonderful saying "My Dad Meant The World To Me And Still Does" will be a meaningful birthday gift for daughter. She will feel the bond between her father and her growing closer.
The 100% cotton shirt in full size will be perfect for you to choose from. Which one is meant for both her father and her to wear for her birthday.
---
31. I'm Not A Perfect Daughter Mother And Daughter Shirt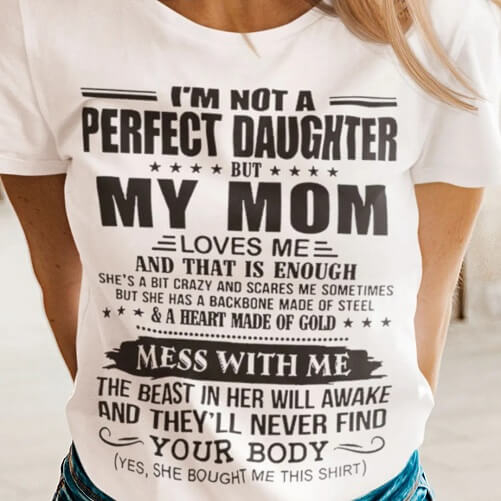 This shirt will be one of the great gifts for daughters birthday for mothers to give to their beloved daughters. It is made of 100% cotton, printed with eco-friendly inks for a stylish and comfortable shirt. The quote on the shirt proves your love for your daughter. This will definitely be a gift filled with love.
---
32. To My Daughter I Love You Mug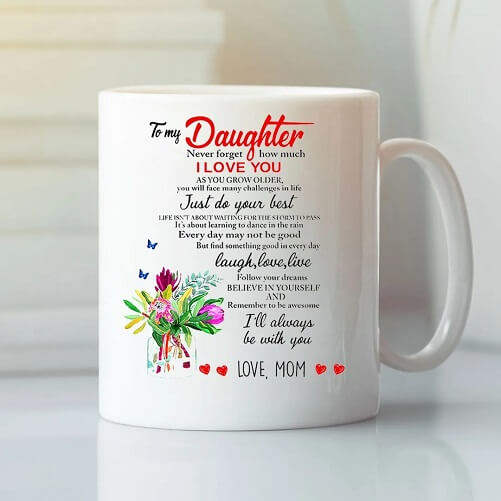 If you are choosing birthday gifts for your daughter, then this mug is a meaningful gift from Mom for her beloved daughter! On the mug, there is a touching message to the daughter. With these kind and affectionate words, your daughter will love and appreciate this gift.
The highlight of the whole quote is the prominent red text. "Daughter-I love you" message is also all the love a mother has for her daughter.
---
33. Custom Heart Necklace Keychain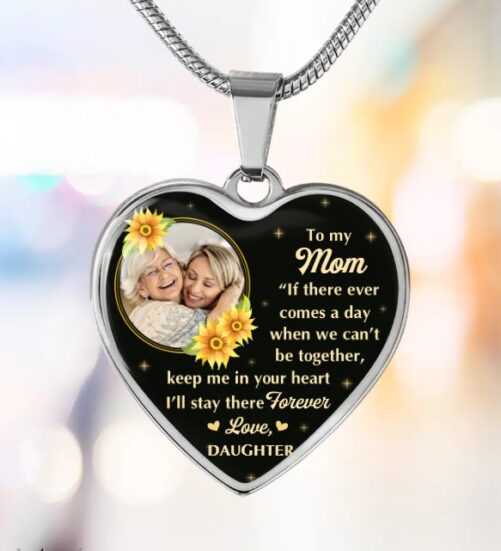 Introducing the Custom Heart Necklace Keychain, a heartfelt and meaningful gift designed to symbolize the everlasting bond between a parent and their beloved daughter. Every time she reaches for her keys or catches a glimpse of the pendant, she will be reminded of the unbreakable bond you share. This exquisite keychain combines elegance and personalization, making it a perfect keepsake for any occasion. Let your daughter carry a piece of your love wherever she goes with this enchanting gift.
---
34. Floral Watch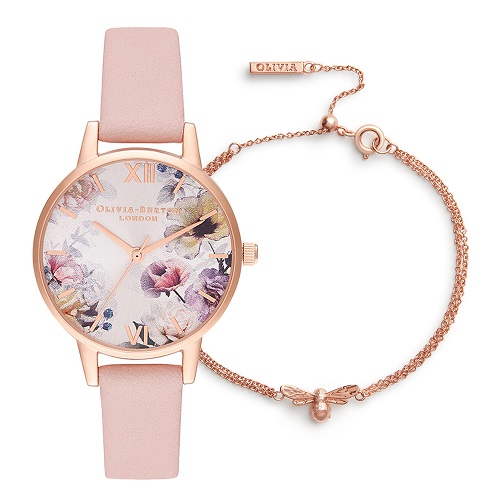 When it comes to the best birthday gifts for daughter, try this Floral Watch, a timeless and elegant gift that perfectly captures the essence of beauty and grace for your beloved daughter. Every time she glances at her wrist, she will be reminded of your unwavering support and appreciation for the remarkable woman she is becoming. This exquisite timepiece combines the functionality of a watch with the delicate charm of floral design, making it a meaningful gift she can cherish for years to come.
*** Related: Sweet 16th Birthday Caption Ideas Impress Anyone
Conclusion
Above are 30 great birthday gifts for daughter on her upcoming birthday. GiftOMG hopes to have helped parents solve the problems in their hearts. We hope you buy a meaningful, suitable gift and have a wonderful and happy day with the daughter you love the most. Hope your daughter will have the most memorable birthday and love the gift you gave her.