Giving cash sometimes comes across as being somewhat a little bit dull. That's probably due to the fact that they haven't tried these gifting money ideas! The majority of the time, receiving money as a present is beneficial and welcomed. Graduation, bridal showers, housewarming showers, baby showers, etc. are a few examples.
There are occasions, though, when you want to offer something with a little more character and thought than a card or some cash, but you are at a loss for what else to get them. So you are forced to give them cash, despite how boring and impersonal it feels to do so on this special day. Cash is a very versatile present.
Put some thinking into it and try one of these original gifting money ideas to inject some fun and life into your money gifting, whatever the situation may be. You may make it a interesting and unique gift that they'll remember for years with just a little time and effort.
17 Unique Gifting Money Ideas For Any Occasion
With these clever gifting money ideas, you can take giving money from boring to extremely fun and exciting. Let's get started!
1. Money pizza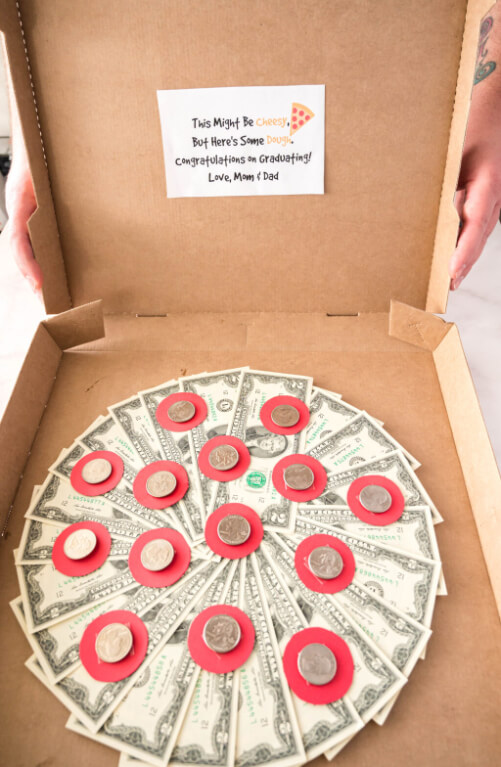 Nothing says "I love you" more than a gift of money, especially for teenagers and college students (and occasionally for adults as well). For a major surprise, try hiding it inside a pizza box. You'll enjoy the look on their face when they open it, we promise! With these original methods to give money for graduation, Christmas, and birthdays, you may give the gift of money.
You may use any amount of money, in any denomination. You can use $1 bills, $5 bills, or any other sort of currency you choose.
If you're using a cake board the size of ours, which is 10 inches, you'll probably need at least 20 bills.
The ideal way to offer money for a graduation, birthday, or any special occasion is with this money pizza.
---
2. Money jar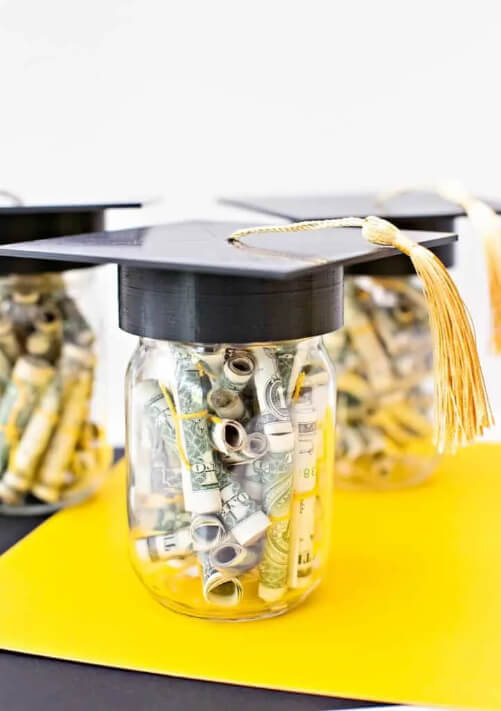 Will you attend a wedding? For the couple, start a money jar. The couple can later use the jar for cookies, as a currency jar, a candy jar, or even as a creative decor item. This amusing gift concept might even be modified to be given as a gift during a baby shower, graduation, or housewarming. There are countless options!
This gift is incredibly easy to make, but with just a few basic materials, you can create a meaningful present that your special someone will treasure long after the money is gone! Additionally, the kids can participate in making this enjoyable gift. All of your money can be rolled up and put in the Jar to fill it full.
---
3. A Chocolate Box of Money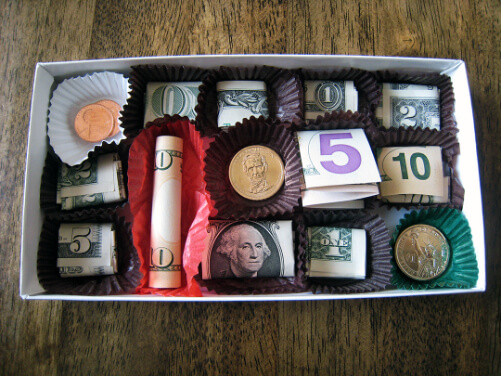 Empty a box of chocolates and replace the candy wrappers with bills. The recipient receives money, while you receive chocolate. Everybody benefits from this!
This is a great gift in special important holidays or Valentine's Day for her. The preparation of gifts is also very quick and does not take too much time.
It's entirely up to you how you decide to fill the chocolate box slots!
To give the completed product a bit more visual depth, you can use a number of folds and methods, though you are also free to use the same one repeatedly if you choose.
Folding the bill into eighths is the easiest method.
After that, simply package everything like you would a box of candy, and you're ready to go!
---
4. Baloon Pop Gifting Money Ideas

How much more entertaining can a technique of delivering cash that combines a wrapped present and balloon popping be? Money, notes, or even lottery tickets can be put inside balloons! Money balloons make the ideal present for people of all ages and events!
Simply fold the money up and insert it into the balloon to get the money inside. The balloon will then be inflated as usual. It's so cheap and easy to make, so consider this one if you're still looking for gifting money ideas.
---
5. Toilet paper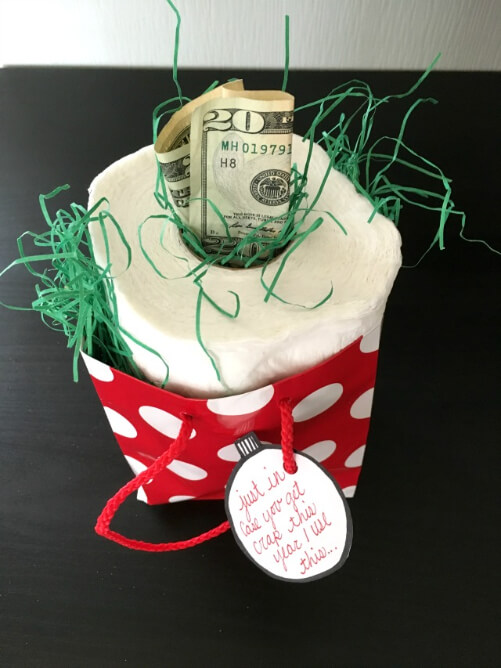 This is the ideal way to donate money in 2022! Bonus: It's incredibly simple to assemble and use! Add a twenty-two and the notation "Just in case you get crap for Christmas, use this!" to the center of a roll of toilet paper.
With a few of twenty-two in the center, it would be the ideal white elephant present. The winner of your family's gift exchange is certainly this!
---
6. Holiday dough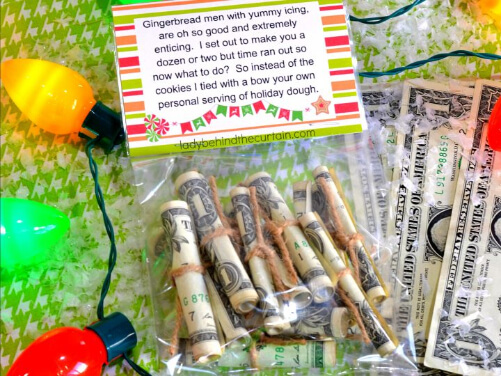 Instead of cookies, this clever poem gives the recipient extra dough. They won't mind, I believe. Do you? Many online stores offer free printable poems.
Simply wrap some cash in baker's twine, fasten the poem to the top, and roll up the cash. It's really easy to make and looks delecious, so don't miss it on your list of gifting money ideas.
---
5. Tissue box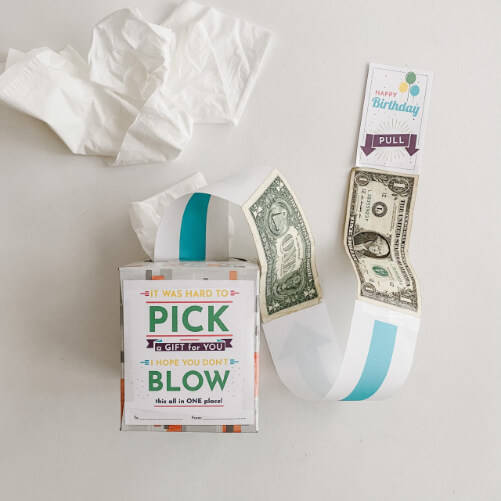 Finding it difficult to think of entertaining birthday present suggestions? If you're searching for a way to offer cash without appearing to have rummaged through your purse on the way to the party, look no further than this gift. Make a money box out of an empty Kleenex box and put a note on it that says, "Don't blow it all in one spot!"
This birthday gift's components couldn't be easier to gather. All you need is some cash and an empty Kleenex box. Use Scotch tape to secure the dollar bills together end to end. Of course, the "WOW" increases with the number of dollar bills. Place them inside the Kleenex container with a single dollar protruding from the lid. It's entertaining to observe someone's eyes enlarge when they take out the endless supply of dollars. Don't "blow" it all in one spot, write on a tag.
---
6. Money umbrella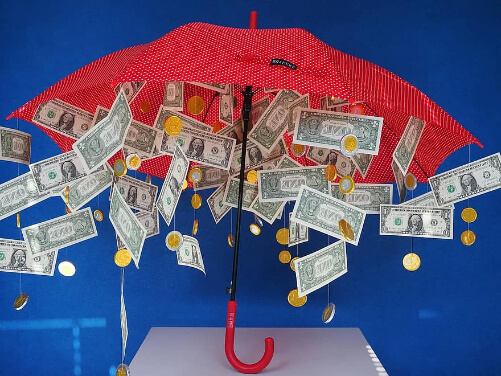 Remember that adding a little comedy to the gift makes it even better no matter what occasion you decide to do this for!
Start by getting a cheap umbrella. The curling ribbon should be cut into various lengths to match the number of items you plan to put within the umbrella. You can attach one of the following: cash, gift cards, or the cheapest option: straightforward certificates that are either printed or handwritten, using double-sided tape, to the end of each ribbon.
Then, spread each ribbon as equally as you can before tying the other end to the inside frame of the umbrella; turn the umbrella on its side, manually insert each ribbon or present inside, and then carefully close it. Finally, let's wrap the umbrella as a gift.
This also works well as a gift for weddings, baby or bridal showers, high school or college graduations, birthdays, etc. Regardless of how others react, it's always funny!
---
8. Money tree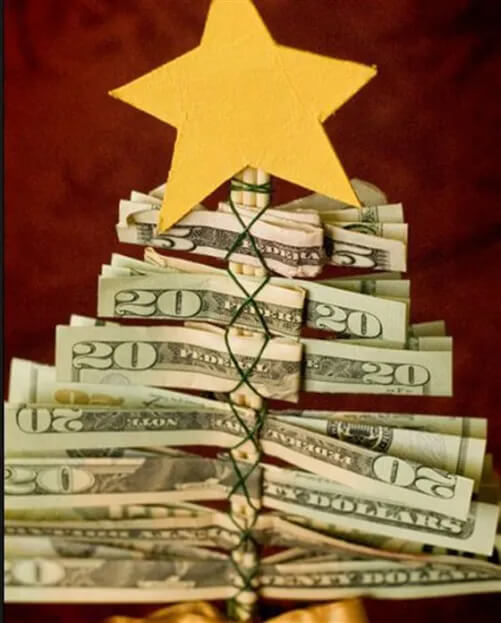 Aren't the nicest kinds of trees made of cash? Second only to seeing money literally fall from the sky!
Simply rolling up dollar bills and scattering them about the tree was so simple.
The best aspect of this is that your receiver will get two gifts in one: money AND a sweet Christmas ornament!
---
9. "CHEDDAR" cheese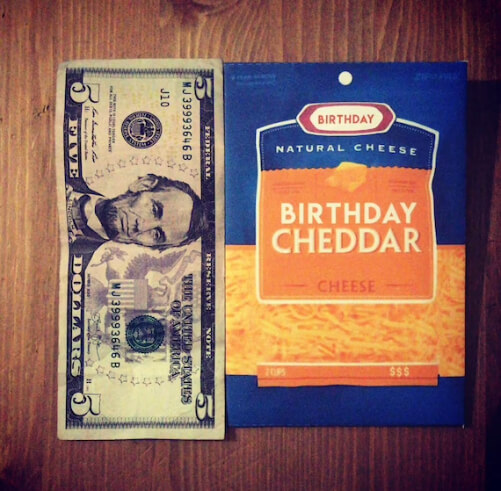 This concept deverse to be one of the adorable gifting money ideas we know!
This would have a significant impact on almost any effort. Simply purchase one of Ashaty's "cheddar cheese" templates on Etsy to get started.
The image should then be printed and cut as directed, and the edges should adhere together.
Boom! You have a fantastic talent that is both humorous and incredibly CHEESY.
---
10. Money envelop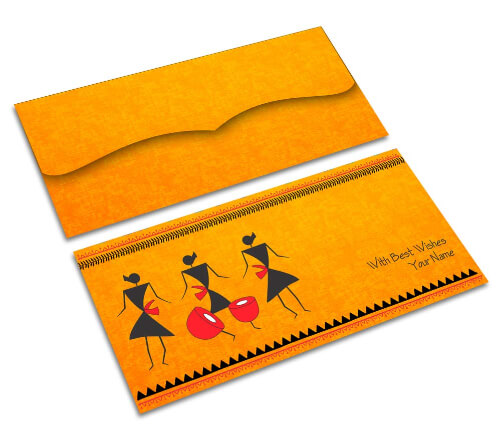 A wonderfully adorable Christmas, graduation, or birthday gift idea is this homemade printed envelope. We adore that it allows your recipient to spend carelessly!
Simply purchase the desired envelope template from DIY Inspired Inc. on Etsy.
After downloading the PDF, print it out and cut it out using the provided instructions.
Before folding and adhering, the envelope will appear like this on the front and reverse. Incredibly simple and so unexpected!
---
11. Mini money cake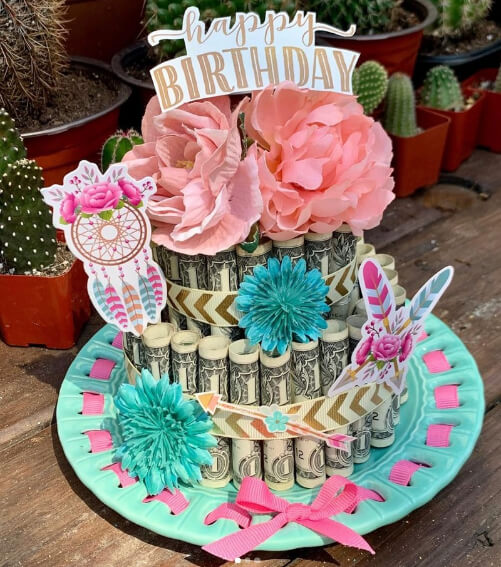 We adore how it was presented on a pretty green cake plate with a pink bow. This is a lovely AND useful gift that the parents will like.
This type of cake requires a lot of work but when it's finished, it looks amazing!
You can always buy a finished cake on Etsy if you don't have the time to make your own cake but enjoy this specific presentation idea!
We think the pricing is rather reasonable considering the materials and effort that goes into producing such a lovely design!
Considering the resources, talent, and work that goes into creating such a wonderful design, I believe the price is quite fair.
---
12. "Smart paint"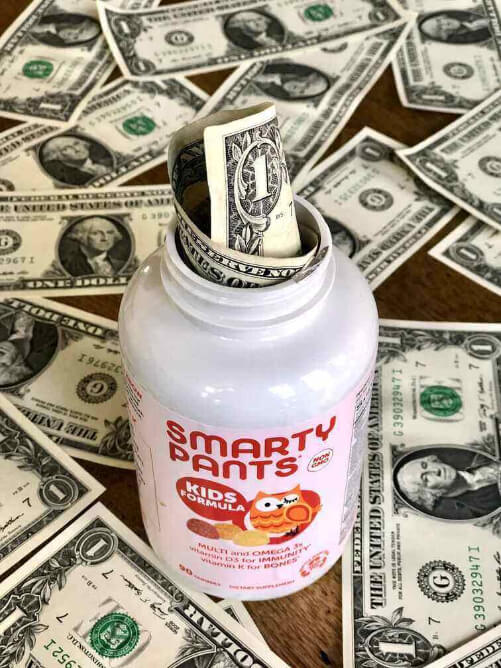 It would make the ideal hiding place for a teen's cash gift!
The process was quite simple. Simply tape the dollar bills together end to end using a small amount of tape.
This is a fantastic application for gift-wrapping tape because it isn't very sticky and is simple to remove.
The bills can then be rolled up and placed into the container.
Your recipient will be able to remove the roll of cash right out of the container by sticking out the end of the roll with only one little point of the first bill, as shown in the illustration below.
Such a sweet trick for concealing a gift in plain sight!
---
13. "Money is trash"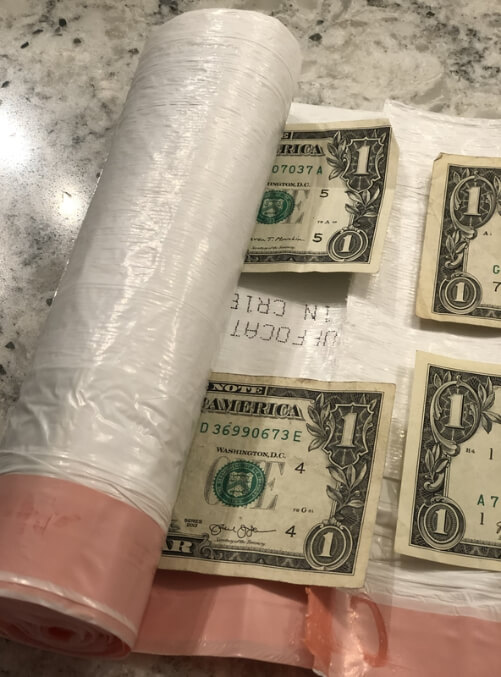 Why just hand someone cash when you can wrap it up like a madman in a roll of garbage bags?
We adore how unexpected a present of this roll of garbage bags would appear. He or she will be so pleasantly pleased.
You could fit approximately $30 in one-dollar bills in this, and it still looked amazing. This is a fantastic way to offer $20 or $30 worth of dollar bills, in our opinion.
More would be even better because it would feel like an endless stream of riches!
---
14. A "heavy-duty" gift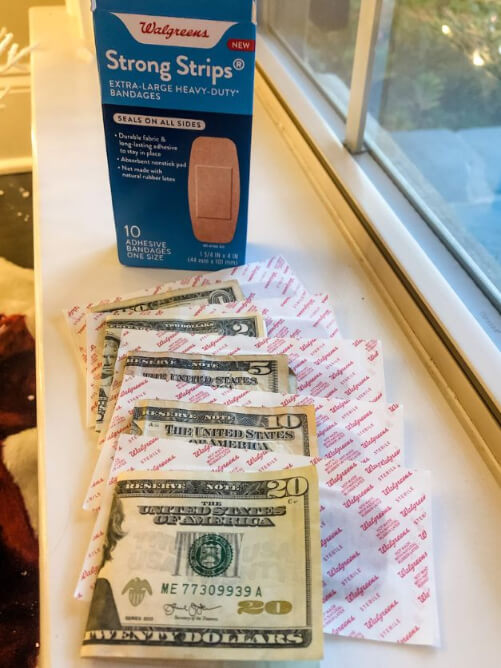 We really enjoyed the "money is garbage" present mentioned above, so I made the decision to try another approach using a common item.
It will work because most bandages have the words "strong" or "heavy-duty" on them.
Simply place as many bills of whichever denomination as you choose between a few bandages.
You won't need to use all of the bandages in the package for this because the money bulked up the packaging.
You may carry one bill in each denomination from one to twenty dollars, including two dollars.
We believe it would make a great present for any young person in your life!
Additionally, the money dips to the bottom when it is inside, making it difficult to view.
They'll really believe you handed them a box of bandages when they first open this!
We adore gifts like this that are concealed or unexpected. It will be incredibly enduring.
---
15. A good snack – Tasty Gifting Money Ideas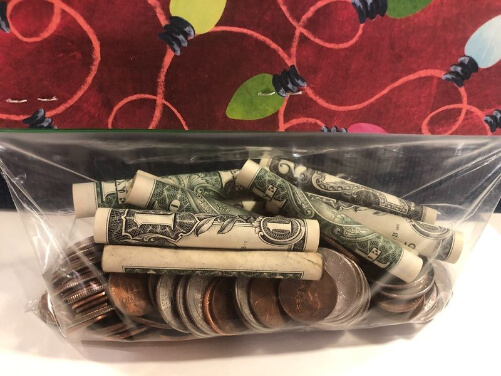 From a snack-sized bag, you can create a gift baggie.
The bag's tiny size made a combination of coins and bills work effectively.
Once the snack bag is full, simply staple some holiday paper along the top (cut it to fit the width of the bag).
For such a small purse, the price is quite hefty.
With this assortment of coins and securely wrapped dollar bills inside, it may carry up to $20 in total.
---
16. Money Balloon Surprise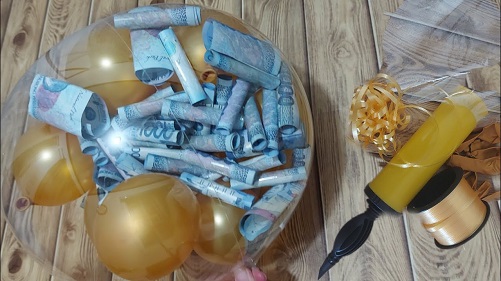 The money balloon surprise is a fun and exciting way to present a monetary gift. Place folded bills inside a clear balloon before inflating it. Fill the balloon with confetti or small decorative items for an added surprise. If you want to add a personal touch, you can attach a note or a small card to the balloon string with a message for the recipient. Give the balloon to the recipient as a gift. They will be excited to receive a balloon and may not suspect there's money inside. You can suggest they pop the balloon to discover their surprise.
---
17. Money Bouquet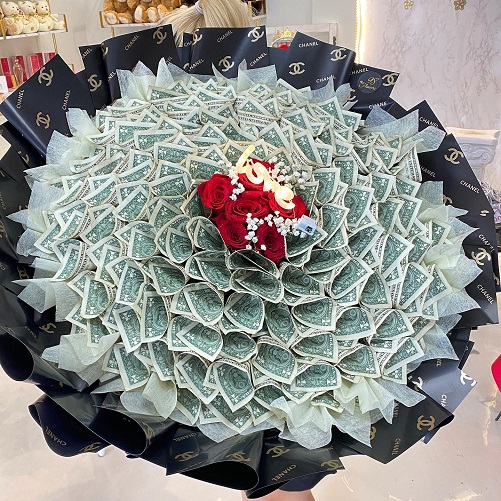 Create a bouquet using folded bills as flowers. Roll the bills tightly and attach green pipe cleaners as stems. Arrange them in a flower pot or a decorative vase. Make sure the money flowers are evenly distributed throughout the bouquet. You can adjust the height of each flower by bending the pipe cleaner stems. Place the money bouquet in a decorative vase or wrap it with clear cellophane for a more professional finish. You can also attach a small card or note to the bouquet for a personal touch. It's fun way to make gifting money ideas you shouldn't miss.
Conclusion
The highly creative & original gifting money ideas to give your receiver money are listed above. It could be unpleasant if you behave strangely and simply give someone cash as a gift. But if it comes as more of a surprise, the atmosphere is completely altered.
Even though giftOMG always enjoy finding unusual presents for individuals, there are instances when cash is the finest present to give. You can try to make the encounter special rather than just handing them a crumpled $20 in an envelope.
Head to our DIY gift guide if you want more ideas!