Material gifts are practical and meaningful, but recipients will enjoy it much more if you give them an experience. Something for them to "go and feel". And what better experience than visiting New York city. If you are planning to give a special gift to your loved one, don't miss giftOMG's memorable experience gifts in New York City for everyone below.
New York is a city in the northeastern region of the United States, south of the state of New York. New York is one of the largest and most luxurious cities in the world and is considered the "city that never sleeps" of the United States. Every year, New York receives a huge number of tourists from all over the world. 30+ experience gifts in New York City will definitely be the most unique gift you can't miss.
30 Memorable Experience Gifts In New York City
New York City used to be the capital of the United States in the period 1785 -1790, from 1790 up to now it has always been the largest city of this country. With the busiest life in the world, many famous architectural works, huge commercial centers and attractive entertainment areas, visitors can freely explore without getting bored.
For Those Who Love To Explore
1. Explore the Statue of Liberty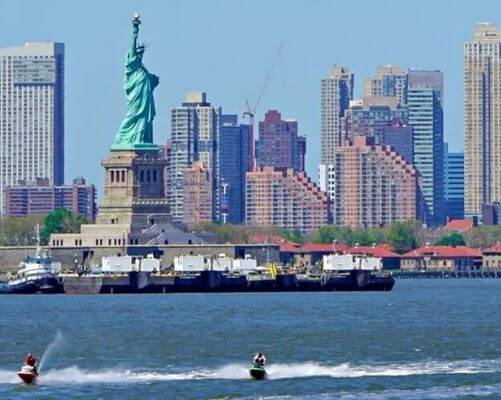 The Statue of Liberty is a symbol of New York City in particular and of the United States in general. When visiting New York, the Statue of Liberty is a place that you cannot miss. This famous structure was a gift from the French people to the US in 1886. The Statue of Liberty is located on Liberty Island, New York Harbor, so to visit, you have to go by ferry and buy an entrance ticket.
The special thing is that you can completely climb the crown of the Goddess to see the whole beautiful city. Or you can also use the ferries on the Hudson River to see the Goddess Statue from afar. You can choose to buy a general ticket that includes an entrance ticket and a two-way cruise, or a special ticket that allows you to explore the 12 floors inside the colossal statue. Experience gift in New York City will make the recipient very happy.
---
2. View of Times Square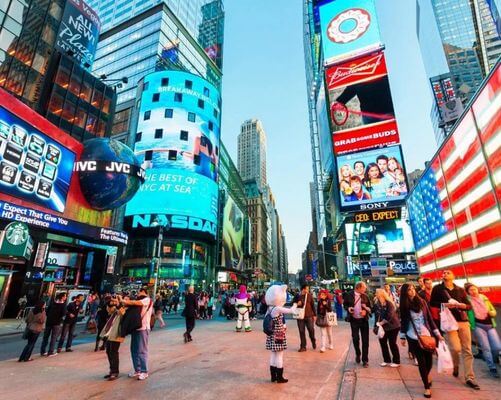 This is a long-standing symbol of New York City, it has been around since 1907 and is always the place for big activities every New Year. Dropping a giant crystal ball is not only a New York tradition, but is also broadcast live to many other countries around the world.
Times Square connects Broadway and 7th Avenue. It is known as the "crossroads of the world" with attractive entertainment venues such as cafes, small stages and movie studios. Especially in the evening, the square becomes even more impressive with light effects from advertising signs along the roadside. Visitors will feel lost in the bustling shopping district, regardless of day or night.
---
3. The National September 11 Memorial Museum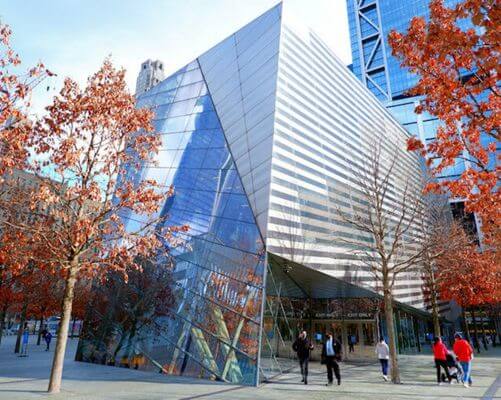 For someone who loves to explore history, The National September 11 Memorial Museum – experience gift New York City will be very meaningful. This monument commemorates 9/11, a terrible tragedy that claimed 3,000 lives in New York. Previously, this area was two twin towers bearing financial symbols of the United States and the whole world, but after the tower was destroyed by terrorists on 9/11, this location was built. memorial to the victims.
The building has two large lakes and a museum that was inaugurated in 2006 and has become a place for tourists and residents alike to pay tribute to the victims of the most traumatic events in American and world history. You'll find over 10,000 epic artifacts from the terrorist attack on the Twin Towers, see the Survivor Tree that miraculously survived the devastating attack – and watch the movie America Under Attack.
---
4. Rockefeller Center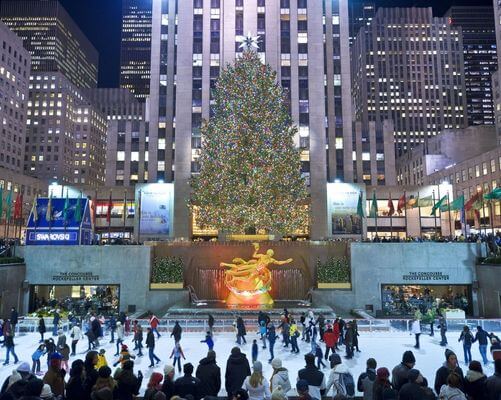 This is the name of a high-rise complex with 19 skyscrapers, located in the middle of Midtown, New York City. Rockefeller was inaugurated in the late 1930s; it has always been considered the leading entertainment and commercial center in this city. In the center, there is an outdoor skating rink that will be beautifully decorated every Christmas and New Year.
---
5. Explore Governors Island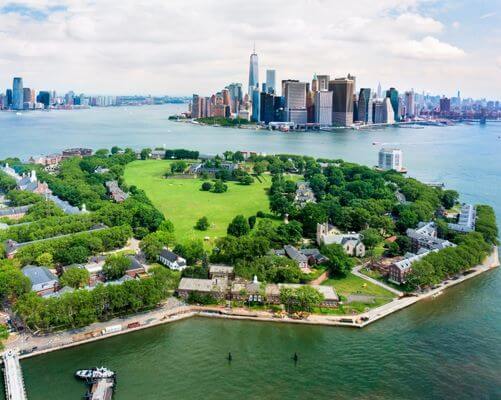 After a stroll in Brooklyn, pick up a ferry and head straight for Governors Island. There are many exciting activities taking place on the island. In particular, there is a spacious park with no entrance fee ready to welcome visitors. Coming here, you can take part in the Figment NY Sculpture exhibition, visit the Building 110 Arts Center, take a walk around the mini golf course or ride a bicycle to enjoy the early morning scenery. Besides the public space with special cultural and art programs, you will be able to participate in free golf activities, picnics, bicycle rental, etc.
---
6. Take A Helicopter Ride To Enjoy The Panoramic View Of New York City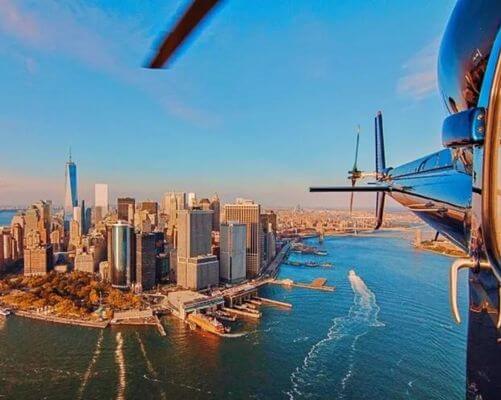 Going on a helicopter tour will be a great experience gift in New York city for those who love the sky and freedom. Witnessing the land of skyscrapers from a bird's eye view is sure to be an experience that won't let you down. You can see the majestic Statue of Liberty, the iconic Empire State Building, the hundred-year-old Brooklyn Bridge, the beautiful Hudson River and the green lung of the city, Central Park. How wonderful it is!
---
7. Saint Patrick's Church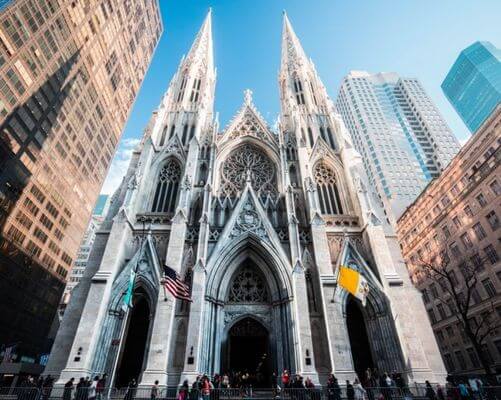 Saint Patrick's Church in New York has a long history, built over 150 years. Not only ranked high among the 150 most famous structures in the United States, but in 1976, this church was also voted as one of the national historic landmarks of the United States.
Saint Patrick's Church is the largest catholic church of New York in particular and of the United States in general, where famous Hollywood movies, many TV shows, and many famous novels are chosen as the backdrop. The architecture of the church is built mainly of brick, with a beautiful marble exterior and is based on the neo-Gothic style with the appearance of medieval churches in Europe.
---
8. Visit Grand Central Terminal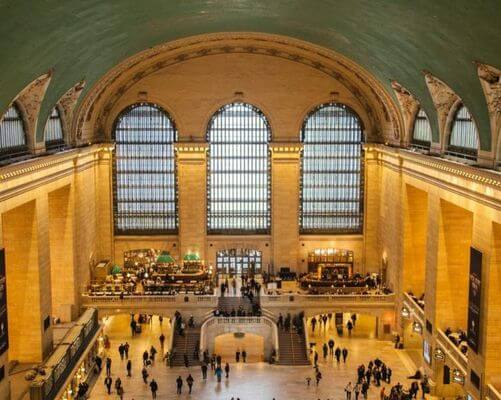 Called "the only remaining major gateway to Manhattan", Grand Central Terminal is also a sightseeing spot that attracts a lot of attention from tourists. The Beaux Arts facade that stretches along 42nd Street of Grand Central Terminal features a beautiful clock and figurines of Minerva, Mercury and Hercules. Inside the station is a large blue ceiling with fiber optic lighting depicting the zodiac constellations. Meanwhile, one floor below has sixty train tracks that carry more than 500,000 passengers a day.
Since the restoration of this structure, Grand Central has become a destination that attracts many visitors and locals with the fast food and other delicacies in Grand Central Market. Moreover, there are many free concerts and art events every week in Vanderbilt Hall. This is an impressive experience gift in New York City that someone you really love.
For Lovers Of Romance
9. Sightseeing New York On The Brooklyn Bridge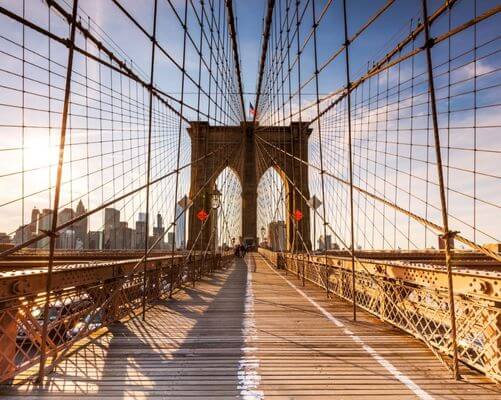 The Brooklyn Bridge was opened in 1883, spanning the East River and connecting the Manhattan and Brooklyn areas. Brooklyn is one of the most beautiful bridges in New York City. It was also the first and longest steel suspension bridge in the world at that time with a main span of 486m. The bridge has long been a major tourist attraction in New York. It is not only for traffic, but also for walking and taking pictures on the bridge. In particular, this is also a place to watch the beautiful sunset, you can see the whole city, in the distance is the Statue of Liberty.
---
10. Empire State Tower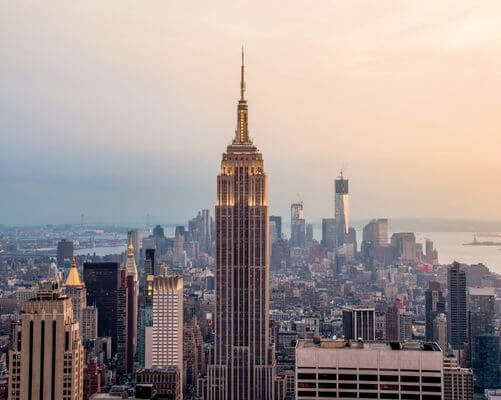 Among a series of skyscrapers is a very striking tower – the Empire State Tower. The total height including the top of the tower is 443m, including 102 floors shaped like a pencil. Of which 85 floors are commercial areas and offices for rent. Therefore, the Empire State is always illuminated at night, becoming one of the important symbols of the city that never sleeps. This is the ideal place for anyone who loves romance.
---
11. Dinner On The Bateaux Cruise New York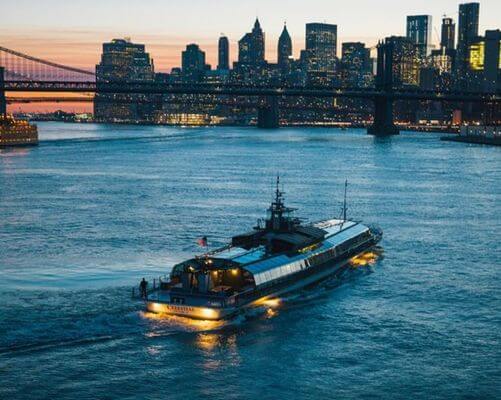 This is one of the most unique experiences in New York that will give you an elegant and romantic atmosphere. The yacht is designed with poetic French decoration. When dining here, guests not only enjoy a delicious meal, but also listen to soft music and admire many famous American attractions such as the Statue of Liberty, Butterfly Park and the Liberty Tower.
---
Gourmet – What To Eat And Drink In New York?
12. Enjoy Beer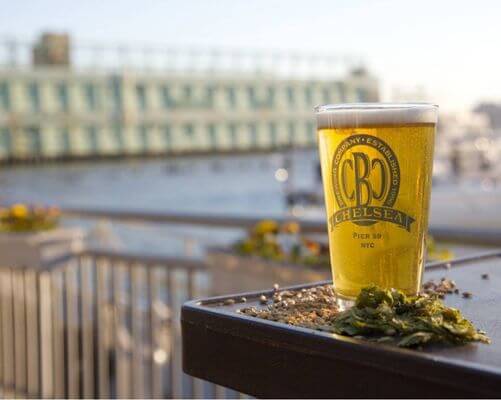 America is famous for beer and beer drinkers. Coming to New York, you should not miss the brewery. It also offers tours with a variety of sample beers. If you're 21, you'll have the chance to sample NYC's finest beers, from Midtown to Brooklyn (including friendly snacks like fresh pretzels, meats & cheeses). You'll also be able to see great neighborhoods in New York.
---
13. Wine Tasting Sail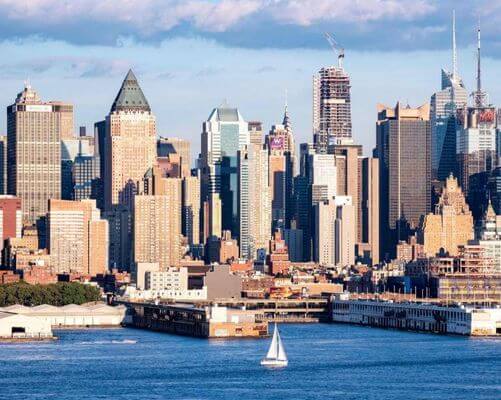 Wine enthusiasts certainly cannot ignore this exciting feeling. Sip a glass of curated fine wine, enjoy the pleasant atmosphere, and see New York City's famous attractions. This is definitely a must-have memorable experience with your lover, family or friends in New York city.
---
14. Hot Dogs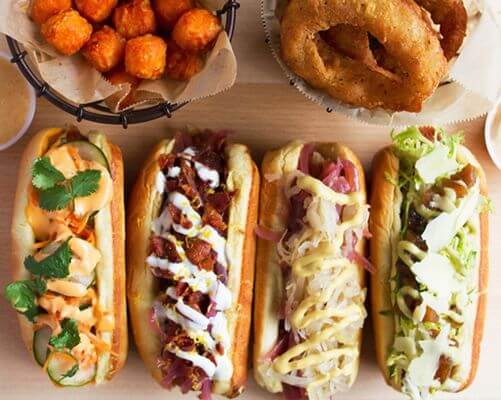 It would be remiss if the list of experience gifts in New York city did not mention hot dogs. Hot dogs are a delicious traditional dish in New York. Today, many places around the world make hot dog sandwiches, but to feel the true flavor, you must try it in New York City – a familiar cake with the people here. It is a combination of bread, cabbage, onions, sausages sprinkled with chili sauce, mustard to create a delicious, characteristic flavor. You can easily buy this hot dog sandwich anywhere on the streets of New York, because they are sold quite a lot.
---
15. Enjoy The Sweetness Of Donuts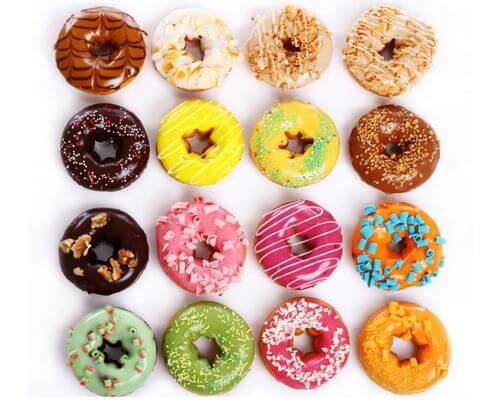 With a unique shape, eye-catching color and delicious taste, the donut has not only become a traditional dish, but it has also become one of the attractive dishes in New York that is loved by many people from all over the world. locals to tourists. The cake is made simply with the main ingredient from flour, through the hands of the chefs here, this cake is extremely delicious. Come to New York, you will find donuts sold everywhere. Why not try a "genuine" donut? Surely if you enjoy this dish once, you will want to eat it a second time.
---
16. Pastrami On Rye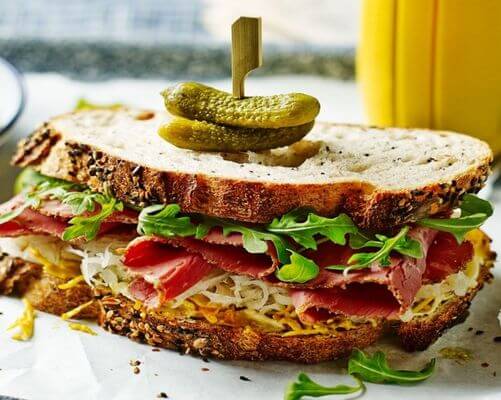 Pastrami is a traditional sandwich of the Jewish community in New York. The cake is made quite simply but very attractive, you can buy it at restaurants or street vendors in the city.
---
17. Pizza – Brooklyn Food Tour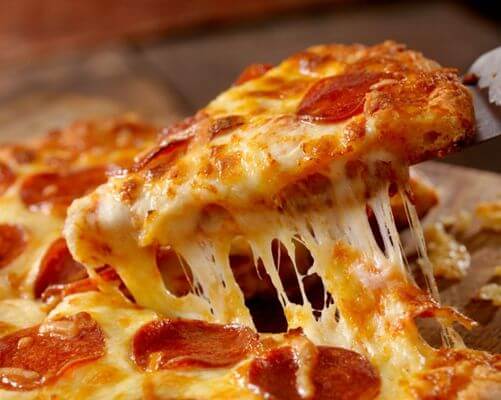 Everyone knows that pizza is an Italian specialty. However, this type of cake is also one of the traditional dishes in New York. The pizza here has a thinner base and the combination of ingredients is quite different from the "original". You should try to experience the feeling of queuing and waiting for pizza at Grimaldi restaurant – very interesting!
---
18. Egg cream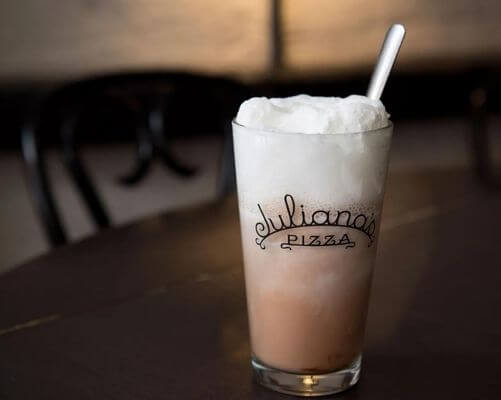 When experiencing New York's culinary culture, you can't just focus on delicious food at a fancy restaurant. Try the delicious traditional drink that is loved by so many people here – egg cream. You must try this Experience Gift New York City. Not only possessing a characteristic fatty flavor, this drink also acts as a beverage in the hot summer!
---
Memorable Experience Gifts In New York City For Nature Lovers
19. Experience the Summer Festival at Central Park
Central Park is located in the middle of Manhattan, where there are some of the most beautiful scenes in the United States. This work has an area of 340 hectares, divided into several areas to visit. Central Park has many lakes, ponds, endless paths – where the summer festival "Shakespeare in the park" takes place.
In addition, Central Park also has a zoo, conservation garden, a wildlife refuge, a large natural forest and an outdoor Delacorte cinema. This is also a place to watch cherry blossoms bloom in spring, attracting a lot of tourists to New York. This is a favorite destination of locals and one of the most attractive tourist places in New York not to be missed because all services here are completely free.
---
20. High Line Park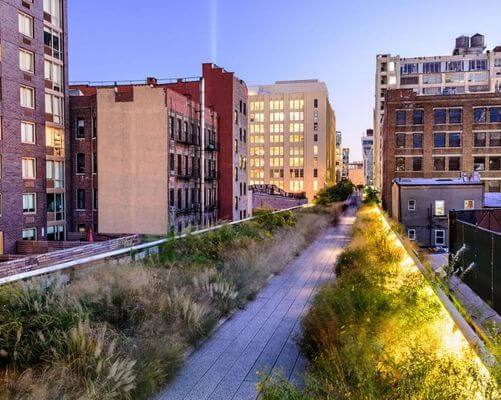 Like a jewel, High Line Park gives you the feeling of walking on a long oasis with colorful flowers, fountains and beautiful scenery. You will have a really different feeling, like escaping from the hustle, bustle and bustle of the city. How can you miss the wonderful experience of New York City?
---
For art lovers
21. Watch comedy at the Big Apple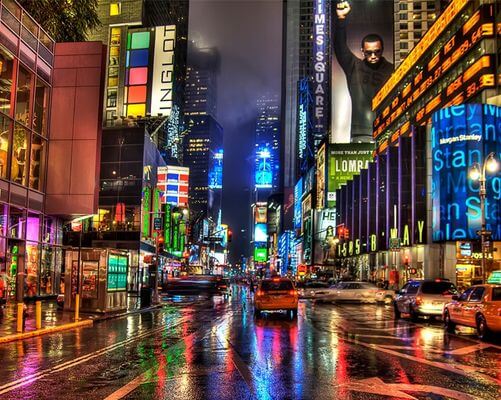 One of the other free and fun New York attractions is to watch comedy. Without spending a dime you can watch comedy at the Big Apple. Alternatively, you can listen to comics at the Upright Citizens Brigade theater and enjoy free music at the Knitting Factory. Every Tuesday night, you can also go to the Alligator Lounge to watch comedy and get free pizza.
---
22. Visit the Socrates Sculpture Park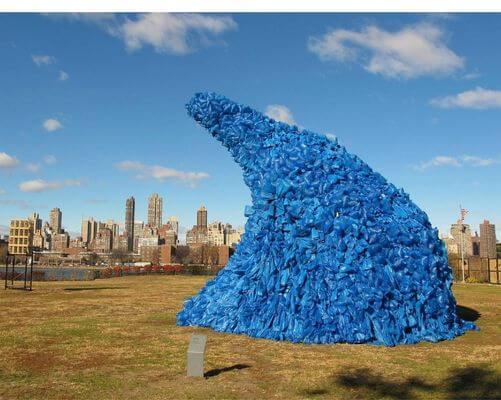 Established in 1986, the Socrates Sculpture Park is a space for large-scale sculptures as well as multimedia presentations. During the summer, the park is also the site of many exciting activities, from kite flying events to circus performances. In addition, there are free yoga classes designed to suit all levels and an eight-week outdoor cinema program.
---
23. Visit the Museum of Modern Art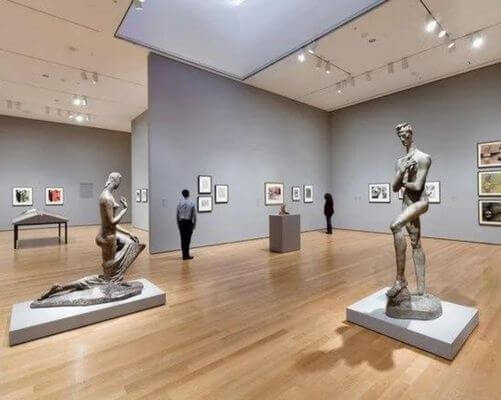 Every Friday night, the Museum of Modern Art offers free tickets at 4pm so visitors can visit the whole place until 8pm. Therefore, to visit the Museum of Modern Art for free, you should go early to avoid queues and can visit from the top floor with special exhibitions.
---
24. MoMa – Museum of Contemporary Art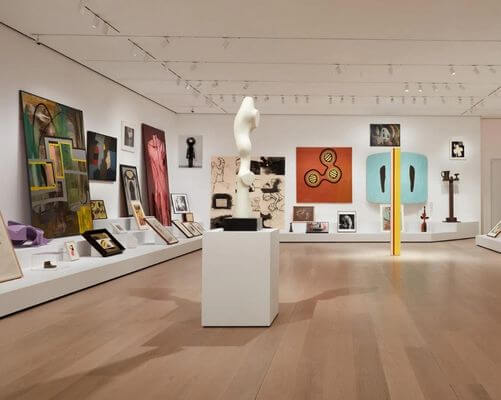 This is a paradise for those who love painting and want to have the opportunity to improve their artistic knowledge while admiring famous works. MoMA has the world's largest collection of modern and contemporary art, providing a link between past and present, tradition and contemporary. Here you can explore iconic paintings, including the Three Musicians and Les Demoiselles d'Avignon, Salvador Dali's The Persistence of Memory, Vincent Van Gogh's Starry Night, and more with a collection of 200,000 unique works. In addition to paintings, the museum has sculptures, prints, films, and a renowned gallery specializing in modern architecture and design.
---
25. Metropolitan Museum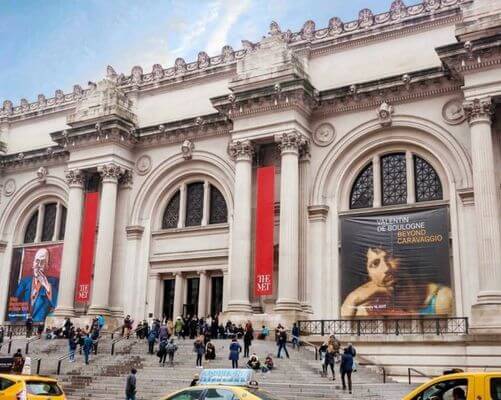 The ultimate experience gift in New York city for you is to visit the Metropolitan Museum. The Metropolitan Museum of Art has an extremely large space, which displays more than 2 million art items from around the world. The museum focuses on works of art from paintings, sculptures, ceramics to decorative items and jewelry. With only a few dozen USD, you can freely visit the museum all day without getting bored. Does this Experience Gifts In New York City excite you?
---
Conclusion
New York has a humid semi-tropical climate, with hot and humid summers and cold winters. The best time to visit New York is from April to June every year, at this time the weather is cool and pleasant. Or if you want to celebrate Christmas and Thanksgiving, you can come here from November to December. However, this is also the peak season for New York tourism, you should consider this because the service will increase prices and It sells out very quickly if you don't book in advance.
The means of transportation in New York are diverse and convenient. To be able to explore every corner of New York's streets, many people often choose to walk. This city is the leading commercial center in the world, so life here is also very fast, people walk very fast and it is almost a feature of New York culture. Buses are also a cost-effective option for you, you can buy a turn-by-turn ticket or buy a day ticket. Most of the stops are large commercial centers, so it is very convenient to visit and shop. Subway is also a widely used public transport here, the fare is quite cheap. However, you should be careful when taking the train because in fact New York still has bad elements, you should limit going to places with few people to avoid trouble.
Are 30 Memorable Experience Gifts New York City satisfied? Hope this useful information will help you know how to travel to New York. As well as knowing the places to explore and eat in New York, thereby making your gift more interesting and smooth. Have a memorable city visit!