Are you looking for unique, sentimental, and meaningful 80th birthday gifts grandma? Yes, that is reasonable, given that 80 is a significant milestone in her life! She is of an age where she can look back on the past and be proud of what she has given to her family.
Your grandmother is like a second mother to you, has taught you many things about the world since you were a child. She has had an impact on your wisdom and life experience up to this point. As a result, on her 80th birthday, the gift should be something related to her interests, hobbies, or a one-of-a-kind item to show her how much you value her.
We, giftOMG are here to help you save time and effort in your quest for grandma's most fantastic 80th birthday present if you haven't yet come up with any suitable options. Our present suggestions are one-of-a-kind, amusing, and personalized items that she will treasure for years to come. You can pick from a variety of lovely products, including apparel, jewelry, and ornaments, as well as party supplies. Any of these 80th birthday gift ideas for grandma will be appreciated.
*** See More: 25+ Great Mothers Day Gifts For Grandma
30+ 80th Birthday Gifts Grandma She Will Love
Happy your grandma's 80th birthday with this chic and beautiful gift. She will definitely appreciate any of the gifts from your heart. Scroll down and discover the right 80th birthday gifts grandma.
1. Stepping Into My 80th Birthday With God's Grace And Mercy Shirt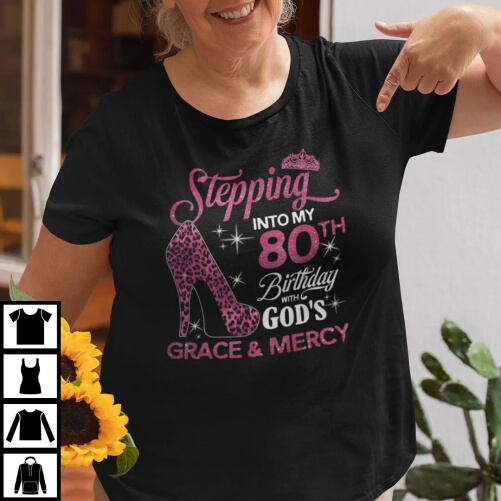 T-shirts are always the top 80th birthday ideas for grandma. This design is sure to make the person you love appear like a queen, and make them happy and satisfied, with the phrases "Stepping Into My 80th Birthday With God's Grace And Mercy" and a magnificent high heel full of crystals.
Give this shirt to the most gorgeous, self-assured, and lovely mother, an 80-year-old grandmother who loves God and has always had a strong faith in God!
---
2. This Queen Makes 80 Years Old Look Fabulous Shirt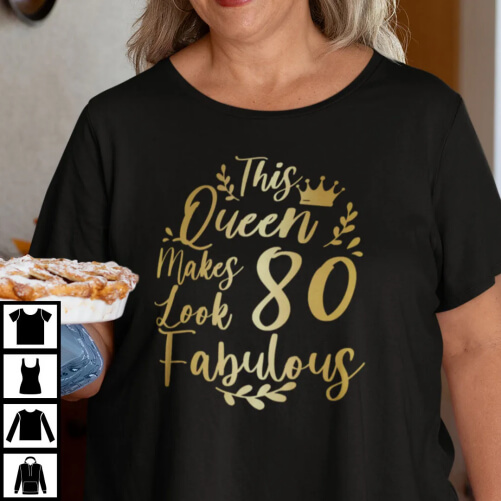 This shirt will be one of the wonderful 80th birthday gifts grandma, who is turning 80. This design, we believe, will make your loved ones stand out and seem more stunning than ever! Don't hesitate to get this item for your grandmother or mother to make her happy during an 80th birthday party or on a regular day!
---
3. Engraved Sofa Tray – Gifts For Grandma 80th Birthday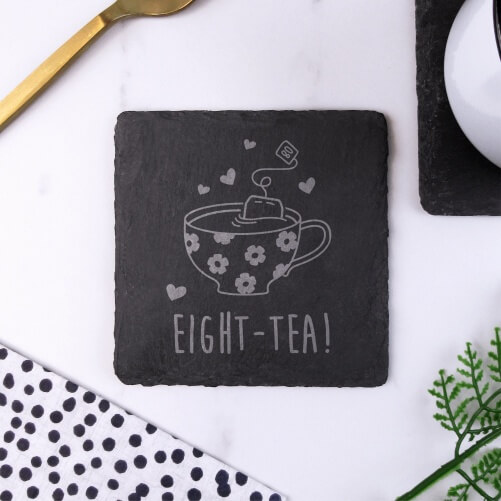 Is there a woman in your life who is approaching 80 years old? This personalized Wooden Sofa Tray is the ideal present for her! One of these 80th birthday gifts, engraved with a beautiful "EIGHT-TEA" pattern, is guaranteed to bring a smile to your grandmother's face! This is an excellent eightieth birthday present that can be used again and again.
We're confident that she'll use this one-of-a-kind Sofa Tray to indulge in some of her favorite alcoholic beverages!
---
4. Personalised 80th Birthday Card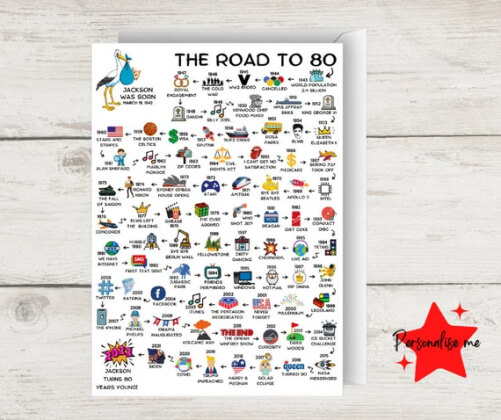 Send a special someone this Personalised 80th Birthday Card, which is personalized for them and includes a timeline of events from the year they were born to the present day. This card can also be saved and fits in a regular A5 frame, making it a great grandma 80th birthday gift. If you'd like to include a personal note inside, simply write it in the personalization box.
---
5. 80th Birthday Badge Pin Metal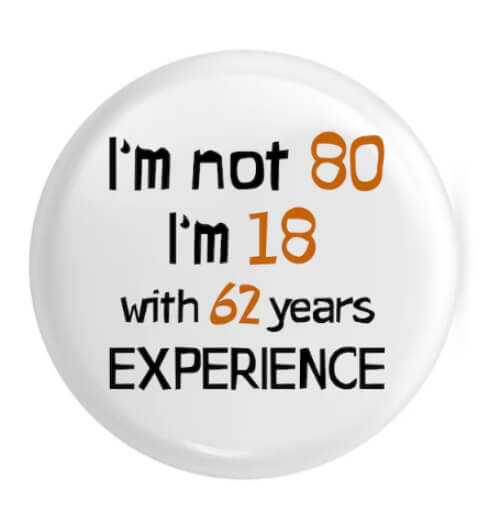 You're out shopping for her birthday, and you're having trouble coming up with a wonderful present for your grandmother. Don't worry, this lovely pin is a fantastic option for you.
Birthdays are wonderful occasions for everyone, regardless of age! So, for your grandmother's 80th birthday, this amusing badge pin is one of the fantastic 80th birthday gift ideas for grandma. This badge pin has a shiny finish. When your grandmother receives this, she will be overjoyed.
---
6. Personalised PRINTABLE 80th Birthday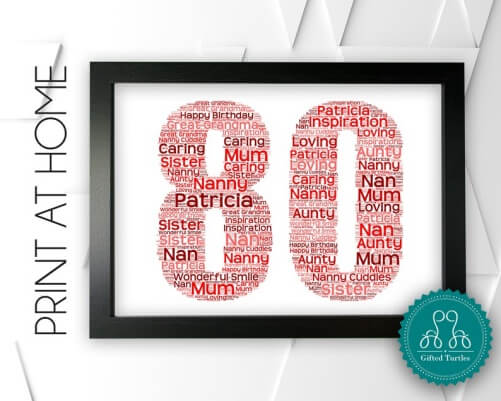 The celebration of an 80th birthday is a joyous occasion. If you're searching for a unique shirt to give your grandmother on her 80th birthday, this is a great option! A Gifted Turtles print makes a wonderful gift for grandma 80th birthday for your 80-year-old grandmother who enjoys drinking. This is the coolest birthday present you can get her.
---
7. 80th Birthday Poster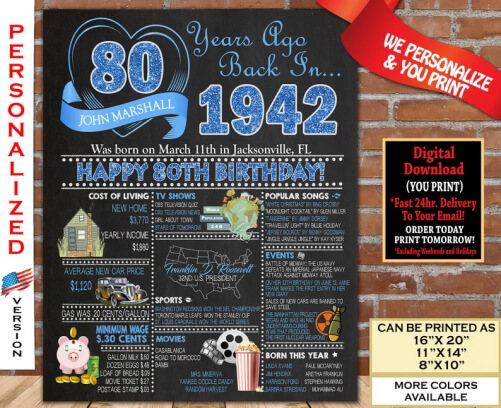 These Symbols are all the rage right now! Choose them as birthday Gifts or Party Decorations galore!
This is a humorous birthday poster combining facts, pop culture, and historical events from the United States. It's a great gift for grandma 80th birthday or a photo prop for a party.
---
8. Fabulous Since 1942 Tote Bag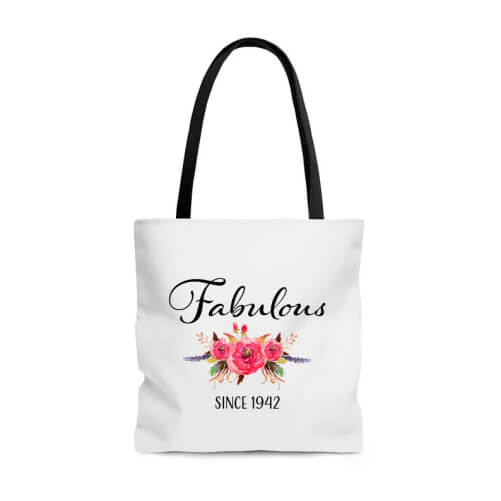 The best 80th birthday gifts grandma are here! This high-quality tote bag is made of durable materials that will last for seasons. This bag is made of 100% polyester, which is a sturdy and durable synthetic fabric that holds its shape and dries rapidly. The front and back sides are sewed together with extra space on the sides to add more area.
---
9. Engraved Tea & Biscuits Board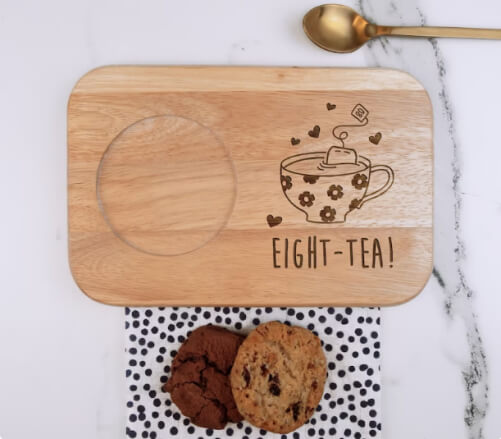 This year's birthday gift for your grandmother is this engraved Tea & Biscuits Board. We are confident that this one-of-a-kind Tea & Biscuits Board will be used frequently to enjoy a well-deserved cup of tea or coffee and biscuits every morning!
These 80th birthday gifts are ideal for anyone seeking practical 80th birthday gifts, and when matched with her favorite biscuits, we're confident they'll be a hit! Why not surprise your loved one with a unique eightieth birthday present?
---
10. Angel Holding a Heart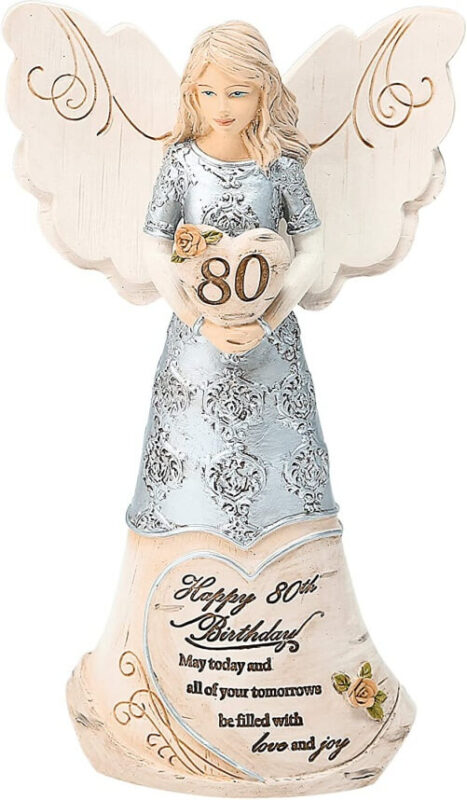 Still searching for 80th birthday gifts grandma, this idea is a good option. This lovely angel rejoices in the excitement and delight of such a special occasion. You should give it in a bag with gold or silver tissue paper, or match it with a vase of flowers for a sentimental and unforgettable gift that will be remembered! With blonde hair, a stunningly sculpted silver-trimmed, and birch wood garment, this 6″ angel figure holds a heart. The bottom foam pads protect surfaces from being scratched.
---
11. 560 Dog Years Old Funny Coffee Mug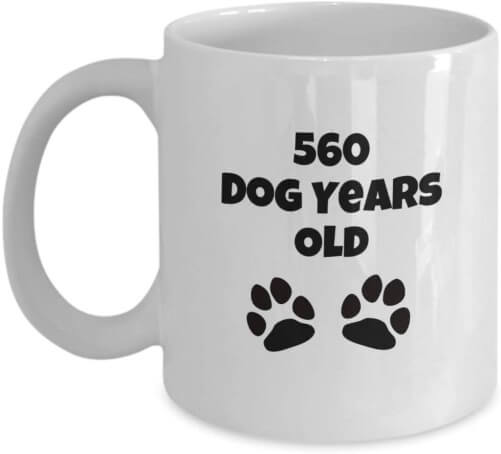 With this amusing dog mug, you may wish your grandmother to always be healthy and live a long life. It'll be a sweet request from her granddaughter, with the hope that you'll be able to throw many birthday parties for your 80-year-old grandmother in the future.
This one-of-a-kind novelty gift would delight any 80-year-old! This 11 oz coffee cup has artwork printed on both sides. The cup is both dishwasher and microwave safe, ensuring her complete delight!
---
12. Biscotti Cookies Gift Basket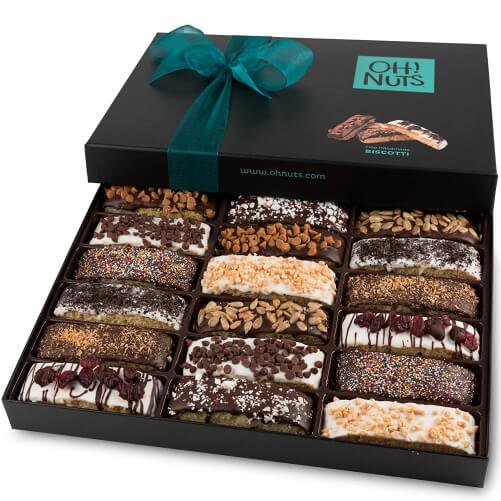 Give your grandmother something sweet for her 80th birthday, like this gourmet cookie gift box. This gorgeous platter includes 18 frosted biscotti cookies. If you're still wondering 80th birthday gifts from grandchildren, consider this basket.
The various flavors of the festive sandwich cookie bites will wow you and your family. These visually stunning petit fours are alternately dipped in dark and white chocolate and topped with contrasting toppings that highlight the superb flavor of the creamy chocolate. Trendier baked items and dessert delights should take the place of traditional sweets and chocolates.
---
13. Not a Day Over Fabulous Coffee Mug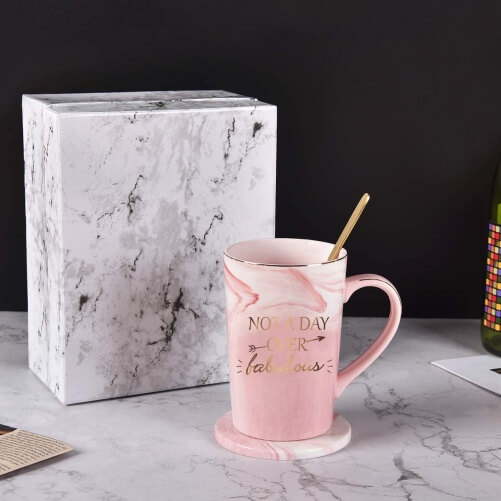 There isn't a day that goes by without a fantastic coffee mug with a marbled design and gold lettering that looks nothing like an ordinary cup.
High-quality ceramics are used to create the marble cup. The marbled design is similar to a splash of ink on a cup, and the marble mug is timeless. Each marble coffee cup is meticulously wrapped in a sturdy gift box to ensure that it arrives in perfect condition.
*** See More: 30 Creative Mother's Day Mug Ideas
---
14. Infinity Collection Birthday Charm Bangle Bracelet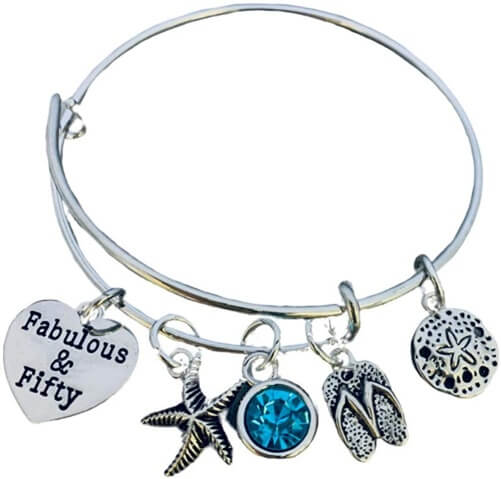 Why not offer your grandmother this gorgeous infinity charm bangle as a birthday gift for her 80th birthday? Even though she is elderly, this bracelet is appropriate for her.
This is the ideal birthday present for beach-loving women. This bracelet is designed to fit most wrist sizes and is suitable for all women. Hurry up and get it so you can observe her reaction to your present, which will likely be ecstatic.
---
15. Christian Art Gifts Prayer Cards In Tin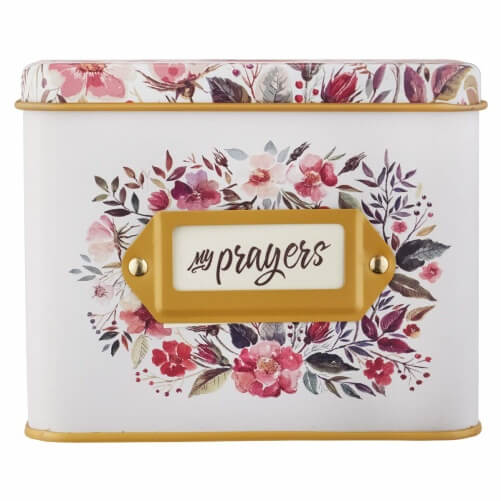 If your grandmother is a Christian, giving her these prayer cards for her 80th birthday is a wonderful gesture.
The white body of the "My Prayers" durable matte tin is printed with watercolor floral motifs. This lovely tin contains prayers for the woman spraying her heart who is having difficulty expressing herself to God or who needs additional assistance. Fifty prayer cards are kept in the attractively adorned white floral tin with gold edging.
---
16. Top Shelf "Birthday Queen" Decorative Wine Glass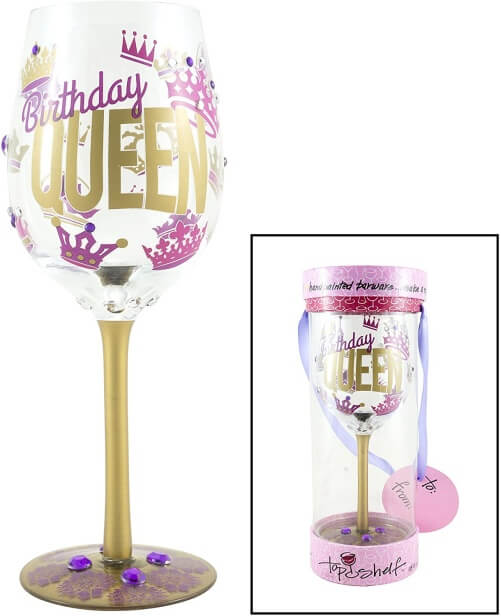 The wine glass holds 15 ounces of your grandmother's favorite drink and is ideal for any occasion.
The "birthday Queen" design is hand-painted and embellished with purple and gold crowns as well as purple rhinestone jewels. It is a beautiful hand-painted glass with a festive design of brilliant colors and jeweled accents that are meticulously done by hand. In a gift box with a gift tag attached, it's ready to give as one of the best 80th birthday gifts grandma.
---
17. BigMouth Margarita Bottle Glass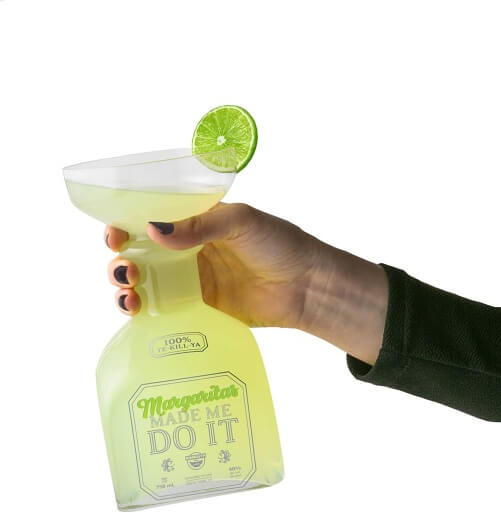 If you're searching for a unique present for margarita fans like your grandmother, this is it! It's one of the ideal 80th birthday gifts grandma.
With BigMouth Inc.'s Margarita bottle glass, your grandmother can enjoy her favorite margarita on the rocks or frozen. It can be simply hand-wash and stored for future use.
---
18. Dreamair 80th Birthday Gift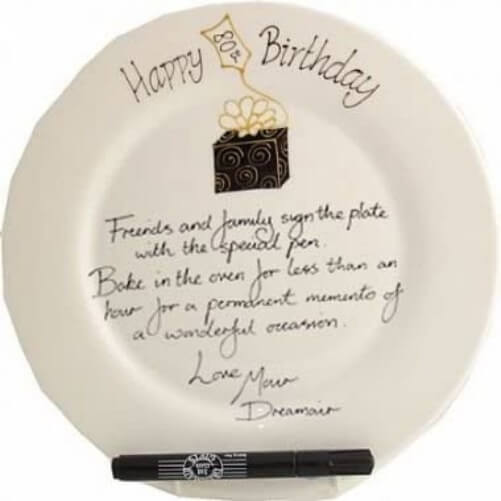 With this luxurious and lovely signature plate, you can wish your grandmother a happy 80th birthday. It's not just a typical birthday present, but also a lovely piece of workplace decor.
A hand-painted plate, a signing pen, two plate supports (wall and freestanding), and complete instructions are included in this present. After writing words on the signature plate with the unique pen provided, it is cooked at home for less than an hour at 300°F after 24 hours.
---
19. The Book of Myself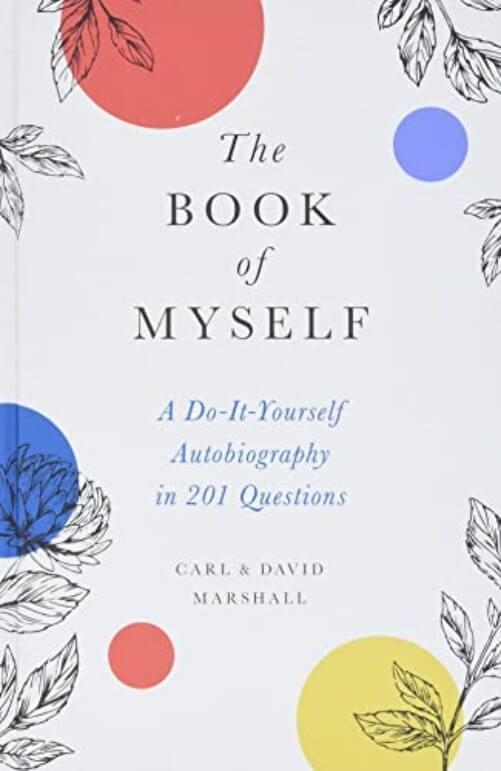 This is one of the best gift ideas for grandma 80th birthday! With The Book of Myself, a senior can shine and be the hero of their own story. This interesting DIY autobiography book gives individuals various ideas to respond to, weaving their short stories into a novel about their lives throughout the length of the book.
---
20. 80TH BIRTHDAY RETRO CANDY GIFT BOX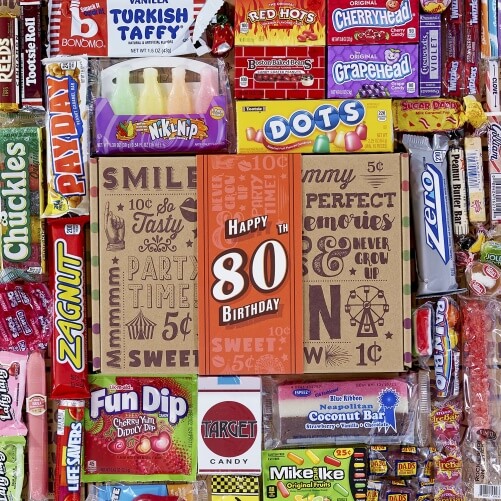 There is no one who does not enjoy candy, whether they are eight or eighty years old. With this retro candy box, you may give a senior something tasty that will remind them of their childhood nickel and dime stores. It's stuffed to the brim with old-fashioned favorites. These are the best gift ideas for grandma 80th birthday!
21. RHF Warm Blanket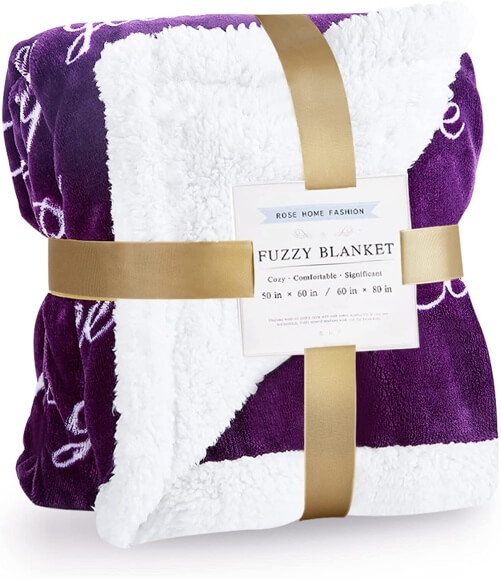 This blanket is an excellent present for women, including grandmothers, wives, and friends. Give them a soft blanket as a gift on their birthdays or other special occasions to bring them happiness and your unending love. It will make her ecstatic, astounded, and overwhelmed! When you are unable to hug them, this blanket will do it on your behalf. It's so soft that it might even supplant you as the finest hugger. Such a great 80th birthday gift for grandma you shouldn't miss!
---
22. Sterling Silver Necklace Eight Pearls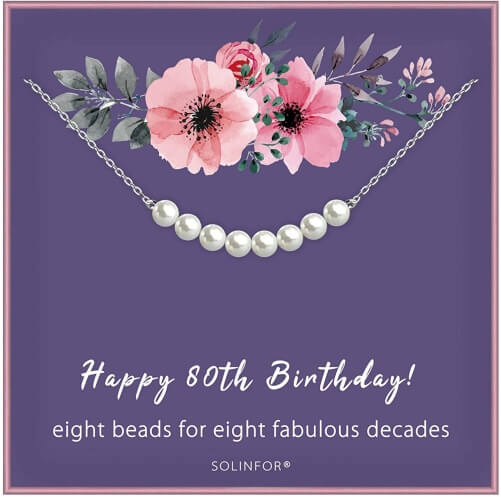 This is one of the best 80th birthday gifts grandma! When a woman wears this iridescent necklace, she will glow like a diamond. On the delicate silver chain, there are eight pearlescent beads, one for each decade. Its neutral colors make it suitable for both formal and casual occasions. This meaningful and heartfelt necklace is neatly gift-wrapped and ready to give, complete with a lovely letter.
---
23. Memory Mints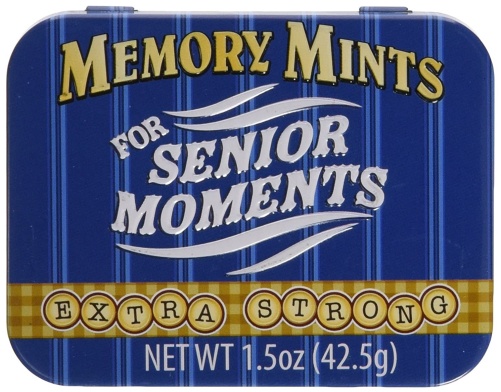 One of the greatest ways to commemorate our elders is to get some traditional remembrance mints. Tinned mints have been a delight for senior citizens since the 1940s, exactly as they were in the past.
Allow your older citizens in their eighties to recall their youth with these specially created senior mints. Because the mints are so strong, they can also be utilized as a birthday gag gift.
---
24. BYRIVER Acupressure Foot Massage Slippers
Nana will look stylish and sophisticated in these slides, which are designed to relieve her aching feet. The slippers use acupressure to target specific points on the foot, which not only cure aches but also melt away tension and provide full-body comfort.
Because the massage knobs are stretching the stiff soles of your feet, you may experience a lot of pain when you first start wearing these therapeutic massage slippers. It takes 1-2 weeks to gradually become used to it.
---
25. SUCK UK My Family Cookbook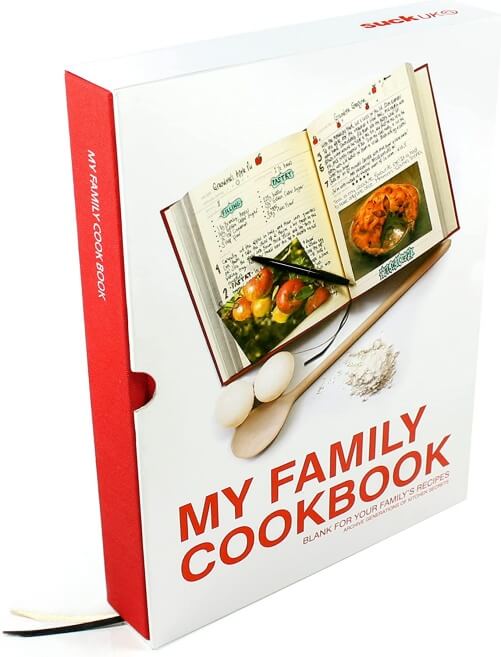 Keep her best recipes in the family by archiving generations of cooking secrets! This lovely book includes an introduction with valuable cooking recommendations, necessary advice, and a convenient conversion table, as well as more than 80 recipes.
It's also one of the fantastic 80th birthday gifts for grandma who enjoys cooking or wants to learn.
---
26. Walk Buddy Adjustable Walking Stick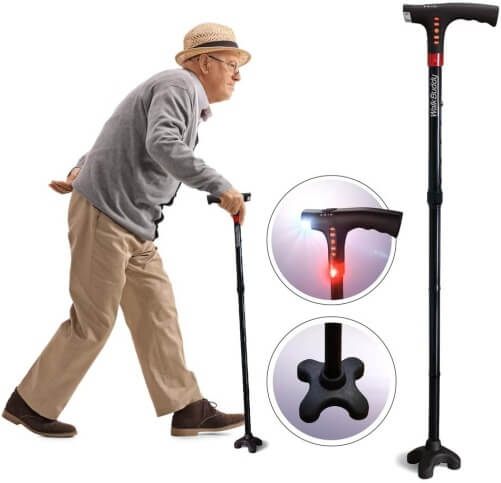 With this LED walking cane, an elderly can confidently walk. The cane includes a three-pronged point for added stability, as well as a glowing light to brighten the area while also alerting anyone nearby that they're there.
Illuminate dark walks with an ultra-bright LED light that helps her avoid every crack and pebble, and enjoy fearless nights out. Furthermore, the loud S.O.S. alarm warns others of potentially dangerous circumstances such as slips and falls.
---
27. Tile Mate – Cool 80th Birthday Gifts Grandma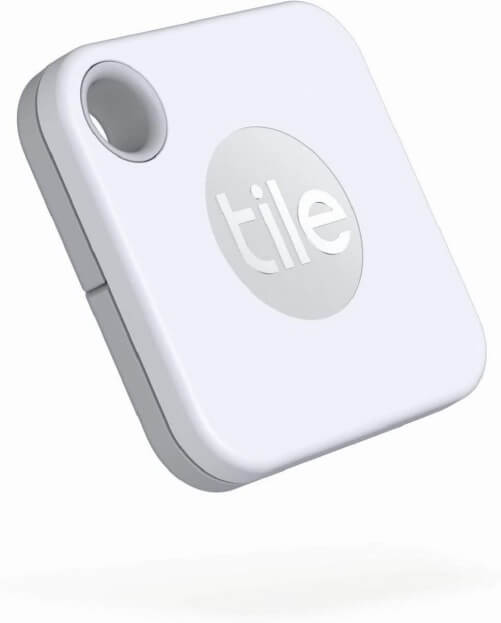 This is one of the best 80th birthday gifts for grandma! After you give a senior Tile Mate and show them how to use the program, they will never question where their keys are. When the app activates the tiny Bluetooth-equipped tiles, they make a loud noise (loud enough to hear without hearing aids) to assist them to find the lost object.
---
28. Lazy Daze 12 FT Double Quilted Fabric Hammock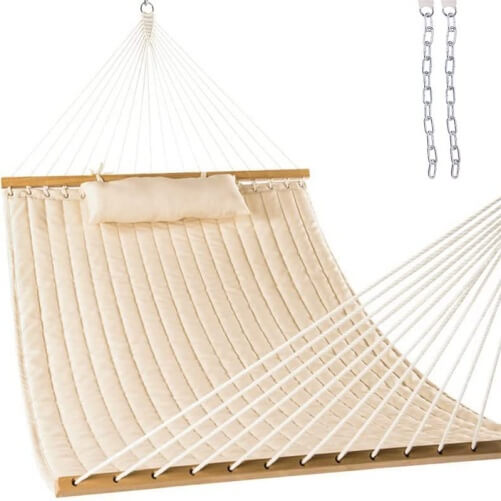 After being on her feet for 80 years, Nana has earned a break, and after a nap in the Lazy Daze hammock, she'll have discovered her new favorite nap spot. Grandma may nap alongside him in the super-comfy hammock, which is double-sized and quilted for optimal comfort.
Superior comfort is provided by the double-layered quilted polyester with inner polyester padding and a polyethylene stuffing head cushion. A 55-inch wooden spreader bar makes it more elegant and stable.
---
29. Wireless Sleep Mask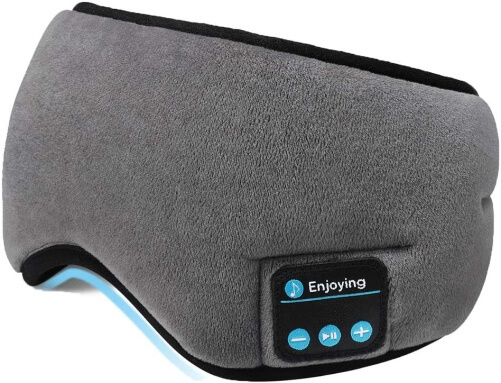 When you offer the octagenarian this Bluetooth eye sleeping mask, you may expect them to take more naps than usual. The comfy mask offers easy-to-use Bluetooth controls and a snug but not too tight fit. 
After the wearer falls asleep, it turns off all lights and features an auto shut-off feature to save battery life. Blocking light improves sleep quality and allows her to listen to music without the use of additional headphones, allowing her to fall asleep faster. Add this one to the list of 80th birthday gifts grandma. 
---
30. Shiatsu Neck and Back Massager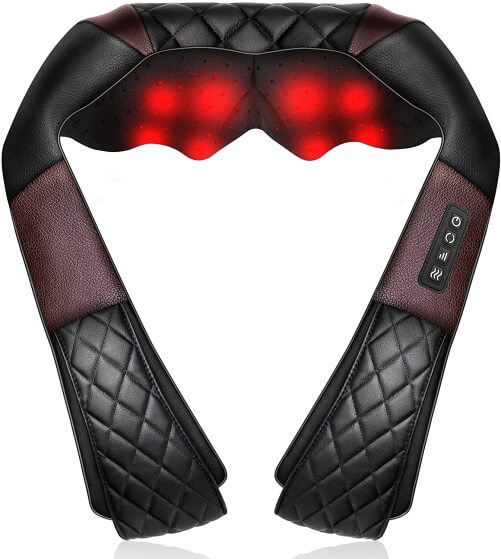 With a back and neck massager, she can say goodbye to aches and pains of all kinds. The massager features hot nodules that rotate in various directions at her desired speed. Its lengthy arms allow it to be draped on any portion of the body, allowing it to target any knot. This shiatsu massager comes with four buttons to make it easier to use. The innovative bidirectional 3D kneading nodes provide unending relaxation and massage enjoyment.
---
31. A Family Tree Blanket – Personalized 80th Birthday Gifts Grandma
Another choice for 80th birthday gifts grandma, this family tree blanket can be customized with your grandma photos or your whole family photos. Make the most memorable moment in time unforgettable on your cute throw blanket.
---
32. Spa Gift Basket – Cute 80th birthday gifts grandma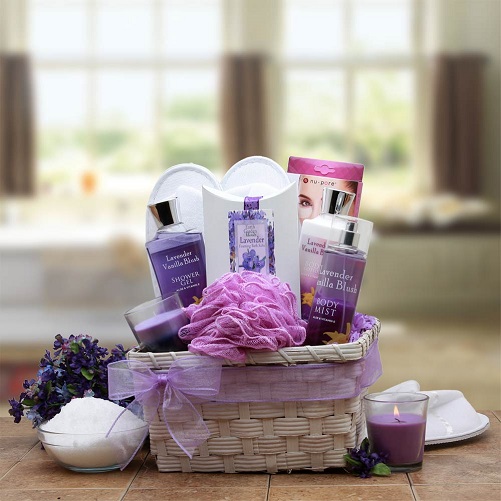 What could be more enjoyable than having a spa at home? Your mother or grandmother will be able to unwind and enjoy some alone time with the aid of this spa gift basket. She will like the abundance of soaps, lotions, moisturizers, and other upscale products in it.
---
33. Grandma Half Moon and Heart Pendant Necklace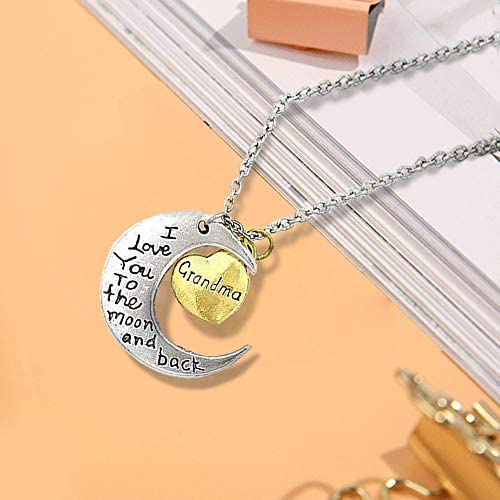 If your grandma love jewelry, give her this half moon and heart pendant necklace. With the unique and sophisticated design, she will appreciate this stylish necklace. This gift's affordable price and excellent message are both pluses. Add this one on your list of meaningful 80th birthday gifts for grandma.
---
34. Family Nest Art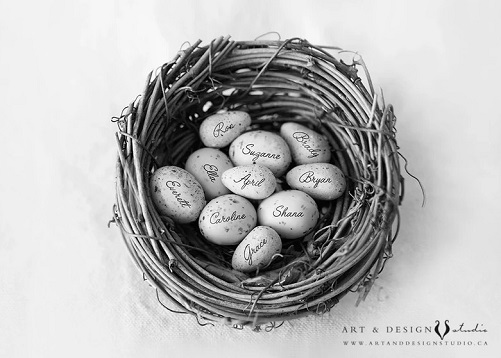 An image of an egg-filled nest may be seen on this art poster. With up to 20 eggs in the nest, this grandma gift print can be customized with the names of her children or grandchildren. A ideal and personalized gift for a great Mother or Grandmother for birthday, Mother's Day, Anniversary or just because. Your 80 year-old will love this grandma 80th birthday gift.
---
35. I Love You, Grandma Book by Jillian Harker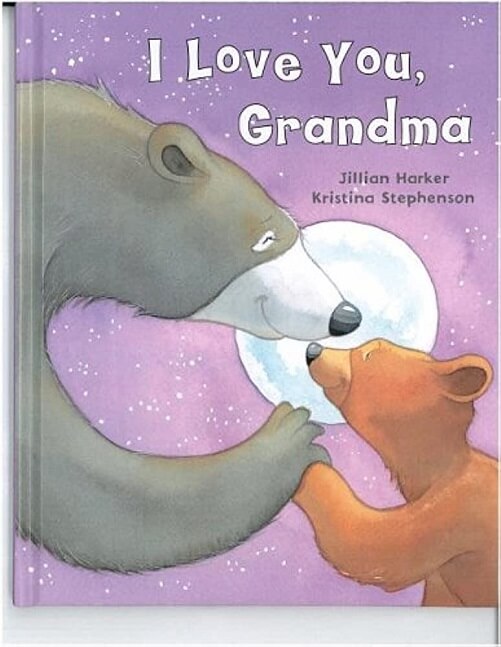 Here is another gift to give your grandma. A sweet gift for your grandmother would be this. Little Bear in the tale is growing older, which means he is prepared for new adventures. Doing new things is difficult, but Grandma Bear is there to support you. Give your grandma this as 80th birthday gifts grandma and make them happy.
FAQ
1. What is the traditional gift for an 80th birthday?
For an 80th birthday, the traditional gift is oak, so you can pick the items relating to oak as a birthday gift. But, the modern gift such as pearls or diamonds is also a good idea. Whether you're give traditional gift or modern gift, consider the giftee's hobby and needs.
2. What can I get my grandma for her 80th birthday?
Heart of Love Blanket.
Personalize Mug
Flower
Digital Picture Frame.
80 Years Old Pillow.
Memory Book.
Personalized Grandmother's Jewelry.
Cookies Gift Basket
Massage Machine
3. What do you write in an 80th birthday card?
After picking a perfect gift for your grandma, don't forget add a birthday card with meaningful message. Here're some wishes you can condesider to write in your card.
Turning 80 represents a great deal of knowledge and wisdom.
Enjoy your 80s, because you probably won't remember much of them when you're 90.
You are the youngest 80-year-old I know.
I can't believe you are 80. You don't look as old as a 70-year-old who has aged 10 years.
You're not in your 70s anymore. Good thing 80 is the new 60.
Once you hit 80, time speeds up. Everything else seems to speed up too.
You have successfully navigated through 80 years of life! Way to go!
You May Concern Other Ages:
Conclusion
The woman who has taught you so much through her words of wisdom and life experiences is approaching an important birthday, so why not celebrate her 80th birthday by giving her a thoughtful gift in the list above? When choosing 80th birthday gifts grandma, think about items that reflect her personality and interests while also making her happy.