Funny get well soon gifts make our life a little bit better, particularly when we're under the weather. Whenever your loved ones are recovering from a sickness or injury, just put a big smile on their face with the remembrance that they're always loved and supported.
Contrary to what people think, get-well gifts don't actually need to be serious at all because it is mainly a word of encouragement as well as bringing joyfulness to the recipient in a difficult time. As the saying goes, laughter is always the best medicine.
Here we've had a list of the most humorous get well soon gifts for both kids and adults. No matter what they're going through, you can light up their day with a bit of fun.
*** See More: 30 Gifts For Space Lovers That They'll Actually Be Excited About
Funny Get Well Soon Gifts That Will Keep Anyone Laughing for Days
Want to skip the boring stuff and find something fun for a loved one or friend? If so, you'll love to see our list of funny get well soon gifts. These hilarious gifts will not only make them laugh out loud, but they will also crack for a long time.
1. When You Feel Better: A Get Well Soon Gift (With Love Collection)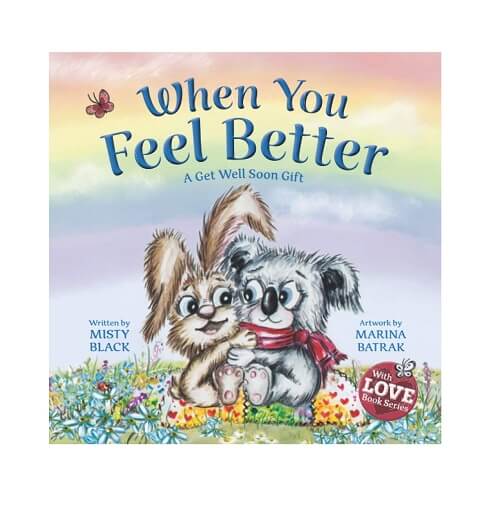 Help calm fears and dry tears with this thoughtful sweet get well soon story. From sickness, injury to surgery, join these adorable friends: Bunny and Koala on a heartwarming journey to show the significance of kindness and the power of empathy. Also, it's the perfect way to go on an adventure through beautiful watercolor illustrations without getting out of bed. Full of inspiration and warmness to help feel better in no time.
---
2. Tickle & Main Get Well Gift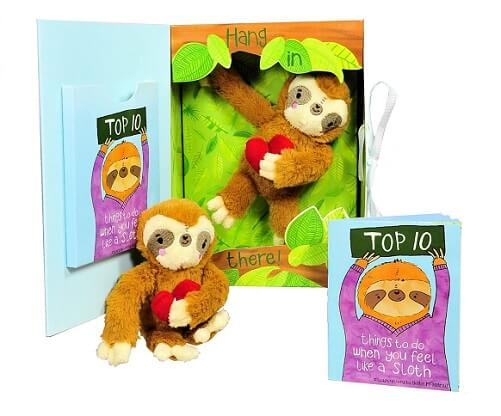 Tickle & Main Get Well Gift includes 2 creative, unique and funny pieces of gift for sending words of encouragement, they are a plush sloth and a full color booklet of the Top 10 Things To Do When You Feel Like a Sloth. This is one of funny get well soon gifts that will definitely capture attention and be a wonderful choice to cheer up anyone after illness, surgery, disappointment, or loss.
---
3. 12″ Get Well Bear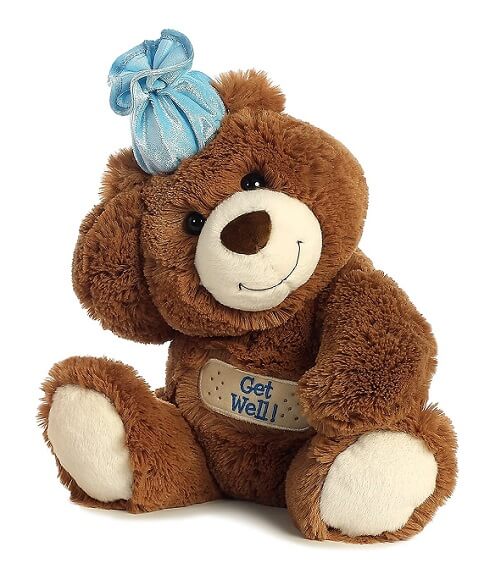 Wishing someone a speedy recovery by this get well bear is a great idea to put a smile on their face. A bear with silky brown fur despite having a fever but still smiling optimistically will be a meaningful encouragement for unwell people to happily overcome that difficult time. Such an extremely cute gift that both children and adults love to be given.
---
4. Hydro Flask Wide Mouth Bottle with Flex Cap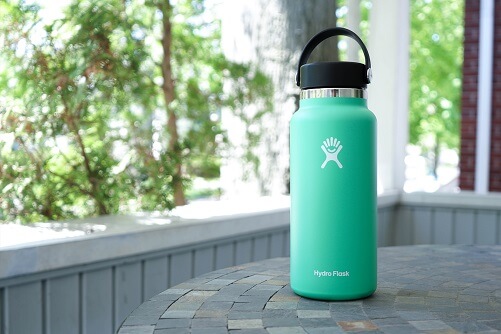 A sustainable metal water bottle with a stylish and dynamic design and for a greener planet. This Hydro Flask Wide Mouth Bottle which comes along with a lifetime warranty against manufacturing defects is a great get well gift idea. Made from stainless steel and BPA free plastic, it can keep hot drinks (and cold drinks) for hydration anytime and anywhere handy for unwell people to take medicine or apply compresses. It will be perfect for sport lovers! 
---
5. Twinings of London Daily Wellness Tea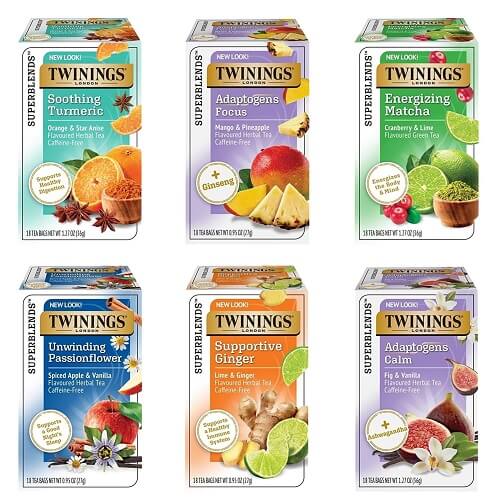 Wellness tea is special product to support a healthy lifestyle and well-being everyday. It is not only a good choice for daily use but also a great gift of unwell and recovered ones. This easy-to-drink herbal tea type has variety packs containing 6 different delicious flavors: Soothe, Nourish, Energize,Focus, Unwind and Support, which all have a pleasant aroma, tasty tea flavor bringing a sense of relaxation to its customers.
---
6. The Original Reversible Octopus Plushie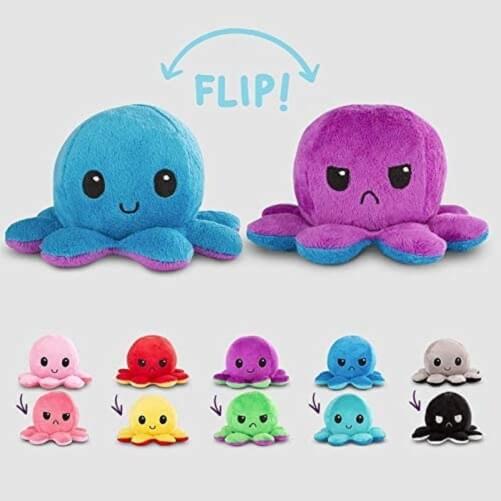 The Reversible Octopus Plushie is super soft, cute, portable and satisfying to flip that anyone will love to touch it. It's also a simple tool for efficient emotional communication and stress reliever by telling friends, family, or coworkers how we are feeling. So there is nothing more wonderful and adorable than these funny get well soon gifts to make them feel more empathetic and comforted with their negative emotions, especially those who have problems with mental illness.
---
7. Lewis N. Clark Comfort Eye Mask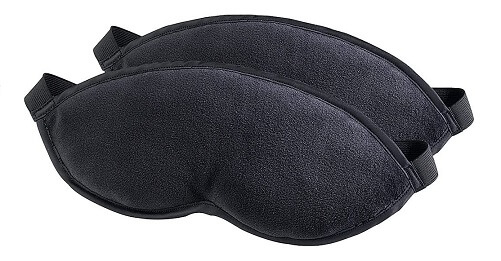 Soft ridge at the bottom and extra protection against light makes the perfect sleep aid for both children and adults. Thus, this comfort eye mask can be given as a gift to your unwell ones to send love and care to their health condition and help them recover better. We are sure this is the best thoughtfulness for anyone after illness, injury, disappointment, or loss.
---
8. Chesapeake Bay Scented Candle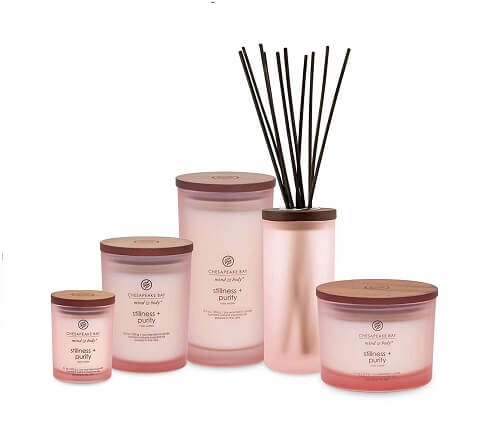 Another choice of funny get well soon gifts you don't want to miss! The warm, gentle scent of scented candles will help our spirits relax a lot, especially for those who are in unwealthy mental health. The Chesapeake Bay Scented Candle is a fragrance journey for wellness both the mind & body. A great way to heal our souls from deep within, helping us get through our tough times. We bet this will be a gift that will make the recipient feel extremely warm and happy. 
---
9. Get Well Soon! ABC Book for Kids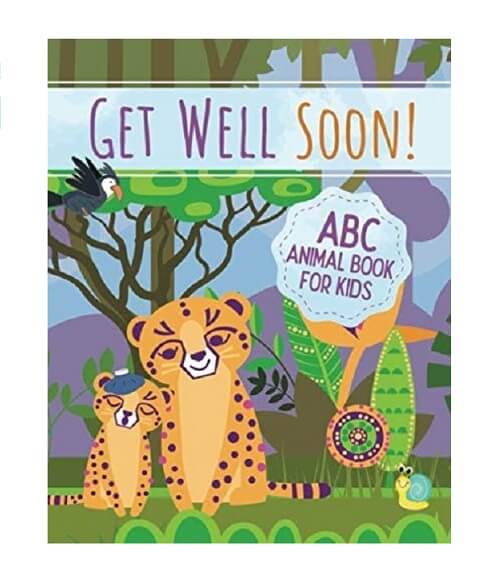 If you want to find a gift that any unwell kid loves, this ABC book is worth considering to cheer them up. Boys and girls will be keen on the colorful pictures of A to Z animals that are all having their own problems to give kids encouragement to overcome the difficulties. This book is perfect for snuggling up to read to toddlers or older kids to read by themselves.
---
10. Papyrus Get Well Soon Card (Sloth)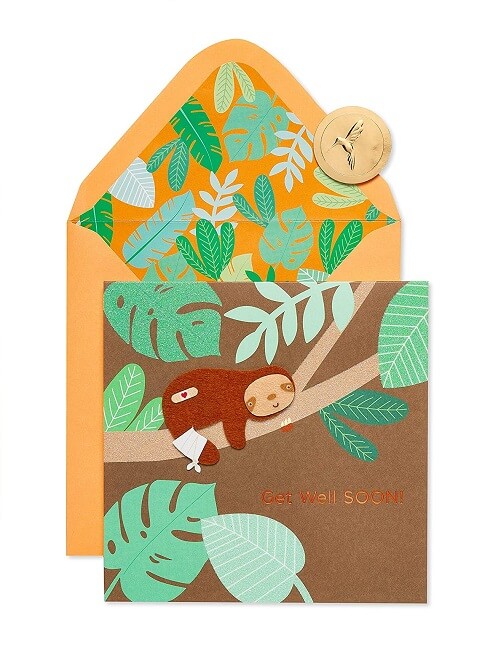 Sending healing thoughts and encouragement through a cute Papyrus get-well card! This lovely crafted card features an adorable soft felt and fabric sloth hanging on a tropical tree embellished with sparkling glitter and then it pops up a "get well soon" in shiny foil letters. With a gorgeous artistry effect and attention to detail, Papyrus get-well-soon card offers exceptional looks for the special ones in your life!
---
11. American Greetings Get Well Soon Card (Rest, Relax, Recuperate)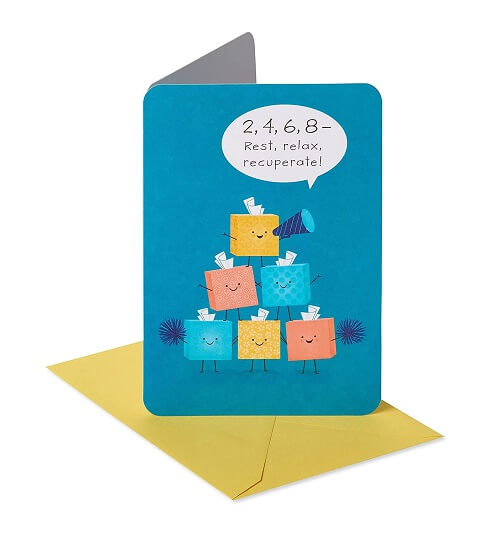 Brighten up someone's unwell day with this adorable and colorful card while they recuperate. This super cute crafted card for get well soon message features a funny squad of tissue box cheerleading characters on quality cardstock which the hope of recovery is given with a little cheer inside. A dearest choice of funny get well soon gifts for children, colleagues, friends or anyone that you respect.
---
12. Hallmark Get Well Card (Pop Up Flowers)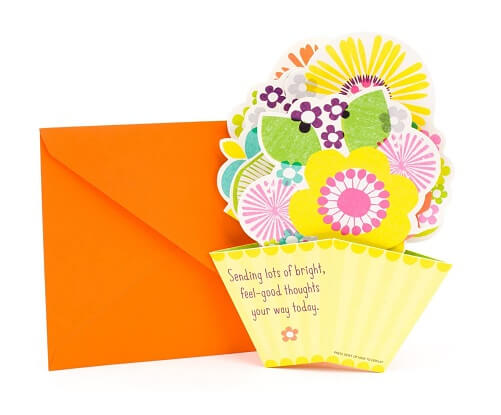 Pop up cards always bring excitement and laughter to the recipients. With this card featuring colorful flowers in a bicycle's basket on a blue background, it heartfeltly reaches out to family, coworkers, friends and more. This carries a meaning of encouragement, your sincere encouragement to hope that your loved ones will be healthy again soon. A great gift for sickness, surgery, loss or disappointment, etc.
---
13. Aromatherapy Shower Steamers Bath Bombs Gift Set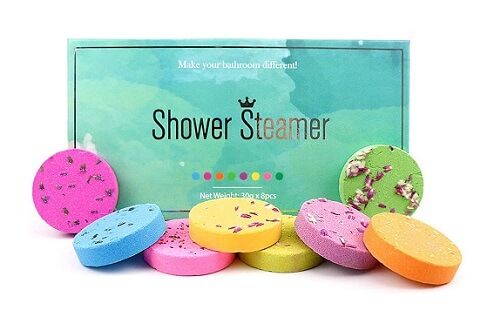 On the list of funny get well soon gifts, this gift set will be appreciated. Make your loved ones have fun, exciting moments with these super fun bath bombs, so they can let their hair down, and improve their mood and unwell body. With a variety of pleasant and fragrant scents that bring different relaxation spaces, this product will surely be a gift with a meaningful get well soon message to the recipient. Also, the bombs floating on the water will diffuse colorful bubbles to have a sweet bubble bath.
*** See More: Bridal Shower Gifts Daughter For The Bride To Be
---
14. Pavilion Comfort Blanket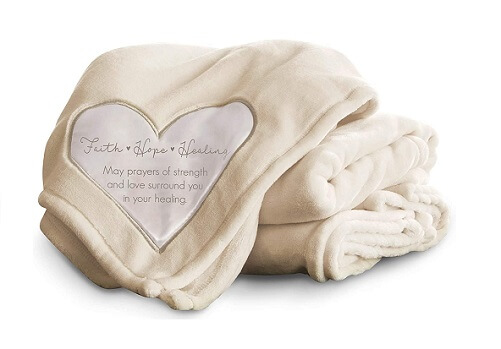 Wrap warmth and love by this Pavilion Comfort Blanket to touch sweet dreams. The softest and highest quality embroidered with a heart shaped patch brings comfort and thoughtfulness to the hearts of your loved ones for years to come. This is the best warmth gift for dad, mom, husband, wife, children, friends, coworkers who have gone through a difficult time due to sickness, injury, surgery. 
---
15. EcoTools Limited Edition Glow Head To Toe Body & Foot Care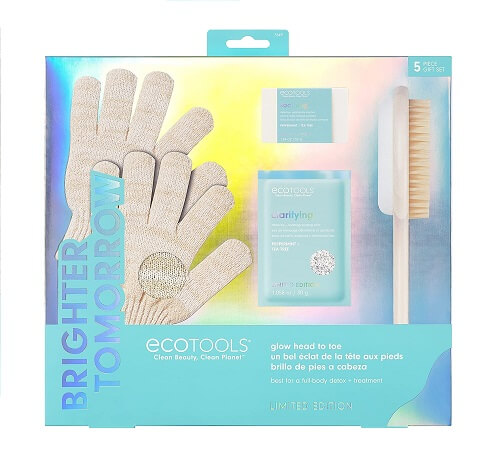 This is a gift set of spa quality exfoliating bath tools and skincare accessories to take care of and refresh their appearance to be more beautiful and attractive. So it is exactly one of the best get well soon gifts for mom, wife, spouse, girlfriend, daughters and even nieces. This includes a full range of beauty care tools from head to toe for a spa-like experience. 
---
16. First & Main 13″ Melancholy Melanie Puppy Dog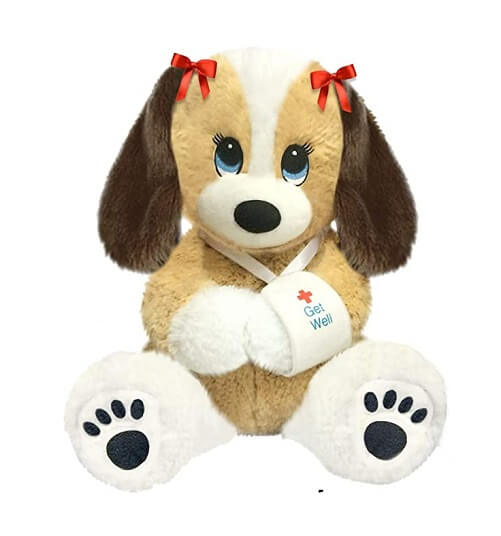 A super cute girl puppy measuring 13″ long sits with two arms holding a bandage that reads "Get Well Soon" is something that could make both unwell kids and adults laugh out loud. Made of high quality and durable materials, it comes to one's life with personality which is impossible to resist. Another more masculine version of this stuffed puppy dog is also available for you. 
---
17. 3dRose Get Well Soon Heart-Two Tone Black Mug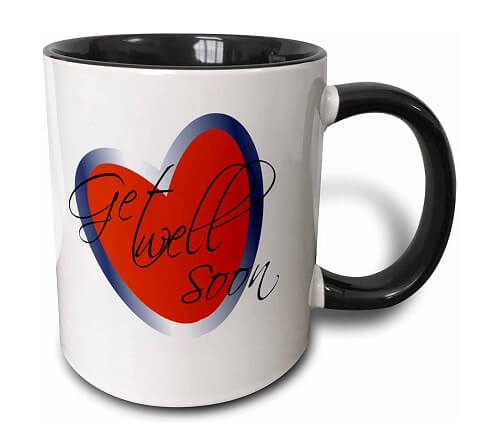 A cute cup with heart-shaped features in a rose flower can make a patient feel better. It is a fun and unique way to enjoy a favorite hot beverage and meaningful too. It is also inspiring to make taking pills more pleasant and comfortable. We bet this is one of those lovely funny get well soon gifts that anyone of any age would love to be given. 
---
18. Bed Breakfast Tray Table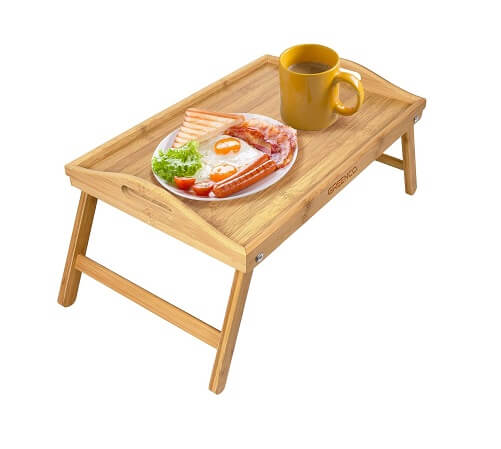 Made of 100% durable natural bamboo which is known to be more beautiful and stronger than regular wood, this Bed Breakfast Tray Table is ideal for serving meals and laptop desk for people. Thus it can be a great gift for patients to help their daily life activities become more convenient when they are unwell. 
---
19. Color Me Blessed Inspirational Adult Coloring Book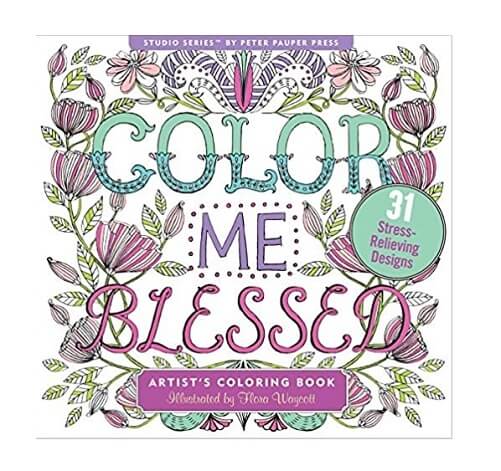 Color Me Blessed Inspirational Adult Coloring Book would be a great gift idea for people who are just going through a tough time and in need of some extra fun for a good laugh. Whether it's aiming to distress them from work or illness, this craft pack will be sure to put a big smile on their face on a bad day by thinking of your gag gift as laughter is always the best medicine. 
---
20. Broadway Basketeers 6 Box Gourmet Food Gift Tower Snack Gifts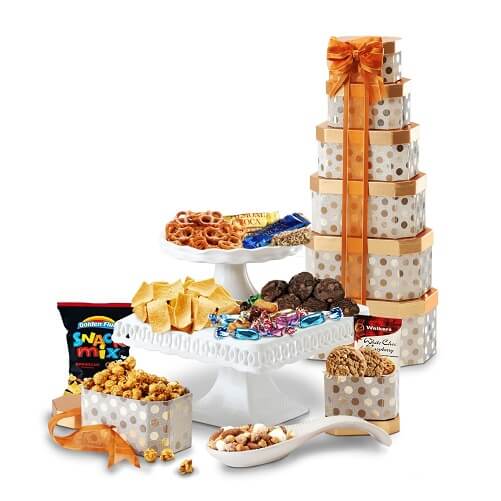 The Broadway Basketeers Gourmet Gift Tower including scrumptious baked goods, candies, treats and many other savory snacks would satisfy anyone's taste – a wonderful and awesome get well soon gift to boost their mood for a difficult and boring time. Each tower is assembled into an impressive display for every recipient, delivering on stunning presentation and renowned quality. These snack boxes are a great solution for family members, friends, lovers, neighbors, coworkers, or anyone in your life.
---
21. Healthy Gift Basket Deluxe Set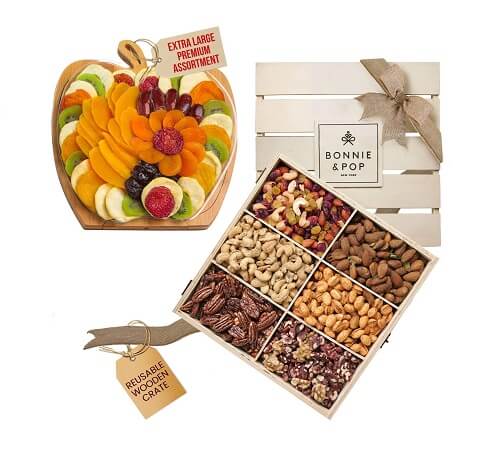 The beautiful wooden tray and box fruit can be a formal get well gift that you can give to someone you respect. This packaging not only surely impresses recipients but also can be recycled friendly. It contains a lot of mouth-watering, healthy and famous dried fruits and nuts, such as dates, kiwi, peaches, mango, apricots, etc. Wonderful for all everyone as an encouragement for their recovery. 
---
22. Vicks Warm Mist Humidifier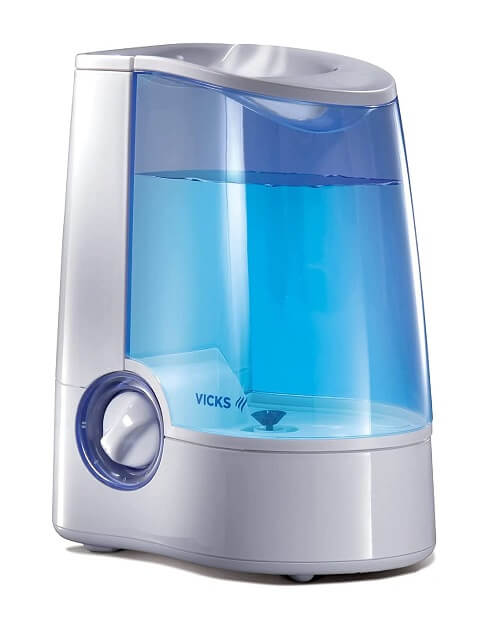 The Vicks Warm Mist Humidifier provides warm, soothing moisture and a relaxing air environment, especially necessary during cold and flu season as allergies kick in. It can be placed in the bedroom, baby nursery, kids rooms or working rooms to help ensure proper humidity levels. With the wide tank of 1 gallon, users can enjoy warm mist for up to 24 hours to help breathing better. This would be a big hit on your list of funny get well soon gifts. A wonderful get well gift for your beloved ones. 
---
23. Burt's Bees Gift Set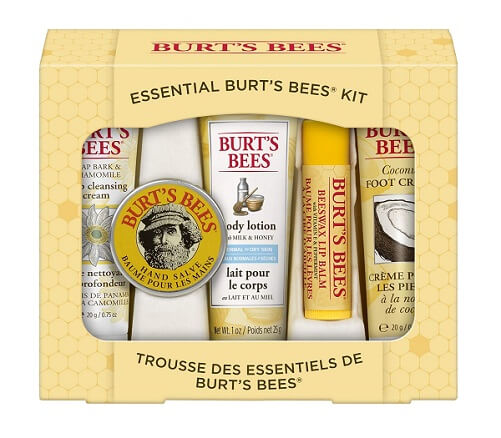 Give the gift of restoring healthy, glowing skin with this Burt's Bees Gift Set to your loved ones. It includes 5 travel size favorites: Soap Bark and Deep Cleansing Cream, Milk & Honey Body Lotion, Hand Salve, Beeswax Lip Balm and Coconut Foot Cream which pamper from head to toe. This get-well gift set will motivate those who have just gone through disappointment, loss, illness to appreciate themselves more and always be radiantly beautiful.
---
24. Germ Guardian AC4825 22" 3-in-1 True HEPA Filter Air Purifier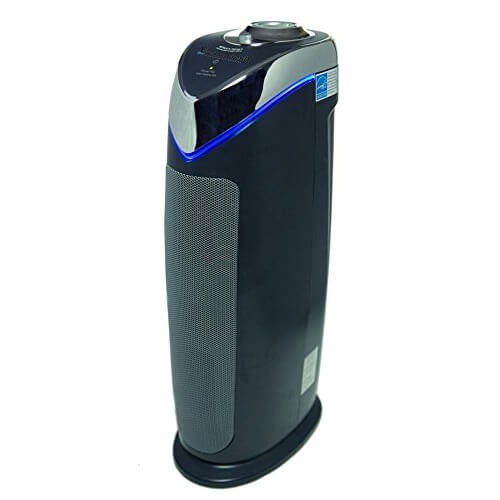 If someone important to you often has respiratory health problems, this HEPA Filter Air Purifier will be a very meaningful and practical get-well gift for them. This air purifier can reduce hair up to 99.97% of germs, dust, pet dander, pollen, mold and other Allergic agents from the air. Besides, it can also kill airborne viruses like influenza and staph rhinovirus and reduce unwanted odors from smoke, cooking fumes, pets and more. 
---
25. Forest Wildlife Coloring Book for Adult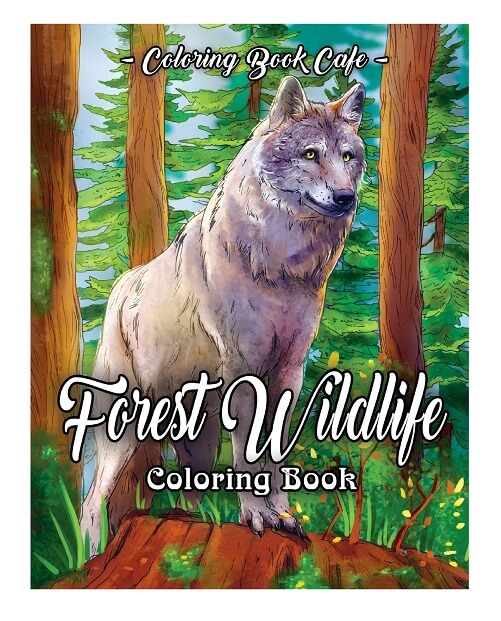 Reducing stress and boring levels of unwellness and enjoy the meditative benefits of coloring with this inspiring coloring book featuring adorable forest animals. It is suitable for coloring fans of all ages who love this stunning wildlife adventure to unlock their creativity, calm their mind and uncover a new imaginative world. With raccoons, owls, moose, rabbits, bear cubs, bats and so on, there's something that everyone will completely love!
---
26. I Do All My Own Stunts T-Shirt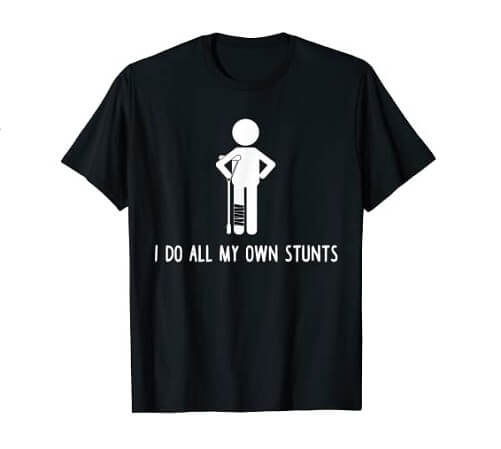 If you're looking for a gift for someone who's recently had surgery or an accident, this shirt will be a good choice. With funny words, it is considered to bring humorous and witty encouragement to patients to recover quickly. Besides, the shirt also has great material, basic style and color and many sizes for both men, women and young people. One of the best funny get well soon gifts you shouldn't skip!
---
27. Straight Outta Surgery T-Shirt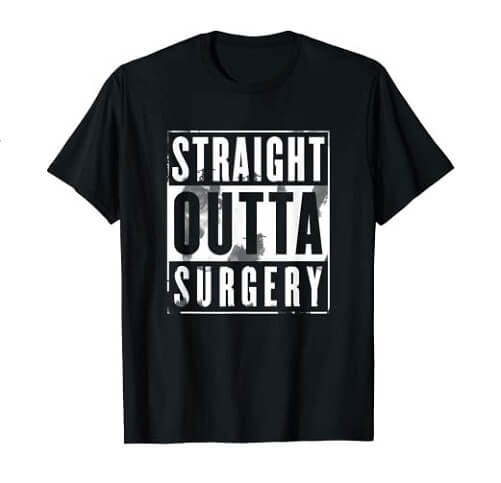 Do you need funny get well soon gifts for a surgery patient? Get this swag T-shirt for your loved ones. This hilarious "Straight Outta Surgery" t-shirt is extremely perfect for them! Made from lightweight, durable materials, it has various sizes for men, women and youths that can fit with everyone. They would get good use out of it and it helped give them a good laugh.
---
28. Get Well Soon! Activity & Puzzle Book for Women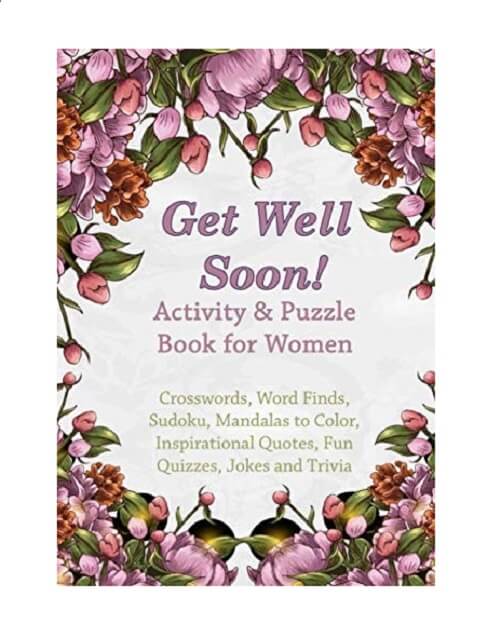 If you want to find a gift of healing, laughter and inspiration designed especially for women, this Activity and Puzzle Book is what you should spend for. With full of interesting games such as crossword puzzles, word finds, trivia questions, Sudoku, jokes and so on, her spirits will surely skyrocketed. It will definitely be a great suggestion of funny get well soon gifts that you should note down for your mom, sisters, friends and more. 
---
29. Get Well Soon! Activity & Puzzle Book for Men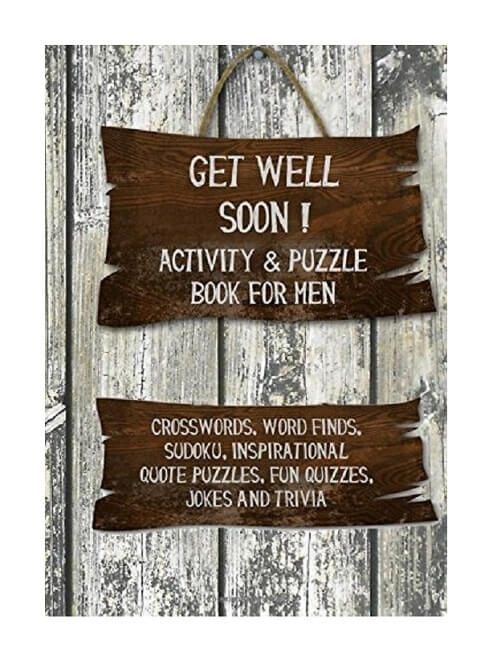 Bring joy to men when they are sick through this book that entertains and nourishes the soul with positive things. Similar to the female version, this male version also includes many interesting games that require intelligence, logic and flexibility of their brain – a strength of men. Therefore, this will probably be the ideal item for men to help them have a comfortable time after an injury, surgery or illness. 
---
30. Love Beauty and Planet Soothe & Serene Body Lotion for Soothed Skin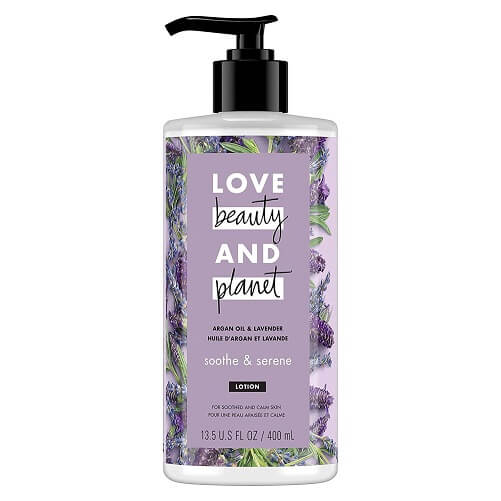 Love Beauty and Planet Soothe & Serene body Lotion can calm the mind and soothe the skin with Argan Oil along with Lavender moisturizer beautifully scented. It brings a feeling of relaxation and comfort to the users. So you can absolutely give it as a gift of encouragement and thoughtfulness for women to wish them well soon during a difficult period of time. 
*** See More: 7 Spooky Basket For Her – Best Gift Ideas And Tips
Conclusion
Choosing meaningful and funny get well soon gifts is not difficult at all if it is based on the recipient's preferences and health status. Hopefully, the gift ideas from giftOMG can help you get the best options for your needs and economic capabilities. And remember we're always here to help you come up with useful gift suggestions for all special occasions and holidays in your life.